I write a dress blog every season but honestly is anyone wearing dresses right now? The Covid 19 pandemic is raging all over North America and if you are not under stay at home orders right now you will be soon. And let's face it, it is really doubtful that there will be any holiday parties or dinners so why are we going to talk about dresses?
Well, one day we will be wearing dresses again. There is a vaccine on the horizon and even if most of us won't be vaccinated until next summer, I for one, cannot live in jeans and sweats forever. And even though dressing up right now is putting on a nice top or sweater with your jeans, there are dresses that are Covid friendly and will make you feel better, look better and Zoom ready!
The Sweater Dress
If there is one dress that will work during this pandemic and is also one of the most fashionable pieces of fall it is the sweater dress. Sweater dresses are everywhere. You can dress them up for a business call or wear them with leggings and flat boots on the days you venture out to the grocery store or drug store. They come in varying degrees of warmth and weave and lots of colors and styles.
Let's start here at home with Aritzia. They have tons of great sweater dresses and shipping only takes a day or two in Canada.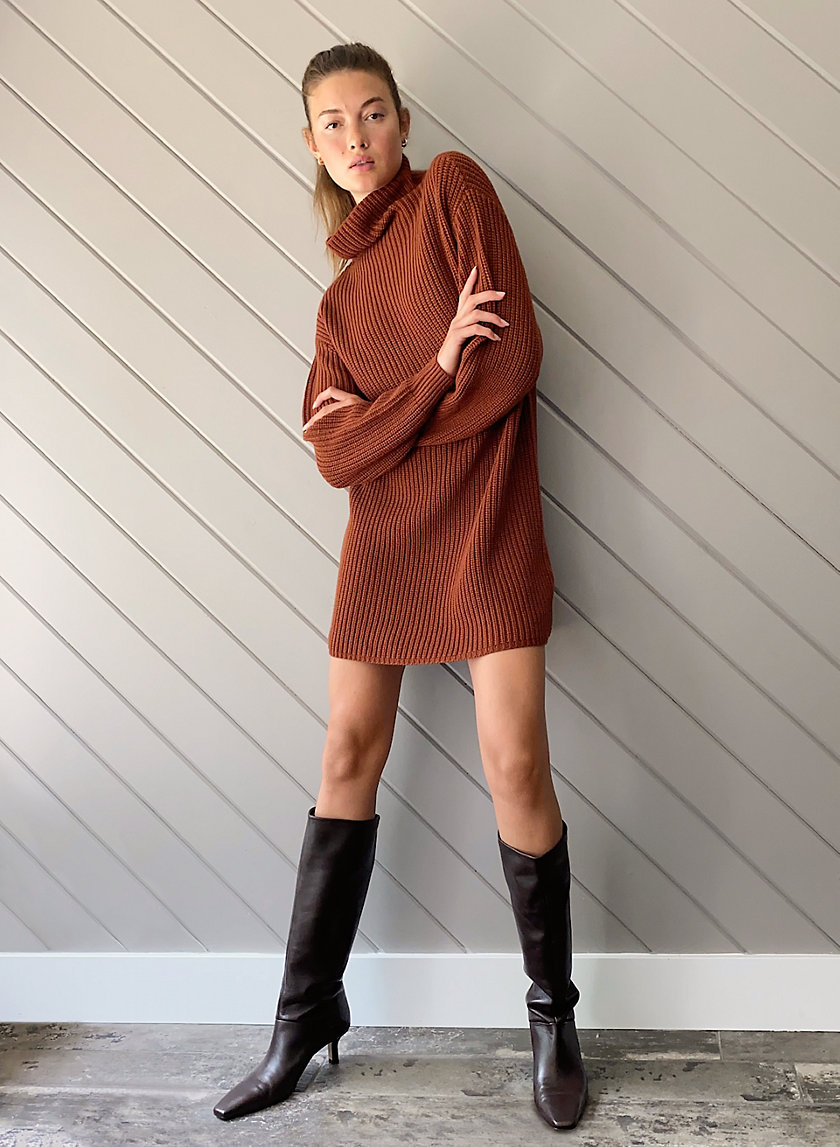 The Wilfred Montpellier Dress is cute and comfy. Yes, it looks a little shorter on the model than I usually recommend, but remember she is 5'9″ or taller and it will be likely just above your knee. It comes in 6 colors and 100% merino wool. So it will be fabulous with your tights and boots on a cold winter day! And you want this dress to be a little oversize on you, so order a size bigger than you usually wear, it goes all the way up to 1X online.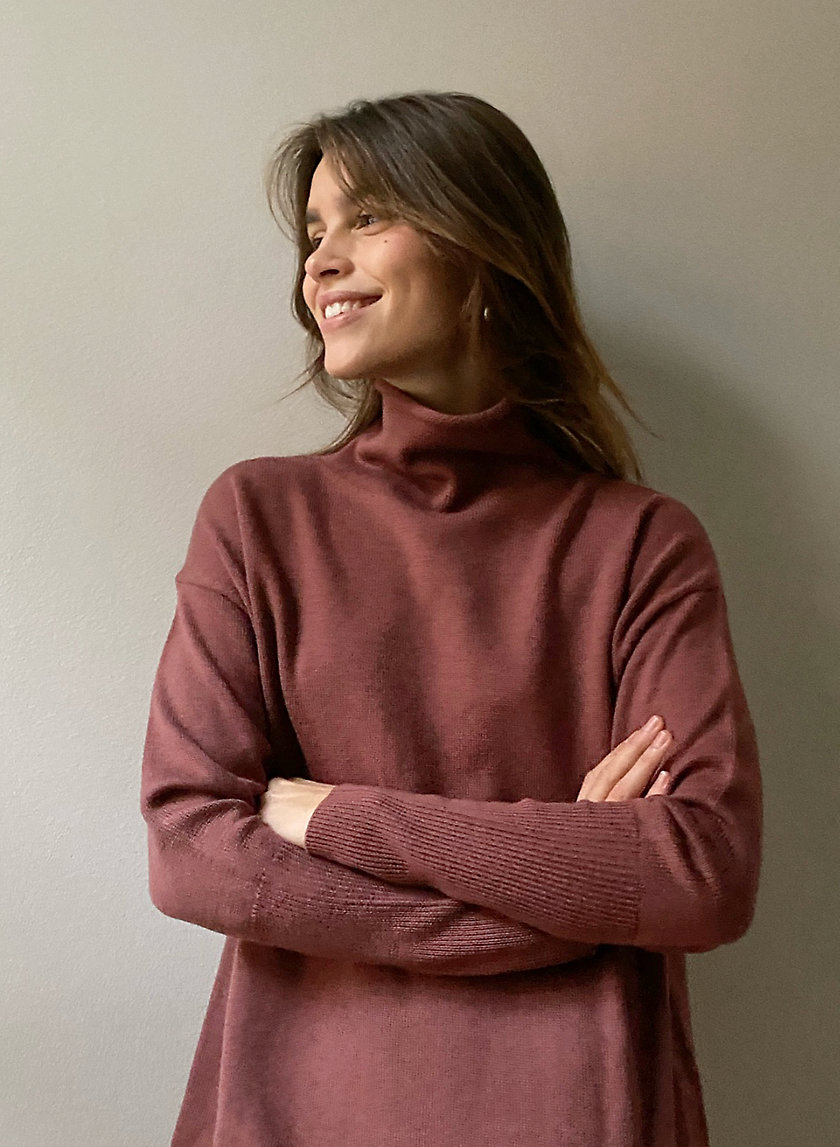 The Wilfred Cyprie dress is a bit longer but also has a turtleneck or mock neck to keep you cozy. It is also 100% merino wool and is slightly longer with a slit on one side. This dress fits large, so you can order your usual size and it comes in 7 different colors and also goes up to 1X. This dress is the perfect dress for tights and booties or great with loafers and sneakers too!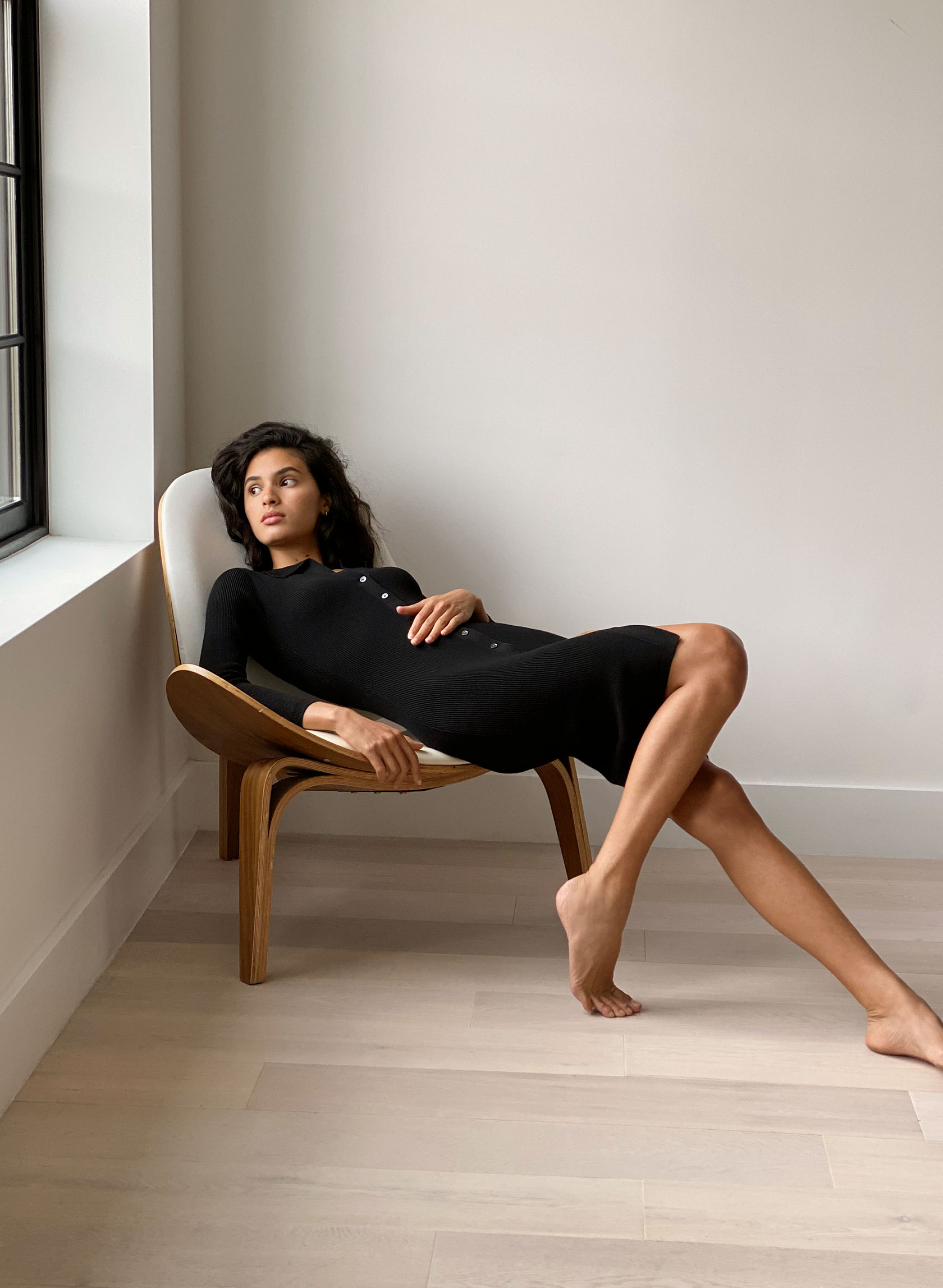 The last Aritzia dress I want to talk about is the Wilfred Cove Polo sweater dress. It's a viscose poly blend and it comes in 6 colors. The model is 5'10" so it will come to your knee or a bit longer and it has a slight collar. It's a little lighter than wearing a full wool dress, so if you tend to get hot choose something like this that you can open a button or two. It would also look great with skinny jeans if you leave the buttons open on the bottom.
And you can also wear it as a long sweater as well. So this dress is a great one to work around your wardrobe.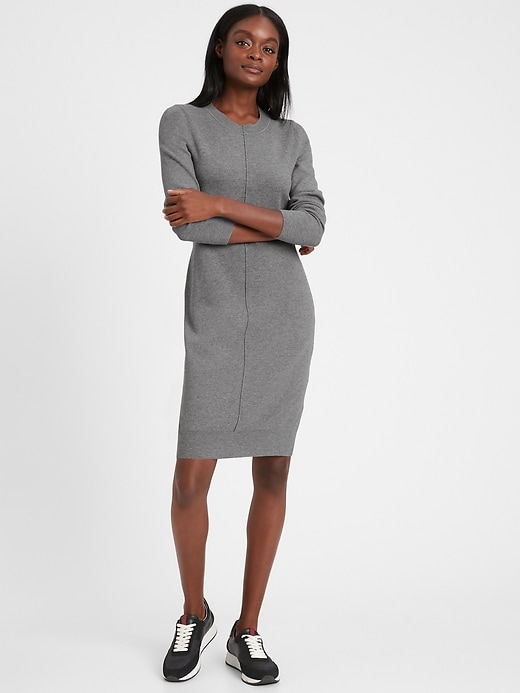 Banana Republic has a great basic sweater dress. It comes in 3 colors including black. They say online that it's a mini length but the model is 5'10" so on you and me it is not a mini length. It's a viscose, poly, nylon blend so you can toss it in the washing maching, which is something I don't recommend with the 100% merino dresses above.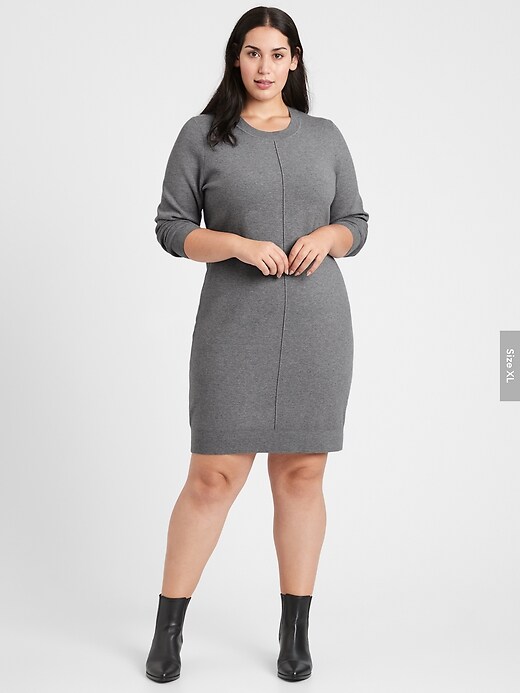 And I wanted to give you the view of it in an XL, I think this style of dress works whatever size you are!
Here is BR's newest sweater dress, the Cable-Knit sweater dress. It comes in a beautiful Mulled Cranberry or this Heather Grey. I love the fact that BR shows most of their styles on plus size models so you can see how they look on real women. This dress is a tiny bit shorter and on someone who is my height 5'4″ it would come just above my knee. It's a cotton poly blend so it's washable and will be super warm. It would be super cute with booties and tights.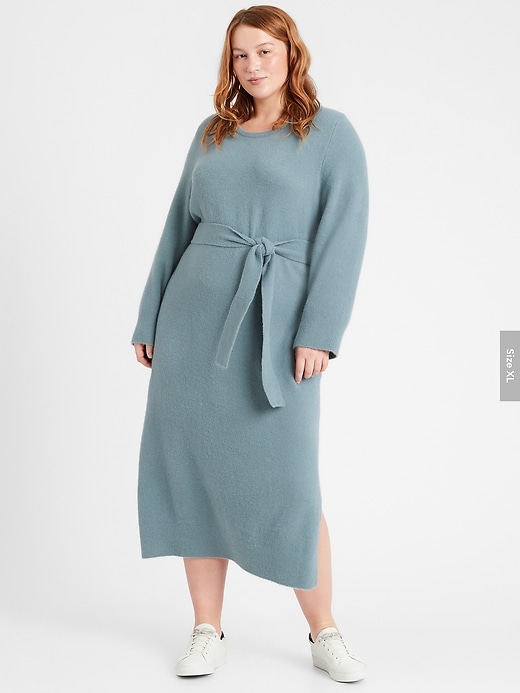 Last BR dress I want to feature is this one The Flare-Sleeve Sweater dress. It comes in this wonderful Slate Blue and a wonderful Toffee Brown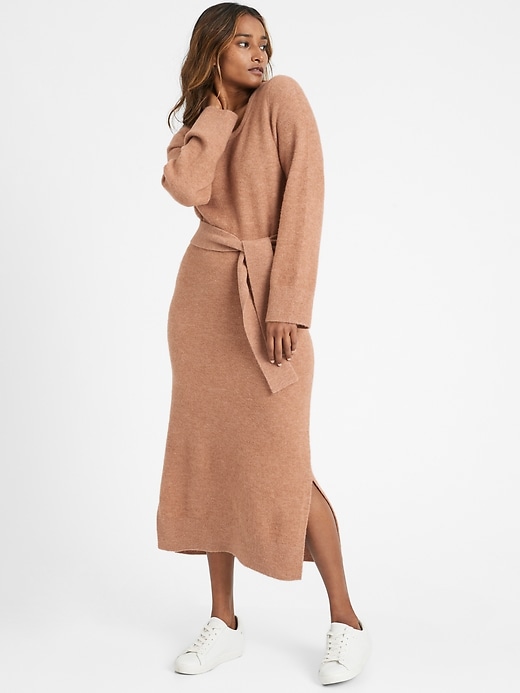 so you have two great colors. It's a nylon, poly, wool, spandex blend so it won't grow out of shape and will always fit the same way. They recommend hand washing or dry cleaning, so I would probably dry clean this one. But the detail of the longer length, flare sleeve and option belted waist make this dress unique and something you could dress up or down. They show this dress with sneakers but I would wear it with flat boots.
And even though sweater dresses are the key dress for fall there are lots of other dresses you could wear.
Anthropologie has a ton of great dresses online. I am going to stick with a more casual vibe with dresses for this blog but if you need a formal or business style dress BR and Aritzia have them too. I will show one great one that I love from BR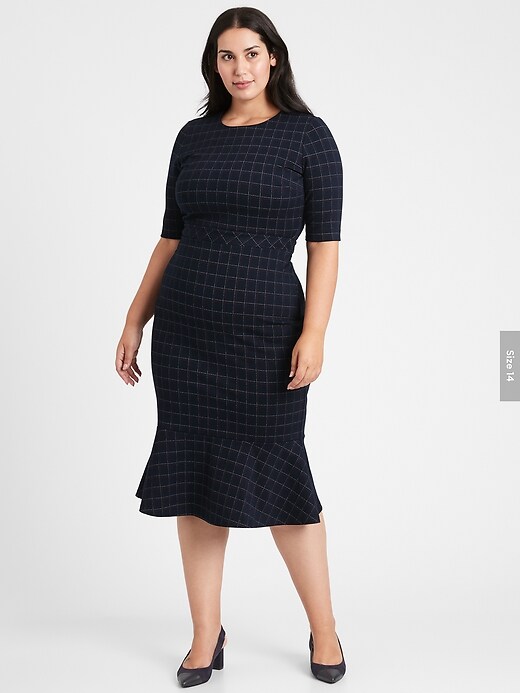 I adore this Navy plaid sheath dress at BR. This dress would be a fabulous dress for any work related event or presentation. But since most of us are still working from home, it may not be a dress you need right now.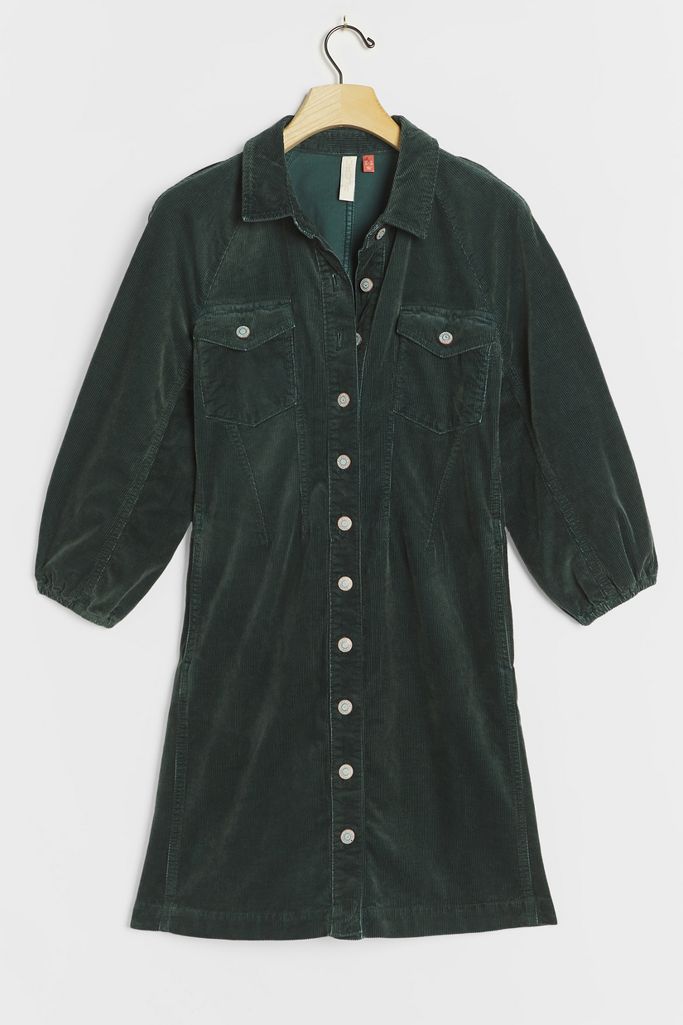 If you aren't a sweater dress person you may want to try something like Pilcro Lisette Corduroy shirt dress from Anthropologie. It comes in a forest green or toffee brown and is great layered over other tops and bottoms or worn on it's own with a self belt. It is sized all the way up to size 16 so it will work for everyone.
I also love this Rosalind Velvet Tunic dress from Anthro. It comes in Teal and Berry and is available in petite, regular and plus. Velvet is a great fabric in a fun color to dress up and down your wardrobe. This tunic dress lends itself to be more casual, but you could dress it up for an online meeting if you need to.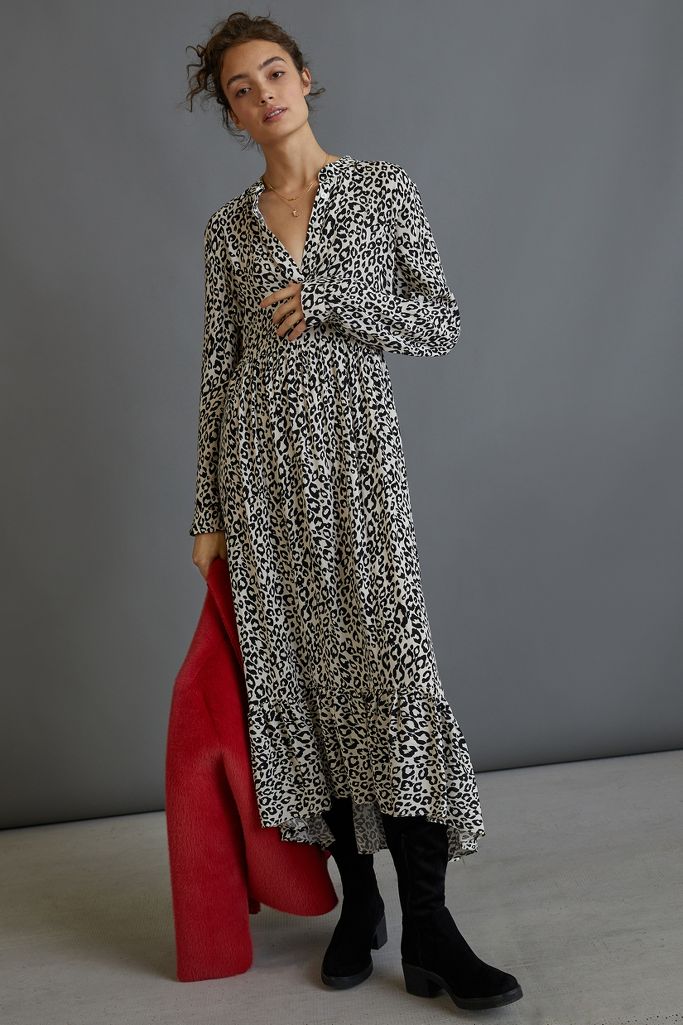 And of course who doesn't love a tiered maxi! Maxi is an important style for fall as well as midi. Longer dresses can be super flattering as you get older and an all over color or print can create a long line down your body. We talked about Animal pring being a great neutral for Fall 2020, so here this tiered maxi is in an animal print. And this dress nips in a bit at the waist so it will create a great shape on you. Wear it with knee length boots or booties.
As I said above, most of us are far away from wearing dresses while we are hunkered down in our homes as another wave of Coronavirus passes through our cities. But hopefully I have given you a few ideas on how to wear a dress this fall if you want to. If you want to stay current, the most important style of dress for fall is the sweater dress; that's why I spent so much time talking about it. There is not a dress I showed in this blog that is over $200 and you can order every single one of them online.
Next week we will look at Fall Outerwear. And then we will have a visit from our Jewellery expert, Shoshana Lewis. I haven't decided if there will be a holiday blog yet. As I said above, there is likely no holiday events to go to so perhaps and gift giving blog instead. Stay tuned for that one in December.
Please stay home, stay safe and wear a mask every time you leave your house. We seem to still have a long way to go in this pandemic and if we all scale back our activities and wear a mask everywhere hopefully our Covid cases will decrease enough that we can have a little holiday cheer with our friends and families.
Until next time…