This fall not many women are wearing suits. What with the pandemic and working from home, everything is quite a bit more casual than it has been. Since most work, meetings and events are taking place virtually we really only need to look good from the waist up. But every once in a while you need to look chic from head to toe.
Every woman needs at least one good suit in her wardrobe. It can be a pant suit or skirt suit, or preferabbly one that has both a pant and skirt that works with the jacket. But every woman needs at least one. And the very best place to buy a chic suit at a reasonable price is Aritzia. I am not saying that just because Aritzia is a local company and I want to give them some love, but because they have lots of different looks to choose from. And you will find one that works for you. Just pop into any Aritzia store or even better look at Aritzia.com and you can find almost everything you need in suiting.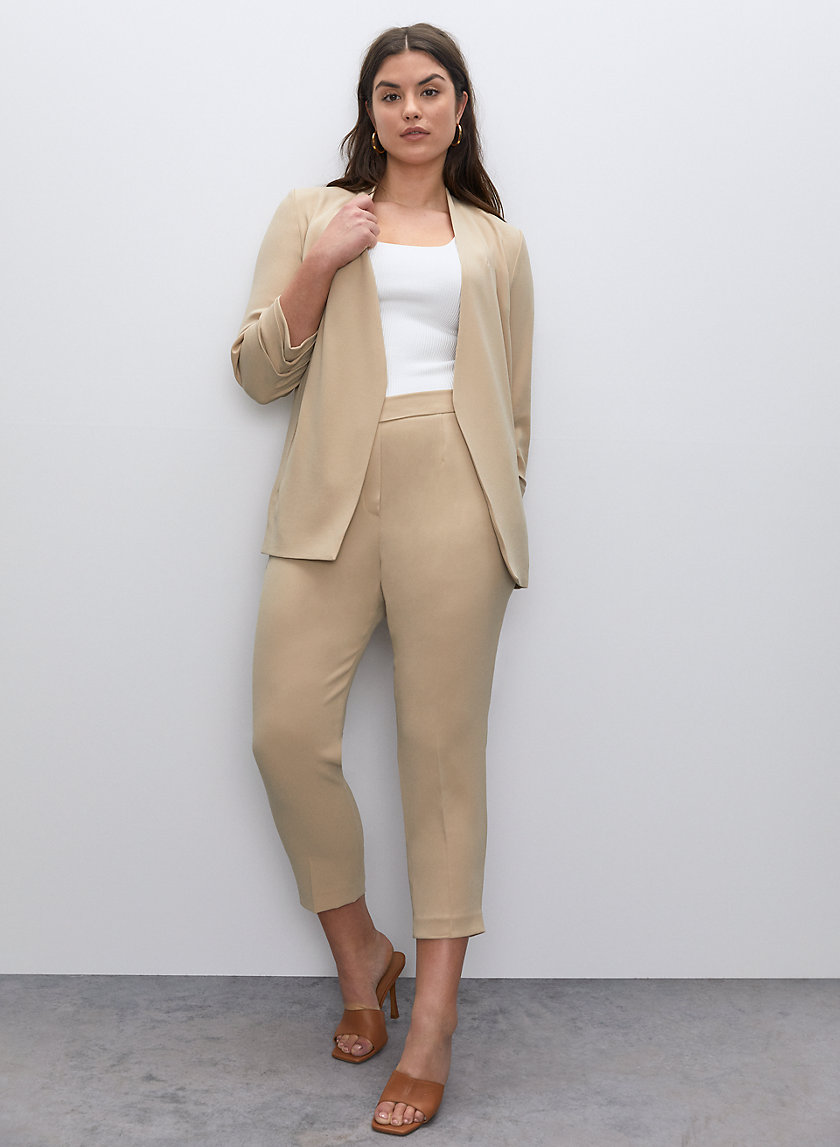 Starting with the Babaton Power Blazer and Conan Pant. This blazer comes in 15 colors and the pant comes in 18 colors. Both go from size 00 to size 16. And you don't have to stick with this pant to match this jacket. The Babaton base fabric has lots of pieces you can intermingle to make the perfect suit for you.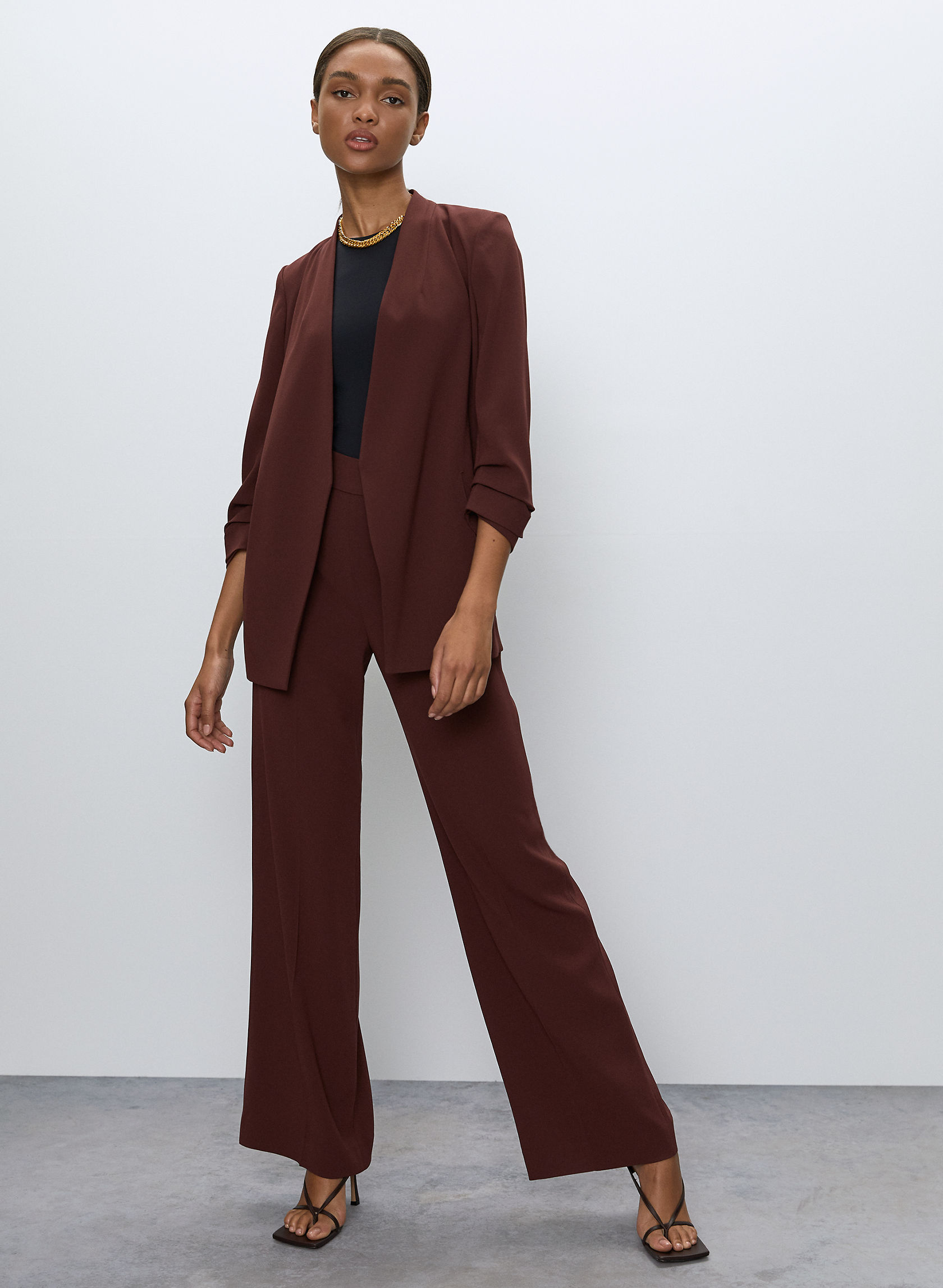 If you want a pant that is a little longer, high waisted and a wider leg, try the Lincoln pant with it. The wider leg elevates the jacket to a whole new level!
If you would rather do something a little newer try a cropped blazer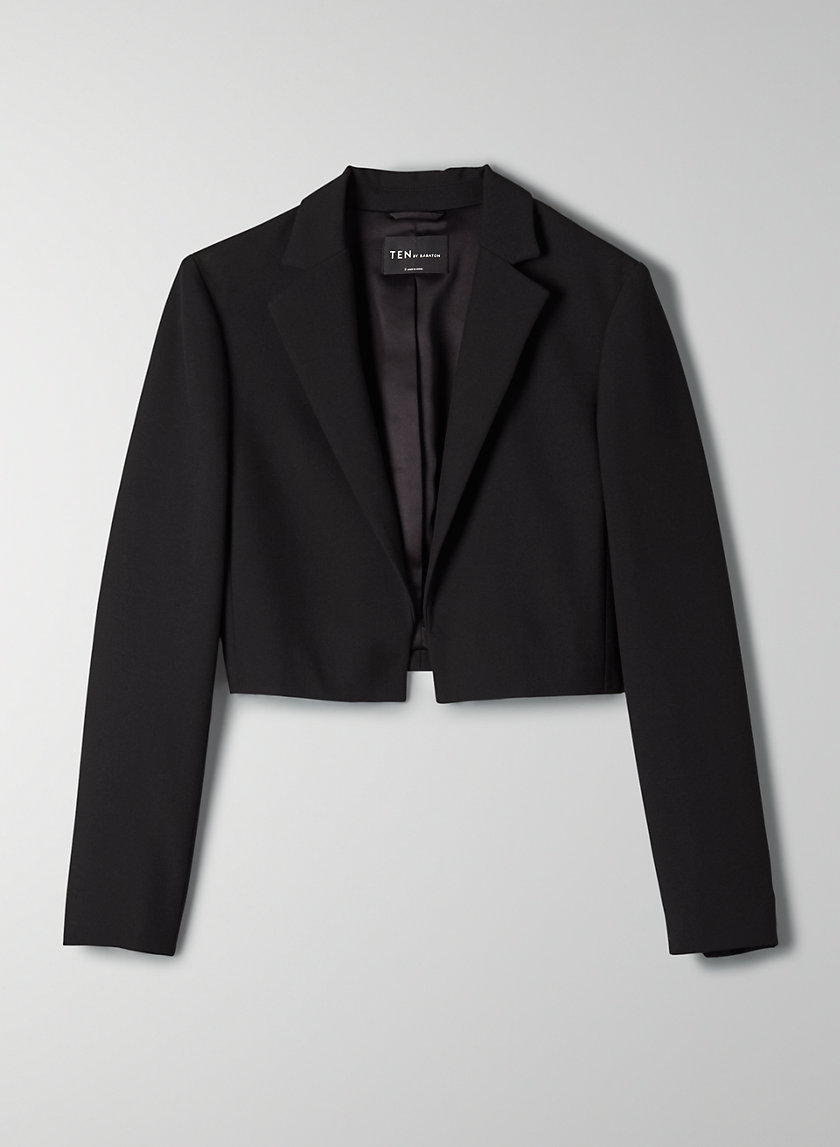 The Ten by Babaton Supernova Blazer would be fabulous with any wide leg pant or jean you have. Especially if you are under 5'5, wear your wider bottoms with more fitted tops, you don't want to look like you are drowning in your suit.
Plaid is one of the key fabrics to do your suit in for Fall 2020. Or even to just have a blazer in that will go over all your solid color pants!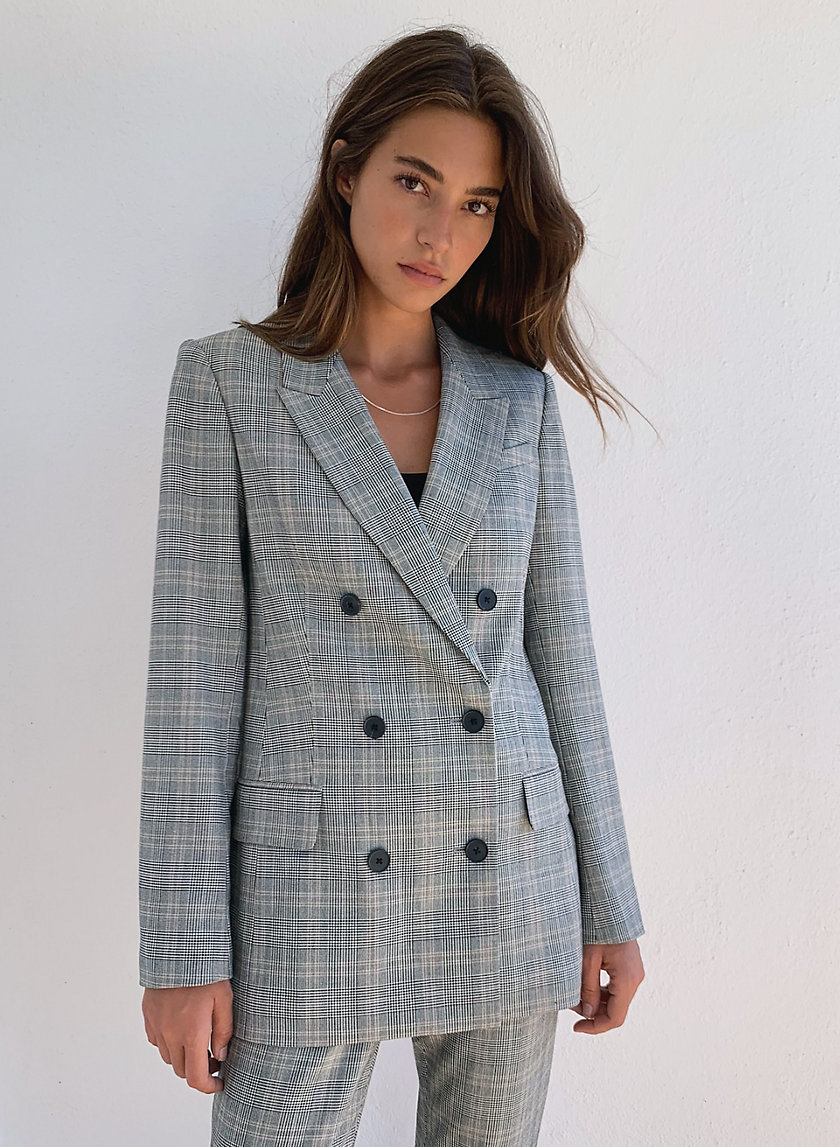 The Babaton Samuel double breasted blazer is just that. It is a fantastic plaid blazer to wear with everything. Wear your plaid blazers head to toe with plaid pants or a plaid skirt if you need to make a suiting statement. Or choose a plaid (Samuel comes in 5 different plaids) to work with your other solid bottoms.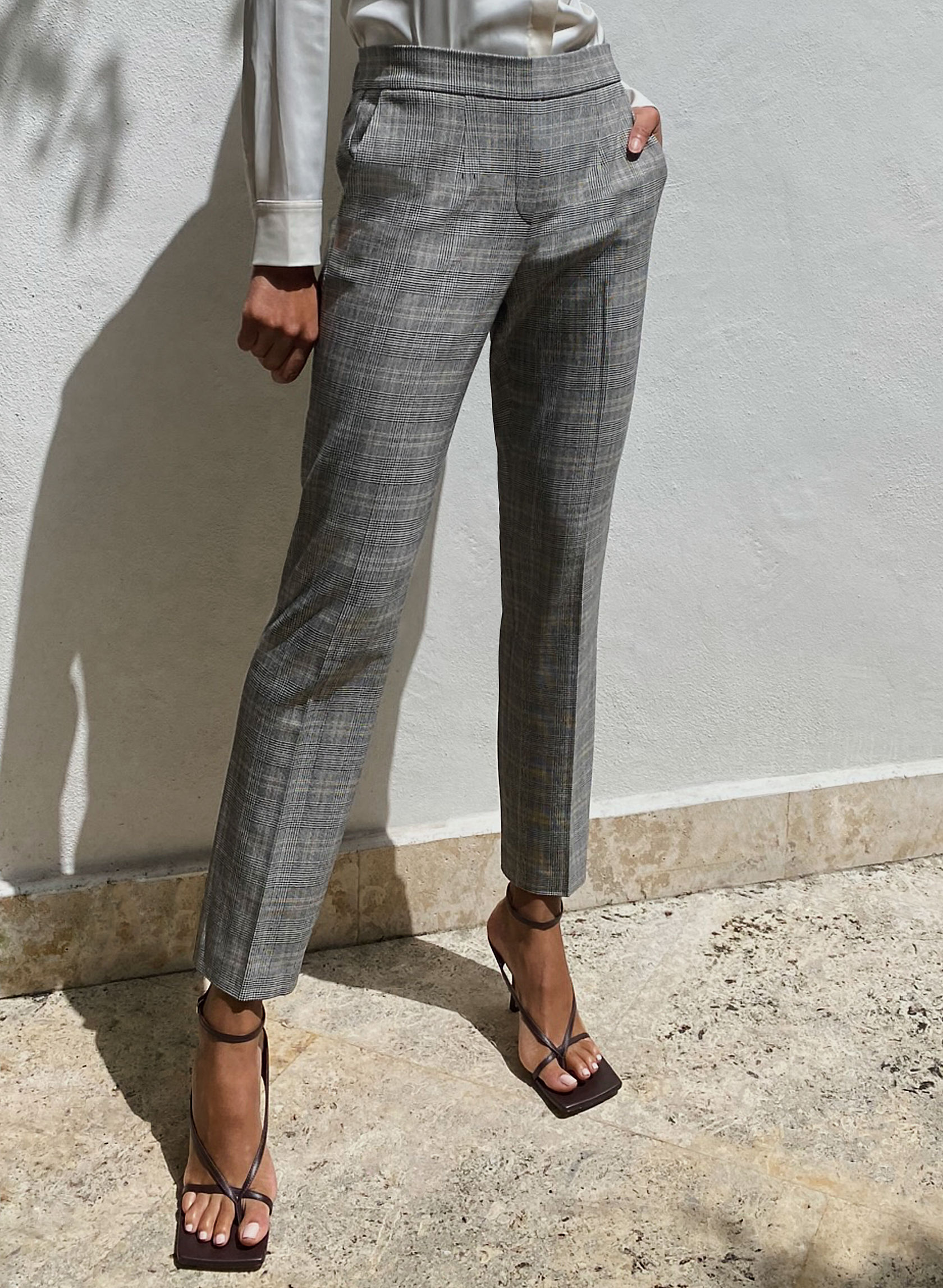 The Conan pant that we talked about above comes in a longer version in plaid just to go with the Samuel blazer. The other version of the Samuel Blazer that I love and is super chic is the belted version.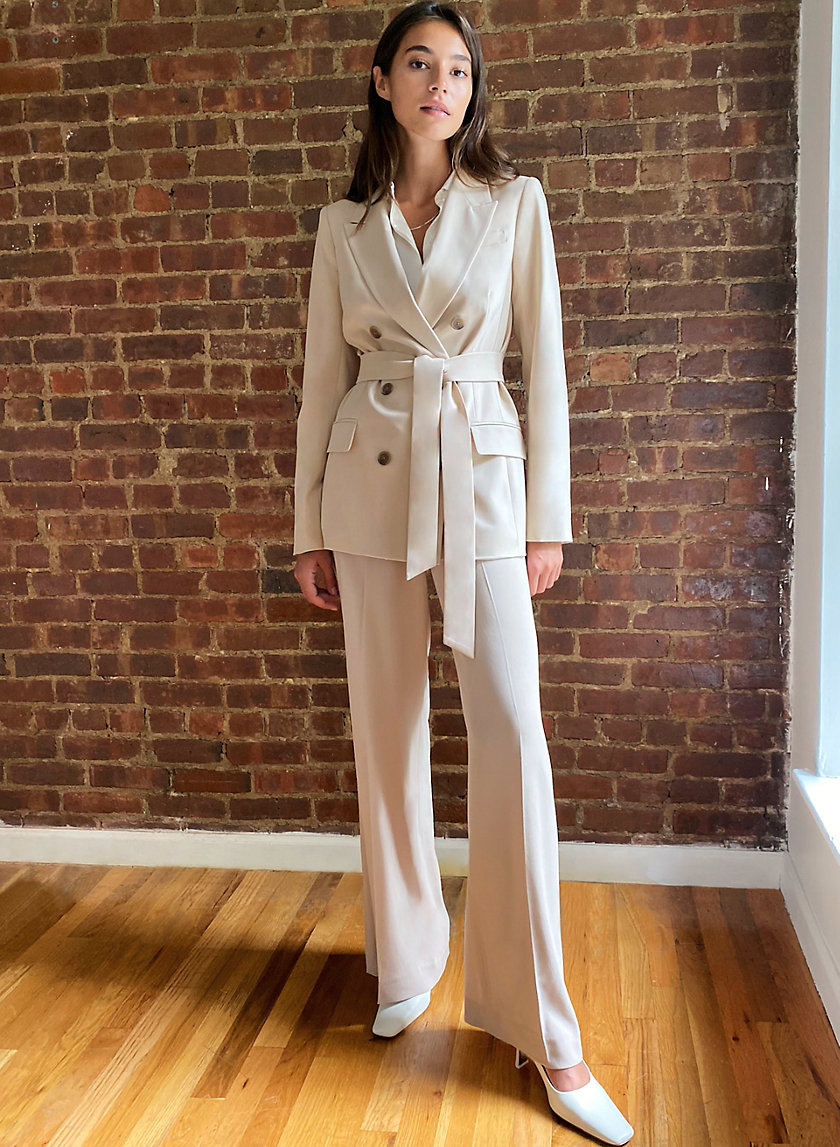 Here shown with the Lincoln pant. But do this blazer in black and you can wear it with everything. It comes in 4 colors so pick the one that works with your wardrobe!
The other plaid blazer I want to talk about is the Babaton Lockwood blazer, the plaid is great and it's single breasted as opposed to the Samuel which is double breasted. Some women with a larger chest prefer and look better in a single breasted blazer.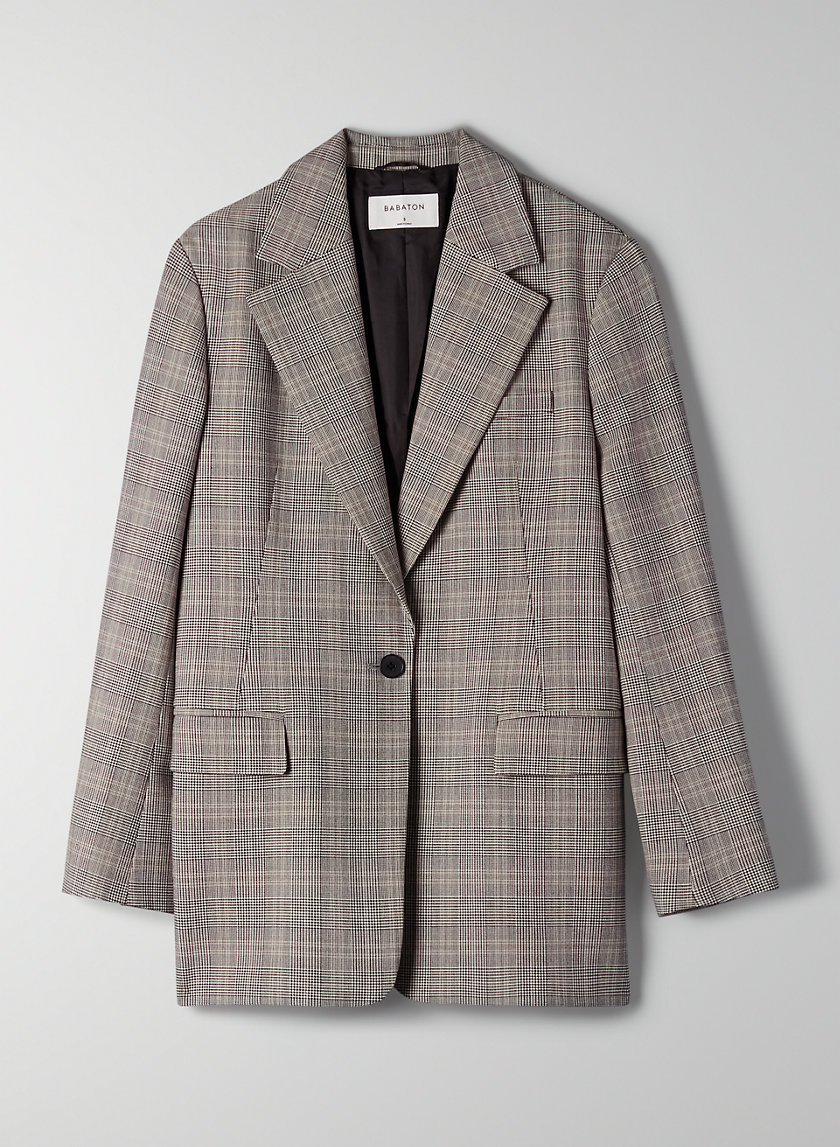 An option for a different plaid pant to the Conan is the Quentin pant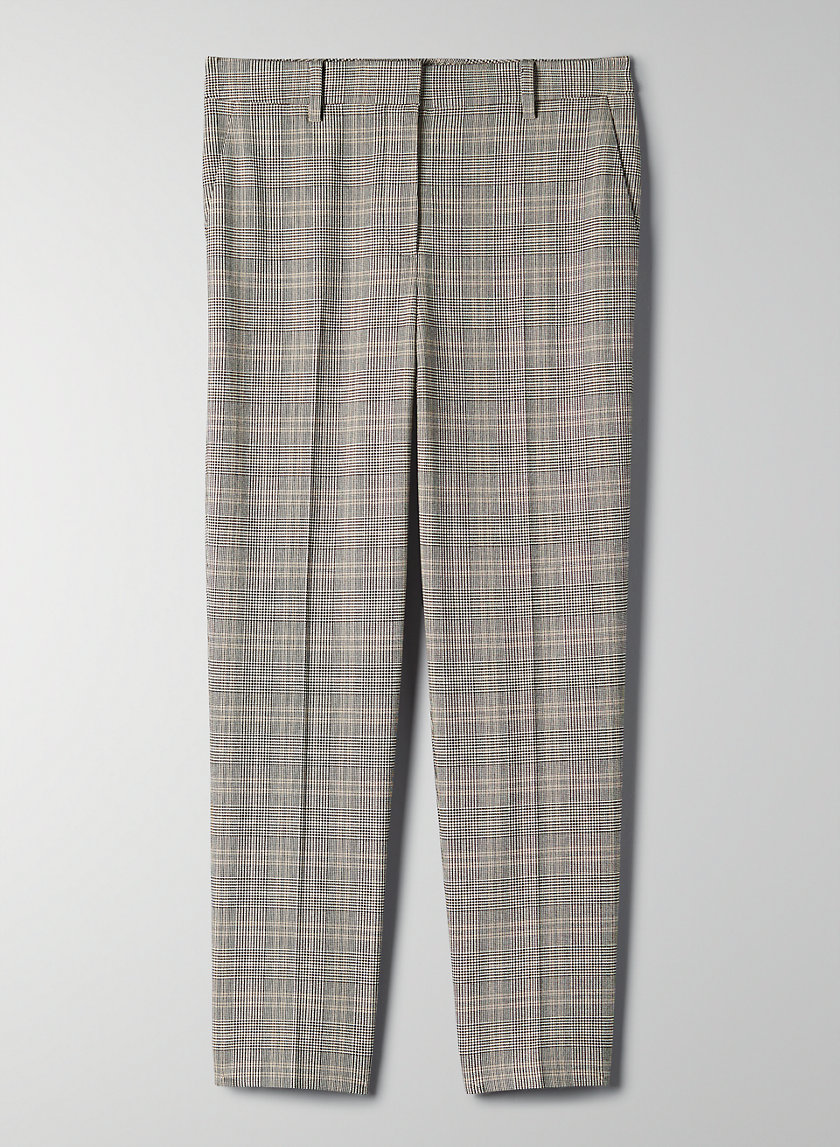 it comes in the same plaid as the Lockwood blazer but it doesn't have an elastic waist like the Conan. Just a different choice if you want it.
And of course Aritzia has lots of single and double breasted solid color blazers as well.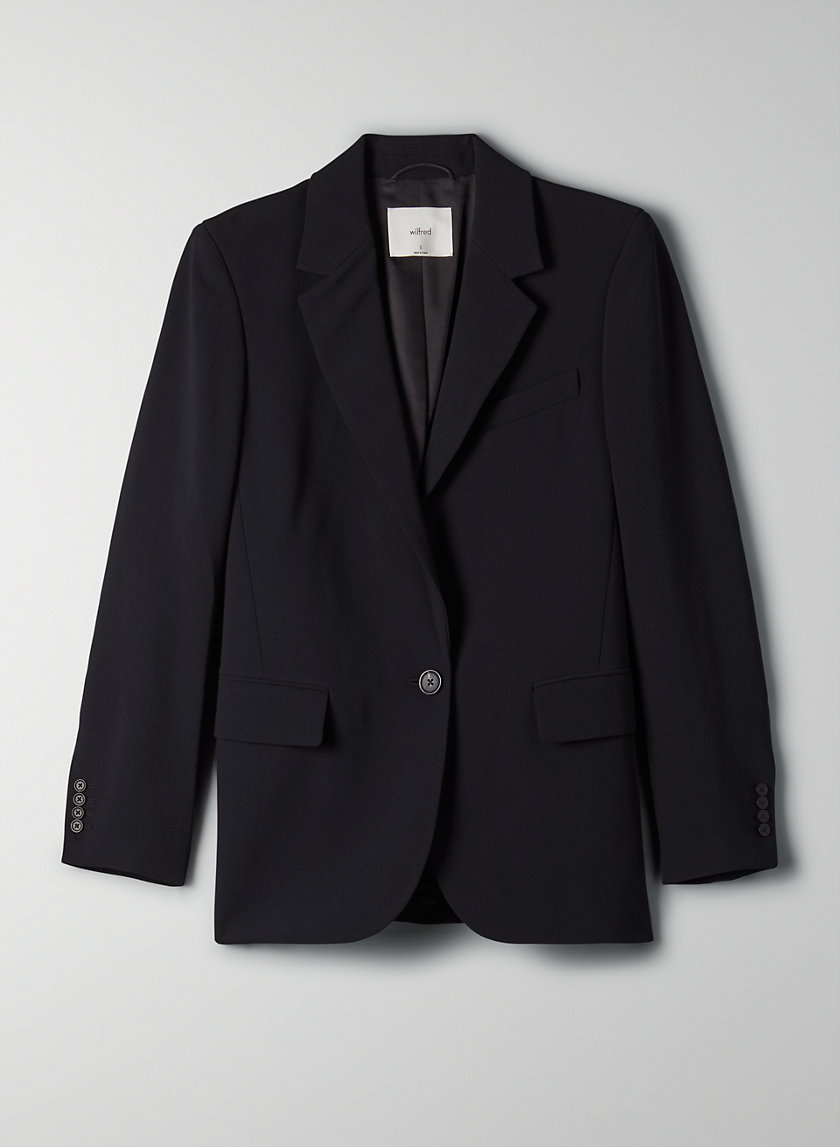 The Wilfred Nostalgia blazer would be a great blazer for any closet, slightly oversized and single breasted to work with everything you own.
So now that we have gone through some basic suiting options, what is the newest and chicest way to wear them?
Longer skirts are what designers have been showing with all blazers. A straight or pleated midi skirt is the way to go if you want a fresh new look in suiting.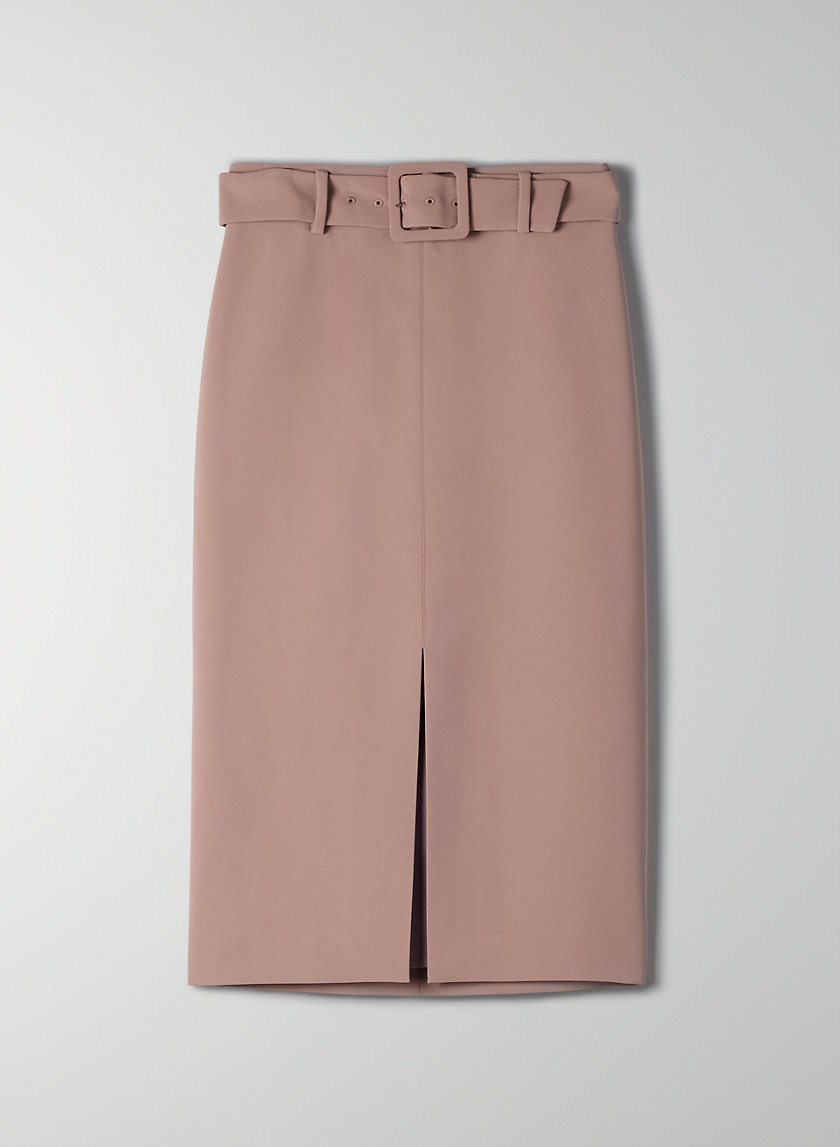 The Babaton Bramble midi skirt would be a great solid skirt to work with your blazers and sweaters. It also comes in black.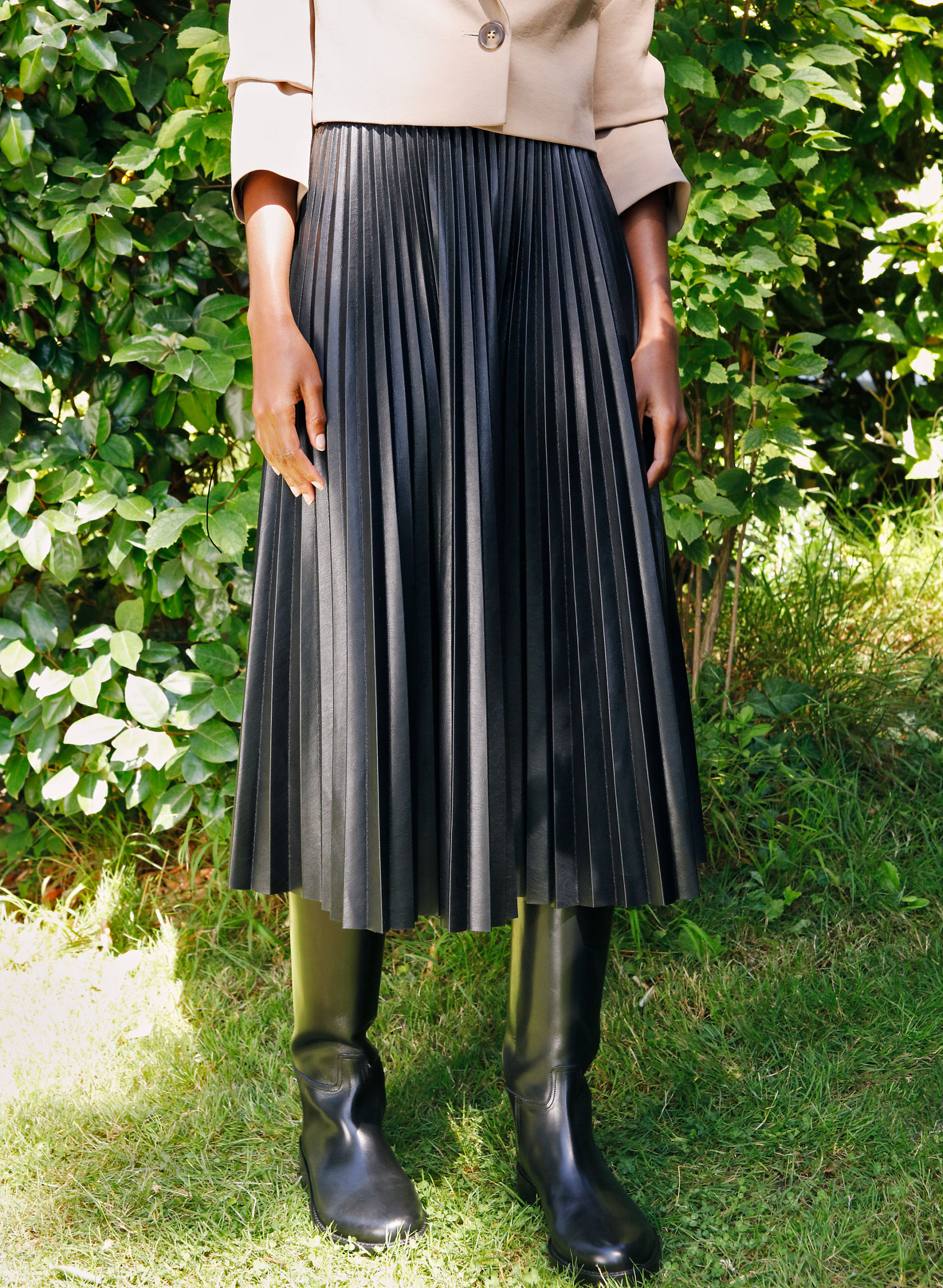 You could do a faux leather pleated skirt to work with your blazers, especially great with any cropped blazer you have. The Wilfred Ortega skirt will work with your blazers and sweaters and be perfect with boots.
Faux leather is a great look to pair with jackets and sweaters for an office like look. Ann Taylor has a great skirt.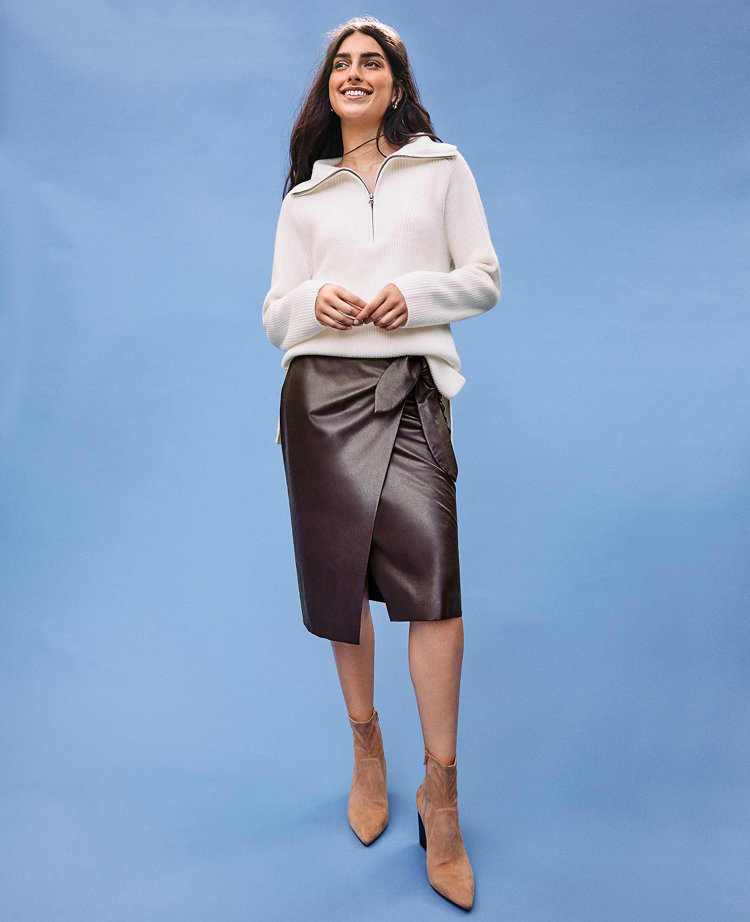 The Faux Leather Wrap pencil skirt in this fabulous Midnight Fig color will work with tons of blazers for a modern fresh look too.
So now that we have talked about blazers, pants and skirts, what is it that we wear underneath the suits to pull them all together in 2020. Fine knits are the key to suiting for fall.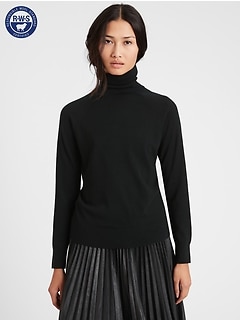 Banana Republic has their Merino knit turtleneck that is a super fine knit and comes in 5 colors if you want a long sleeve knit top under your jackets.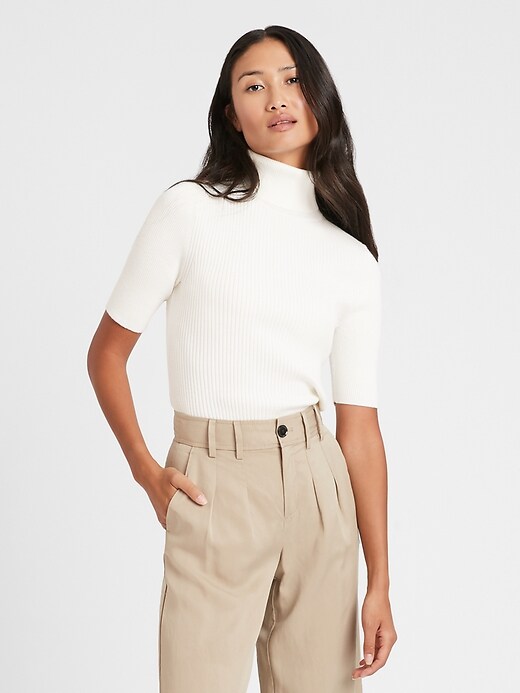 BR also has a short sleeve fitted Turtleneck that would be great under every jacket.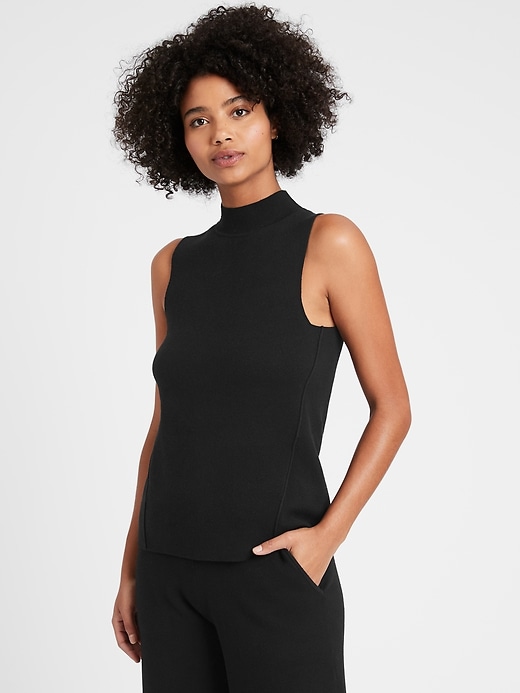 And their mock neck shell is also a great piece to wear under any jacket or sweater.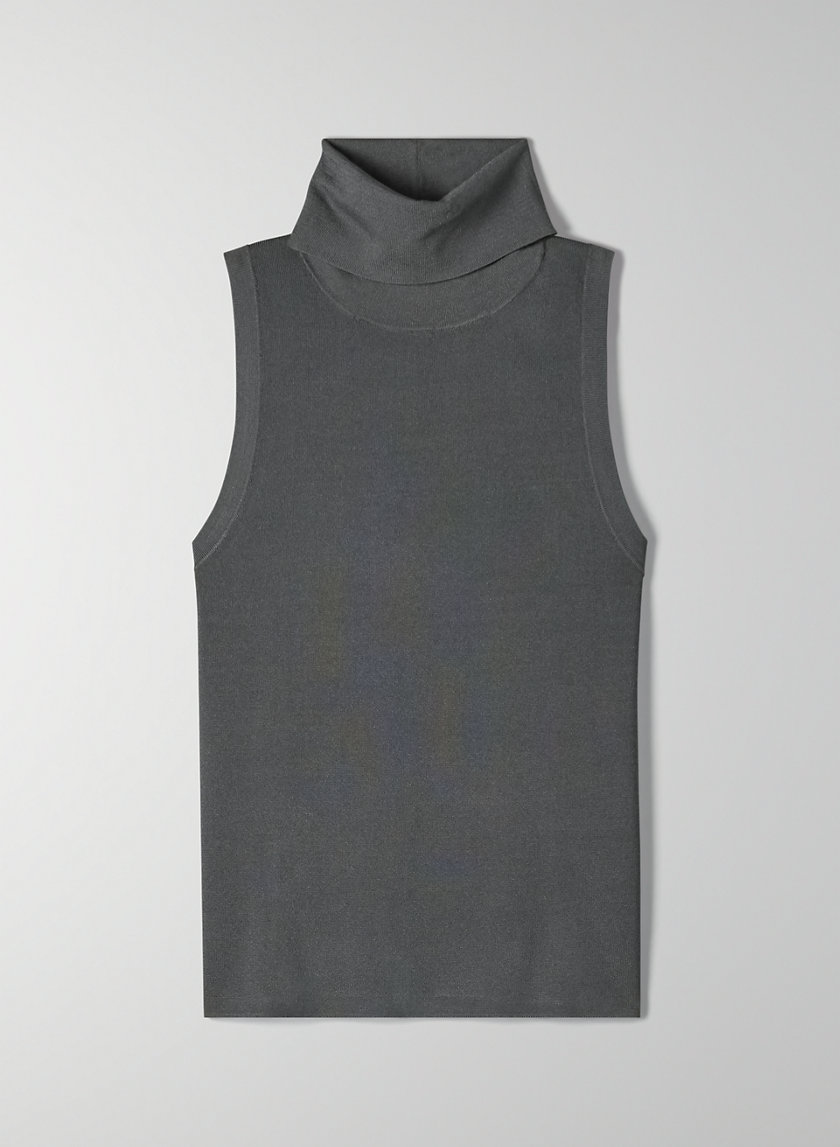 Babaton's Caravan Turtleneck top would be great head to toe in a suit and it comes in Mauve and Charcoal.
Or you can do a crossover, v-neck or crew neck knit top as well. Just make sure the knit is super fine.
J. Crew has a short sleeved silk blend Crewneck sweater that would be a great, easy piece to wear under a blazer.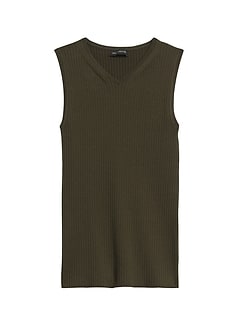 And a V-Neck sweater top like this one from BR, would be great under a longer jacket. You could even double this top as a vest with a white shirt underneath which would be great with any plaid bottom!
For fall and winter keep your shoes quite classic with your suits. A great pair of booties or high heeled loafers would work great!
A bootie like J. Crew's Leather Block heeled ankle boot would work so well with all the pants we talked about. Either leather or suede would work.
Or add a bit of classic color to your suit with J. Crew's Kate Loafer pumps. The general rule with pant suits are the longer and wider the pants the higher the heel. Flats work better with slimmer shorter pants in general. But see how it all looks on you.
When buying suiting you need to be your own best judge. I am short and curvy so I know that a plaid suit won't look good on me head to toe. But I can wear a plaid pant with a solid jacket or top and vice versa, plaid on the top and solid on the bottom. I also need to keep my tops a bit shorter with longer skirts. It's all about the proportion of your body. And remember head to toe color makes you look taller and thinner no matter what size you wear!
Take a look at the websites I talked about above. One suit in your closet in a classic color will hold you during this entire pandemic, so choose one that works for you!
Next week we will look at Fall 2020 colors. They are stunning and now is the time we are really getting into our fall wardrobes. After that it's fall dresses and then fall coats. If you are going to check out what Aritzia has online, they also have the best coats.
Stay safe, be kind and stay fashionable!
Until next time…