Fall 2020 is nothing if it's not proper. Necklines are getting a bit higher and skirts are trendy a bit longer. Lace, frills and billowy sleeves are everywhere. Not to mention every Victorian era extra: bows, satin and lots of beaded trim. And this trend can mix with others, Metallics and Ivy League clothing also can have Victorian era detailing. So let's take a look at the bits and pieces of this trend and see how it can work for you.
One of the best things about this trend are the high neck blouses.
Even a simple blouse like this one from Banana Republic can elevate a pair of pants or skirt. The neckline is a bit higher, the sleeves are billowy and it is made out of Satin. This top in your closet is definitely a nod to this trend.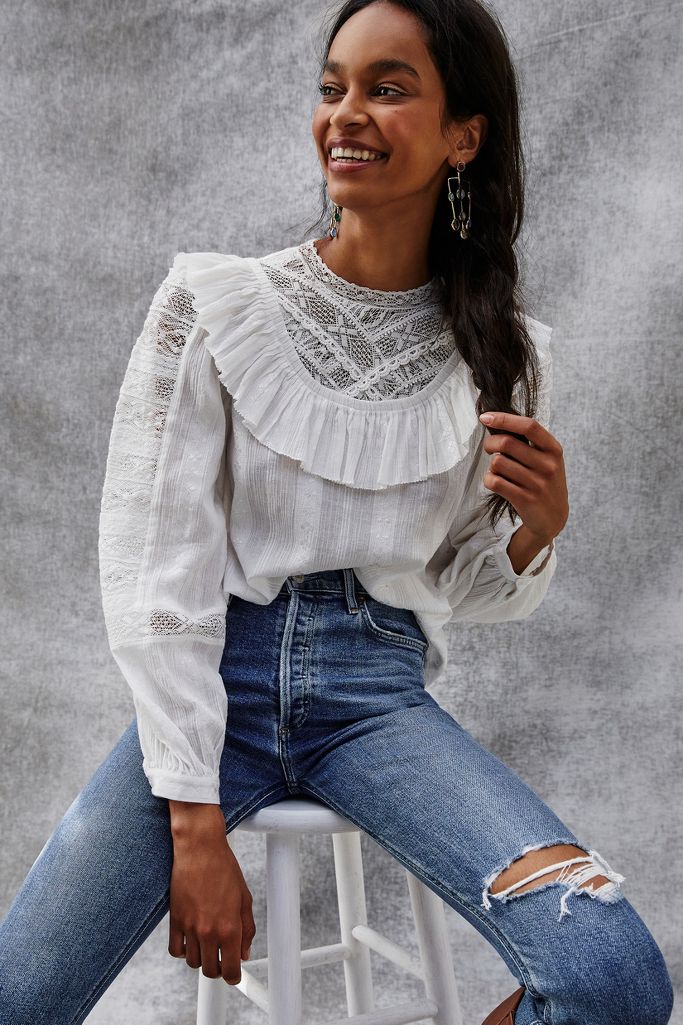 Anthropologie is also getting in on the higher neck blouse trend. Their Charla Ruffled Blouse has a few more Victorian elements as well, the lace inset and ruffled neck also add to the trend. Here it's worn with denim but this top would look just as great with a higher waist wide pant or worn loose over skinny pants tucked into boots. It's a statement top!
You can modernize the Victorian era trend by doing your high neck top in a color other than white. The Idina Eyelet top from Anthro comes in black and white and is a great modern top because it's little shorter which means it works perfectly with higher waist pants and skirts. And I love that the neck has a ruffle too!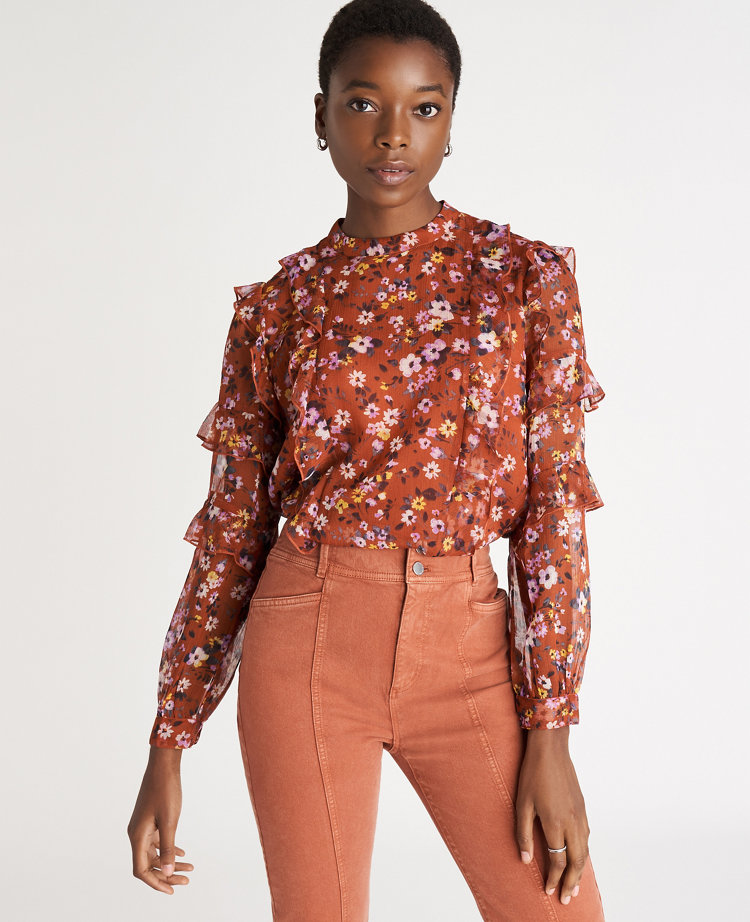 And don't be afraid of print. Ann Taylor's Floral Ruffle Mock neck top is the perfect modernization of a Victorian top. The floral is delicate and the ruffles are a bit demure, it's a great piece.
But this trend is more than just high neck tops. You can do the same thing with a sweater as the weather gets a bit colder.
The Puff-Sleeve Sweater top from BR has exactly the look we would want in a cozy sweater to channel the Victorian era.
And they have the same look in a long sleeve version.
A little less serious but still Victorian is Anthro's Isadora Puff Sleeve Sweater, the color and the embroidery give it a hip vibe.
But let's get away from the high neck tops for a minute. I think you call understand how important a high neck top is this season, you are going to see them everywhere. What other kind of tops can echo the Victorian trend?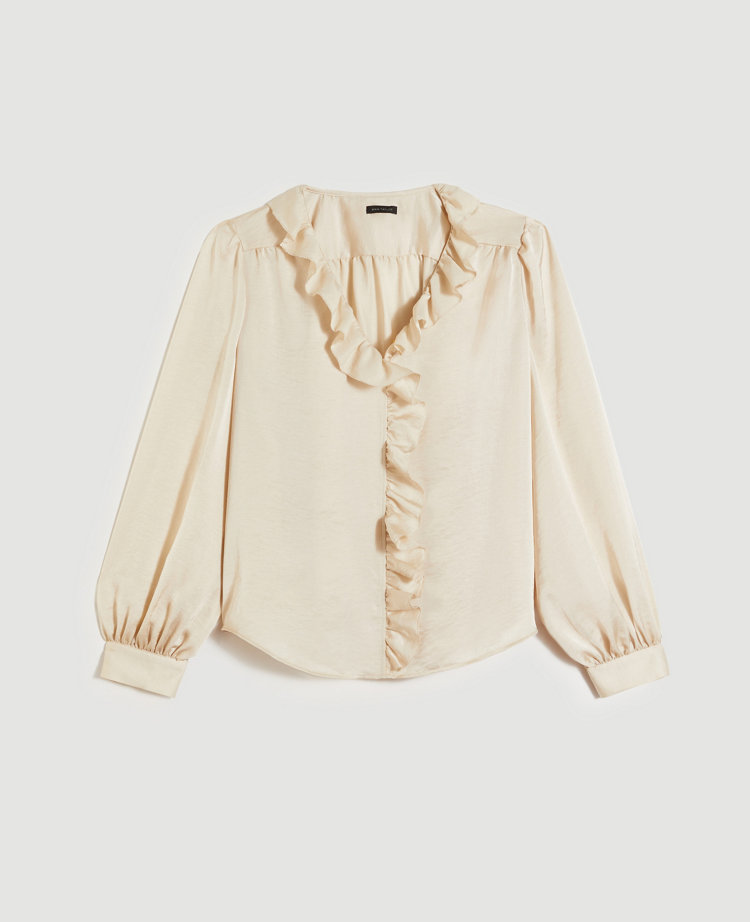 Ann Taylor provides one of the answers with their Ruffle V-Neck Blouse, it comes in 3 colors, off-white (shown), black and pine. Do the pine if you want to modernize it a bit. Green is still super strong and will work great for fall 2020.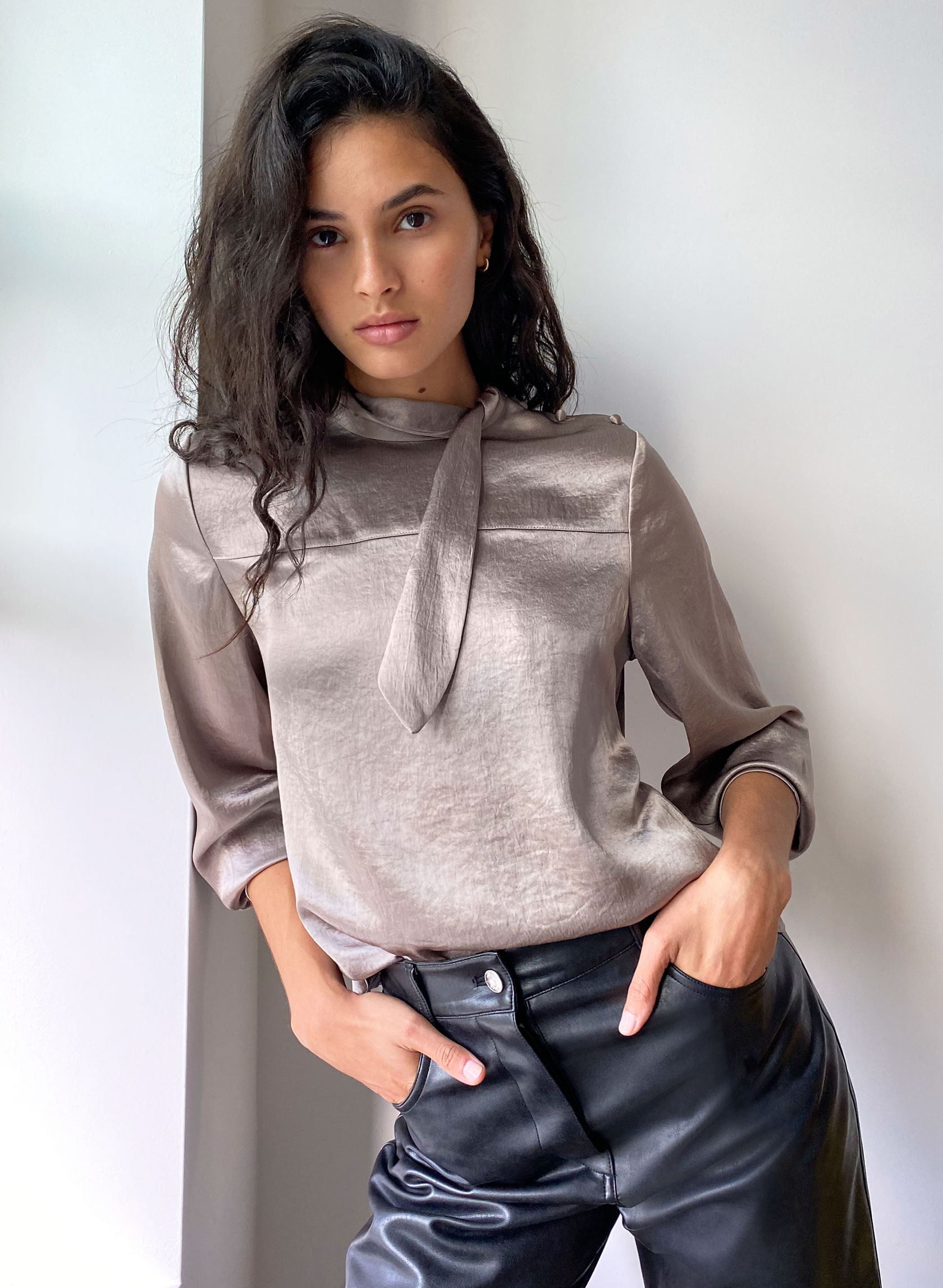 Or take a look at the Wilfred Trapeze Blouse from Aritzia. The higher neck has a tie which is a great option for this trend. The sleeves are still billowy and it comes in 2 great metallic shades, this silvery bark pine and shimmery navy, so it nods to the metallic trend as well.
Lace tops are another way to nod to this trend. WhitehouseBlackmarket's Lace Sleeve Blouse is the kind of top you should be looking for.
And if you are not a high neck sweater girl try something like BR's boatneck pointelle sweater. The delicate stitch of pointelle works really well for this trend.
Aside from tops there are other items of clothing that really echo the Victorian era as well.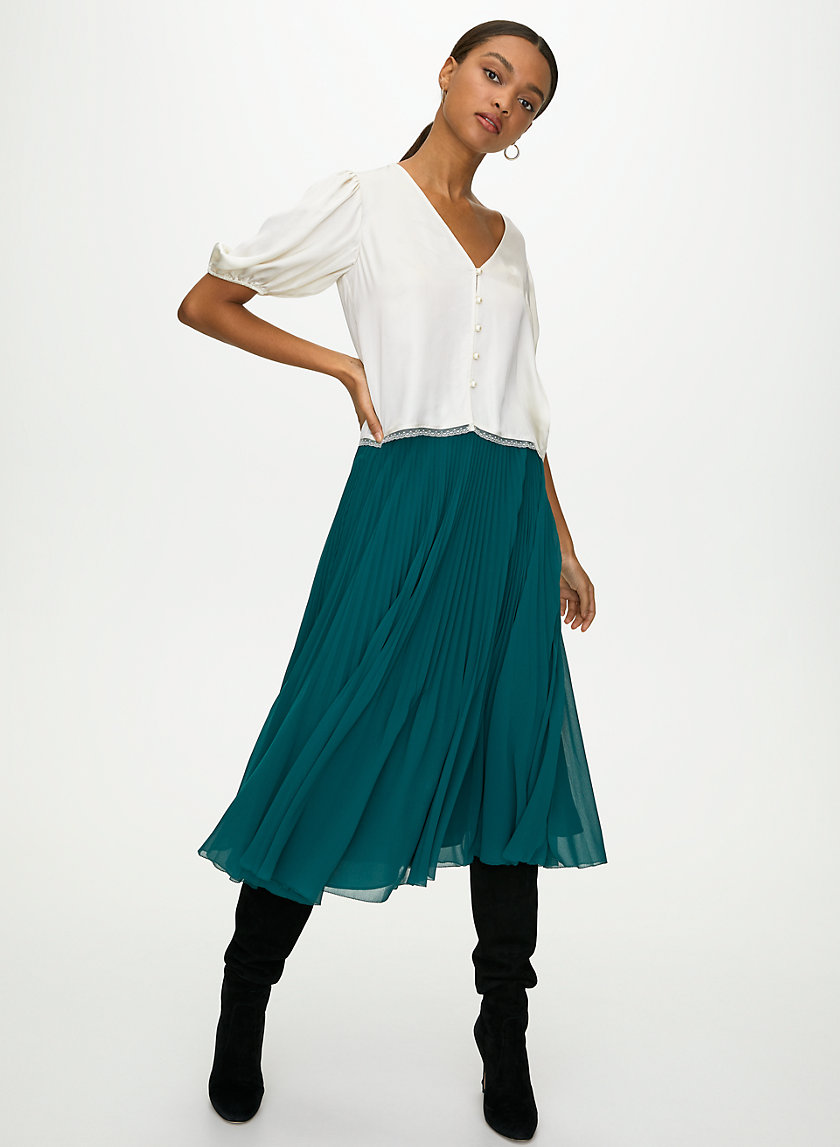 The Wilfred Twirl skirt from Aritzia works so well for this trend. It comes in 13 colors including some softer colors like blush and pearl grey which really do look Victorian when work with a puff sleeve top: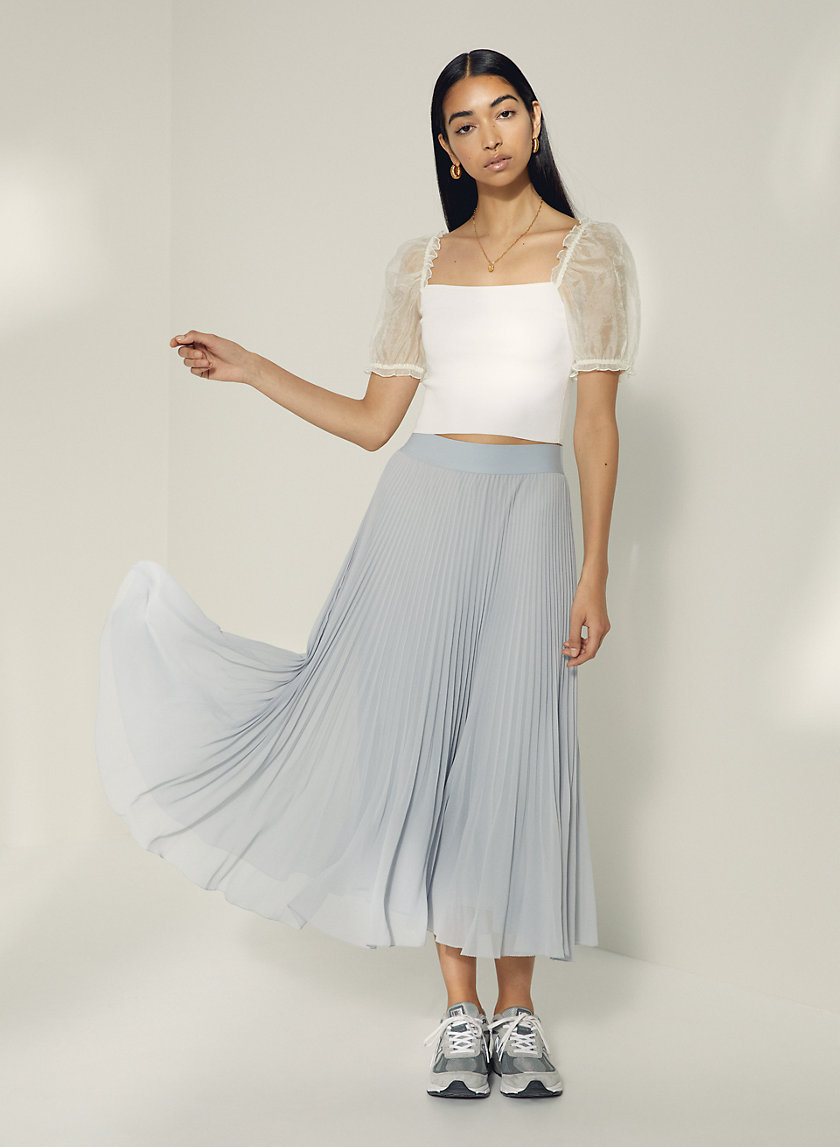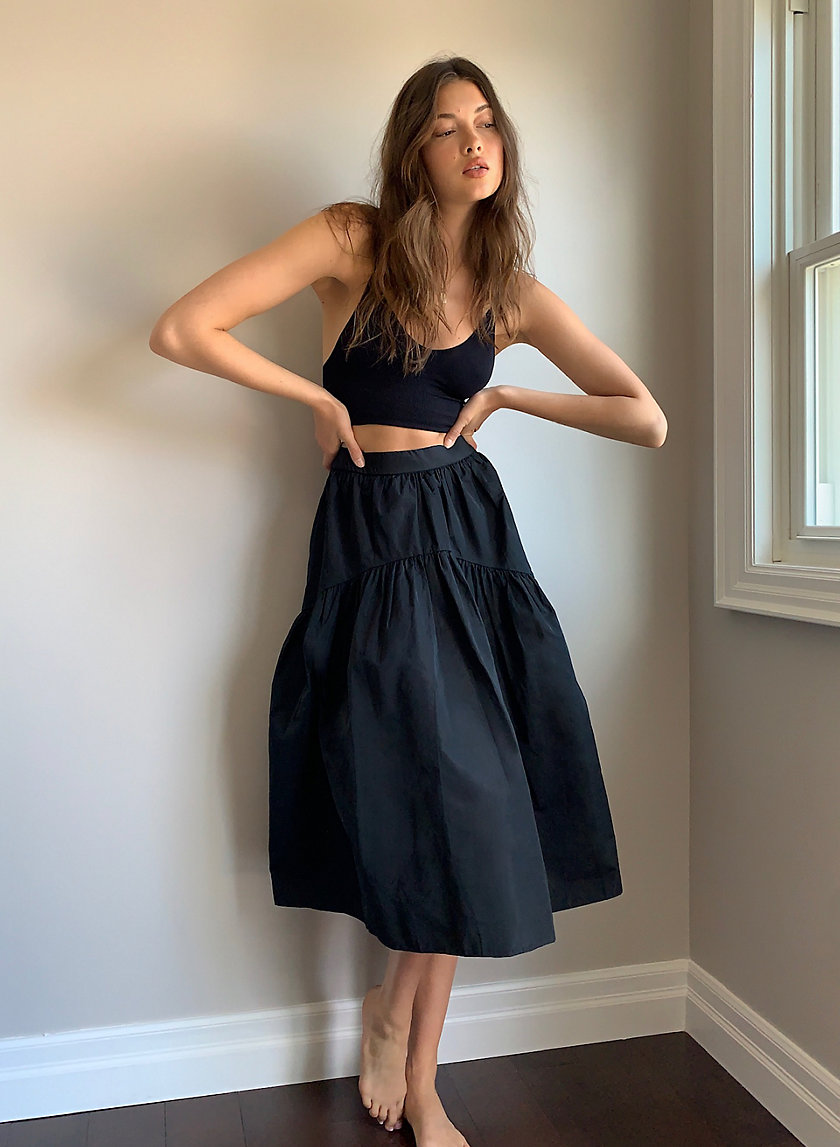 You could also wear a tiered skirt like Wilfred's Fantasy skirt which is made of tiered taffeta. Black or white this skirt would be amazing with a high neck top to echo the trend.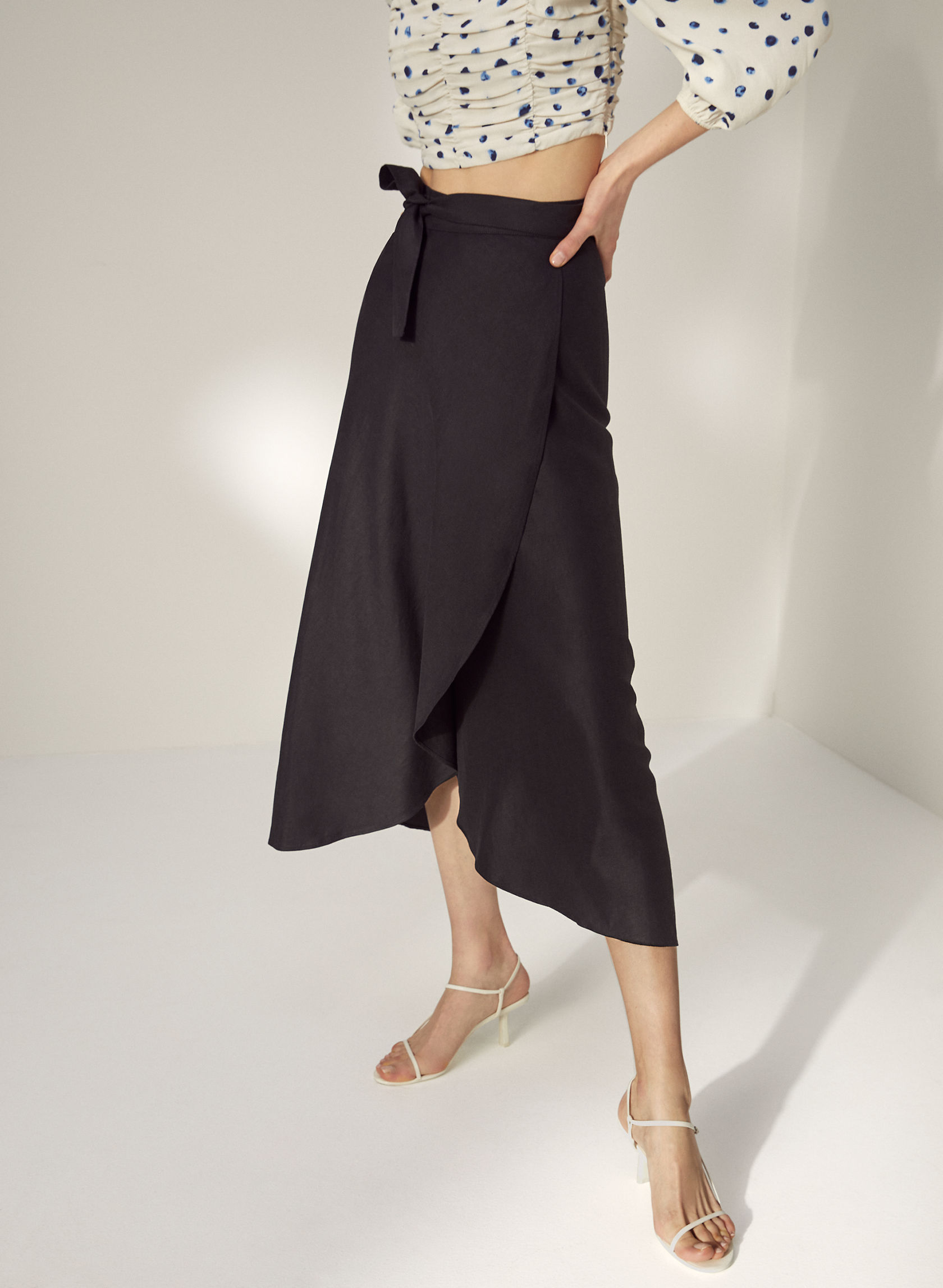 You could even wear a tulip hem wrap skirt with this trend, The Eleta skirt from Wilfred has this look. Any skirt that is long and has a flow to it would work, even all those satin skirts we talked about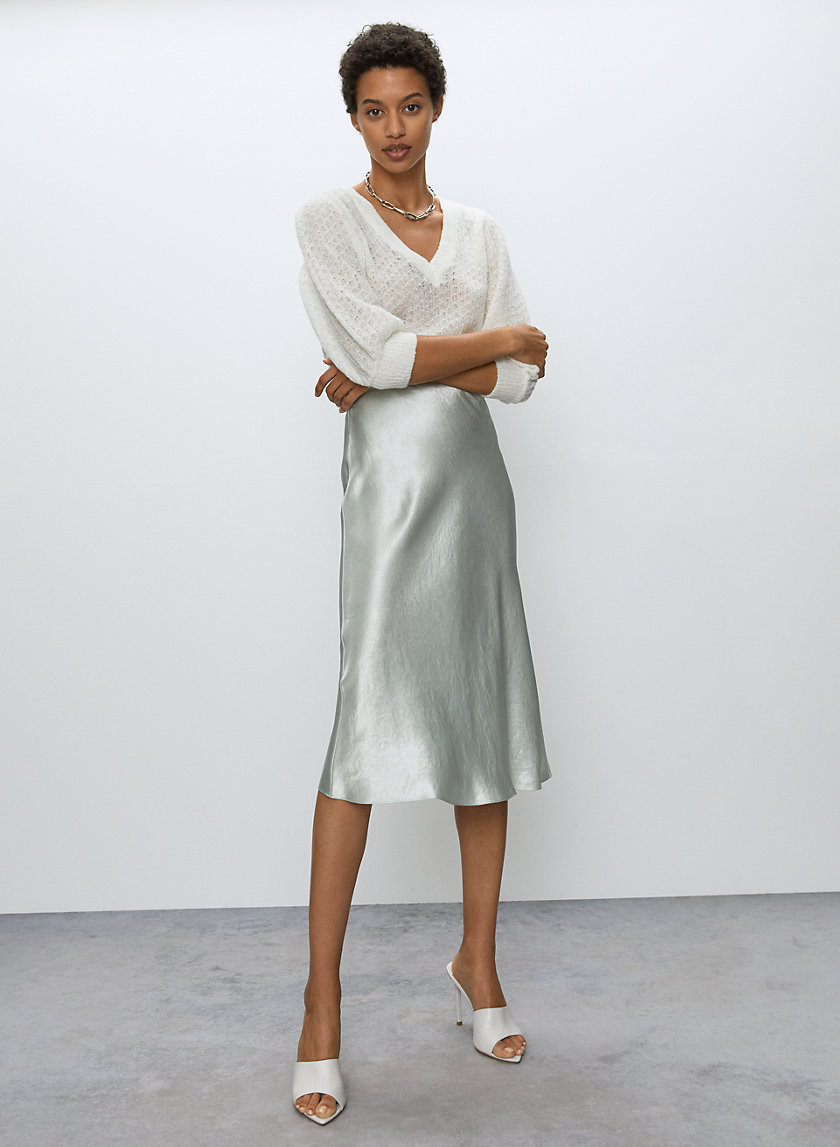 the Babaton Slip skirt, from Aritzia, in any color with a delicate top would work and most of us already have one of these in our closets.
Even though very few Victorian women wore pants, pants are a huge part of this trend because it's 2020 not 1898.
Banana Republic's Logan Trouser is the perfect pant to work with a Victorian vibe. It comes in lots of colors and plaids too.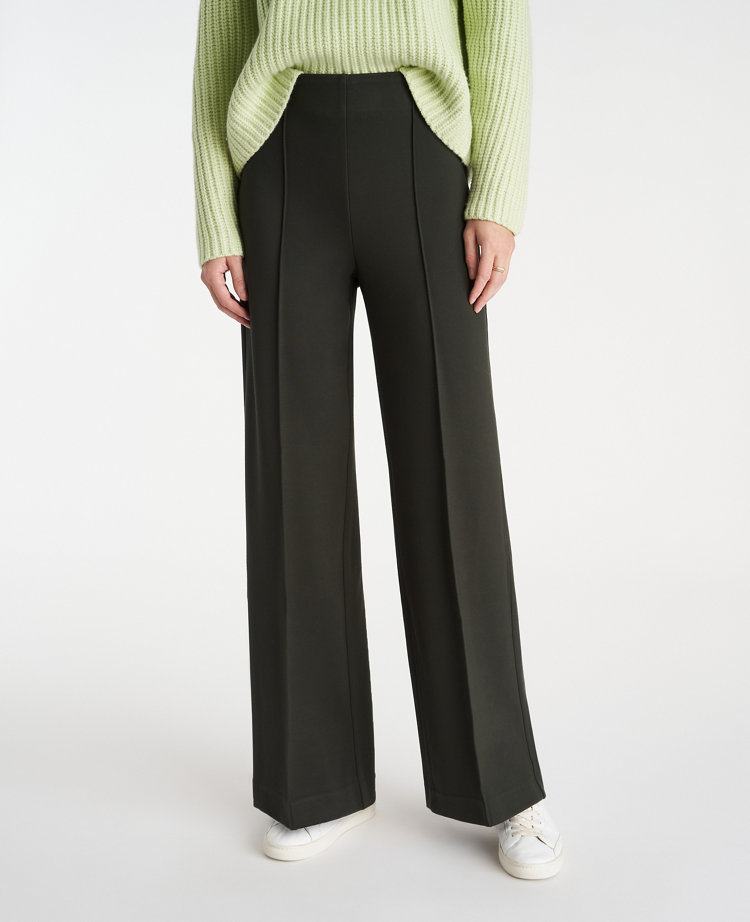 Ann Taylor's Easy Wide Leg pant is another option. Tuck your shirt into this pant and wear a great belt or booties to make the look right.
Any high waist pant can work. A straighter or wider leg is more fashionable now, but even if the leg is skinny and you tuck it into boots with a ruffled or high neck shirt you are hitting this trend.
Dresses work here too.
WHBM has some great lace dresses like this one with the Ribbon belt that would be perfect. Or you can go longer
this soft floral print maxi dress also from WHBM can be Victorian, especially with the tie neck.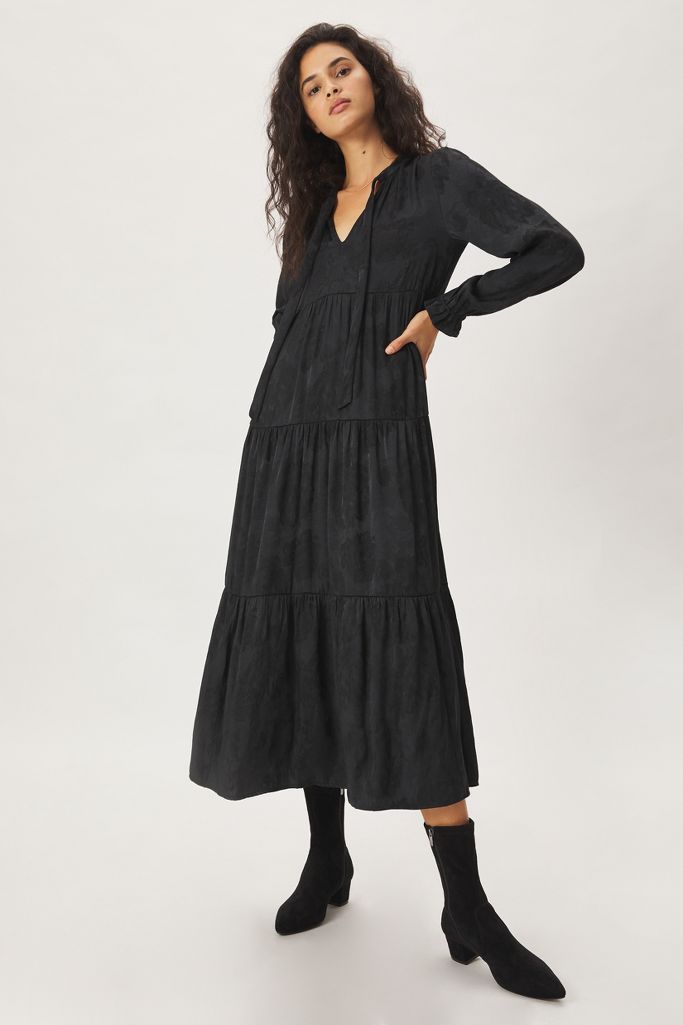 An embroidered tiered maxi dress would be perfect here as well. The Cassie Tiered Maxi dress from Anthro is perfect when worn with booties just like the Victorian ladies did.
Speaking of booties, there are a couple of options of shoes and boots that work really well with this trend.
The lace up bootie, is perfect here and you can see them all over in all price ranges.
Anthro has these Jeffery Campbell Gamine Lace up booties which would work with skirts and dresses as well as pants and denim.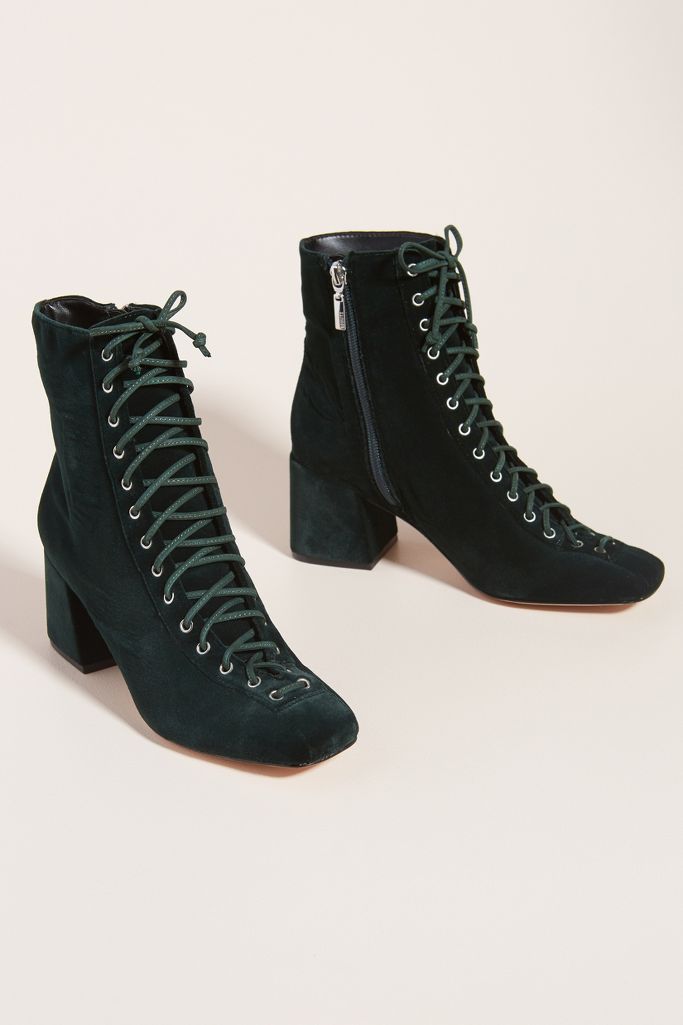 Or try a suede version from Schultz, the Granny lace-up bootie is also at Anthro.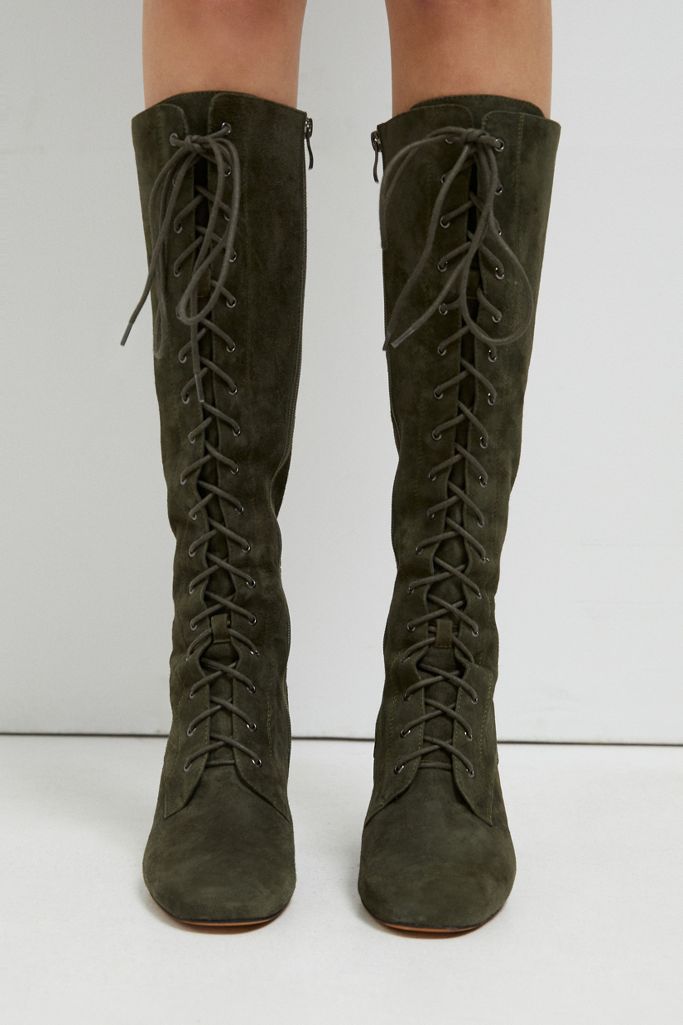 Knee high lace up boots work too, these are from Silent D also at Anthro. I am showing you the Khaki color, they also come in black and neutral beige, because it would be great to wear a softer color with some of the blushes and off whites that are prevalent in this trend. And you don't have to stick to solid colors, the Victorian women didn't. Try a tapestry lace up bootie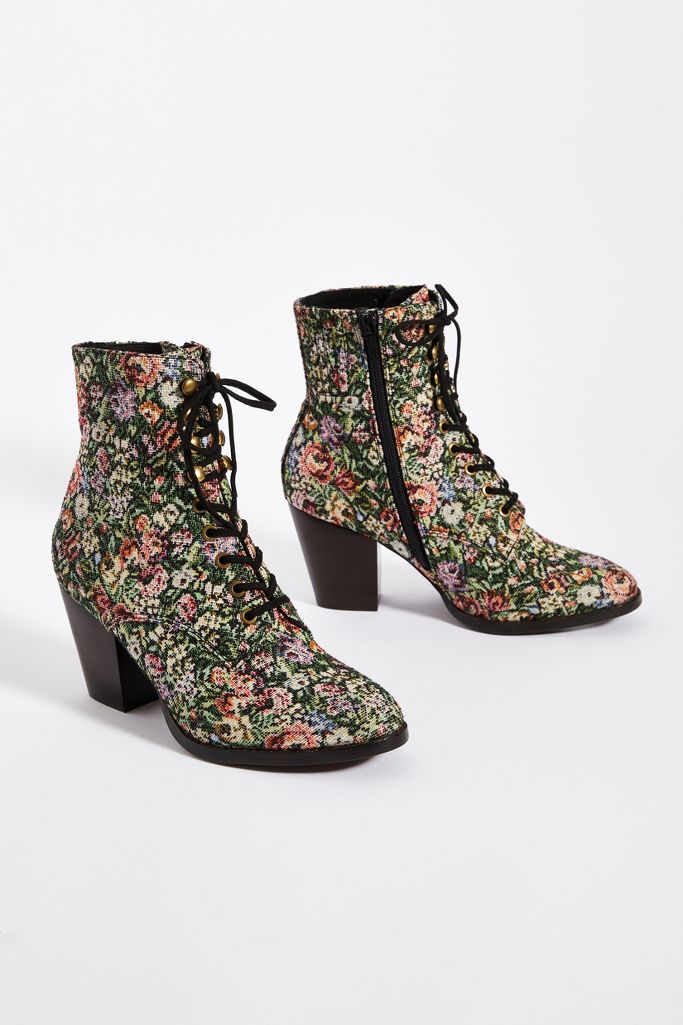 by Jeffrey Campbell at Anthro to use a current print with the Victorian era look you want. And if you want to wear a shoe with this trend choose one with a bow detail like
these Patent bow Lizard embossed flats from WHBM. Heels can work here as well, especially with wider trouser pants. Try a pair like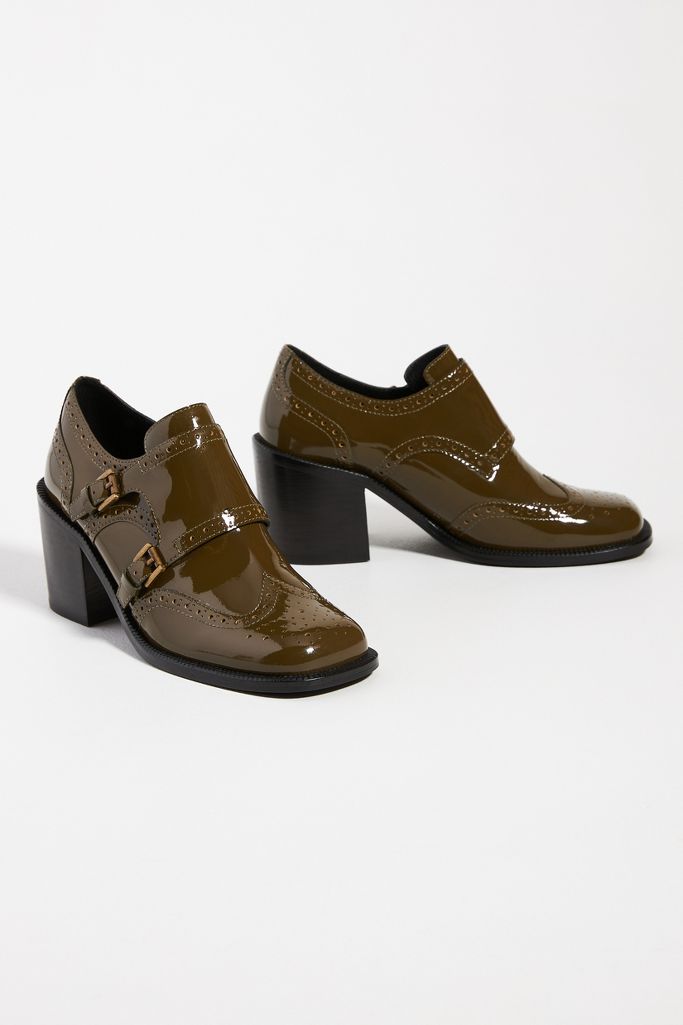 these Monk Heel Shooties by Jeffery Campbell at Anthro. They echo a bit more of the men's wear Victorian look but would still work great.
Other accessories here include any hair accessories you want to wear.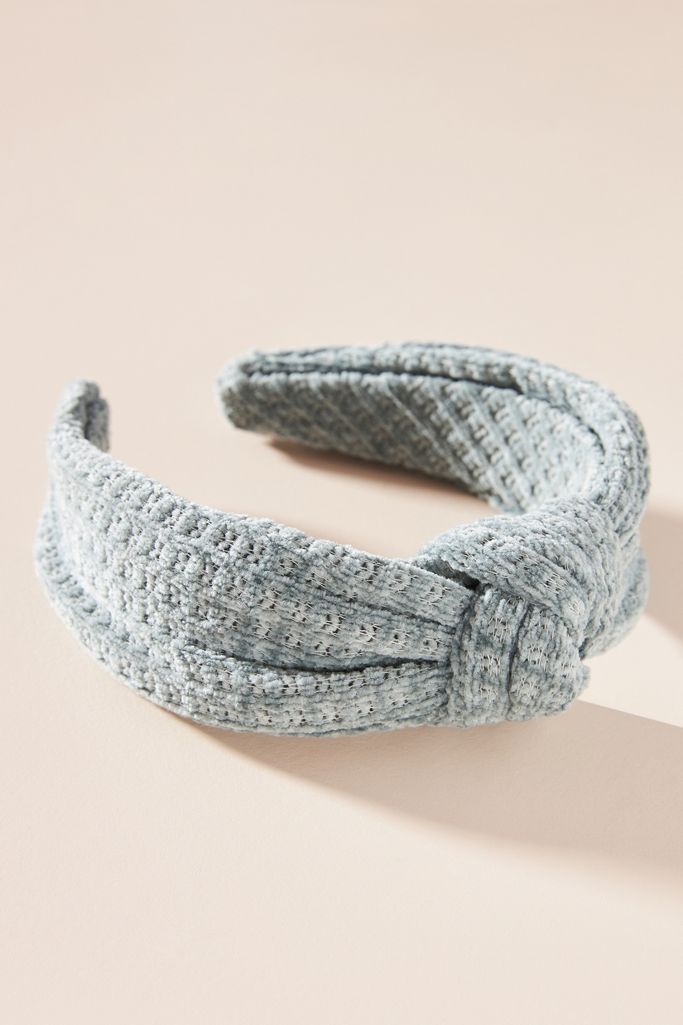 A Chenille knotted hair band would work great here. Find this online at Antho.
A set of jewelled hairclips would be great, these are at WHBM online. And around your neck nothing is more important with this trend than pearls! If you have your mom's or grandmother's this is where you wear them. If not pick a strand that makes a more modern statement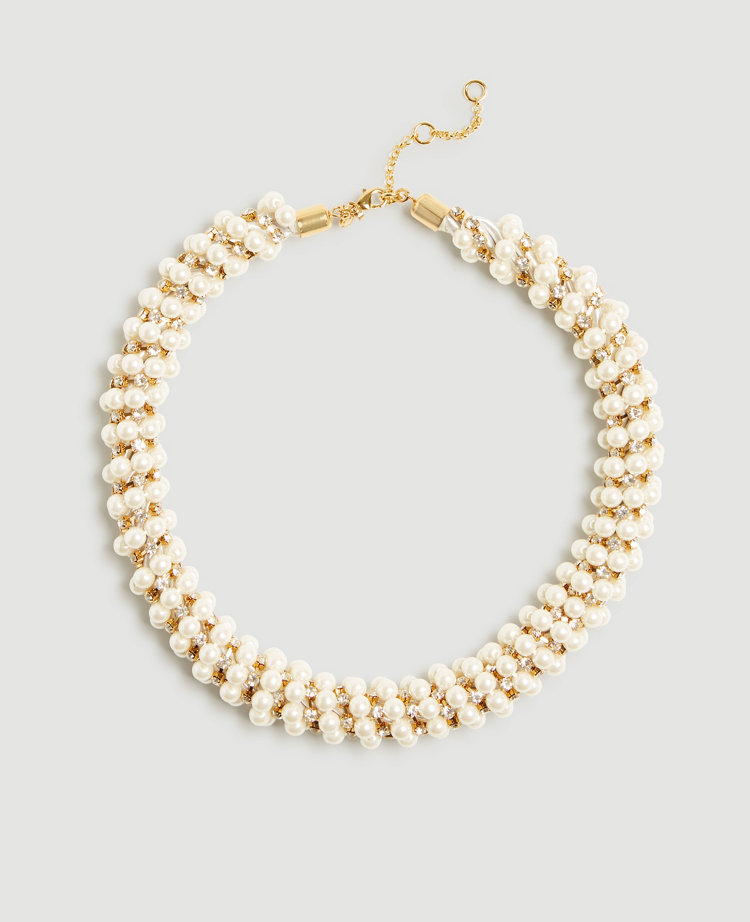 like Ann Taylor's Pearlized Crystal Statement necklace, it's modern and Victorian at the same time. Wear pearls on your wrists, ears and fingers too. Pearls were the go to jewellery in the Victorian era!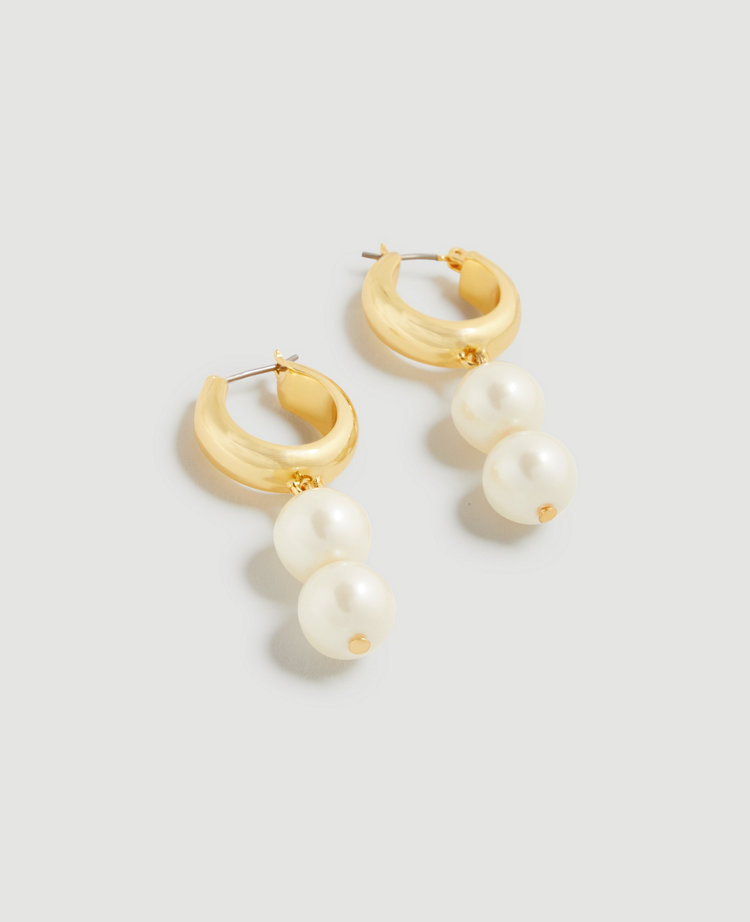 Wear these Pearlized Double drop earrings also from AT for a modern vibe on this trend.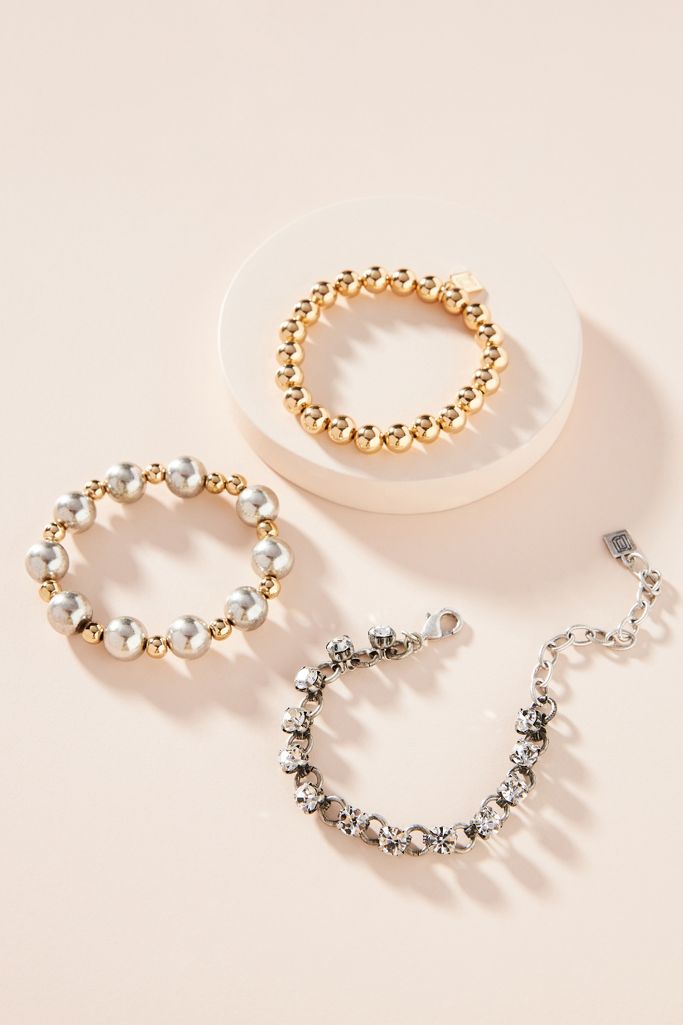 And mix pearlized bracelets with metallic ones like this set of Dannijo Brynn Bracelets from Anthro.
The accessories are the easiest part of this trend because we all have some sort of pearl jewellery we can mix and match to make this trend work for us.
Next week we are going to talk about the new Suiting Trend for Fall 2020. And all those high neck blouses we spoke about at the beginning of this blog are going to be the go to tops for the new suit. So stay tuned and we will talk about that next week.
You can play around with your fall trend looks too. Mix some of your plaids with your Victorian pieces, that would work great. If you have a baby doll dress from last season where it with lace up booties and tights, that works too. And if you want more look at all the websites from the stores I featured in this blog. It will give you great outfit ideas.
You can ask me any fashion questions you want at Suethefashionista@gmail.com I haven't been doing any in person styling appointments but if you need me we can always Zoom or Skype. And please use that email address for any blog suggestions you have, once we are finished all the Fall trends, if you have a suggestion I can blog about it.
Stay safe, stay healthy and stay fashionable!
Until next time…