What is it about size that confuses everyone?  Does it matter what the size says on the garment if it fits you?  Do you really care what size you wear? Now I am supposed to say that it doesn't and that if you feel good in your own skin it doesn't matter what size you wear.  But I don't really believe that.  I am not saying you have to run out and starve yourself into a size 4, but size does matter.  And it makes me upset when an item that is supposed to be sized a certain way isn't.  You know like petites that aren't petite or plus sizes that really only fit a size 12.
Recently I have heard from some friends that they are distressed when certain stores clothes because that is the only store that had clothes to fit them.  And every woman(yes absolutely everyone) has a part of her body that she fits her clothes around, or in other word needs to find close to camouflage. Mine are my thighs, some it's their hips, some their bums and even others it their bust.  Some women have large feet and others really small.  Everyone has something that they need to work around.  So how do you find things that really fit?
We all know clothes fit better when you are wearing the right foundations.  And since Covid has kept us in gym clothes and comfy attire, you probably haven't tried on your bras in a while, or maybe you haven't replaced them in a few years.  If you feel comfortable go into a store and get fitted.  I get fitted every other year when I am in Arizona at Dillards.  I think they have the best fitting staff.  Or you can go to a local lingerie boutique, like Diane's in Vancouver.  At least go get refitted every 5 years.  Your shape does change as you mature and you may need more or less support.  Ok enough about foundation wear.  If you are really struggling reach out to me and I can help you get fitted and find somewhere to go.
What is it about certain clothes that make a fit perfect?  How do you know a certain store's clothes will fit you, especially if you are ordering online because you want to stay home and safe.  If you aren't going into the store and trying something on personally, read the reviews. I have had my eye on this Ripley pant from Anthropologie for a couple of days.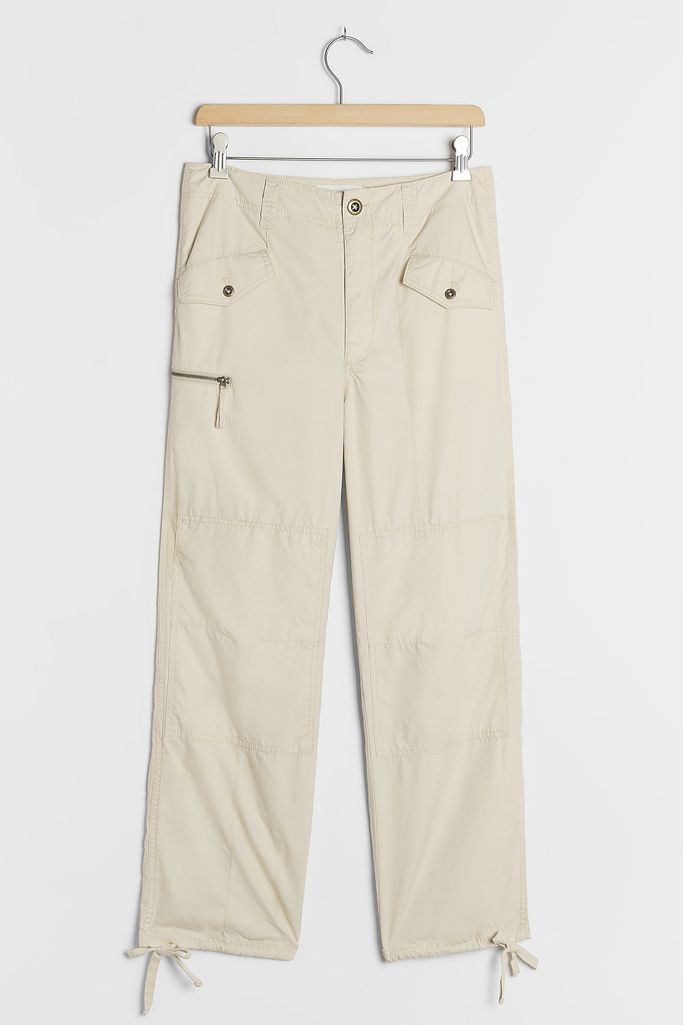 Depending on the color I buy I can get it in Petite, Standard, Plus and Tall.  How do I know if it will fit me? I can look at the size guide on the Anthro website:
Size Guides: Apparel
Standard Sizing (Inches)
Inches
Centimeters
 
XXS
XS
S
M
L
XL
US Size (Numeric)
00
0
2
4
6
8
10
12
14
16
Bust
32
33
34
35
36
37
38
39.5
41
42.5
Natural Waist
24
25
26
27
28
29
30
31.5
33
34.5
Drop Waist
26
27
28
29
30
31
32
33.5
35
36.5
Hips
34
35
36
37
38
39
40
41.5
43
44.5
This is how they fit the standard sizes, there is also one for petite and plus sizes but absolutely nothing about how much longer the tall fit is, I know I searched for it.  So one way to guarantee that these pants will fit is to measure your body and buy the corresponding size.  These pants are sized 24-32 in standard and petite and 16W to 26W in Plus.  But usually there are pictures of petite and plus ladies wearing it and this time there aren't.  Only the good old size 2 model who makes a paper bag look chic when she's wearing it. The other way to see if something fits like it should or has good qualities is to read the reviews.  You read the reviews before seeing a movie or going to a restaurant, so why not when buying a pair of pants.
Here is another example of how you would find a fit if you are ordering pants online.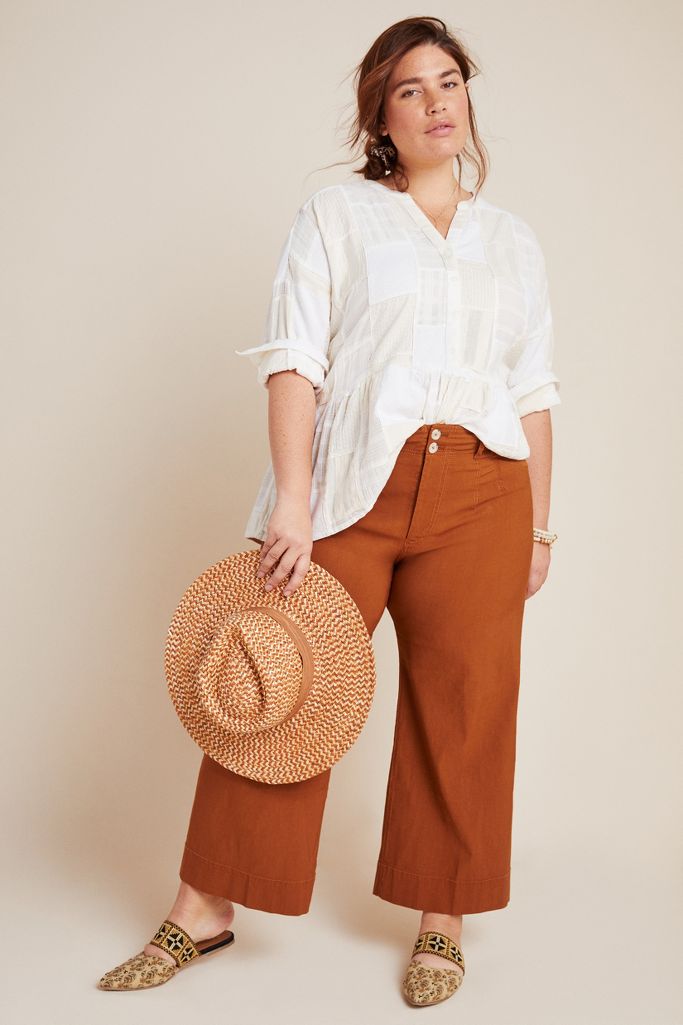 This is the Emma Cropped Wide-Leg Pant from Anthro, it comes in the same 3 size categories Standard, Petite and Plus.  This time we can actually see what it looks like when someone with a real figure is wearing it, so always look at all the pictures of all the different ways the article of clothing is shown. I always look at the bigger model wearing it, I might not be Plus size but I am nowhere near a size 4, so for me this is a more realistic way of looking at a pair of pants.  The other thing I find really helpful is the reviews, there were 52 reviews for these pants, but I only read the top 6 or 7.  So from my reading of the reviews, pear shaped women thought the pant fit great, but hourglass shaped women (very curvy) and one round woman both thought they fit terrible.  So look at who is writing the review, are they around your size and height? If they liked it , probably you will too.  If everyone who is around your size and height hated it, it's probably not for you.
Pants are particularly difficult to fit if you don't know the pant already.  Read the review and look at all the pictures.  It really does help.
Dresses are way easier to fit if you are buying one online.  Again, I would never buy a dress without reading the reviews and looking at all the pictures.  The one time I did, it was a Maxi dress, so I ordered a petite and it was a horrible fit.  I should have read the reviews and sized up.
This Rachel Tunic Dress also from Anthro is probably a really easy dress to buy without trying it on.
  It is a good length for women, not too mini and in the Plus sizes it's even longer.  It is supposed to come to your knee. But still you need to read the reviews.  This dress is XXS-XL in Regular and Petite and 1X-3X in Plus.  But do you know what happened when I read the reviews?  Everyone says it fits really large, so if you are like me and would normally order a Large, what does that mean.  It means size down and order a Medium.  You can learn everything you need from just reading a few reviews.  But a Tunic dress is an easy fit, let's take a dress that is fitted and see what we can learn.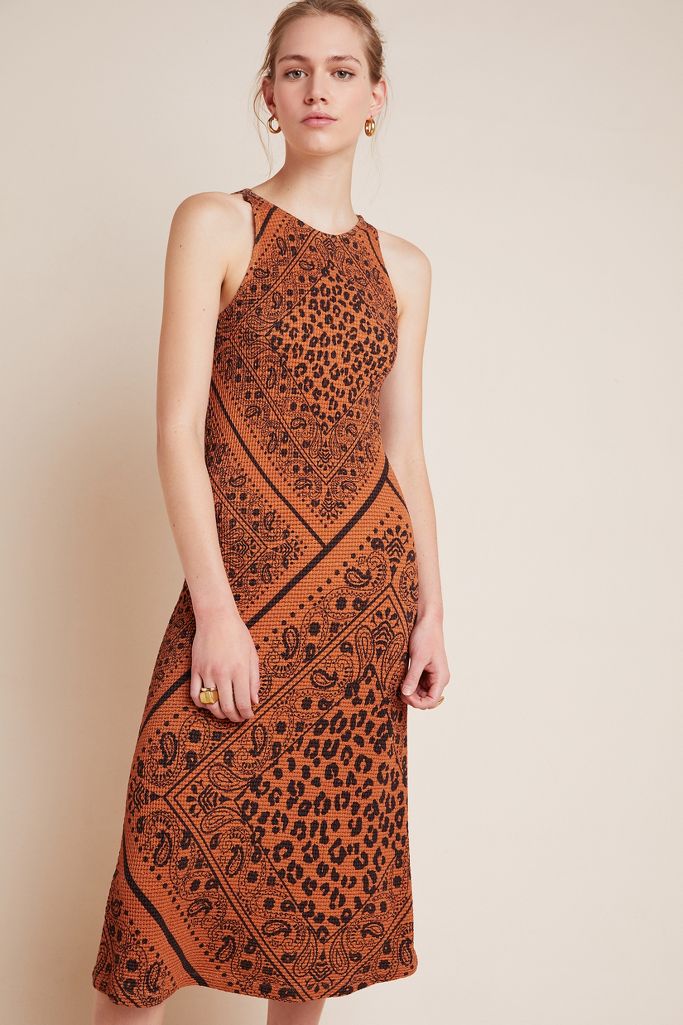 This is the Farm Rio Alyse Midi dress also from Anthro.  Looks pretty fitted doesn't it. Normally I wouldn't try and order a dress like this without trying it on.  But since it's Covid-19 and I really don't want to go to try it on, let's see what we can learn.   I comes in Regular and Petite sizing XXS-XL.  It's Viscose and Elastin, so it has a bit of stretch.  It's supposed to hit mid calf and the petite size is 2″ shorter.  So far so good.  Oh and by the way the model is 5'9″ so you know it will probably be closer to a maxi length on a shorter woman.  But what happened when I read the reviews?  Well all the women who wore size large or XL loved the dress.  There was a woman from NY who weighs 175 and is 5'6″ and she said it is the best dress ever.  And most of the women loved it but a few ladies in sizes small and XS said it didn't fit well at all.  So if you are smaller maybe this dress isn't for you.  But if you have an hourglass figure or wear a size large, everyone loved it.  And that can help you decide what size to order (most women said true to size, one said it fit small) and if it will suit your figure.
Tops are pretty easy as well.  Look for tops that you know will fit you.  As you all know I love the Banana Republic tops.  I order alot of them online.  Here is their Soft Satin Tank, it comes in 5 colors and almost all BR things tend to fit the same.
  So if you are a Medium in one top chances are you are a Medium in another.  And even though I know that, it doesn't hurt to read the reviews.  Mostly everyone loved it and found it fit true to size, but a couple of other things stood out to me.  One woman complained how much it snagged and took her time to go through the rack in store to find one without snags (good to know right!) and another found it fit shorter than last year's satin top, also good to know.  Because now you know that you can wear it with a wider pant as well. Here is another BR top, it's their Cropped ECOVERO Button Back Tank.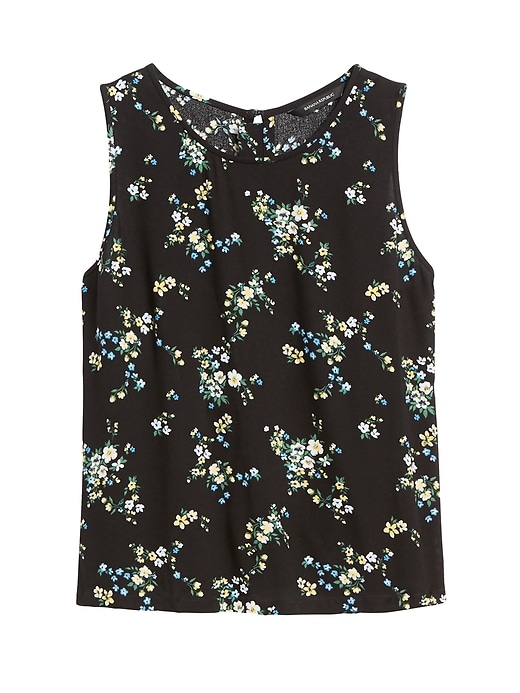 Tank tops are trendy right now so this one had plenty of reviews.  Again mostly favorable but a few women complained about how short it was and that it was too short.  Well I actually have this top and it's not too short at all, it hits right below my stomach, which is perfect on me.  But you need to look at who is writing the reveiw, the women who all found it too short were quite tall.  I don't happen to be tall so it worked for me.
So take you time when shopping online and read the reviews and look at the pictures of it on different size models.  If you want to order from Nordstrom, they have video's with each piece they show online of a sales person describing the fit of the piece and how to wear it.  Want more info, call your local store and talk to a style advisor.  At Anthro they have Personal styling you can do via email and I think I have told you this before at BR on the American website they have outfits with almost every piece put together by their stylists for you to get inspiration from.  Use all the resources you can before making an online purchase.  Size does matter, because if it doesn't fit you won't be happy!
So far we are still Covid at home, but as things loosen up a bit you can go into stores and try things on.  I know I post a lot from big chain stores, but shop your local stores as well, they will need you to shop there now more than ever.  Stay safe and keep well.  I love to hear all your style questions and please feel free to keep emailing me at Suethefashionista@gmail.com and maybe you next question will be one I can that can inspire a blog post.
Until next time…