One of the things I pride myself in is my ability to curate my wardrobe.  What I mean by curate is that over the years I have bought clothes that can be worn in a mulitude of ways and over a mulitude of seasons.
Covid-19 has certainly changed the way I shop and the way I purchase clothes. I haven't been spending the time or money this spring on clothing, I have bought a few things but they have all been online and even a seasoned shopper like myself has a few misses.  It happens to us all.   But more times than not if I see something that speaks to me and I buy it, I pull it out a week or a month later and it magically can take my outfit to the next level.
So what are the kinds of things that can magically make your outfit? Let's go through some of my favorites and see if they can inspire you to curate your own wardrobe.
One of the pieces that I get more wear out of than I ever thought (besides pairs of jeans) is sleeveless mock neck tops that I bought at Anthropology last spring.  Mine are a knit fabric with a small pattern in the fabric and they have 3 big wood buttons at the back of my neck.  This season Anthro has something a little more delicate but similar. The Suzy mock neck tank would work in every wardrobe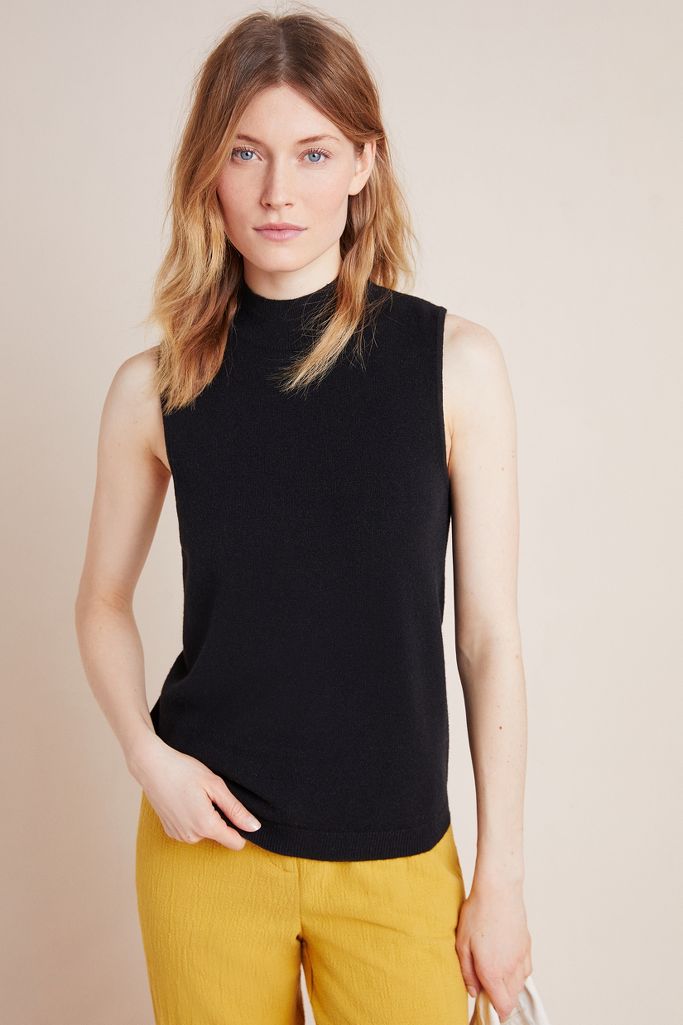 . The black is a must and the yellow would be great this season, it also comes in grey and cedar.  It is a poly/nylon/viscose blend so it will wash beautifully and not stretch out of shape.  You could wear this piece all year long.  It is great under a blazer for sweater in the fall and winter and in the spring and summer it looks great on it's own.   I actually have a few other knit mock necks and I do wear them all year long.
I own many denim jackets.  I use them almost like an accessory.  Since my work style is more creative, I can even get away with using them instead of blazers.  The denim jacket I use as a blazer is one I bought at Ann Taylor a few years ago.  It's very dark denim and has a peplum waist.  This season Ann Taylor has a fabulous belted dark denim jacket that would be a wonderful piece in any wardobe.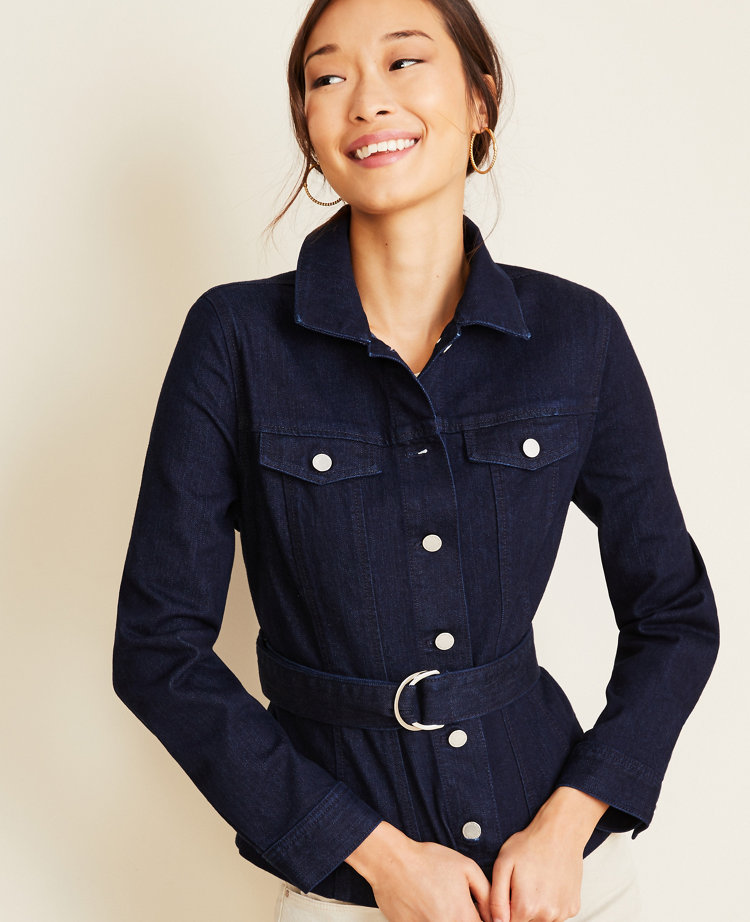 I think a dark denim jacket works with so many things.  Because it has a defined waist it would look great with wide leg pants and maxi skirts, it would be great over sheath dresses and look excellent with any other pant, straight or skinny too.  A jacket like this could even be worn with skinny black pants, your black mock neck above and boots in the fall.  Right now you could wear it open as a topper to a t-shirt.  Every one owns a denim jacket but getting one that is more of a sophisticated style will let you wear it for   more occasions.
Black wide leg pants have become a great staple in my wardrobe.  I have 2 pairs, one pair that is knit and I wear it casually (the pair I talked about from Loft in my last blog).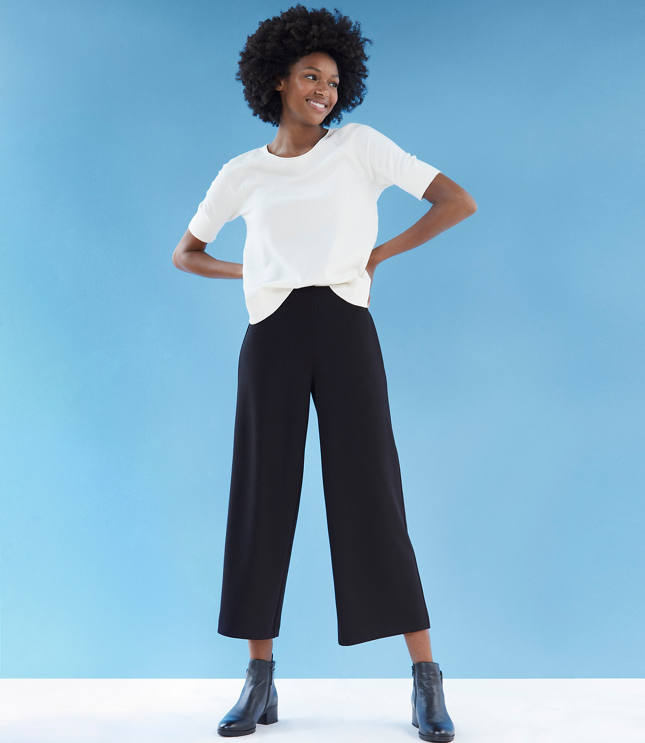 I wear these constantly and they are really comfortable.  I wear them with all my shorter tops and in the winter I can wear them with cardigans or cropped sweaters and ankle boots.  The other pair I bought is from Banana Republic, I have the BR Slim Wide'Leg Cropped pant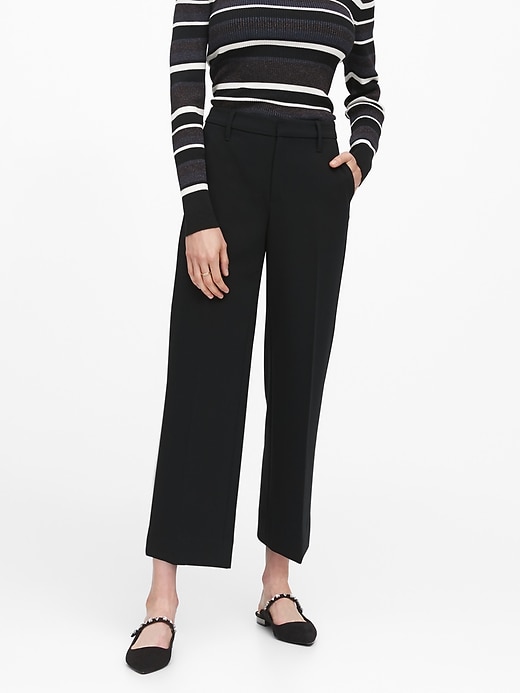 .   They are a poly/rayon and spandex combination and they fit like a dress pant while being super stylish.  I am shorter so a cropped pant hits me around my ankle, which is perfect for great sandals or slides in the spring and summer and a chunky heeled boot in the winter.  I like them so much I bought them in Splendid Green
and Red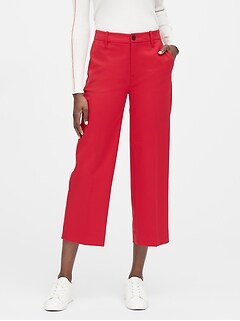 as well.  To me these pants will be the kind of pants I can wear anywhere.  They look fabulous with my denim jackets and any cropped jacket or sweater I have, they work with a lot of my shorter tops and because they are slim wide leg they even work with my mid length tops.  As long as your top and pant create the same line down your body, your top can be a bit longer, it actually makes you look slimmer and taller.
I love sleeveless tops, I wear them as layering pieces in the winter and on their own in the summer.  I try and buy them when they are on sale and in a variety of fabrics, prints and colors.  Last year I fell in love with Banana Republics V-neck satin sleeveless top. I bought it in almost every color I could get my hands on once they went on sale. I have one that is black with off-white polka dots that has become my go to with denim all the time. This season you can find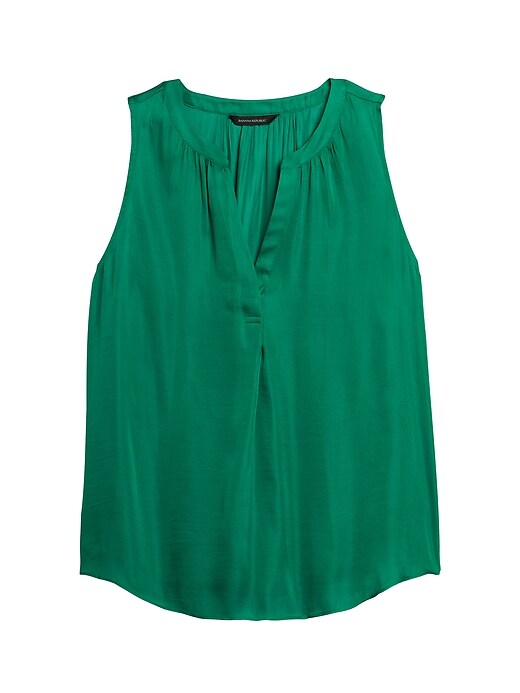 Soft Satin Tank in 7 colors including black and off white (which in my opinion are staple colors), and this Hula green is a great spring trend color.  This is the kind of top you can wear with skinny, straight and moderately wide pants, they wash beautifully and will become your favorite in no time!
I don't wear a lot of sweaters in the summer but I do wear them the rest of the year and Banana Republic also has some great cardigans.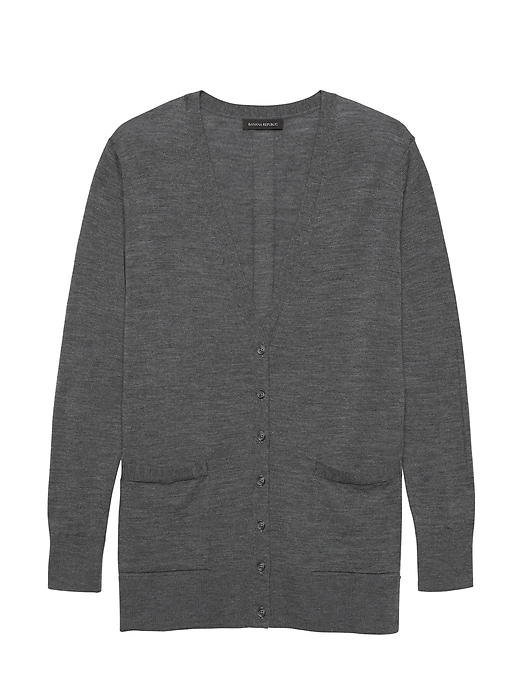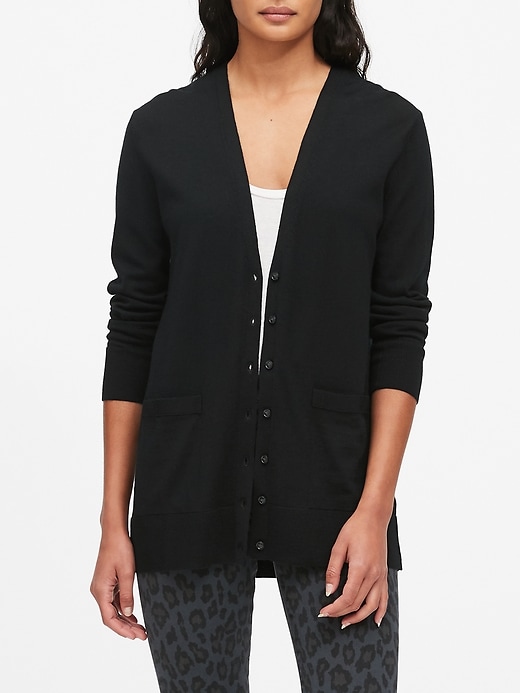 My very favorite is their Washable Merino Wool Boyfriend Cardigan.  I have it in 4 colors and I am even wearing it in the summer on cool days. It's lightweight but no too lightweight and it's warm but not hot. This sweater is definitely one of those pieces that is an answer whenever I need one.
One more Banana Republic piece that I live in, and if you know me you have definitely seen me in this.  It's a sandwashed black sleeves maxi dress.  I have worn it dressy and casual and it has no waist so I can belt it or leave it straight.  I liked it so much I bought it in a grey stripe too.  This year they don't have the same dress, you can buy the jumpsuit version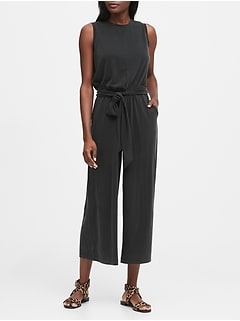 . The Sandwash Modal Cropped Jumpsuit is the same fabric and style as the dress and it could work the same way.  Or if you prefer a dress you could try
Utility Maxi dress, it's polyester so it will sit great and not wrinkle.  I actually bought this in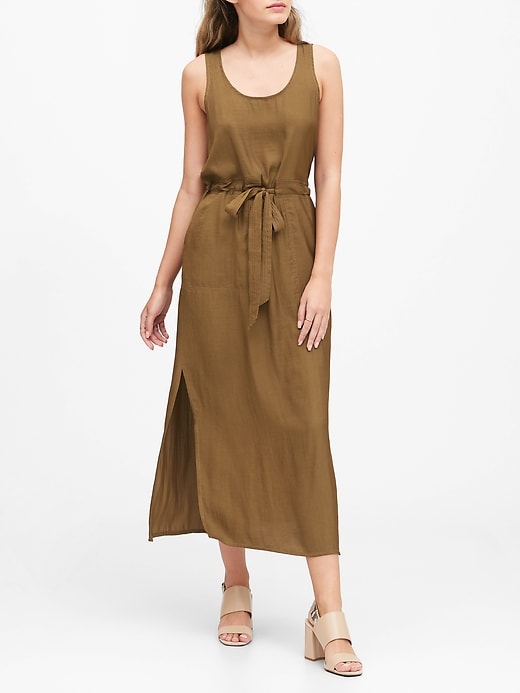 Olive green, but I probably won't wear it as much as last year's black sheath dress.
Lastly I want to talk about shoes.  During Covid-19 I have been wearing sneakers non stop or comfy sandals on nice days.  But those aren't the kind of shoes that are answers to any style question I have.  The kind of summer shoe that is an answer is a flat sophisticated sandal. Over the years I have bought a few that just seem to work all the time. I have heeled ones as well, but after wearing sneakers for months of Covid it is likely I won't jump right into heeled sandals every day.  One of my favorite pairs is Louise et Cie, I liked them so much I bought them in both black
and metallic
.  This year they have them in white and tan. You can find them at Nordstrom Rack and they are marked down.  I have a similar black pair as well that is more of an open toe loafer I bought years ago at Gravity Pope and they are interchangeable with the black pair above depending on the occasion.  But these pseudo gladiators work with everything.  I wear them with jeans, pants, dresses and skirts, they are fantastic with a maxi dress or skirt that grazes your ankles.  And they look super with all my wide leg cropped pants above.
So there you have it, the type of pieces you could add to your wardrobe to look inside and see the answer to whatever style question you have.  Throw a few print pieces into the mix in your tops and dresses and you could create a capsule wardrobe that you can take with you when you travel or just have as a part of your overall wardrobe.
As it looks like Vancouver is slowly recovering from Covid-19 hopefully by the Fall I will be able to do in person styling and come to your home and do wardrobing with you in your own closet.  For now I am staying Covid safe and not doing anything in person at all. However if you have styling issue we could do it on Zoom or via Messenger and of course if you email me at Suethefashionista@gmail.com I will always answer.
Please stay Covid safe and until next time…