This blog is kind of a mishmash of all the new things for Spring 2020 that we should try to make room for in our wardrobes.  Now I know that your wardrobe has changed dramatically in the last couple of months, but eventually we will all be wearing real clothes again at some point.  Even though by today's standards a pair of jeans is dressing up, it won't be that way forever.
As we endure the 2 true month of this pandemic we have all come to realize a few things. My new reality is having both my boys home and my house full again. Even though my oldest now has his master's degree, he is safer and better off here with us. There is will no trips for quite a while and probably not at all in 2020 (I was supposed to be in Durham, NC right now), but the safest place for everyone is where they are until there is a vaccine. I have also realized that no matter how isolated I need to be, I can't stand grey hair on myself.  Thank goodness my hair salon will be opening the end of May.  I also need to have gel on my nails.  I now have the ability to do that myself but likely I will go back to the nail salon if it opens up again.  I think we all have discovered certain truth's about ourselves and it's ok to be who you are, you do you and be proud of who you are!
OK back to fashion.
There are certain things that are Spring 2020, let's go through them and if you like them try them in your wardrobe:
Trenchcoats with Embellishments
  Here is exactly what I am talking about.  You can embellish a trench many ways. RWT is one side with a red check pattern, and Seqinyy is showing 2 with different details.  If you have a basic trench you can add a scarf or a chain detail yourself, if not maybe try one of the newer trends either in a color or with a pattern. I bought a basic trench last spring so I am going to be wearing scarves and my own embellishments if I wear it this season.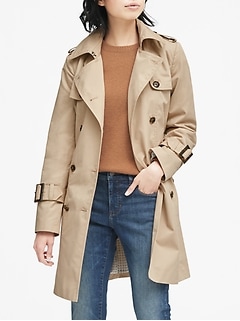 Banana Republic has a basic water resistant trench you can embellish yourself and right now it is 50% off, so it's a great time to buy it if you need it.
Maxi Skirts and Skirts with Slits
Maxi skirts have been in style for a few springs.  But they are just getting stronger.  And they are perfect for women over 45 because mini skirts are no longer appropriate and the maxi is just as fashionable this spring.   And maxi skirts with slits in them are super trendy right now.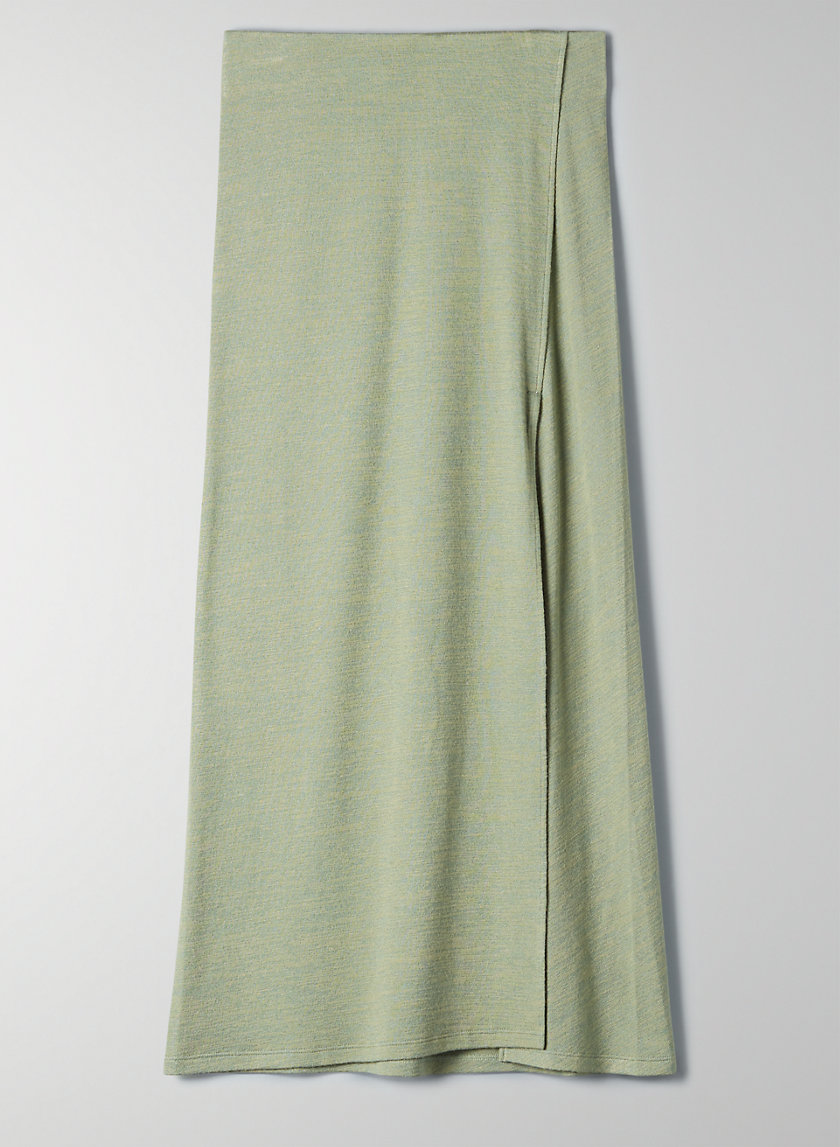 Aritzia has the Wilfred Free New Sheilds Skirt which is high waisted and comes in black and 2 softer colors including this great Sage Frost.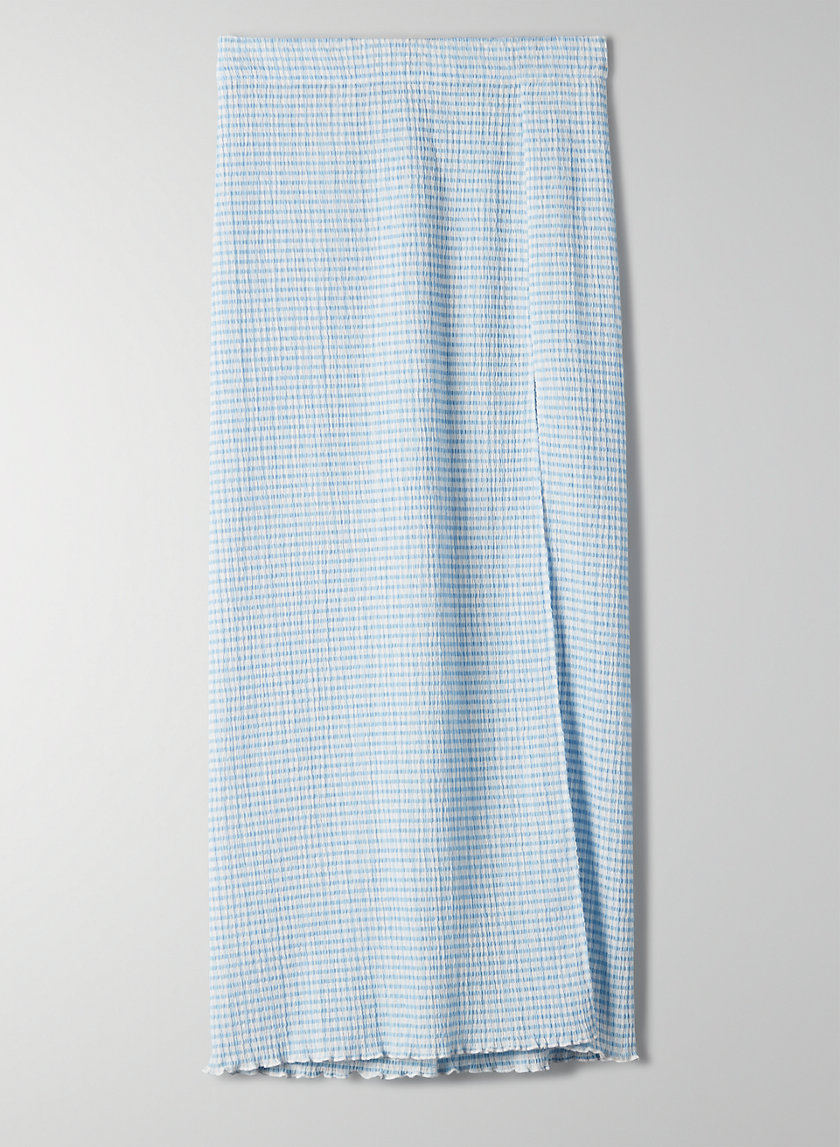 Wilfred Free has the same style in Space Dyed blue and black searsucker for those hot days.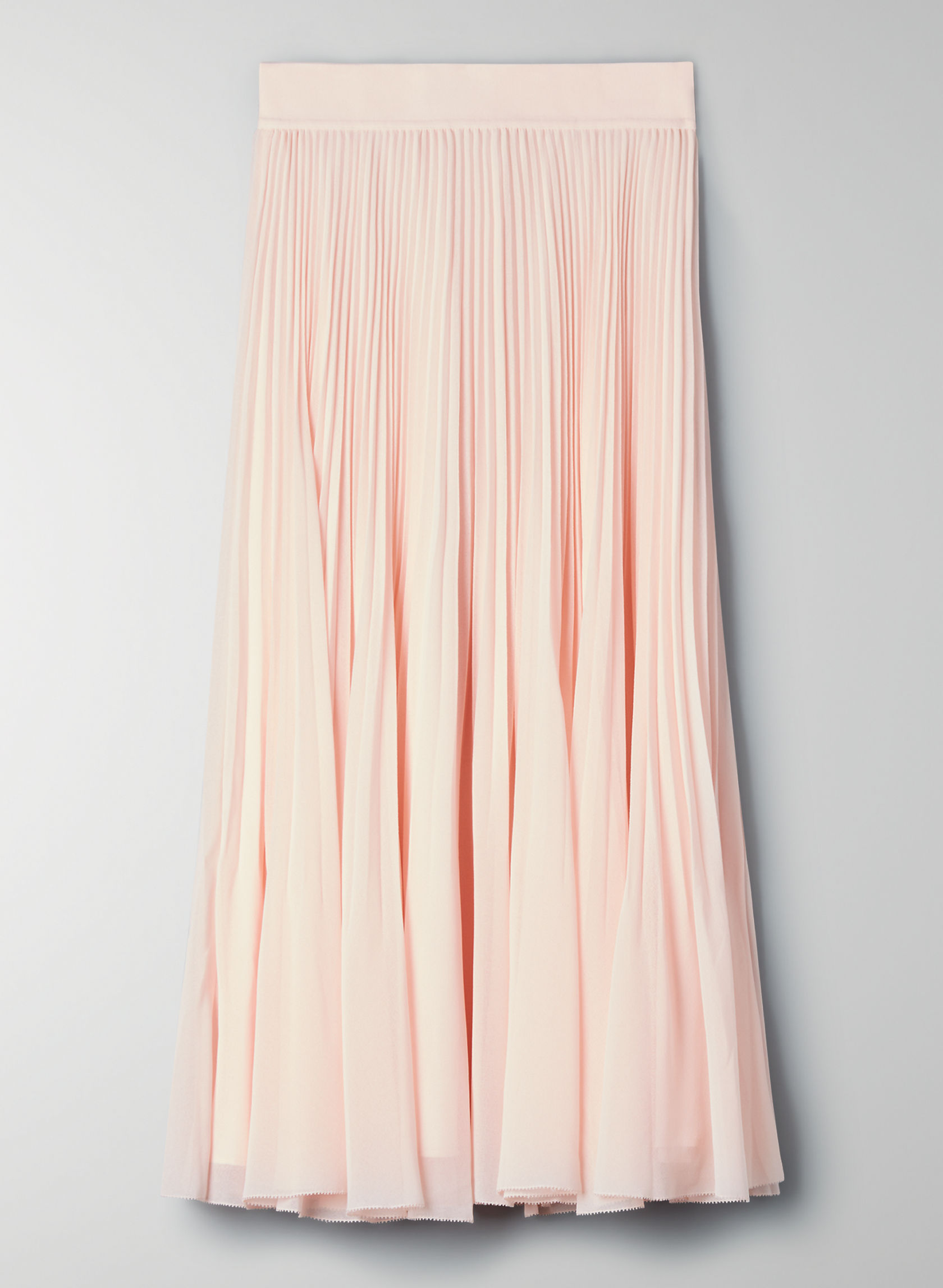 Wilfred also has their Twirl skirt, chiffon and pleated in 12 colors.  This skirt is a wardrobe staple for some of us, it endures and always looks great.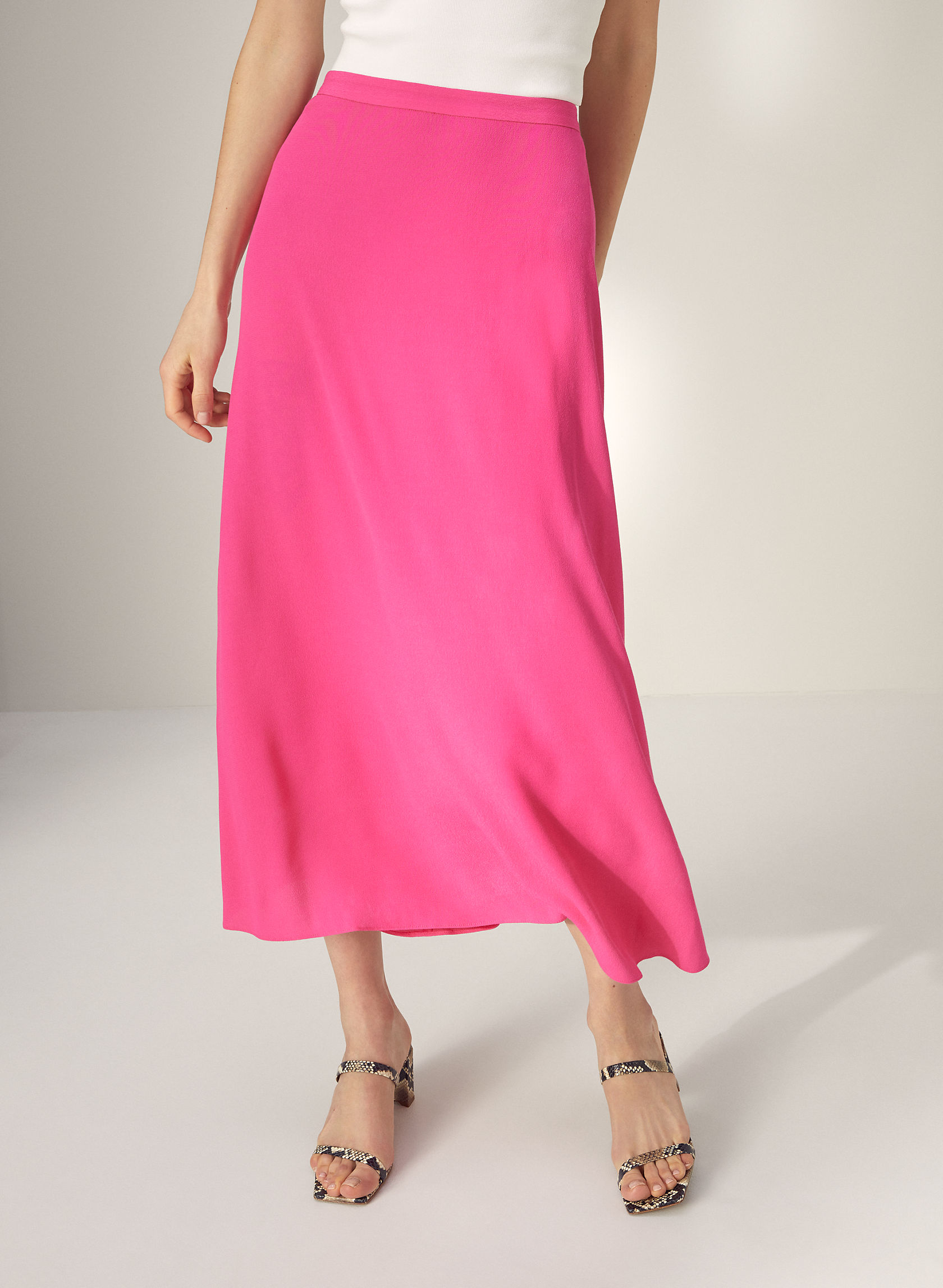 Aritzia.com is maxi skirt head quarters, they have every kind of maxi including this Wilfred basic A-line maxi you can wear everywhere.  If you need a new maxi skirt check out Aritzia online!
Clean Lines
When we talk about clothing with clean lines think of stream lined. Tops that blend seamlessly into bottoms.  Head to toe color is a big one for clean lines. You can acheive this simply by wearing a dress or jumpsuit.  One of my fave dresses for Spring is Banana Republic's Utility Maxi dress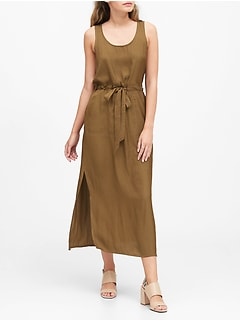 head to toe color, very streamlined.  You can do the samething with a jumpsuit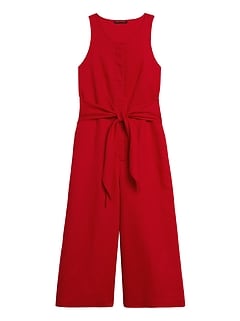 head to toe one color. This is BR's Linen-Cotton Wide-Leg cropped jumpsuit.  Or you can purposely wear one color head to toe.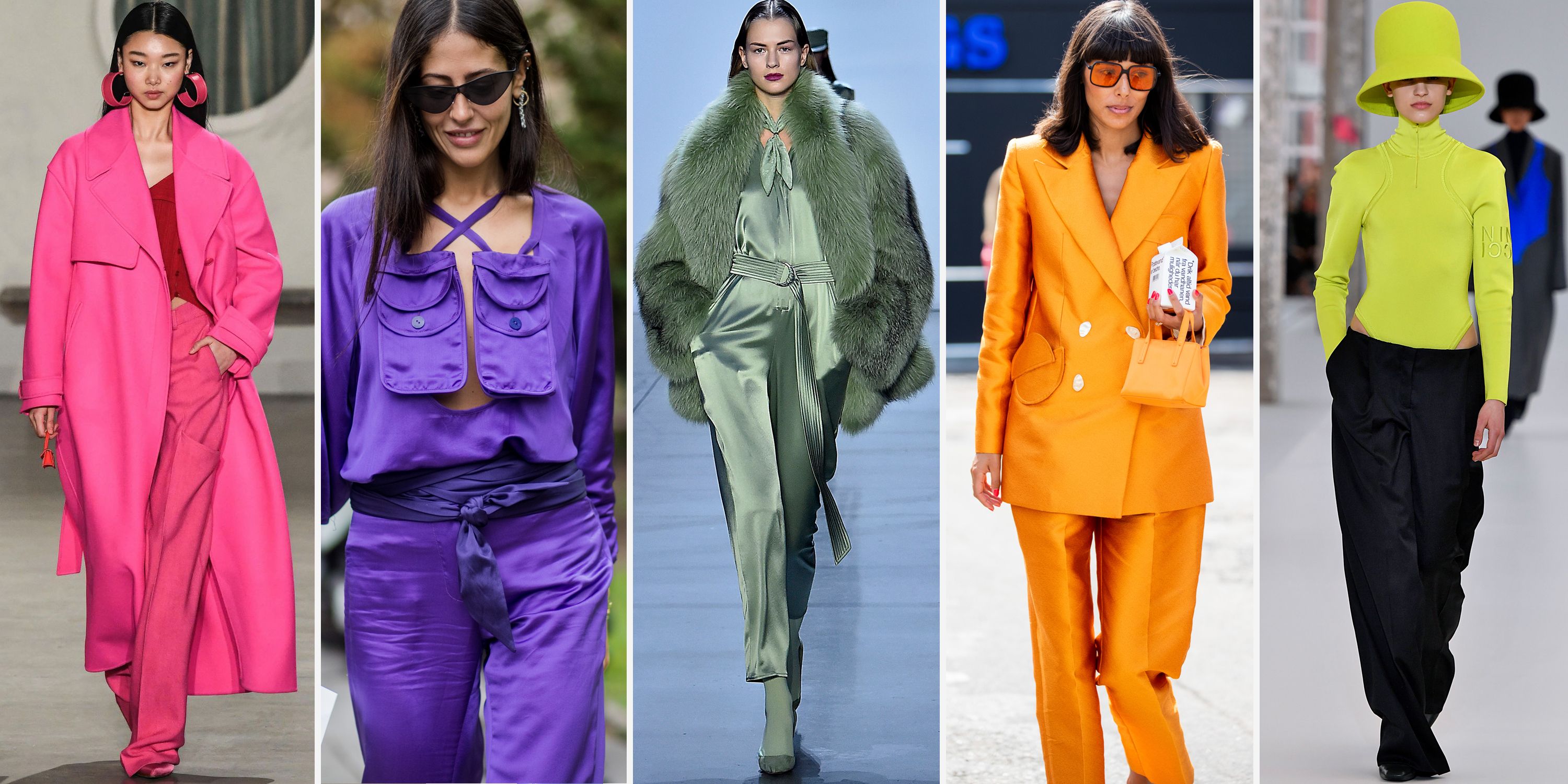 We saw almost every color put head to toe in spring shows.  Pick what works for you and wear it head to toe.  I personally love black head to toe no matter what season. But this spring how I am going to wear head to toe is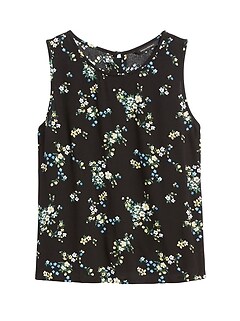 this cropped floral tank with back buttons from BR with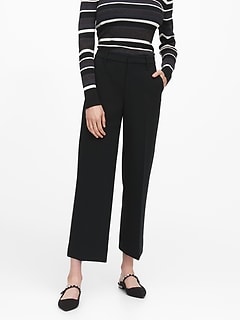 my slim BR wide leg cropped pants and then either a black light cardigan or sheer poncho on top.  But I wear a lot of black.  You could try the same thing in Spring 2020 colors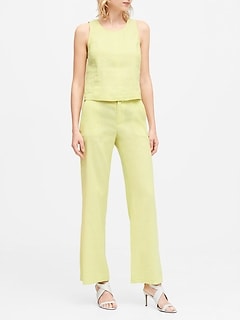 in BR's linen cotton cropped tank and high rise linen cotton pant. Don't be afraid to wear any color head to toe.  Take a look at Banana Republic.com for ideas, they have tons of ways to wear head to toe pieces and colors.  Think Utility colors too, beige, olive etc. Great and trendy for head to toe right now.
Chunky Collar Necklaces
The heavy short necklaces are back for spring.  Nobody does the chunky collar necklace like J. Crew.
They have so many great ones, I just am showing a quick sample of what they have online.  Pair a tone on tone chunky necklace with your streamlined looks! Or make the necklace your statement piece with a maxi dress or jumpsuit. If you buy a new necklace for spring make sure it is chunky, hits your collar and has some great detail.
Big Purses
At the very beginning of Spring fashion before the pandemic, purses were going big, big and bigger.  I don't know about you but now if I have to go out I use a small cross body bag, no point wearing lipstick when all you are wearing is a mask right? So even though giant purses are in fashion
in every shape and color, we may want to take it down a notch for ourselves right now.  What I am going to be carrying this spring is a toned down version of a tote.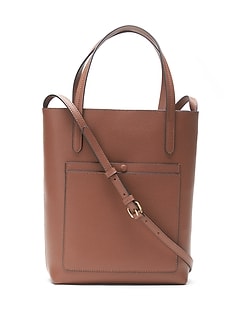 I bought this 12 hour leather tote from BR for myself, it is the smaller version of their larger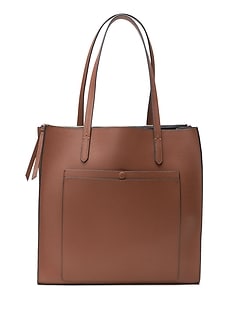 one.  I am not tall and sometimes a huge purse can overwhelm me and what I am wearing.  So I chose a neutral color bag that I can wear with everything.   But you do you and if you want to do the giant purse trend take a look at Nordstrom.com, they have lots of large purses and totes like this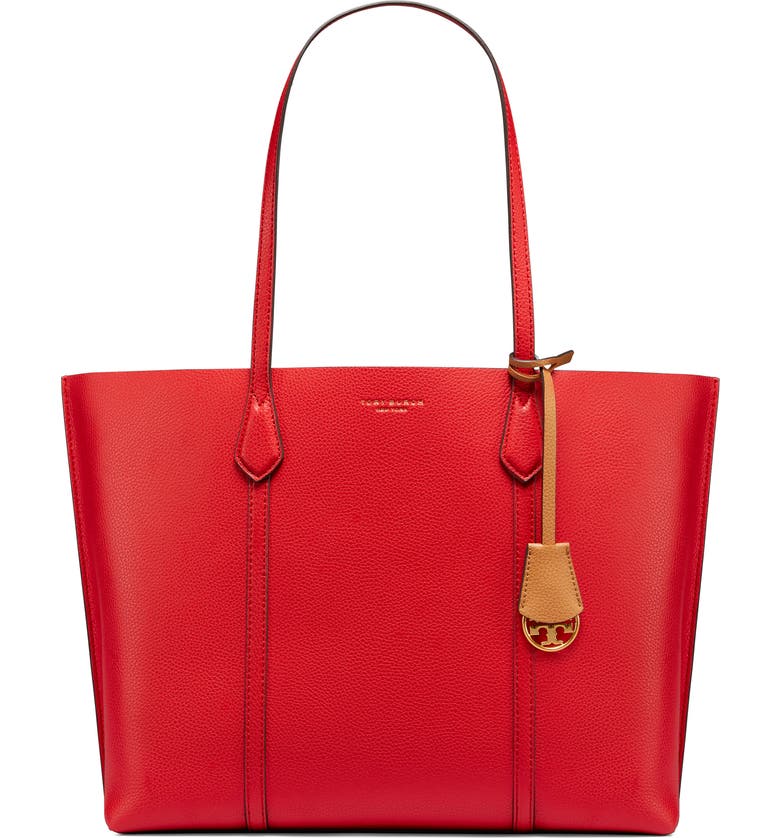 great tote from Tory Burch that comes in 6 bright and neutral colors.   When I first started exploring spring the trend was that small bags were out and large were in. But with the pandemic a lot of women are carrying smaller bags, not the micro ones that were in for last spring, but just regular size ones.  It seems to me that right now there are no rules, so if you want to wear a giant bag by all means do and if you don't then don't.
Tank Tops
Tank tops are the 'it' top for Spring and Summer 2020.  They come in all fabrics.  You can stick with your cotton tanks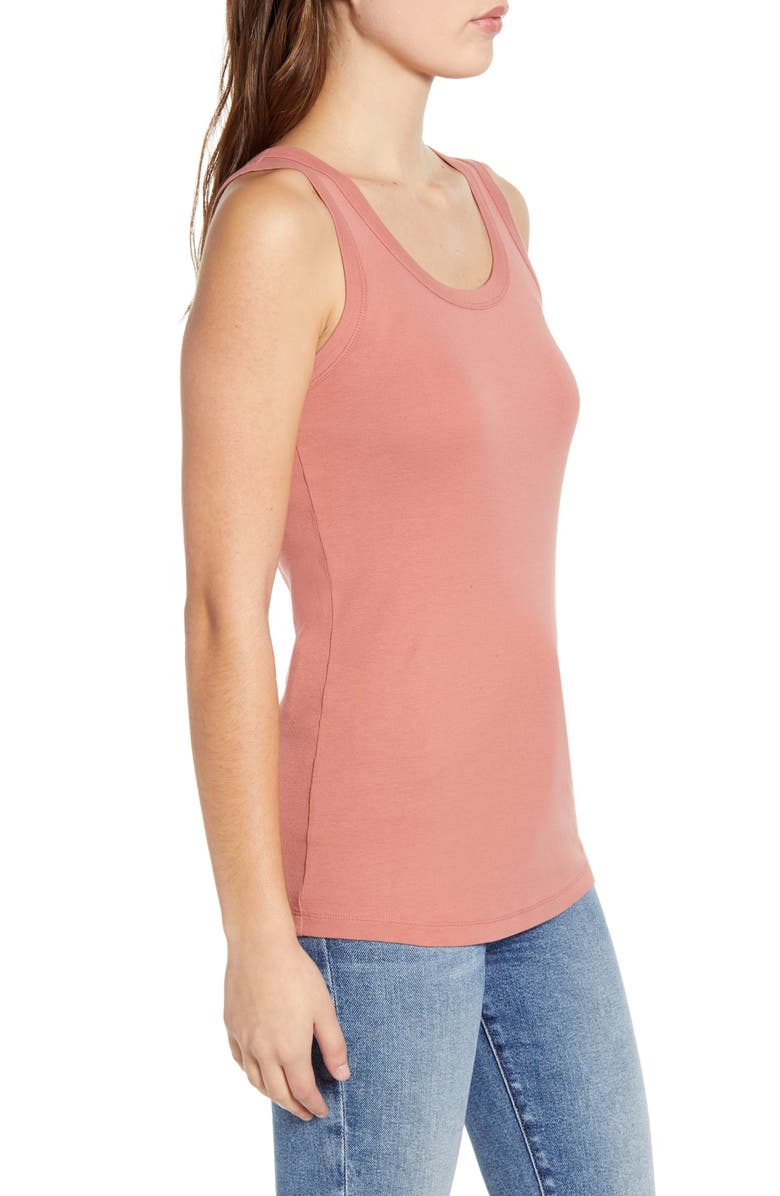 like Nordstrom's Caslon tank that is $19 and comes in tons of colors.  Or you can try some new versions.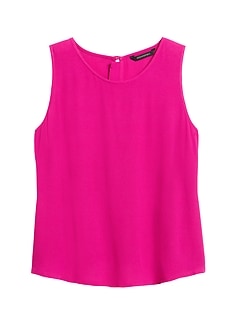 BR has a cropped version in viscose that comes in tons of colors and prints.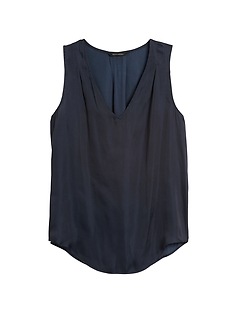 They also have a soft draped one that comes in lots of colors too.  J. Crew has lots too like
this cute linen tiered tank.   And of course Joe Fresh always has lots of inexpensive tanks for summer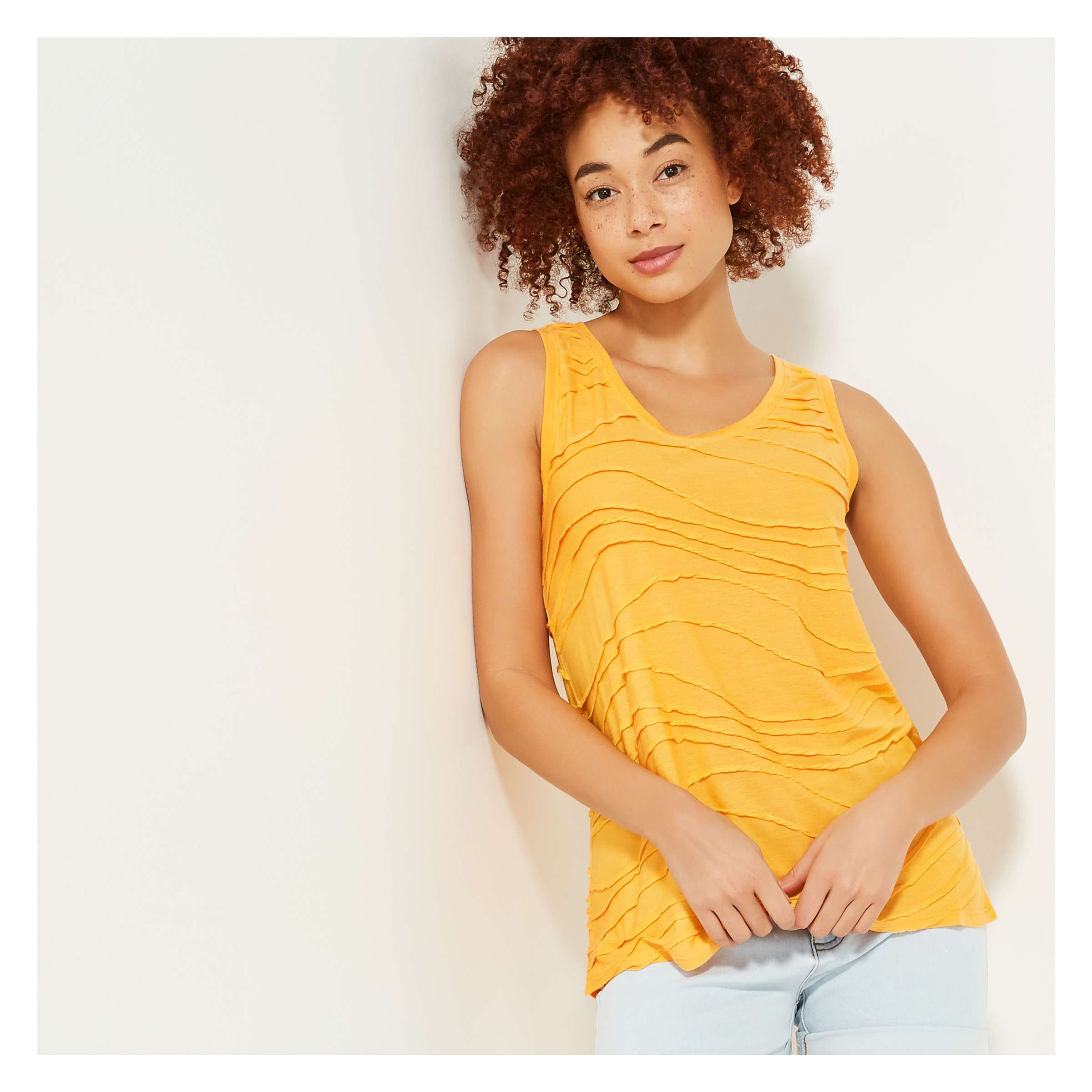 like this wavy tank.  Joe Fresh is available on line or at Superstore in Canada.
Interesting Shoes
Who What Where was showing chain detail on their spring show preview.
As well as heeled loafers,
Mary Janes,
Minimalist,
Bright Shades,
Espadrilles,
platforms and over the knee boots.  But right now all I see is women inventing new ways to wear their runners with everything.  So if that is what you need to do to survive this pandemic,
wearing your sneaker with dresses, pants, bermuda shorts etc, then by all means do it.  And yes, it is a fashion trend to wear your sneakers right now.  Get a couple of interesting pairs and wear them all the time if you want to.
So thing brings us to the end of speaking about spring trends for 2020.  Originally I was going to take a break from blogging until August, mainly because I was going to be travelling a lot over the next few months, but like everything else in this pandemic that has changed. So I will continue to blog, but probably not every week. But at least once a month I will try and enlighten you with new things to try in either fashion or beauty.
I wish every mother out there a very happy mother's day. You are the backbone of your family and have probably proved it over and over during this pandemic, you should be celebrated and reveered! Happy Mother's day!
Please message me if there is anything specifically you would like to hear about and stay safe, stay home and stay healthy!!
Until next time…