I have had 2 different self beauty experiments in the last week.  Yes, my nail lamp finally arrived last Monday.  So I started the huge job of removing my old gel nails.  My gel nails have only every been dremeled off but even though I have a dremel, I was too afraid to do it that way.  So soak off was the way I went.  I watched a ton of videos and got the advice of one of my friends who is an esthetician.  It was still very hard, either I didn't leave the cotton soaked in acetone with foil around it on long enough or I didn't seal it properly, but I found it a difficult experience and ended up using my dremel to get the last bit off.  Boy, my nails were bad.  I had the gel on for 20 years!! They were thin and papery so I put some nail strengthener and left it on over night.  The next day I took the nail strengthener off and started doing the gel.  I chose a neutral gel color, no way I was going to attempt french. I bought the
and
, I bought a couple of colors because I wasn't sure what I would like.  I must have watch dozens of videos on how to do your own gel nails so with that knowledge and the equipment I began.  Putting it on was easy.  Base coat and then cure, 3 layers of color (because my sculpture gel still isn't here and it would have made it a lot easier if it was) and cured each one at a time and then a top coat.
Not terrible but not great either, never mind how dry my hands are from the constant hand washing. But like they say, things get better with practice so hopefully the next time I do them there will be less on my skin and a better result on my nails.  I think it will be better when the sculpture gel arrives and I can put that on between the base and color.  If you want to try and do your own, watch all the videos they really helped me learn the correct way to do things.
The other adventure I had was doing my own hair color.  I was able to get some hair color, premixed in biodegradeable bowls from Cabello Salons in Vancouver ( message me and I will give you her number if you want to do your own color too).  The price was reasonable and I have watched color go on my hair for years.  They have me a brush to use, so I simply layered my hair like I was about to blowdry and colored.  I have a lot of grey right in the front so I did that part first and then went to the back and worked my way forward.  The results were awesome! I feel like me again!! If you can't live with your grey and kudos to you if you can, then I highly suggest you do your own color. It wasn't hard or difficult.  Way easier than the gel nails that was for sure.
There are other options for both nails and hair to keep them looking good during this pandemic.  I watched a lot of videos about Press on Nails.  Those you just use with nail glue and they can last up to 2 weeks. Sally Beauty (sallybeauty.ca) has kits that you can buy.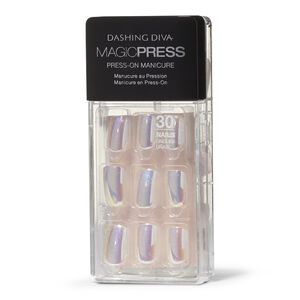 Press on could be a great option if you don't want to order all the things you need to do your own gel.  Use a bit of nail glue with each to help them stay on, shape and cut them to fit your hands and preferred nail length. Press on nails have come a long way from when we were kids, they are actually pretty good.  Just watch a video of how to put them on so once you put them on, they stay on.
For color you can always go to London Drugs or Shoppers Drug Mart and buy a box of color.  Especially if you have an easy one color base.  Only attempt your base color, leave highlights for professionals.
Pick a creme so it doesn't run and follow the directions.
Please don't try to cut your own hair, that really is something you need to be specially trained for.  If your style is growing out, try hair clips, bands and ponytails.  Buy nice ones online and it will look great.
Anthropologie online has some great hair accessories. 
This set of Chroma Pony tail holders would work great for spring and summer with super bright colors and nice and thick to hold your growing out hair styles.
If bangs are a problem and they are growing faster than you ever imagined, try and great hair band to hold them off your face. This one is also from Anthro and online they have great hair bands in tons of styles and colors.
And don't hesitate to use clips in colors to keep those flyaway pieces from annoying you.  Even your local drug store will have hair accessories for you to use
.  But if you are going to use hair accessories to tame your growing mane try I suggest you use stylish ones.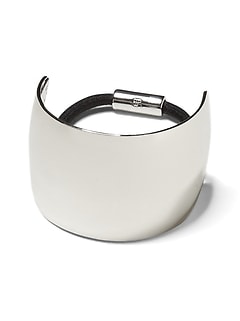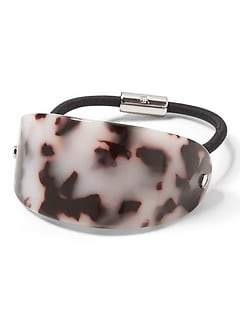 Banana Republic has some great pony tail holders and they have a Canadian website, as well as their US one, so it's easy to get things delivered to your house.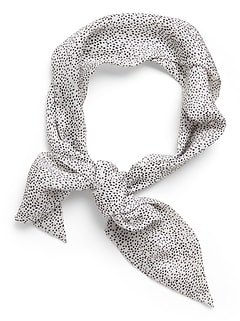 You could also use one of your scarves as a hair tie.  This scarf is from BR, but we all have lots in our closets.
Anthro has some amazing hair scarves, specially made to work with your pony tail.
You just need to decide what is important to you.  No one will judge you.  If you are ok with your hair going grey, and this may be the excuse you need to embrace letting your color grow out, go for it.  A lot of women can rock grey hair!  Just make sure you adjust your make to your new color. You will need to put some color on your cheeks every day and use a little undereye cover because grey hair can make your complexion sallow, so pay attention to your skin during this transition.   And you can't wear grey clothing with grey hair, keep to colors.  But if this is what you want to do, more power to you.   The same goes for your nails.  If this is your opportunity to go back to natural nails go for it! I applaud everyone for doing their own thing.  Perhaps buy a good nail strengthener
like this one that is a gel nail rehab treatment from London Drugs to help things along.  You do you! Covid 19 is no time to be untrue to yourself.  I am going to do my thing so you do yours.
I know we were supposed to talk about Spring Prints this week but I got so many comments and messages about my last blog about gel nails and hair color, I decided to dedicate an entire blog to the pandemic beauty experience.  I love to hear what you are doing to make yourself feel better during this extraordinary time and any tips you want to pass along I am happy to get them and pass them on too.  That's what made me decide to do my own color, I read something from a good friend of mine who did hers and how she did it.   So we can all help each other during this time.
Stay well and distant and next week we will be back with Spring Prints!  There are so many great spring prints there was no way I could fit both blogs into one week, you would have been reading forever.  If you are fortunate to live in Vancouver, get out and enjoy this beautiful spring weather and stay away from everyone.
Until next time…