Last week I told you I was going to do my own gel nails.  Well, like everything we are ordering online right now, some of my equipment is delayed.  So I can't post about that this week, but I will as soon as my lamp and structure building gel arrive ( hopefully no later than April 20, according to Amazon).  The other thing I think I am going to be doing myself during this isolation period is my own hair color.  I thought perhaps I could make do with just some root touch up that washed out every shampoo, but what can I say, I can't. I am not one of those women who can embrace the grey, kudos to those who can, but I simply can't.  Right now as long as I don't wear my hair in a pony tail or off my face it is passable but in another week I will have no choice.  If you are in the same boat as me then I bet if you get in touch with your hairdresser they may be willing to sell you some color and developer to do your base color. Don't attempt highlights or lowlights, but base should be managable.  And even though hair salons are closed  you have some other options too .  Of course there is the boxed color in the drugstore, I hear L'Oreal is the best and the easiest to match to your color. You can go online to Sally Beauty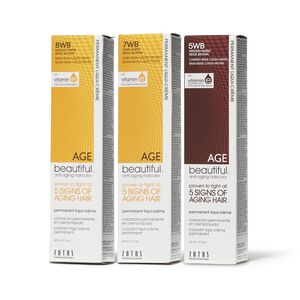 or Amazon and buy professional color and developer, I have seen my color on Sally Beauty so chances are they have yours too.  And there are hair salons out there that will sell you color and developer, if you can't use your usual salon, they are closed but some will do the color and mixing for you, all you have to do is pick it up. I can only recommend this option if you already know your hair color formula. It's a lot to ask someone who has never done your color to pick a color for you.  But if you have your formula it's a great option.   Hair Dynamix in Toronto is doing it and so is Cabello Salons in Vancouver.  And there are lots of Youtube channels where you can learn how to apply your own color too.  Please make sure you know what you are doing before you try this yourself.   You have to pick the option that works for you.  Like I said above, I am not one of those women who can let the grey grow so  I will let you know how my search goes in the coming weeks.  And of course I will update you on doing my own gel nails as soon as the rest of the supplies arrive.
Spring colors break down into 3 main groups: Highlighter bright colors, Pastel colors with a bit of pep, and Drab colors with style. Let's look at how each can work in your wardrobe.
Highligher Brights
When you think of highlighter pens what do you think of?  Bright yellows, bright lime greens and really strong Fuschia pinks.  Even some sunny oranges in there as well.  This season if you love bright colors, you will be able to find them everywhere.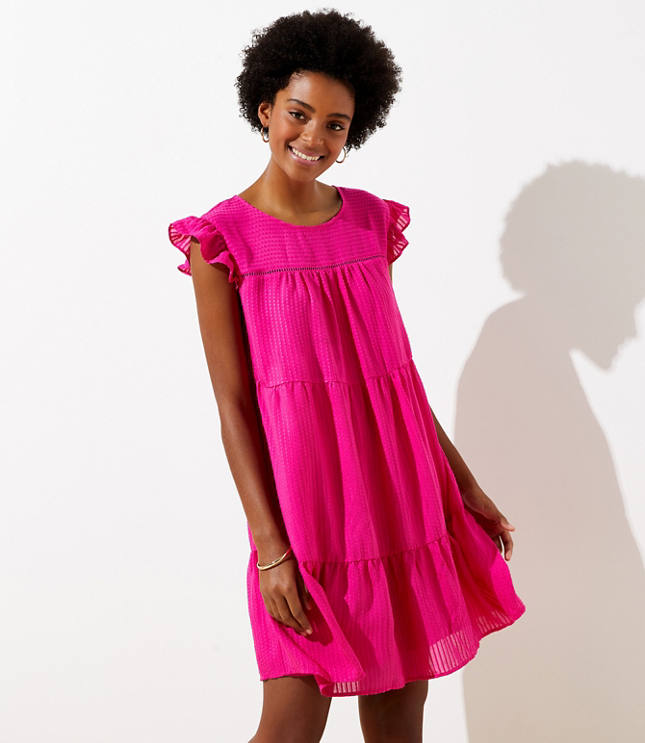 Loft.com has some great bright dresses that will keep you happy and cool as the weather warms.
Anthropologie.com has a great Zoom meeting ready top to brighten your day.  Bright pink is a super easy bright color for most of us to wear, keep everything else including your make up neutral and you will be all set.
You also may want to consider matching brighter reds and pinks together.  We will talk about prints next week, but consider keeping your prints bright too!
The greens and yellows like Anthro's Tess Cashmere sweater can be a bit harder to wear.  Women with darker skin look great in this color, also blondes can pull it off.  I love the bright top with denim!
And if you are a little intimidated by bright yellow then wear it on the bottom with a neutral colored top(white or black).
Bright greens can go anywhere from lime to jade to teal, you just need to find the one that works for your skin tone, limes have a more yellow tone and teals have a more blue tone. This Sacha Tiered Tunic from Anthro is the perfect bright teal green and comes in Plus sizes too.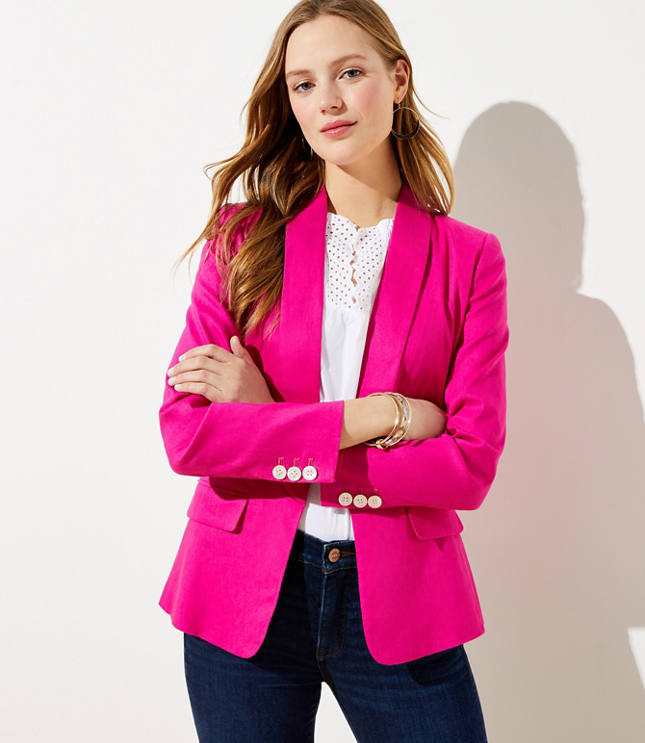 If you still need to look professional while working from home, Loft hastheir best selling Shawl collar Blazer in the a fuschia so bright they call it Razzle Dazzle and it would be great for Zoom or Skype meetings. Loft also has extended sizes like Anthro in a lot of their clothing.  So if you need a larger size they will have it for you.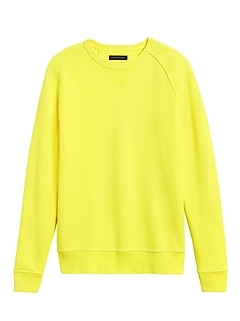 Banana Republic online has some great yellows.   This French terry sweatshirt is the perfect yellow to wear with denim.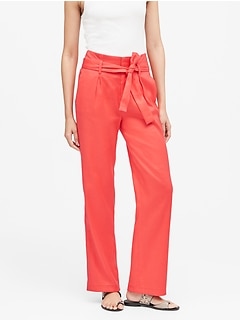 And if bright orange is for you, just look at Banana Republic online, these linen cotton pants are great fitting!
Pastels
When you normally think of pastels you think of pretty little tops and dresses.  Well this season pastel clothing is going to take a back seat to no one.  Every shade is being made in it's pastel counterpart.
Anthro's Bette Babydoll blouse comes in pastel colors, like this gorgeous soft pink and some bright ones as well.
Or the same Cathleen sweater in birght pink above is just as lovely in a softer neutral pink.
And how many of us are living in t-shirts these days? How about Anthro's Amber Assymentrical tank in a soft blue.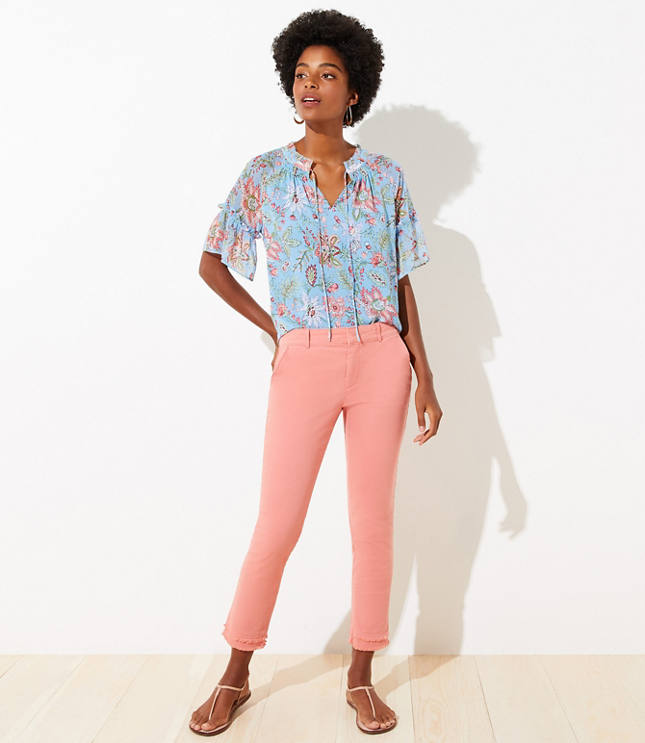 Sherbert colors are everywhere and Loft has a great pair of Frayed girlfriend chinos to wear in a soft pink.  Stay away from Mauve's and Purples but stay with Sherbert colored pinks like this fabulous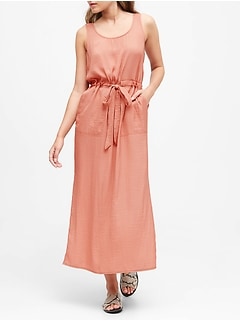 Utility dress from BR online. Most people can wear a soft pastel pink.  Some prefer the truer pastel pink and lots of women look wonderful in this warmer sherbert pink.
Soft yellows and golds are great too.  Check out Anthro online for lots of pretty gold and yellow shades, this Adorai Crochet blouse has the best of soft color and a great print.  When women wear yellows, different skin tones work with different color yellows.  The light pastel yellow (think a color of a duckling or chick) can work on fair hair and fair skin people well and well as dark skin people.  Golds look better on fair to medium skin tones with dark blond, auburn and brown hair.  Just please don't wear the same color yellow as your hair color if you are blond, that for sure doesn't work or look good.
Drab Colors
The newest color palette for spring color is the drab palette.  All the Olives, Beiges and Greens.  I am in love with this palette.  It looks fantastic with white and black and works with all sorts of metallic tones as well.  I could travel in the summer with denim, olive, black and white and I could wear that color palette for a month.  Olive or Khaki work because you can use it as a neutral or a color.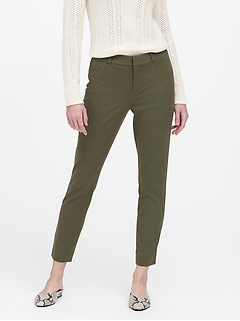 BR has their Sloan skinny pants in a great olive.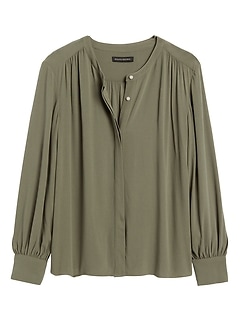 And they also have a great Balloon sleeve blouse in this color,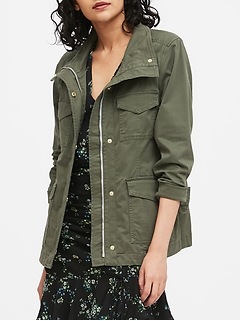 or wear a great Utility jacket in this same color.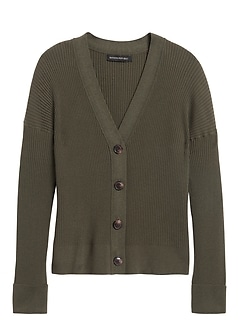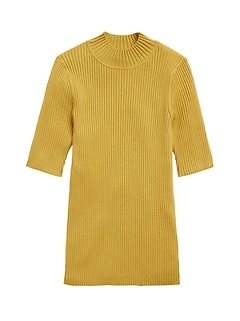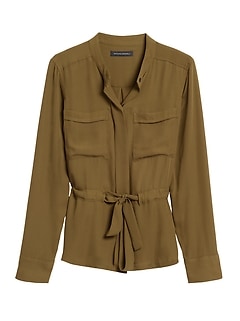 Br has 3 different shades of Olive and Green (well maybe the middle top nods to yellow as well) so you can pick the one that works for your skin tone.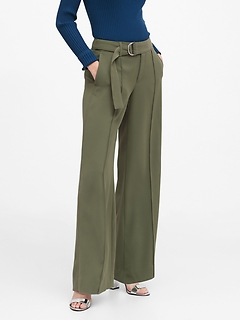 Pants work great in Olive or drab green because they can work with any color top.
I am also in love with BR's Utility dress in their Cindered Olive Green color.
But drab colors doesn't just mean green.  Think outside the box with the drab neutrals.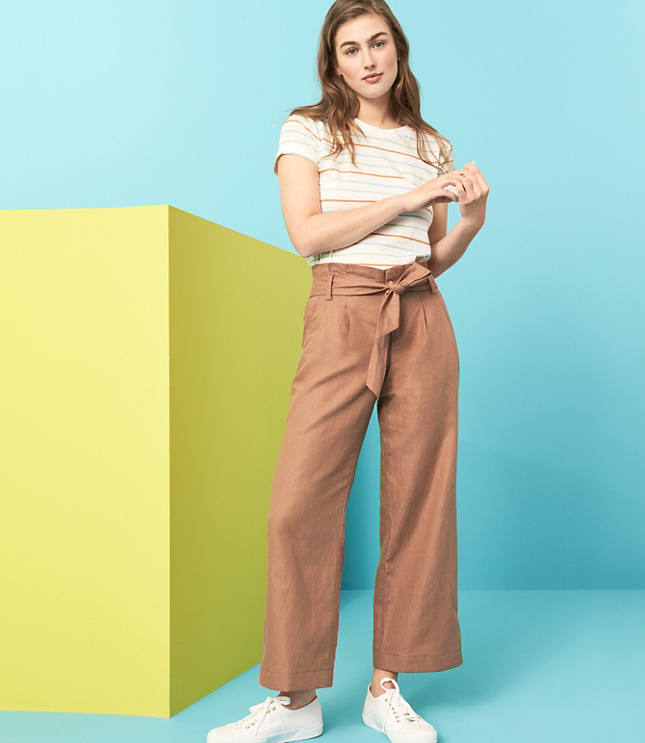 Loft has their wide leg linen pants in a fabulous Tobbacco color.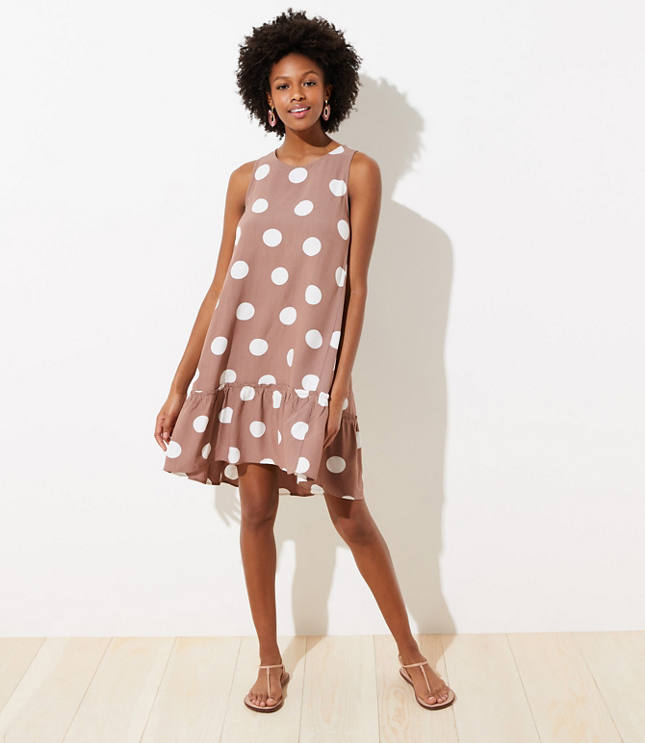 They also have this fabulous Tie Back Swing dress in a Desert Taupe.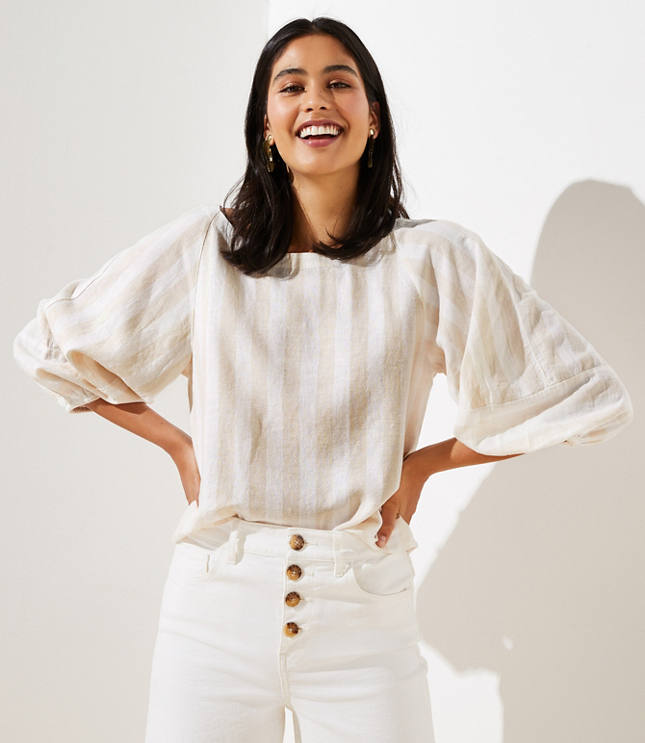 And a wonderful neutral Balloon sleeve striped blouse that can tie it all together.
And as you can see from Anthro's Shimmer Midi dress drab color doesn't have to mean drab style!!   One of my favorite things about these drab colors, olives, beiges and tobaccos is that they look fantastic head to toe.  And when you wear any one color head to toe you automatically look thinner.
Tie all the spring colors back to spring prints which we will talk about next week and back to black and white.  Black and white will never go away.  They can be the perfect color to wear with brights, pastels and drabs.
If you are feeling a bit blue from all the Covid 19 news then help yourself out and go for a little online shopping trip.  Every online site has lots of new spring clothing and you can either buy something new. Or if now is not the time for you to spend money, then go online and look at sites like Banana Republic.com and they have a style guide where their stylist put the looks together for you.  Chances are you have some basics in your closet that can work with some of their ideas.  So give it a try.
Sorry again that I couldn't share my gel nail experience.  I think we are all finding things are taking longer to arrive to our homes these days.  I hope everyone had a good Easter and Passover and that you are all well and safe.  Remember everthing above works with a mask and gloves if you have to leave the house.  Stay safe and strong.
Until next time…