I posted this blog last year around this time.  I think the points are still very important when everything is on sale.  January is the time to replenish while prices are low and in a way get your winter wardrobe ready for the rest of this winter and next year.  Read below before you run out and buy that coat or pair of boots you have had your eye on and are now on sale.  Follow the guidelines and you will not be disappointed with your purchases! Enjoy!
Right now everything is on Sale!!  Every email I get and every store I walk into has a promotion and a sale.  And I don't care who you are I know everybody loves a good bargain, especially on things they will wear over and over.   So how to you even start to manage all these websites and stores?  Here is some sale shopping advice that you can take as a guide with you to find exactly what is right for you.
1) Go with a goal in mind or surf the web with a goal.  Your goal could be anything from a new denim jacket to a party dress.  If you keep your focus, and I know sometimes it's not easy, especially when that bow back orange sweater is only $9.99 plus shipping.  But there are 3 things you need to think about when ordering online or shopping in a store:
Can I return it easily.  So for example, unless you are ordering from the clearance section of the website or shopping at a store (like Aritzia) where their sale items are final sale, you should be fine.  Stores like J. Crew, Talbots, Anthropologie and Nordstrom all have amazing deals right now.  I like ordering from these stores because I can return it if I don't like it right here in Vancouver.  So blazer like this one
from J. Crew, it's the Parker blazer, you can buy it online and return it to your local J. Crew.  I actually picked this up in the store on Thursday for $94 including tax, it's even a better deal than the online price of $185 less 40%.  Who doesn't need a great fitting black blazer they can wear all year round!
The next important thing you have to keep in mind is do I need it? Never mind that you want it.  When you ask yourself do I need it you should immediately be thinking of how it will work in your own wardrobe.
I just ordered this petite Day to Night dress in flannel from J. Crew. It is regularly $246 and in my shopping cart before taxes and shipping it was only $34.  I happen to get really lucky, it is a petite size 12, which should fit like a regular size 10 which I am.  It will be long enough to cover my knees because I am only 5'4″ so the petite works.  And since I have lost so much weight I will be likely getting rid of most of my winter dresses I can't take in, so for me it's a win all around.  Now if it doesn't fit just right when it arrives I have two choices: either take it to a tailor to alter to fit just right, or return it to my local J. Crew store – how easy is that.
If you need something, whatever it is. You may have to look deep into the sale pages but you can find it.
2) Pay attention to the mark down prices. Sometimes it's not as good a deal as you think.  For example, Anthropologie has all their sale items in clothing an extra 25% off. But if the dress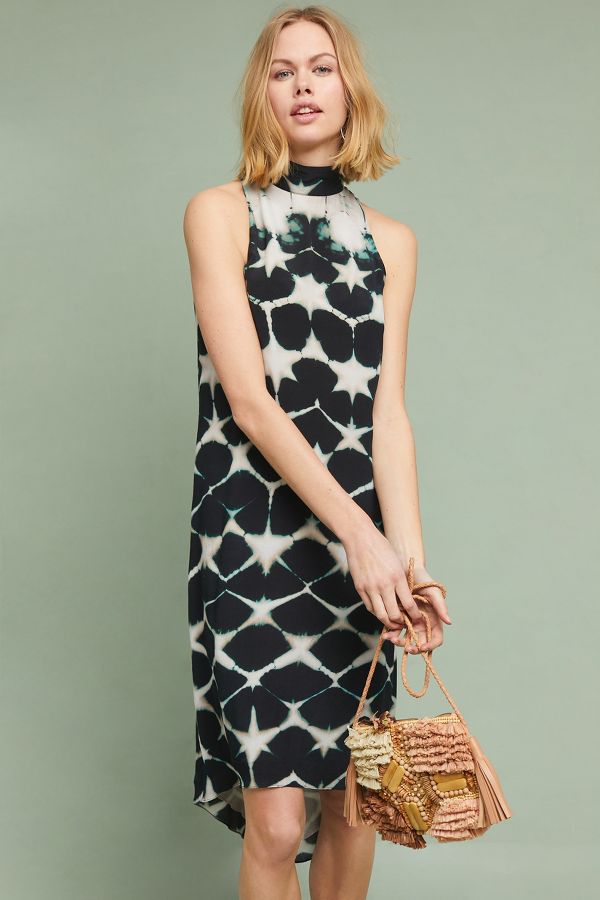 like this Desra Silk Dress, regularly $338 (US) for $199.95 less 25% which is $149.96.  So for $150 you think this is a great deal!  But once you put it in your cart and they add shipping and taxes you are back up to $200.  So it is really not a good deal.  You need to keep an eye out for that.  Also when shopping on the Anthro site keep in mind all the prices are US dollars and if you are shopping from Canada add 30% off right away.  Sometimes it might be better to go to your local Anthro store and buy it.
3) Try and only buy things that will last you for a few years and are truly a good price. Why do I say this?  Well when you are shopping with a goal in mind, a new white shirt, a new pair of black pants, a new pair of shoes.  You know exactly what you are looking for and chances are right now on sale you can invest in things like last year's cashmere sweater or last year's boots that were too expensive, but you can buy them now. Who doesn't need a sequin skirt in their wardrobe? It is one of those things that you can pull out all year round and dress up any top with or be ready for a fancy night out. Right now on WhitehouseBlackmarket in their final clearance page they have 
this beautiful sequin pencil skirt reduced from $140 to $14.99.  Wow! That is an amazing deal if you will actually wear a sequin skirt.  If you are like me and love to get dressed up then go for it, but if you consider dressy black pants and a fancy skirt don't buy it.  Final clearances are not returnable. Something that is an amazing deal and I would grab it in an instant on WHBM's final clearance page is 
this pair of wide leg black pants for $29.99 but don't get too excited they only have size 0 or size 16 left.  I happen to be neither of those!
3) Try and buy pieces that will build your wardrobe.  This rule should really apply for all shopping.  I buy the most basic clothing on sale usually.  I have one weakness, and that is leopard print.  As I said in my blog about wearing leopard print last fall you don't need a lot of it to make a statement.  But I do love a great leopard print sweater. So when I find a good one on sale I usually pounce.  I try and only order wool or light weight wool so I can wear it under jackets and all year. Here is one that J. Crew has on their site right now and I have seen it in store
this is their leopard print Tippi sweater. It cost $118 and I bought almost the same one 2 years ago but it was an XL, so it doesn't fit anymore.  And instead of paying $118, I found one on clearance at WHBM the beginning of July, it is now sold out but it is very similar and I only paid $9.99 for it!  Even when it arrives with duties and takes it won't be more than about $25 so it is still a great deal and I will wear it over and over. That is a piece that will build my wardrobe.  Another thing that can really work to build your wardrobe is a great sweaters.  I happen to really like Banana Republic Sweaters.  They have a final sale part of their website too and right now it's 50% off of Sale merchandise. No returns or exchanges but if you could get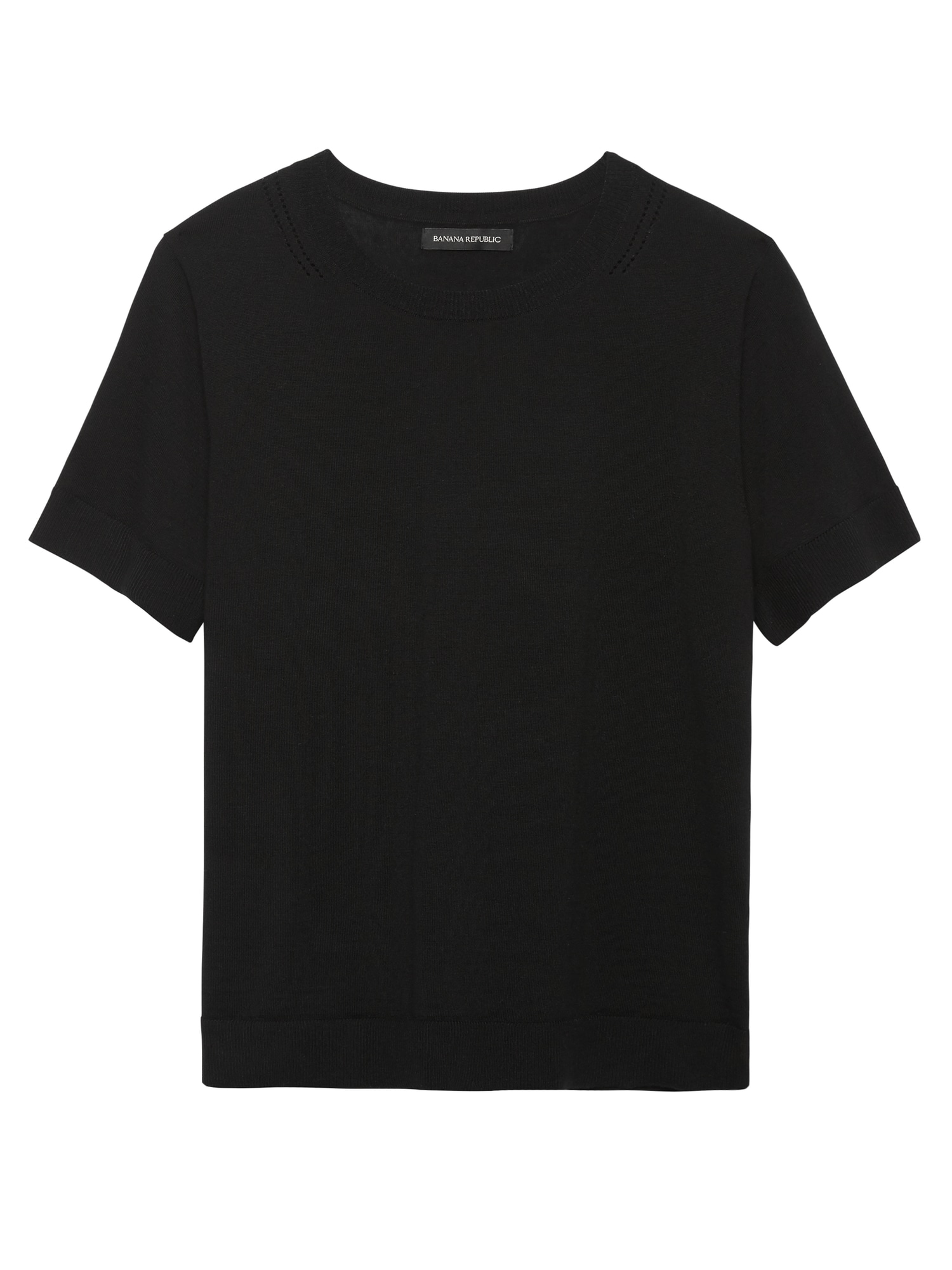 a great black merino wool short sleeve sweater that you can wear all year round and you get to the check out and it's only $26.99, that is truly a steal! The regular price is $95. Pieces like this you can wear over and over.
Now that we have gone through the basic rules of sale shopping let's talk about stores that have in season sales.  Right now Nordstrom has their Anniversary Sale on.  It's a great time to pick up something you may need for this fall for about 25%-30% off. Do you need a new coat? That's the kind of thing you can find.
This is the Olga Boiled Wool Top Coat by J. Crew exclusively for Nordstrom.  It's normally $385 but during their Anniversary Sale it's $256.65.  That's a pretty good savings for something new for fall.
How about a Moto leather jacket? If you didn't pick one up last year they are going to be super strong for fall again.  This is the Halogen Moto jacket regular $415 on sale now for $277, not a bad deal at all. Or how about a pair of boyfriend jeans, those you will really wear all year round.
These KUT from the KLOTH Catherine Boyfriend jeans are regularly over $125 on sale right now for $83, if they fit you it's a great deal for something you will wear all the time.  At Nordstrom Anniversary Sale I tend to look for things that I need but also wouldn't pay for if they were regular price.  For me Boots are one of the key things I look for.  For example
This pair of Grey Varta Waterproof booties from Blondo are right up my alley.  They follow all my rules for boots, I need to be able to wear them if it's raining, they go with almost all my pants and jeans and I really like grey.  But I doubt I would pay over $200 for them, I don't need them that badly ( I actually have grey booties already) and I would prefer something with a bit higher heel, but they are on sale for only $138 and that is a pretty great deal for leather waterproof booties.  So it is something I think about.
The other store that always has a sale on is Banana Republic.  As matter of fact if you go on their website or store today you will see 40% off of some of their newest things. So your basic pair of Avery Fit black lightweight wool pants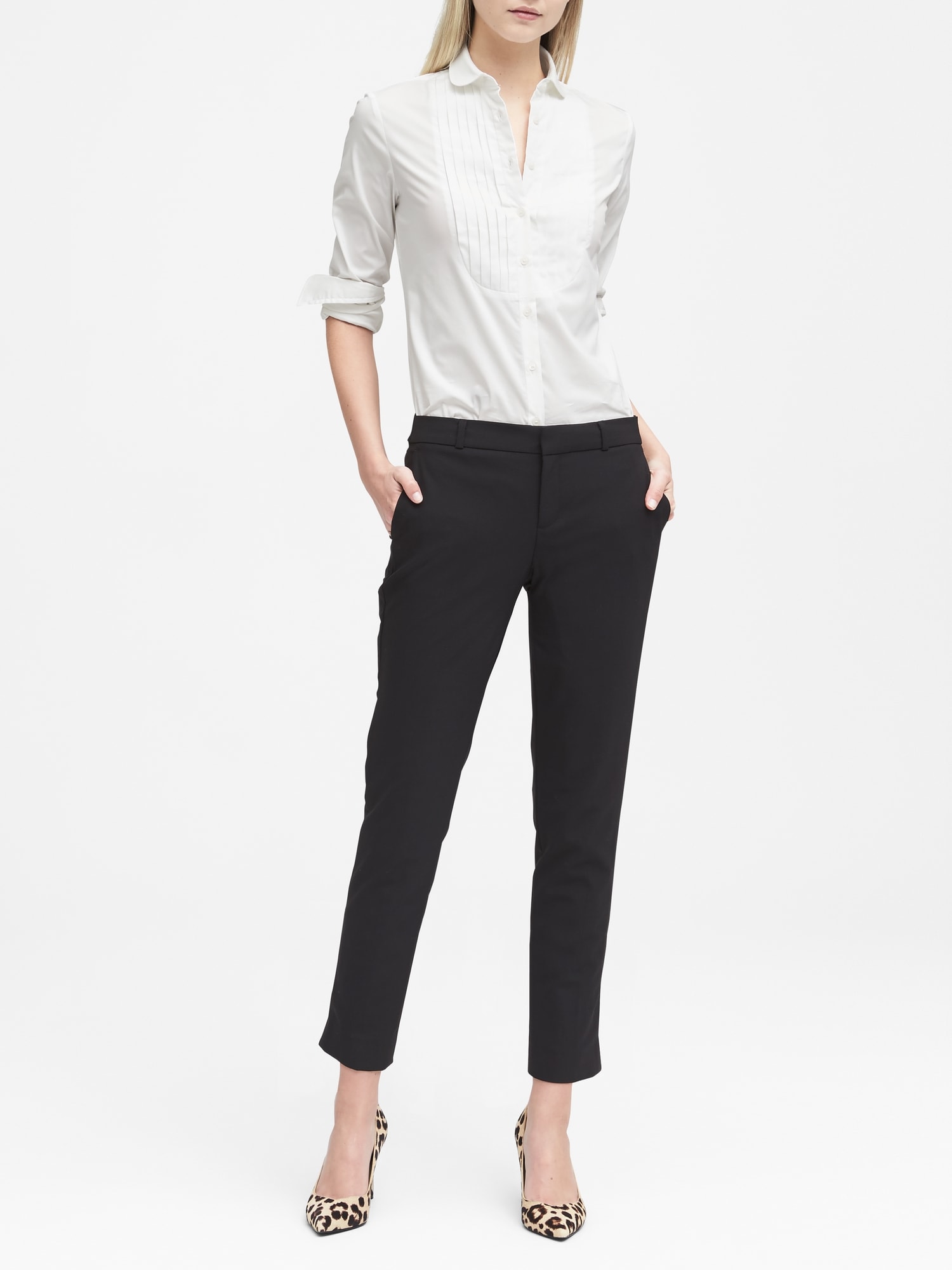 that you can for sure wear right into fall and winter is regularly $125 now on for $75.  But I have to be honest, it is always 40% off. I bought a pair last spring for 40% off and then just went back and bought a smaller pair for the same discount.  So pay attention because why would you ever pay full price when you know they go on sale all the time.  So why would you ever pay full price for something at BR.  Not only that if you order online you can return in store.  So needless to say I shop there a lot.
If you follow your own goals while sale shopping and buy only things you actually need you can build quite a good wardrobe for a good price.  I have to admit I rarely pay full price for anything.  It has to be incredible for me to pay full price, even on sites like WHBM and Ann Taylor you can usually wait until there is a mark down.  I have rarely found otherwise.
Good luck with your sale shopping.  Next week we will talk about cleaning out your closets for fall.  All the re sale shops want things by early August so next week is a great time to go through all your clothes.
If you feel you need help navigating sales or cleaning our your closet I am available for booking right now.  I am only working until August 10th and then not again until the end of September.  So grab me while I have time if you need help. For appointments you can email me at Suethefashionista@gmail.com. I tend to book up really fast in the fall so catch me now if you want.
Until next time…