Party season is upon us and if your schedule is as hectic as mine has become never fear, this guide will help you put the right outfit together for the occasion you are about to attend!
This holiday season things are ramping up with shine, lace and velvet to be the most glamourous ever.  Let's look at different occasions and put some outfits together that you can wear to them.
The Office Party
Decorum should never be thrown out the window at your office's holiday party or at your spouse's.  This is not the time to bear all the skin you can, keep yourself fairly classic.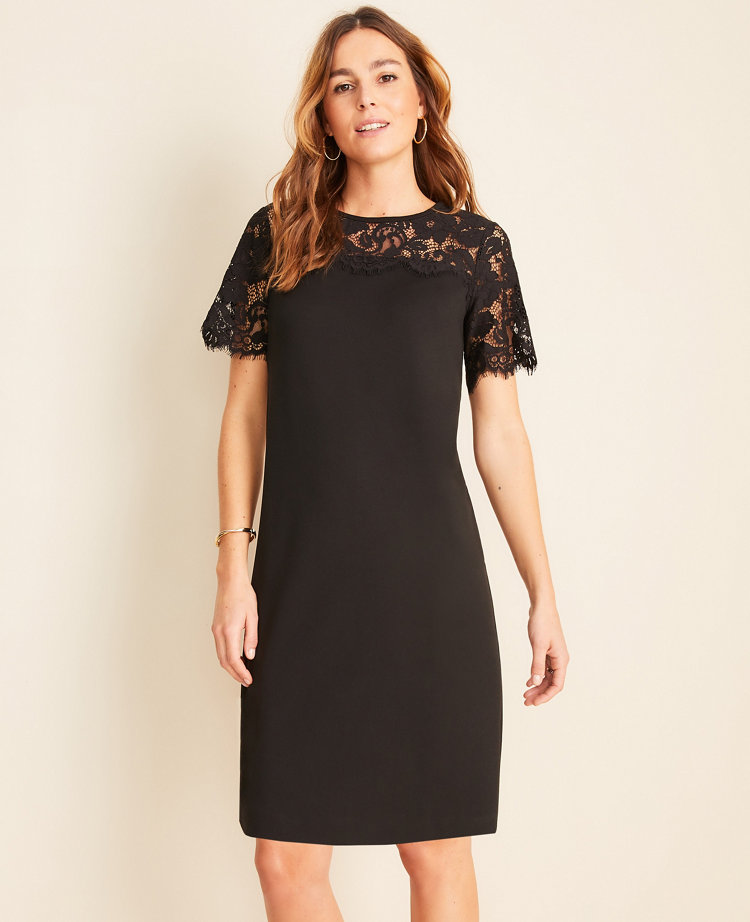 A beautiful understated Scalloped Lace Yoke Shift Dress from Ann Taylor can take you to any office holiday party.  Black is always the right color to wear, it is instantly more elegant and put it with a black heel and sparkly accessories and you are ready to go.
If your office party isn't that dressy but you still need to look fairly chic try something like
these fabulous High-rise Pull-on Peyton Wide-Leg Lace pants from J. Crew, they also come in Red and Jade lace if you want something different.  But Black lace pants are something you can pull out almost all year long.  I have a pair from a few years ago and I still wear them all the time, lace is timeless like that.  Pair a black top with it to be tone on tone which is totally chic right now or try this adorable
Ruffle neck top in 365 Crepe also from J. Crew.  Fabulous with the lace pants or with any black pants you already own.
And if your office is a really creative one, then go all out. Try a look like this one.
All from J. Crew, it's the Collection Bow back top in metallic leaf jacquard with the matching Collection high-rise cigarette pant in metallic leaf jacquard. Shine is where it's at this holiday season and in an outfit like this you will be poistively glowing!
The Holiday Ball
In Vancouver we have a Christmas time tradition called the Family Ball and it is a very formal occasion, there are other formal parties this time of year as well.  And sometimes even New Year's eve is a formal occasion.
Traditionally this meant long dresses for women, but 2019 is a lot different and there are things you can wear formally now that you may not have been able to wear before.
How about trying a great Halter Wide-Leg Jumpsuit from Banana Republic?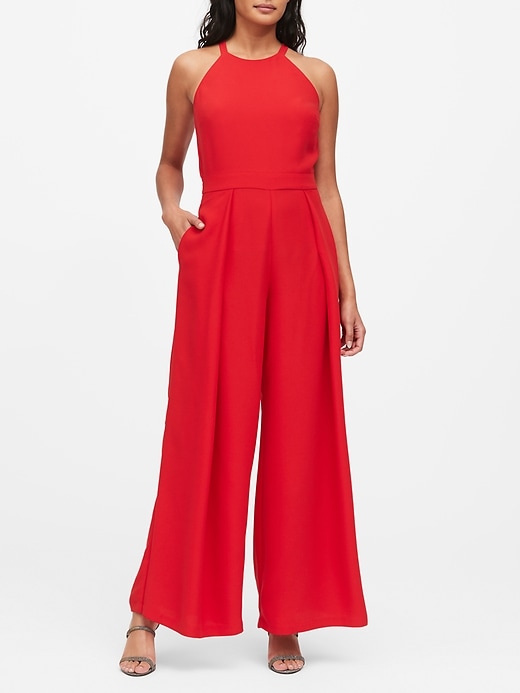 It comes in Ultra Red (shown) or Black and both would be as formal as a long dress.  Or check out Anthropologie for Jumpsuits, they have lots. Try a jumpsuit like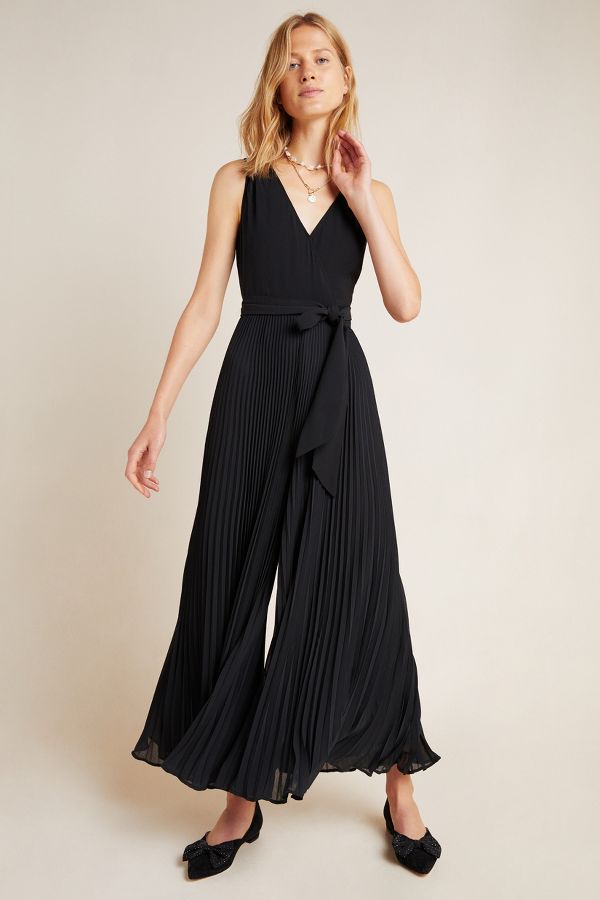 this Viva Pleated one, it will sway just like a long dress would. Or pull out all the stops in a Sequined Jumpsuit
that will turn every head.
There are lots of dresses that can also be formal without being maxi.  Try one of the great midi length dresses instead.
This is the Presely Dress from BHLDN which is another store Anthro owns.  BHLDN has great formal dresses for a reasonable price,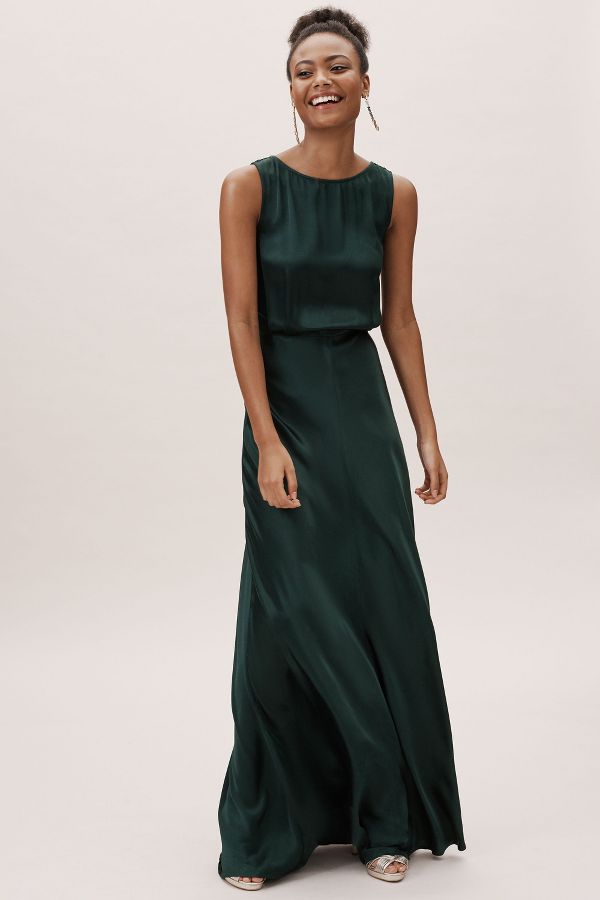 this Alexa Dress and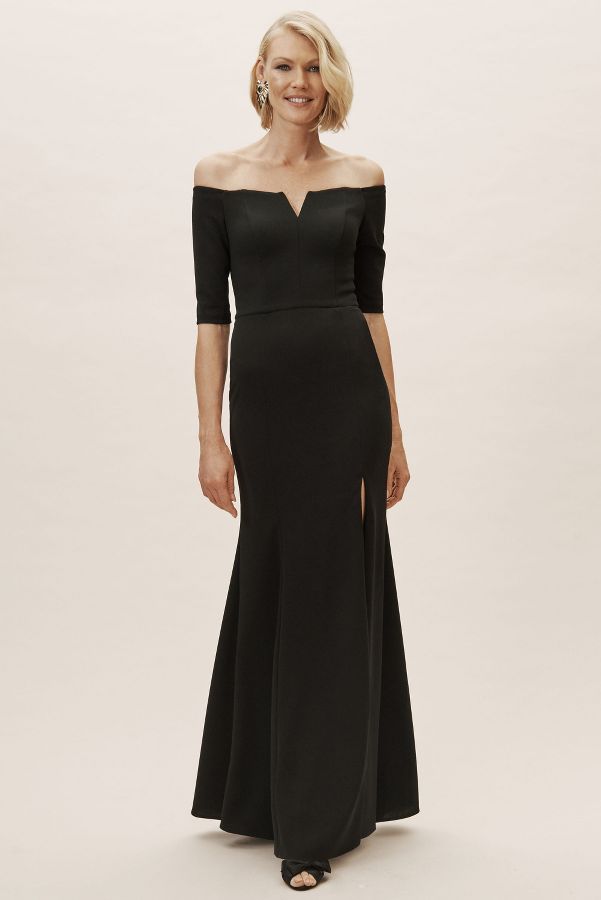 Emile dress would look fabulous on a woman for a formal occasion and not cost over $300 each. So you don't have to spend a million to look like it!
The House Party
Whether it's a New Year's eve, a tree trimming or a Chanukkah party there are always a lot of house parties going on. And for a house party there are no rules, you can dress up your denim or dress down you formal wear.  Most people wear something festive but still comfortable.  So how do you look your chic while still staying festive and comfortable?
Try a pair of velvet pants. J. Crew has the same Peyton pull-on pants in Velvet that they have above in Lace.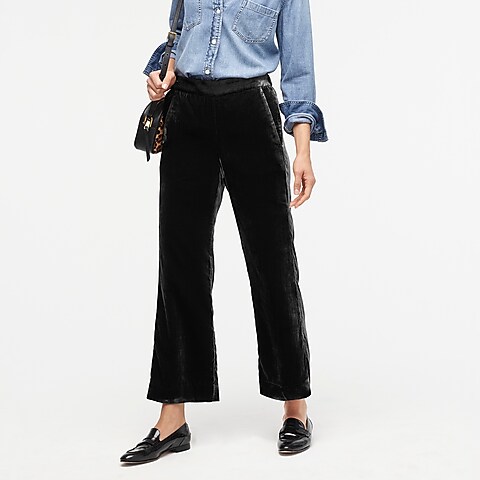 They come in 4 colors including black and you could wear these pants everywhere.  To a party and even to work! Keep the top casual, like the denim shirt above.  Or reverse it, wear a dressier blouse and more casual pants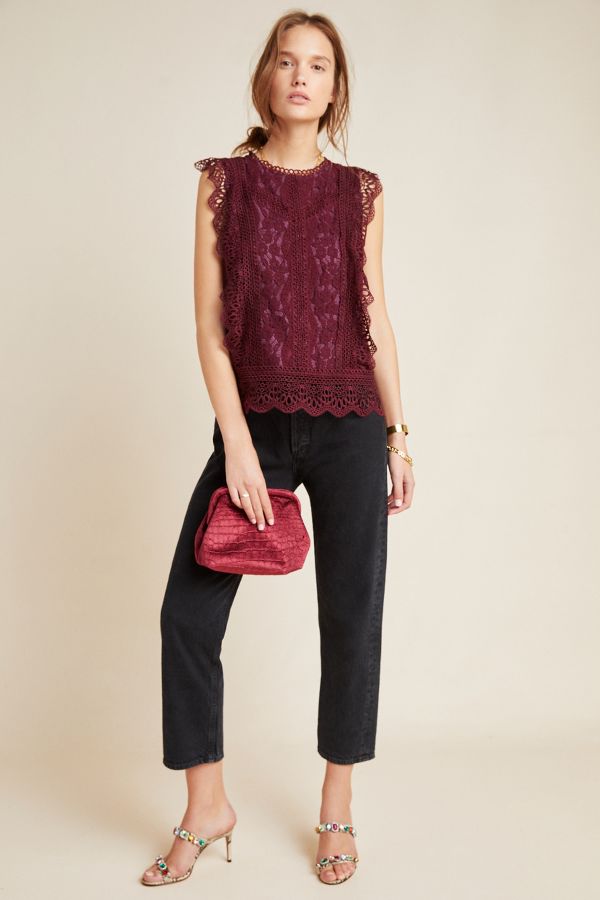 . Here Anthro is showing the Sydney Lace Blouse with AGOLDE Parker high-rise Straight cropped jeans.  Both looks are dramatic and comfortable. Ann Taylor has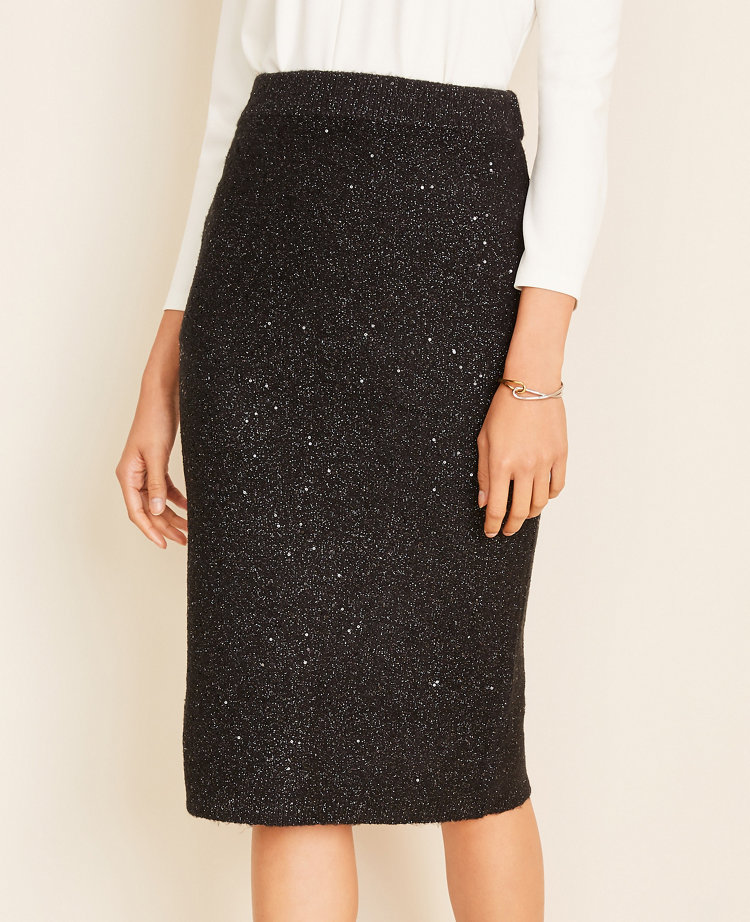 a sequin sweater skirt that would also work instead of pants and then wear it with a white blouse as shown or do the tone on tone trend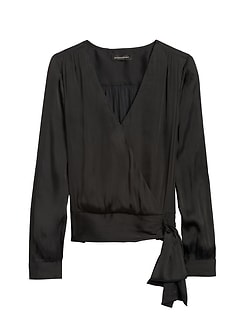 with a Soft Satin Puff Sleeve top from Banana Republic that ties at the waist.
Other fun pieces that I love that you can pair with denim on the bottom are
a beautiful mock neck floral lace top from J. Crew, which comes in 5 lace colors.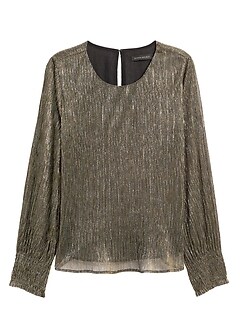 This Metallic Smocked Sleeve Blouse from BR that would work with any color denim on the bottom or do a Velvet Mock neck top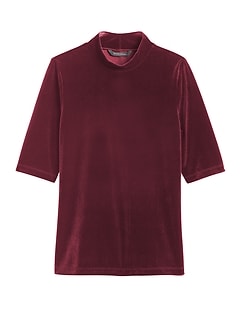 in 3 colors including black that you could wear everywhere also from BR.  Or go all out with shine
this Marie Sequin Blouse from Anthro comes in 4 colors and will work to elevate any bottom you put with it.
On the bottom try,
Drapey waist cargo pants from J. Crew in 3 colors or Tartan pants
that are super cute also from J. Crew.  You could also do a different velvet bottom from BR, try the Sloan skinny fit Velvet pants in 3 colors including black and dark teal (shown).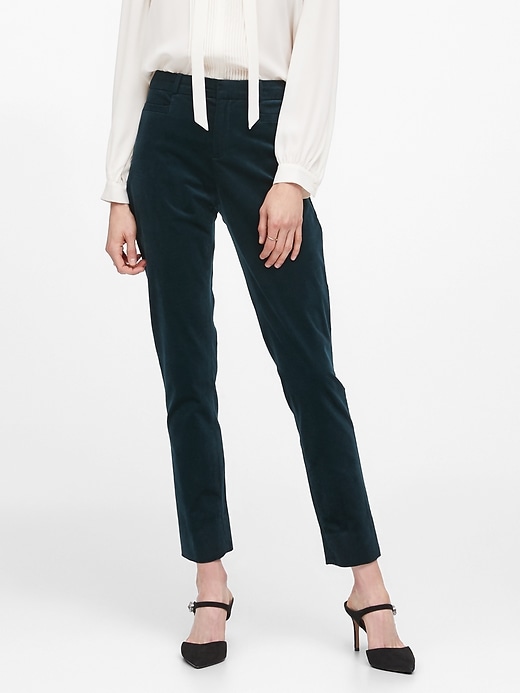 You could also have some fun with BR's Sloan skinny fit pant in metallic leopard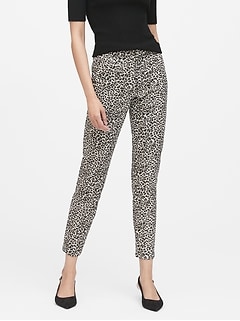 that would certainly put you as the life of the party. And if you love skirts try a skirt like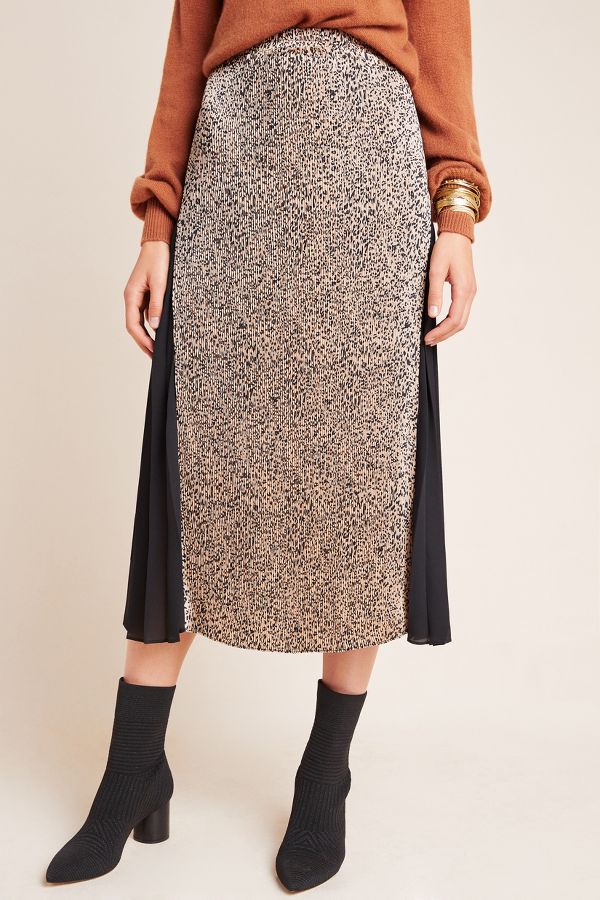 this Riley Leopard midi skirt from Anthro which will be a bit of both the leopard world and has soft chiffon layers at the sides.
Holiday parties require a lot of standing, so always remember to wear heels you can stand in.
Decorated slides like Embellished slides from Anthro are perfect with cropped pants and longer skirts.
Or if you need to wear a heel, try something with a block heel that isn't too high but still looks fancy like these Olivia Bow Heels from Anthro.  And a great pair of
Booties like these Ruffled Kitten heel ankle booties look good with dresses, pants and skirts.
Check out the different stores we talked about online, everyone of them has a party shop that can give you great outfit ideas for all your occasions.
I want to let you all know about something happening in Vancouver this week.  Our Jewelry expert Shoshana Lewis and some of her collegues are having a fabulous pop up shop that is not to be missed! It's November 27 10 am to 9pm and Nov 28 10 am to 6pm at 4386 Main St. in Vancouver.   Check this pop up shop for great jewelry, clothing and even art.  It is not to be missed! 
There is only 2 more weeks of blogs left until we break for the holidays.  Next week our Jewelry expert Shoshana Lewis will give us tips and trends on glittery holiday gems and then the last blog will be a holiday gift guide of my favorite things.
I have no more styling appointments left until the new year.  I will start working again on January 15 so book early if you want a January or February appointment.  Email me at Suethefashionista@gmail.com to book an appointment.
until next time…