Right about now everyone starts thinking about travelling and getting away. Whether it be for US Thanksgiving long weekend or a Christmas/ New Years holiday or looking ahead and planning a January or February get away.  If you live in a place where there is winter, a get away is somewhere on your mind.
Now that we are empty nesters, my husband and I are getting away more and more often.  Sometimes for longer trips but mostly for short trips of 10 days or less. And a lot of my friends and customers always ask me what they should pack for their trips.  So I decided to do a blog about what to wear and pack for holiday trips!
So what kind of trips are we taking about? let's go through different kinds of trips to see what your packing options are.  But first let's talk about getting there in style.  It's a proven fact that as a customer you get treated better by flight staff when you are well put together.  It's not always fair but it's true.  So even if you are not in first class you still want first class service, so try and look the part. On the Banana Repulic. com site they have their own stylists put together suggested outfits that are comfortable and look great for travelling.  They also have suggested work and weekend outfits if you are interested too.
One of my favorite BR travel outfits start around these great jeans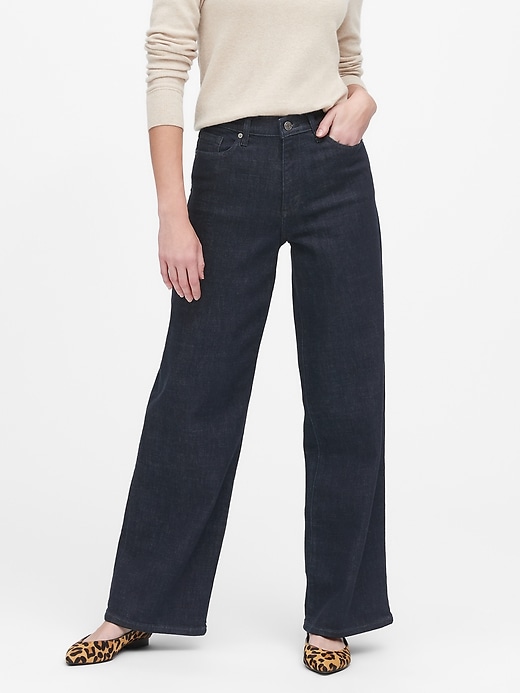 These are BR's High-Rise Wide-Leg jean.  The dark denim makes them wearable for a lot of occasions too! The are pairing it with this adorable chunky Pointelle Cropped Sweater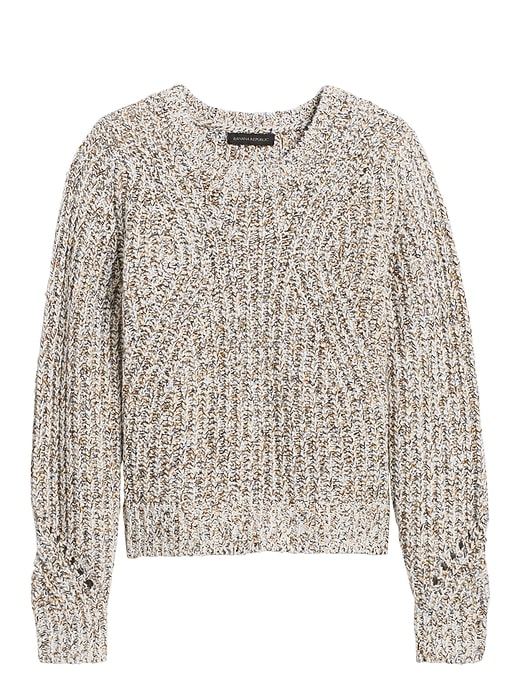 and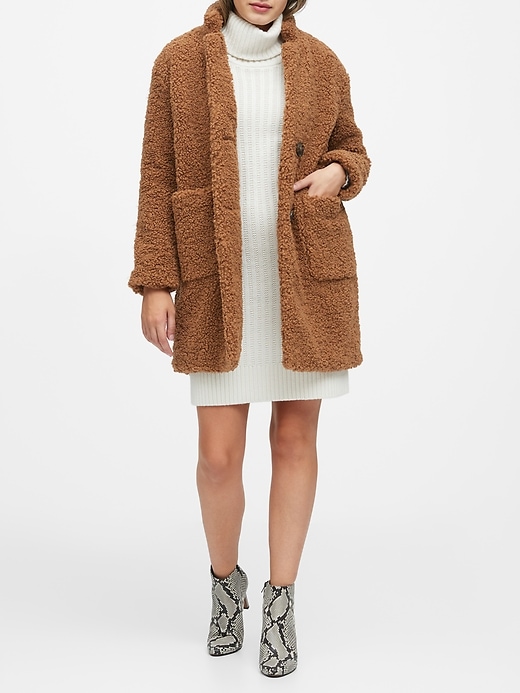 Sherpa Cocoon Coat.  It's accessorized with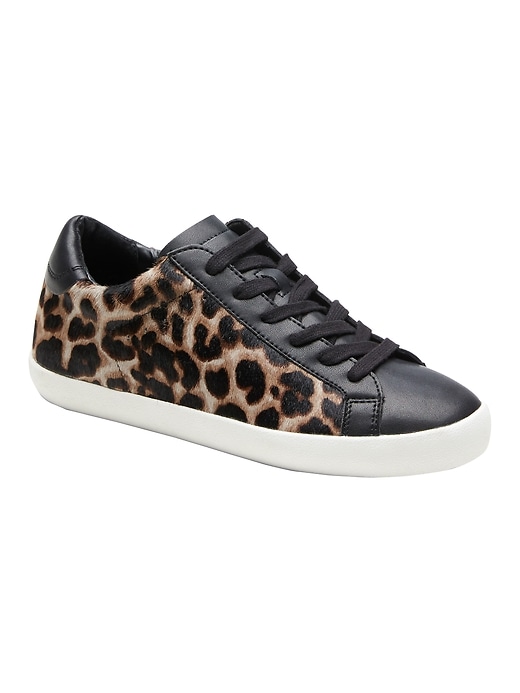 Essential leather Sneakers in Leopard Calf hair,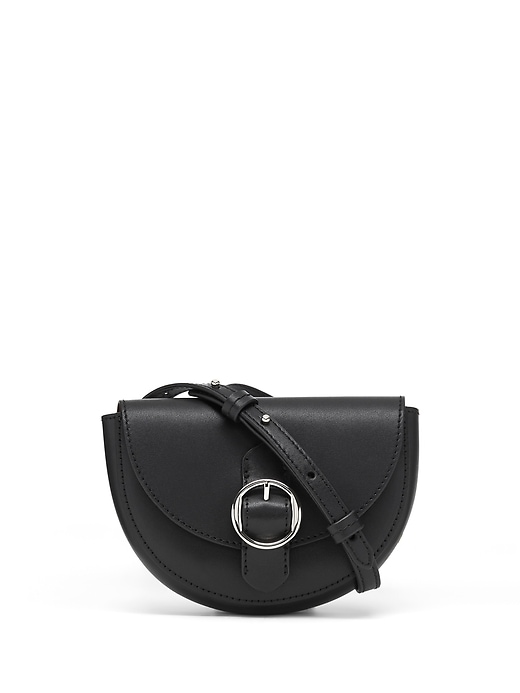 their Leather convertible belt bag, which can be also worn as a shoulder bag and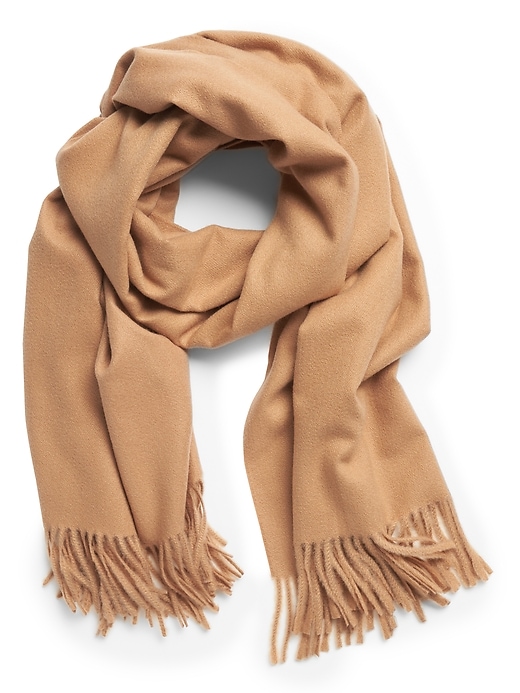 a classic fringe scarf.  This is a great look if you are travelling to a colder destination.  The Sherpa Cocoon coat will keep you super warm, the jeans you can wear over and over again, and same with the accessories.  This way when you are going somewhere a bit cooler you have a few staples with you to make you more comfortable.
Here is another look also from BR that would be great if you are travelling somewhere warmer but leaving your home which is cooler.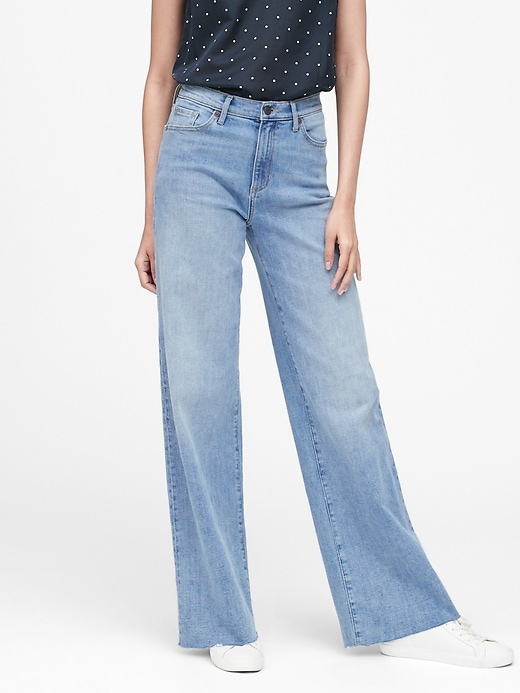 Start with a high-rise wide leg jean.  You can also use the dark one above, but chances are we also have one in a lighter wash in our closets. Then add a colorful ribbed scoop-neck top,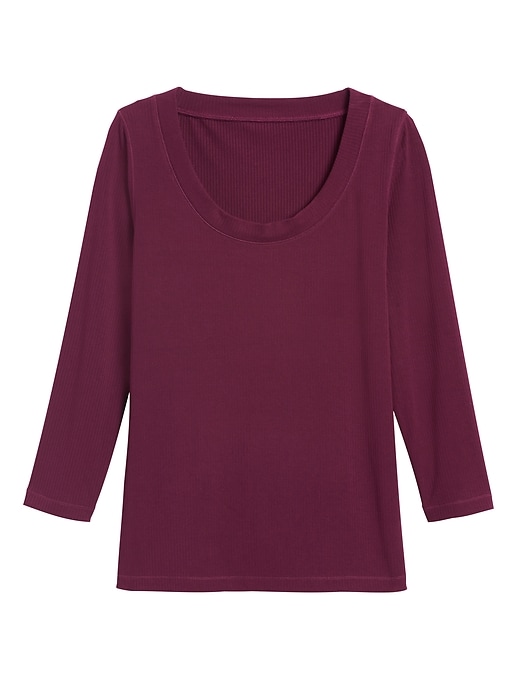 I like the idea of this one in Sour Cherry, giving a nod to the strong purple trend.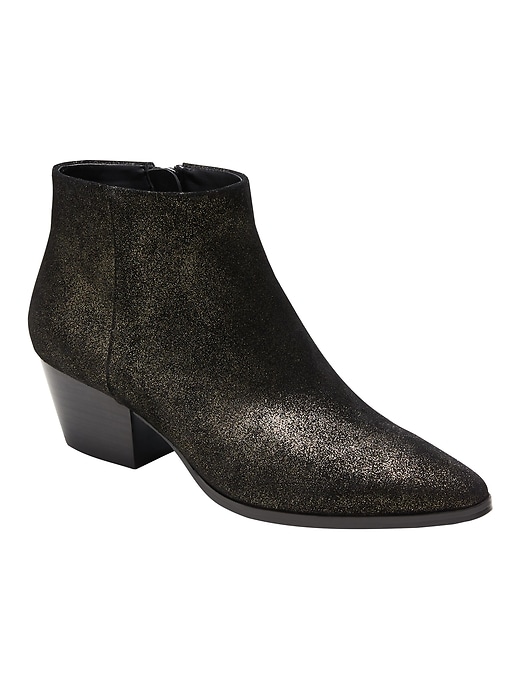 Add a basic bootie, BR has this Everyday bootie in Pewter Suded, but any black bootie would work.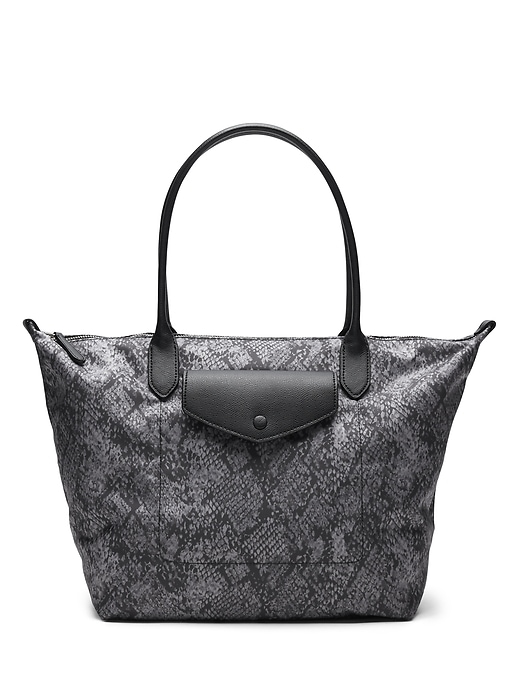 And finish off with a Nylon Travel tote that can double as a beach bag and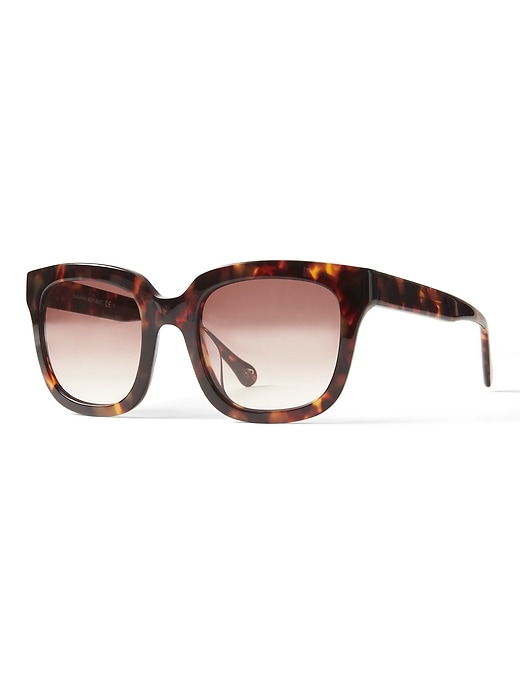 a great pair of shades.  Then add the one piece that will tie this all together,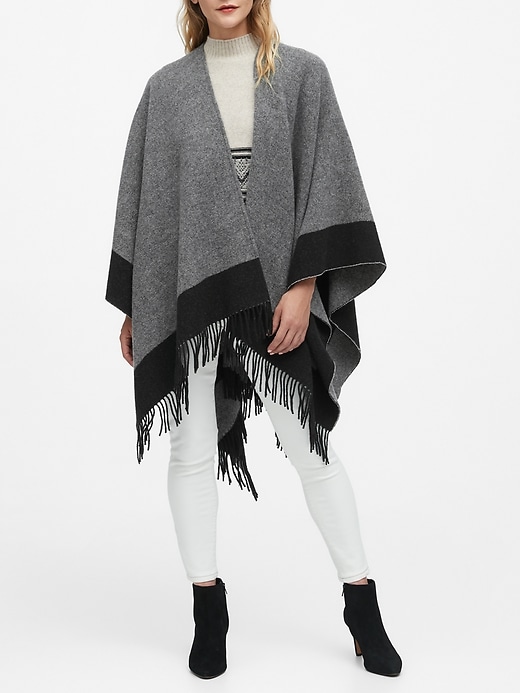 BR's Reviserible Wool-Blend Poncho, I love it because you get two in one, a black side and a grey side.   Then you have a jacket and topper that can also be a blanket or something to throw on anytime.  I use my poncho for travelling all the time, it works over coats to keep you warm and I have even used it as a blanket on airplanes.
If you don't want to wear Wide leg jeans just substitue Skinny jeans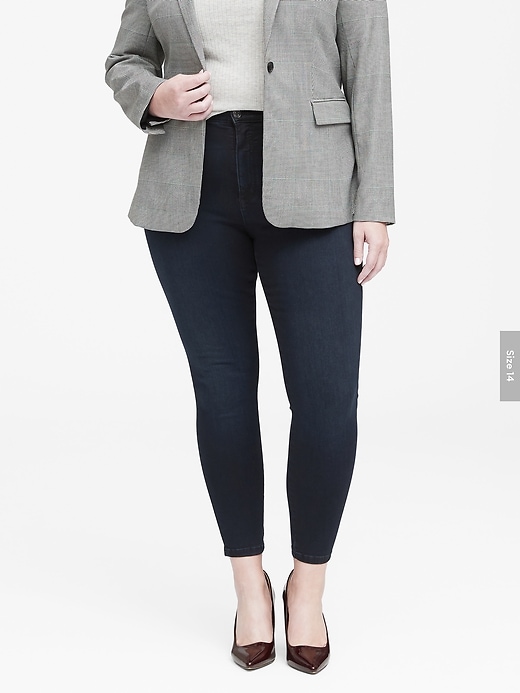 ,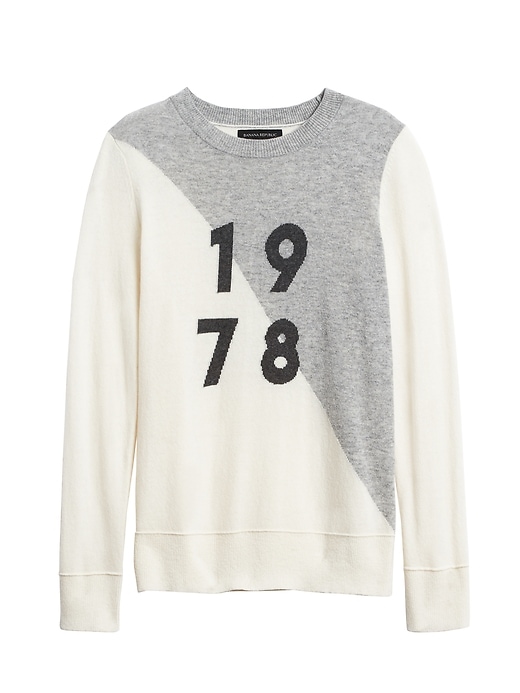 a Graphic Sweater and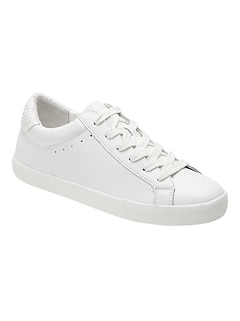 a pair of leather sneakers.  These all look great with the poncho on top too!
So now that we have figured out our travel look, we can move on.  Just remember don't be the person who gets off the plane in a snowstorm with a pair of flip flops or shorts on.  I can't tell you how many times I have come home from a warm destination and seen people in the cab line at the airport with flip flops and shorts on in a snow or rain storm. Runners are a great travel option if you don't want to take booties with you.
If you are going to a warmer destination, you want to take enough clothes so you have a few options but not so many that you have to pay more for your luggage.  A good packing list for a warm destination is:
A good bathing suit.
You can decide to purchase something new like J. Crew's Ruffled one piece suit or just wear what you have already.  But taking 2 suits should give you enough to cover a 10 day trip, even if you are in a bathing suit everyday, you can alternate between the 2 and wash one and hang it to dry while you are wearing the other.
One pair of flat sandals that you can wear with anything
like these cute soft leather knotted pair also from J. Crew.  And one block heel or wedge pair of sandals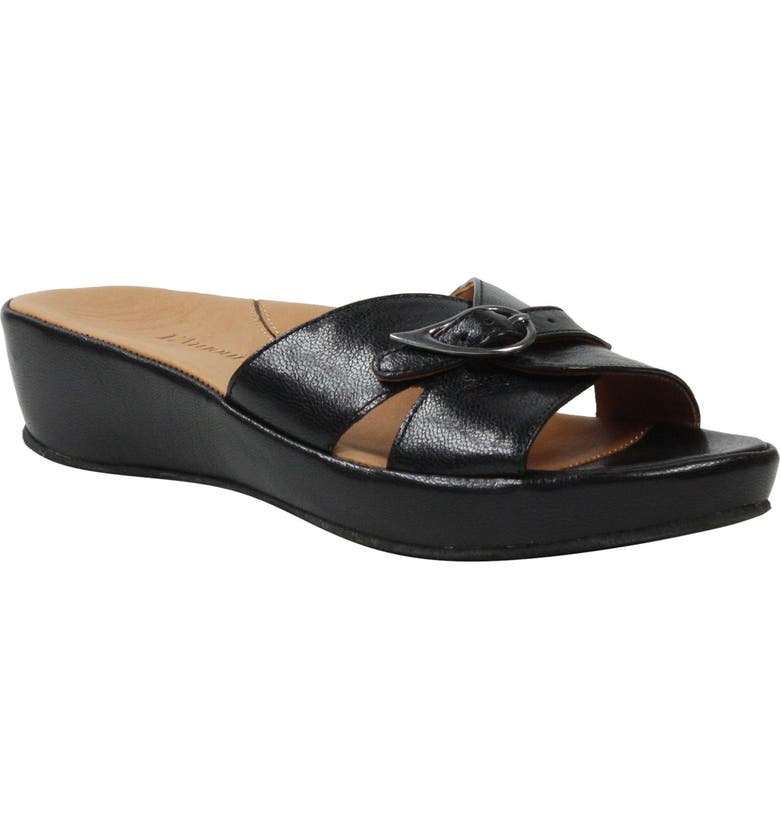 like these Cheyne Slides from L'Amour des Pieds at Nordstrom.  You could wear both of these styles daytime or evening.
One casual dress, like a midi or maxi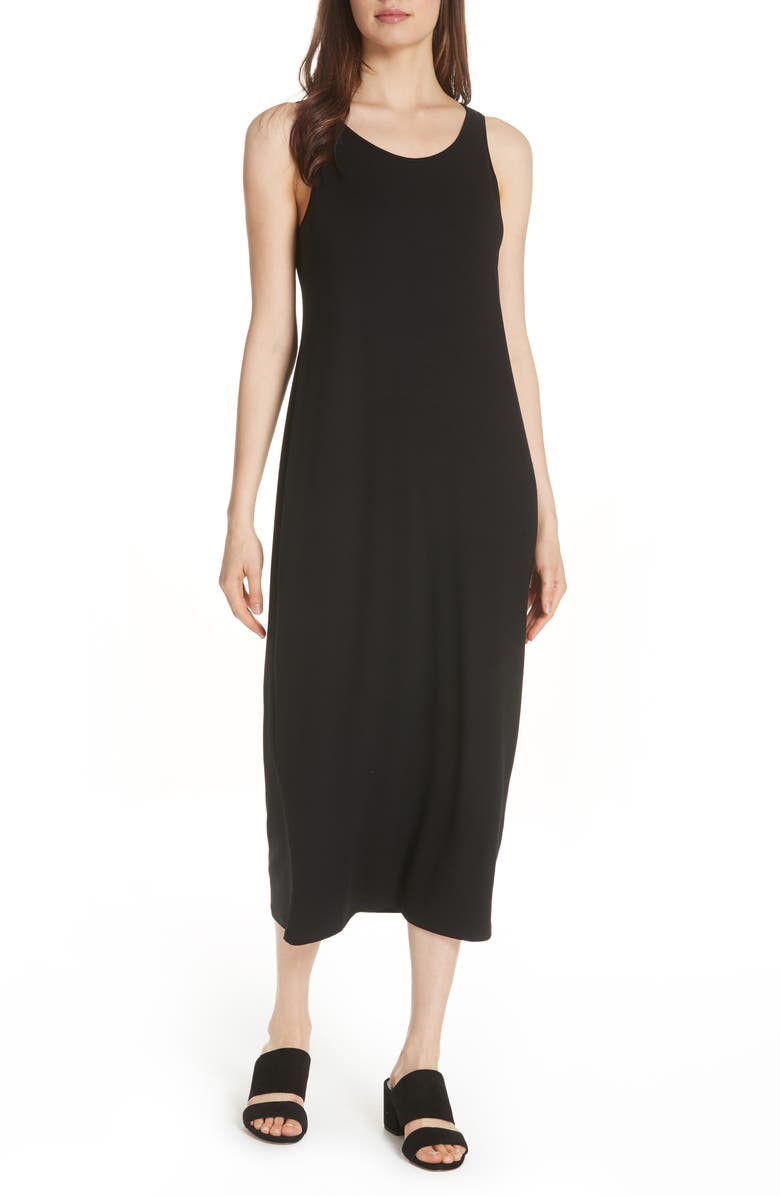 . This is Eileen Fisher's Midi Tank dress from Nordstrom.  You can wear it daytime with the flats or your runners and it can also be worn over your swim suit, and it can double as an evening look just by changing the shoes and accessories. 
Or you can choose a button down dress in an ivory or white like this dress from Sugar Lips.  Again something that can be worn for anything by just changing shoes and accessories.
One pair of pants that isn't jeans.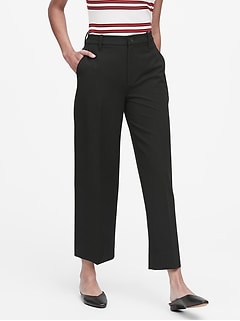 I love these slim wide leg cropped pants from BR but you could do joggers or skinny pants, whatever works for you.
3 great tops.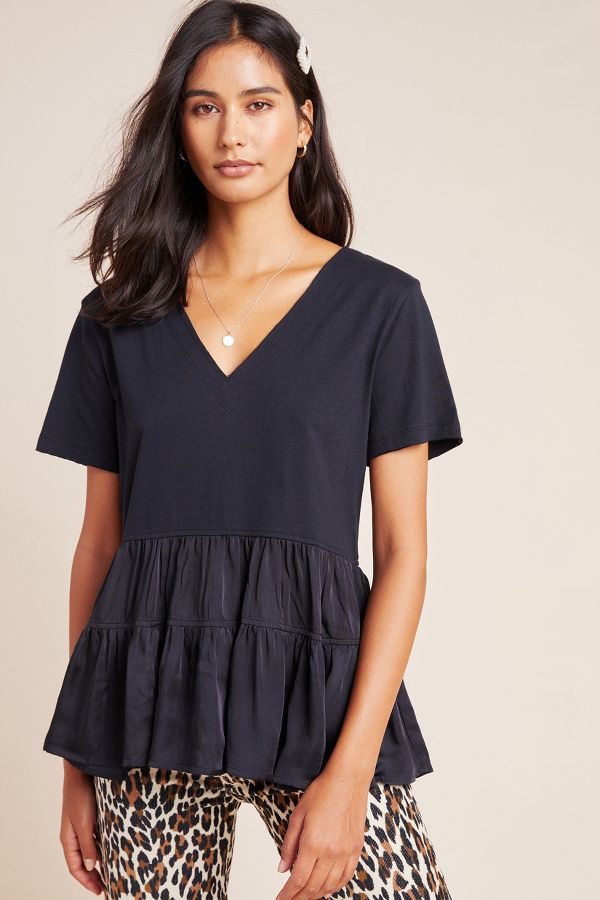 Maybe one cute tiered Tee like this Louisa Tiered Tee from Anthropologie.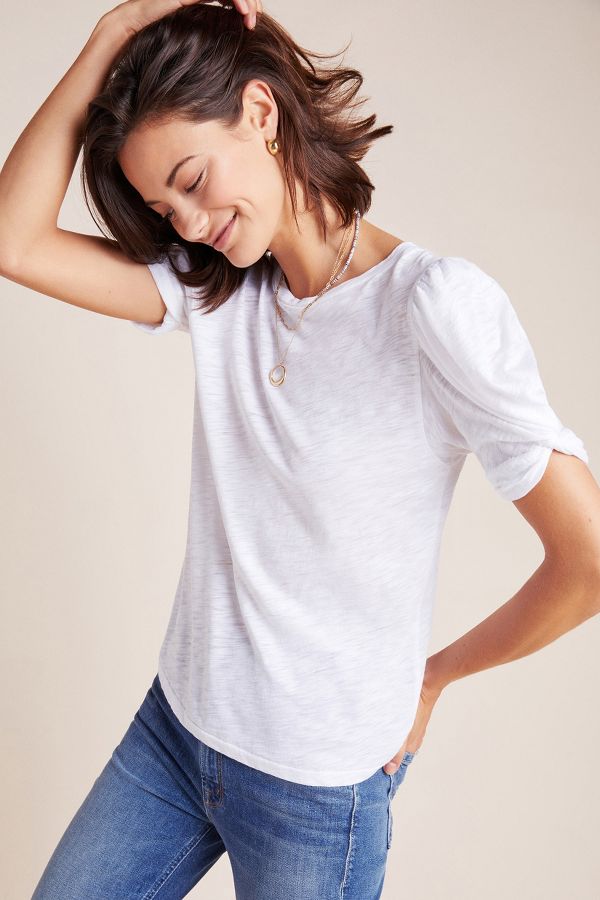 Maybe a cute Puff-Sleeved Tee, also from Anthro.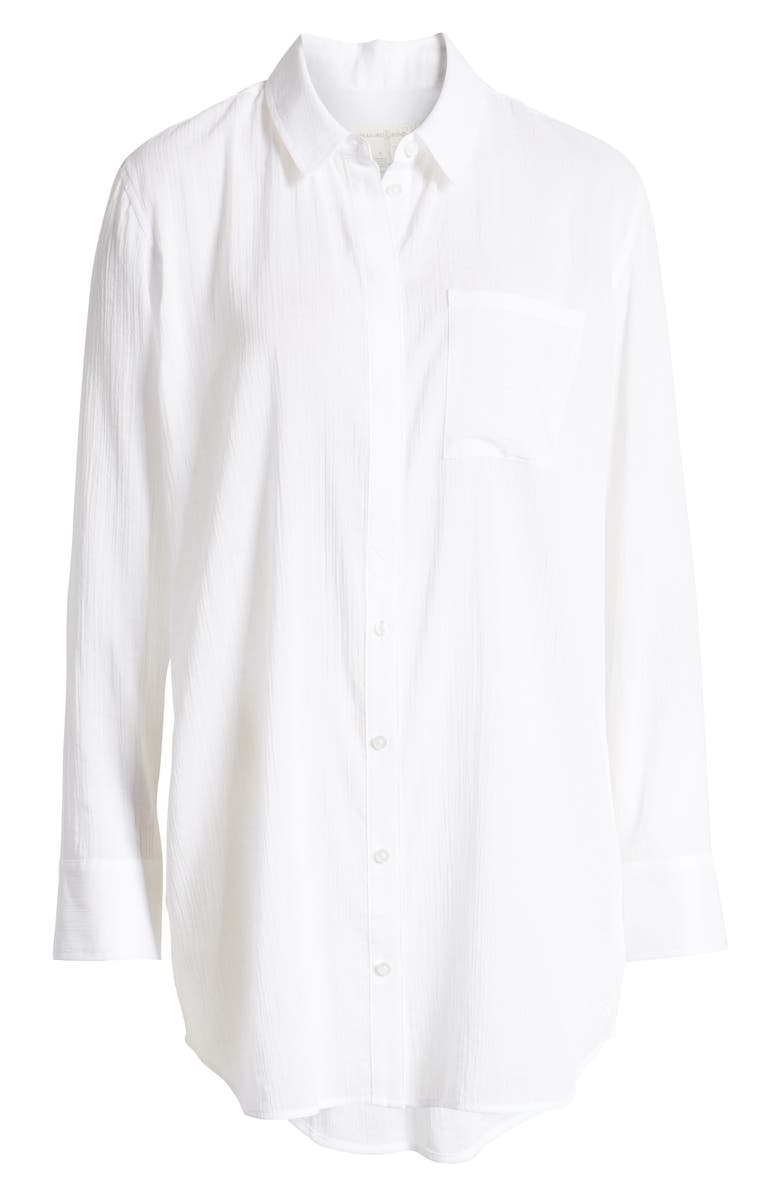 And a long sleeve white light weight shirt like Treasure & Bond's Gauzy Tunic at Nordstrom, that can double as a swim wear cover up or you can tie it at the waist over your midi dress.
Maybe add one more bottom, either a skirt, pant or long short depending on how you feel about your legs.
Maybe a cute pair of Chambray Joggers from Anthro,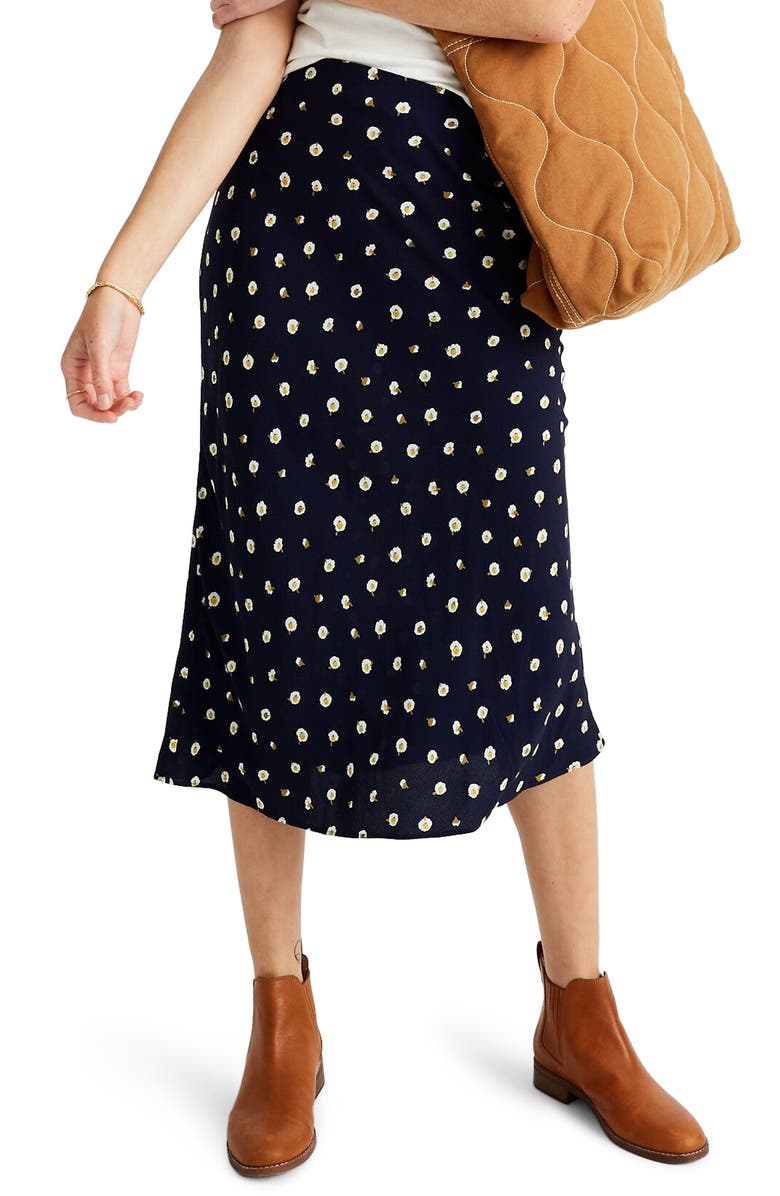 or maybe a cute midi slip skirt in a daisy print from Madewell or even
  a classic pair of bermuda shorts from J. Crew.  You may want a pair of bermuda shorts if you are going somewhere hot and humid.
Your poncho above can be your outerlayer if you need one and your nylon tote can double as your everyday bag too.
If you are going to a big city or visiting relatives you may want a different look.  If you are staying in a winter climate and are travelling in the first travelling outfit, sub the runners for booties on the travel day but pack a pair of runners in your bag.
Add at least one more pair of pants.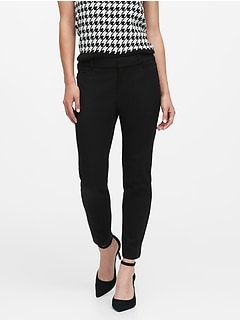 The Sloan skinny fit washable pant from BR is a good compliment to a Wide leg pair of jeans. Black is a great color because you can dress it up or down.
Add a dress.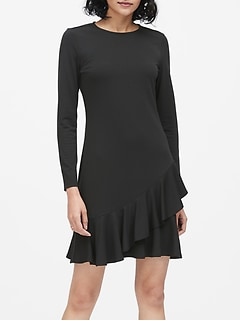 BR has a soft ponte Ruffle dress that would travel wonderfully.  It's dressy enough for Xmas and NYE or dress it down with tights and booties too. Or if you prefer a longer dress try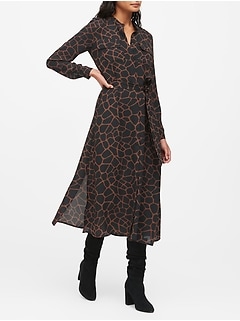 BR's print shirt dress, it will look fabulous with the Sherpa cocoon coat and you can where it everywhere.
Take 2 sweaters, one casual and one a little more dressy.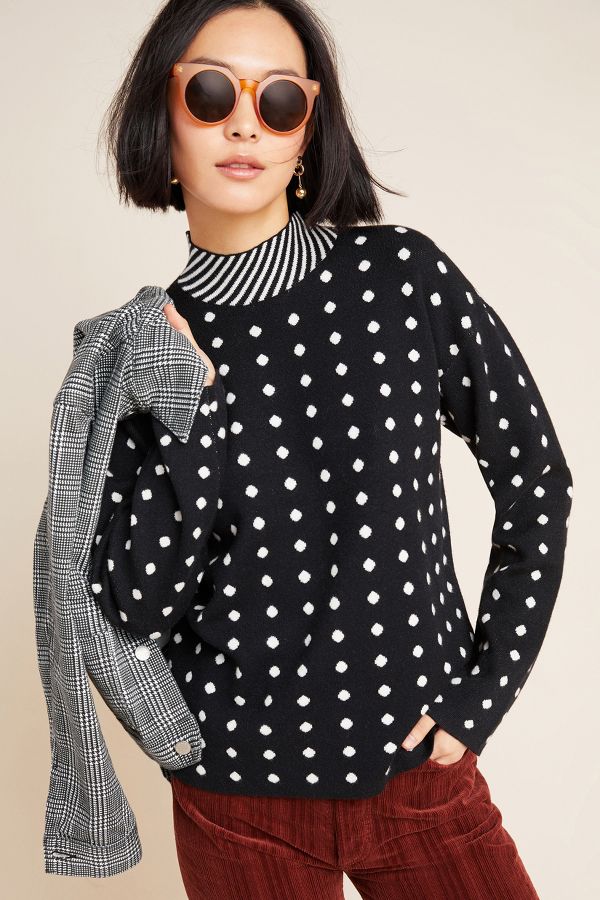 This Ivanna Mock neck sweater from Anthro comes in many color combinations but I love the black and white dot with the dark wide denim and skinny black pants. Then take it up a notch by bringing a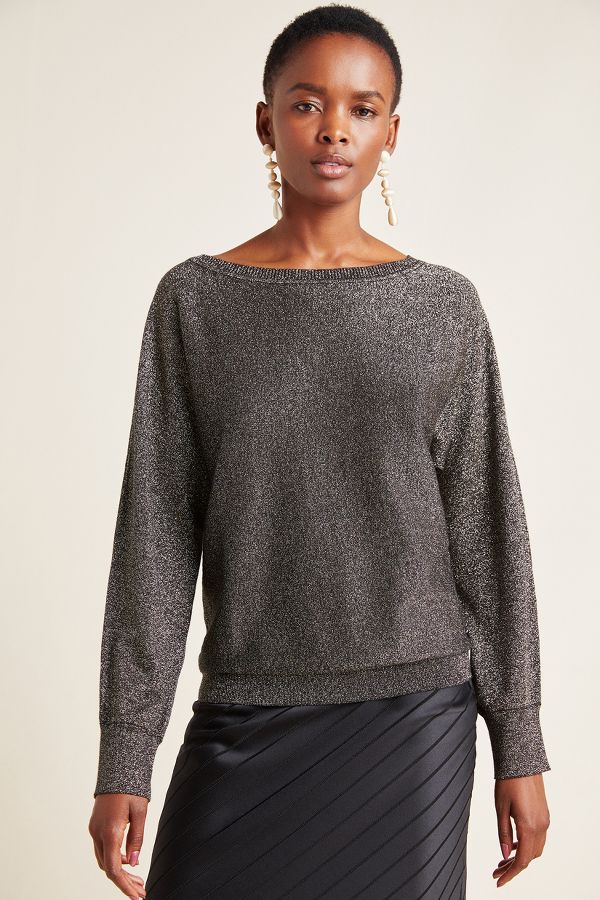 sparkly sweater that can immediately dress everything up. This one is from Velvet by Graham & Spenser at Anthro.  BR has them too.
I would probably add a slip skirt in either black or a print.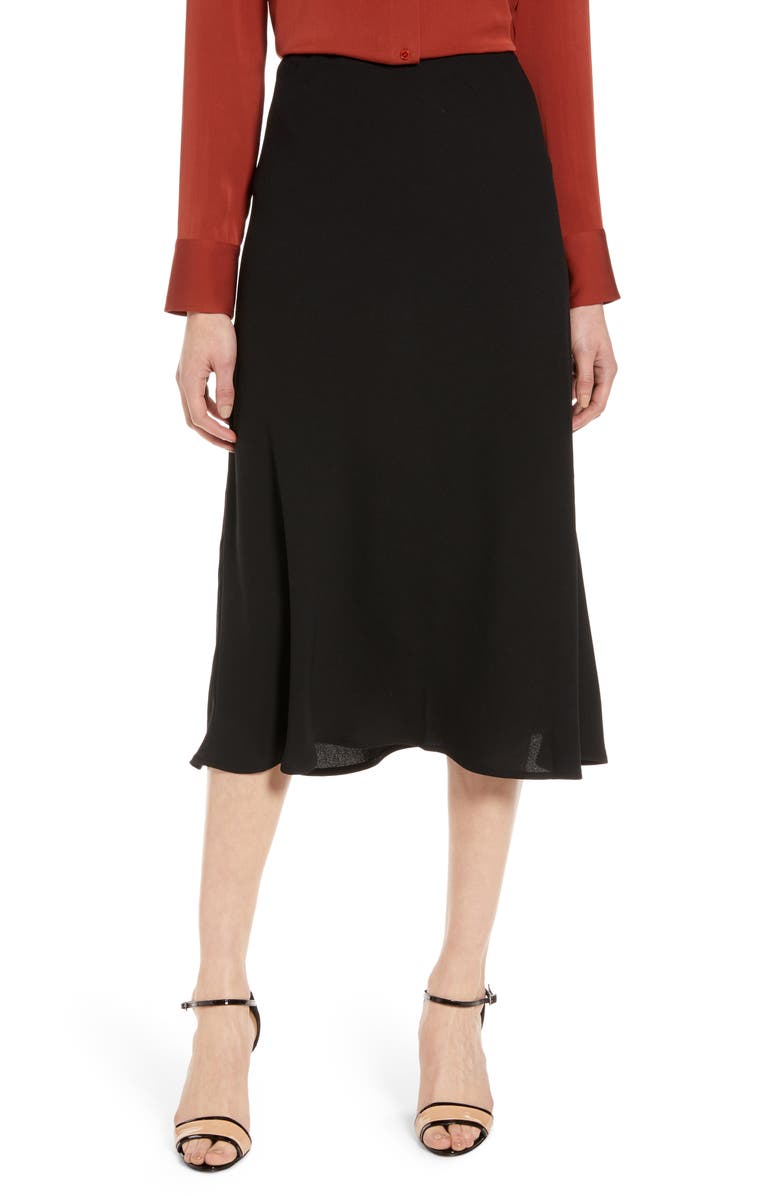 This one is the one from Halogen at Nordstrom we have been talking about all Fall, you can also find them at Aritzia and other stores.
And one blouse and one fun or edgy top. BR has some great blouses, you can take a casual plaid blouse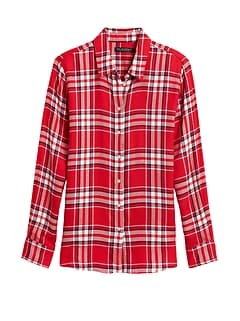 or take it up a notch with a great print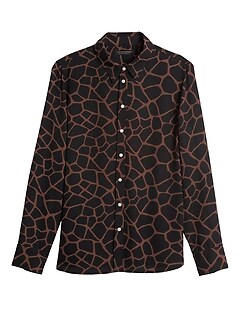 or great fabric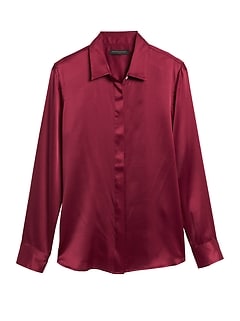 .  Or you can go away from the shirt style and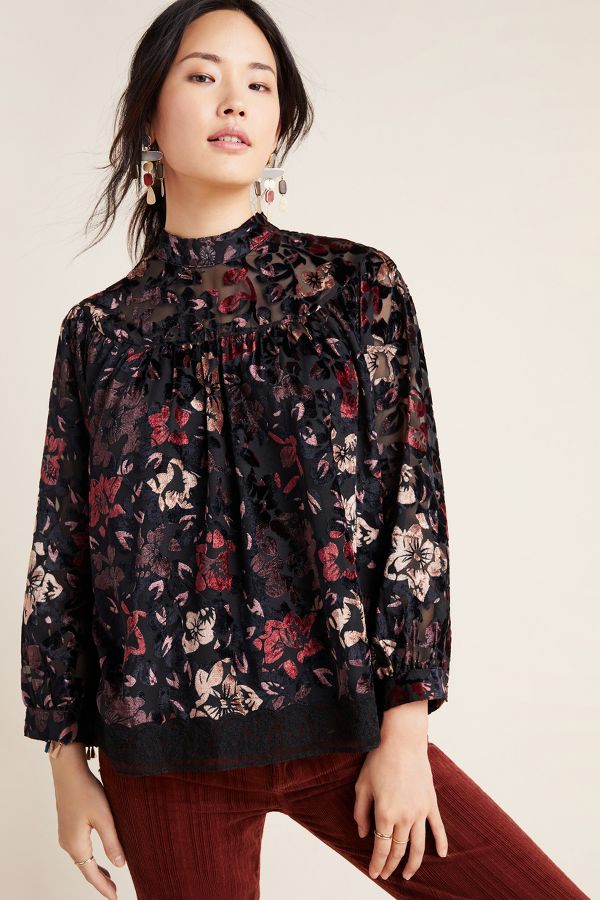 bring something like this Angela Velvet Blouse, it can be a dressy evening look with black pants or a fun daytime look with denim.  And I always travel with a black cardigan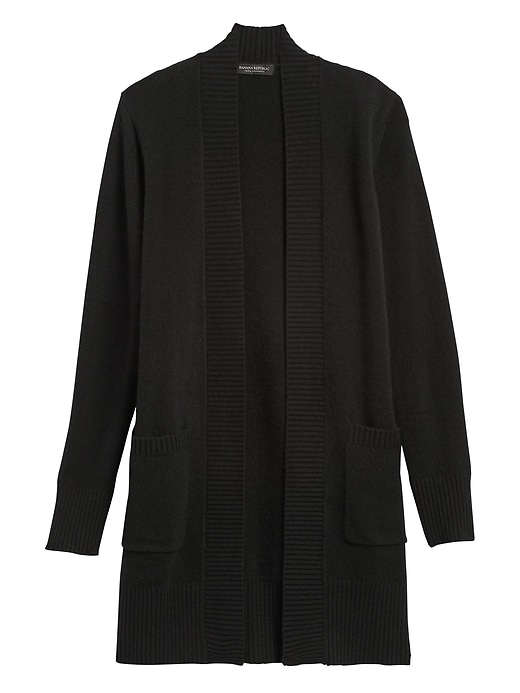 . Something in wool or cashmere that will keep me warm and I can belt and layer.  This is the Cashmere long sweater from BR.
Again booties and runners work great with everything here.  You could take a higher heel bootie or pump if you need to.  And I travel with usually one purse or bag that is not my carry on bag that works with everything.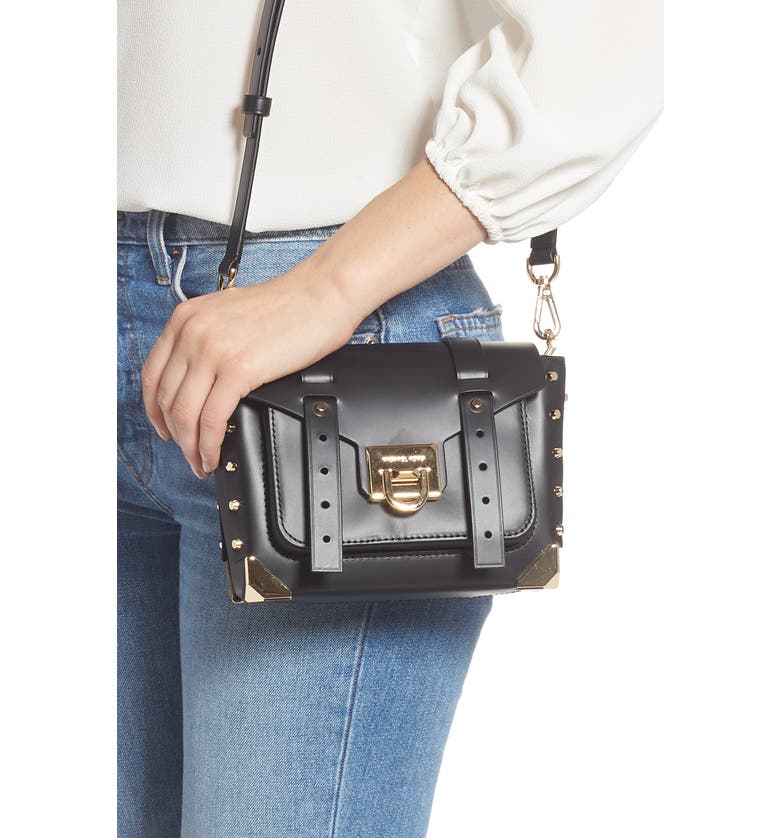 Something like this Michael Kors small leather cross body that can be worn for dress or casual is a great option.  Match all your jewellery to either silver or gold and you are all set.
Of course there are lots of other things you can pack when travelling but I use the rule less is more.  I personally stick to a black and either ivory or white palette because it always looks good. Denim is a neutral that goes with everything when travelling,  so I always travel with at least one pair of jeans.  Boots and winter accessories are a must if you are travelling to a cold climate.  And if you are travelling to a warm one you may want to add a light pashmina that you could wear in the evenings or wrap around your waist in your swim suit and a hat to keep the sun off is a must! But I usually buy one at my destination that I toss when I leave so I don't have to pack it. Target or any drug store ususally has great straw looking hats made out of paper so you can recycle them when you are done.
One last note, one-use plastic water bottles are getting banned at airports all over the world, so take a metal or hard plastic empty water bottle with you.  Once you are through security there are filling stations where you can fill it up.
I know this was a bit longer of a blog, but I hope I gave you lots of ideas for your travel outfits.  Keep in mind if you are travelling some cultures insist on modest clothing, knees and arms covered, that light weight pashmina can come in very handy.
I want to let you all know about something happening in Vancouver next week.  Our Jewelry expert Shoshana Lewis and some of her collegues are having a fabulous pop up shop that is not to be missed! It's November 27 10 am to 9pm and Nov 28 10 am to 6pm at 4386 Main St. in Vancouver.   Check this pop up shop for great jewelry, clothing and even art.  It is not to be missed! 
Happy and Safe travels if that is your holiday plans!
Until next time…