Every fall we see different Utility styles become trendy.  Sometimes it's with a militaristic view and sometimes it has an equestrian feel.  Well for Fall 2019, it has a bit of everything in the Utility trend, specifically colors and textures.
Fall 2019 is really all about colors and textures in every trend.  The colors in the Utility trend range from golds and mustards to khaki green and deep oranges.  There are prints like camoflague that work really well.  And the texture part is really all about how to wear quilting and fleece.  I know a lot of women who love fleece and quilting but really only wear them as weekend or very casual looks.  This fall you can take the pieces and mix them with your work wear or even going our styles and be perfectly on trend.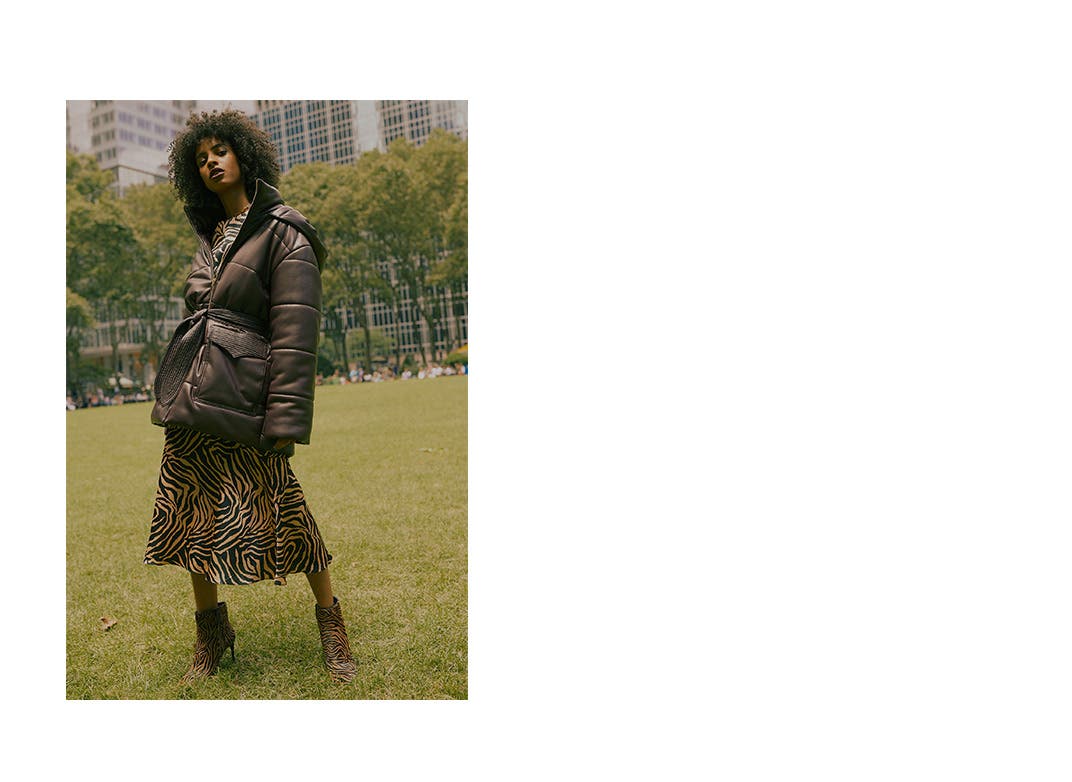 Sometimes it is as easy as adding your casual puffy jacket to a dress and boots.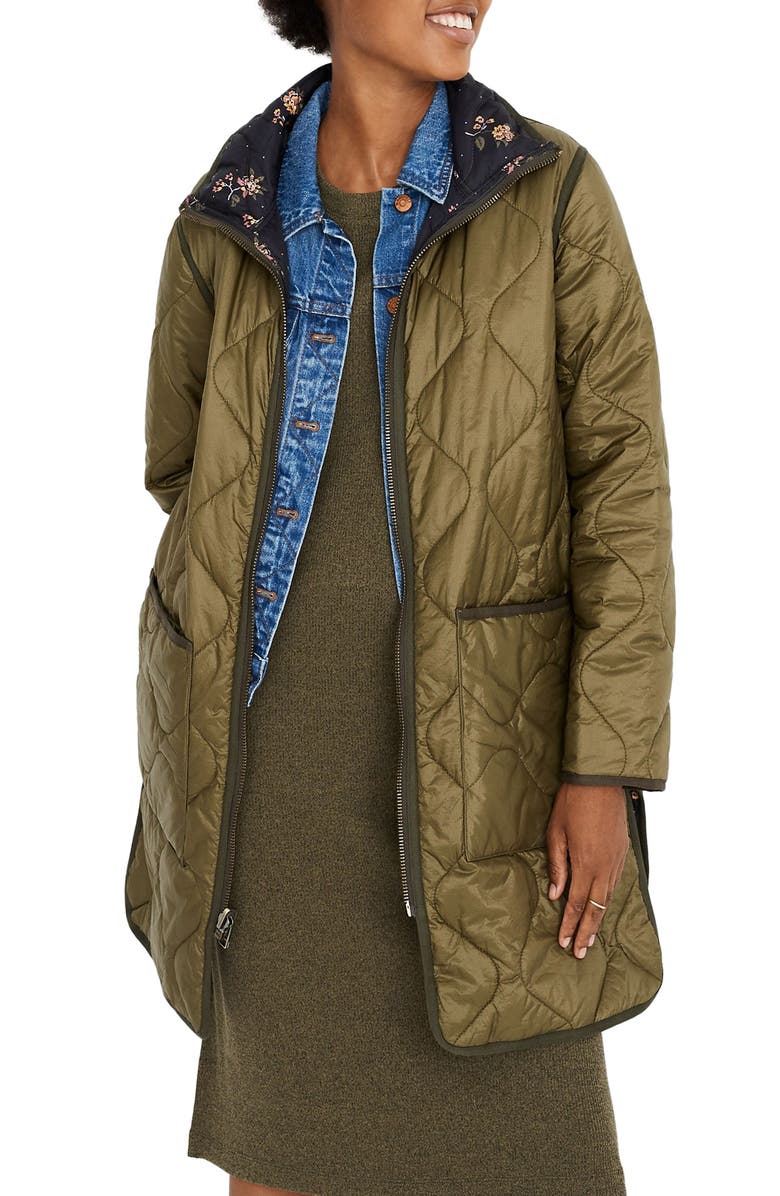 Or take a casual jacket and denim shirt or jacket and pair it over a dress for work. Both the above looks are from Nordstrom and feature coats and dresses you can find at nordstrom.com .
You can also use fleece to create a trendy look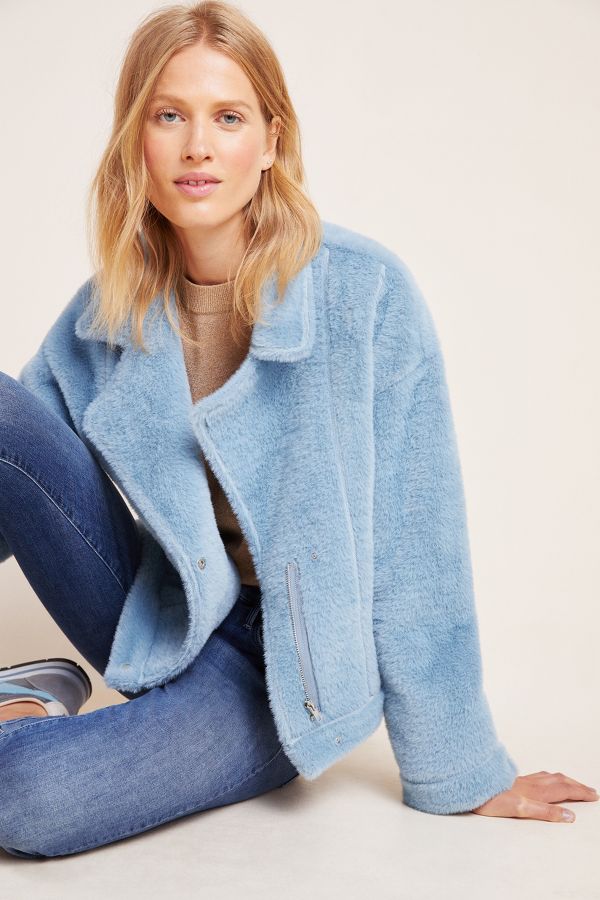 Anthropologie is a great place to find a sherpa or fleecy jacket that you can pair with jeans for casual or
patterned pants for a night out.
You don't have to stick to just earthy colors either.  One of my favorite looks in this trend is in black and white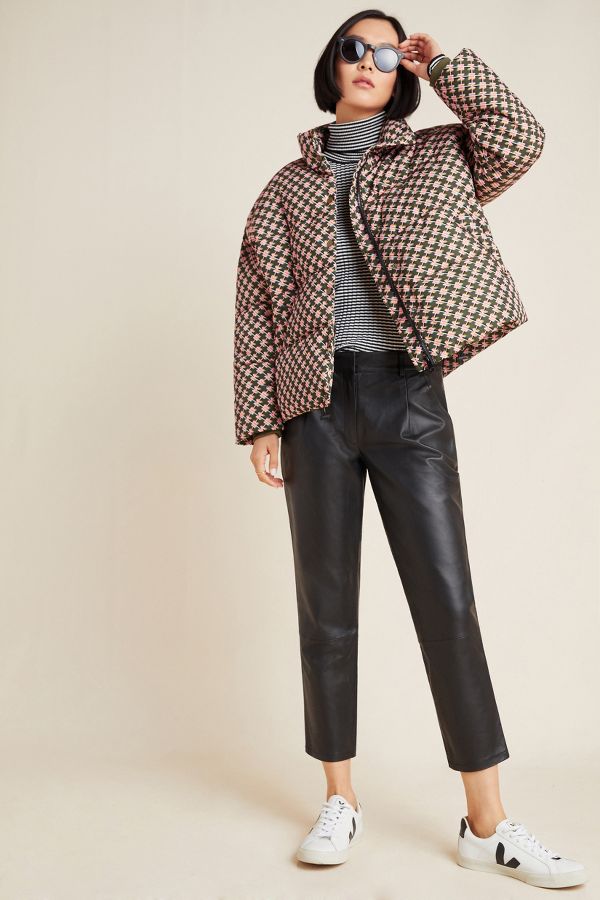 . Anthro has a Scotch and Soda Geo printed puffer coat pair with Bagatelle tapered leather trousers, a stripe turtleneck and white runners, and it works perfectly.
You can take individual pieces out of your wardrobe like fleece and quilting and add them to styles you may not have thought about before.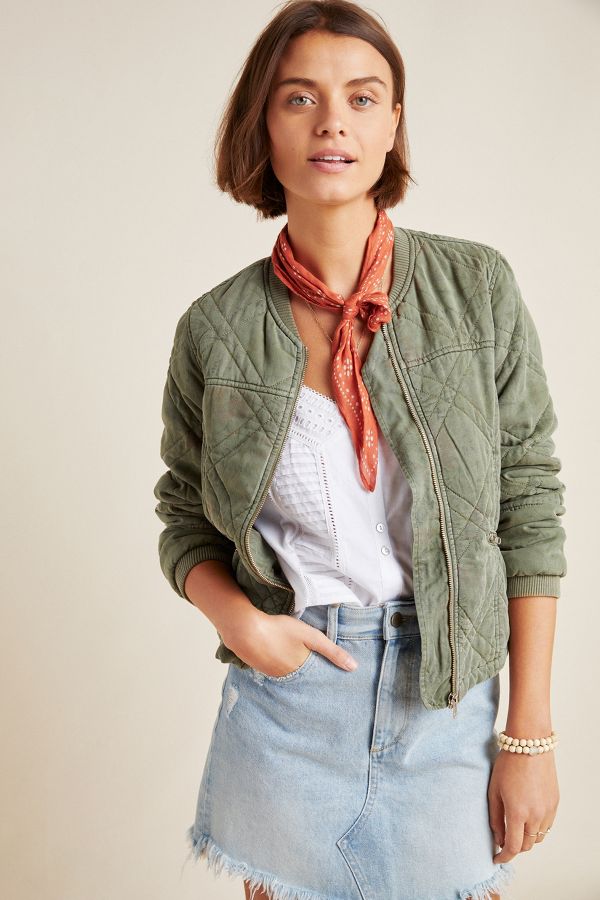 If you own a quilted bomber jacket, pair it with a skirt. This jacket is the Valentia Quilted Bomber jacket from Anthro.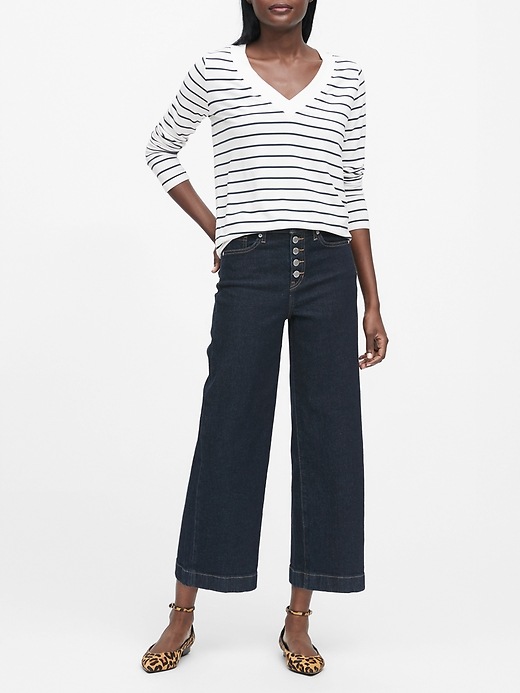 Or you could try pairing a terry sweatshirt like this one from Banana Republic with wide leg pants or wide leg jeans.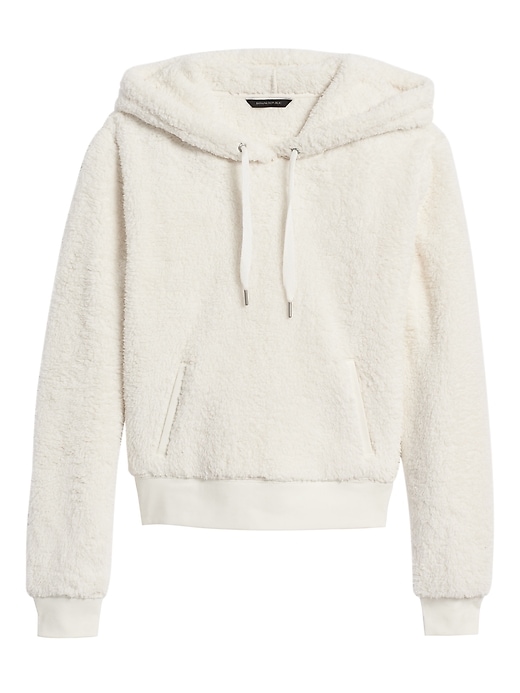 You can take something as simple as a sherpa hoodie from Banana Republic, and pair it with denim or try it with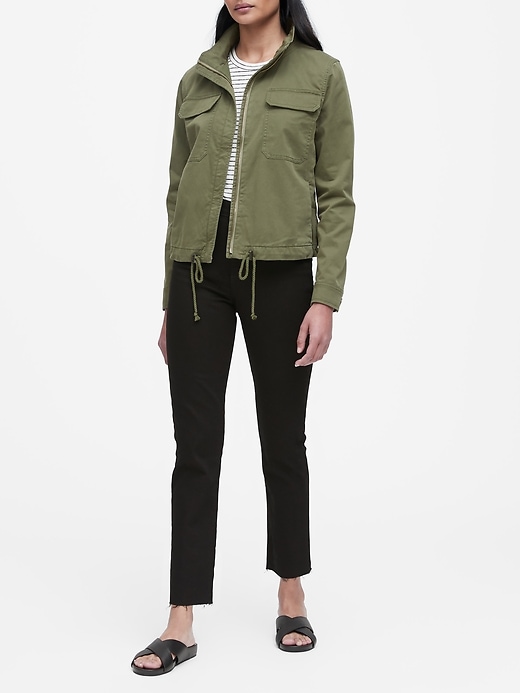 a pair of straight leg black pants and khaki flight jacket.  Change the shoe to
a black leather sneaker with a bit of detail and you are completely rocking this trend. Or try the same hoodie and jacket with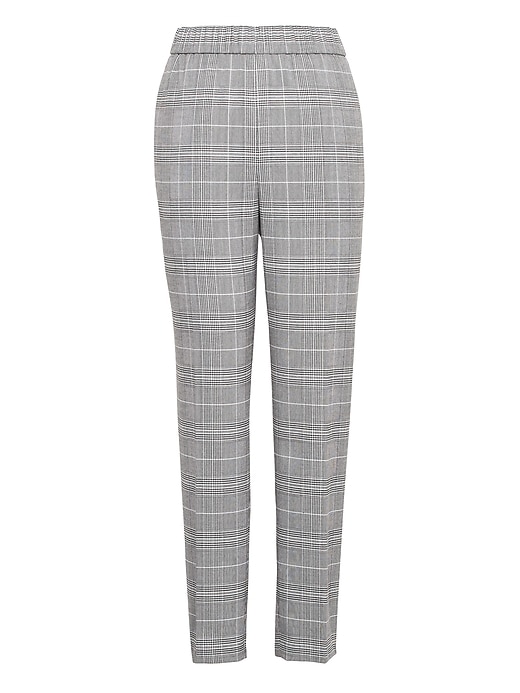 a tapered check pant and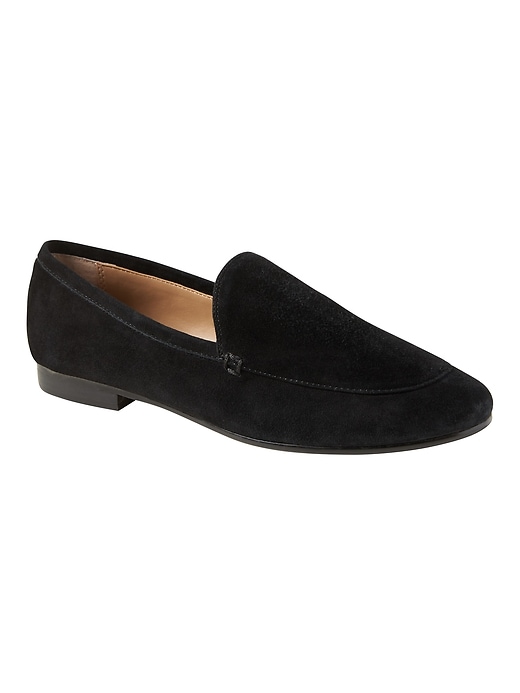 simple black loafer.  And voila! You have a casual Friday work outfit ready to wear.
And remember at in our very first fall blog we talked about unexpected styles being in this trend?  One of my faves is still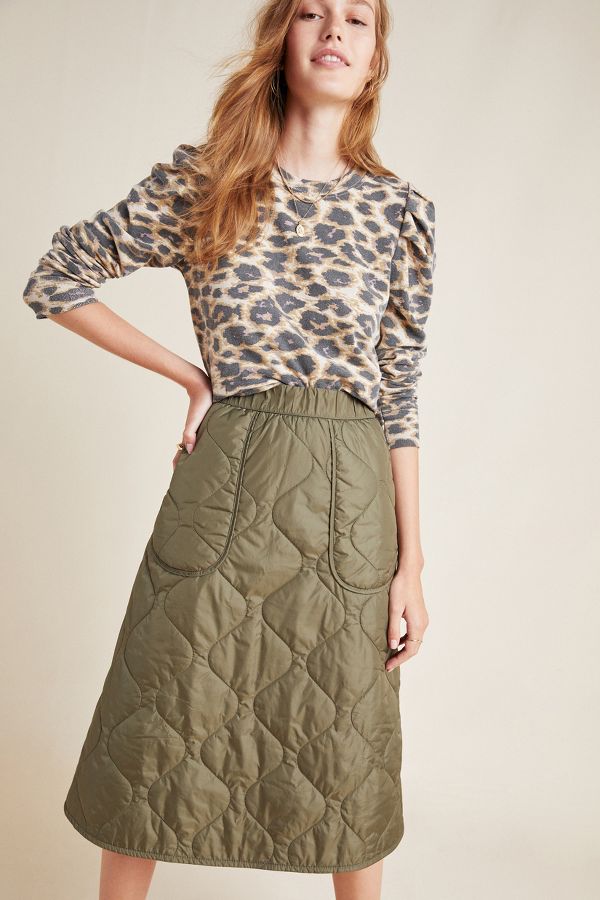 the Dempsey Quilted A line skirt from Antho.  Wear it with an animal print sweater and booties to work and then try
a puff sleeve pom pom sweater from J. Crew with heels in a patterned fabric for evening.
I am a fleece lover,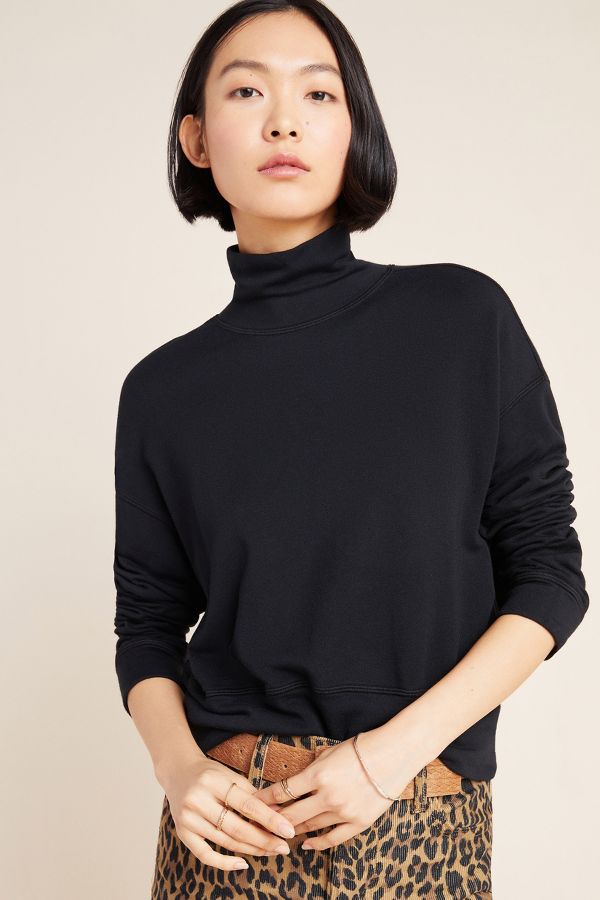 I love a fleece turtleneck like this Presly Fleece pullover at Anthro with a trendy bottom in either animal print or plaid.
And let's not forget the effect of a camo print in this trend.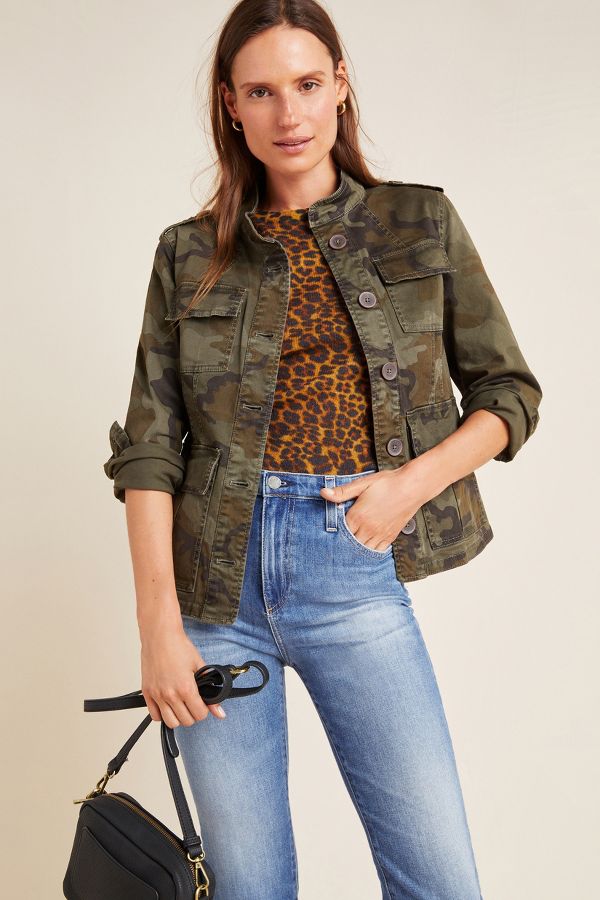 Anthro has Sanctuary's Lena Camo Utility jacket that can pair with everything.  I would even wear this jacket over a black dress! You can also do camo on the bottom,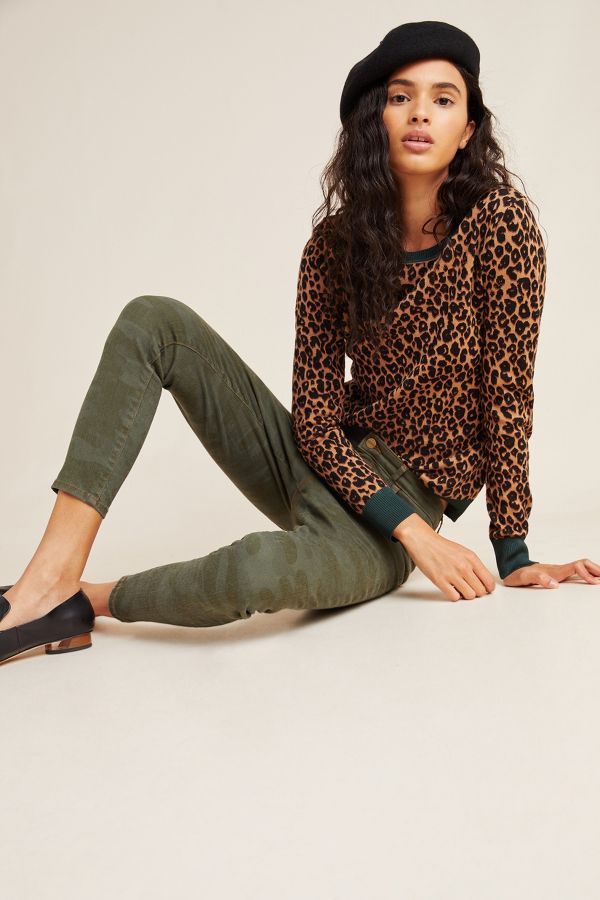 Anthro also carries Sanctuary's mid rise Camo skinny jean that you can pair with a print sweater, a solid black cashmere sweater or even a white blouse.  Tuck them into boots when the weather gets colder or wear them with a simple loafer now.
There area  little accessory details that can make or break this trend in your wardrobe.  If you already have a few quilted and fleece pieces start mixing them up with pants and skirts or even dresses and then pay attention to how you accessorize them.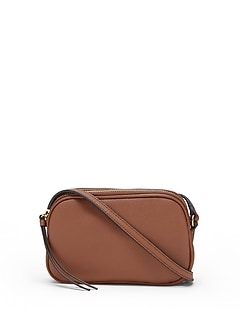 A great cross body bag will always work, this one is from BR.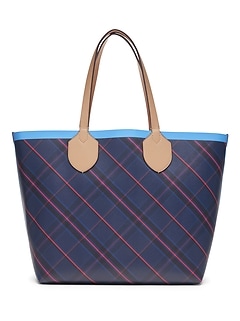 Or grab a colorful tote that isn't in the same pattern that you are already wearing.  Then use a hat like this suede fisherman hat from BR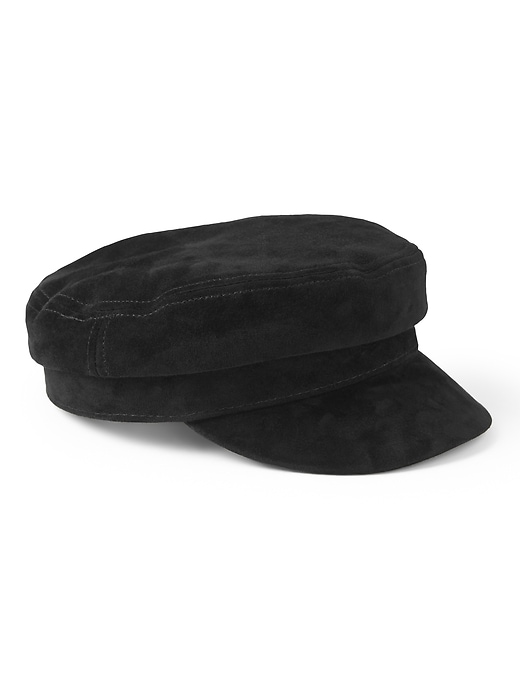 or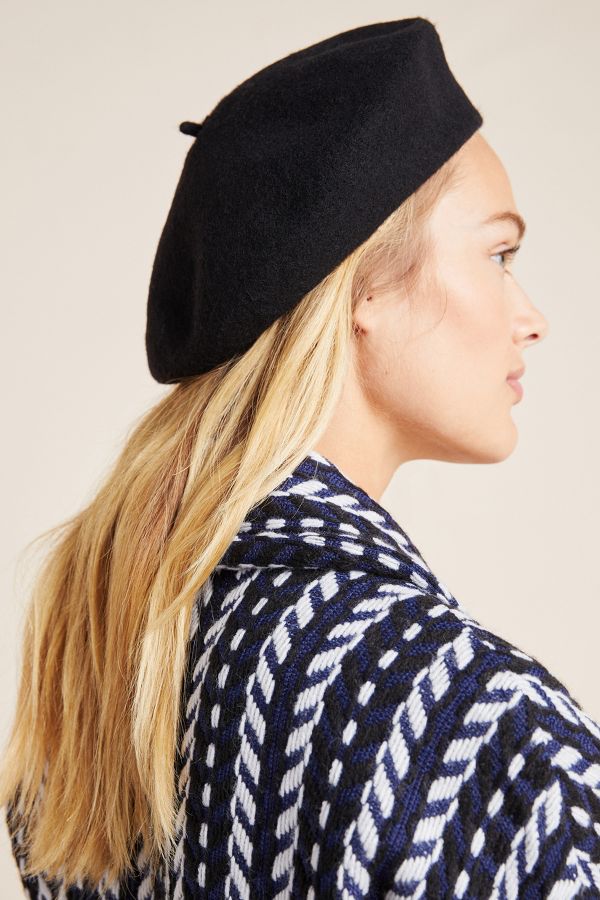 grab your black beret, chances are we all have one.  Even a great looking Panama hat like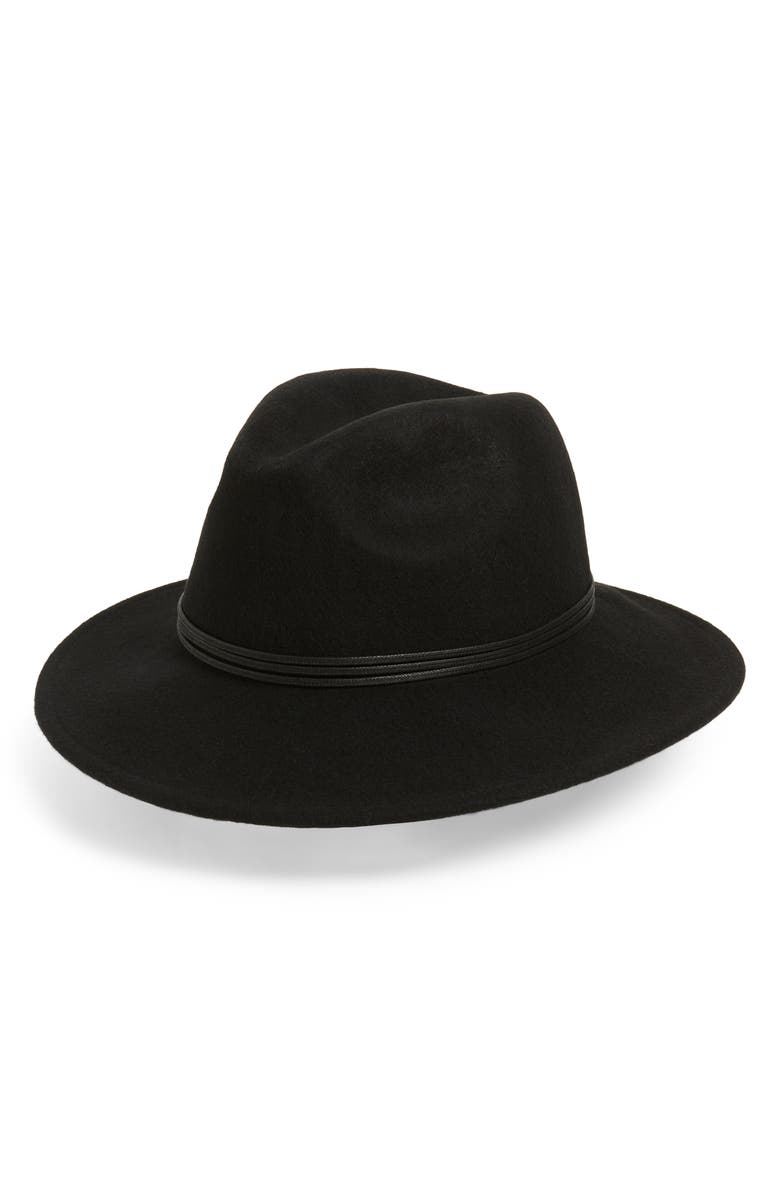 this one from Treasure and Bond at Nordstrom can take your outfit to the next level.
Keep earrings fairly simple, and use your wrist as the accessory place.
Try tying on a fun animal charm bracelet and then layering with
a Dainty stretch crystal bracelet like these in J. Crew's 8 pack, you can layer more or less depending on how you feel. Just try and keep them mixes with rougher textures like the leather tied bracelet above.
For shoes, keep to runners, loafers and booties.  There are so many great runners everywhere for fall.
A great Zebra print leather runner like these from Superga at Anthro would be perfect for this fall's utility trend.  And you can never go wrong with a great pair of black leather sneakers,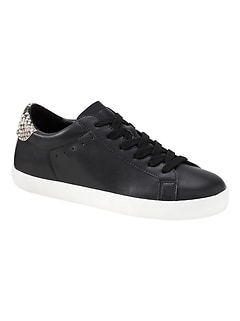 these Essential leather sneakers would even look great with a black suit for fall. I wear my black suede sneakers all the time and this fall will start to pair them with more pants and skirts, not just jeans and sweats.  A great classic loafer can work really well too.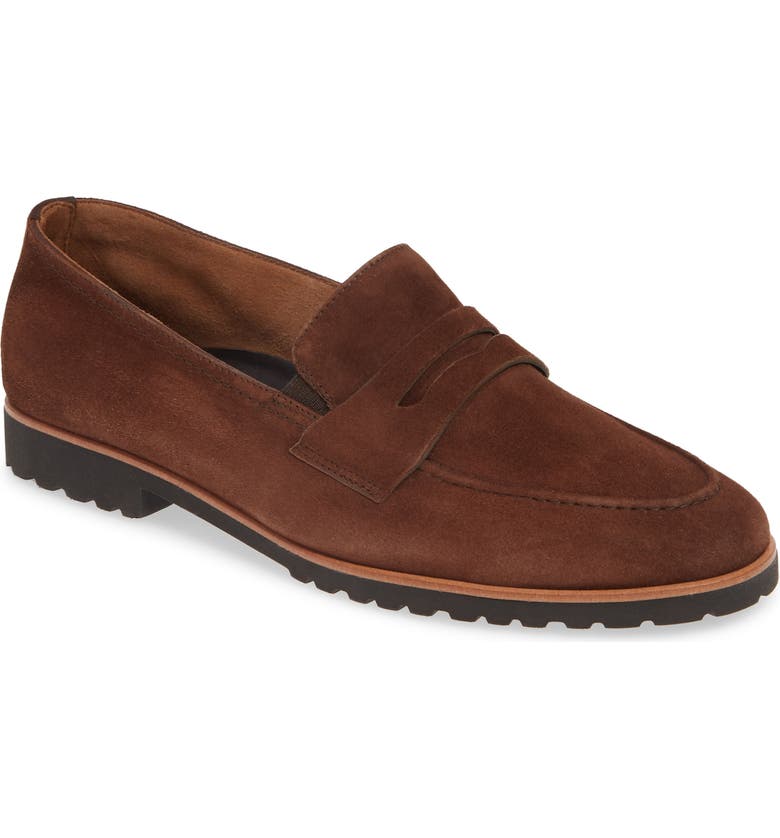 Paul Green's Becca loafer in either Hazel (shown) or Black would be great for this trend, I love the ruggedness of the lug sole.
And of course booties can work as well.  A great lace up combat style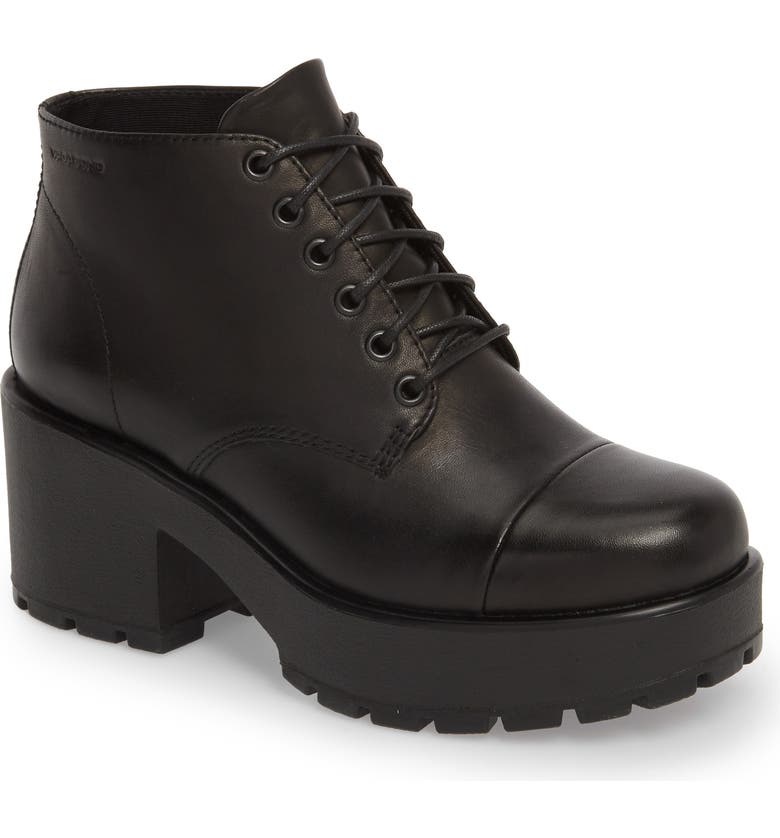 like these from Vagabond at Nordstrom would be great with any utility look.  Or try a bootie in a color or print or even texture
that will add another dimension to your look.
The whole utility trend can be worn with all the fall prints and patterns.  Wear your quilted jacket with plaid pants or with an animal print sweater underneath.  You can also mix it with other trends, wear a lace shirt with your camo print pants or wear knit pieces under your quilted jacket.  Fall 2019 is all about mixing the unexpected instead of wearing what is expected, so have fun with it.
Do you need help figuring out how Fall 2019's trends can work for you? Book me for a styling session and we can figure it out together! I am booking Novmeber appointments right now! Email me at Suethefashionista@gmail.com to set up an appointment.
Next week we will be looking at my favorite fall trend, Updated Classics!
Until next time…