Even though summer is far from over, we are more than half way through August.  In the next few days stores will be putting all their Fall merchandise out, in a few weeks all the students will be back in school.  While you may continue to wear warm weather clothing for another month but basically the end of August means the end of Summer.  So while you are on your summer schedule now is a good time to get your closet in shape for the new Fall collections.  Pick a cloudy or rainy day and get to work.
Here's what you need to keep and what you can get rid of, sell or donate:
Toss:
-Anything that doesn't fit you any longer, it's too short, too big or too small. There is no point in keeping clothes that don't fit, they take up valuable closet space and if they are too small they make you feel bad about yourself, if they are too big they just look bad. And if you are over 45, truly question the length of your skirts, I have to say this mini skirts are for the young and I see way too many women who should not be wearing short skirts wearing them, not a good look.
-Put away those giant oversize tote bags. They were all the rage for spring and last fall but this fall they are not.  I wouldn't advise getting rid of them, they seem to come back every other year and if you invested in one or two, just save them.
-Slouchy boots were really strong last fall.  You may see a few this fall, but they are not the right boots for Fall 2019. There will be lots of other choices you will love coming up.
-Any A line coats, two years ago they were the coats to wear, not anymore. Stick to streamline coats and classic styles, those always seem to be in style.
-Fanny pack bags, they were in for Spring but Fall everything is more lady like, especially small very feminine bags.  So put the large ones away for now.
-Off the shoulder tops and sweaters.  We are finally starting to see the end of this trend. There are new trends in necklines so it's definitely time to move on from this trend.
-All those shirts and sweaters or sweatshirts with sayings on them like Blonde or Brunette. Again those are pretty much done.  This season pictures on your tops are worth a 1000 of those words. Look for tops with pictures that look like they are painted on instead of tops with words on them.
-Low waisted jeans and pants. No one over 40 looks good in them anyway, so stick to high waisted (super strong for Fall '19) or the always comfortable mid rise. You won't see many low rise anywhere.  Truly fashionable women will be wearing high rise.
-The entire Party Girl look is out. So ditch anything that you still have from that trend. Fall 2019 is much more prim and proper but with an edge.
-One other rule I live by is that if you haven't worn something in a year, it's time for it to go.  For example, if you haven't worn a coat, sweater, skirt or pair of boots last fall, you probably won't wear it this fall (the only exception this year is your bootcut jeans) so if it's in good condition sell it, or donate it if it's a bit more worn.  I sell my good condition items every season and can make anywere from $800 – $2500 depending on how much I am selling.  This year I did a big shoe clean out, my shoe size has decreased since last year so no point keeping shoes that are too big even with an insole, so off to the resale store they went.
What to Keep:
-Denim is going to be strong.  Skinny jeans and Wide Leg are both strong. Cropped wide leg and skinny too.  But the new style of denim to wear is the bootcut! If you kept your bootcut jeans now is the time to pull them out, if not go out and buy a pair! And boot cut crops too!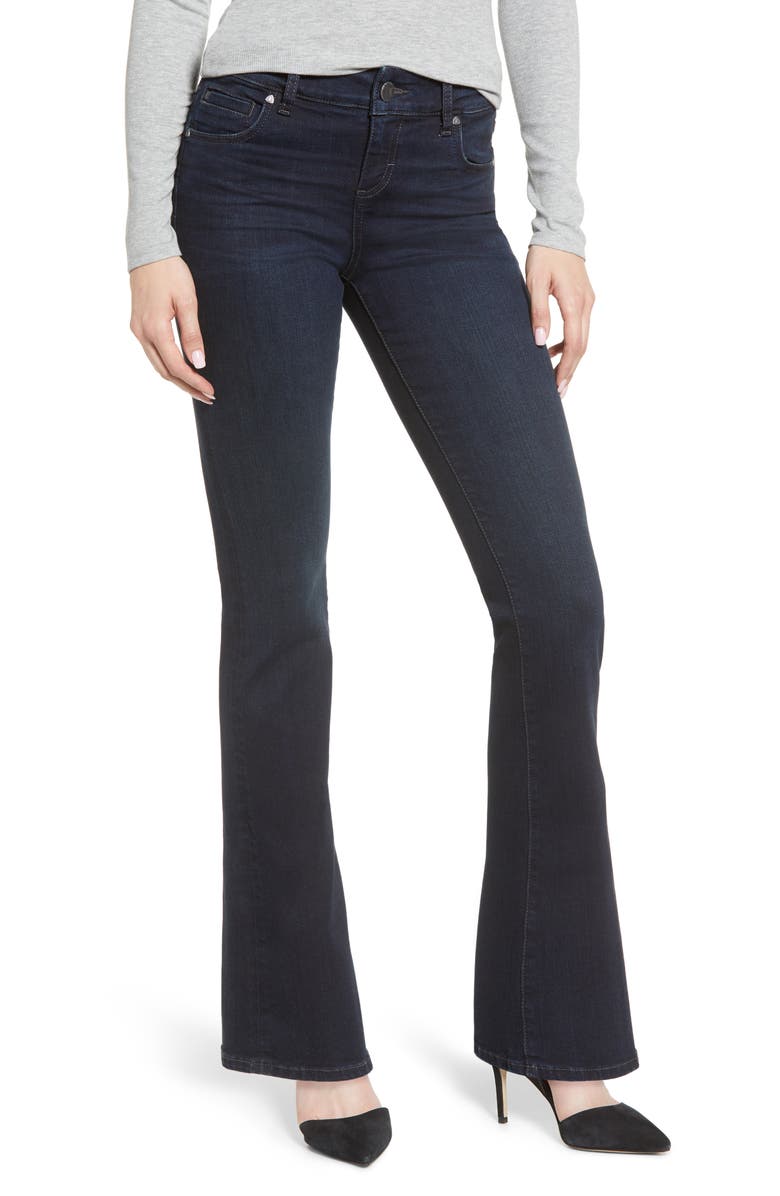 A darker wash is great for Fall and Winter, these KUT from the Kloth Bootcut Jeans from Nordstrom are the type of new style you will want. The bootcut is super flattering on every figure.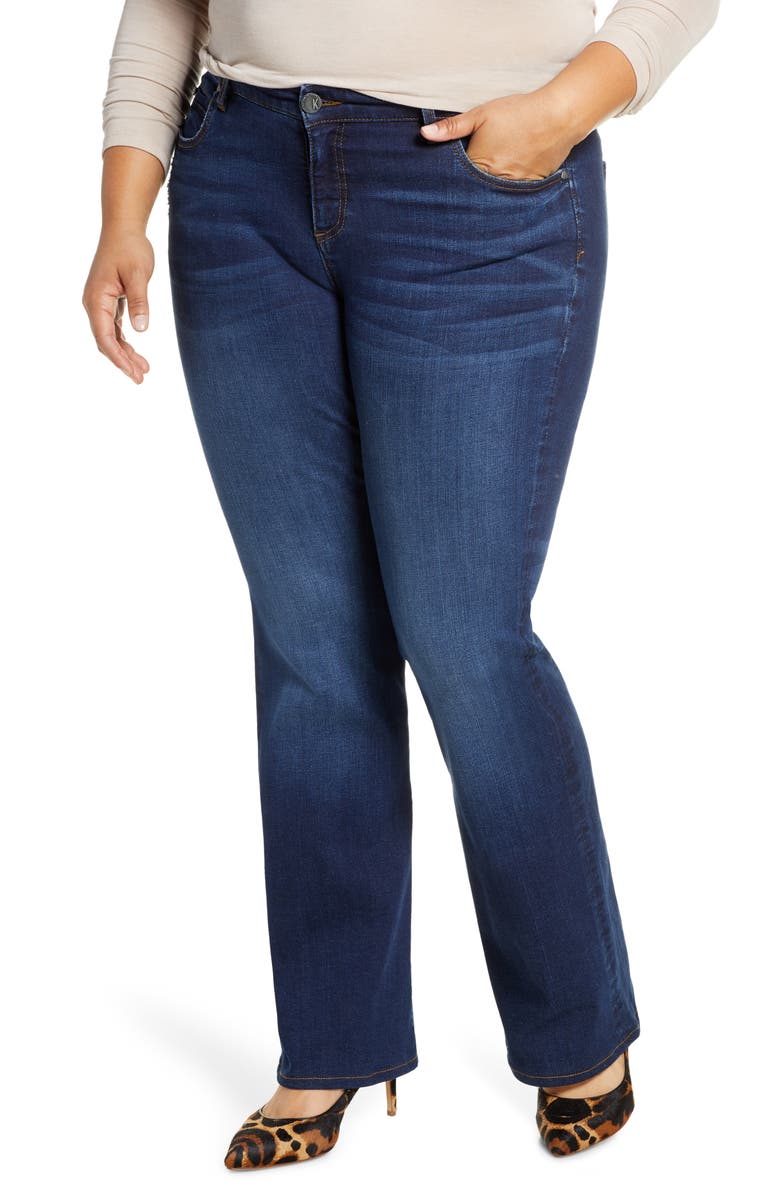 Kut from the Kloth even has larger sizes in their very flattering high waisted Nathalie Bootcut Jean at Nordstrom.
Exposed buttons on pants and jeans are in, especially on a cropped pant or jean.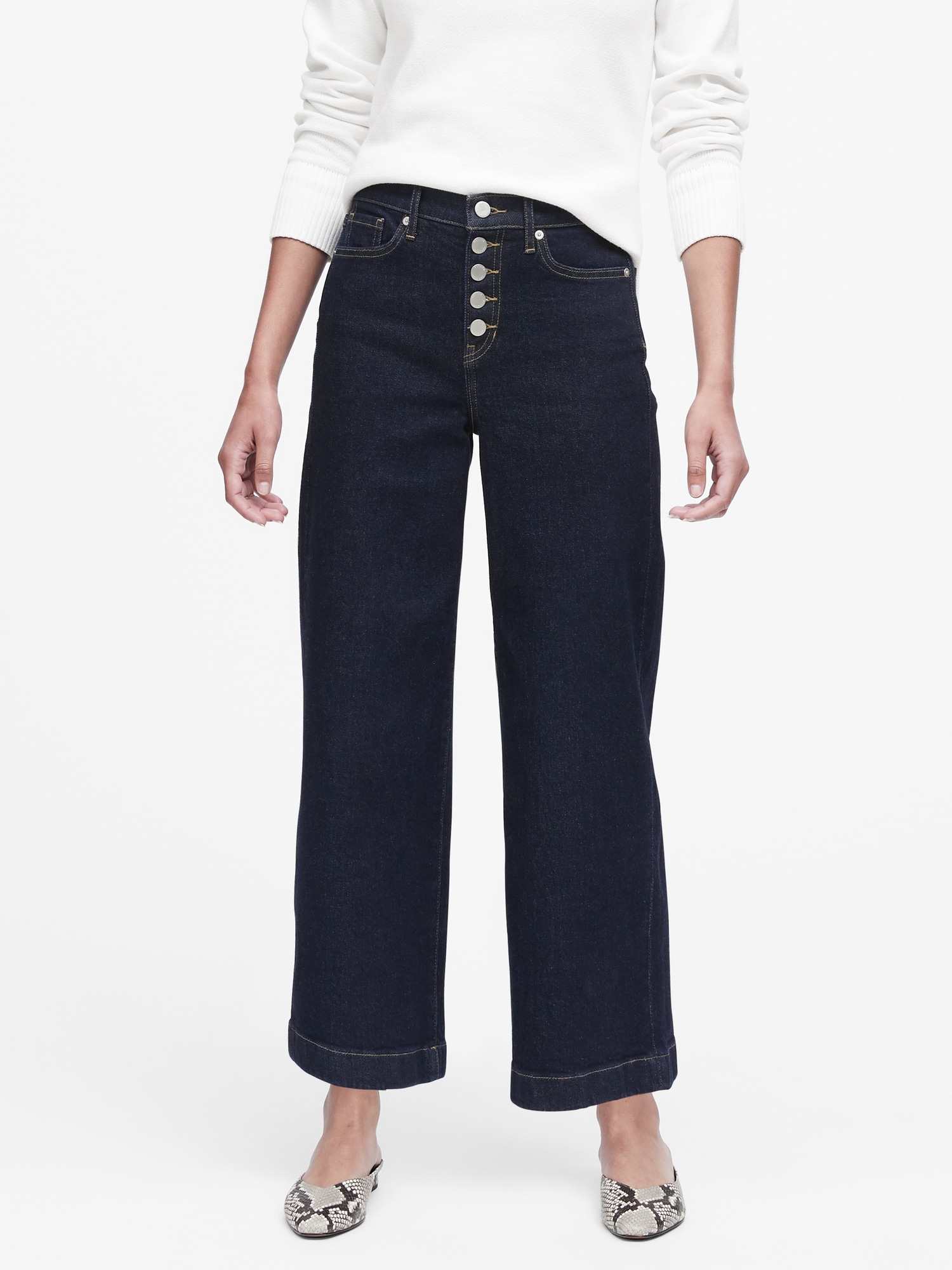 You can grab this great pair of dark wash cropped, high rise button from jeans from Banana Republic.
-Everything Purple is going to be strong and in every shade of purple from lavender to eggplant.  So keep anything purple you already have and if you don't have this color in your wardrobe maybe consider it.
The darker colors of Purple are probably more flattering for fall and winter but if you love the soft lavender, now is the time.  This top is from Graham and Spense at Nordstrom Rack, not only is the purple color important but the balloon sleeve is too.
If you are not a huge fan of purple, but want to nod to the trend then pick an accessory like a scarf or hat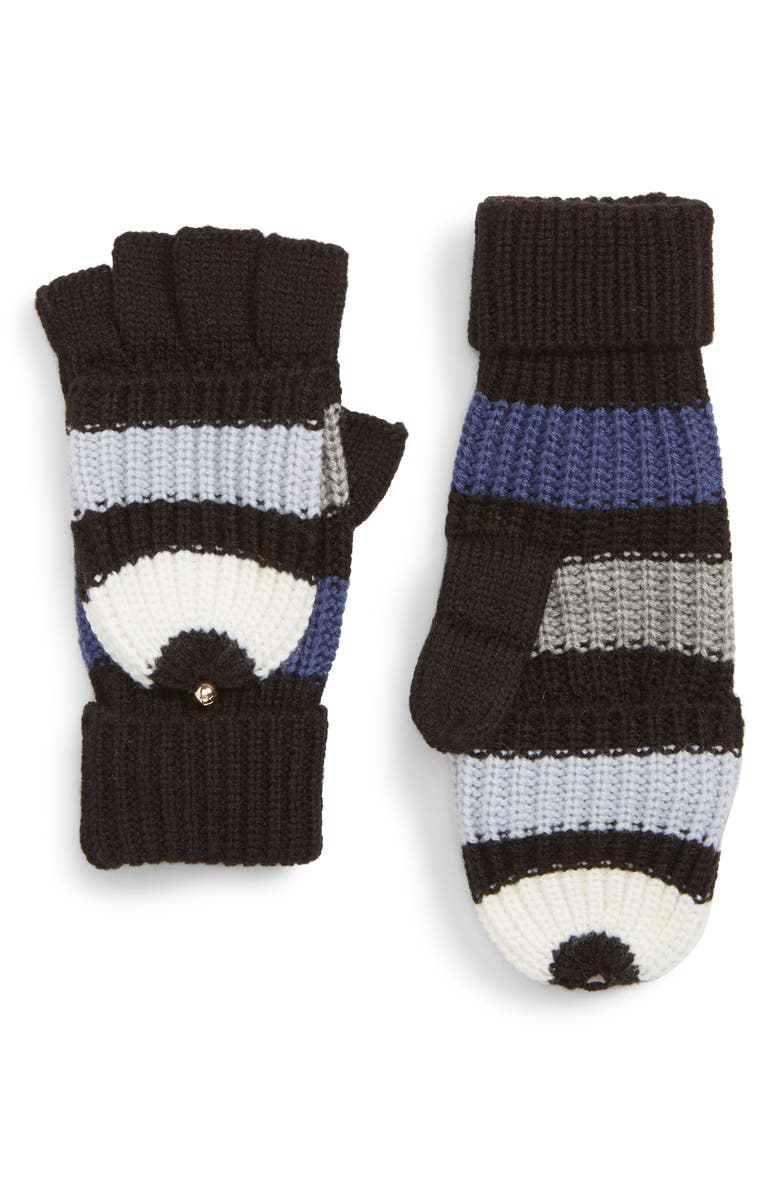 or even pick a pair of gloves with a bit of purple on them as a nod to this trend. These gloves are from Kate Spade and you can find them at Nordstrom.  You will see purple in everything, coats, clothing, shoes, boots and bags.  So if purple is your color and I know a few women who love it, now is the time to invest and wear it constantly!
-Quilted everything! We all have puffy coats, and yes they are still super strong for fall and winter.  All those quilted vests and jackets, still going strong, especially if you have one in a bright color.  But quilting isn't just for outerwear, it will be on skirts, pants, tops, and shoes, boots and bags.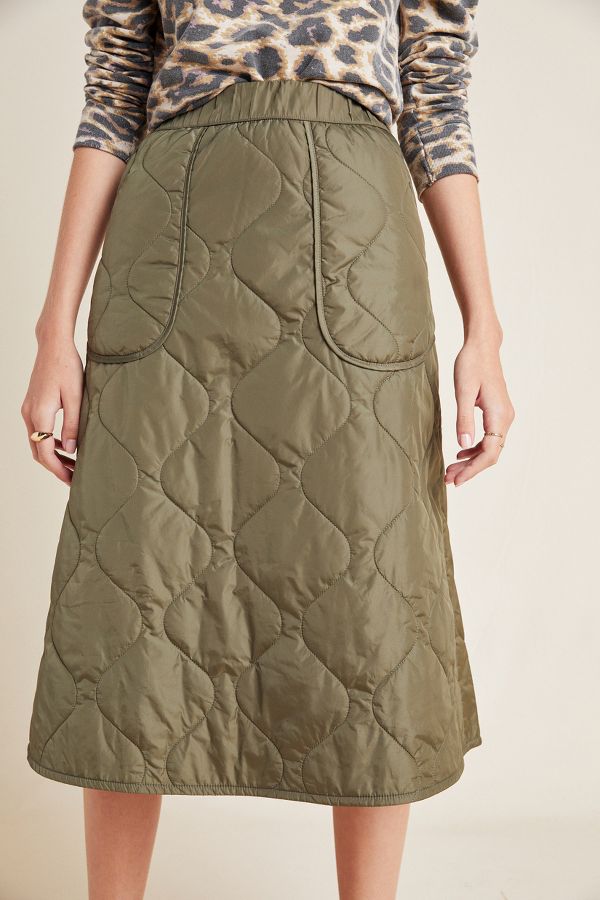 How about a Quilted A line Skirt? This skirt is at Anthroplogie.com right now.  If you love it grab it before it's gone.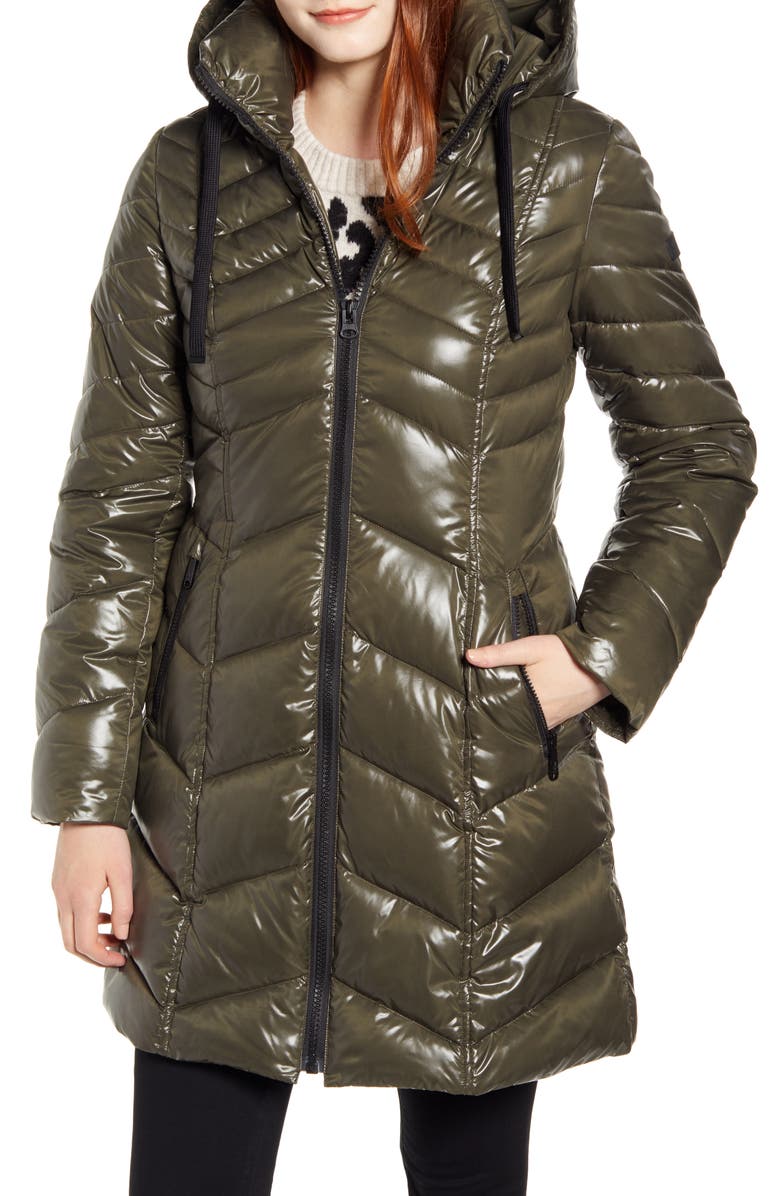 And if you need a new puffer coat for fall, shine is in, so maybe try something in a color (not black) with a sheen to it like this coat from Sam Edelman at Nordstrom.com
-Keep all your knits, especially anything with a bell or balloon sleeve.  Knits are going to be huge this fall, especially layered one on top of the other.  So any sweater that has a detail on the sleeve stays in your closet.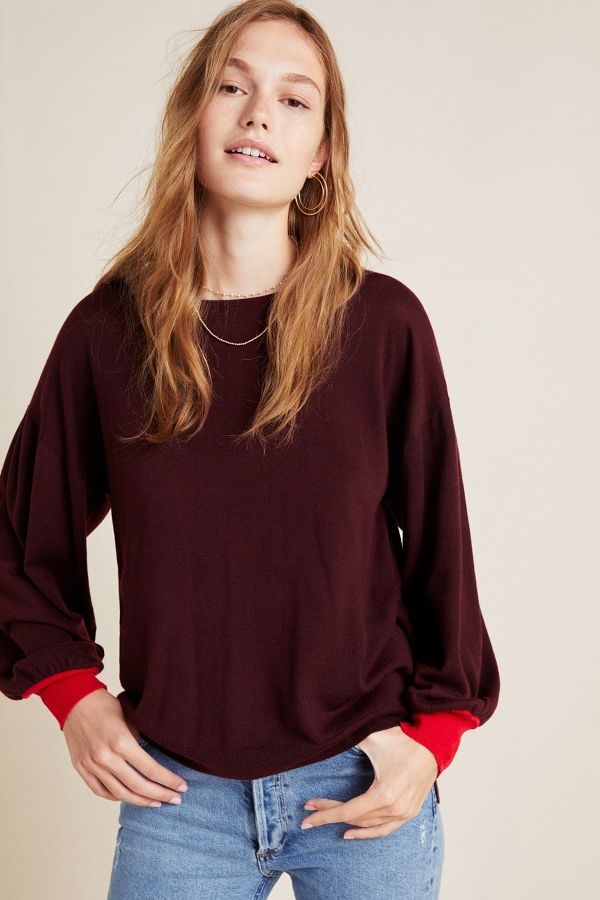 This Therese Balloon-Sleeve Sweater is available at Anthro.  Nordstrom has some too, but in another few weeks to a month they will be everywere.  So if you love it buy one and if you happen to have one (also called a Bishop Sleeve) this is the Fall to wear it.
Keep all your animal print knits.  Leopard print sweaters are coming in every shade and style. You will also see them in pants and skirts, jackets and everywhere.  If you have them, keep them.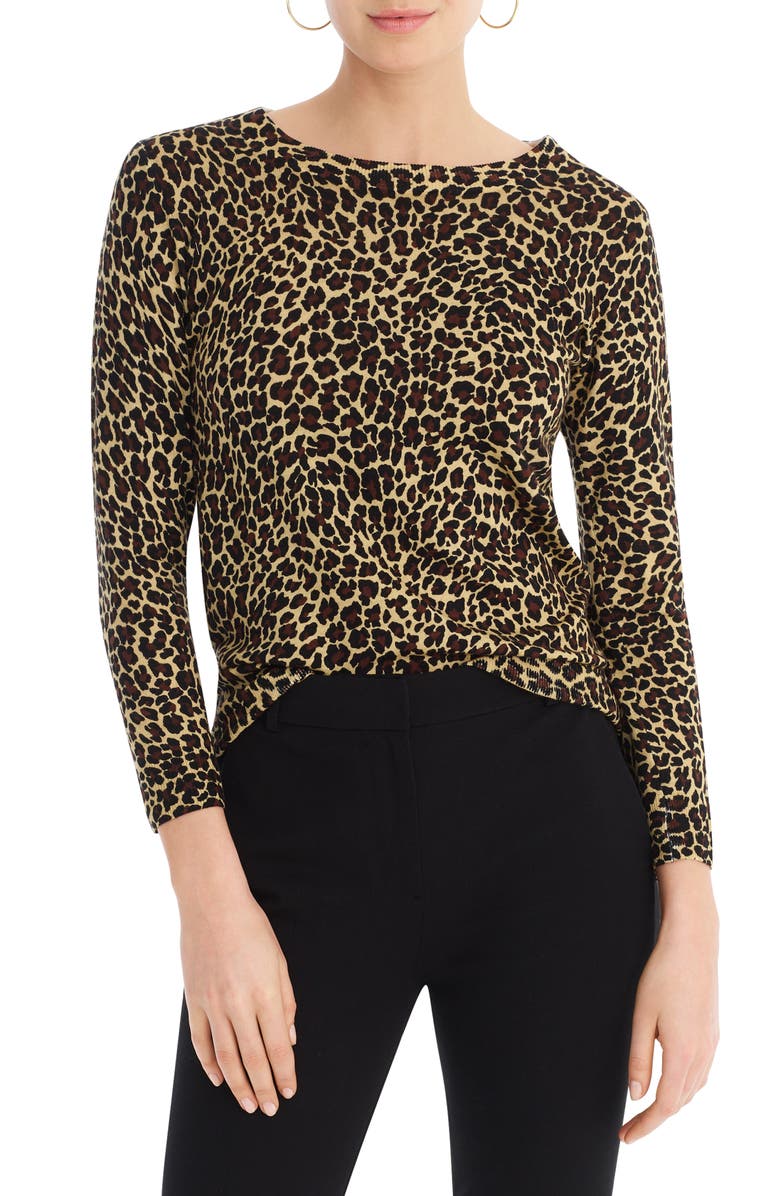 I bought this J. Crew Tippi Leopard Merino sweater last year, they don't have it at J. Crew anymore but Nordstrom still has it, and I am going to be wearing mine this year.  You could also try something newer like a cardigan
. This is J. Crew's Sophie Open front Blazer cardigan, but you can find leopard print cardigans everywhere.  BR, Anthro and even Nordstrom have them, so choose one you like a stick with it.  If you don't want a sweater try a skirt or blouse.  Those you can find everywhere too.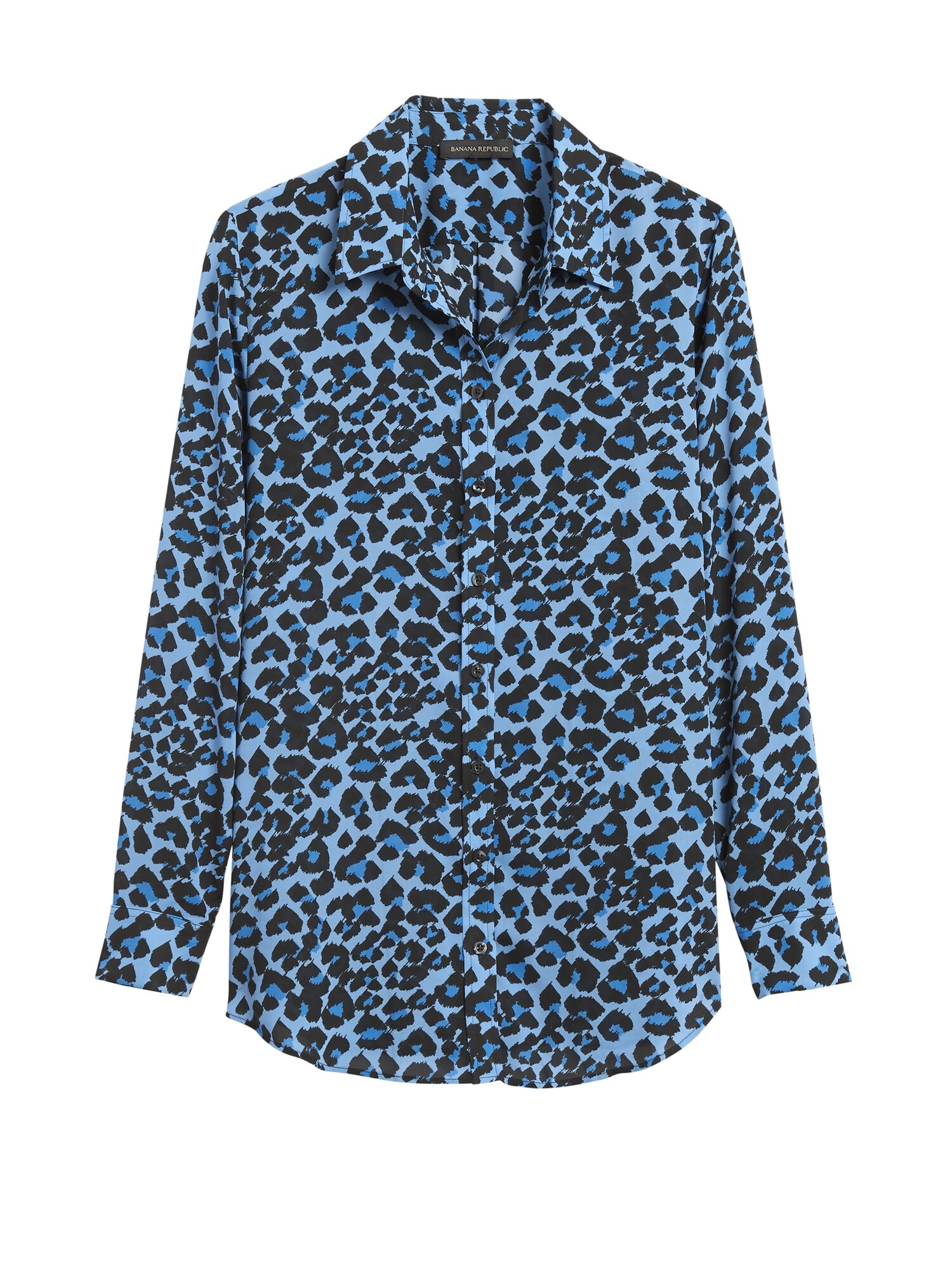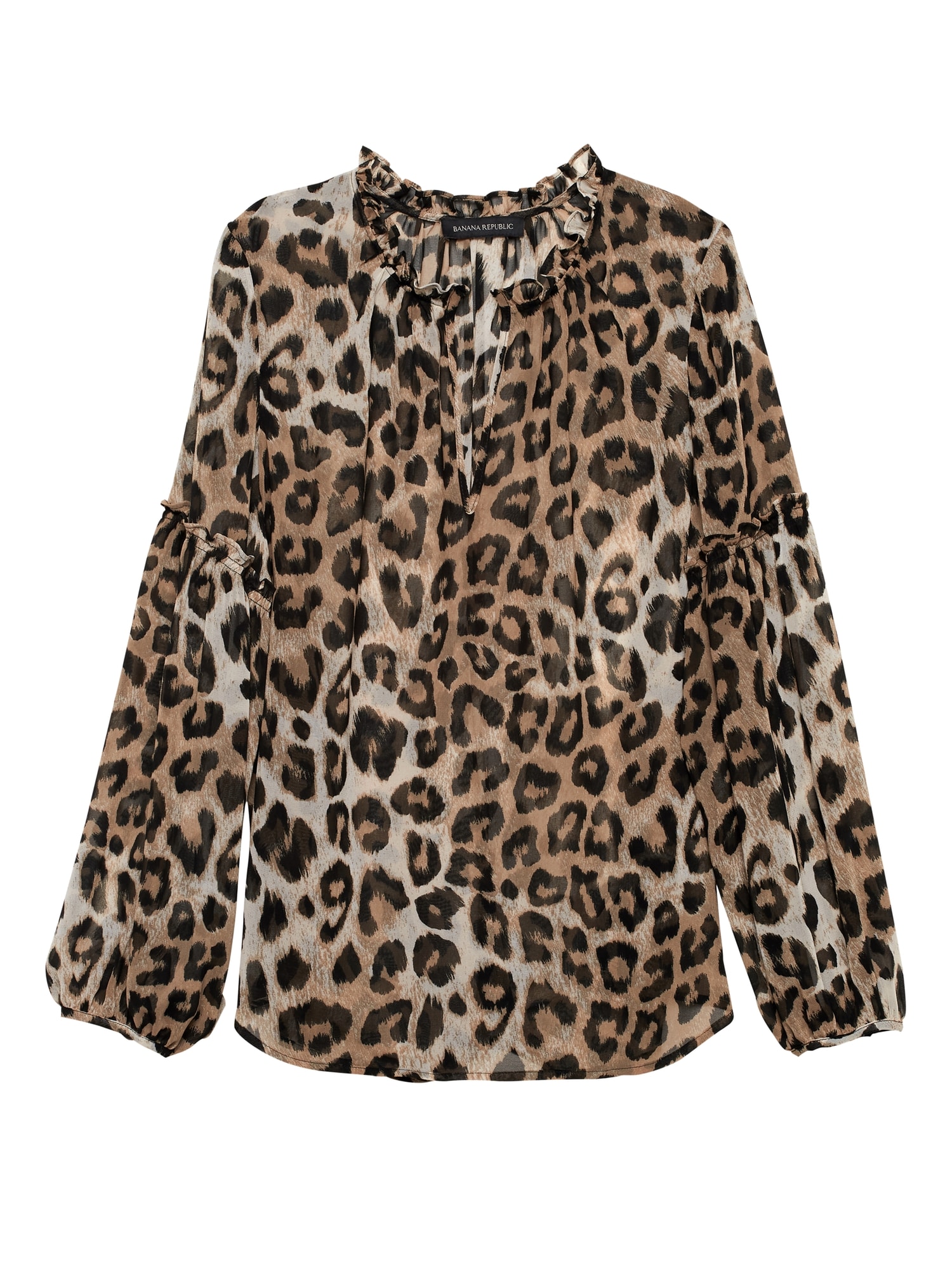 BR has both of these blouses online right now, if you are adventurous try the Dillion Classic fit Shirt in Blue Leopard or if you are a leopard purist like me, the Sheer Leopard Print Peasant top is for you.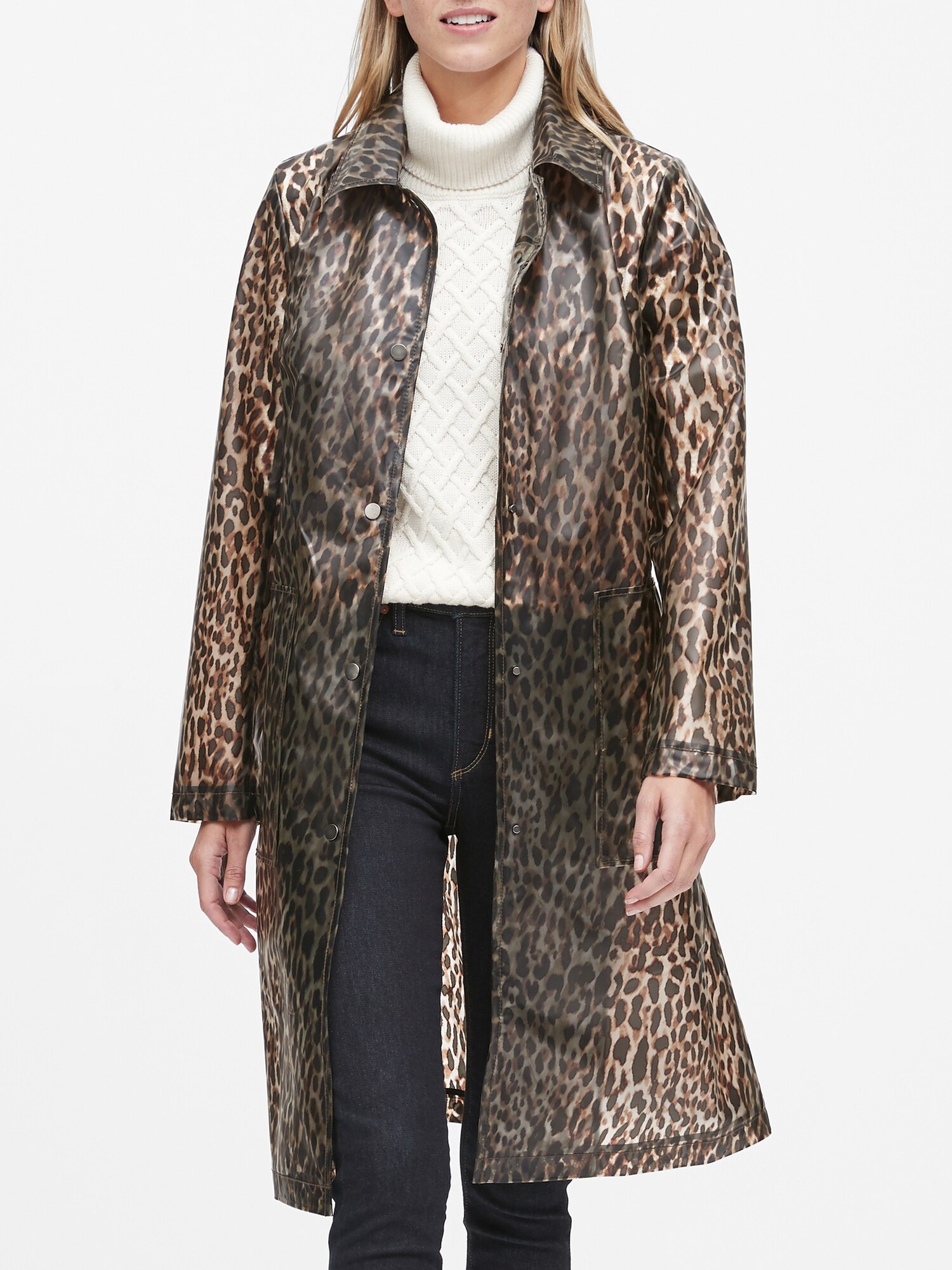 You can even buy a Leopard Print Sheer Raincoat from BR but better act quick, they are already sold out of Small and Medium online.
And hang onto all your animal print bags and shoes too.
-Keep your men's wear blazers. Blazers are super strong for fall, especially in a men's wear print. If they have shoulder pads even better.  Those strong shoulders of the 1990's are back again.  But this year add a punky adornment to that blazer either a studded belt or a chain broach.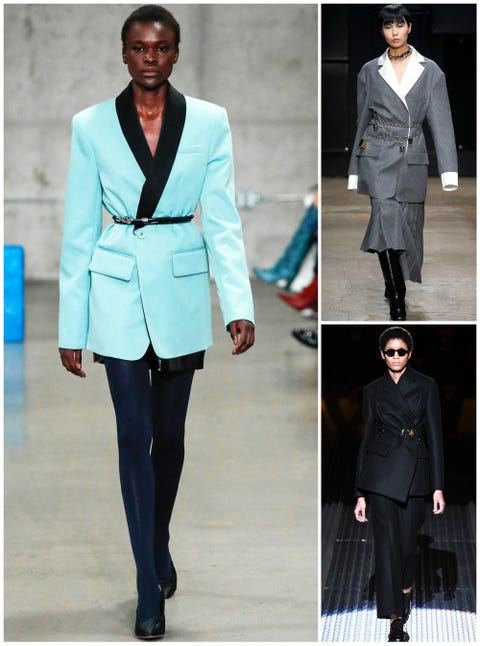 The look is kind of like this image I pulled off google.  Search for the look if you want to know how to do it.  A strong belt over any blazer works, more powerful is a belt with studs over a blazer. Or think chains, you will see a lot of chain belted blazers.
-Good news is that all the fleece and Teddy Bear coats you bought last year are all still strong for Fall 2019.  Your fleece is for more than the gym this year, so perk up your fleece with color and detail. You can wear your fleece jacket with trousers this year or a skirt. But if you really want to take this trend with you Anthro has a fleece dress and pencil skirt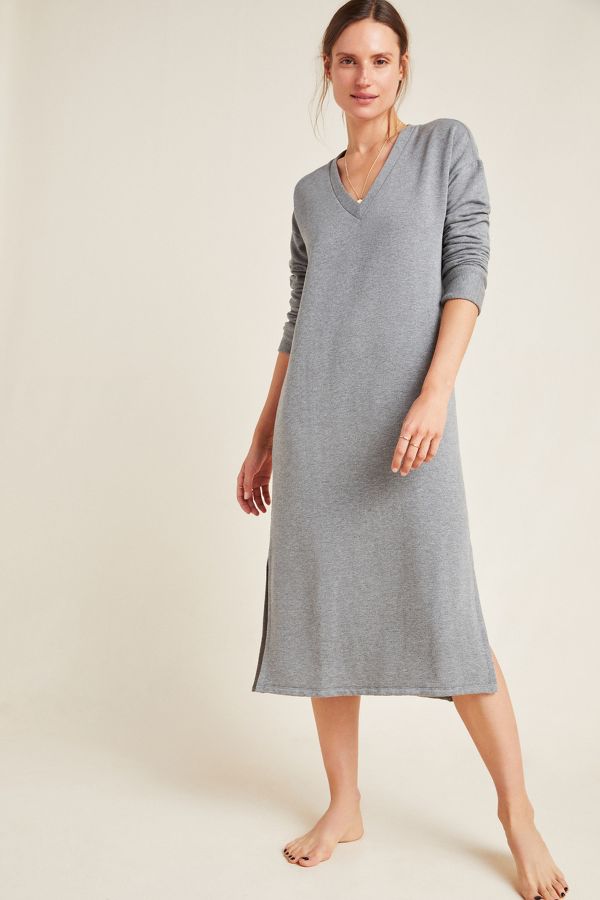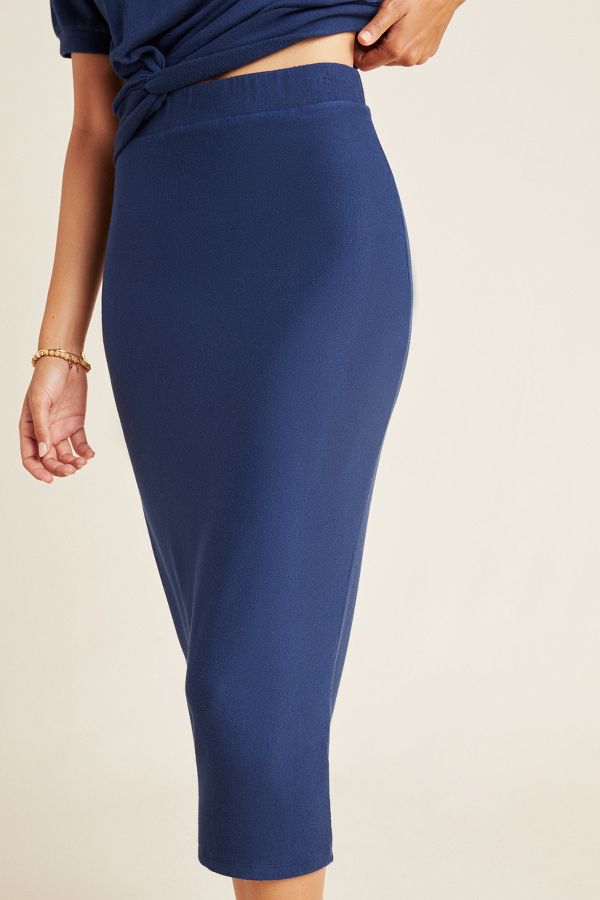 either the Stateside  Fleece Midi Dress or the Stateside Pencil skirt would work this Fall.
-Keep all your plaid, all the flannel shirts and all the pants.  Even plaid coats and jackets.  You will still wear them. This year you will wear your plaid bottoms with new oversize knits or with fleece and any plaid shirt you have will look great over bootcut jeans.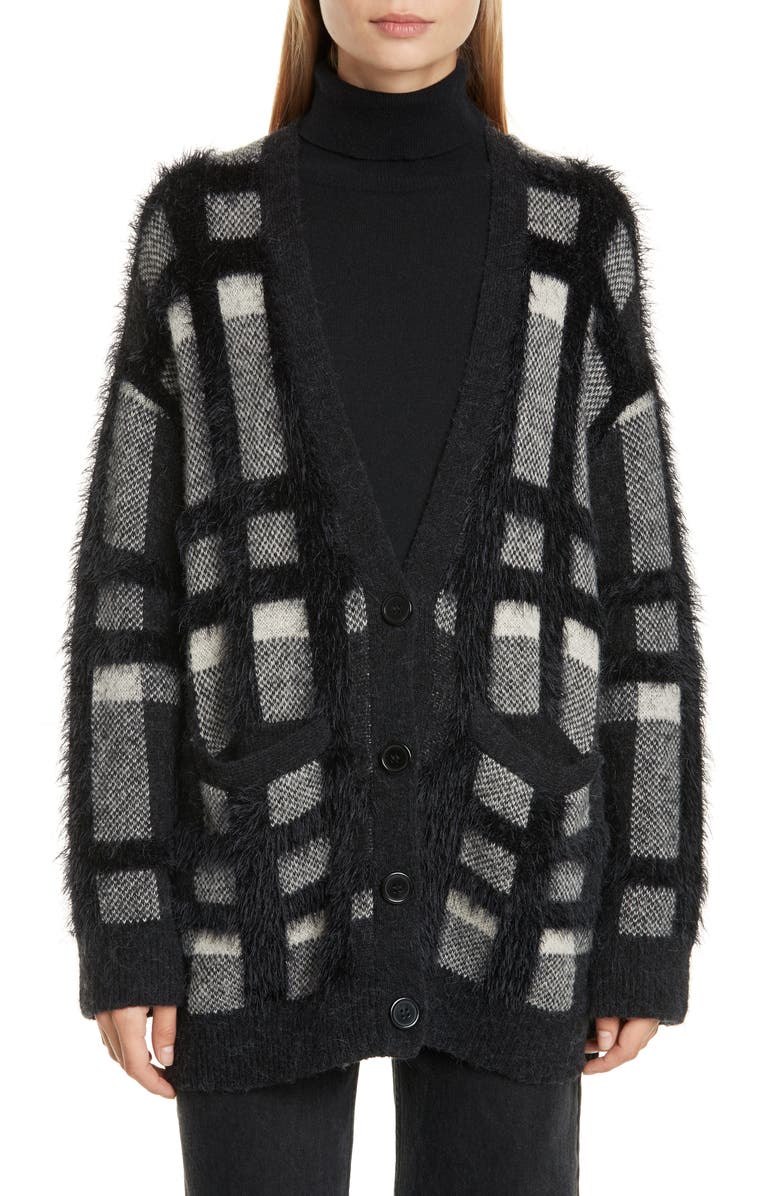 Or try something like this Cisse Textured Plaid Cardigan from Equipment at Nordstrom. Plaid is as strong as ever!
-Keep all your bright colors. Fall 2019 is all about color. Of course Black never goes out of style and all the classics are still strong, black, camel, navy and grey.  But we already talked about Purple, keep Red, Burgundy, Mustard and Olive.  You will be wanting to wear those colors too.  And all shades of each color, think crabapple red or butterscotch caramel or even chili pepper orange.  The more color for fall the better!
-Keep your jumpsuits! Wide leg, Slim leg and cropped, they are all still going to work for Fall.
Denim Jumpsuits are going to be everywhere.  This one is from J. Crew.
This should give you guys a really good guideline when going through your wardrobe of what you will want to hang onto and what you will want to toss.  Keep wearing your spring and summer for the time being but now that it's mid August it's really time to plan for Fall.  Do you need help figuring out your closet?  I am available for personal closet wardrobing.  I bet I can find all sorts of new outfits in your closet you haven't even thought of.  If you want to book an appointment just email me at Suethefashionista@gmail.com I am in Vancouver all of September and can help you get ready for fall.
There will be no blog next week August 28, but starting September 4 we will be going through all the fall trends and then each week one by one so you can see all that is out there.  Any questions about fashion please use the same email above.
Until next time…