The thing about summer is always what to wear and how to wear it.  Fall and winter kind of work themselves out because you are either planning on staying warm or dry or mostly both if you live in North America. And spring you try to look brighter but still are focused on staying dry and warm.  Then comes summer and if you live anywhere on the West Coast it has been one of the most beautiful and warm summers ever!  The East is now just getting into its warmest part of summer and joining the West in revelling in summer's heat and glow.  Effortless Chic in summer is all about staying fresh and true to your own style.
One of the best things about summer is dresses.  But I covered that in the last three blogs so I won't go there today.  Suffice to say I believe in a cute dress, sandals and accessories and you can be completely dressed and polished with out too much effort.  But most of us don't have endless money and endless closet space to have a dozen daytime dresses for summer.  So how else do you put together a cool look that is also polished and chic? I hope to show you some options you can adopt from using pieces you may already have in your own closet and just a small refresh.  Mind you right now all summer clothes are going on sale and it's a great time to pick up a few pieces to carry though the rest of summer and to save for next year.  But let's start with a few easy looks.
Here is a little look from Anthropologie featuring a draw string skirt by Cloth and Stone. Effortless, comfortable and cool.  Here it's paired with tie up flats and it would look just as good with flat sandlas.  Notice how minimal the accessories are.  Then you are not tied down with any bulk.  This look will carry through the hottest, most humid day the weather can throw at you.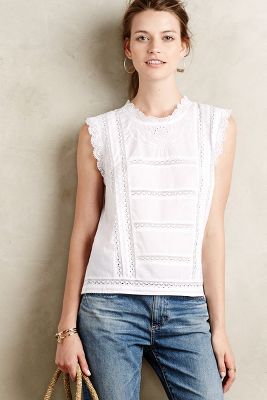 Another look from Anthropologie is this lace top by Harlyn.  When we talked about jeans, we talked about wearing a boyfriend jean with a top that just grazes the waist line.  This is a perfect kind of top for that.  Crop tops are huge this summer and will be strong going into fall.  Because we are not in our 20's anymore it's not that appropriate to show your mid drift all the time.  Look for crop tops that are a bit longer.  Anthropologie is a great place to find that kind of piece that will work with jeans, shorts, skirts, etc.
I have a lace top similar to this that I can pair with a lace skirt for dressy.
As shown here. The lace in the top doesn't exactly match the lace in the skirt but they are both a cotton lace and the same size pattern so they work together.  This season you can mix and match tones, colors and prints.  But as you get a bit more mature you want to stick to subtle things that use the trend.  So mixing laces that are similar works well.  I would pair this with delicate accessories and cute chunky sandals for a daytime event and high heel sandals for evening.
Here is the same lace top as above match with boyfriend jeans.  It is a 'crop top" so it grazes the top of the waistband and same with the skirt above.  Here I would pair the outfit with high wedges, ballet flats or flat sandals that are a bit dressier.  You could also pair this with a pump for dressy.
You can also make effortless chic with shorts, or skirts.  I showed you a skirt look above.
Effortless and fun.  If you have the legs to wear this flutter short and tank.  It is a great, easy summer look.  Flats and cute necklace and you are all set to beat the heat and humidity in your day.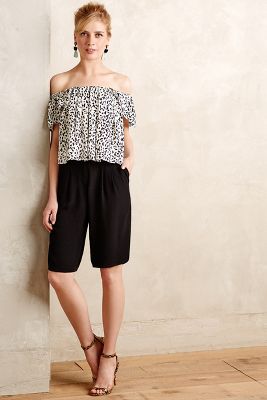 Here is another shorts image ( from Anthropologie as well) where it is a bit dressier.  Soft Bermuda shorts and a cute top.  Pull the sleeves up over your shoulders and you could go to the office with this look.  Pair it with one of the little tops above and you change the look completely.
Another option is a skirt. Midi ( like this one from Nordstrom Rack) maxi or mini they all work for summer. Wear longer shirts with fitted shorter tops and wear mini skirts ( if you can ) with tanks and tees.  I love everything with a denim jacket.  But right now it's likely too hot for a jacket but it won't be in September with this same look.
One more look I want to show.  Sorry the image isn't perfect, I am still not the best photographer.  I got these cute sweatpants at Anthropogie this spring.  I wear them a ton.  The floral pattern and skinny cut work way beyond where a regular sweat pant would and I absolutely love them paired with this denim top from Lucky Brand.  They work in the summer with flat black sandals and in the spring with ballet flats.
One last piece that I just picked up so I can have effortless chic.  This is a chiffon tunic top.  Pair it with the boyfriends above and a cute sandal, Bermuda shorts or skinny black pants.  It will work with all.  I love the floral pattern and I love that it has a black background so I can wear it into fall as well.
Effortless chic is as much about putting pieces together as it is confidence.  Enjoy playing with the clothes you have in your closet.  Go out and buy a magazine and look for inspiration.  Surf the web for inspiration.  Have fun with your clothes and try on an outfit before you plan to wear it just to make sure it works.
One last note,  with summer not only do clothes become lighter so does your makeup.  No need to pile on layers of foundation in the summer.  Go out and buy a good bronzer.  I love the Oil of Olay ones. They have a cc cream that makes your skin look wonderful.  Want something with a bit more coverage try Clairns cc cream.  You can literally wear the bronzer, a bit of blush, mascara and gloss and your done.  I like to put on eyeliner as well since I am fair, but really less is more when it comes to effortless chic with make up in the summer.  I have a great make up artist friend, Luc Lacroix from Pure Studio in Vancouver, who I always turn to for advice.  And as a woman gets older Luc advocates for the whole less is more approach to eye make up and heavy foundation that settles in creases in your face.  I will ask him to guest blog in the fall about what is in store for fall make up.
Hair too needs to be effortless.  I love the way the undone bun looks with some of the looks I post.  I wear a high ponytail with big hoop earrings when it's too hot for my hair down.  Think of chic ways to pull your hair off your face and neck.  If you have a look with a hair band everyday, change it up. Try half up, half down.  Or a chic low ponytail for evenings.  Lots to try and lots of look in magaizines and online.
Good luck playing with your effortless chic looks.  Please see my contact details on the about page and let me know how you are doing.