We all have them.  The wedding that is at the end of August or Labour Day weekend and there is no last-minute shopping for it because all the stores have turned to Fall merchandise.  And the dresses you have been wearing all summer have already been seen by everyone.  What do you do?
Well, that depends on the kind of wedding you are going to.  Let's go through the different types and look at ideas that won't make you look like one of the bridesmaids.
The Black Tie (or White Tie) Wedding:
Belive it or not, 25 years ago my husband and I had a black tie wedding.  And our wedding was very much my parents and his parent's wedding too and that is what they wanted.  Everyone was in formal attire.  My mom and my mother in law were in heaven. But it actually is the easiest type of wedding to dress for.  The dress code is very simple, formal long dresses.   But the problem with formal dresses is you have to be careful not to compete with the mother and mother in law of the bride and the bridesmaids.  Maybe try and choose something unexpected.
Nordstrom online has this stunning strapless Alfred Sung High Low Sateen Twill Gown.  If you have the confidence and body to wear strapless (I have a couple of girlfriends who can rock this look and are both over 50) then wear it with floral print heels and shine!
Suplice Polyester is one of those fabrics that looks expensive when it's not and floats so well over your body.  If strapless is not for you then try a dress that
has a fabric that moves with your body.  This dress is also from Nordstrom online and its Dessy Collection Suplice Ruched Chiffon Gown.  It comes in lots of solid colors and if you want to buy it in black so you can wear it over and over that's a good idea, but hey it's a summer wedding why not wear a great floral with strappy sandals.
A couple of other ideas for formal gowns for a black tie wedding that would work if you are not into sleeveless, off the shoulder or strapless is something I always think is appropriate: Lace.
An embroidered lace gown like this one from Tadashi Shoji at Nordstrom is elegant and easy to wear a bra with.  It is also perfect for someone who is conscious of their arms.  And I love the color! Lace can take you anywhere, even if you don't want to do maxi length you can always do a midi length and it will still be appropriate.
Another way to tastefully hid figure flaws in a formal gown is to wear a gown like this La Femme Popover Gown.  Navy is a great neutral for formal wear if you don't want black and the way the chiffon falls around your upper body, it can camouflage a lot without being warm, after all it is summer.
With all these dresses heels and elegant jewellery are called for. You will notice in the top two pictures neither model is wearing a necklace just statement earrings while keeping the dress the star.  I love that look! Keep you bags to elegant metallic clutches. 
A simple stunning clutch like this from Whiting & Davis at Nordstrom will go with all your formal attire for a long time.  Years ago I bought a couple of metallic clutches after Christmas on sale and I still pull them out.  I am also lucky that my mother was into fancy purses and have a couple of gems that she put away for me too.  You really only need one and it will last for a while.
The Formal or Black Tie Optional Wedding:
What this means is that if you want to you could wear a gown and go all out.  But it also opens you up to a lot of other things and isn't nearly as limiting.  You can play around with the length of your dress, wear something two piece or even pull out a dressy jumpsuit (although I prefer wearing jumpsuits to a cocktail attired wedding than to a formal one).
The first thing I would do is find a dress that really speaks to what you want it to look like.  Here is where you could rock a midi dress.
This stunning JS Collection Soutache Mesh Dress at Nordstrom is not super long but still perfectly dressy.  It comes in 13 colors!  I like this one with the pink background because it is summer and you don't want the dress to be overwhelming.  This length looks good on almost everyone, it flatters the thinnest part of your leg.  With a strappy heel you will knock them dead with how great you look. 
Lace is always appropriate for a formal event, especially a wedding.  This dress is from Pisarro Nights and it's their Sequin lace shift dress.  It also comes in Navy.  Pisarro fits a mature figure very well and they always have a matching chiffon shawl to cover if you need to.  Pisarro is available at Nordstrom.
You can also go a little shorter for this type of wedding and wear something knee-length.  But if you are going to go shorter make sure the dress really makes a statement.
This side ruched dress by Alex Evenings at Nordstrom will turn everyone's head as you enter the room.  The Navy is classic and elegant and the dress has just enough to be something special.
There are so many occasions around Christmas and New Years where you can wear a dark formal or cocktail dress, my choice for a summer formal wedding would be this fabulous floral maxi. It's from Eliza J. at Nordstrom and yes you can totally wear a strapless bra with it.  To me this dress tells everyone you are elegant and sophisticated while keeping in mind it's still summer.
For shoes I would keep to heeled sandals with everything and accessories depend on which dress you choose, with the sequin and navy dress I would still use my metallic clutch but with the soutache dress and this floral one I might choose something a little softer.
This top handle clutch from Like Dreams at Nordstrom would compliment both dresses while not drawing attention away from either.
The Cocktail Wedding:
The Cocktail attired wedding definitely calls for something shorter than a maxi length and it's even perfectly appropriate to wear a jumpsuit or pants if they are dressy enough.
I adore this look, it's Kay Unger's Jumpsuit gown.  I would wear this to everything if I owned it.  This is perfect for a cocktail wedding and super unexpected.  I also love how it's dressed down with neutral sandals.  If you wanted to wear this formal you could as well, just make the shoes more formal and voila off you go!  Because the dress is cocktail I would pick a jumpsuit that looks more dressy than casual. 
If you are curvy there is not a better look than Adrianna Papell's One Shoulder Jumpsuit in basic black with the beautiful drape of fabric in the front.  I love the one shoulder too, larger women's fashion is great right now and this jumpsuit would be wonderful.
Florals a super important this season and they will be going into fall as well.  And for a summer wedding nothing works better than a stunning floral dress
This Alice+Olivia Tie Neck Silk blend dress is perfect for a cocktail wedding.  The beautiful floral is summery and the dress style is perfect.
I probably will never wear white to a wedding but I do love this dress for a cocktail wedding.  The bride and her mother and mother in law will still be probably in long dresses but this dress is casual enough not to complete with the bride while being special enough for cocktail attire. It's by Kay Unger and it's her Off the Shoulder Lace dress.  The fabric is fairly casual but the off the shoulder gives it a more formal look.  Dress it up with elegant accessories and off you go!
Keep in mind that sometimes cocktail attired weddings are outdoors in tents or even just the cocktail part of the wedding or the ceremony is outdoors.  Usually there is a floor over the grass so your heels won't get stuck.  But definitely wear sweat proof make up and make sure your heels are fairly comfortable for standing and dancing.  A little trick I learned the hard way is to take a pair of glittery flats or flat sandals with you in a little bag and if your heels get too much, just pop them on for the dancing. At my youngest son's bar mitzvah party I had 3 pairs of shoes with me.  Super high for all the pictures and the cocktail party, then lower, almost kitten heels sandals for dancing and finally glittery flat sandals to say good night to everyone and go home in. No one says you can't take an alternative pair of shoes to a wedding with you!
For a bag to carry stick with something smaller that compliments your outfit. We all have a great small black clutch.  If you were to invest in something like this
from Chloe, it's a leather bracelet minaudiere.
You could wear it with every look above for a cocktail reception and keep it for years and years and keep it forever!
The Casual or Destination Wedding:
I put both of these categories together because they both have the same casual feel and the attire is interchangeable between them.  You don't have to worry about where you get the dress, jumpsuit or pants you want to wear, just make sure they look good on you and echo what you want to look like! Remember chances are that the only one wearing a formal dress will be the bride. It is likely her mother and mother in law will be in shorter dresses as well.
A store like Ann Taylor or Banana Republic is a great place to pick up the type of dress you can wear to a casual wedding and then wear again and again. This Tie Waist Flutter Dress from AT can be perfect for a casual wedding or destination wedding.  Dress it up with more formal heels like in the picture or wear it with wedges or lower heel sandals to walk on sand and grass.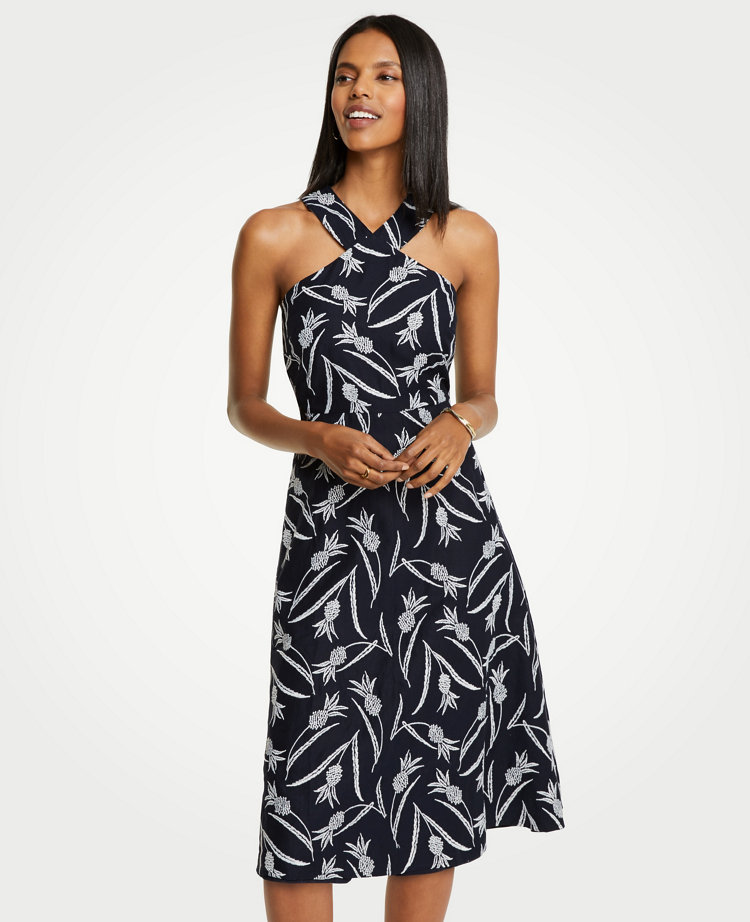 This Pineapple Print Halter dress also from AT will be perfect especially for a destination wedding in a warmer climate.
I am loving Banana Republic these days, first of all almost every week you can get 40% off your purchase, and I really like their dress styling for a casual wedding.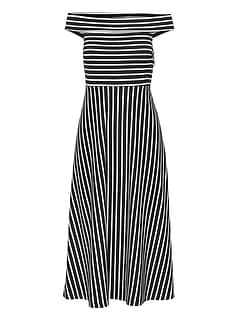 A dress like this striped ponte knit dress would work for a casual wedding or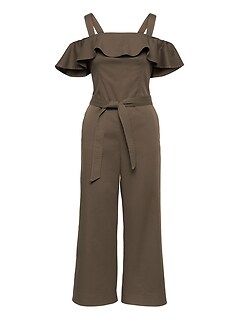 wear a fun off the shoulder cropped jumpsuit.  And they also have great floral print dresses that aren't to dressy or casual.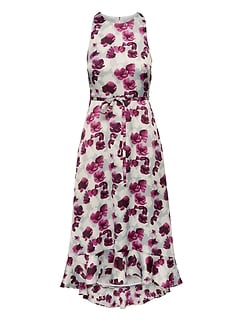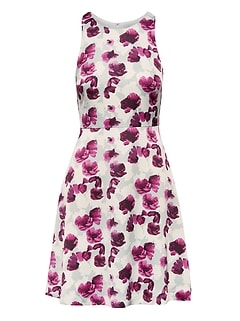 In a maxi or knee-length dress this lavender floral print would be a hit at either a destination or casual wedding.  The maxi dress with flat dressy sandals would be perfect for any destination your friends pick to get married at and the shorter dress with neutral sandals can go day or night to any casual wedding.
For casual and destination weddings keep your accessories easy.  Trendy earrings or large hoops and feel free to wear wedges or Espadrille wedges to stay more comfortable.  I would still stick to a small but colorful bag that goes with your outfit. Black or white would work with the top 3 pictures and white would be fantastic with the two BR print dresses.  Any color would work with the jumpsuit with neutral shoes.
A great leather cross body bag like this one from Tori Burch (which also comes in black) will be great to keep your hands free for cocktails and dancing.
Dressing for the late summer wedding can be easier if you know the tone of the function.  If there is no wording on the invitation that says formal or black tie or cocktail, I always err on the side of a little bit dressier and would wear my dressy black jumpsuit or colorful lace sheath dress.  You can never go wrong with either of those basic pieces.
I have to apologize for the difference in spacing between the first part and second part of this blog.  My tech assistance is working out of town this summer and I can't for the life of me figure out how to get back to the spacing in the first part.  Please forgive my technological ignorance.  I know fashion not technology.
I will get up one more blog next week about transition dressing.  What to wear between summer and fall when the calendar says September but the weather feels like July. And then please remember that I am off until September 12 taking my sons to their respective universities.  If you want a styling or wardrobing appointment I am booking now for October so please email me at Suethefashionista@gmail.com to set something up, October always books up quickly so please let me know fairly soon if you want an appointment.
Until next time…