Everyone loves summer!! It has to be my favorite season.  I love the long warm days and the late sunsets.  I especially love not being cold all the time.  I also love warm weather dressing.  Every summer I have more cute dresses in my closet than I can wear but I still manage to wear them all.  I love wearing sandals instead of boots and tank tops instead of sweaters.  But the one thing I noticed is that it is super easy to dress for summer if you get to spend it doing what you want and not in an office or meeting clients.   You can wear white jeans and little tops to your heart's content as long as you don't have to be in court at noon.
So what about those ladies who do have to spend their summers in the office. If you are lucky and work in a creative office or techy office, then you pretty much can dress how you feel.  But if you are in the corporate world or a professional anything ( except dog walker) you need to look and feel your professional best.  But at least in summer there are options to wearing suits.
My favorite look for any office is one of the many dresses that all our favorite stores are showing for summer.  One of my favorite stores is Ann Taylor.  It has reasonable priced work dresses that are serious enough for your most corporate meetings.
They have a Tie Neck Shift Dress that can be totally serious and yet perfectly summer.  It comes in Black and this beautiful Vivid Sapphire.  Put it together with
Blush Round Toe ankle strap pumps and you can sit through a million board meetings.
If you want something even more simplistic, yet fabulously stylish try in Cherry ( shown) or Black.  The Short Dolman Sleeve Wrap dress is perfect if you don't want to wear a sleeveless dress.  It is comfortable because it is a poly spandex blend. Here I may add a block heel sandal
(Flor Woven Block Heel Sandals) unless you feel you want a pump.
There maybe days when you prefer a skirt
and there are a number of great skirts that work for office wear.  But let's stick with AT for now. The Poplin Flounce skirt is fabulous with a blouse or silk t-shirt and pop a blazer on top when you need to look serious. 
A great blazer to have in the summer is one that is slightly unstructured but looks structured with a skirt. The Stripe Tweed Fringe Jacket is just that. It would be fab with the above skirt and yet is perfect with jeans and heels for night out. 
You could even do the Striped Tweed Fringe head to toe for a great office look.  I always buy a matching skirt to a blazer, I like that look.  This look is summery and serious, the perfect office combination.
If summer time at the office just means picking a lighter weight suit out of your closet by all means stick with a suit. But maybe instead of a pant suit, try a dress and jacket that will lighten up your look.
AT has a beautiful Seasonless Sheath dress in fresh Navy that you can wear alone, with the tweed jacket above or try a neutral color blazer for a fresh look like a
Cotton Sateen one Button blazer in a soft Pearl Blush. This Blazer would also look great with the Poplin flounce Skirt above and with the dress or the tweed skirt. I would recommend buying the matching pant and skirt to this jacket as well. 
Both will work with the blazer and with the Tweed Jacket above.  The Pearl Blush color is a great color for summer for the office. You can wear it with all the pale shades and it looks fabulous with black and navy.
J. Crews Wear to Work shop is a lit more edgy than Ann Taylor's.  So you need to decide what type of work look you need.  If you do work in a creative office or in an office where you can get away with a less conservative look, than by all means let your creative dressing juices flow.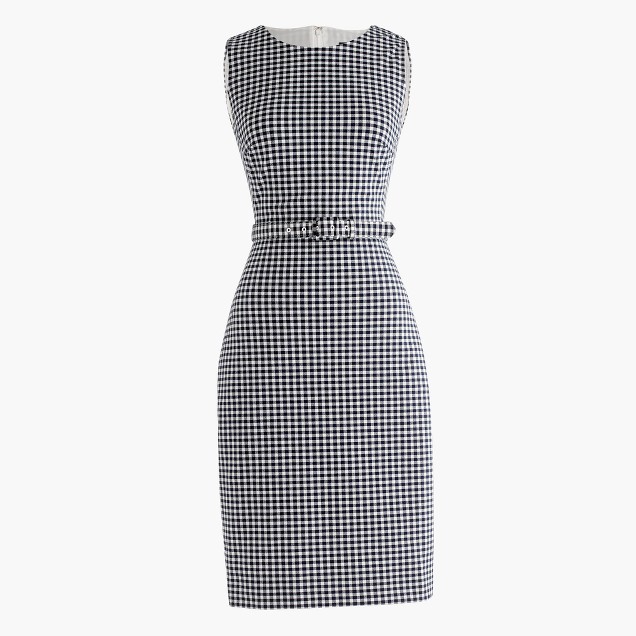 J. Crew's Belted Gingham dress comes in Navy and Pink.  It falls to the knee and is great on a super hot day for an office look.  This is the type of dress you can wear to work with a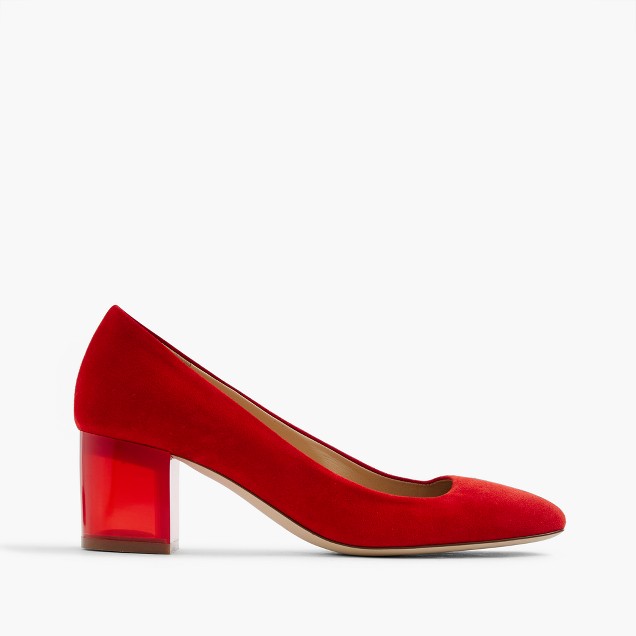 Firey Red Lucite heel for day and strappy heels to go out for dinner after. The same pump also comes in off white suede with a tortoise shell heel if you prefer.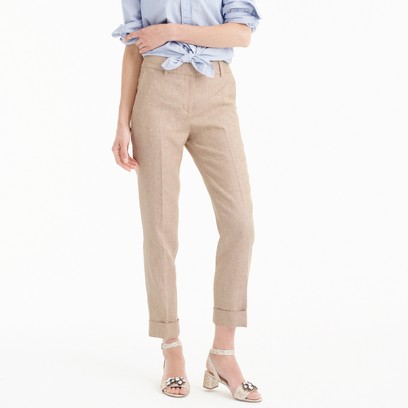 J. Crew also has a fabulous pair of Herringbone Linen pants in their Rhodes fit that would work great in a creative office with fun heels and shirts.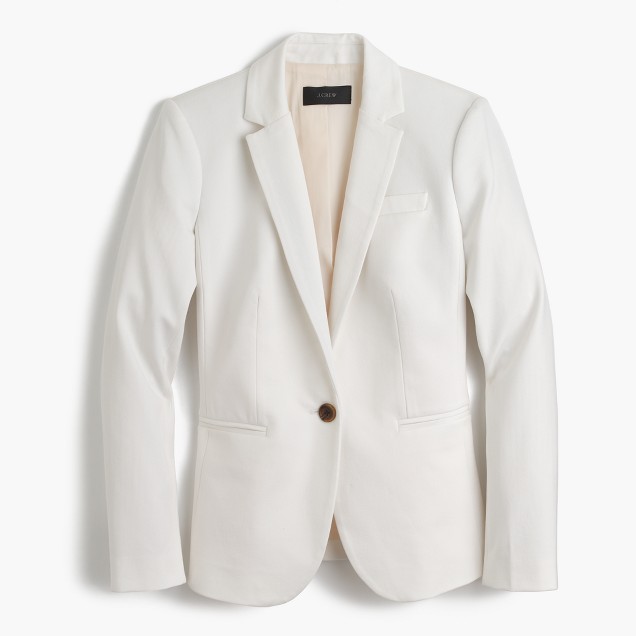 They also have a fab white blazer in two-way cotton stretch.  Their Campbell blazer done for summer! Keep this white blazer handy to go over everything in your office for those impromptu meetings.
As you all know I love Nordstrom.  It is what every other department store should try to be like.  It's easy to shop there and easy to shop online from there.  If you go to Nordstrom.com they always have an outfits page with outfits their stylists have put together.  One of my favorites from their Wear to Work page is
this cute Vince Camuto Dress. It is colorful and conservative enough. Throw a Navy blazer on top and you are set for what ever comes your way in a work day. Nordstrom also has a number of house brands, one of their newest is Gibson.  I am in love with puffy sleeves this summer and this Gibson blouse
which comes in 7 colors is great over skinny ankle pants for a creative office.  I also love it with a pencil skirt. A blouse like this shows creativity and yet it is elegant enough for any office.
And nothing says summer like a head to toe white suit. This is a Vince Camuto one button blazer with Vince Camuto Flare Stretch Cotton Pants. Neural or bright accessories and shoes work great here.
I know I haven't shown a lot of prints for the office. I would save the prints for dresses and tops and not do too many in pants, jackets and skirts.
AT's Leaves Silk Tie Blouse can work under any solid jacket or with any solid color pant or skirt to add a colorful yet tasteful flare to your outfit.
And sometimes a Striped Pleated Sleeveless Top is all you need to wear under your jacket to add punch.  Also from AT.
Have you noticed I haven't shown any off the shoulder or cold shoulder tops or dresses? Why? Because they are not appropriate for any office at any time once you are over 40 years old. Leave those looks for the young secretaries and summer interns. Stick with sophisticated style if you want to be taken seriously.
But you can add personalization to your office look in other ways.  Like with your shoes and accessories.  The Red Lucite heel pump from J. Crew is a great pump to wear with blues and whites for summer.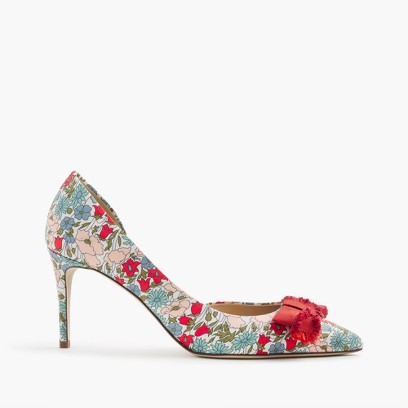 J. Crew also has another pump that would be great with sheath dresses or skirts. Their Colette Bow Pump comes in a Poppy floral and a black and white Polka Dot.  Both great to add punch to an outfit. Ann Taylor has all kinds of classic pumps if that is what you are looking for, but I love
their Eryn Leopard Print Calf Hair pumps.  How great would these be with the Blush or White suit above if you work in a creative environment and if you don't wear these with your black suit just to show you have a bit of style. Block heel sandals are also great for the office in summer.  
You can do a simple pair like these from AT or try an interesting slide
  . The J. Renee Monk Strap slide from Nordstrom would be great with a pant for daytime at the office. Or if you feel really adventurous for the office you can even wear an open toe bootie
. This one is from Vince Camuto and comes in 6 colors so you are sure to find a great neutral that works with your office attire.
Accessories are another great way to personalize your look.  Most of the dresses we showed above are fairly simple in styling.  So that means they will all be enhanced with a necklace.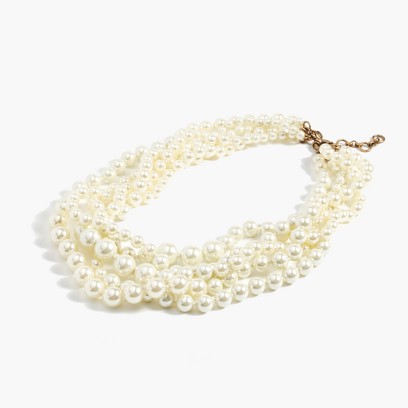 A triple strand of faux pearls from J. Crew is a great way to enhance your suit or dress and keep everything very classic.
Take it up a notch with this metallic Resin Bauble Necklace from AT. One of my favorite ways to look a bit taller is to wear a pendant long necklace.  They are great with dresses and tops.
If you keep it fairly classic like this Kendra Scott Aiden Pendant Necklace from Nordstrom you will never go wrong.  Our puffy sleeve Gibson blouse above would look fabulous with a pendant necklace.
You can also wear earrings to make your statement.  But remember the rule, either statement earrings or a statement necklace. NEVER BOTH! Especially to the office. I love all the new earrings this season. Especially those with great details.
AT's Raffia earrings come in 3 colors and really complete a look.
Bauble Earrings from AT are also fabulous just remember to wear them tastefully to enhance a navy or white outfit. J. Crew is showing a Pearl and Crystal earring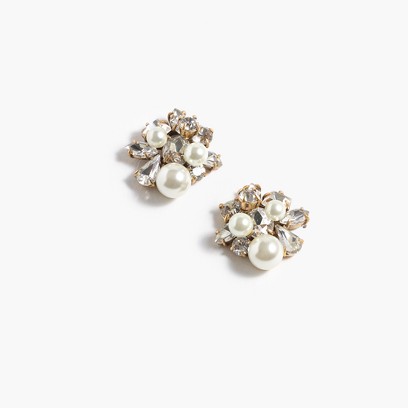 in their work shop.  These would work in even the most conservative office as long as you keep the rest of the accessories simple.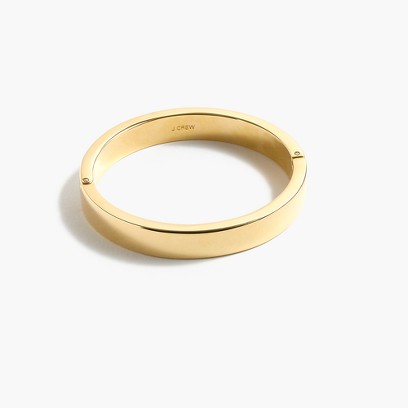 I love a simple gold hinge  bracelet for a conservative office (J.Crew). But if you can be a bit more creative, bracelets are a great way to show that.
Cuffs like this Tribal Geo Cuff from AT or a great Beaded Tassel bracelet from J. Crew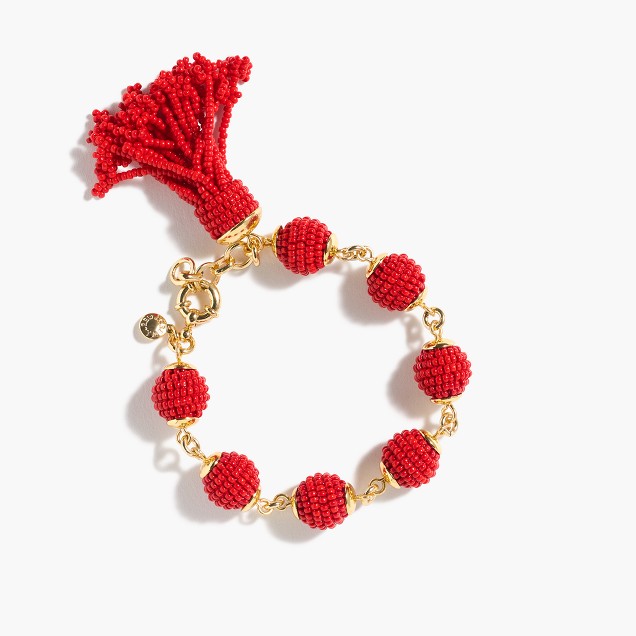 could totally hit the mark.
The other thing you need to think of for summer office dressing is Air conditioning.  I hate it when it's really hot outside and then you get inside and you could make a snowman because the office is freezing.  Many men wear suits all year long so they like the air conditioning cranked way up.  The best way to deal with this is to keep a fabulous shawl or ruana in your office that is a neutral color or print and you can just pop it on whenever you need it. For a really cold office I would even recommend bringing a wool wrap.
This Frye feather print wool wrap from Nordstrom is a good neutral that works with black, white and off white. J. Crew has a summer weight cape scarf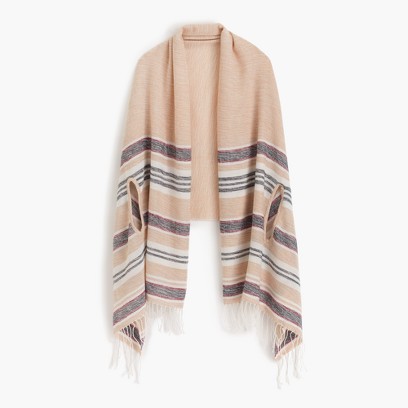 that could also be your go to for a cold office.
Or pick a tissue weight Cashmere scarf in any one of 20 colors and wear this around your shoulders if you feel a chill. This type of scarf is great all year round.  Worn as a shawl in the summer and as a scarf with coats in the winter, you will totally get your money's worth investing in cashmere.
So I hope that helps you all figure out your summer work days. You can add more prints that I did or more color, just depending on the office you work in.  If you still have questions about work attire in the summer please just email me.
There will be 2 more blogs posted before I take my August holidays.  So if you have questions you want answered please send me an email and I will try to incorporate it in one of those.  Email me at Suethefashionista@gmail.com. I am also starting to book my fall styling appointments for the end of August and September, so email soon before I get too booked up if you want personal styling.  Enjoy the warm days and nights this summer because before we know it we will be talking about fall.
Until next time…