I don't know why but this week I have been obsessed with all the minimalist French style on Pinterest.  I think it's because I love simplistic dressing and my two favorite colors are black and white.  French women dress with a style that we all envy, I have never been in Paris in the summer but there is nothing more chic on a winter Parisian street than a black turtleneck, perfect fitting jeans and booties.  The women in Paris wear basics like no one else.  So when the temperature starts creeping up and heat waves are hitting one after the other you need to appear to keep your cool even if you are looking for the next air-conditioned place you can find.   So let's go through how you keep looking cool even if you're not with a nod to how Parisian women always look like they are perfect!
There is a saying in French that loosely translates to 'It's not by accident that we are beautiful' and let's face it, after 40 it is really not by accident that any of us look good anymore. So no matter what size you wear or the color of your hair, looking polished in the heat is all about looking perfectly pulled together.
There are two basic colors that French women wear: Black and White.  In a heat wave these two colors are your best friends.  They always look good together or tone on tone and they mix perfectly well with denim or any other color your scarf, hat, bag or shoes are.
French women are notorious for wearing really only one print.  Horizontal black and white stripes.  But this summer we are seeing black and white polka dots and checks also play into Paris street fashion.  A striped top is essential to making all this work.  And yes no matter what your size or age you can wear a striped top if it fits properly.
If you are happy with your arms, nothing beats the heat like a great fitting black and white tank top.  This one is from Madewell at Nordstrom Rack, it's 100% cotton but my best recommendation is to buy one with a bit of spandex so it keeps it's shape.
This tank is from Talbots, on sale right now. It will cover a bit more than the one above.  Black and white stripe tanks are everywhere, find one that fits you best.
Black and White short sleeve t-shirts are French must haves.  The more basic the better.
Again this one is from Madewell at Nordstrom Rack.  But if I were buying a black and white stripe t-shirt I would buy the reverse color way.
This is from Project Social T also from Nordstrom Rack. Why would I prefer this color way? Because it's easier to wear this color way all year.  I don't know about you but in the fall and winter I don't love a white t-shirt against my skin tone, but this one with the black background and white stripes will work on anyone all through the year.  If you live in Canada here is a great one from Joe Fresh that is only $12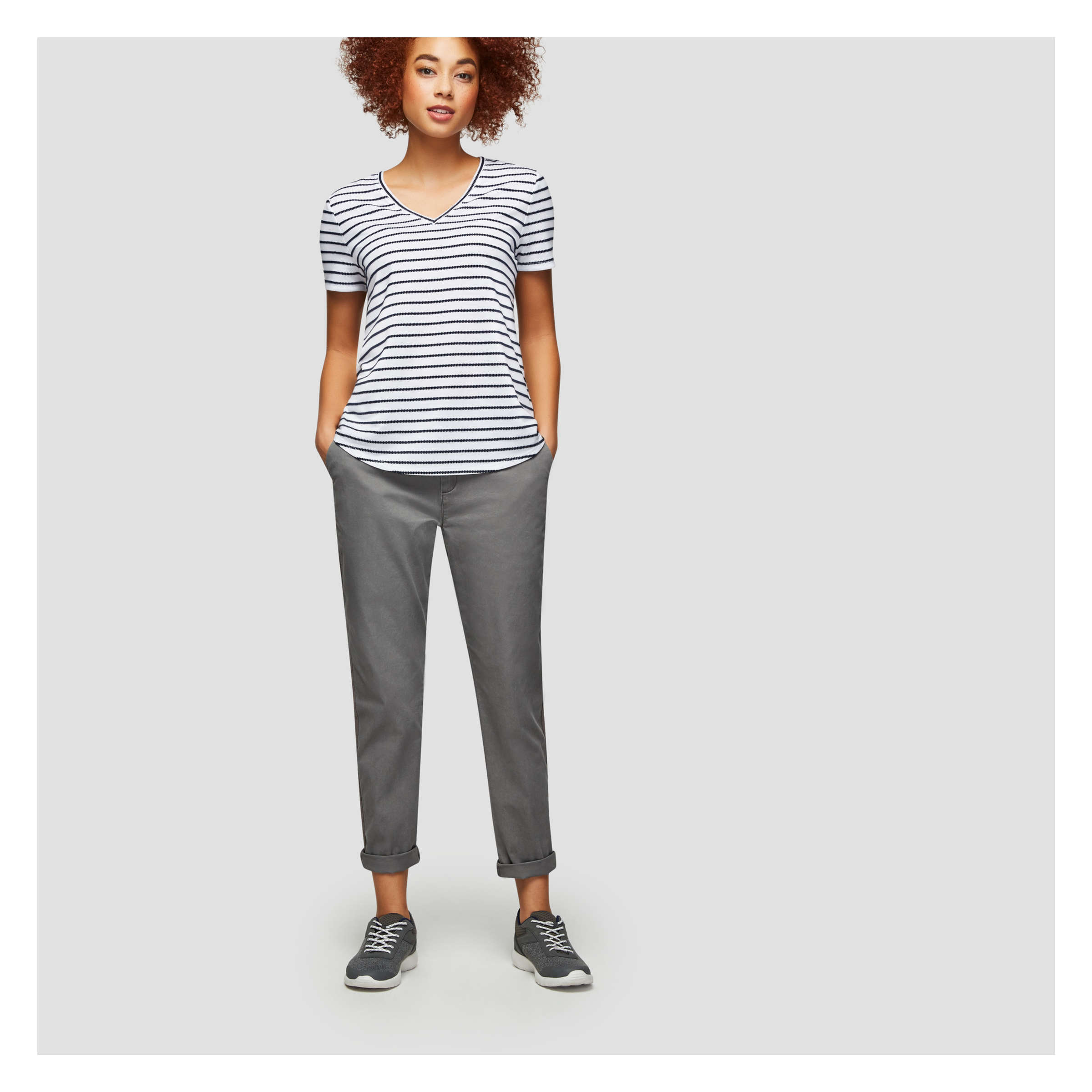 for that price you can buy both color ways!
And get a long sleeve stripe to round out your all year wardrobe.  I have a top like this in the reverse color way, black with white that I bought at the Latest Scoop in Vancouver ( now open in Toronto!) and I wear it all the time.  The longer sleeve version is great in the summer if you work in an air-conditioned office, sometimes when it's the hottest outside it's the coldest inside.
So now you have a striped base, one tank, one tee and one long sleeve.  Add a simple black and white t-shirt to this and you have tops that go with anything.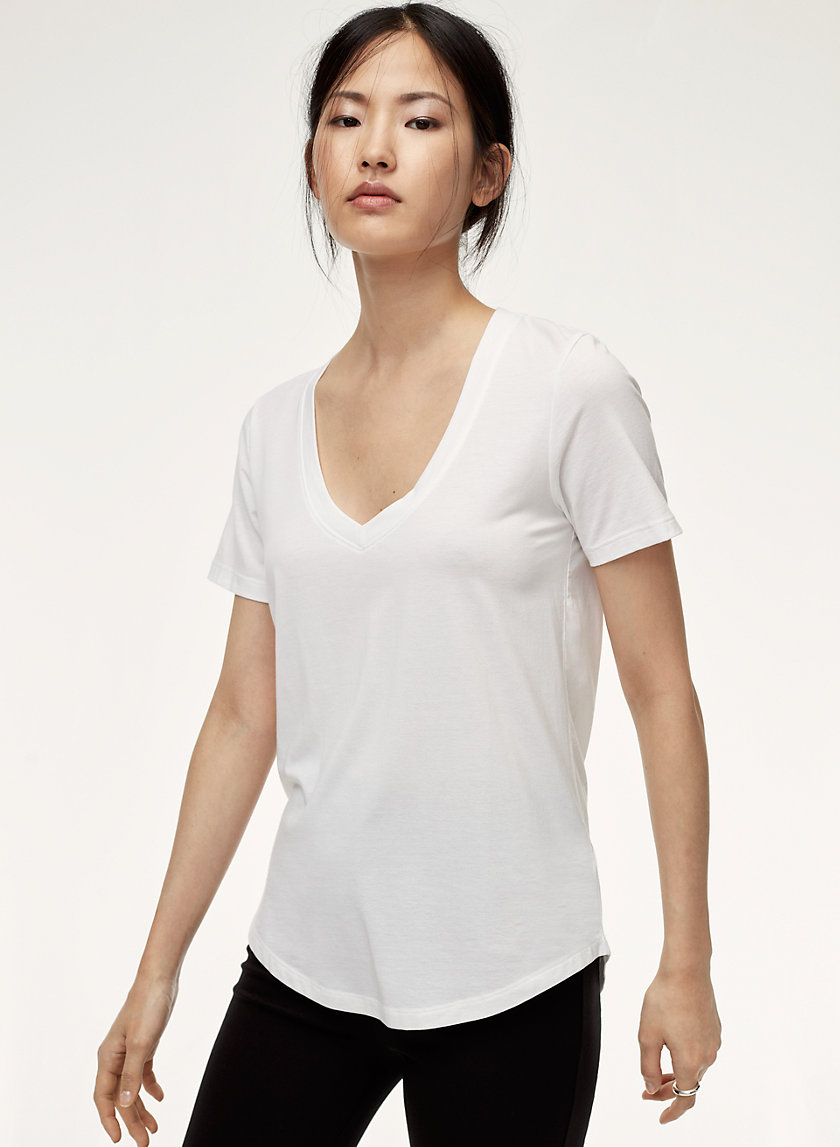 Babaton by Aritzia makes this great V neck Tee in lots of colors but black and white will take you everywhere. Or if you prefer a crew neck to a v neck, Wilfred Free at Aritzia also has this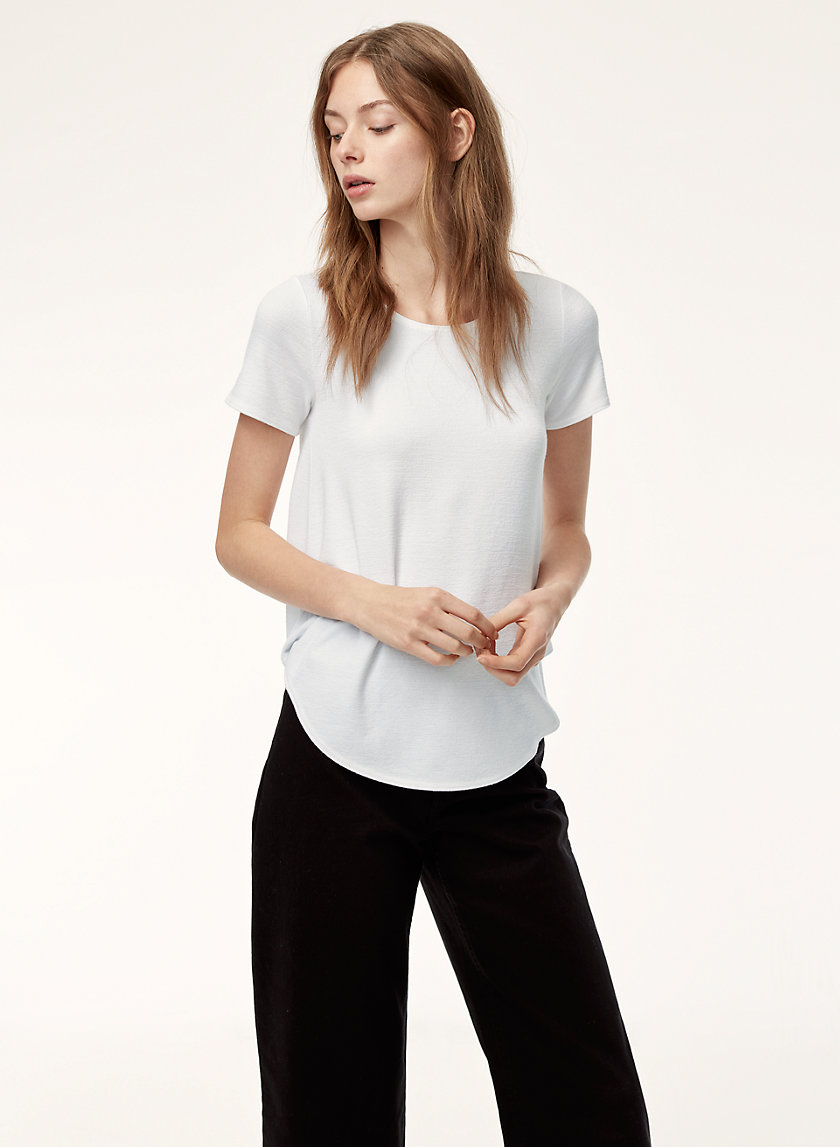 . I am liking my t-shirts to fit closer to my body these days.  But if you are curvy and want something that will float over your curves and not fit too tight
try a Talbots classic Pima Tee, they really fit well and will float over a curvy body.  If you want a bit more than basic, go for a basic black and white knit top with a bit of oomph.
You could do a corset black Tee from Laundry by Shelli Segal or
Caslon has one with a knot to bring it closer to your body.  Both of these are from Nordstrom Rack.  I don't believe in spending a ton on t-shirts, it's better to replace them seasonally.
The only other top I would add is maybe a denim sleeveless or short sleeve top.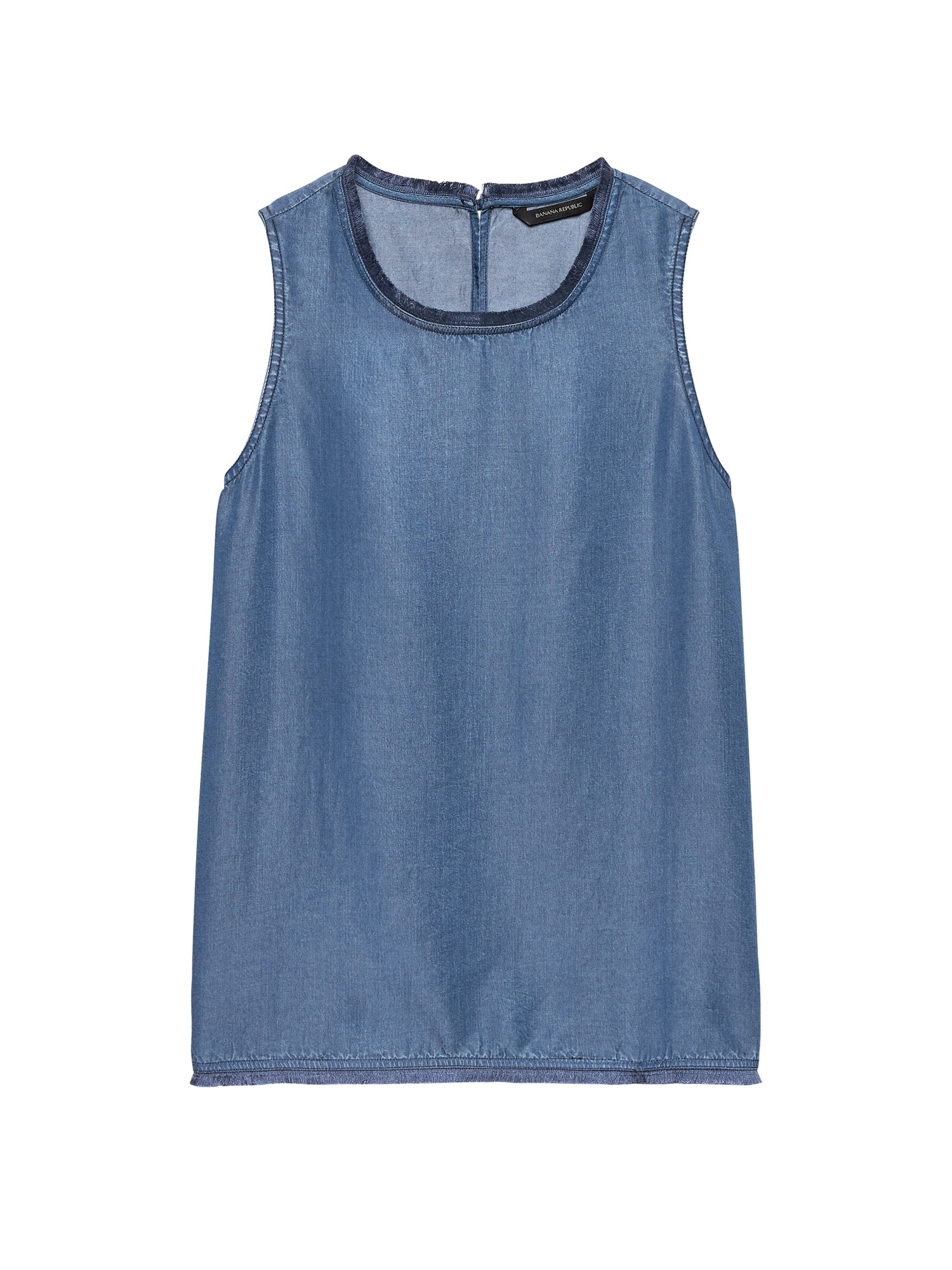 Either this sleeveless Tencel top from Banana Republic or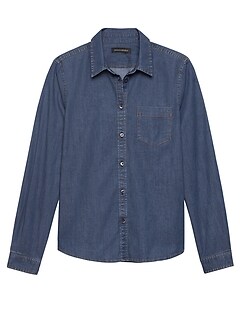 this Quinn Boyfriend shirt that can be worn as a jacket would work with all your French inspired bottoms.
On the bottom the essential french style is a pair of jeans.
For summer stick with a bit lighter wash and do either a crop or a boyfriend. The boyfriend jean above is from Eileen Fisher, as you know I love their jeans. This boyfriend jean is NYDJ, it's the Alina Convertible Ankle and you can find NYDJ at the Bay and Nordstrom, this pair is from Nordstrom Rack
. What other bottoms would you put with this minimalist French look? Well for sure a great black skirt a pair of light weight skinny leg black pants. For summer I might also add a white pant or jean too.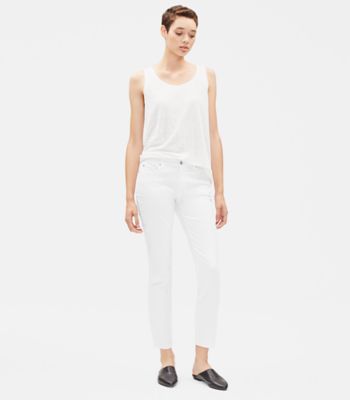 A great white jean like this one from Eileen Fisher will do for your summer wardrobe what a great black pair does for your fall and winter wardrobe.
Black skirts are plentiful, again find the right one for you.
Your black skirt can be an easy maxi like this one from Bobeau at Nordstrom Rack.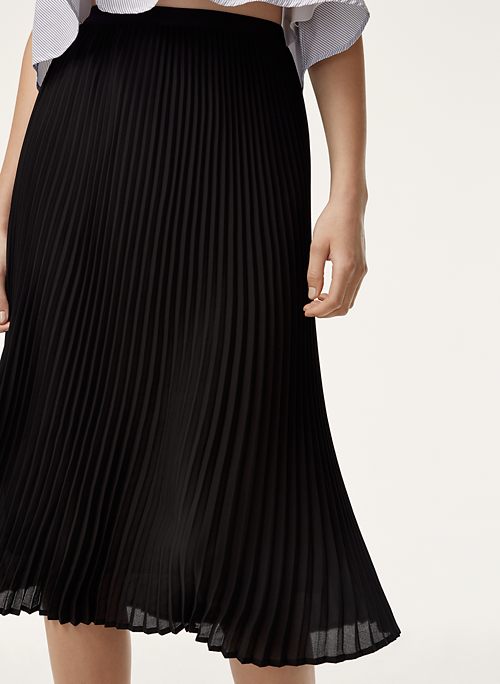 Or it can be a trendy pleated midi skirt like this one from Babaton at Aritzia. Or it can be a chic pencil skirt
  like this one from Ann Taylor.  You won't go wrong with any version. Or be bold and add a novelty skirt if you already own the basics. 
This Retro Dot skirt and 
this Dottie Tiered skirt will make a great pop in your wardrobe.  Both are from Anthropologie's When in France collection.
But more than skirts it seems that French minimalist fashion is favoring pants and dresses.  Aside from jeans everyone needs a great pair of black pants, I have several and wear them all for different occasions.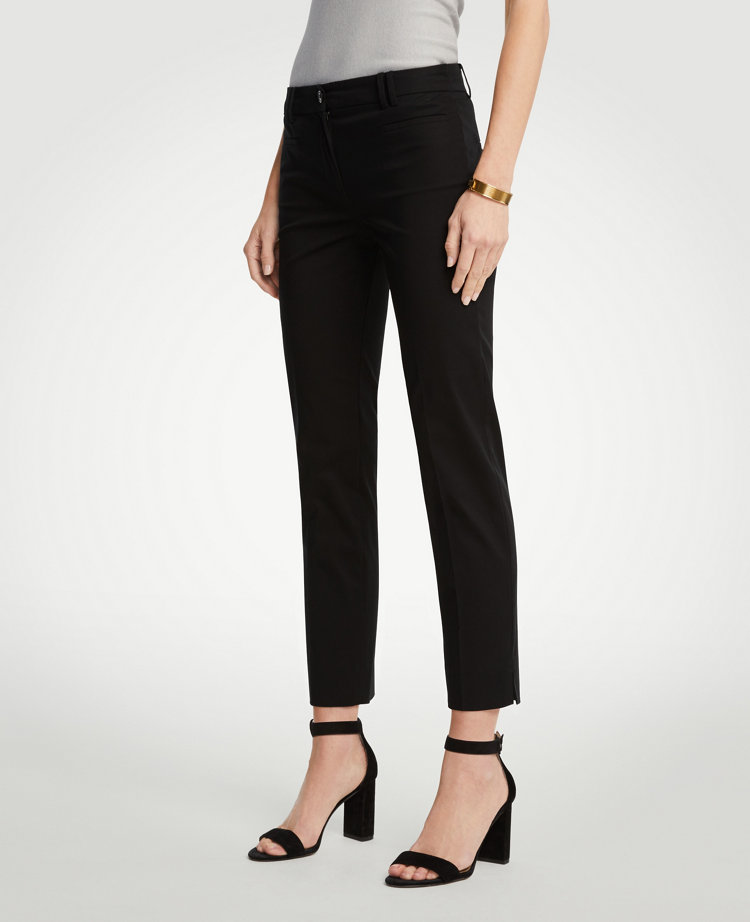 If you are only buying one pair for summer buy a cropped slim ankle pant like this one from Ann Taylor it's a mix of cotton and spandex so it won't lose it's shape or color.  This one pair can take you anywhere and pair it with any top above.  For the rest of your summer pants, aside from jeans, maybe try one of the novelty fabrics that Parisian women are embracing.  Maybe do a pair of wide leg pants in either a stripe or gingham check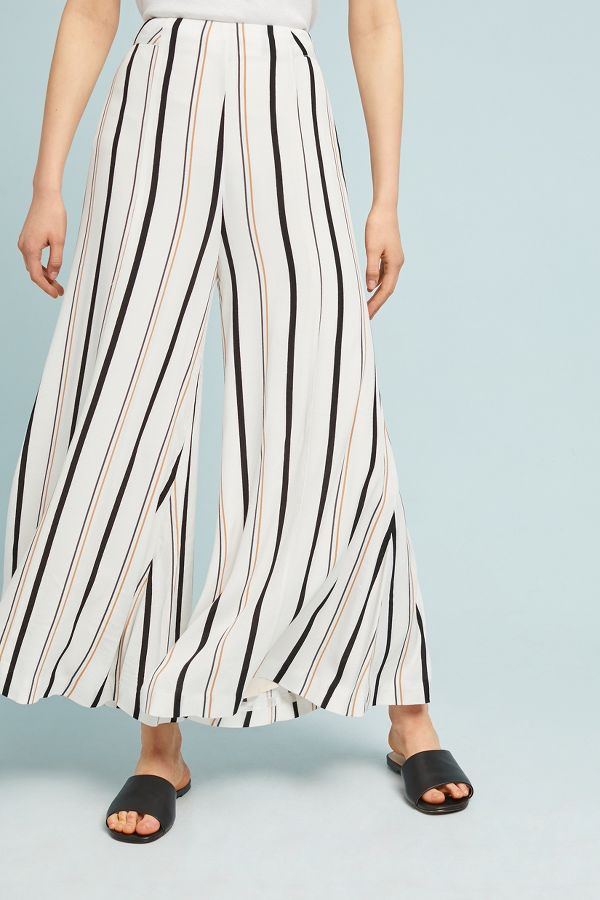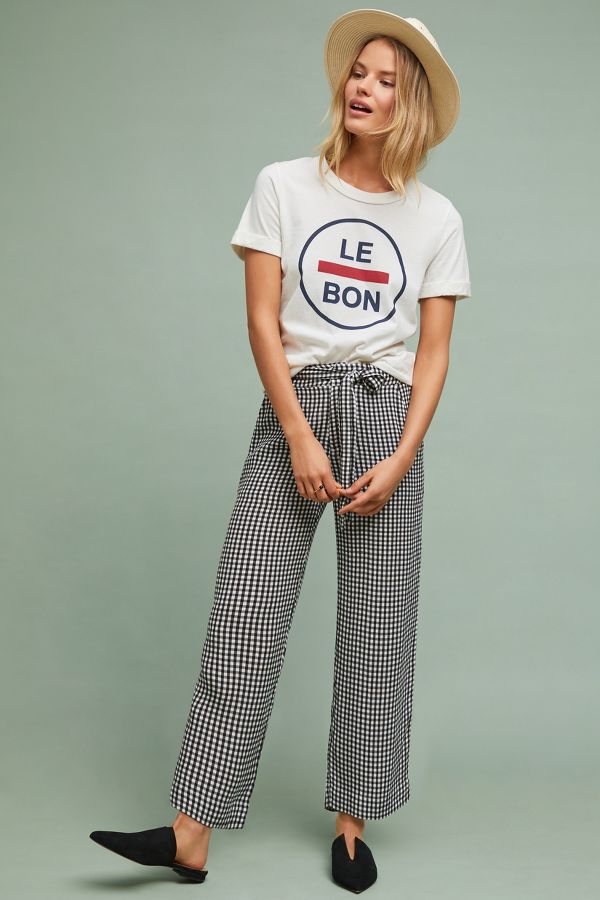 both the Manon Flared Pants above the Wide leg Gingham pants from Anthropologie's When in France collection would be a perfect novelty pair for this summer.
And when it's really hot out dresses can be your best friends.  It is an easy way of looking pulled together.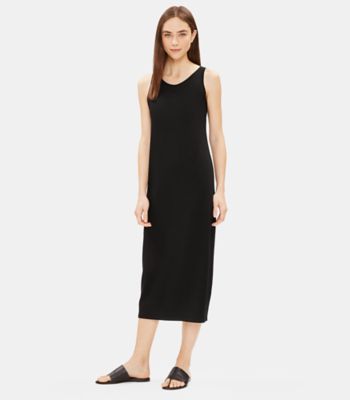 You can be as basic as a beautiful jersey tank maxi from Eileen Fisher or pick their Organic cotton Jersey shift dress
a bit shorter and great for anything.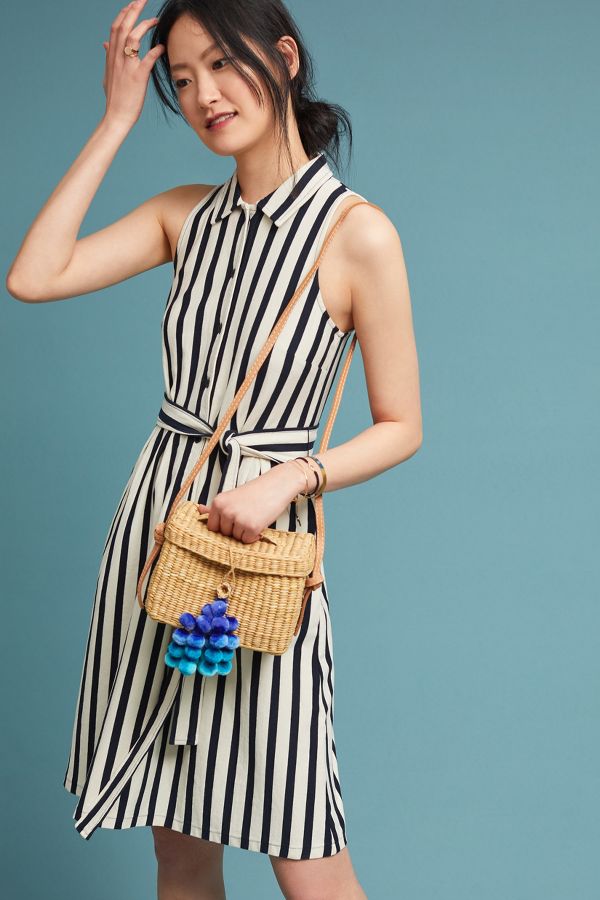 This Nautical Stripe dress from Anthro will take you up a notch.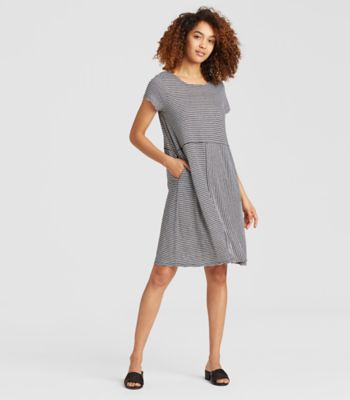 Or embrace the stripes in this Organic Jersey Linen stripe dress from Eileen Fisher.  Both are perfectly French minimalist style and will keep you cool and comfortable.
Jumpsuits are another way to add another layer to this.  You don't see a ton of them in minimalist french style but they are so chic right now it would be a great piece to have.  Just keep to the minimalist image we are going for.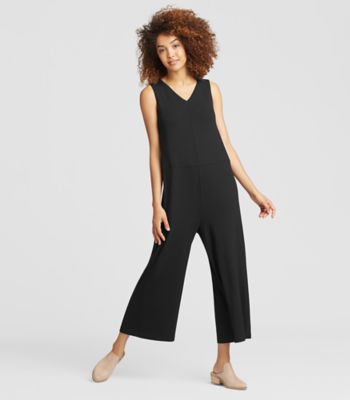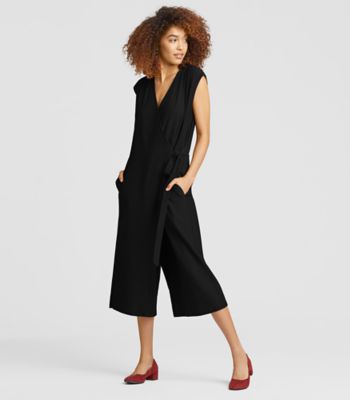 There are two great black jumpsuits from Eileen Fisher that would work.  Both have wide crop legs and one is a chic wrap. Or go off the solids and do a fab polka dot jumpsuit that can be worn
everyday or for special occasions. This jumpsuit is from New York Collective at Nordstrom Rack.
What else can you add to your basics to make you have the French flair? Look no further than Anthro's When in France collection for inspiration.
A chic wide brim hat keeps the sun off your delicate skin.
Do either a brightly colored or woven round cross body bag over everything.
Or add a check or stripe tote bag to round out your outfit.
Sandals are your go to for summer.
One great novelty pair like these from Paolo Mattei at Anthro and one great black pair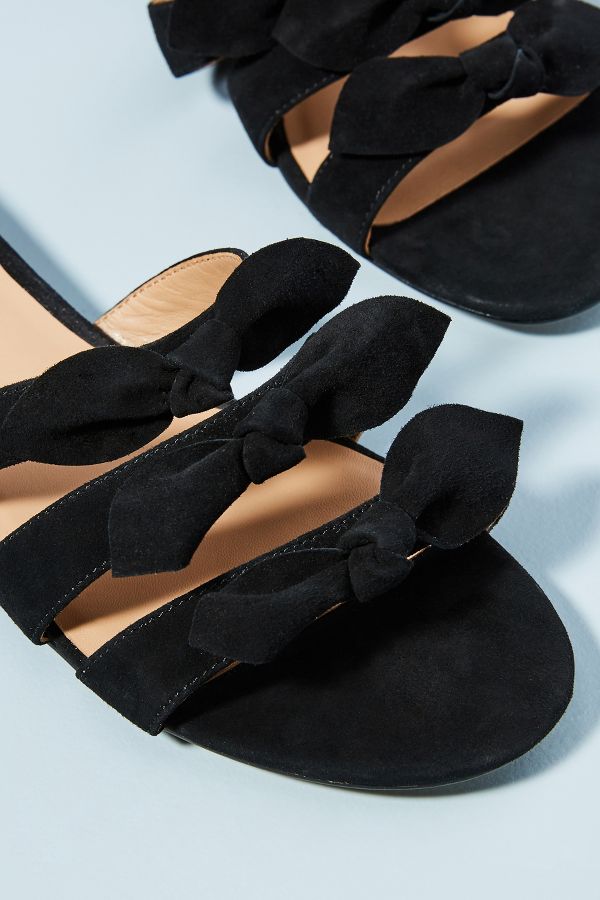 like these adorable Graceful Bow slide sandals will be all you need to complete your look.  If you want more add a great fitting pair of black or white sneakers and maybe one pair of neutral platforms
I have a pair with a similar color story to these Kork-Ease ones from Nordstrom that are my go to with everything.
The other thing I noticed in all my Pinterest viewing is that jewellery is very simple.  Hoop earrings
and a simple necklace
or scarf tied around your neck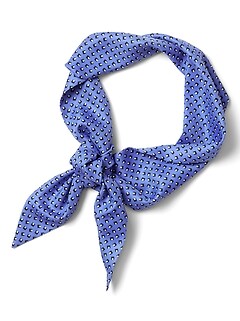 like this one from BR. The earrings and necklace are images from Shoshana Lewis of Shok Designs, she is our resident jewellery expert!
I encourage you to look at Pinterest posts and Anthropologie to get your own inspiration for this look.  It can be a wonderful way to dress for summer and can take you through the hottest of days looking cool and collected!
Do you need help navigating your wardrobe? Are you at a loss with regards to what looks good on your body? I can help.  Email me at Suethefashionista.com for an appointment.  Or use my blog as inspiration to find your own style.
Until next time…