I know I was going to post about cleaning out your closets to get ready for fall clothes, but I  am so not ready to rush summer, or the beautiful weather away, so I decided to put that off for another week.  The day this blog posts will be August 1.  Where has summer gone! It seems to go faster and faster every year.   By August 1st summer is half over and the stores start getting their first fall deliveries in.  So I am going to do my part in extending summer by doing one more post about what to wear when it is hot out.
I am one of those people who love the heat, the hotter the better. Now I am not talking New Orleans kind of heat where the humidity is as high as the temperature, but I am loving the west coast heat we have going on right now.  I run cold, which means I freeze all winter, I love temperatures in the high 20's or 80's when I can not have to worry about wearing an extra layer.
I tend to live in summer dresses.  My favorites, if you haven't noticed already, are midi and maxi dresses and skirts.  That is pretty much how I beat the heat is in a light weight dress or skirt and tank top.   What are my go to's you ask?
I have a number of cotton maxi dresses similar to this one from Alternative at Nordstrom Rack.  I have bought mine over the years at Anthropology, The Gap, Banana Republic and a great store in Vancouver and Toronto called the Latest Scoop.  I do tie a lot of my maxi dresses and skirts like this at the bottom, if I don't both to get them shortened, because I am not very tall.  I am also quite picky because I really only wear dresses that I can wear a bra with, and this year there are a lot of cute strappy maxis but they are not for me.
The other thing I seem to gravitate to is my maxi and midi skirts. 
I have a basic black knit maxi skirt like this one from Bobeau, but I got mine on sale at Talbots.  I do wear it with tank tops and anything that is a bit more fitted.  But I also have print skirts and pleated skirts.  And I seem to wear those for everything.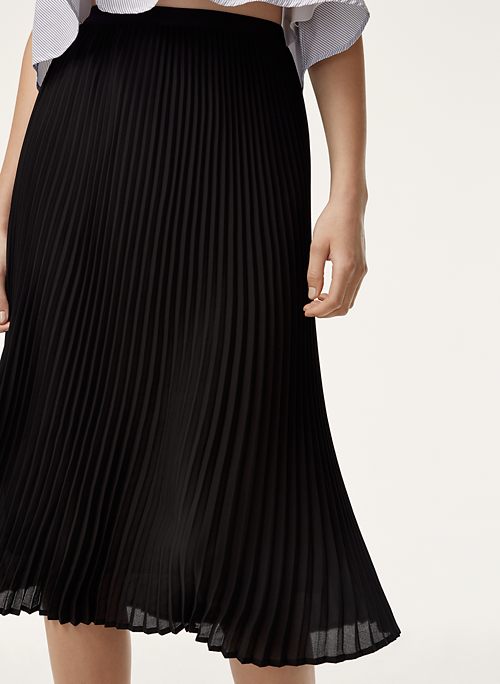 This year I picked up the Babaton midi skirt from Aritzia, yes on my it's a maxi.  I pull it out all the time, I wear it with tank tops, dressy tops and everything in between.  Just this last week I wore it to a dressy garden party event with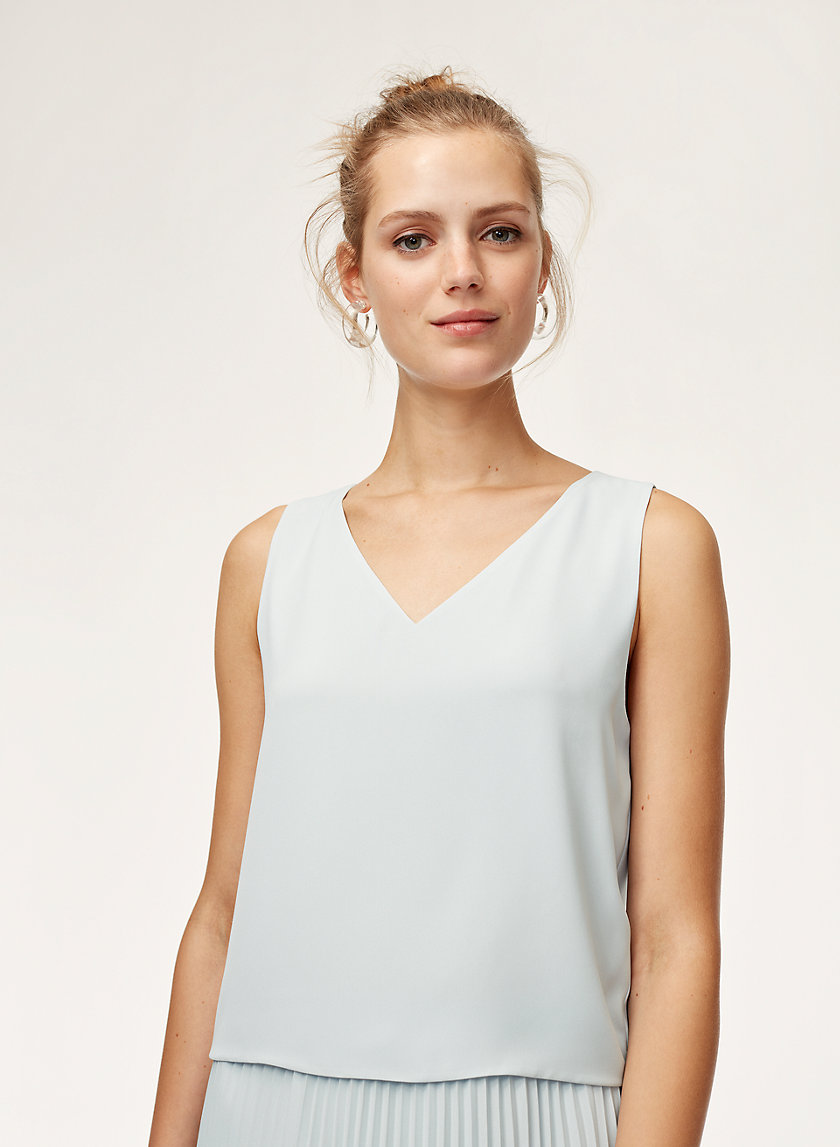 Babaton's Murphy blouse in white, it would also look great tone on tone in all black, but hey it's summer.  These two pieces work across my summer wardrobe.  I wear the Murphy blouse with all my cropped wide leg pants and denim.
I also find cropped wide leg pants in any solid color, like these Marina Pants from Ann Taylor work with all the Murphy tops I have ( l loved this top so much I bought it in 4 colors!)
Even though I shy away from print maxi dresses that doesn't mean I shy away from all prints.  I have a few print maxi skirts
like this one from Bobeau that I wear with my solid tops.
I also find that soft fabric loose pants are a great way to beat the heat.
Cute light-colored joggers in a floaty fabric with a top that isn't too fitted, like this look from Splendid will keep you super comfortable running errands in the heat. And if you are absolutely not a skirt person, and I have some friends who aren't, then try a great pair of print wide leg crops
from Rebecca Minkoff that can take you to work, dinner and weekend depending on what top you put with it.
And sometimes I just pick up cute dresses and skirts that are one season wonders.  What is a one season wonder you ask?  It is something that is very inexpensive and cute that you will wear to death this summer and then toss before next summer.  Joe Fresh is my go to sometimes for that.  I just looked at Joe Fresh.com and who couldn't use this cute summer dress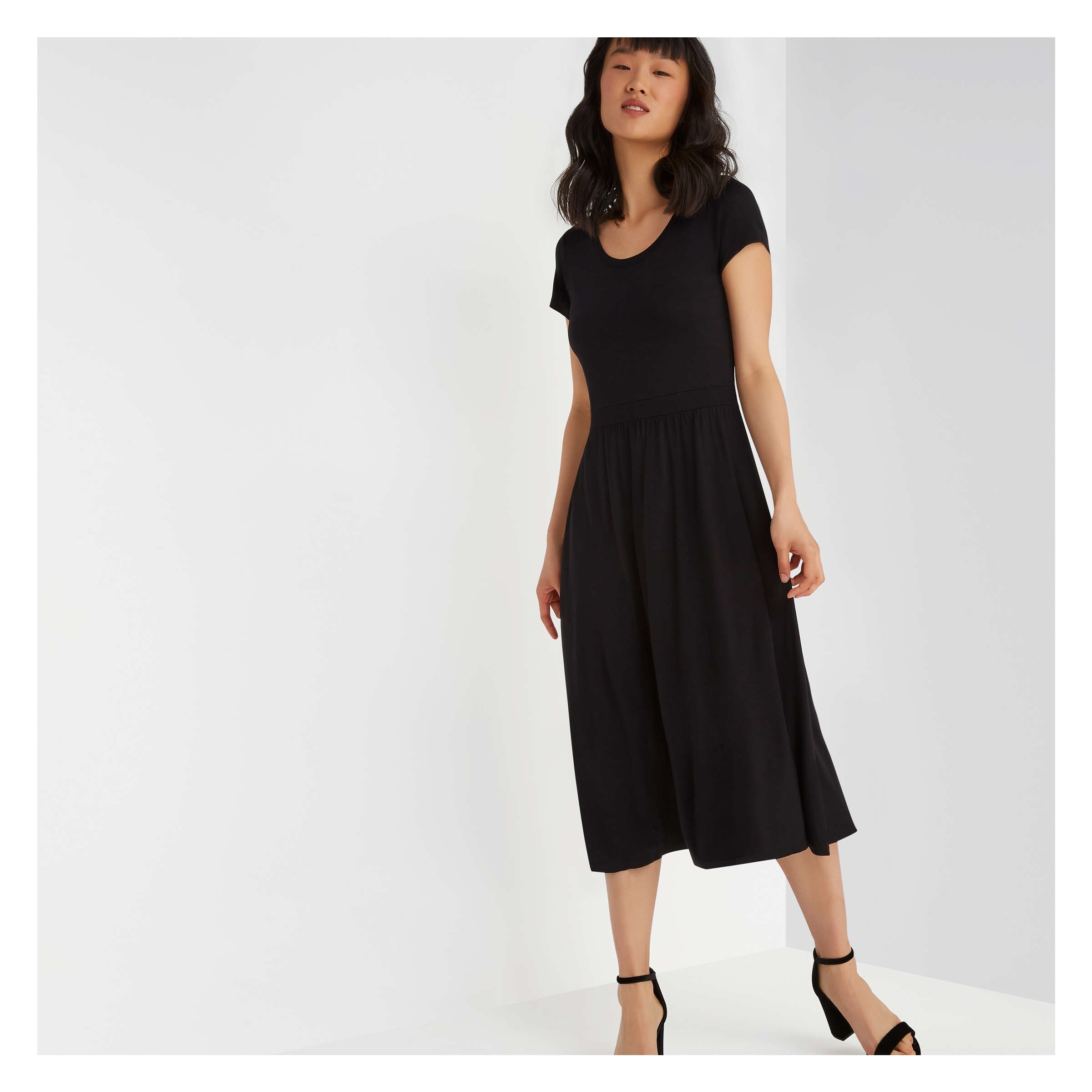 for $29.  It comes in black, fern green and grey. I find I do quite well on Joe Fresh online and find things that I won't find at the store.  For those of you who live in the US you will have to shop online or see if Nordstrom Rack has it.  But in Canada, most Loblaw stores that are big have a Joe Fresh section.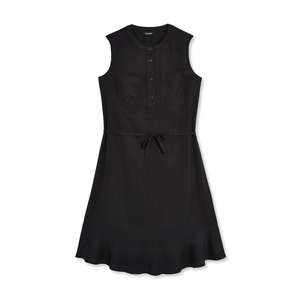 You can pick up a great little black tencel midi dress for under $40.  Now that's a great one season wonder!
I talk a lot about tank tops too.  Now I only buy or wear tanks that work with a bra underneath and if you are reading this blog and are over 40, yes you need a bra too.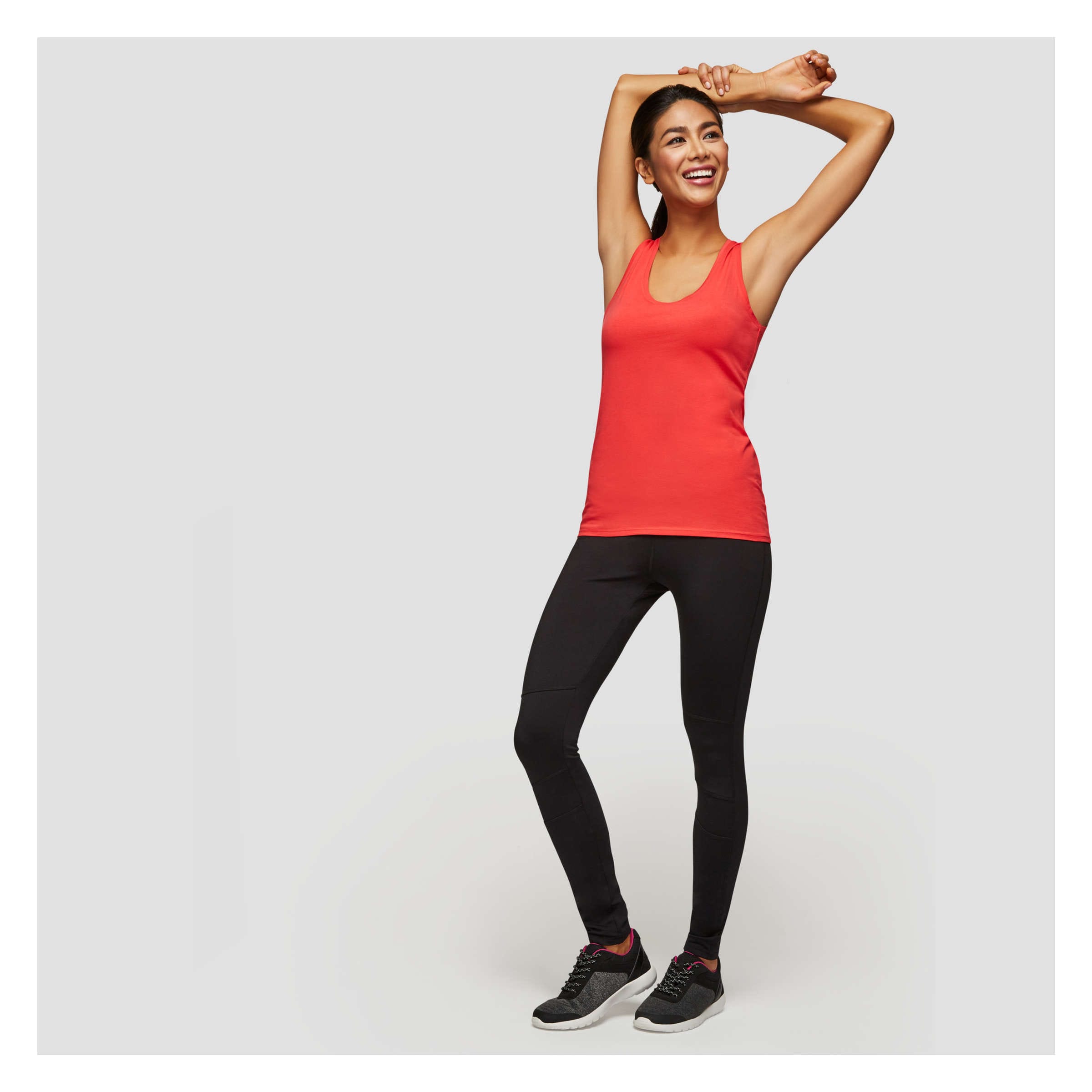 I live in my Joe Fresh classic tanks.  They are only $8.  I really believe that as soon as a tank loses its color and freshness you need to replace it.  At $8 I can do that.  H&M is another great place to pick up inexpensive tank tops.
H&M's tank tops are $6.99 so if they work for you great. I really like the weight of the Joe Fresh one's, they are not see through.
I also live in sandals all summer. I wear everything from flip-flops to wedges. It really depends on where I am going.  A funny thing happened to my feet with all my weight loss, a lot of my shoes got too big.  So I really am sticking to shoes like flip flops and sandals I can buckle to keep them on by feet.
A flat sandal like this one from Catherine Malandrino is a go to for me.  I could wear this with all my maxi and midi skirts and dresses and a lot of my pants and jeans.  I vary my heel height on where I am going and what the occasion is.
I also find in the heat my feet are not comfortable in high heels unless it's a wedge, so I seem to stick to block heel sandals like these from Matisse.
I also have a couple of pairs of wedges like these that I wear all the time.  I love a bit of a lift because I am not tall and I find that my legs look longer and leaner when I wear a bit of a wedge. I also love slides
like these from Dolce Vita, I think thy look fresh and modern with all your summer dresses, skirts and pants.
Last hot weather tip.  I find I wear a lot less make up in the heat.  I have a fantastic sunscreen with a tint
that I wear over my moisturizer. Mine has an SPF of 50 and it's from Skinceuticals so it's not only good for my skin, it protects it too.  Anna Lotan makes a great one with a 30 SPF and there are lots of BB and CC creams that have SPF's too.  Then I just wear bronzer and do my eyes.
I found a great bronzer at Sephora by Cover FX and it goes on beautifully and I put it all over my face.   I also wear a colored lip gloss with sunscreen from Sugar every day.
You can find Sugar Lip Treatment at Beauty Bar in Vancouver and at Sephora nation wide.  I find a fresh face is the best in the heat.  But honestly do yourself a favor and at least put on eyebrows, sunscreen and lip gloss before you leave the house.  There is no woman who looks great au naturel over 40. I know that's harsh but it's true.  And even if you are sweltering you want to look your best.
So that's a quick snapshot into my beating the heat dressing and details.  I am sure you all have mastered your own way of doing that.  I didn't blog about shorts because I really don't wear them but I was in Nordstrom last week and a curvy woman walked by me wearing white shorts and a black tank and she was meticulously put together.
So if you can rock a pair of shorts like these from Whitehouse Blackmarket and look as good as she did, I say go for it.  I really can't pull this off so I will stick to my long skirts.  You have to be comfortable in your own skin.
Next week we will talk about cleaning out your closet and what to keep and what to toss for getting your closet ready for fall.  I will feel better about writing that blog in August!
If you have questions or comments please email me at Suethefashionista@gmail.com. I will be blogging until August 22 and then I have to break until September 12 while I get my sons settled at their respective universities.  So please try and catch me before Aug. 21 with requests or after Sept 10.
Until next time…