I posted this earlier today but if you scroll down you can read a bit more about Miracle Suit.  I was contacted by their local rep.  Please read below!
As we mature we notice that certain items of clothing can't be the same things we wore in our 20's and 30's.  This definitely goes for bathing suits and swim wear. Once you have had a couple of children your body definitely changes into something new.  Swim wear can be a challenge even if you have a perfect body, so for the 98% of us who don't swim wear is a challenge.
I am one of those women who absolutely have buying bathing suits.  It is the one thing that is difficult to buy online, and hardly ever on sale when you need it.  Bathing suit shopping for me doesn't follow any of my style rules.  So I absolutely enlist the help of the sales people working in the store when shopping.  I always shop in dedicated swim wear stores, I find the sales professionals way more knowledgeable about the swim wear compared to department stores and athletic stores.
There are 3 things you need to be aware of when swim suit shopping:  1) Be realistic about your body, try and understand where your figure flaws are and how you want to camoflague them.  2) Take a look in magazines or online and see what swim suit styles are in fashion this summer,  for example, the higher bottoms (covering your navel) in 2 piece suits have given a lot of women the ability to wear a 2 piece.  And 3) Try and find a store or someone in a Department store or Athletic store who really knows swim wear and is used to dealing with women aside from 20 year olds.
1) Being realistic about your body means that as you age you may need to switch from a bikini to a 2 piece or maillot (1 piece).  Take a good look in the mirror, do you have a C-Section scar that needs to be covered?  Do you need support for your chest? Do you have heavy legs and want a suit that flatters and maybe covers the widest part? Or do you need a suit for something specific?  There is more selection, sizes and styles than ever before, so once you know how you want to look in the suit it is easier to take the next step and go shopping.
2) Before you go shopping it doesn't hurt to do a little research.  What does Nordstrom carry? Did you know Talbots carries bathing suits online but not in store? Is there a particular style or color I really like that is brand new this season.  I actually bought one of my favorite swim suits at Nordstrom 2 years ago.
This is the Miracle Suit So Riche Zip Code 1 piece.  I put it on and instantly felt great in it.  And I will admit that hardly ever happens in swim wear for me. But it slimmed me in the right places and let me show the one asset I have.  I have bought bathing suits before and after and none made me feel like this one does.  The one thing I have been looking for is a tankini that makes me feel as good as this suit.  So if that is my goal and I have looked online at Nordstrom http://www.nordstrom.com , Swimco (Canada)www.swimco.com , Everything But Water (US)www.everythingbutwater.com .  Then I can go into one of the stores and try it on.  You don't have to buy it in store, but sometimes if it doesn't look good the advantage of being in the store is that the sales professional can suggest something that will look better.
3) Where do you want to shop? In Canada Swimco is a great place to shop. In the US, I really like Everything But Water.  But I have shopped at Nordstrom, The Bay and even Talbots online for swim wear in the past.  Many Lingerie stores also carry swimwear, and so do places like J. Crew and Zara.  Just decide where you like to shop, and look online first and make sure they carry it in store.  Stores like J. Crew or other specialty stores may only have swimwear online.
What should you look for this Summer?
Well one thing that is really prevalent on suits are Ruffles.  We saw a lot of Ruffles on clothing so it naturally goes into swimwear as well.
At Everything But Water they have the Jane Ruffle Over The Shoulder Tankini Top in either pink or blue that you can pair with a solid bottom. At Swimco they have
a Ruffle one piece by Everyday Sunday and you can click on the size you think you need online and it will tell you what store in your area carries it!
The high neck swim suit is in style as well this summer.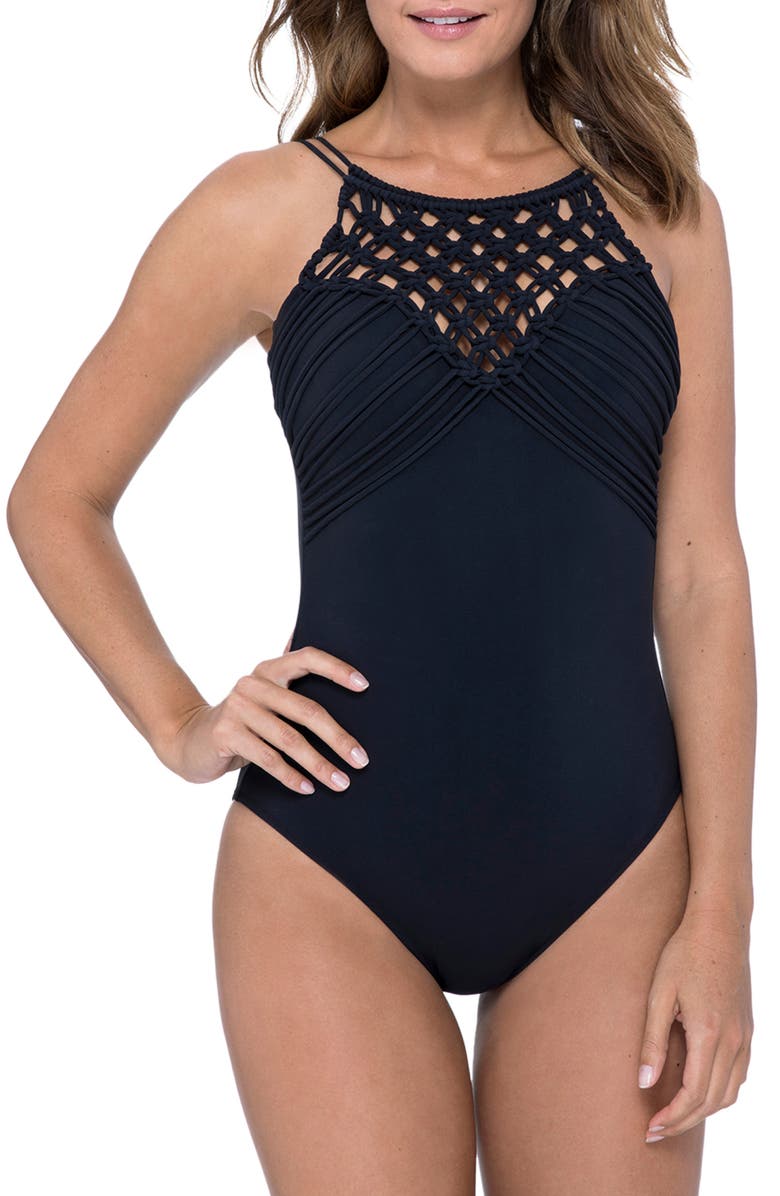 Nordstrom, Swimco and EBW all carry Profile by Gottex.  This is Gottex's more covered line for women who don't want to let it all hang out.
Everything But Water carries the EBW collection and they feature a Key Hole high neck that comes in 3 colors with an open back.
Another summer trend is scallping on a simple maillot in a bright color.
This is what is being shown in a lot of magazines. It is Marysia's Antibes Scallop suit.  I actually tried this suit on when I was in Phoenix in May, but the only one they had was a size too big and I find it hard to pull the trigger on really expensive swim wear and this suit is $400.  All the other suits I have been showing are under $200.
Nothing has changed that much in Tankini's over the last few years.  Just make sure the body of the top isn't too long or short on you. It should hit your hips at the longest point.
What is new is the alternative to wearing a bikini. The higher bottom and 2 piece look is a retro look but it can be really attractive on a curvy body.  Nordstrom has some great stylish high waisted bottoms.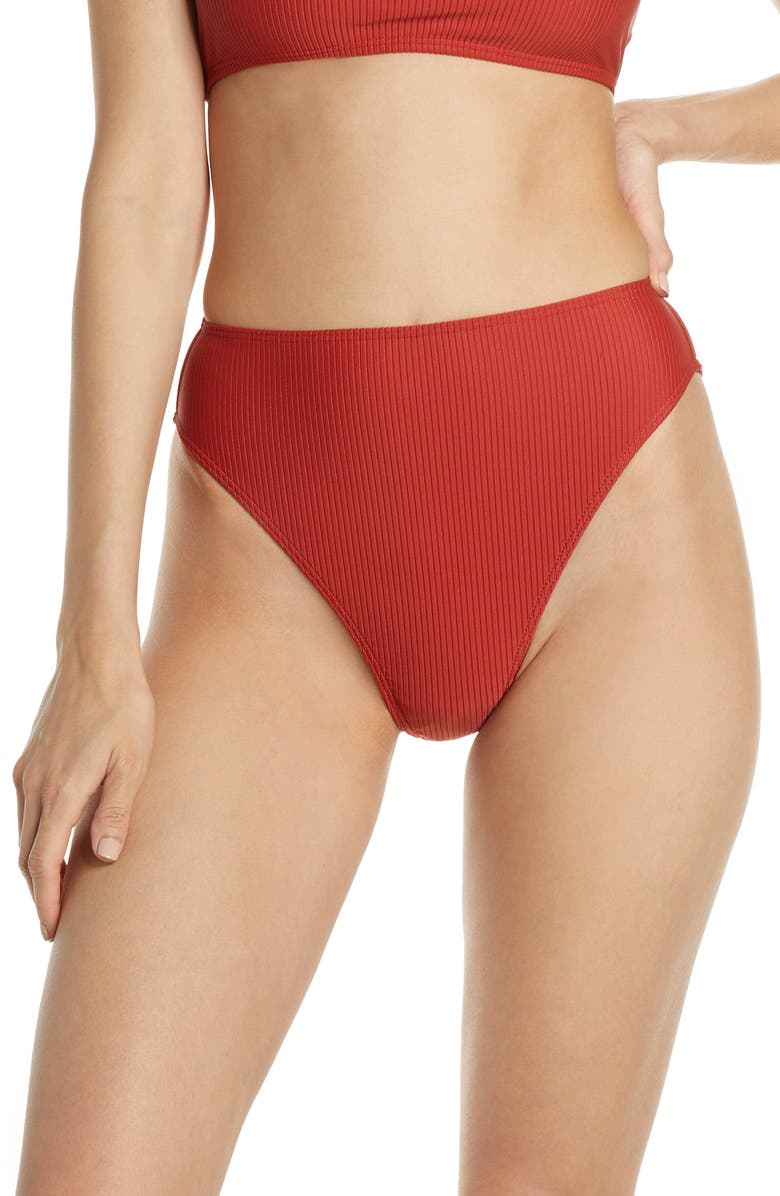 They carry Something Navy and this is the ribbed high waisted bottom, comes in red, black and leopard print. Pair it with the matching top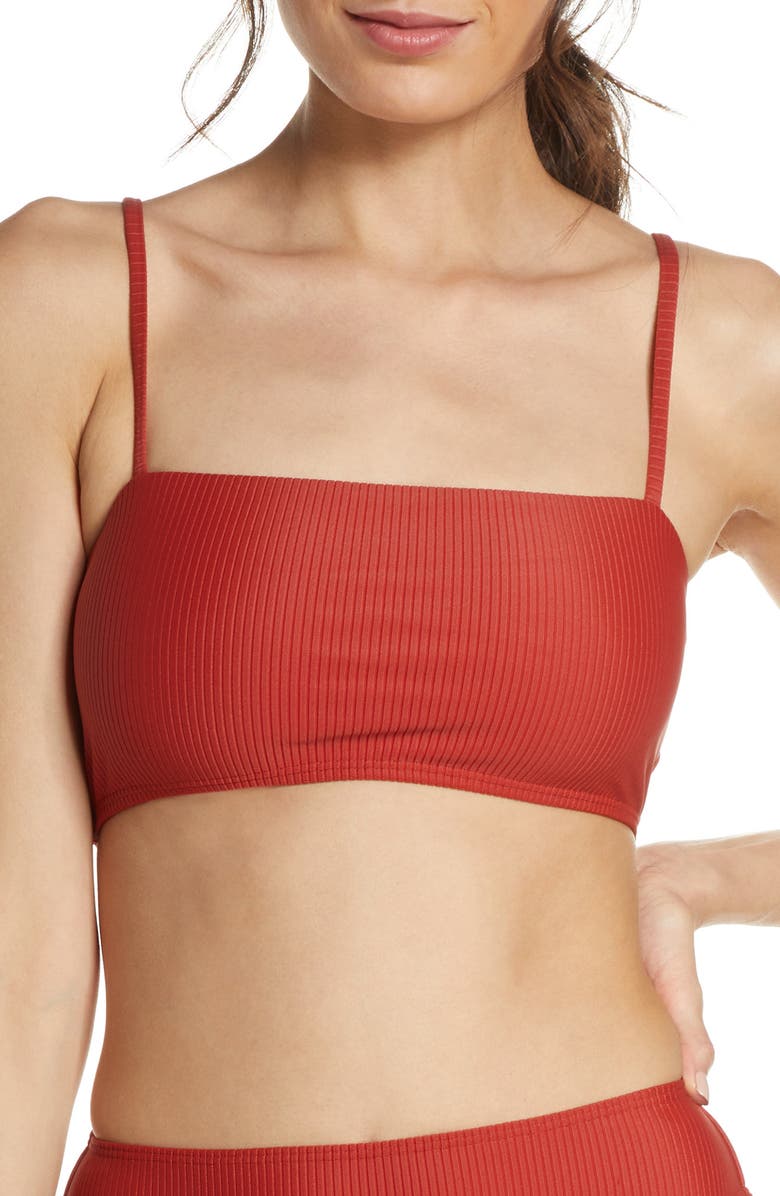 in any one of the colors and you can have a great look under $150. Look online and see what you like.  If you want something fun try looking at J. Crew online, http://www.jcrew.com  they have lots of high waisted bottoms,
their seamless high waisted bottom comes in solids and prints and you buy the bottom and top seperately.
One other thing that you may need as you mature. I find I need a bit more cup coverage, I am not as perky as I used to be.  Stores like Swimco and EBW will carry cup sizes in tops, so that is something to be aware of.
EBW makes a point in having D and DD cups sizes in both suits, tankini and bikini tops.  Just look at the selection online and see if they have it in store.
So with summer upon us now and everyone taking a holiday, buy a new suit shouldn't be so challenging.  You may still not enjoy it but hopefully you will find a suit that makes you feel as good as you are going to look.
One thing to note.  Miracle suit actually has slimming fabric! It can make you look 10lbs lighter!  It is exclusive to them.  Locally in Vancouver besides Swimco you can also find Miracle Suit at Splash Swim and Cruise http://www.splashswimandcruise.com .  I am a huge fan of Miracle Suit! Go try one on!!
I am taking a bit of a break over the summer but instead of no blogs until mid August, I am going to repost some of the blogs from the past few years that have gotten a lot of likes.  This way maybe you can find some fresh ideas even if I am not around. Blogs from July 1 – Aug 21 will be posted every 2 weeks instead of every week. So stay tuned!
Also I am now taking styling and closet clean up appointments starting mid August, so book early so you won't be disappointed.  I am going to be busy with all my regular appointments so if you want styling or a wardrobing appointment in your own closet now is the time to book for Aug and Sept.  To book just email me at Suethefashionista@gmail.com.
Have a great summer!!