What is it about summer that makes women who shouldn't be baring it all bare it all? I just returned home from my eldest son's grad from New Orleans.  Talk about a city that there are people of every shape in! Heat and humidity seem to do things to women's judgement about what they should and shouldn't wear, especially women over 40! There are so many ways to stay cool and stylish, and there is really no reason for any woman over 50 to wear short shorts or a mini skirt, no matter how warm it is.  Let's go through some ways to stay cool while staying stylish and keeping our dignity in tact.
I have come to the conclusion that American women are just generally larger than women from other countries, but that doesn't have to mean that they can't still be sophisticated. No matter what size you are, 2-24, there is always a way to stay cool and look good.  The only time you should be baring almost all of it is when lounging pool side or at the gym (and even then think about how not to show too much).
What are some great styles to keep you cool in exteme humidity when you are not going to a pool party?  Start with things that don't cling to your frame. Start with something like a swing dress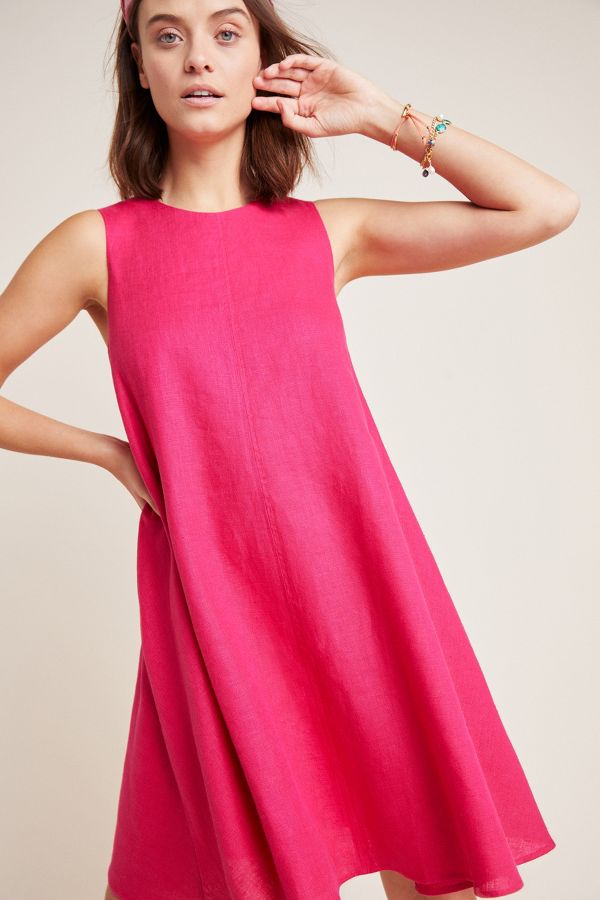 like this Melbourne Swing dress from Anthropologie.  I love swing dresses, choose one that fits through the bust line and then flares away from the body, this will make you look like you are wearing the dress and not the dress is wearing you!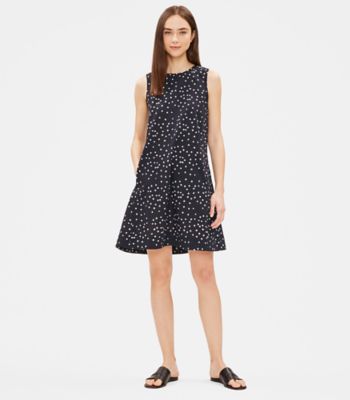 Here is a Printed Organic cotton dress from Eileen Fisher, the model is very tall the dress on the average woman will hit her knees.  This dress fits slightly closer than a swing dress but is light and airy and floats away from the body around the rib cage so you will stay cool and comfy. I have a dress from Eileen Fisher really similar to this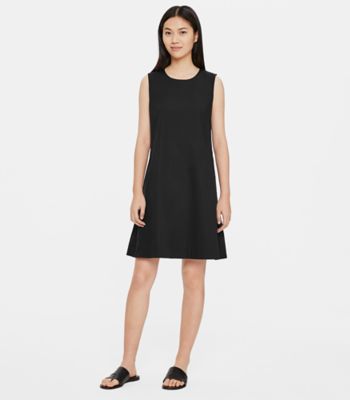 Organic poplin A-line Dress and it is about 3 or 4 years old and I still wear it all summer long.  A dress in a solid color that fits you well can be worn for lots of occasions, dressed up with a heel and jewellery or worn with flats for a casual look.  This dress was definitely worth the investment.
Some women don't believe that a maxi or midi dress can keep you cool, but they look super chic and can keep you covered and cool while out and about on a hot day.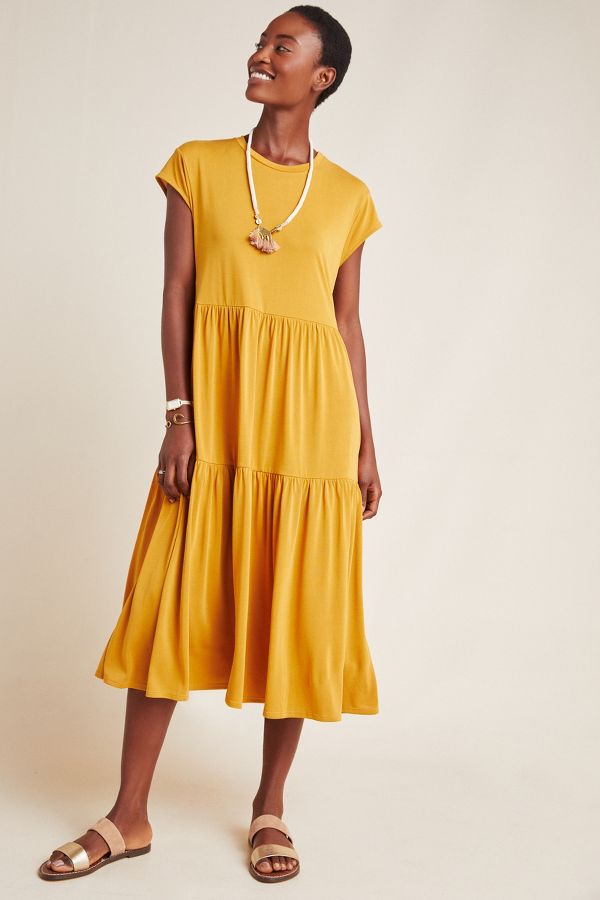 This bright sunny midi dress is a combination of Modial and Polyester so it will keep you cool and keep it's shape. This is the Sierra Knit dress from Anthro and it comes in 4 colors, picking a light color like yellow (which is a very chic color this spring) helps keep you cool on the hottest of days, keep the accessories light and wear comfy chic sandals with this fab dress.
This Elina Woven dress from Anthro comes in 3 colors including white, it's a great dress on a hot day.  I am showing it in the Plus size version but it also comes in regular and petite. You can still wear a bra with this strappy back dress, which is a huge plus.  When your skirt is longer you can be a little barer on top, which is another way to keep cool while looking hot.
Jumpsuits can also work on a hot day, just pick something with a lighter feel to it.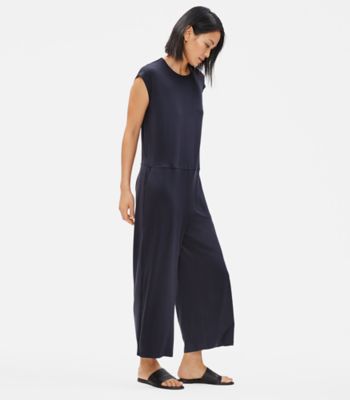 Choose a loose fitting jumpsuit like this Tencel-Jersey Wide leg Jumpsuit from Eileen Fisher. It also comes in Black and the black is on sale right now at Eileen Fisher.com.  If you choose a jumpsuit like this one that is loose on the body, make sure you are wearing the correct size, like a petite one if you are under 5'4″.  It won't make you look bigger if it fits properly.
If you want something light but not in a dark color, try this Lightweight washable crepe jumpsuit from EF, this is even a lighter weight fabric than the jumpsuit above.
You can also be a bit more adventurous with jumpsuits. Don't be afraid to wear a print or pattern.
This Rachel Button-Front Jumpsuit from Anthro is in a wonderful soft green with print bottom, you can wear a bra with it and it fits a little closer to the body, it would be great on a hot day with little sandals as shown. Or try something fun and super casual,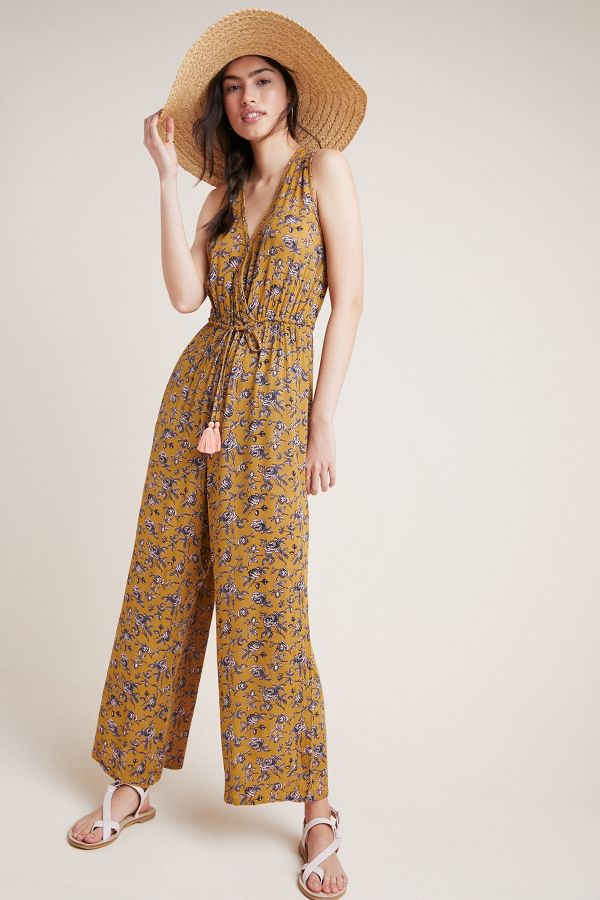 the Sofia Floral jumpsuit from Anthro is cute and covered even though it looks like it's not. The back is solid so you can wear a bra with no worries and it has a cute and stylish drawstring waist that you can tighten or loosen depending on how hot you are.
Pants can work on a hot day too, just keep the fabric light.  Banana Republic has some wide leg light weight pants that can work with a tank or sleeveless top on a hot day.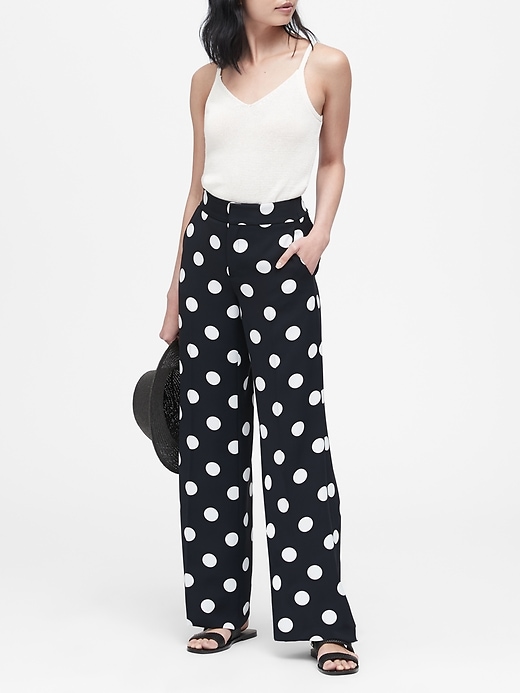 Polka dots are important for Spring, so how about a polka dot wide leg pant.  The navy and white is so chic, wear it with a tank for casual with flats and then you can dress it up with a short sleeve white or navy top and block heels for work or a night out. Or how about a wide leg cropped white jean?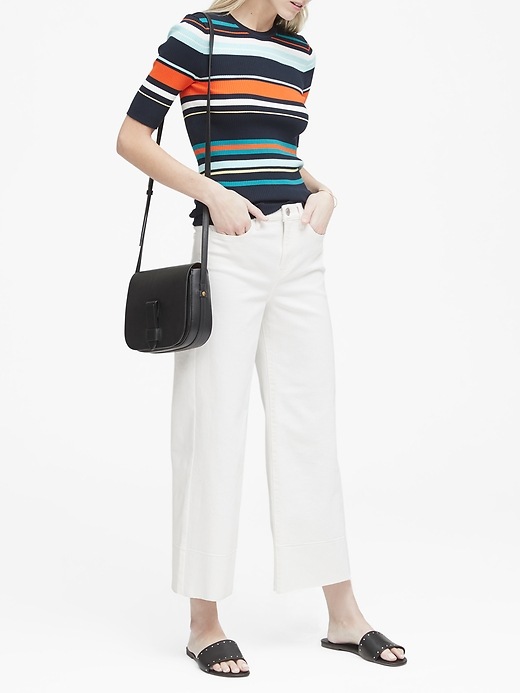 Keep in mind that the denim needs to be a little heavier if it's white, but with the wider cropped leg it will still keep you cool.
I wear pants all summer long, but I try keep to lighter weight denim if I am wearing jeans.
These Tapered Utility Joggers from Anthro come in soft coral (shown) and a washed black, they are super cute with sandals and great for a hot day with a light top.  Or try a cute pair of cropped pants this summer.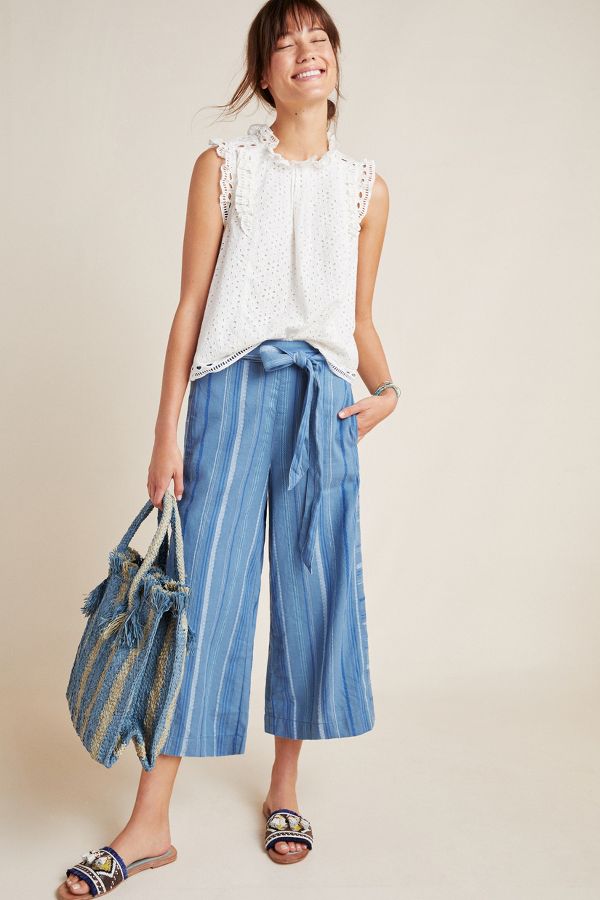 Anthro's Laguna Cropped Wide-Leg Pants will keep you cool because they are very light.  They also have the tied waist which is so chic this spring.  A great pant to wear with everything you wear with your denim and it is super great in plus sizes too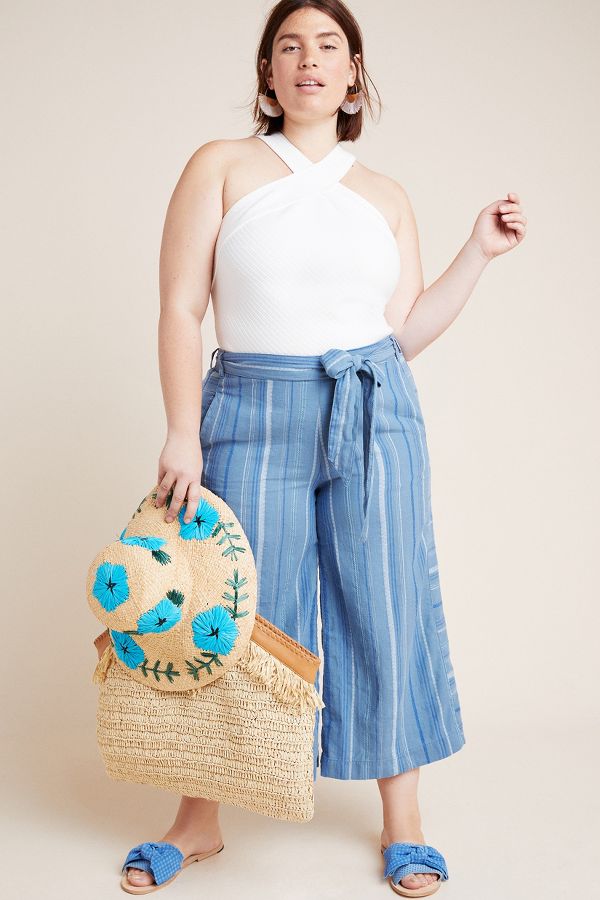 .  If you keep your summer pants floating away from the body you will be cooler.
There is really no reason for any woman over 50 to be wearing shorts or mini skirts.  Even if you have the most beautiful legs in the world, it is better to wear a skirt that floats around or slightly above your knees.  And if you are over 50 don't wear ripped and torn jeans, there is a general rule to aging with grace: if it is something your daughter, niece, or son's girlfriend would wear, it is really not for you.  But they can't get away with wearing the stylish things that suit women over 50. When shopping for summer clothing keep one principle in mind: KIS – keep it stylish.  If you are in a changing room and are not sure it looks good, chances are it doesn't.
Good luck shopping for summer styles.  All items should be going on sale in the next month or so, so you can get some great deals! Over the month of June we will look at summer shoes and accessories, a special bathing suit issue and of course my annual father's day blog will be coming the week of Father's day.  So stay tuned!
Until next time…