It's that time of year when invitations are pouring in and there are so many things on your calendar.  Special birthdays, graduations, weddings and I even have a big high school reunion coming up in the next few months.  So what do you wear to look your best for all these things? Spring attire is a little less fussy than holiday wear so let's look at a few different scenarios and what you could wear for all your occasions.
Formal Summer Dressing
There aren't that many but you may be invited to a formal summer wedding.  My nephew got married a few summers ago and it was quite a dressy affair. So how do you dress for a formal summer wedding?
Midi and Maxi dresses are absolutely everywhere this spring, so take advantage of having tons of choices. Nordstrom has lots of ideas for Spring formal weddings.  On their website they have a link just for wedding guest attire suggestions.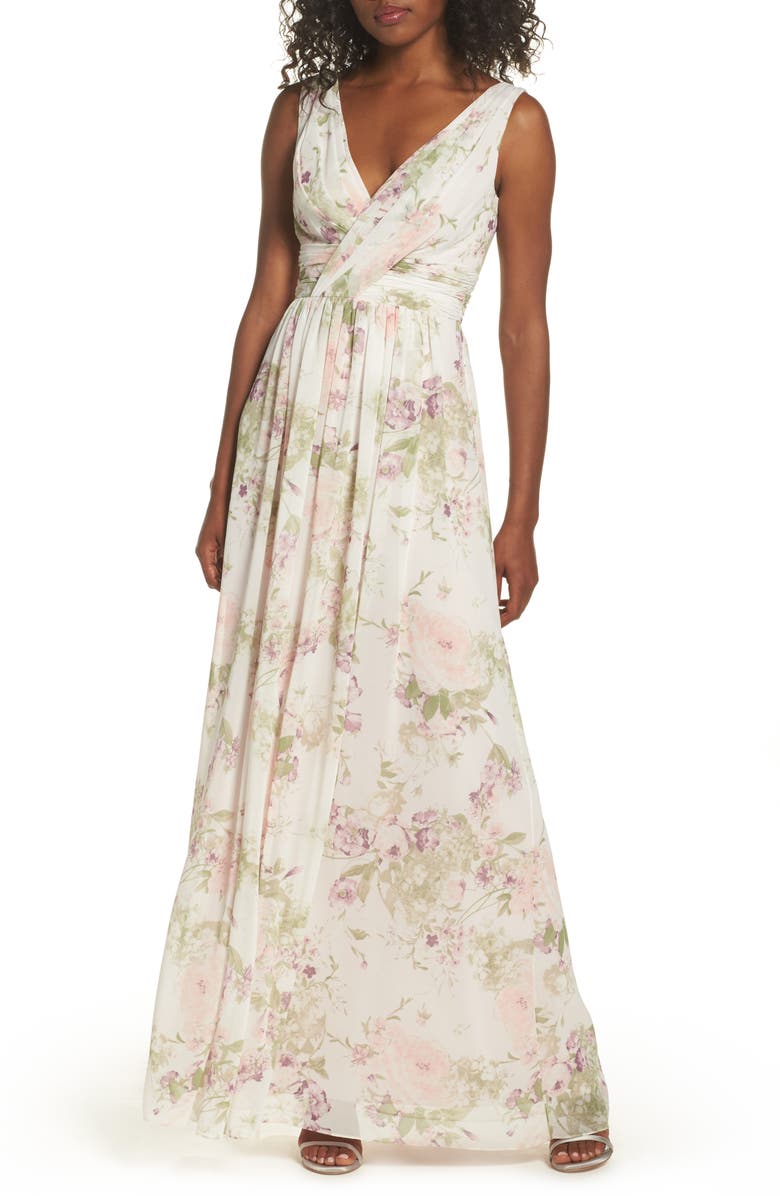 I love the idea of wearing something light instead of heavy. This Lux V-neck Chiffon gown at Nordstrom comes in solid and floral colors and let's you have the ability to wear a bra underneath. Wear a higher heels for the ceremony, then bring a shiny pair of flat sandals to wear for dancing.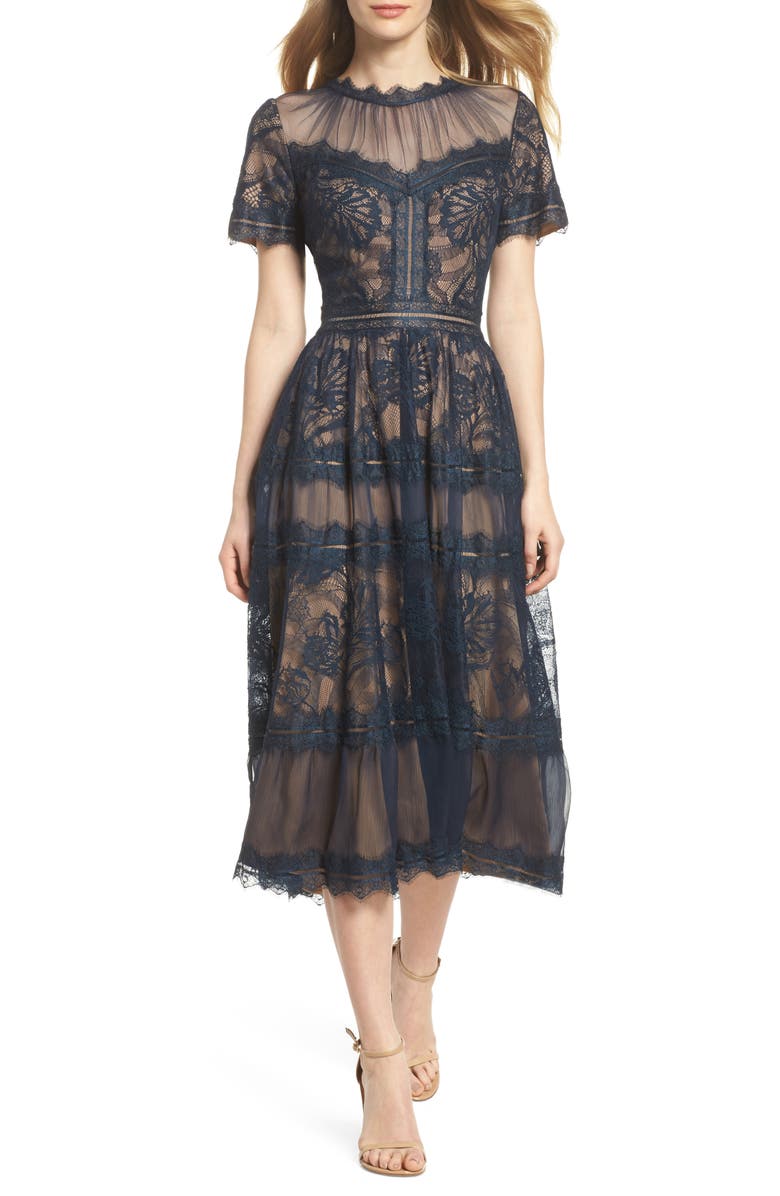 Or go for a midi length dress by Tadashi Shoji in Navy Lace.  You don't want to choose a dress that the brides friends are wearing so stick with styles that are a bit more sophisticated.
Anthropologie also has a lot of occasion dresses and jumpsuits for formal weddings although not as many and not as formal as Nordstom but if you want formal but slightly less dressy, try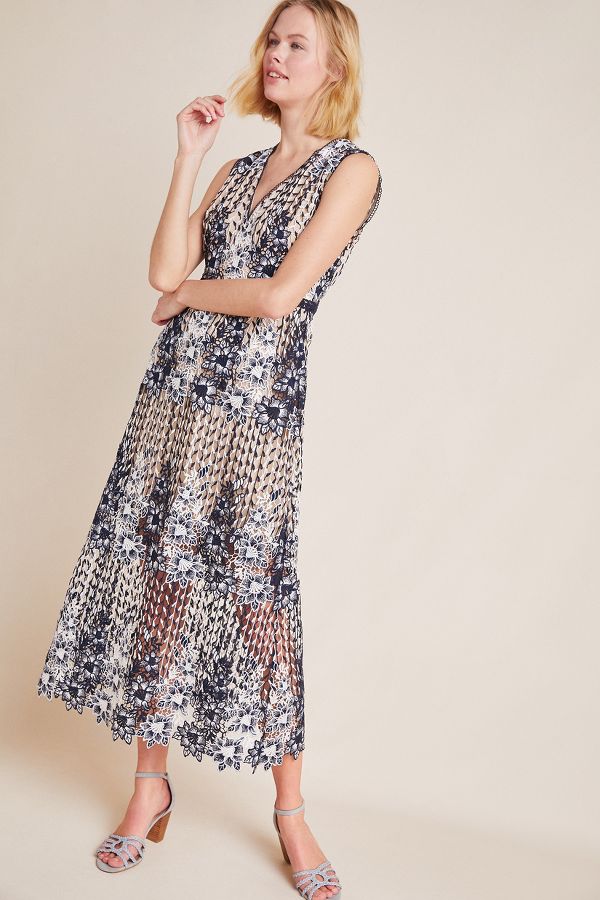 this ML Monique Lhuillirt Pigalle Lace midi dress. Unless you are the bride or grooms mother or family, you can be slightly underdressed which is way better than being over dressed.
If you want to be a little more formal but don't really want to wear a dress, try a jumpsuit.  But no cropped jumpsuits here, wear a long one.  I would stick with an all black jumpsuit or try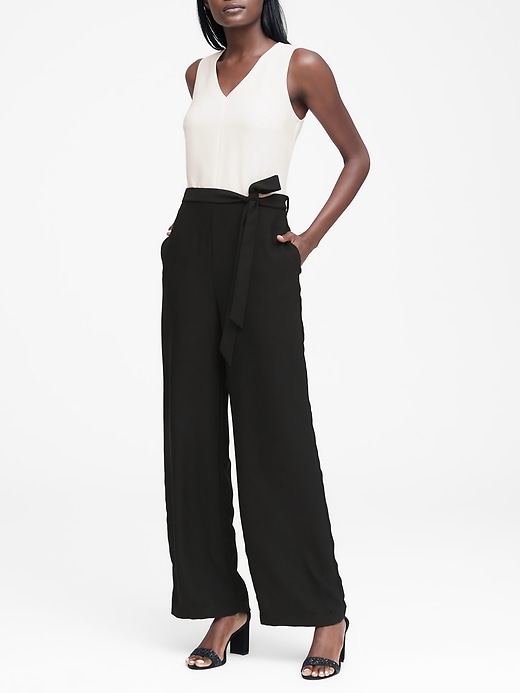 this V-Neck tie waist jumpsuit from Banana Republic that gives a tuxedo feel, it also comes in a solid white, which is also a formal color but you may not want to wear the same color as the bride.
Cocktail Events
There are a lot of spring events that are not formal but they are still considered dressy.  A lot of summer weddings fall in this category, some graduations and other events like special birthday parties or engagement parties etc.  Here you want to be dressed up, but not to the point of formal.
If you are going to a wedding where the invitation states cocktail attire, think of something lace.  Lace can be dressy or not so dressy.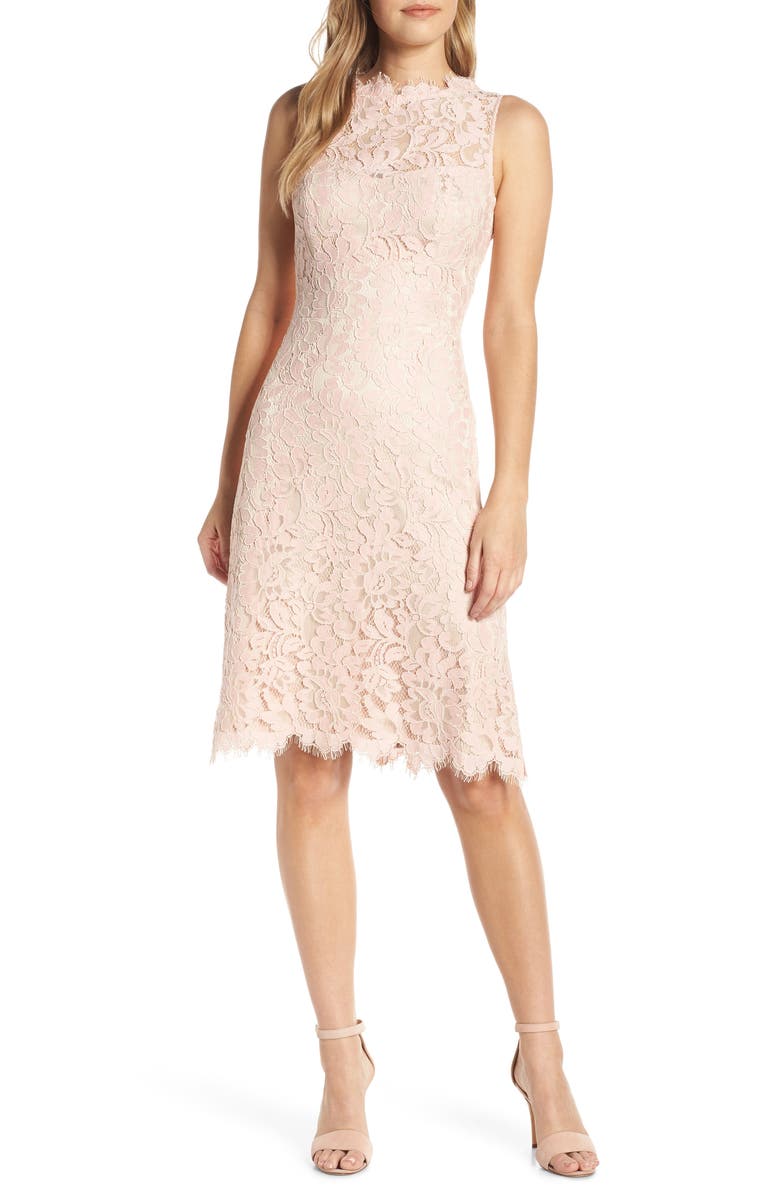 Nordstrom has this Eliza J High neck Lace Sheath dress in blush and black.  I like the blush because this spring is all about color. It's slightly shorter than what we were talking about for formal but can be just as dressy.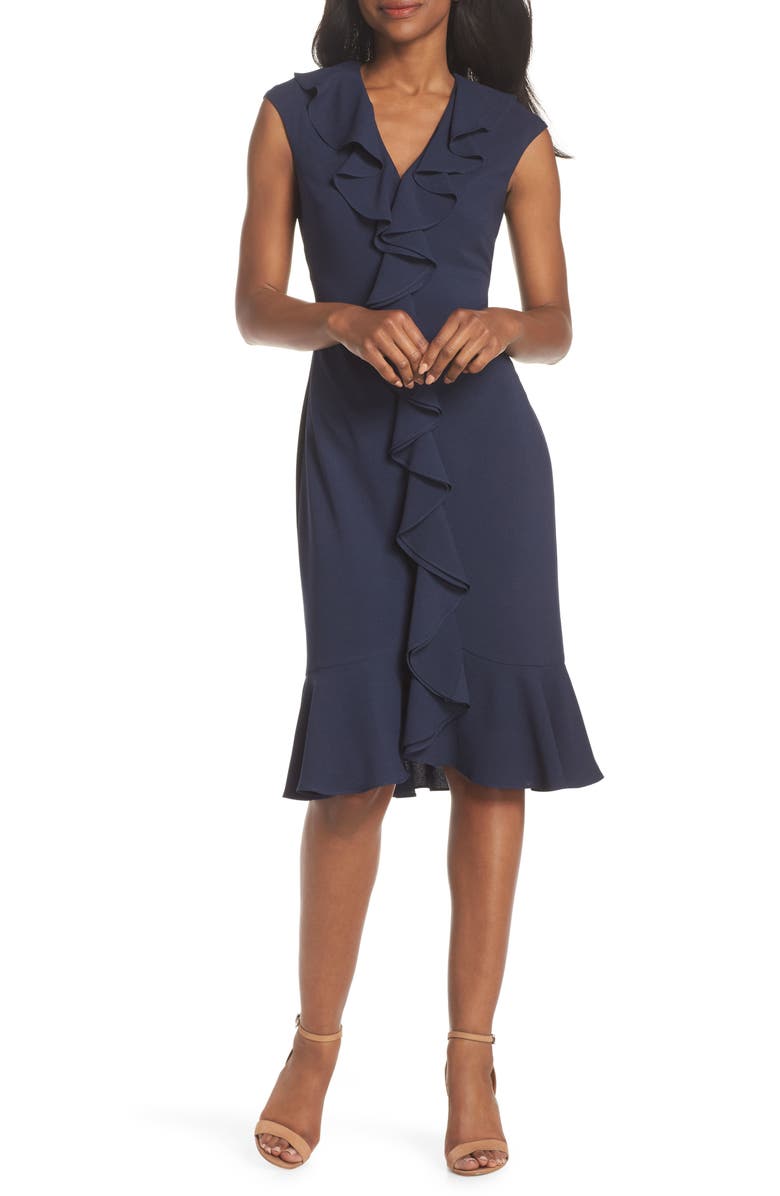 Or try something like this Maggy London Crepe Ruffle Front Sheath dress.  The Ruffle down the center of the dress will draw eyes in and make you look thinner. And Navy is the perfect color for a cocktail dress for spring, black can sometimes be too heavy for a summer event.  This type of dress can take you everywhere.
Antho has a vibrantly colored jumpsuit that you could wear to a cocktail partu or wedding. It's the Diane Von Furstenberg Virginie Tie-neck jumpsuit.  Look for jumpsuits that have flow to them like this one.  You can go for a vibrant or pale color for this type of event. If you only want to wear a black jumpsuit, then take the dressiness down a notch.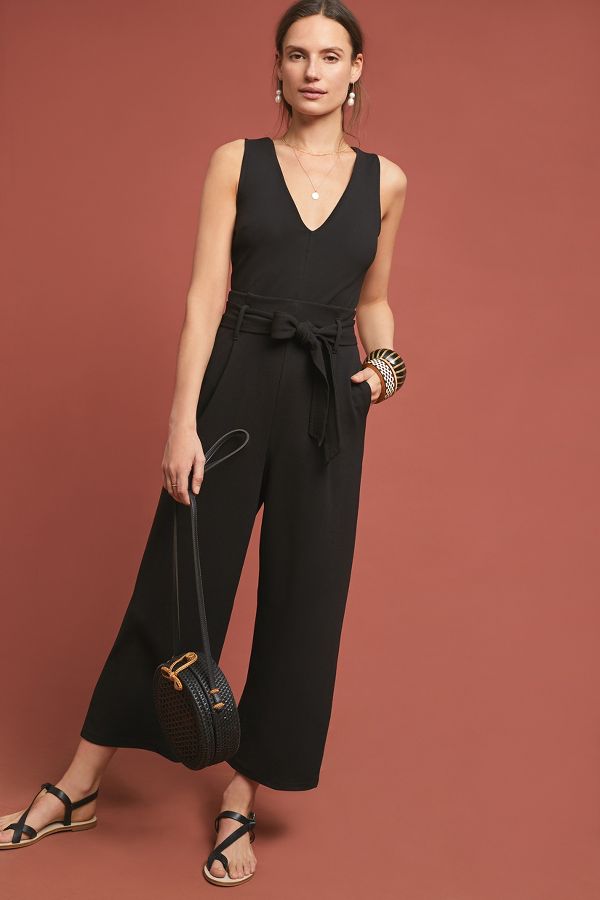 Try one like this Cathy Structured Jumpsuit from Anthro, the leg is cropped and wider and you can change the heel according to the event you are going to. Cocktail attire changes slightly between winter and spring.  In spring you can be a bit more adventurous and try colors and styles you wouldn't in the winter.  Look at websites like Nordstrom and Anthropologie because they have lots of suggestions to give you great ideas.  Cocktail attire and semi formal attire is almost the same thing.  If the invitations says Semi Formal you can take it down a notch from cocktail.  Both jumpsuits would work great for semi formal or try a dress with a little less fuss like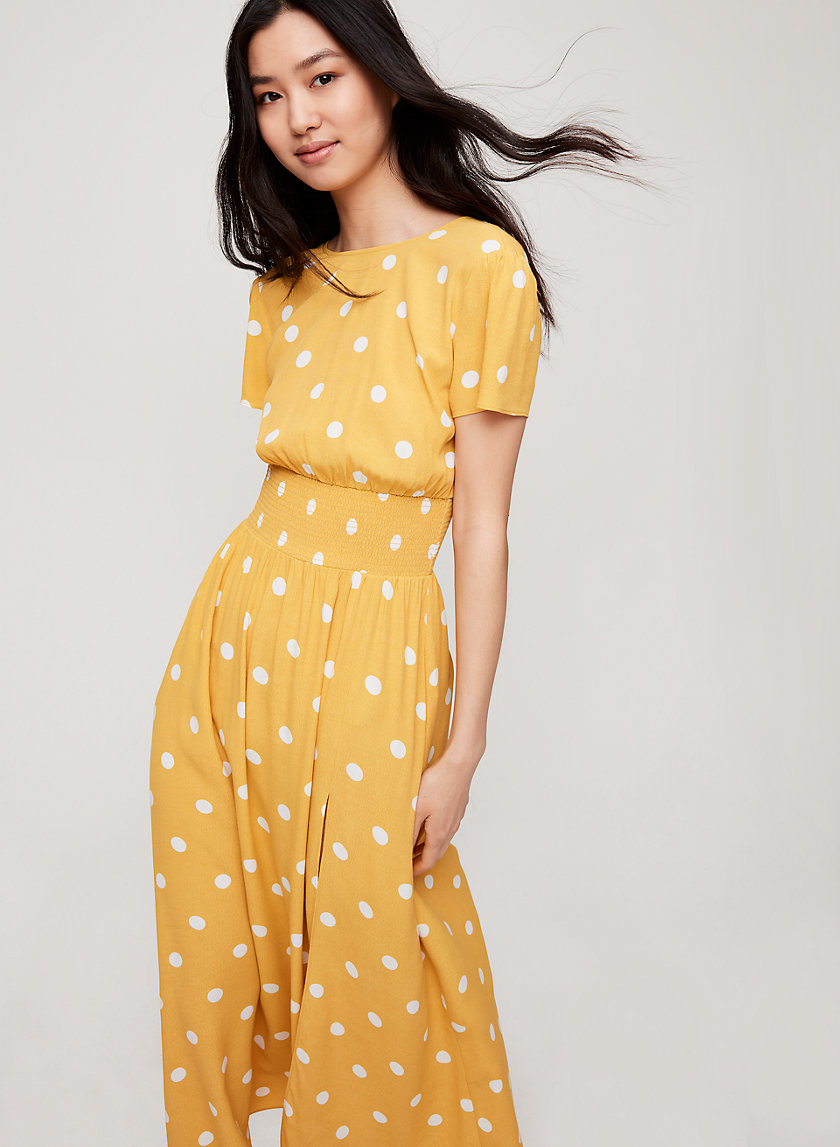 Wilfred's Maxime Dress by Aritzia. For a semi formal occasion it also comes in black and white polka dot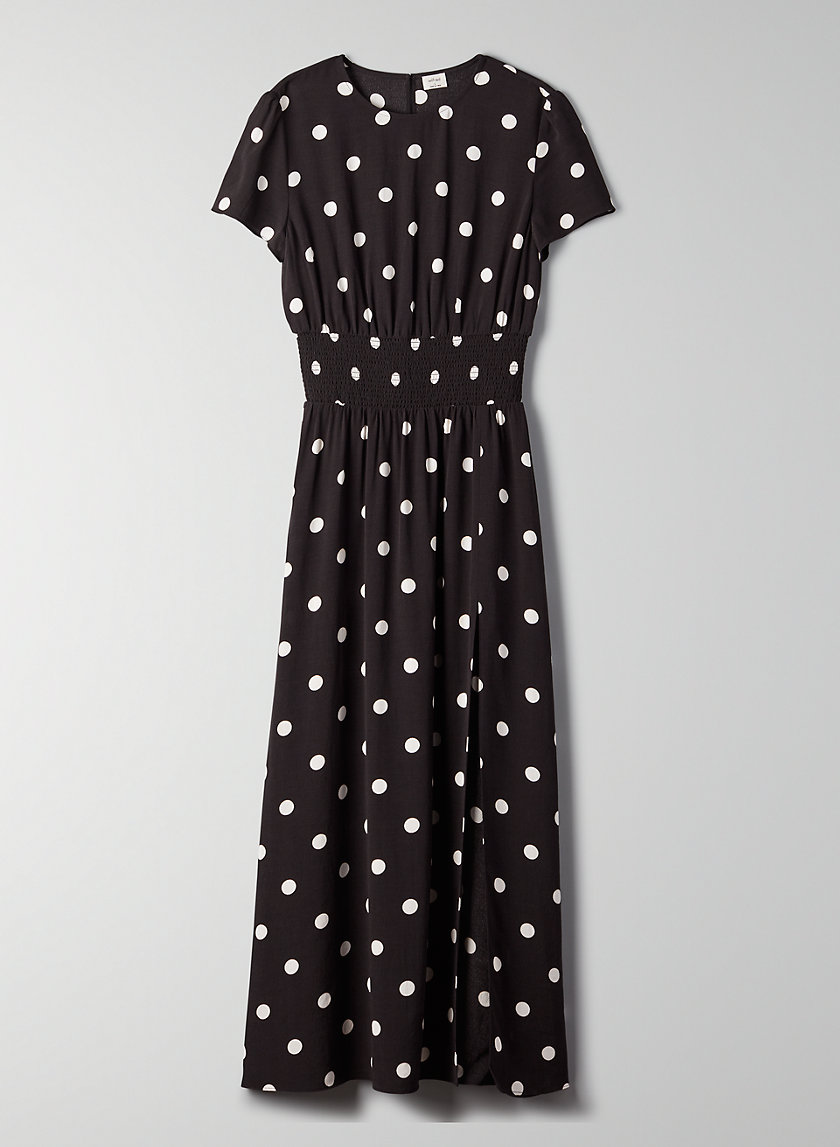 which is a little dressier than the yellow.  Last image for food for thought,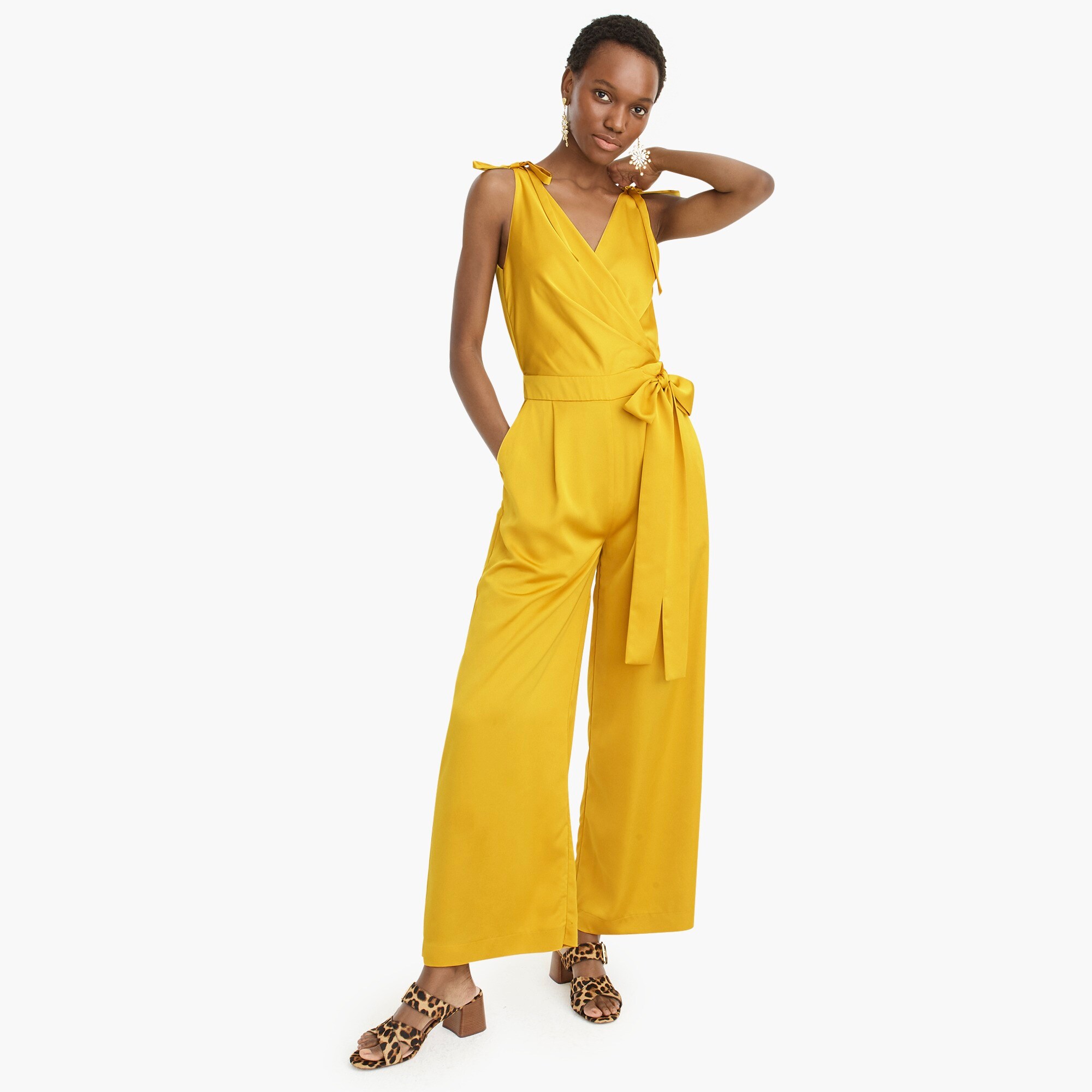 if you want to wear yellow, J. crew Collections has this great satin jumpsuit that would wow everyone at any semi formal occasion.
Cocktail and semi formal attire is also at some graduations.  Last year my youngest son graduated from high school and the dinner dance was formal.  But most of the mothers wore knee length or midi dresses alot like the lace ones above. So guide yourself accordingly for each event.
Casual Events
Casual events include birthday parties, barbeques, some graduations and even some weddings like desitination weddings.  Here you can be as dressed up or almost as dressed down as you like.  You still want to look smart and appropriate, so save the jeans for another day.
A colorful or print or patterned jumpsuit is perfectly appropriate here.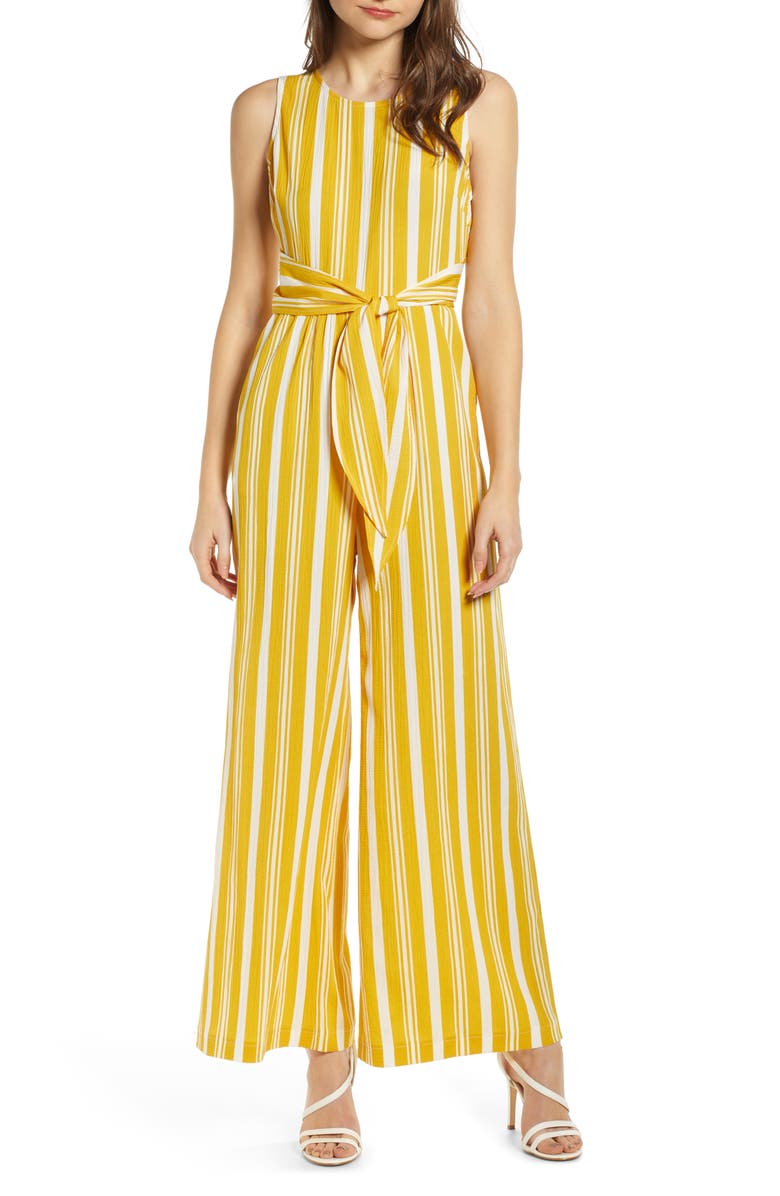 Try something in Springs new go to colors in either stripes or polka dots. This All in Favor Tie Waist Wide Leg jumpsuit is what Nordstrom features in their casual wedding attire suggestions. Sometimes a great floral pattern dress is perfect for a desination wedding.
This Leith Flounce Wrap Midi Dress could be worn with wedges or flats for a beach wedding and look just as good as with the heels.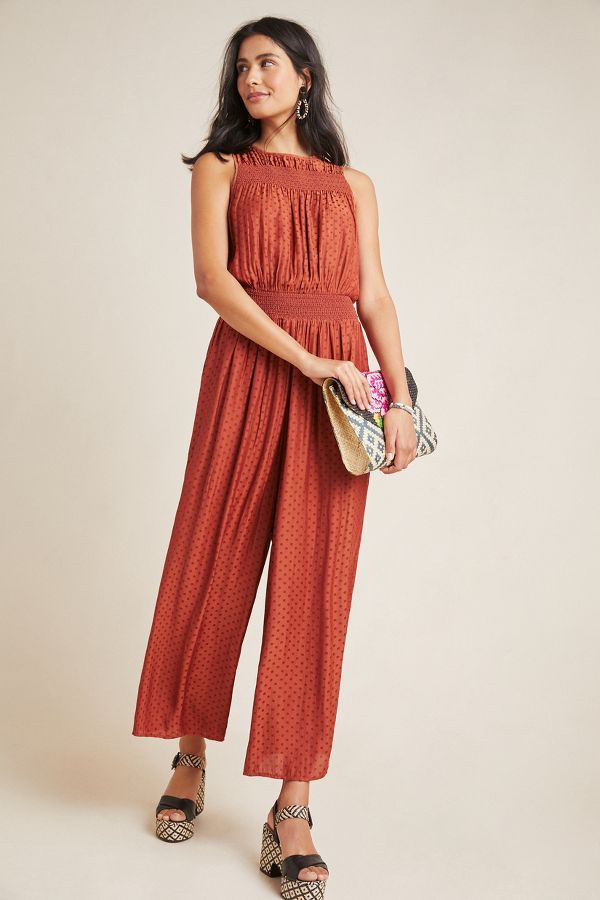 Anthro has this great self dot Potter Jumpsuit that I think is perfect for a casual spring occasion, it's something you can dress up or down with your accessories. One of my go to's is my pleated chiffon black skirt from Wilfred at Aritzia
it is so easy to dress up or down by putting a dressy or casual top with, when I don't know what to wear I grab this.
My oldest son is graduating from University this May and he goes to school in the Southern US so it will be hot and muggy.  These are the types of things I am taking to wear for the grad ceremonies (yes there are 2 ceremonies).  I am taking a basic shift dress from Tart
( sorry for the blurry image, it didn't blow up well) with lattice hem and back for one of the ceremonies that I will wear with flat sandals and then either this drop waist knit dress from BR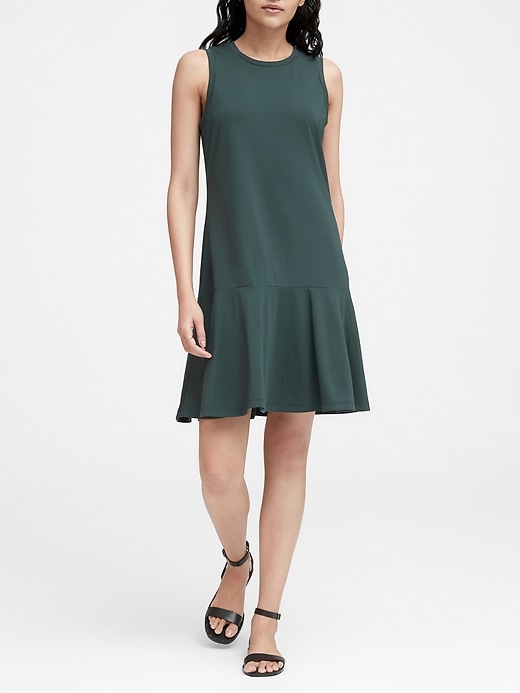 or if it's really hot and humid I could wear a dress from BR last spring that is very similar to this springs eyelet lace drop waist dress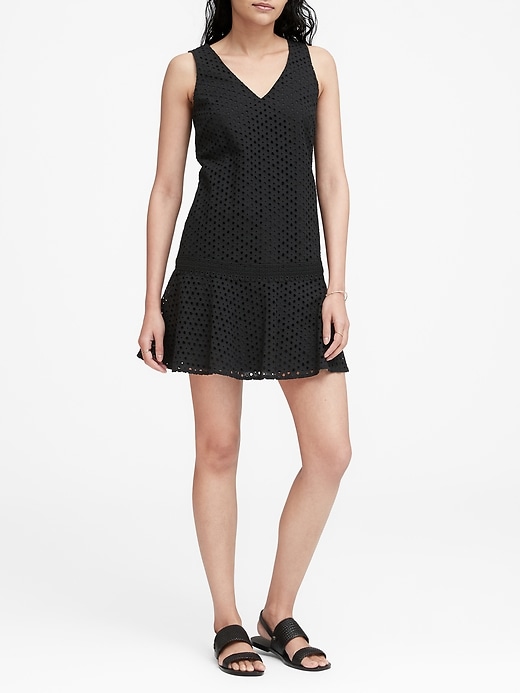 except my dress is fit and flare. Now both these dresses look short, but they are actually 36 inches long so on someone who is 5'4 or 5'5 they graze the knee.  A lot of university graduations are less dressy than high school ones.  Choose dresses if you are travelling that you can dress up or down depending on your needs, plus it's easier to accessorize basic colors like black or white if you have limited space in your luggage.
Other occasions like high school reunions and birthday parties you can pretty much wear what looks best on you without having to worry about a dress code. So try a wide leg pant and top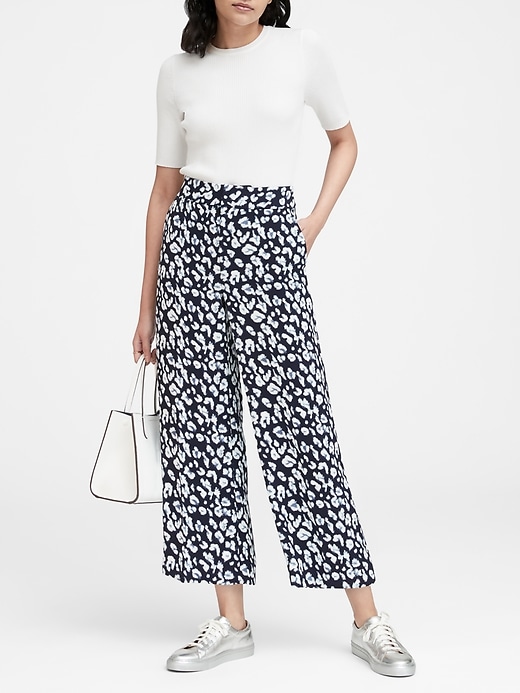 from BR. Try their leopard print navy wide leg pant with a simple top and instead of runners try flat sparkly sandals. Or try a great stripe or solid midi dress from BR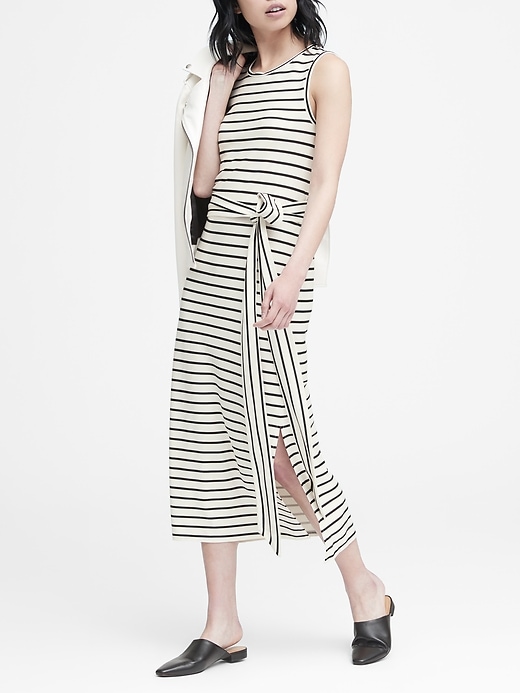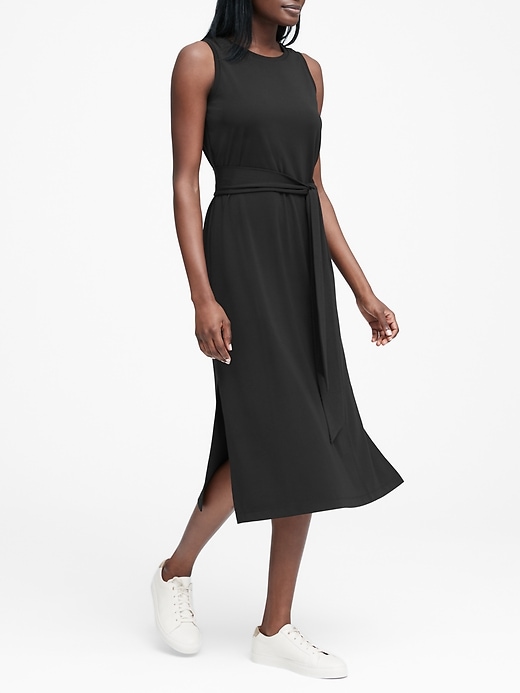 . Both of these can be dressed up or down with shoes and accessories and can take you from a high school reunion to a party to just dinner out with your friends.  Wear the runners with it during the day or to a BBQ and change up the shoe to a sandal or wedge for a casual night out.  Last outfit idea for a casual event is this great Tate sundress from Anthro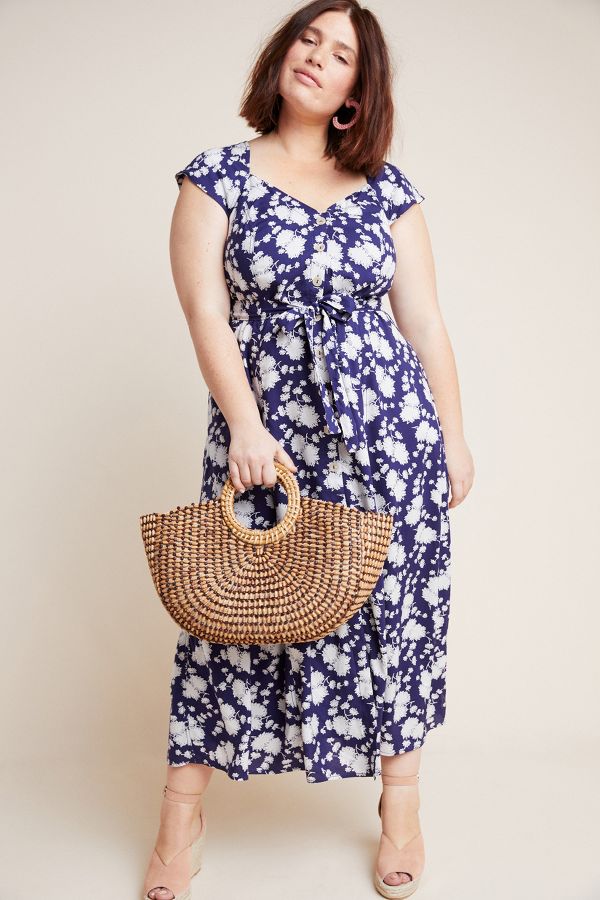 it comes in regular, petite and plus and 2 print colors and solid red, it has a bit of lattice on the back to keep you cooler too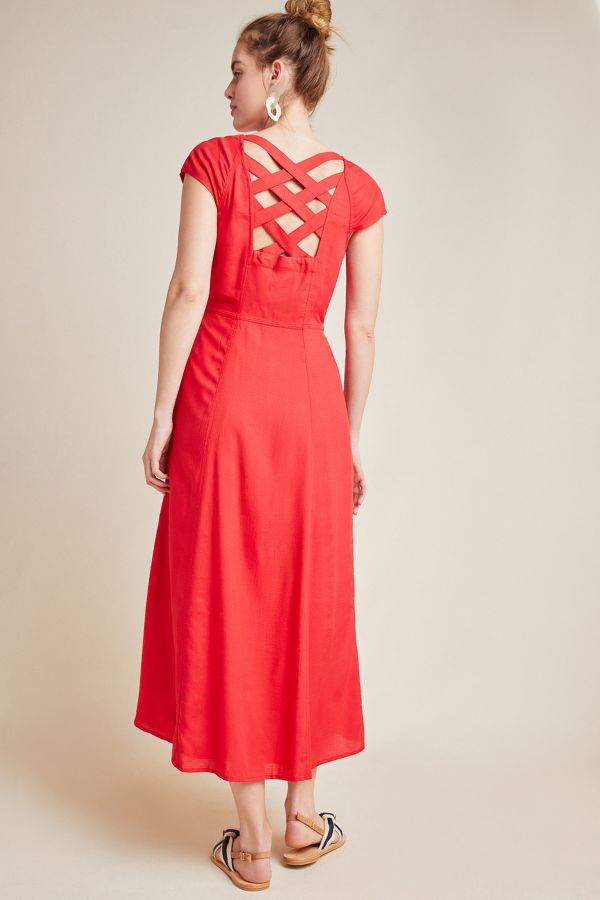 . I love this dress, you can wear it everywhere and here is a great styling idea
wear it open with cropped slim jeans for an additional look!
So there you have your spring occasion dressing.  Go online and look at the accessories and shoes that are worn with different outfits for different occasions.  If you are going to a dressy desination wedding you don't want to wear stilleto heels on grass, so choose dressy flats or wedges instead.  And think about how much time you will be standing at a grad or party, there are lots of lower heels great options that don't take away anything from the dressiness of your outfit.
This is the last blog until June.  If you have questions about an occasion you have been invited to just email me at Suethefashionista@gmail.com and I will do my best to answer as quickly as possible. If you have an event this spring or summer enjoy it and if you are a mother have a very happy mother's day.
Until next time…