I wasn't going to make this a separate blog when I was doing my research about spring but because there really is no color off-limits this spring I thought I would add one blog about color.
As women get older they tend to shy away from bright colors. In the Sweet and Girlie trend we talked all about the beautiful muted pastels that Spring has to offer and in the New Neutrals we spoke about old and new neutral colors.  But we have only scratched the surface of the true color story of Spring.
Let's start with what we can take from last Spring like yellow.  Yellow has become a very mainstream color for Spring, we see it everywhere from designer to department store and shoes and bags. If you have something bright yellow then for sure keep wearing it.  If not, why not try something like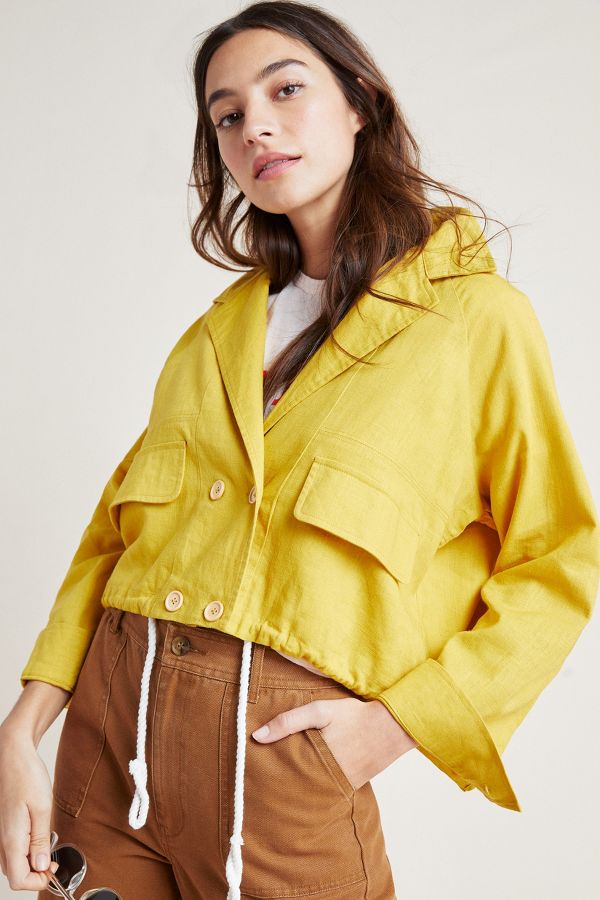 this Lucille Cropped Anorak from Anthropologie.  A cropped Anorak will look fabulous with all your wide let cropped pants and maxi skirts, it will give you the right proportion and since rises are higher this spring, it will just sit beautifully on your waistline.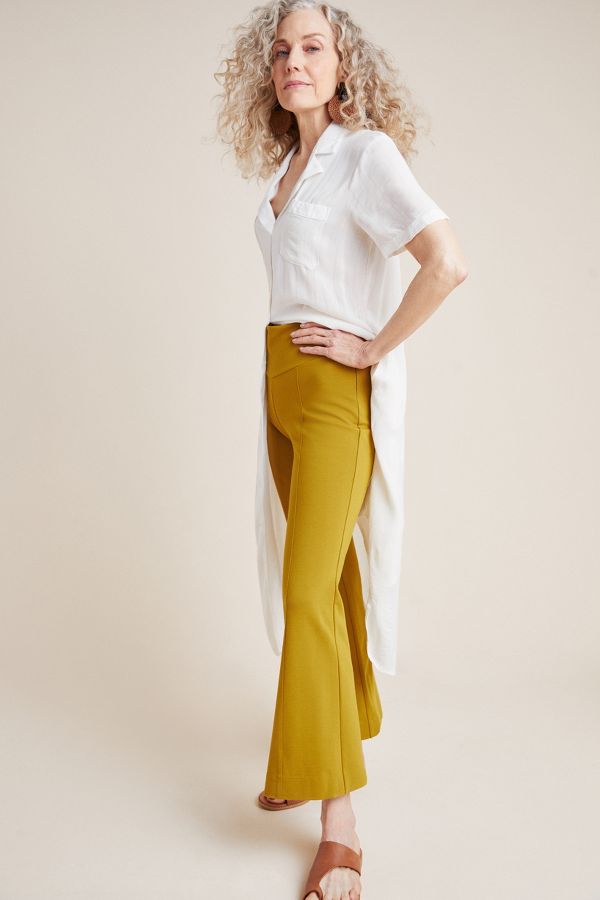 If you tend to be adventurous in what you wear and would prefer a darker bright yellow maybe try these Ponte Flair Pants, also from Anthro. And if you are like me and there is nothing adventurous about you try a simple tank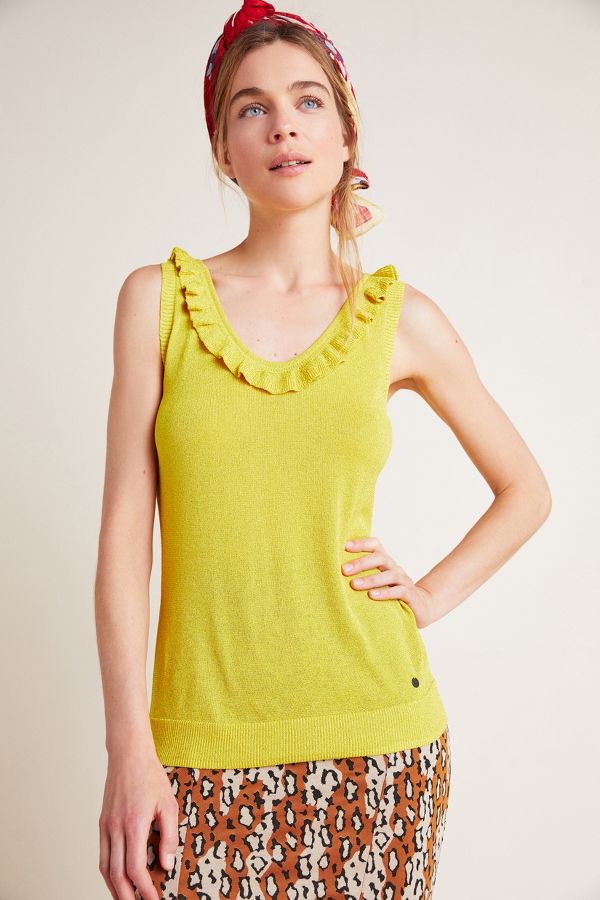 with a pretty detail like this Shimmer Sweater Tank also from Anthro.
You can even take yellow to work with you
J. Crew has a great sheath dress in bi-stretch cotton that would work all summer long and look great!
What other brights are we seeing for Spring.  Well I seem to be all over red this spring. I started with a great red pair of pants from Banana Republic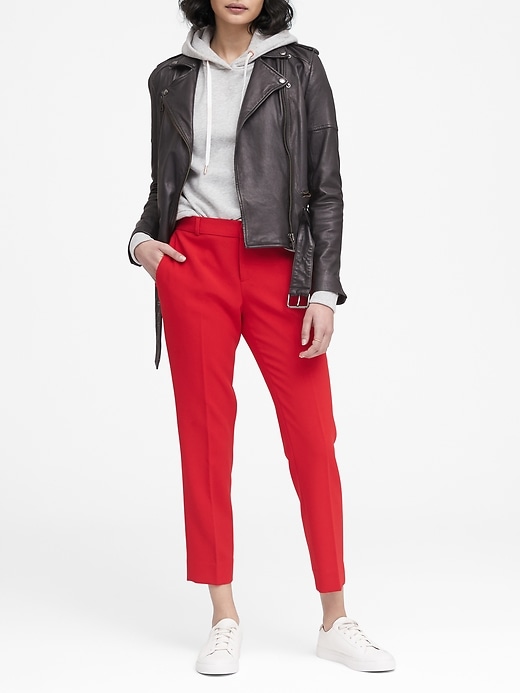 I love my Avery Straight-fit Stretch Ankle Pant, I talked about red in the New Neutrals and I use this red with everything as a neutral in my closet.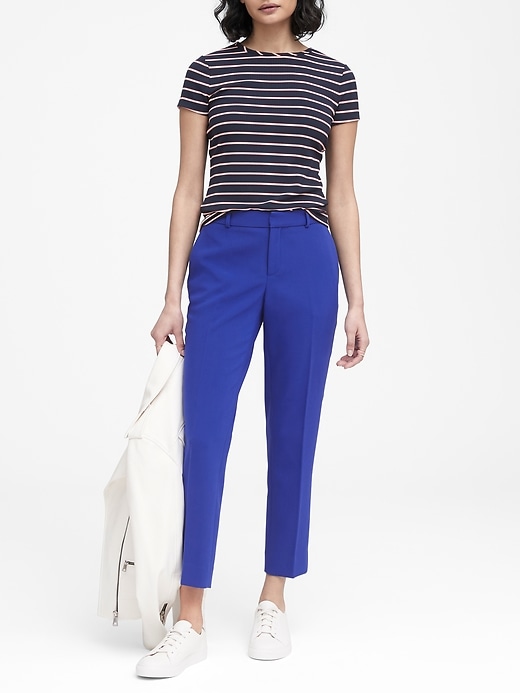 It also comes in this fab Royal Blue if you prefer.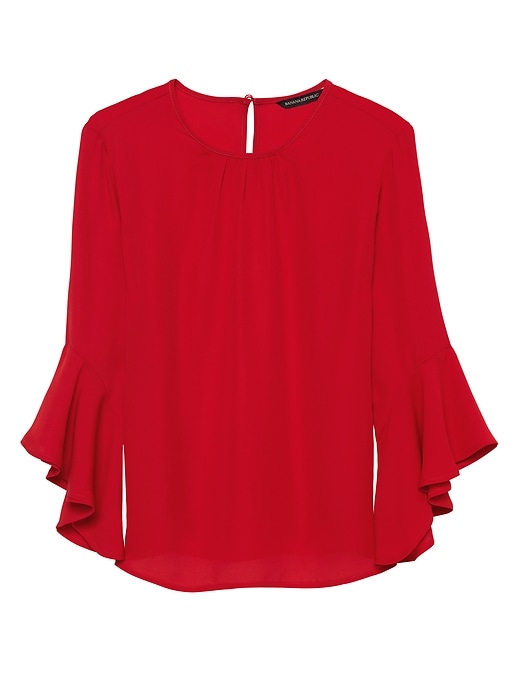 I also have from BR this cute ruffle cuff top that happens to be the exact same red, so I can do red head to toe. It's also a great top with all my jeans and looks great with black, khaki or white bottoms too. I am on the red bandwagon so much I also picked up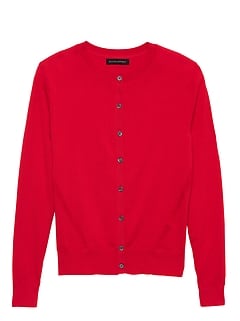 this red stretch cotton cardigan.  I like the shorter length with my wide pants and longer skirts.  If you want to do something with a shorter sleeve that you will wear through summer BR also has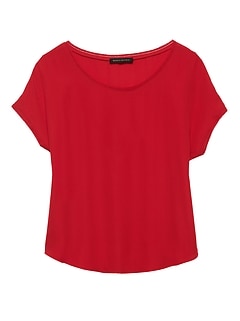 this solid Picot Trim top.  And remember one of the best things about shopping at Banana Republic is that it's almost always 40% off of your purchase.
Another color that is related to red and yellow that is trending for spring is Orange. Surprisingly a lot of people look good in Orange or a shade of orange like Coral. The first store I saw a lot of orange in was J. Crew,
I love this Midi Wrap dress in all over Eyelet.
Or do a great open from sweater, also from J. Crew because spring is not always that warm. Orange is the perfect summer color to go with everything denim. They work so well together. And if you want to wear Orange to the office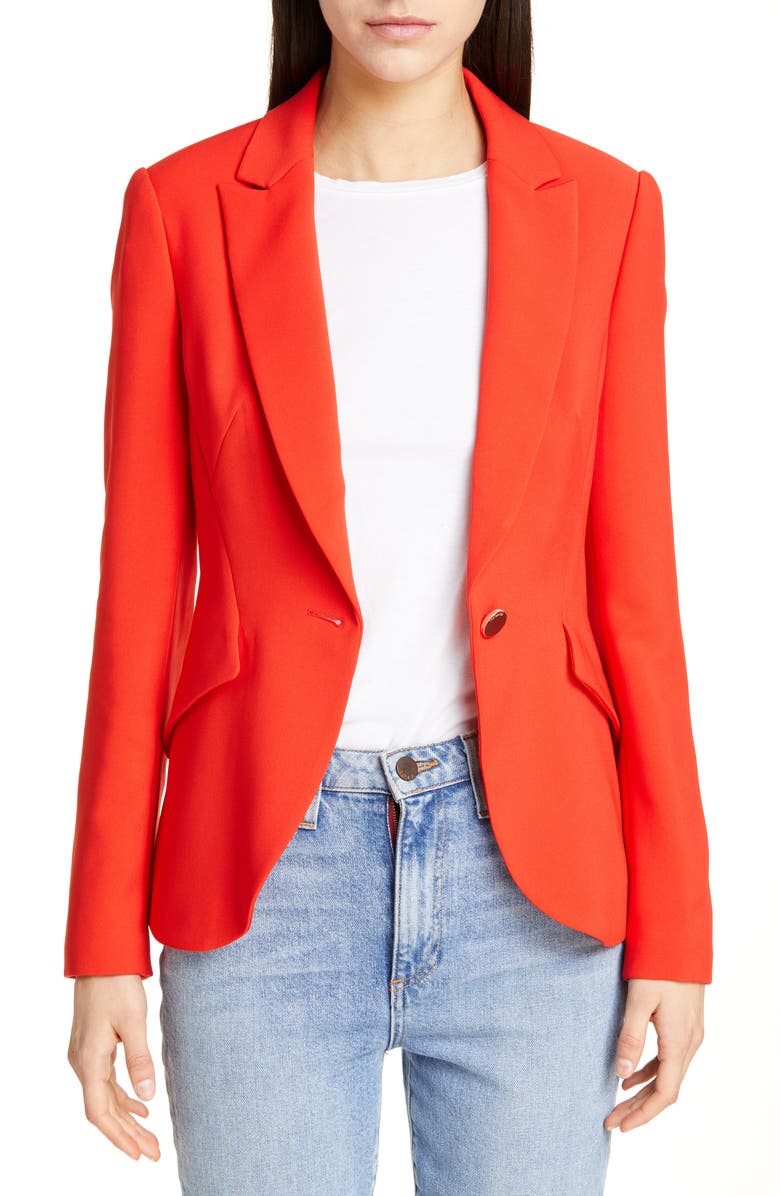 try this Ted Baker London Anita Angular Jacket.  It will liven up every board room you step into. Or what about adding one easy piece like this Tiered Raincoat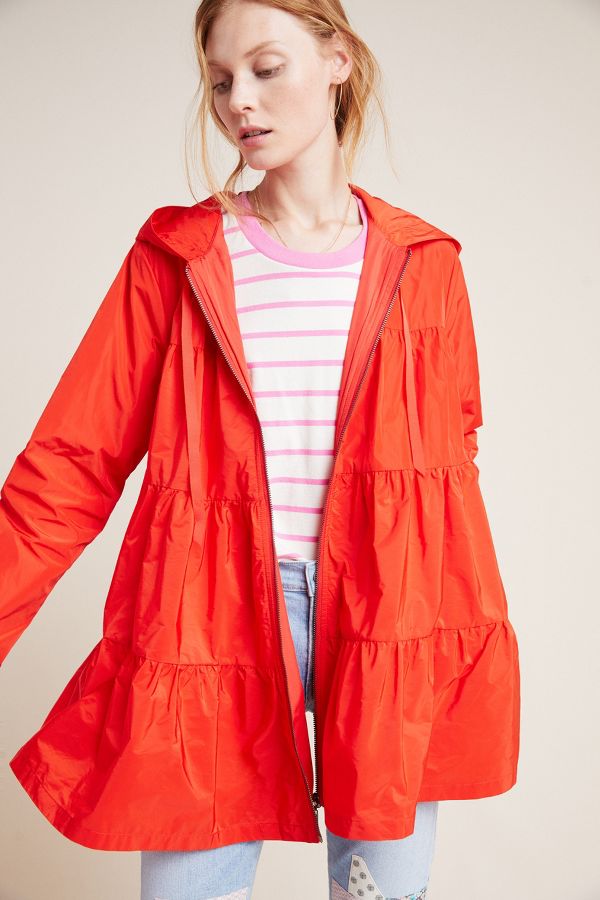 from Anthro.  I guarantee everyone will be jealous when they see you in something like this.
Pink is everywhere for Spring.  It is in all the girlie pastel pieces we talked about a few weeks ago, but it can also be vivid.  Fuchsia and Begonia are not subtle at all and like orange most women can also wear pink. The great thing about colors like Pink is that they can not only elevate your wardrobe but they can elevate your mood too!
For work try a great Fuchsia top that will work with any pant,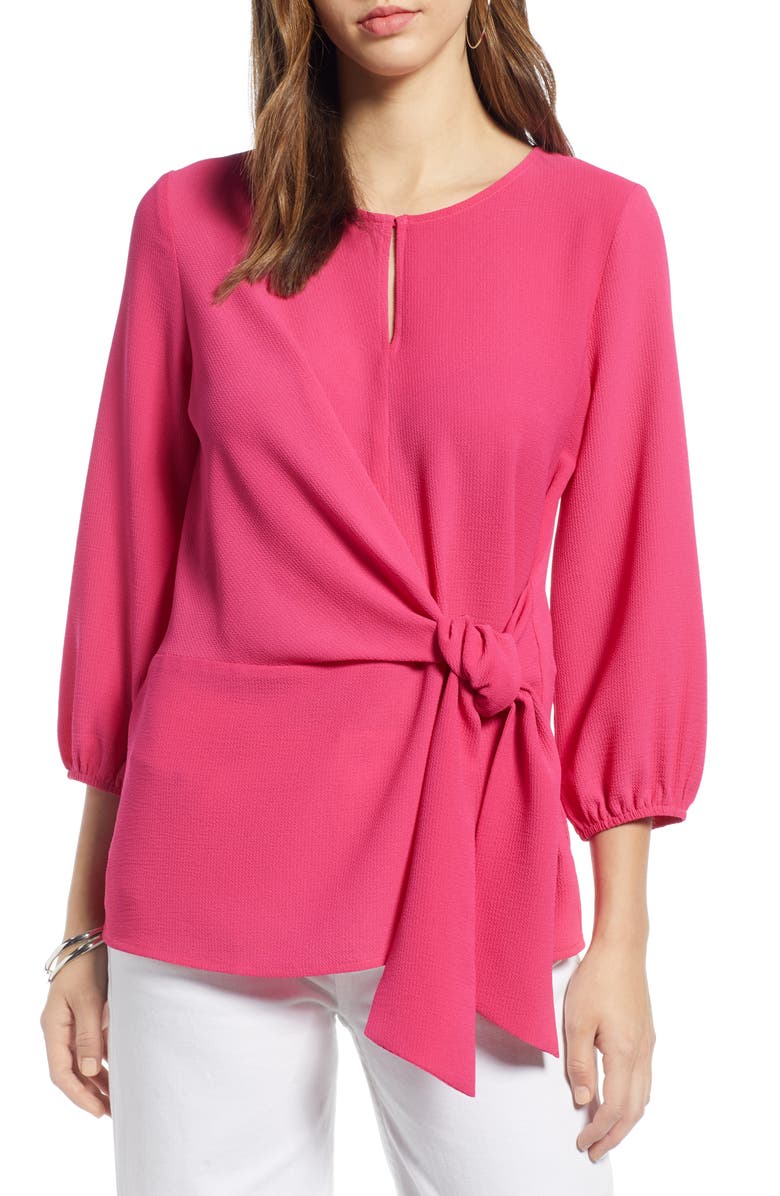 the Halogen Tie Front Top from Nordstrom can take you to work, play and out for an evening.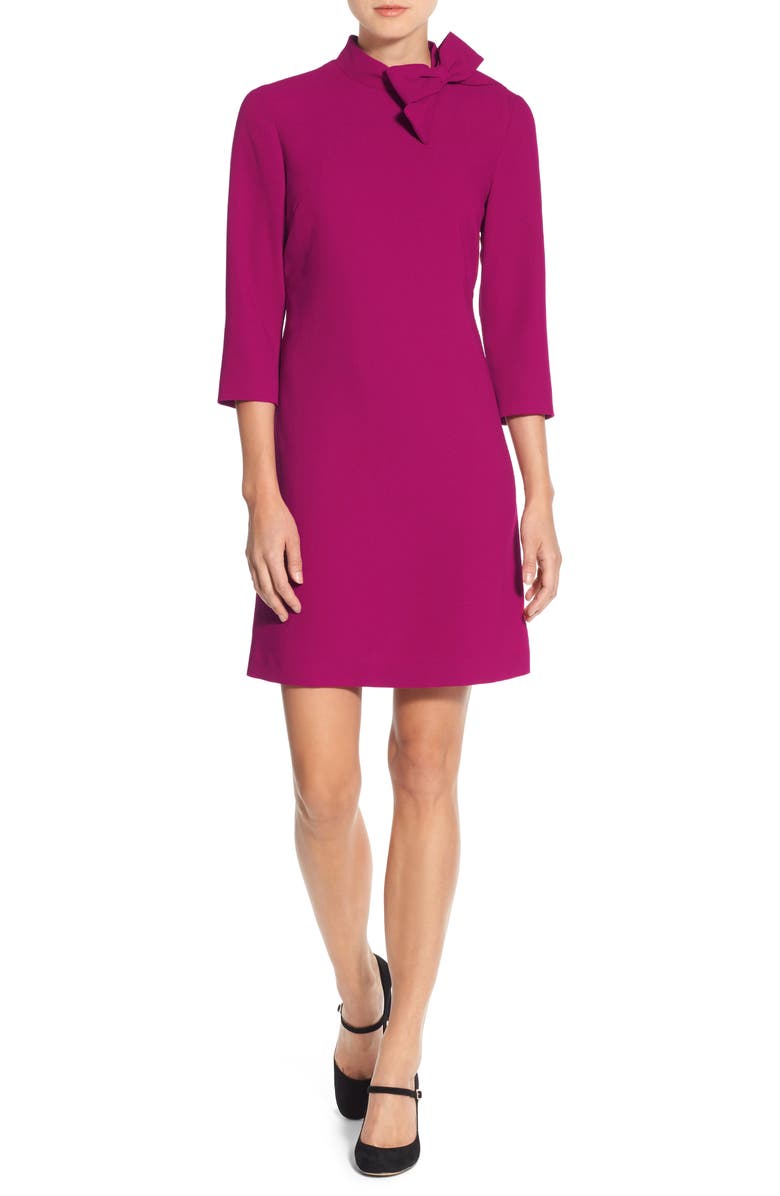 Or take your office or dinner party by storm with this Eliza J. Bow Neck Crepe Shift dress. You could even do a great pair of pink pants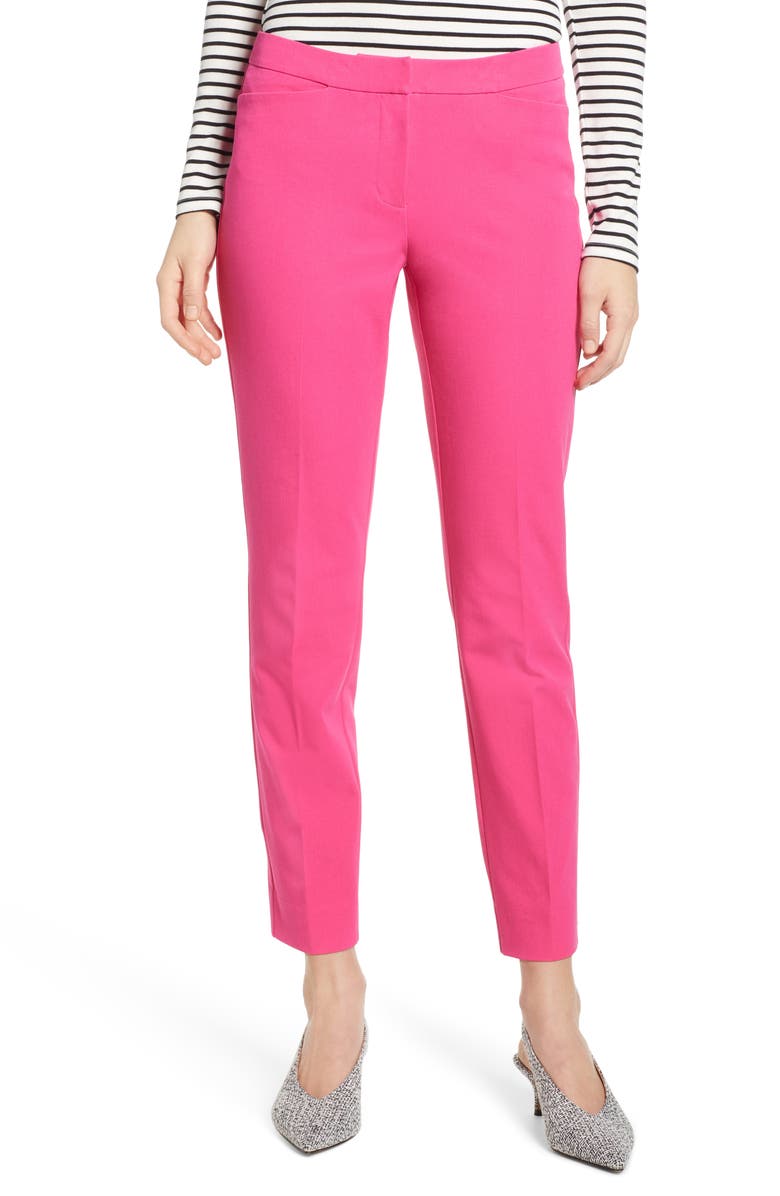 like this pair from Halogen at Nordstrom, bright pink goes with black as well as soft pink and it also looks great with white. Or how about a casual statement dress?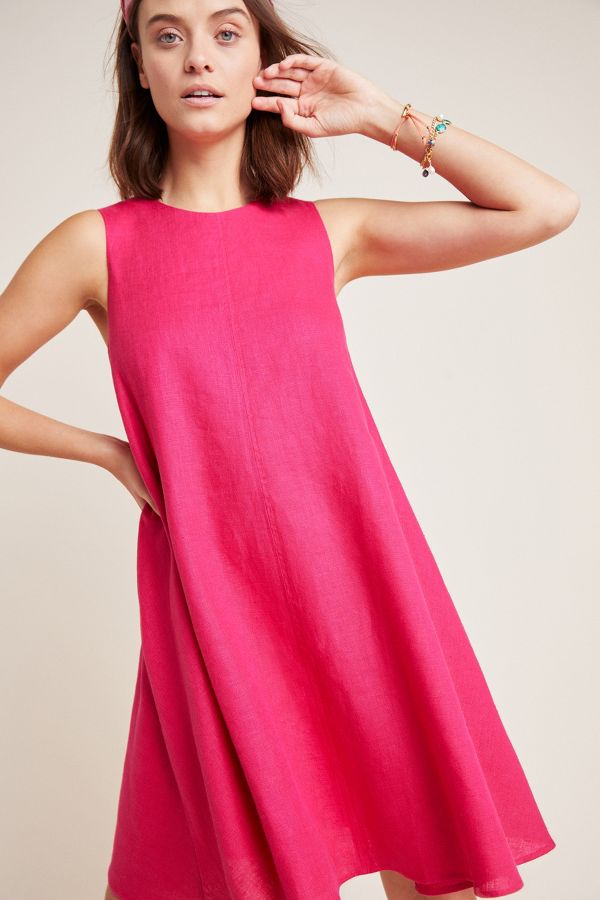 This Melbourne Swing dress is waiting for you at Anthropologie.com and it's on sale!
Don't be afraid to color wheel your tailored pieces like the blazer and pant above for work.  Sometimes mixing it up with new colors for your work wardrobe is a great thing. And for casual have fun with color, if you are very conservative and don't want to step into brightly colored clothes try a bright shoe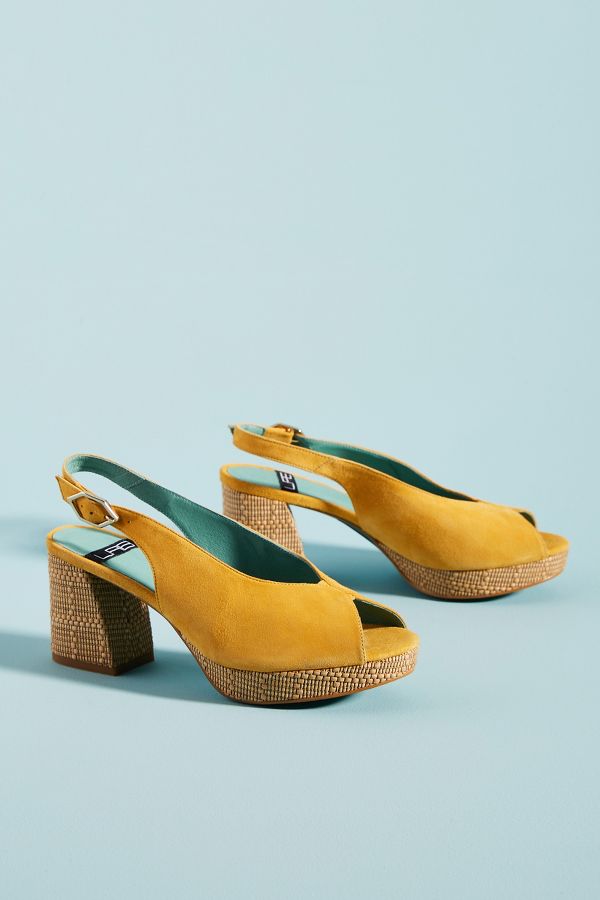 like these LAB Rafia Slingbacks in Yellow from Anthro.  Or pick a bright shade for your spring and summer handbag, there are lots to choose from.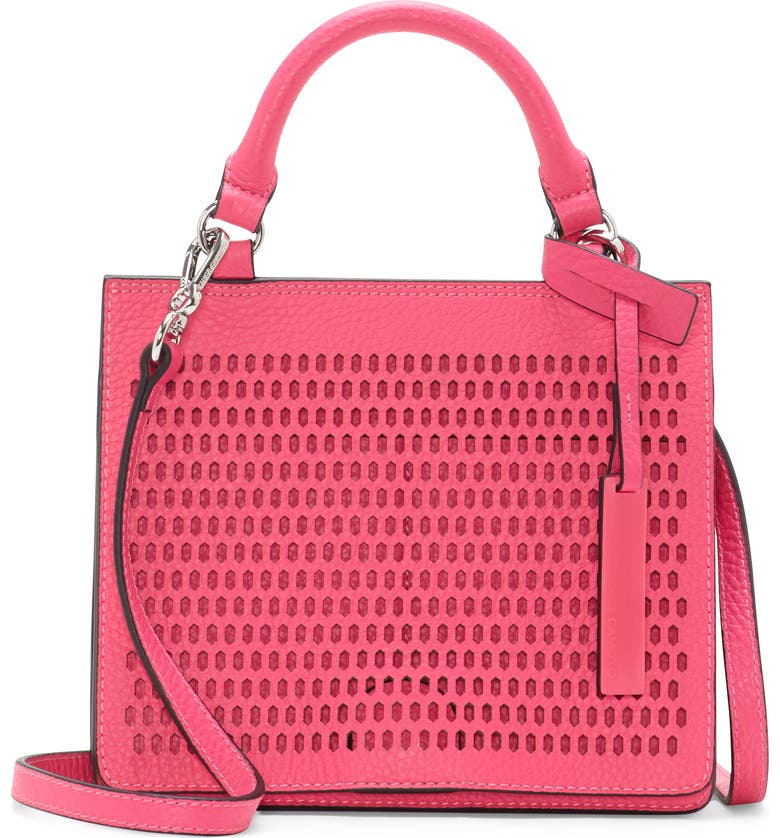 A bag like this Small Leif Leather Handbag from Vince Camuto at Nordstrom could be exactly the lift your black or beige suit needs.
Experiment with colors this spring, I am having a great time introducing bright red into my wardrobe.  Start with something easy like a top or sweater and go from there.
So this takes us to the end of our spring trends blogs.  I hope you learned how to put your new spring wardrobe together and if you don't love every trend I hope you found one that could work for you.  I probably won't ever wear anything Sweet or Girlie, but my wardrobe is full of the New Neutrals.
Next week I will be posting my annual Spring occasions blog, there are lots of weddings, graduations and other events coming up in May and June so I am posting it a bit earlier to help you get prepared.  Remember there are no other blogs in May but I will be back in June to talk about summer and all that it brings style wise. I might even get brave and do a swimsuit blog, but no promises.
Until next time…