Every one of my friends has a little Boho in them, even me, with my tailored wardrobe, craves a little Boho styling now and then.  Every time you put on a maxi dress with runners or flat sandals that is a little Boho coming out.
For Spring 2019 our Modern Bohemian trend is encompassing actually two trends together, one trend is Beach Chic and the other is Hippy Modernism.  In this trend for spring you will find prints, stripes, lots of fringing and detailing on accessories like straw bags etc.  You can wear this new Bohemian look or you can choose one piece to accent your wardrobe and just live the Boho vibe using accessories to make the look work for you.  We are going to look at all of it! (this maybe a longer blog, so hold on)
Where do we start, almost every woman I know who has a true Bohemian wardrobe, aside from tons of yoga wear, has a great pair of jeans.  These jeans can be the base of any Boho look.  So because we talk a lot about jeans and everyone has skinny and straight already in their closet, if you want a more Boho pair try a wide leg and perhaps a cropped wide leg.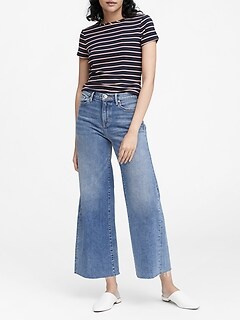 Banana Republic has a great pair of high-rise wide leg cropped jeans.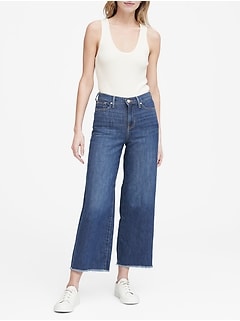 They also have a pair in a bit of a darker wash if you prefer.  Both have a natural hem and both are the perfect Boho style to try in your wardrobe. I am not going to go into too much detail about the wide leg trend.  But keep in mind, this new trend is wide right from the top of the thigh to the bottom, get rid of the old jeans were the thighs are skinny but the bottoms flared, those are definitely not in style and don't wear them instead of the new wide leg.
The other clothing item you want on the bottom is a great maxi skirt, or two, or three!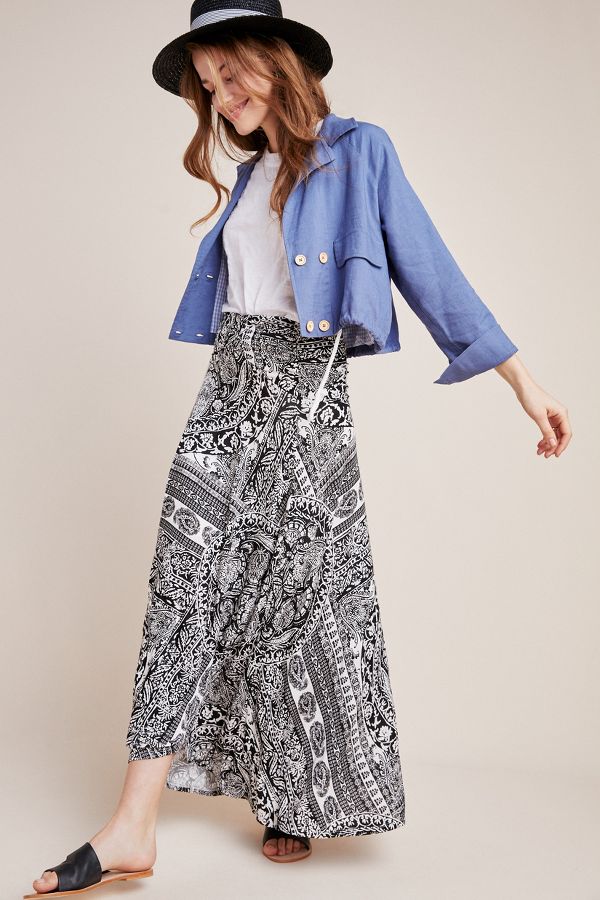 Nothing could be more Boho than this Issa Maxi Skirt from Anthropologie.  Wear it with a cropped jacket, a t-shirt and runners or just a tank when it's warm. 
Wrapped skirts and dresses are very important for spring as well (I just made to many of them in sewing class in high school to ever wear them again!) Try a denim one by Citizens of Humanity at Anthro if you think this is how you will wear a modern boho look.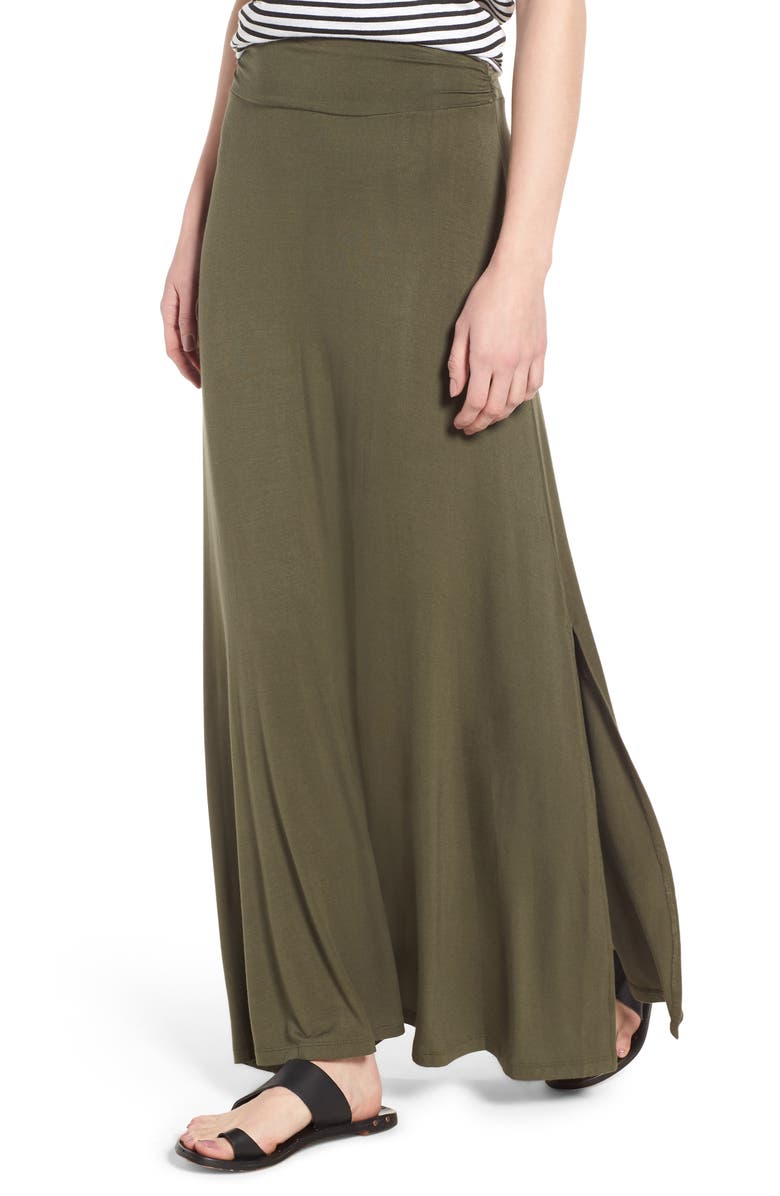 And don't forget about the knit midi skirt, this one is Bobeau at Nordstrom, I actually have this one in black and I wear it a lot during the summer. In Olive (shown) or black it's a great addition to a blooming Boho wardrobe.
Dresses are also a huge part of the Boho trend.  When I go on Anthropologie.com almost every dress will work if you are looking for a Boho feel.  When looking for a Boho dress, try to let the dress have a great flow, it shouldn't in any way be body conscious. Look for layers and tiers, look for bold prints or patterns and look for details like fringing or belting. Think of the hippy look from the mid 1970's just with a more modern vibe.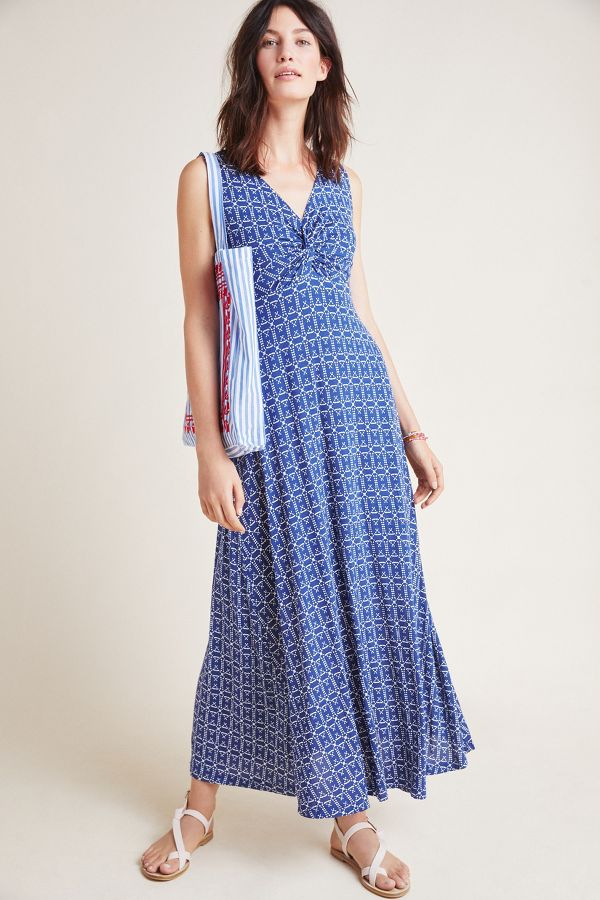 You could be on the subtle side with Camilla Maxi Dress from Anthro in the Blue motif or go all out
in the same dress in the Black motif. Both prints are sides of the Boho trend.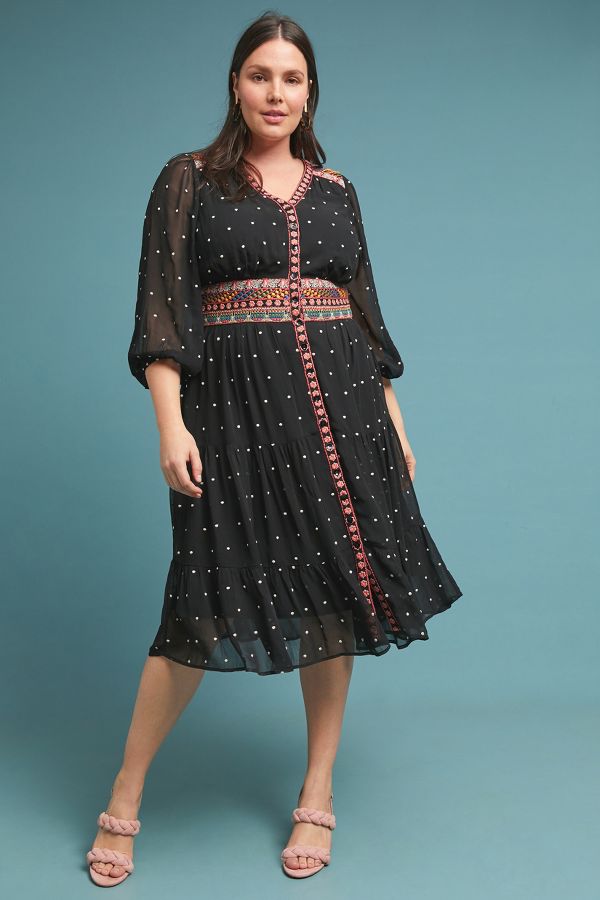 Anthro even has a dress called La Boheme Dress, it comes in petite, reg and plus because we are all our own unique shape. Notice the embroidered waist with the dot fabric, so Boho combining the 2 trends.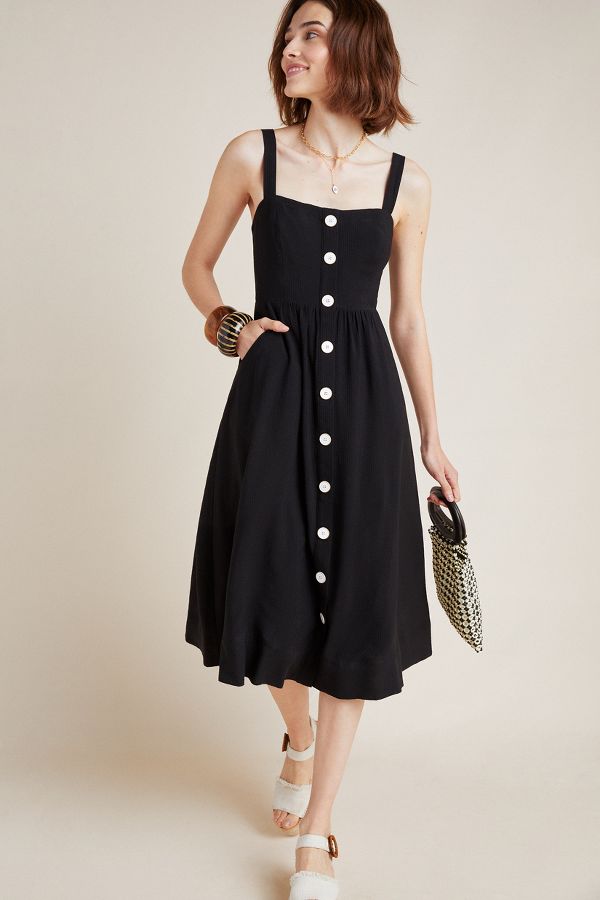 Or try doing something with a classic midi dress that you may already have in your closet like this Rosemary Midi dress from Anthro. Make it super Boho by wearing a white t-shirt under it!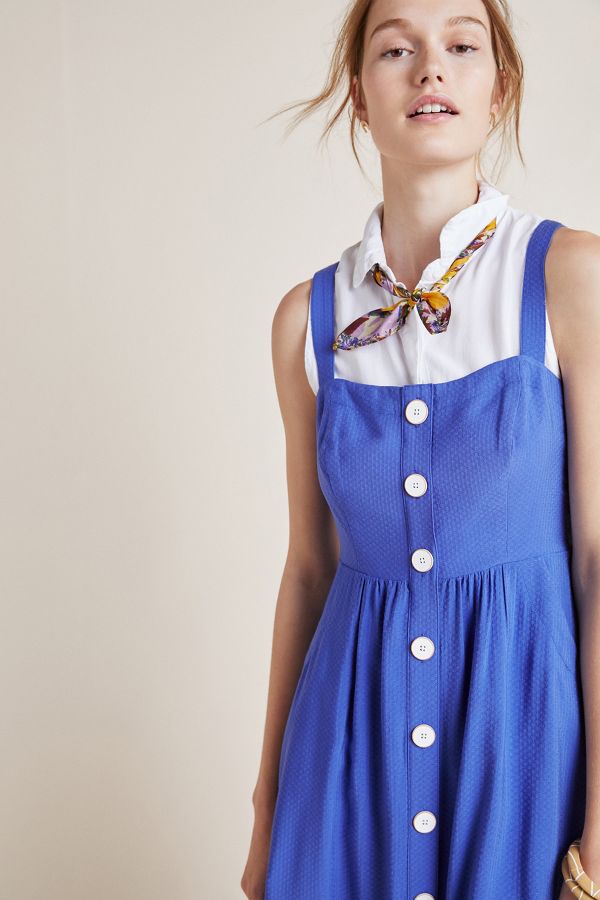 They show this idea in the blue color and add Boho accessories too!
Boho Tops and Jackets are almost everywhere you look this spring. Of course your denim jacket works over everything boho.  But this season maybe try something a little different from your basic denim.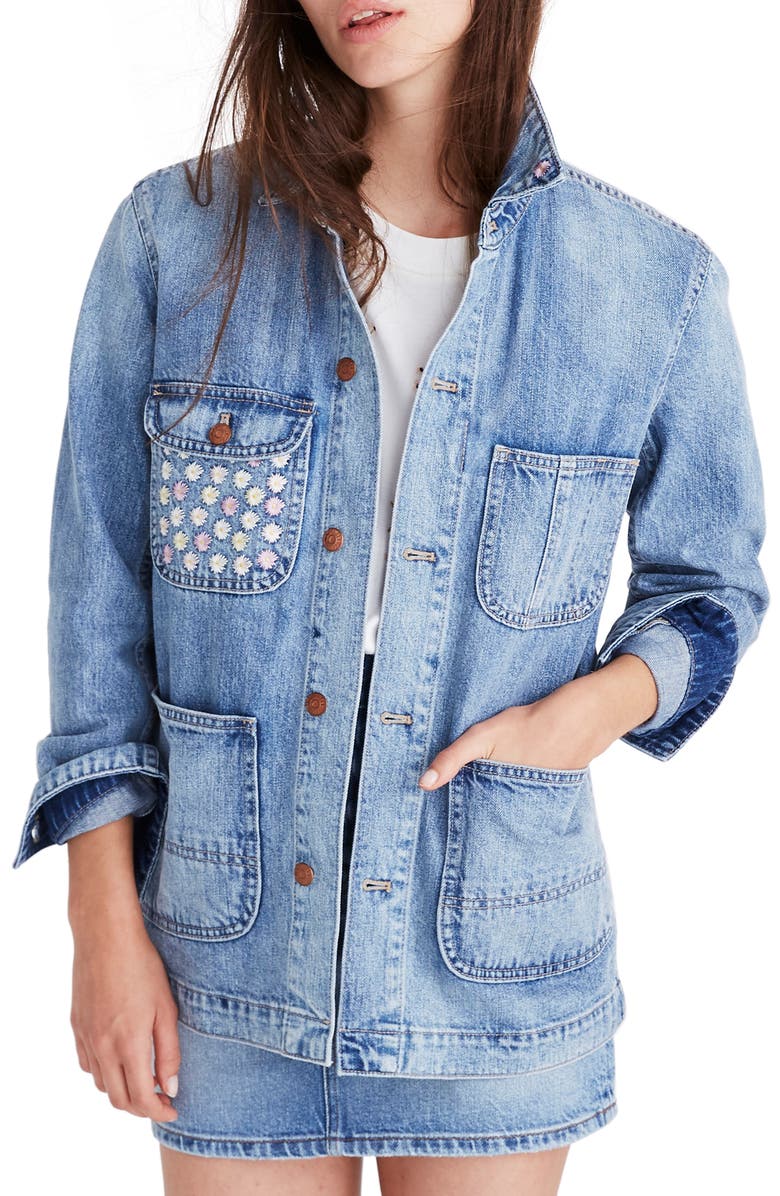 Madewell at Nordstrom has some longer denim styles that will look great with wide leg cropped pants or over maxi dresses (just lose the mini skirt). This is the Madewell Chore coat.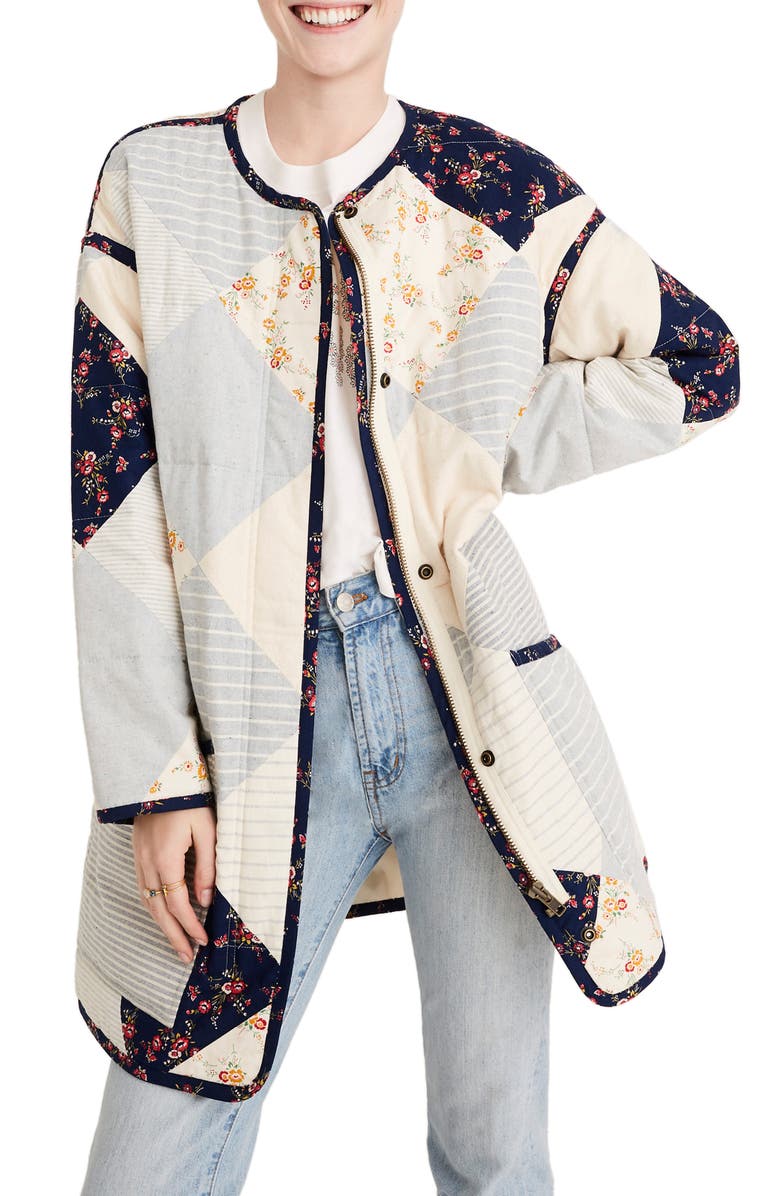 Or try Madewell the New Denim project Patchwork Cocoon coat.  It screams everything Boho and will go with all your Boho bottoms. Suede and leather also work just think of the 70's hippy trend and use fringe to be your guide.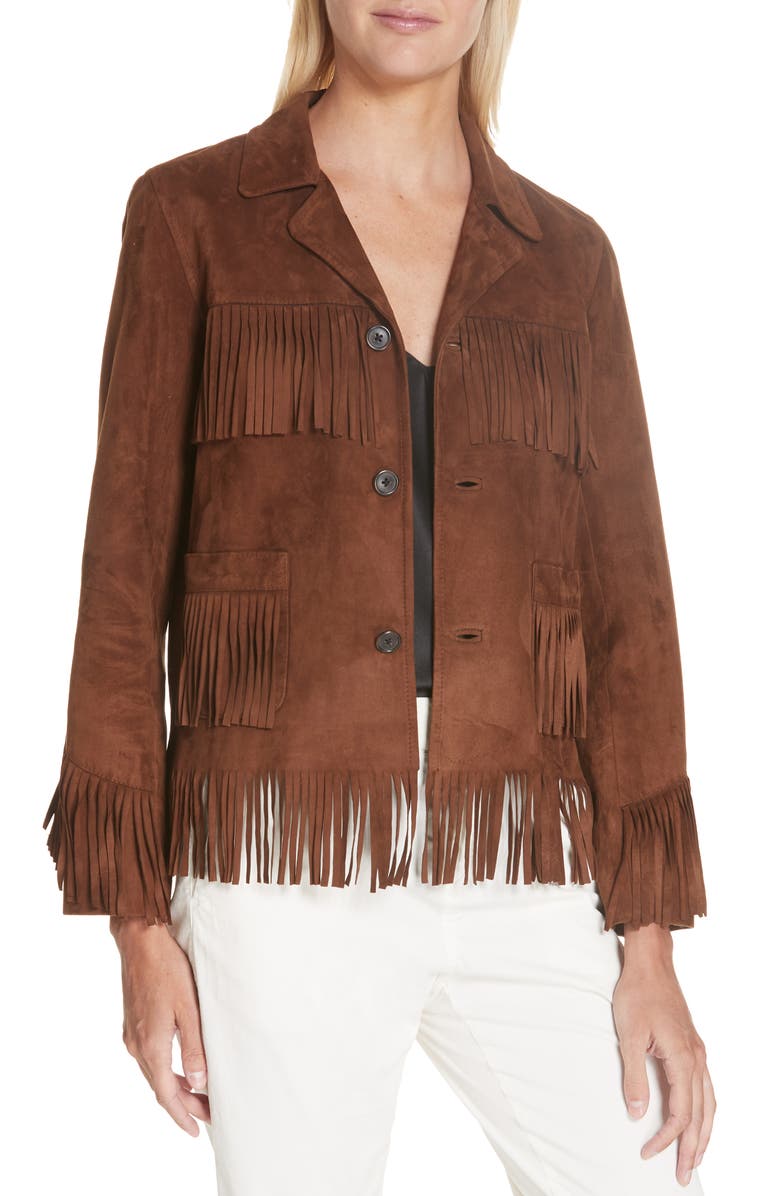 This is the Nili Lotan Suede Fringe jacket at Nordstrom, if you have a fringe jacket in your wardrobe now is the time to wear it. Or try a great Kimono style as a jacket for spring,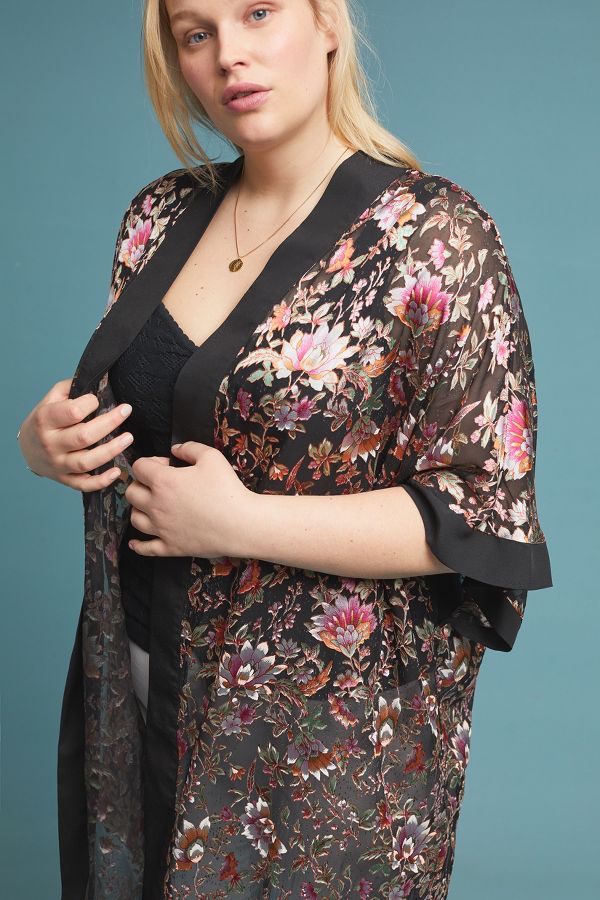 Anthro has lots to choose from. This one is the Marquess Kimono.  Or try a store like the Latest Scoop in Vancouver or Toronto, they always have great kimonos for spring.
Tops can be almost anything and everything in our Modern Boho trend. Tie-Dye tops are making a come back and if you feel like wearing then again, then this is the place!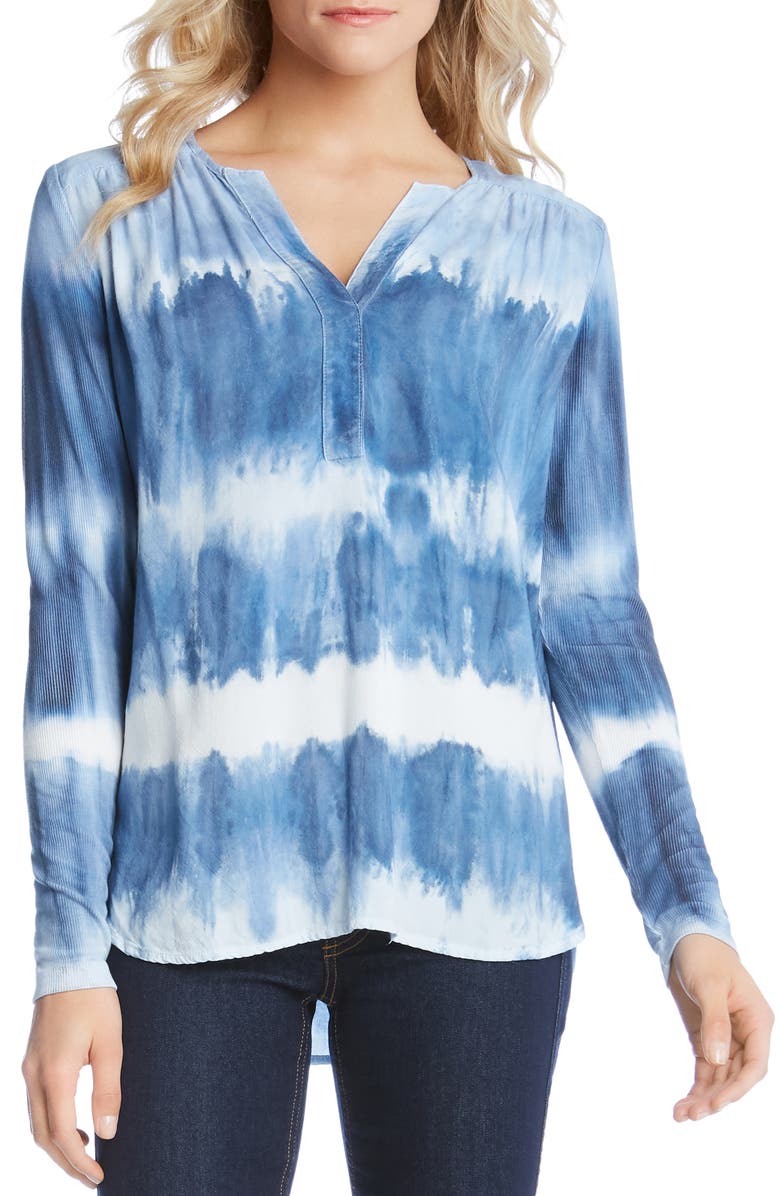 Maybe try something like this Karen Kane Split neck top from Nordstrom.  But really there are so many other great tops, leave the tie-dye for people who haven't worn in already in the 1970's.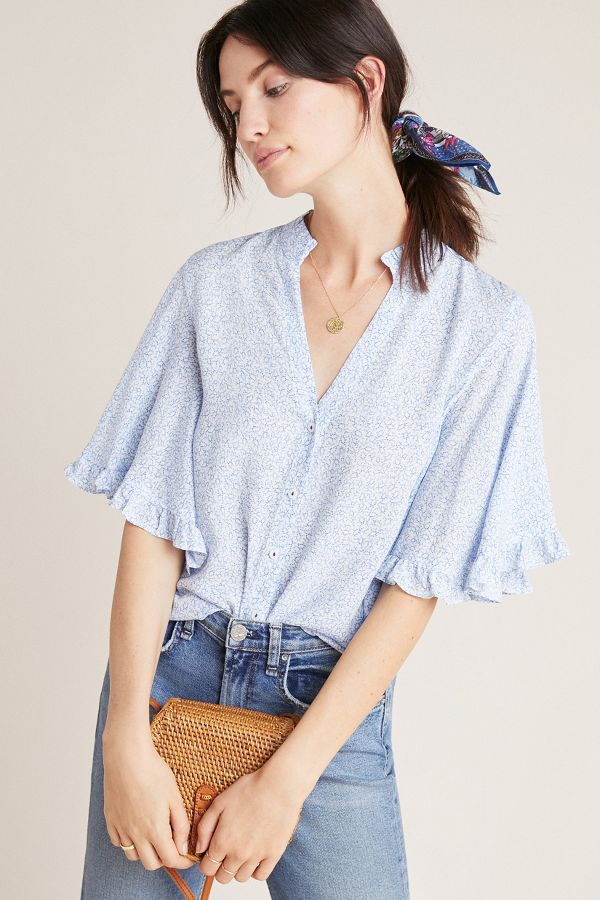 You could try a great button down top with ruffled flutter sleeves like this one from Anthro, this would look great tucked into high-waist wide leg jeans. Or wear any print peasant top you find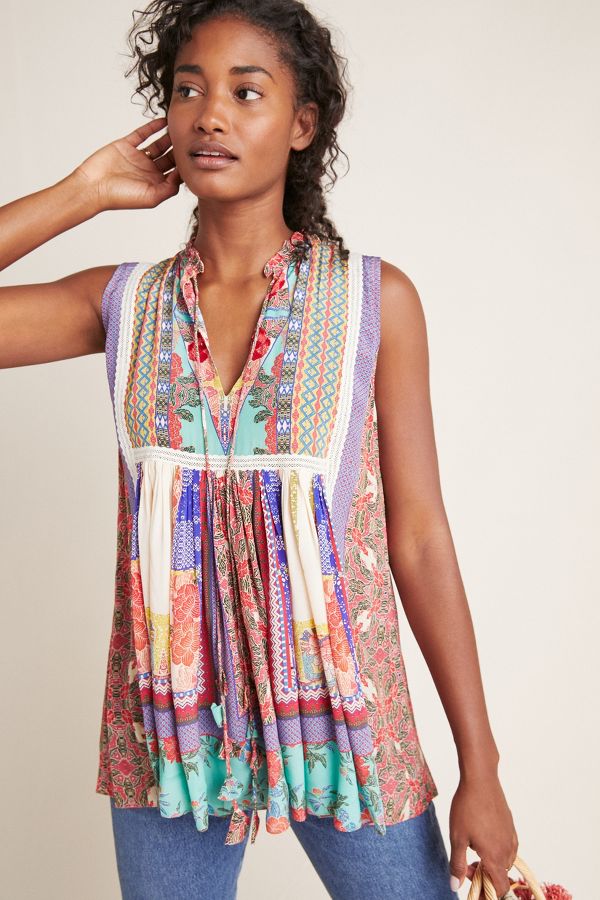 and when the weather gets warmer wear this Sleeve-less peasant top from Anthro. It has a lot going on with the print and details and that plays right into this trend.
A sleeveless Tunic top would work too with this trend. Wear it with your wide leg bottoms or put a t-shirt underneath to give a true Boho feel, this is the Desmond Tunic top from Anthro and it comes in 4 colors!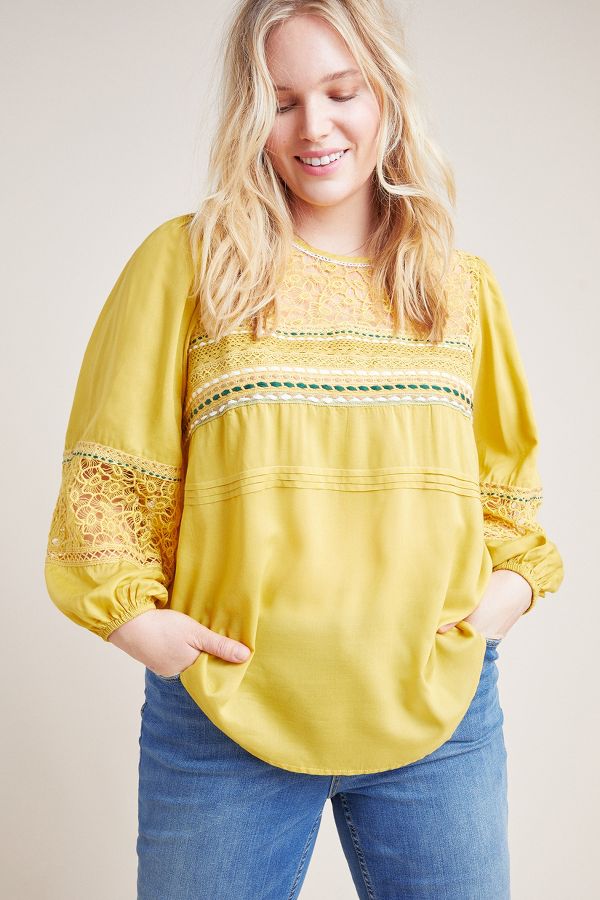 Or how about a true Peasant top from Anthro. The Sunshine Peasant top comes in 3 shades, yellow, white and green. This top can Boho any bottom. Or just wear a tee with your boho bottoms, just remember nothing too fitted,
try something tiered like this Kirby babydoll top from Anthro or loose with a flutter sleeve like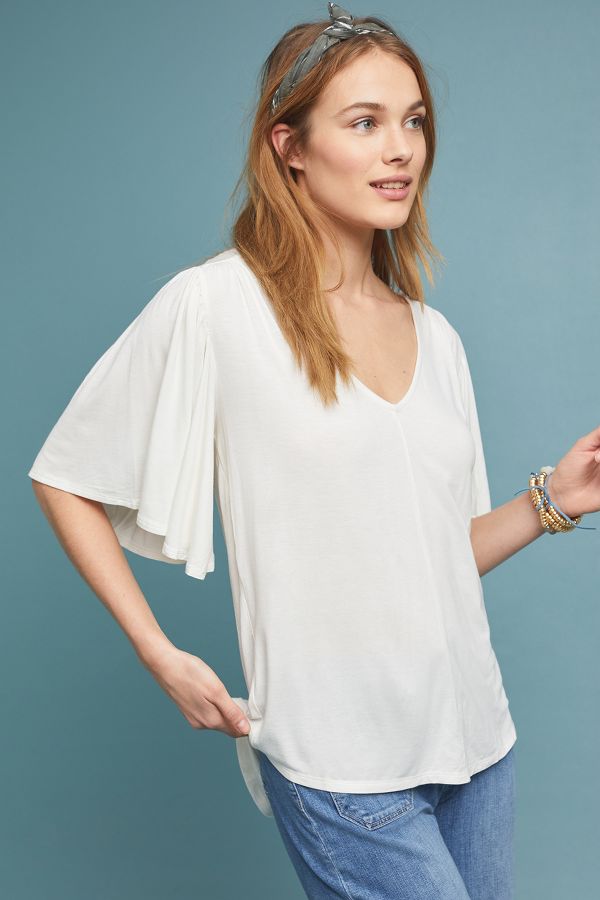 Anthro's Sidonie Top with its flutter sleeve detail.
Accessories can change almost any look into a boho one. For shoes think of sandals with a fringe or gladiator look
these cross-strap flat sandals from J. Crew would look great with maxi skirts and dresses!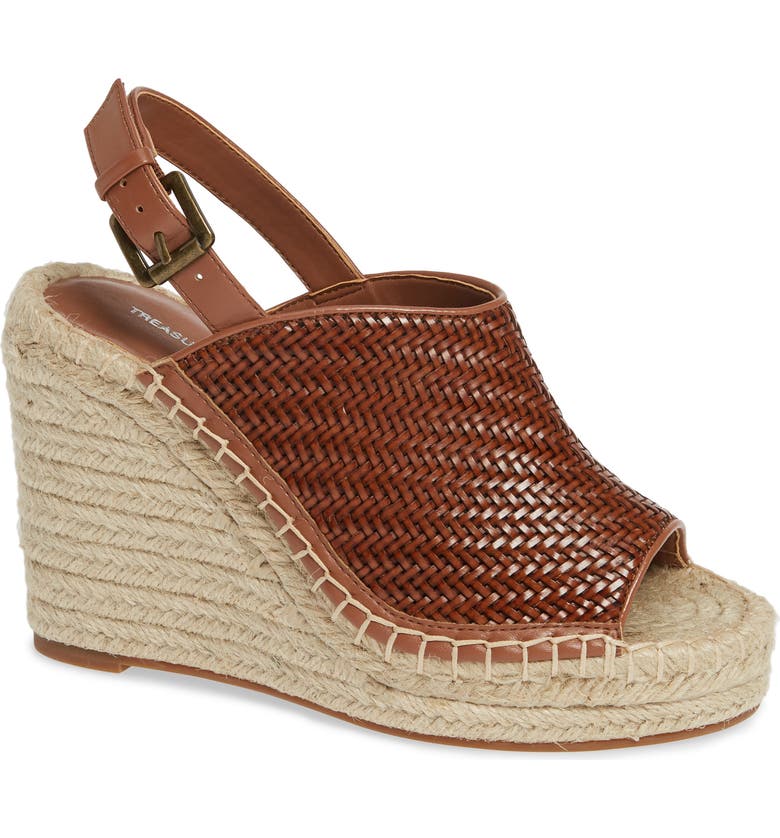 If you want a higher heel, especially with wide leg cropped pants then look for something with leather and espadrille details like this Sam Espadrille Wedge Sandals from Nordstrom.
Even a basic woven slide can work with your Boho styles like this one from Madewell at Nordstrom.
Bags are were you see detail too.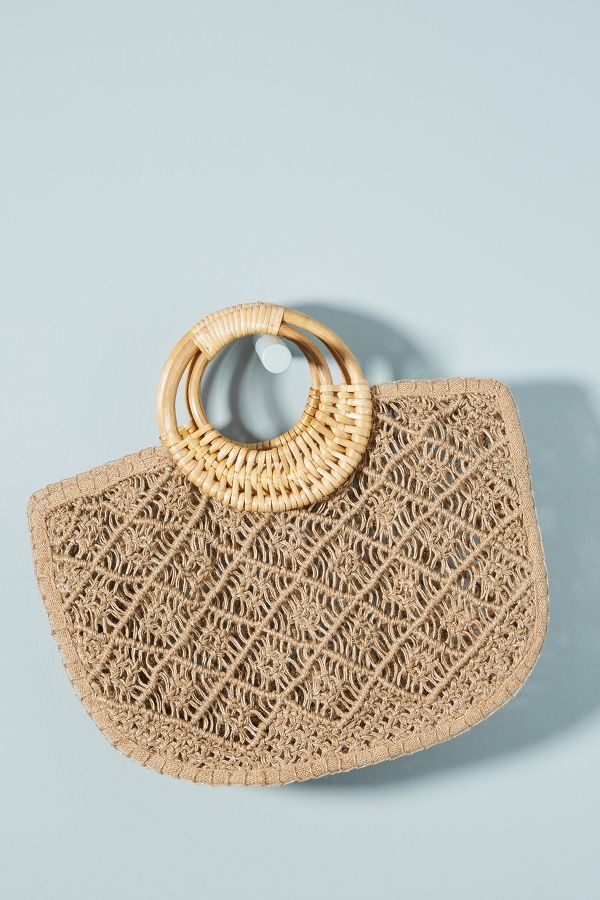 Macrame and Woven straw and fabric totes and bags are so Boho and fit with everything Boho you will wear.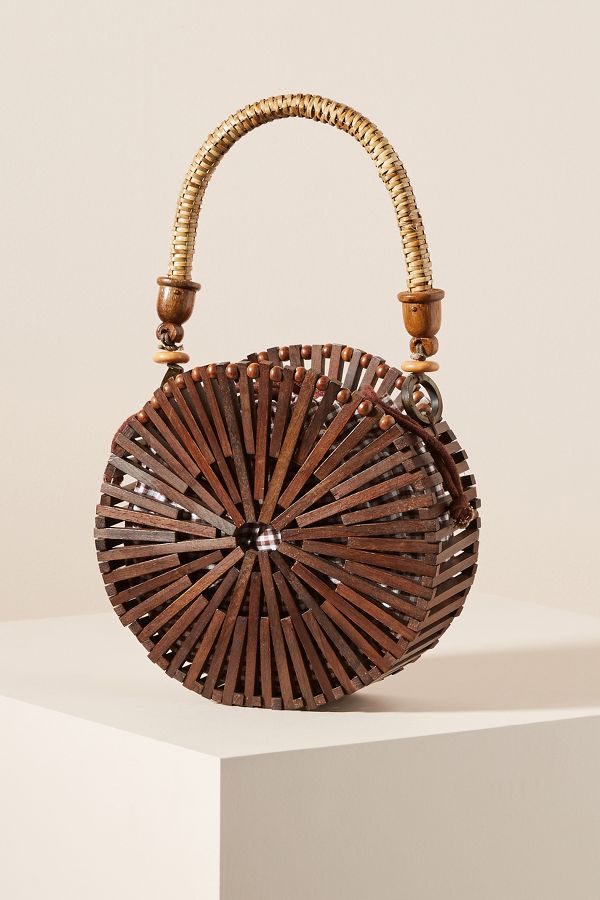 Or try a wood top handle bag.  Both these bags are at Anthropologie.  You can even wear any slouchy bag you have from the past
we all have a style like this Frye leather hobo bag, maybe not this color but it would certainly work.
Scarves, Wraps and Kimonos can play a huge roll in this trend.  Remember when I said accessories can make your look Boho, here is where you can do that.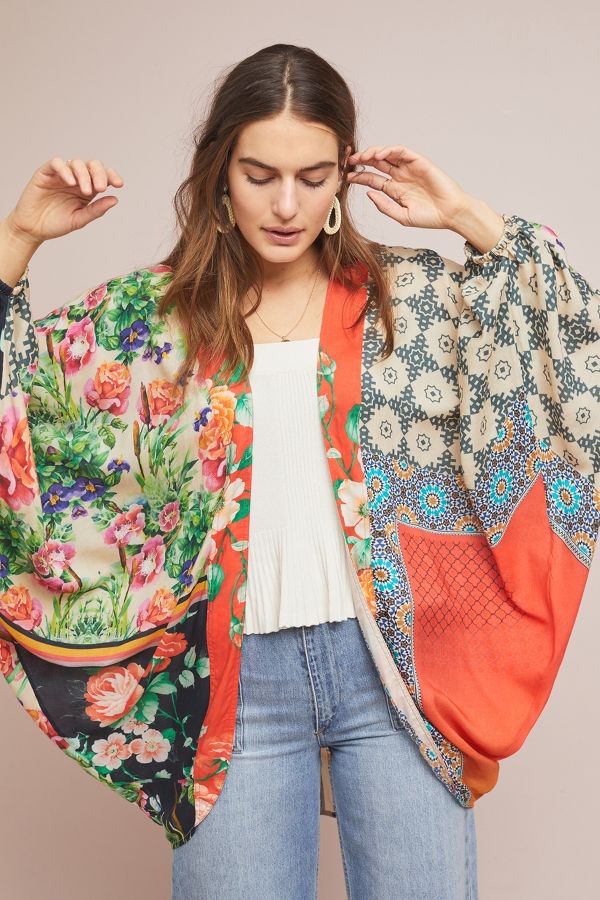 Try a beautiful patchwork from Anthro, the Dylan Floral Cocoon Kimono can work with any bottom to make your look more Boho.
Or use a striped cotton scarf to elevate your white tee and denim.  This is also from Anthro.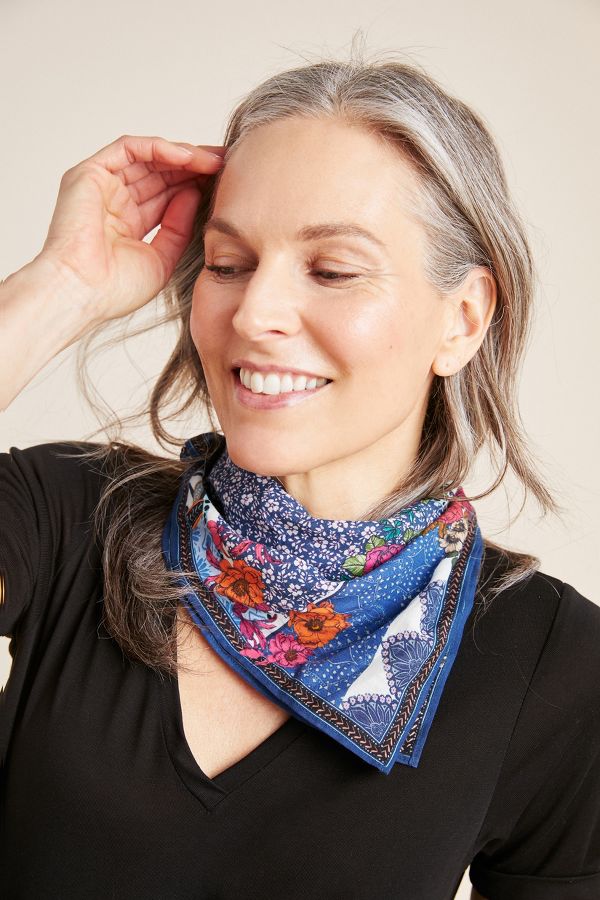 Or take a small floral scarf (we all have them) and wrap it any way you want around your neck instead of wearing a necklace.  You could even wear it around your ponytail to achieve a Boho look. One last accessory look that can make your look more Boho is an open weave cardigan or kimono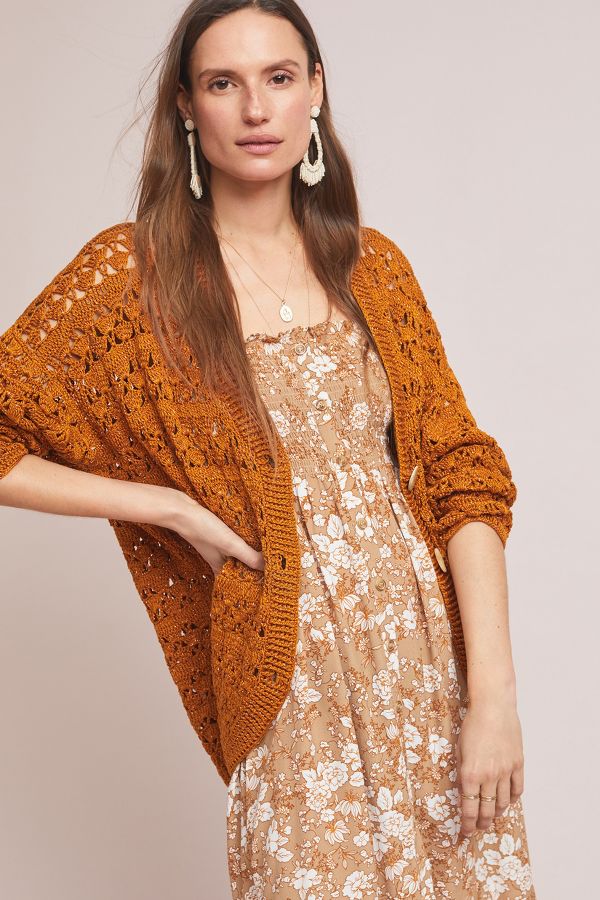 like this one from Anthro.
For Jewellery keep it really boho with big hoop earrings (leave the feather earrings for your daughter) and bangles on your wrists and long multi layered necklaces.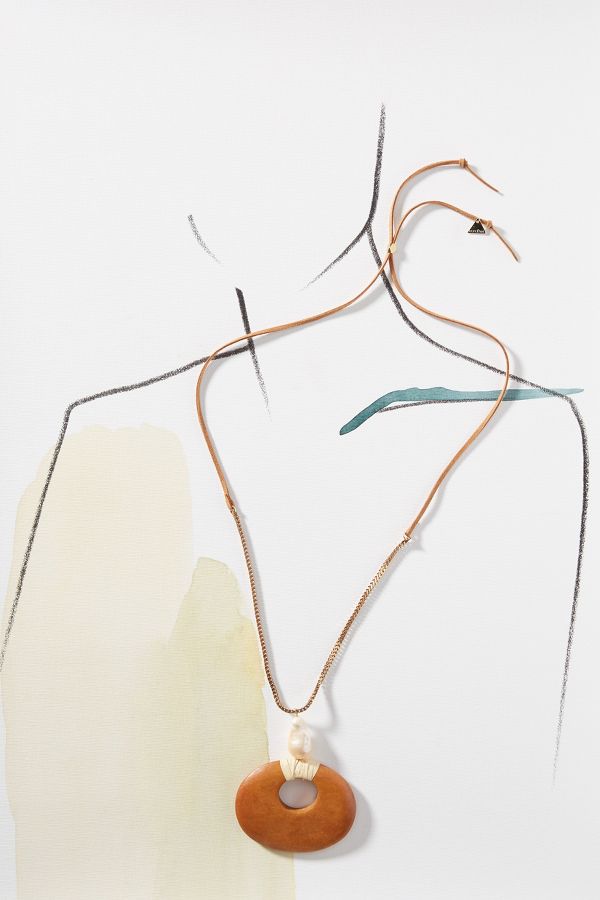 You can even go with a wood pendant, I have seen them all over, this one is from Anthro.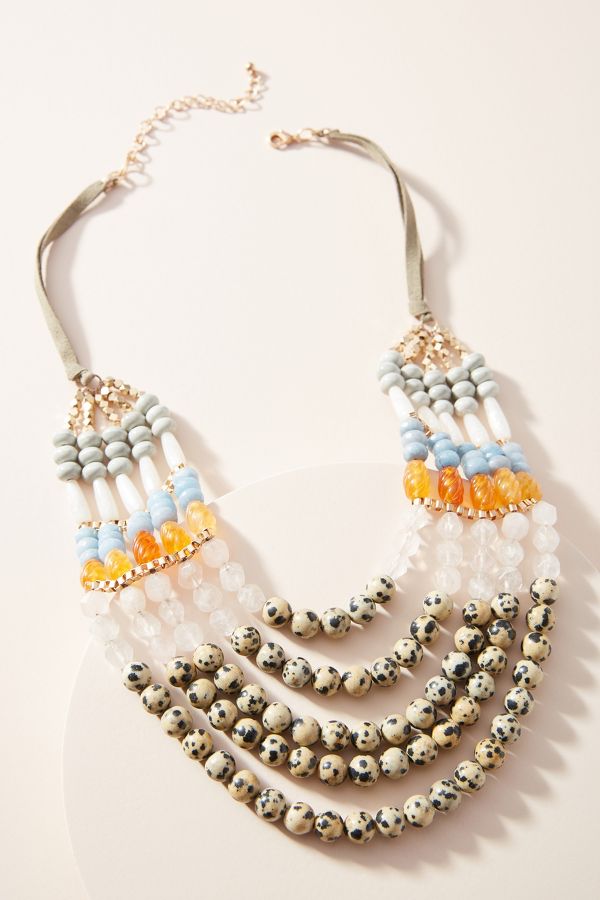 Jewellery can embrace the Beachy Chic vibe, try this Santa Cuz beaded Bib necklace with your Boho look.  Put this over any top with wide leg jeans and you have Boho written all over you!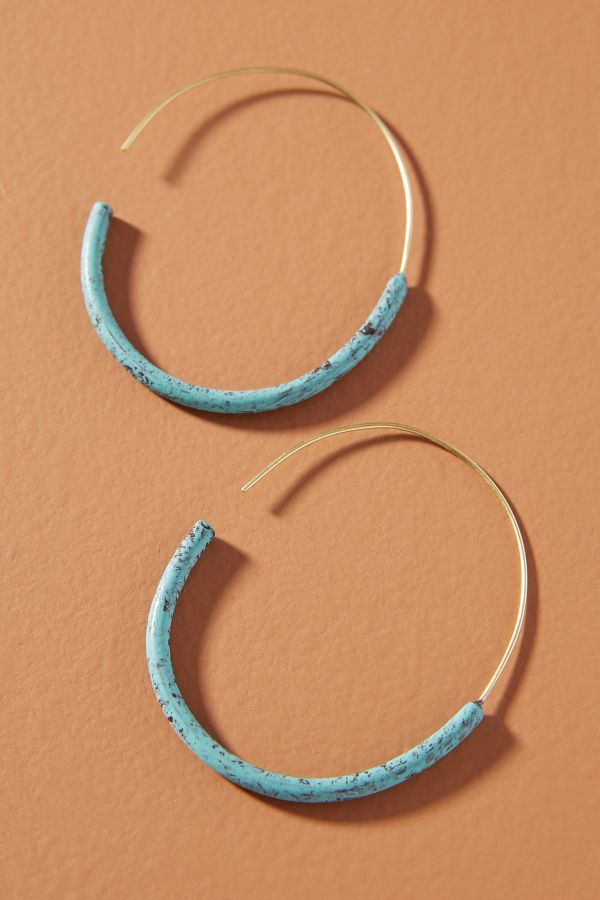 For earrings you can try hoops with detail, like these from Anthro. Or go for a pair of wooden hoop earrings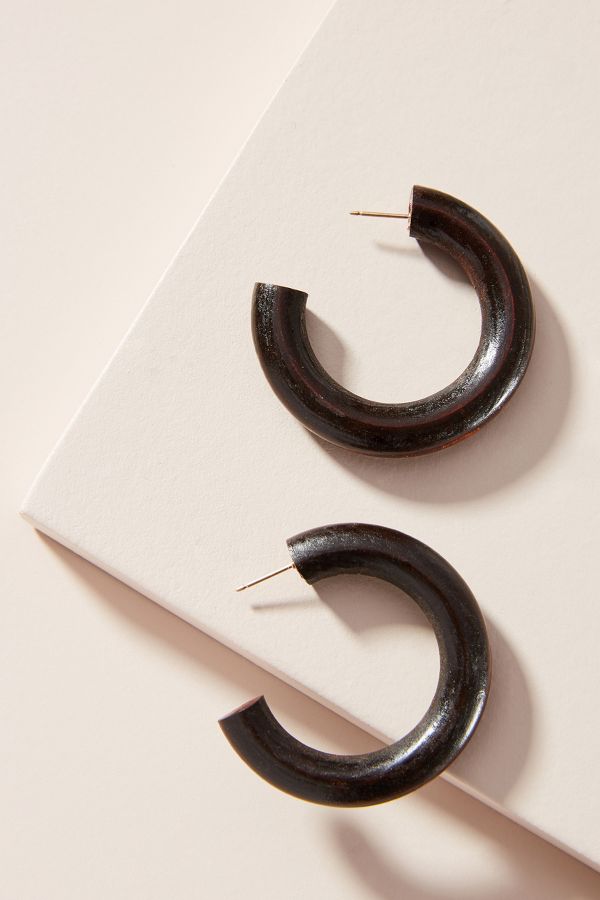 these ones from Anthro really have a boho vibe.
You can bangle or mix and match your bracelets
a la this look from Anthro.
Or maybe try a Wicker Bangle set also from Anthro.  Or simply make your Boho statement with one big bangle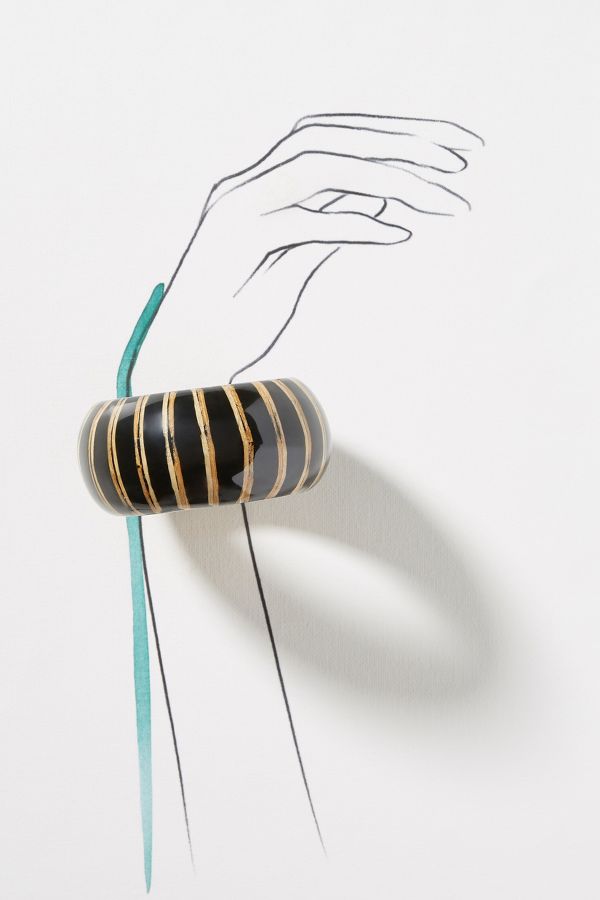 like this Striped wooden bangle from Anthro.  Remember whatever you wear on your wrist the key to making it Boho will be texture.  All the bracelet looks have texture.
You can use the pictures of each look above to see what earrings, bracelets and accessories the websites have paired with the clothing.  That's a great place to get accessory ideas for an outfit.
Or go to Nordstrom.com and look through the looks their stylist have put together.
I found 3 different looks that all work with our Modern Boho look.  Use these as a guide too.
I know this blog was a little longer, but the Modern Boho is one of the biggest spring trends and as I said at the top, every woman has a little Boho in them.
Next week we will cover the last spring trend, Bright Colors.  After that there will be a spring occasion blog and then no blogs after May 1st until June. So get all your style questions to me in the next 2 weeks or you will have to wait until June. Email me at Suethefashionista@gmail.com to ask me any fashion related questions you have.
Until next time…