The first spring trend we are going to look at with more depth is the Ruffles and Glitz trend.  Ruffles have been in style for a while now, with this trend we are seeing it amplified for spring and added to a few other newer trends like puffy sleeves, pleats and sequins and bling. Two weeks ago I posted a picture of what they are calling 'Crazy Couture' where all sorts of things are going on in each outfit, but that is the run way and not the real way.  This blog will look at the real way to add a bit of this trend into your spring wardrobe.
One of the easiest ways to add this trend into your wardrobe is with a top or dress that has ruffles.  One of the websites that sends me an email everyday is a site called Haute Look, it is a Nordstrom site that has discounted clothing but only for a limited amount of time.  Every once in a while you can find something unbelievable for a great price.
This week they featured a line called Gracia, which is famous for having clothing with lots of details.  But this image from them, with their wide Dolman Sleeve crop blouse in bright mustard paired with high waist pants illustrates what this trend is about.  That top could also look great with wide leg cropped jeans.  It's the kind of 'Crazy Couture' you could actually get some wear out of. Or you can step out of your comfort zone just slightly and do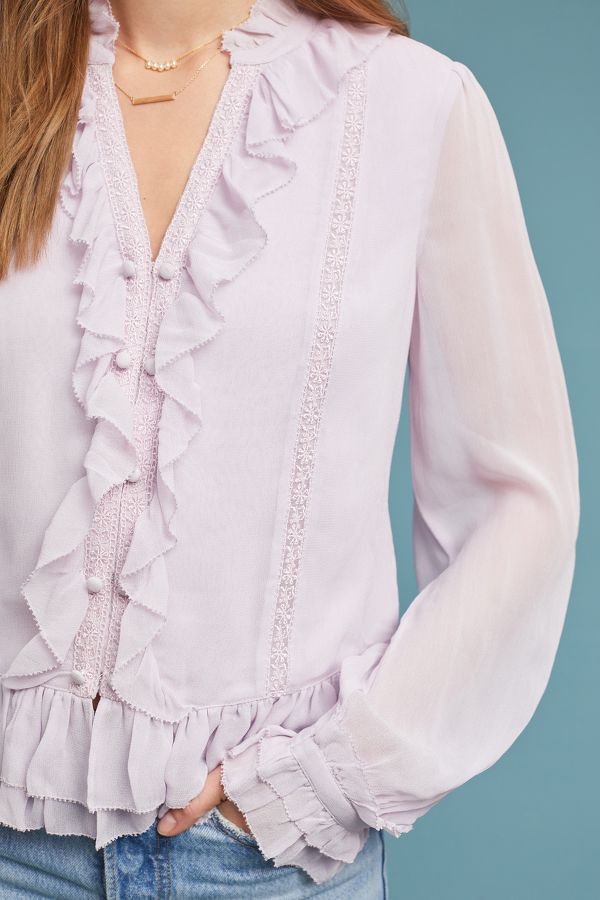 a softer more feminine ruffle shirt from Anthropologie. The Layna Ruffled button down shirt comes in this beautiful lavender or black and would look good on everyone and totally be perfect to reflect this trend. If you are like me and want to wear your ruffles for daytime there are lots and lots of options.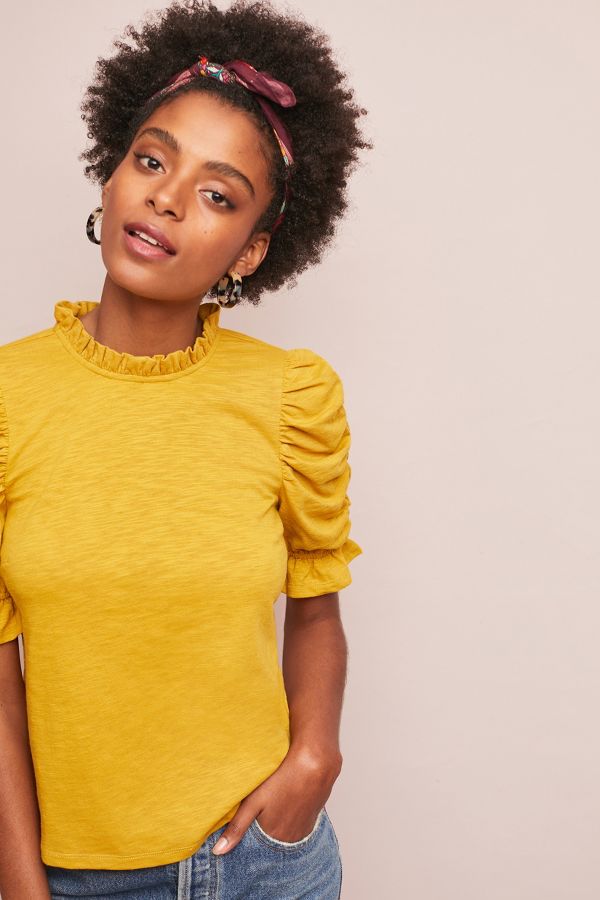 You could wear your ruffles in a t-shirt like this Corchallan Top from Anthro, it comes in this stunning Maize yellow and black. Or choose a t-shirt where the ruffle is just in the sleeve like this Chelsea Ruffled Tee from Anthro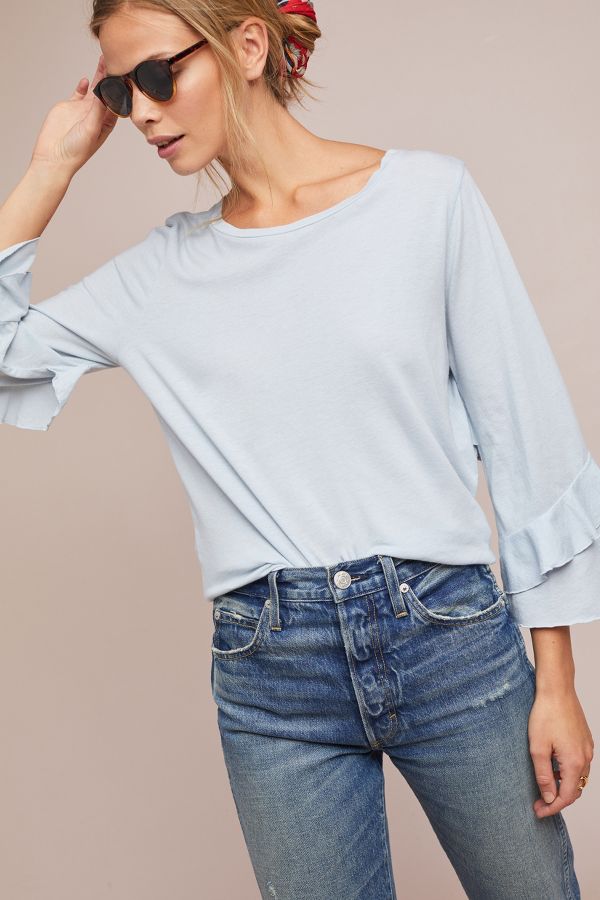 .  Both of these t-shirts are great weekend and casual looks that give you a hint of this trend. Or if you want something you could wear for work or play try a top like this Andover Ruffled top from Anthro,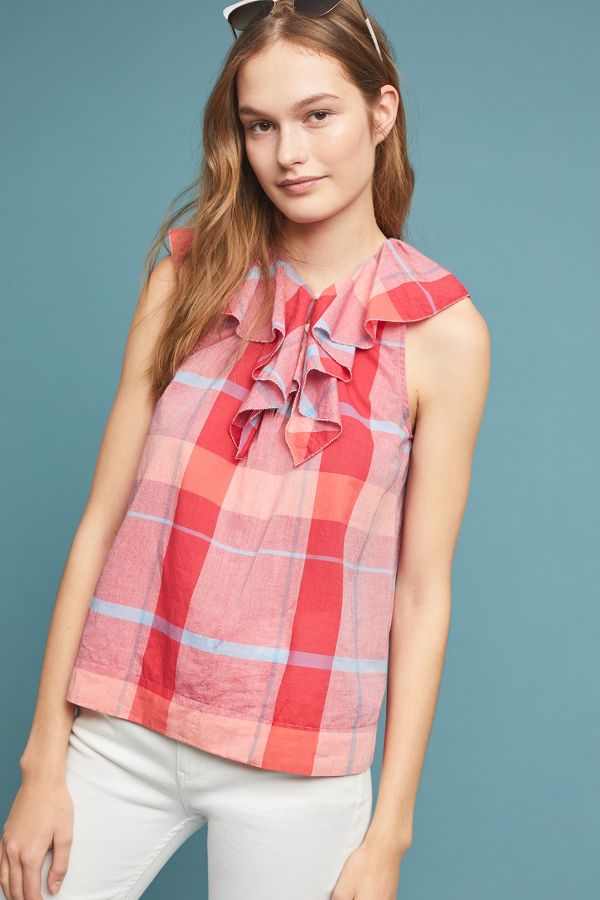 this top is great with denim and under a v-neck or collarless jacket as well!
You can do a dress to that hits the ruffled trend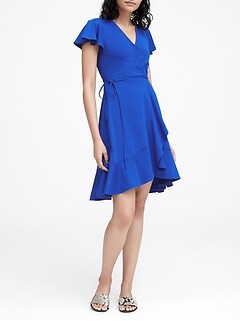 , Banana Republic has lots of dresses like this soft Ponte wrap dress that has just a hint of ruffle. Maxi and Midi dresses are as big as ever for spring why not try adding a bit of ruffle to a maxi dress?
BR has tons of Maxis online and they all have ruffle detail.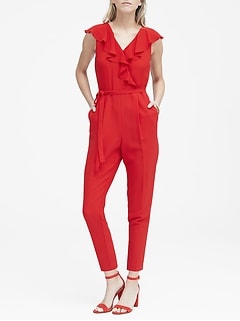 You could even add ruffle to your spring jumpsuit.  Check out Banana Republic online, a lot of their spring dresses are on sale already.
You don't have let this trend be just in your tops and dresses.  Pants and skirts are also getting into this trend.  Last year we saw a lot of pleated midi and maxi skirts, those work perfectly here, if you have one from last year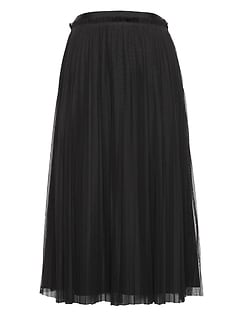 especially if it looks like this one from BR pull it out again and wear it.  Or if you don't maybe get a skirt that has some shine to it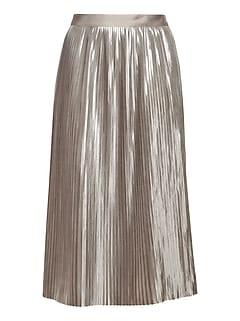 BR has skirts like that as well.  If you are comfortable with a shorter skirt (not mid-thigh but just above your knee) then
maybe think of doing a skirt with a sheen in a pencil style.  This Shiny Leopard print skirt from Gracia hits on another big trend for spring, yes leopard print seems to be here to stay and we will talk about that more in upcoming blogs.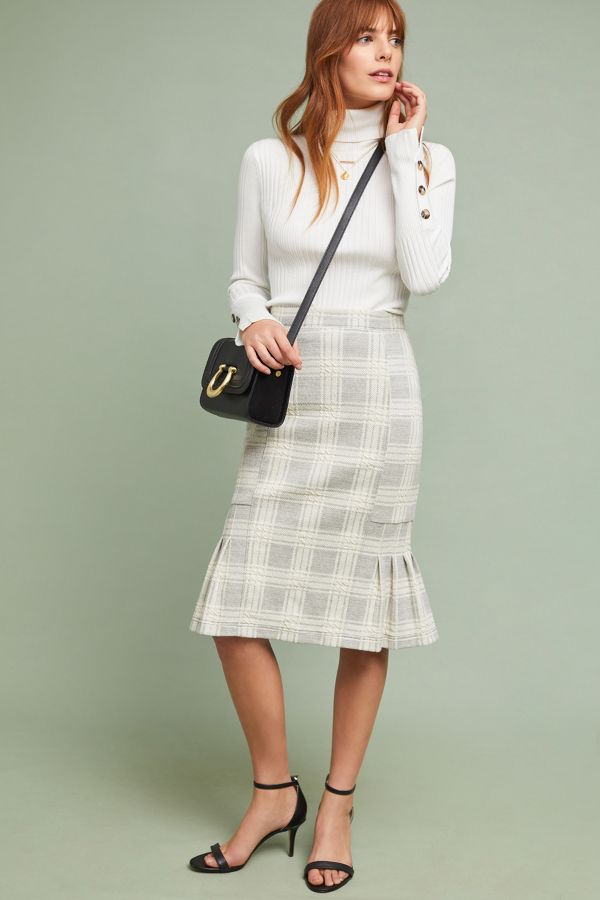 Or try a skirt that is as office friendly as it is trendy and wear something like this Flounced Menswear skirt from Anthro.
There are pants with ruffles out there for spring too.  But I think most of us prefer to wear a simpler bottom with a more detailed top.  But I do own a pair of ruffled pants that I wear for dressier occasions.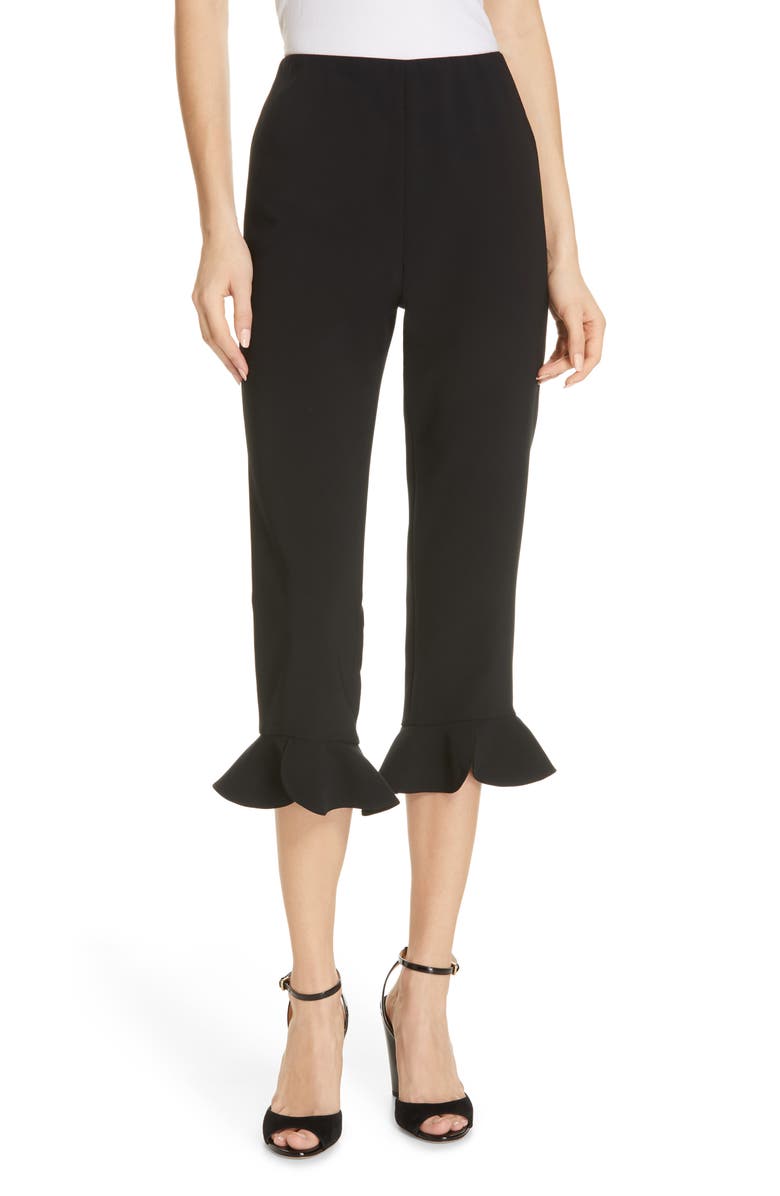 I have a pair similar to this Alice+Olivia pair from Nordstrom, they are great if you want to wear dressy pants.  If you want pants you could wear to a creative office or daytime try a pair like these from 1.STATE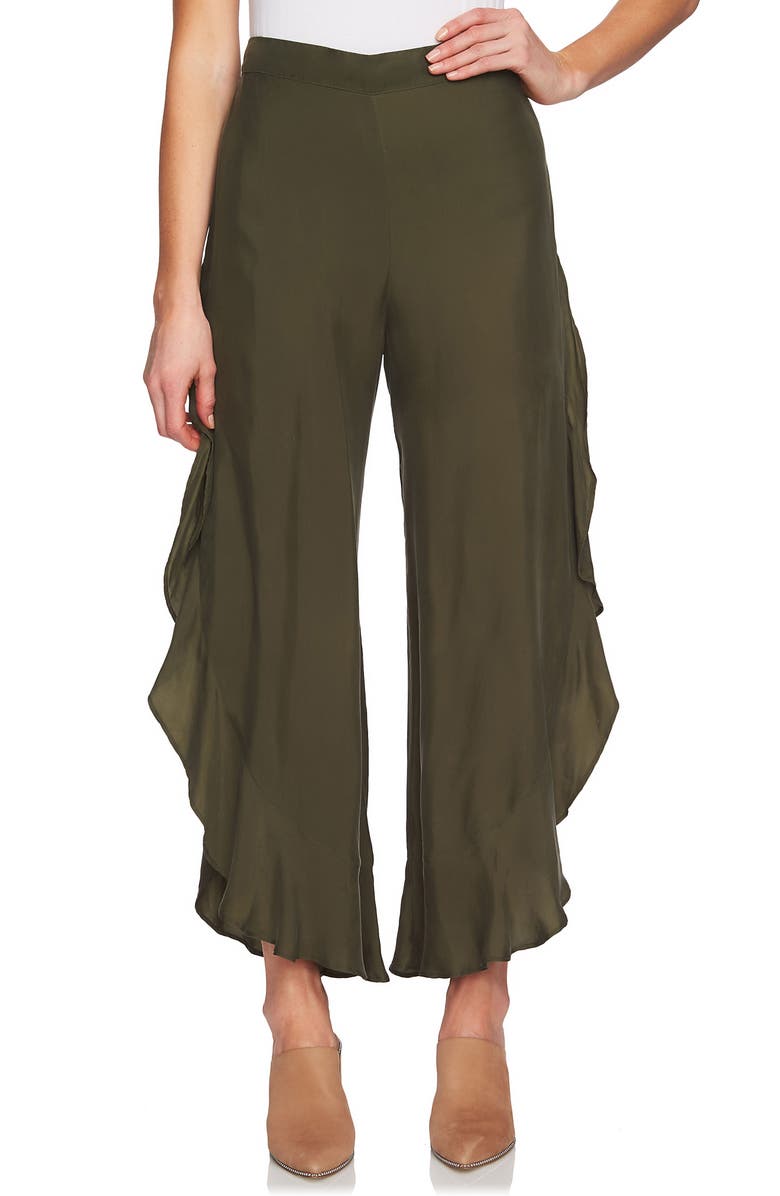 at Nordstrom.  The color is subtle enough that you can wear this pant day or night.  But my favorite pants to work with this trend are pants that are stylish but let the rest of the outfit shine.  Try cropped wide leg pants like these soft high-waisted pants from Eileen Fisher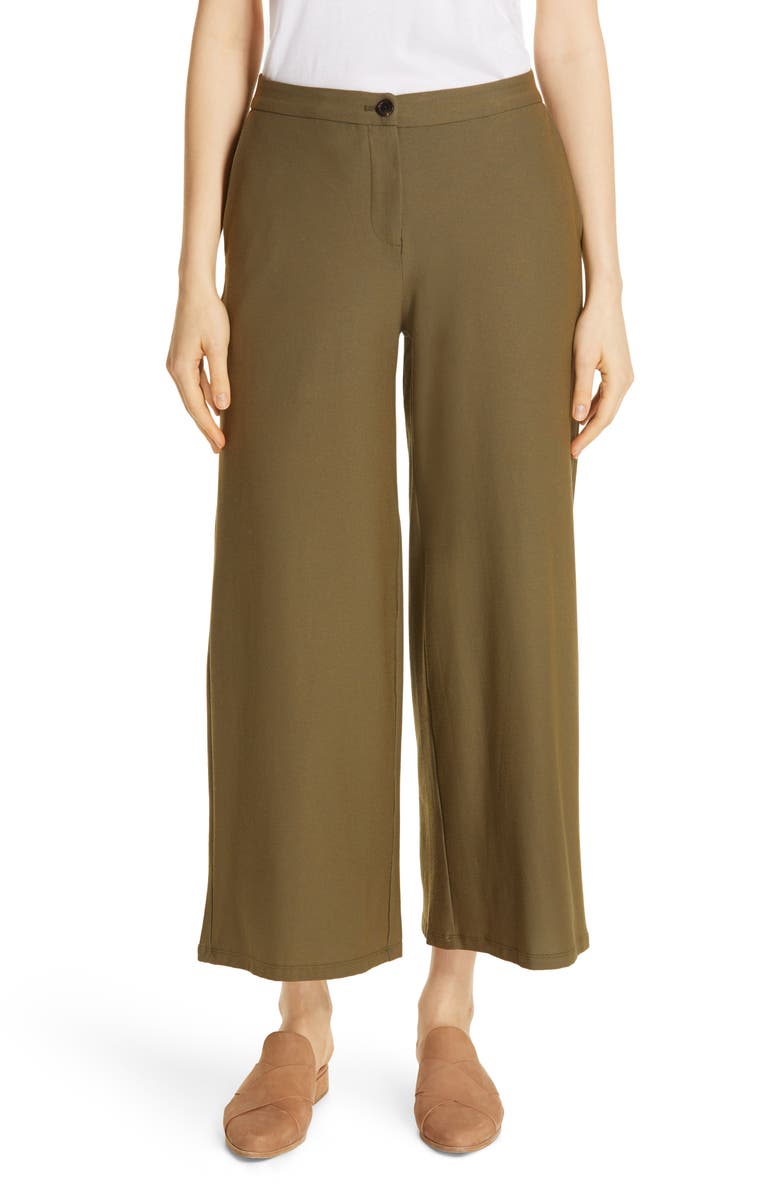 or try a straight leg pant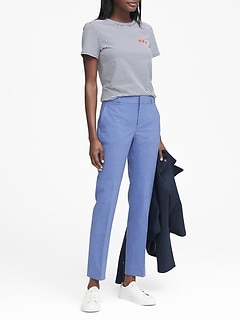 from BR like the Ryan or Avery fit in a color that works with your tops and let the tops be the star.
Now we haven't done much Glitz yet, we have been focussing on the Ruffles.  There are more Ruffle styles than Glitz styles in the real way but they showed a lot of Glitz on runways. You can incorporate Glitz in a number of ways.  We saw above that you could add a skirt with Glitz or shine, you could also add subtle shine to your maxi dress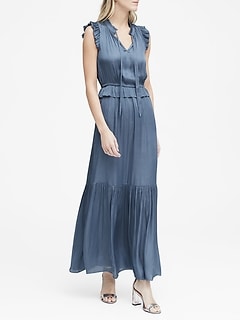 like this soft satin Maxi dress from BR, which also comes in a blush pink color. You could do your Glitz in fabrics that have shine to them like the maxi dress or these silk pants from J. Crew
.  Or you could use your accessories to tell your Glitz story.
One of the easiest ways to add bling to your outfit is to wear a glitzy bracelet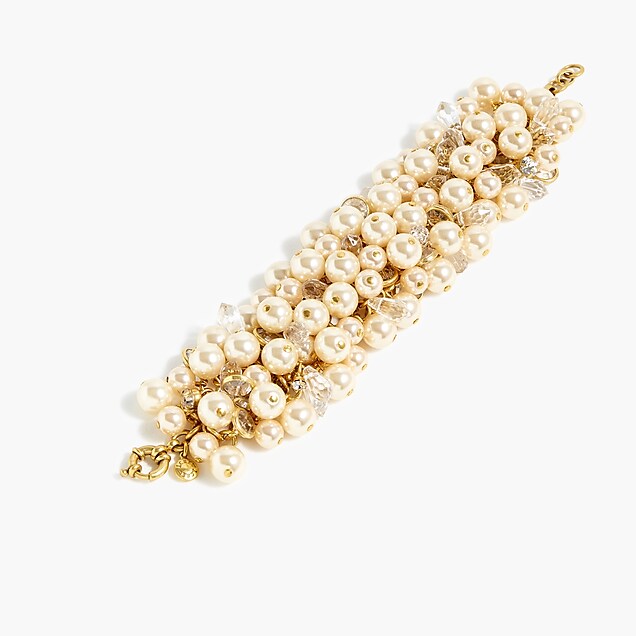 like this pearl and crystal bracelet from J. Crew. A little bling on your wrist can go a long way.  The same goes for a sparkly necklace,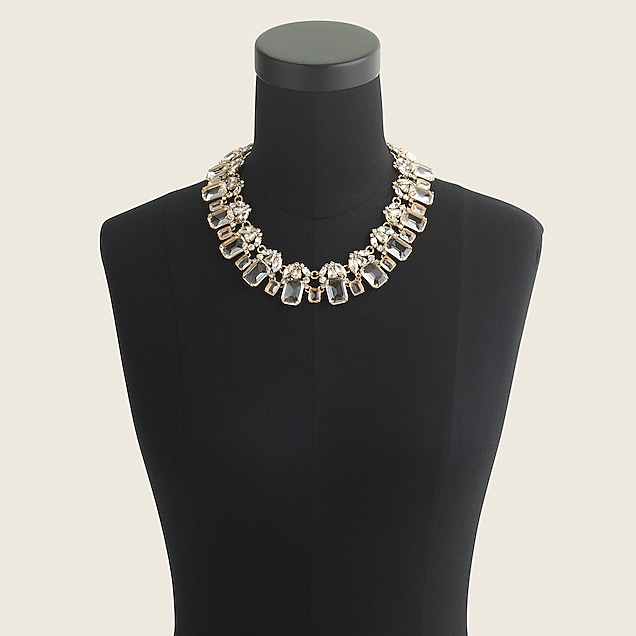 this one is also from J. Crew and would be fabulous with wide leg pants and a round neck simple shirt. If you are going to do glitzy accessories let that be the focus of your outfit.
A substantial earring with Glitz or Bling can accomplish the same thing.
Other accessories can be your glitz focal point as well.  Don't forget how a detailed handbag can make an outfit.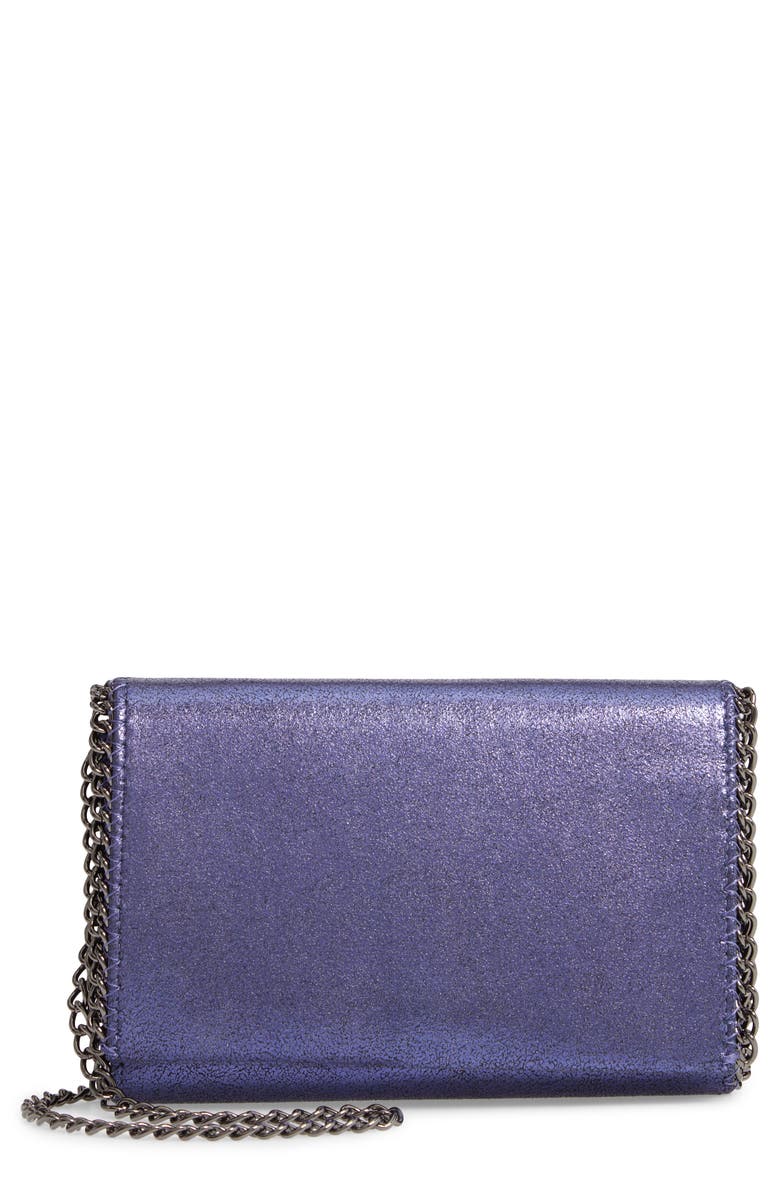 It can be as subtle as just a little shine on your purse or go all out with bling
. Both these bags are from Nordstrom online and they both make a statement.
You could also hit the Ruffle and Glitz trend with your footwear.  There are lots of shoes for spring that have both ruffles and glitz.
J. Crew has a great pair of pointed toe metallic slides in Jacquard that would be perfect for this trend. 
Or do a pair of shiny pointed toe flats, also from J. Crew and they would look great with cropped or cropped wide leg pants.
Snake skin print is huge for spring and these sling backs from J. Crew are not only snake-skin but have a bit of shine to them as well.
And last but not least a great pair of block heel metallic sandals will absolutely compliment any spring outfit you are wearing.  All the above shoes can be found online at J. Crew.
So you don't have to go all in on this trend from head to toe, as a matter of fact, I think it is more effective to choose one piece and let it stand out.  Wear a Ruffled top with simple pants or shiny shoes with wide leg crops and you will hit on the RuFFle and Glitz trend without it becoming overwhelming.
Next week we will look at the 90's Mixture trend and talk more about snake-skin then. In the meantime feel free to email me your fashion questions at Suethefashionista@gmail.com I am always happy to answer them.
Until next time…