Last week we covered the first 3 of the major trends for Spring.
I try to do my research and then break the fashion into understandable categories that you can keep in mind when planning your wardrobe.  For instance, right now there is a flood of fashion in the stores and this way you can have an idea of what you are looking for and maybe where to find it.  I hope you all find this helpful.  Anyway on with the rest of the Spring 2019 trends.
Sweet and Girlie:
When you hear Sweet and Girlie what do you think of? I think of bows and lace and pretty dresses, skirts and tops.  And that is pretty much what this trend is for spring.
Mini skirts are making a come back for spring, but that doesn't mean you have to wear them if they don't look good on you (and let's face it most women over 50 shouldn't be wearing skirts that are super short, just above your knee is fine, but mid-thigh? Who are you trying to fool?). How do you get around wearing a mini with this trend? Well try a pencil or full skirt that hits you at the knee, it will still work. You can always try a wrap dress as well, that shows a bit of leg as you walk.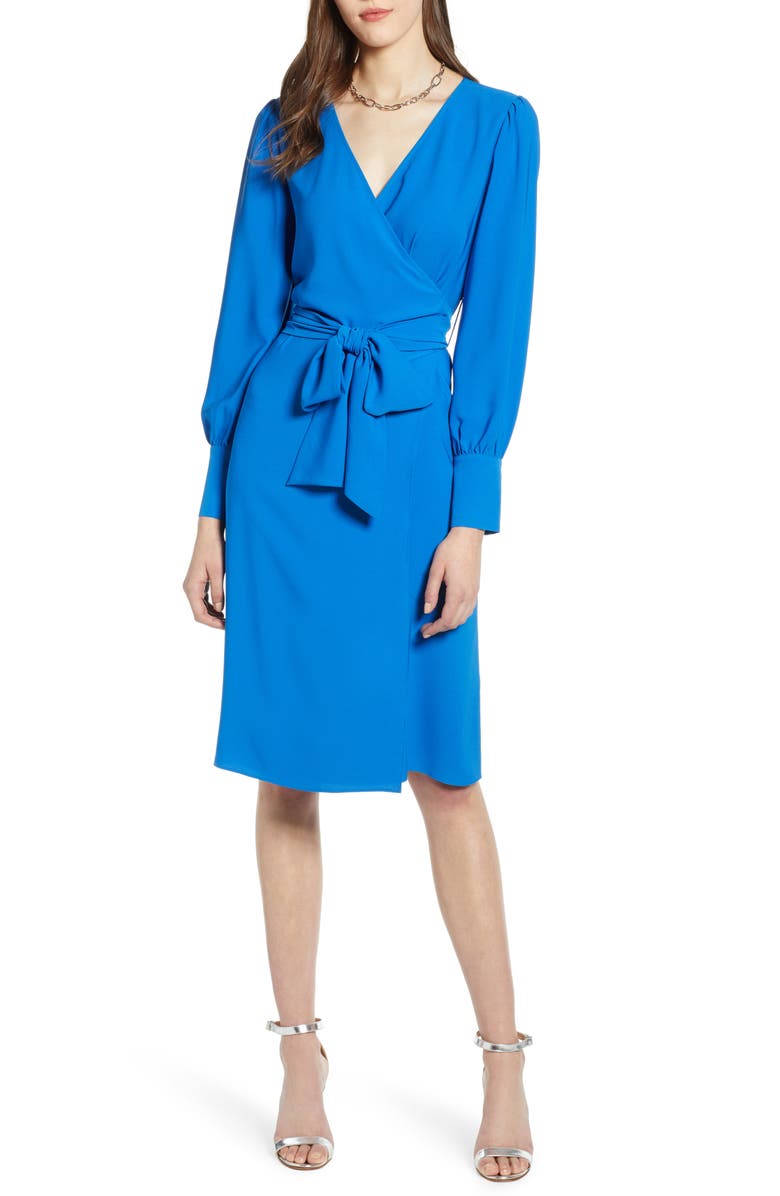 This Wrap dress by Halogen at Nordstrom comes in some great spring colors and has movement when you walk, it has a great bow detail at the waist as well.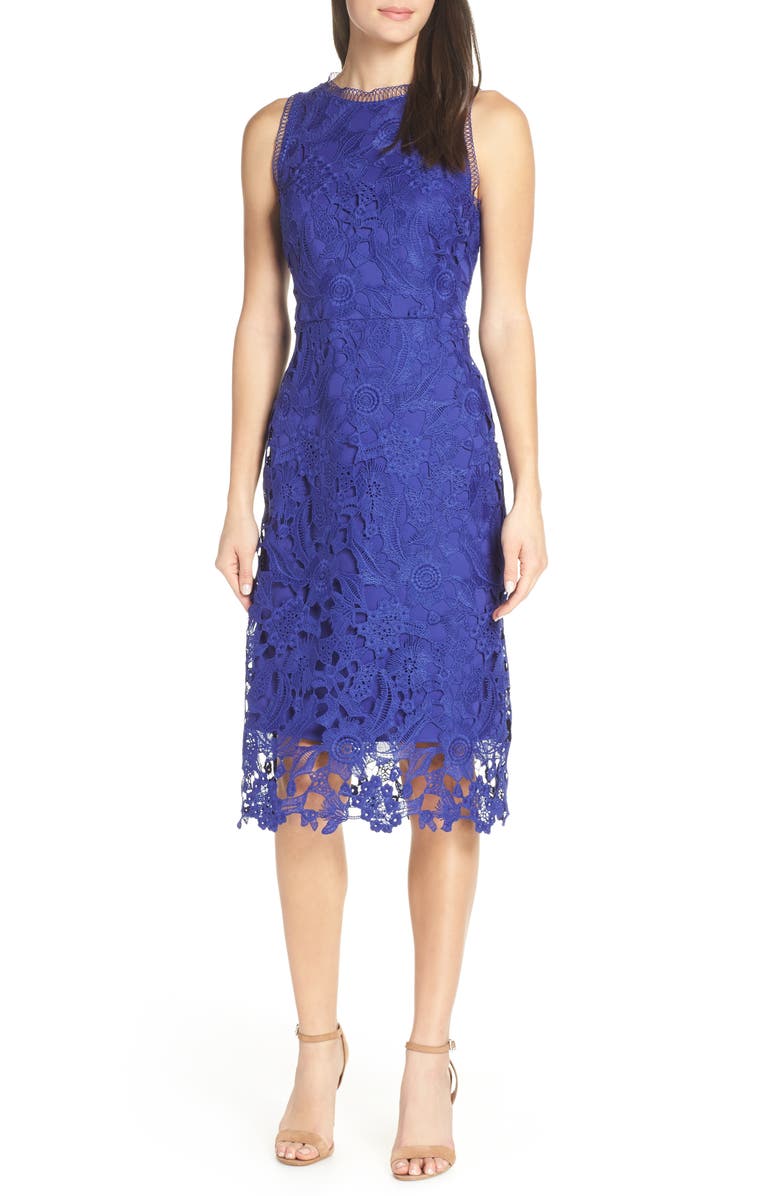 Lace is a huge part of this trend as well, don't pick black but pick one of the new strong spring colors (brights or pastels)or white to make a statement.  This dress is by Sam Edelman at Nordstrom and has a peek a boo hem so you can see a bit more leg if that's what you want.
Jumpsuits are super strong again for Spring and you can wear them in any trend depending on the jumpsuit you choose.  Floral prints are huge in this trend why not try a floral print jumpsuit? No one has more florals for Spring than Anthropologie, between their dresses and jumpsuits, if you love florals they have it.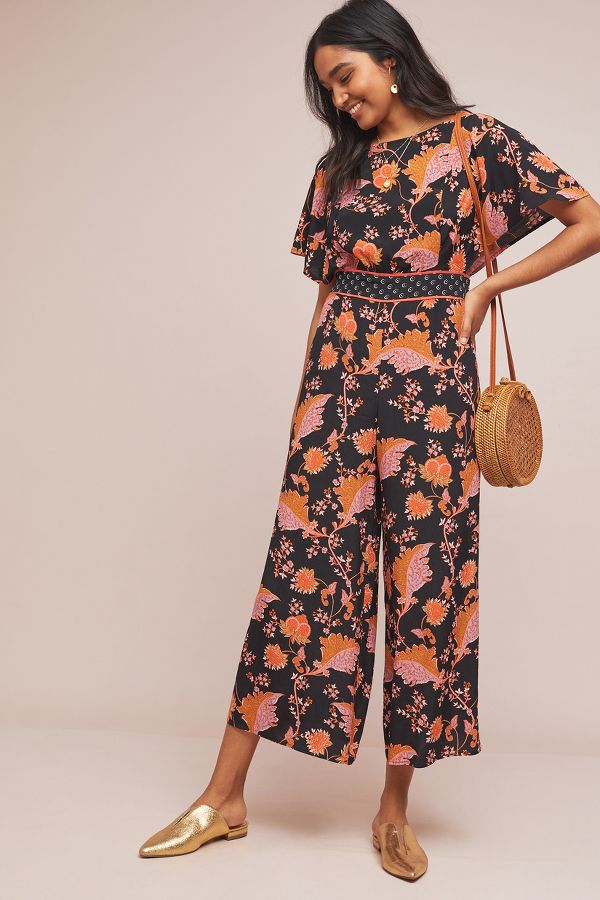 Cropped Wider pants are a must for spring and this jumpsuit from Maeve at Anthro online has you covered for your Sweet and Girlie trend.
Tailoring is also important in this trend, so look for pieces that have a very feminine tailoring and maybe some feminine detail too. Aritzia has lots of perfect feminine tailoring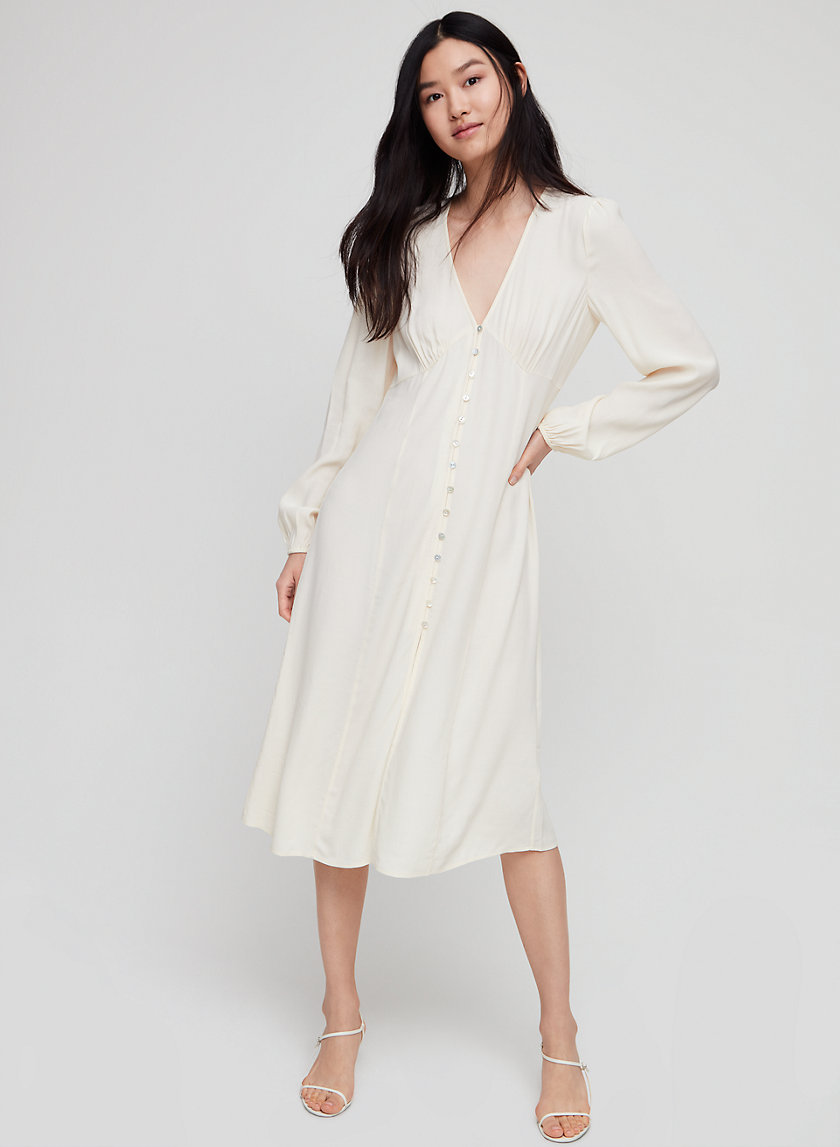 this Wilfred Carine Dress is perfect for Spring.  Even sweaters for spring can have feminine tailoring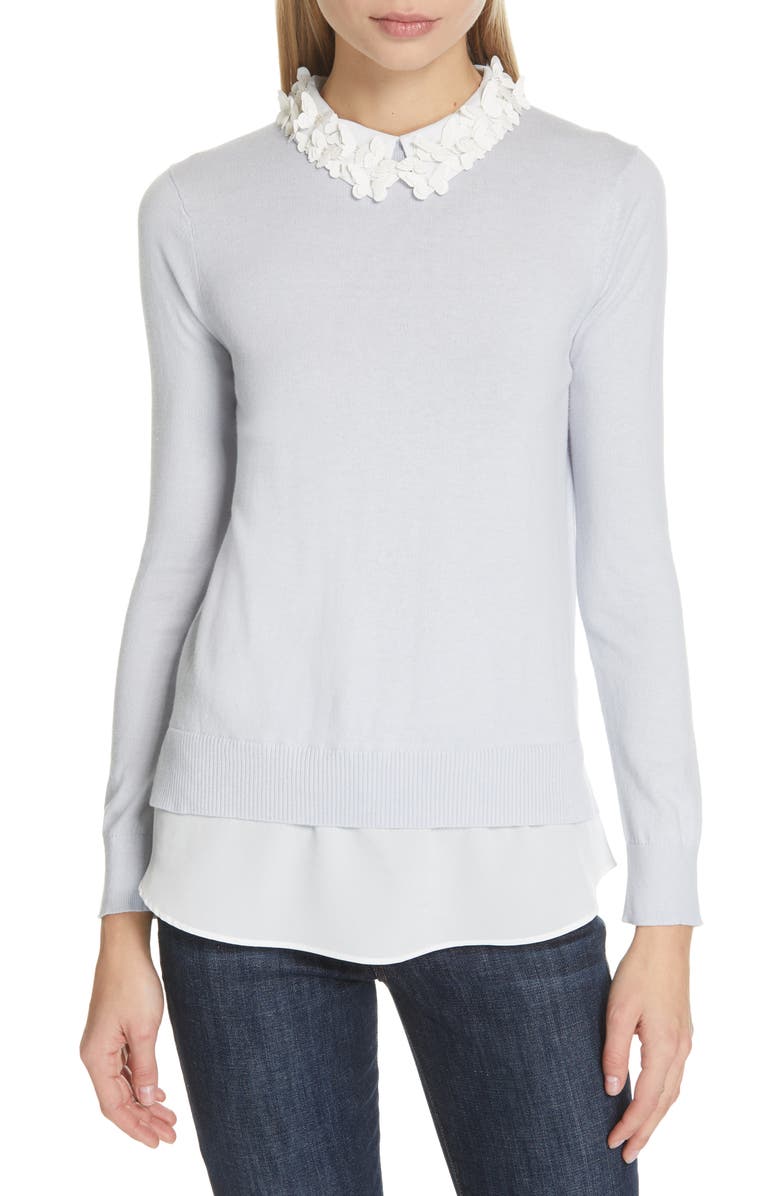 Ted Baker has a fitted sweater in perfect lavender with a floral lace collar, perfect. When choosing a sweater or jacket with this trend try and think what makes it feminine,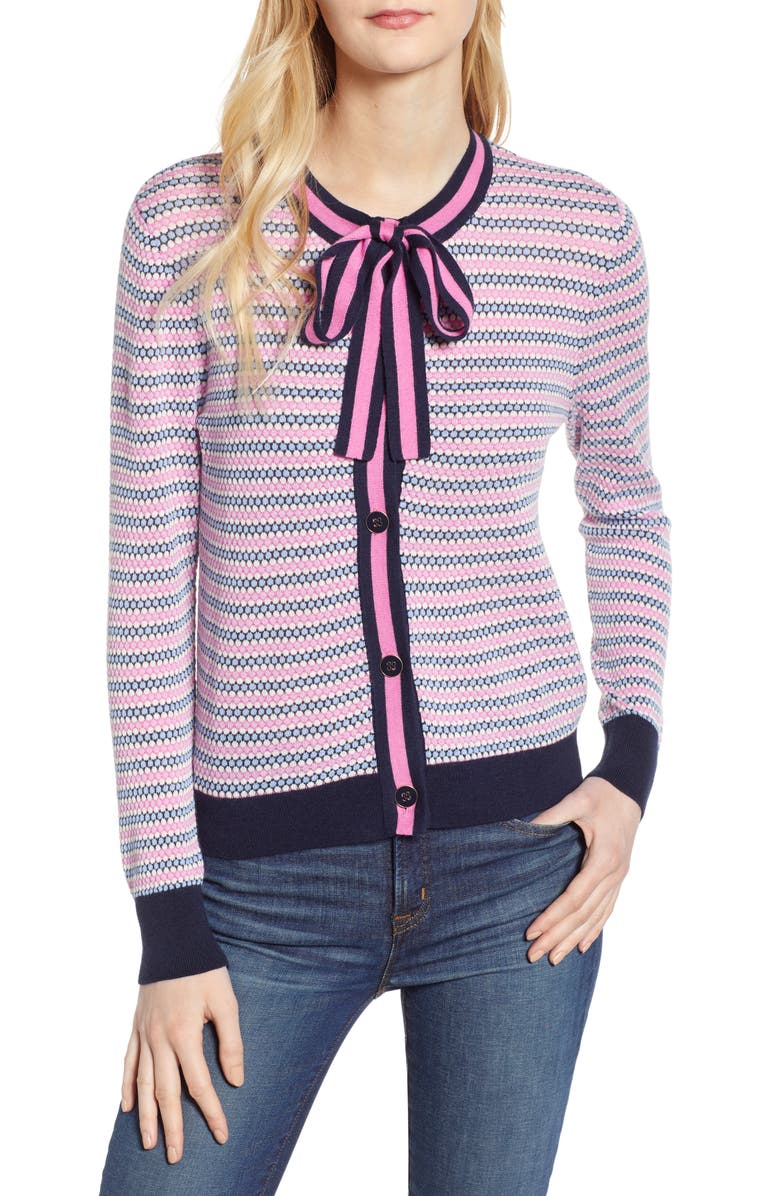 sometimes it's a bow, or lace or ruffled tailoring, choose what looks best for your look.  I love feminine styling and here is a great trick to achieve this look without spending a ton.  Grab one of your short cardigans like
this cute little stretch cotton cardigan from Banana Republic in Blush pink and just put something frilly or a scarf with a big bow at the neck.
You can go tone on tone with this reversible skinny scarf also from BR or try to take it up and mix colors and prints by doing an off-color scarf with the blush sweater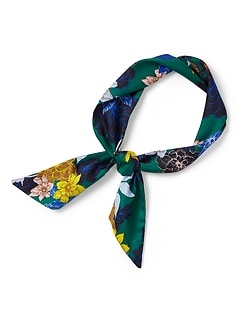 . It's a little more fashion forward but perfect for spring.
Last thing I want to talk about with this trend is shoes.  When you think shoes for this trend think back to a retro look, square toes and low heels.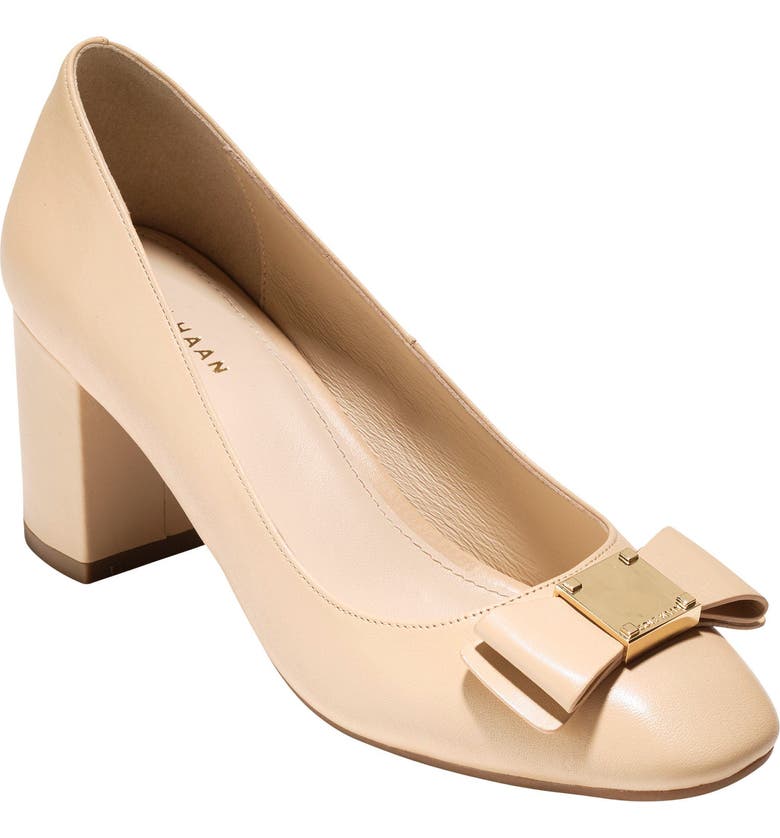 Here is a great Cole Haan shoe at Nordstrom with all the right details, slightly squared toe, block heel and a feminine embellishment.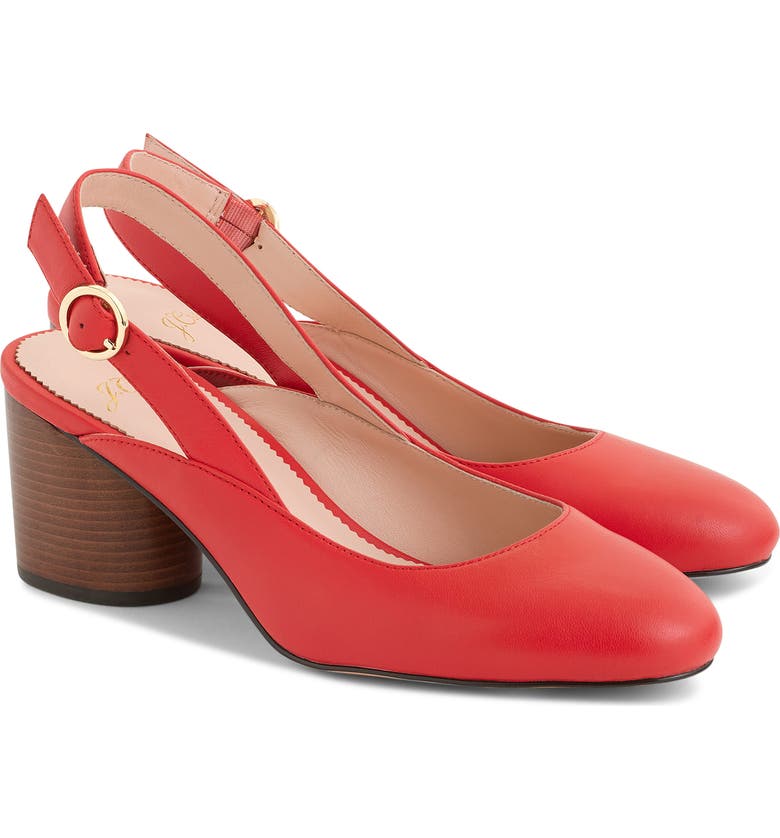 Or try a rounded toe sling back in one of the new spring colors.  Just remember to keep the details feminine.
The New Bohemian:
Boho never really goes away, it just keeps reinventing itself to match what is in style for any particular season and this spring is no different.
This spring there are things that any proud Boho would love. There is a trend called Beach chic.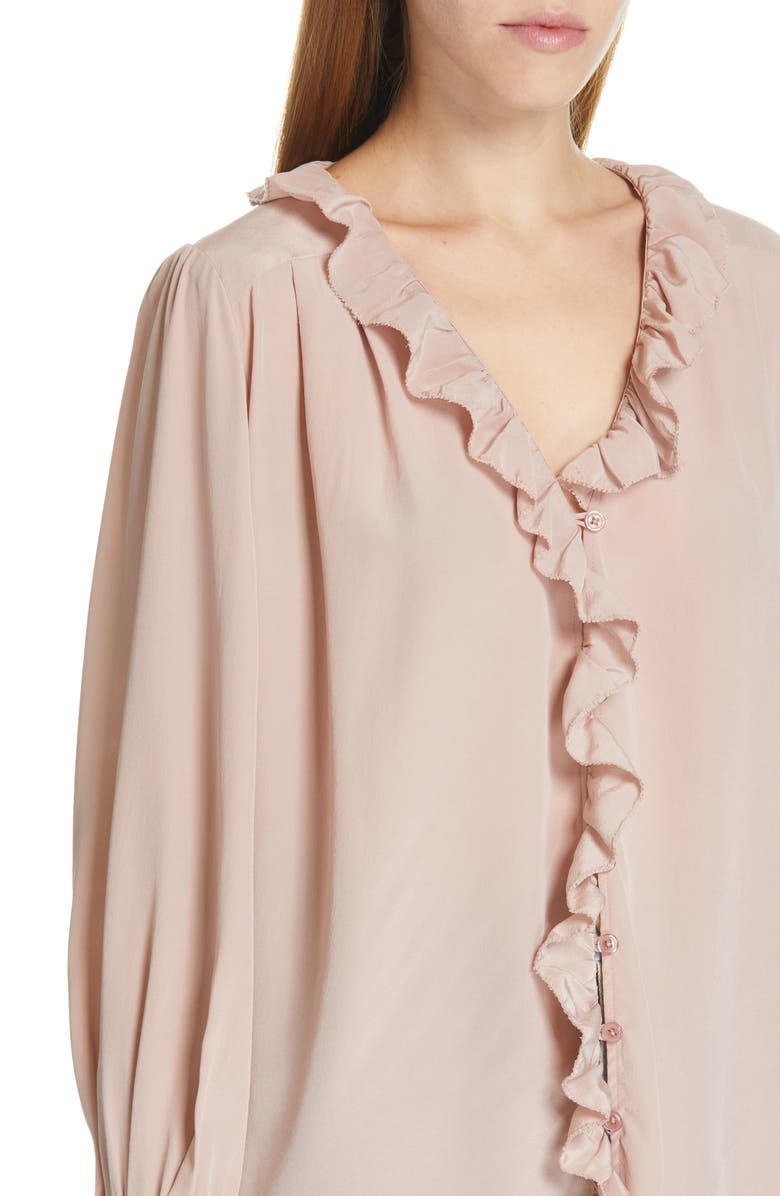 It includes light and airy blouses like from Sea at Nordstrom.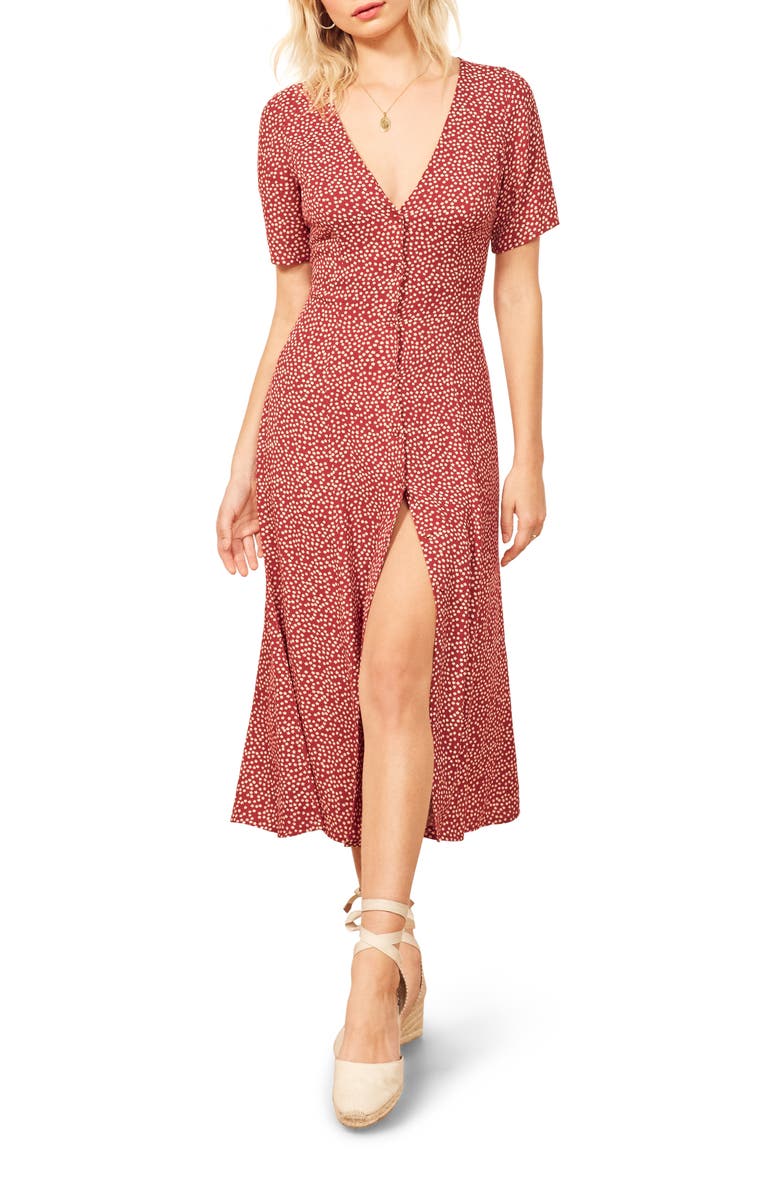 And easy breezy Spring dresses like this Reformation Locklin dress also at Nordstrom. Here is where you will find your jogger pants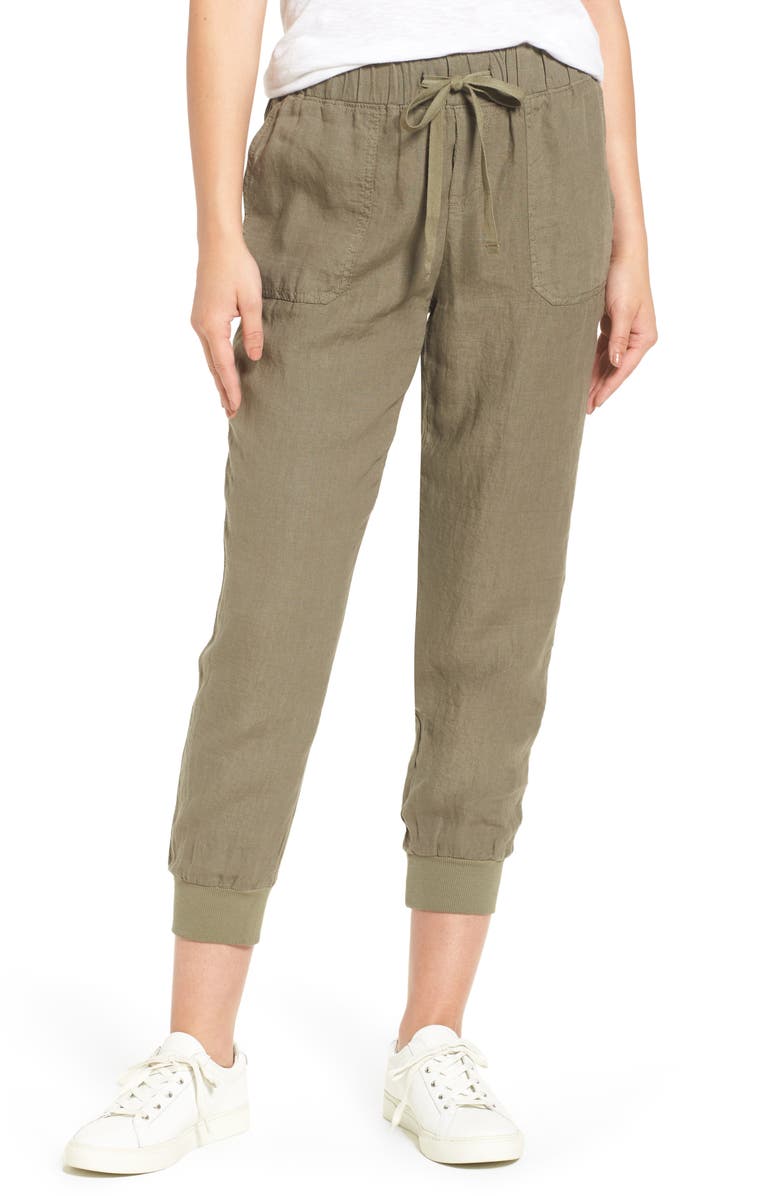 these are Caslon at Nordstrom but everyone has them for spring.  Here is also where you will see a lot of wide leg cropped pants and denim.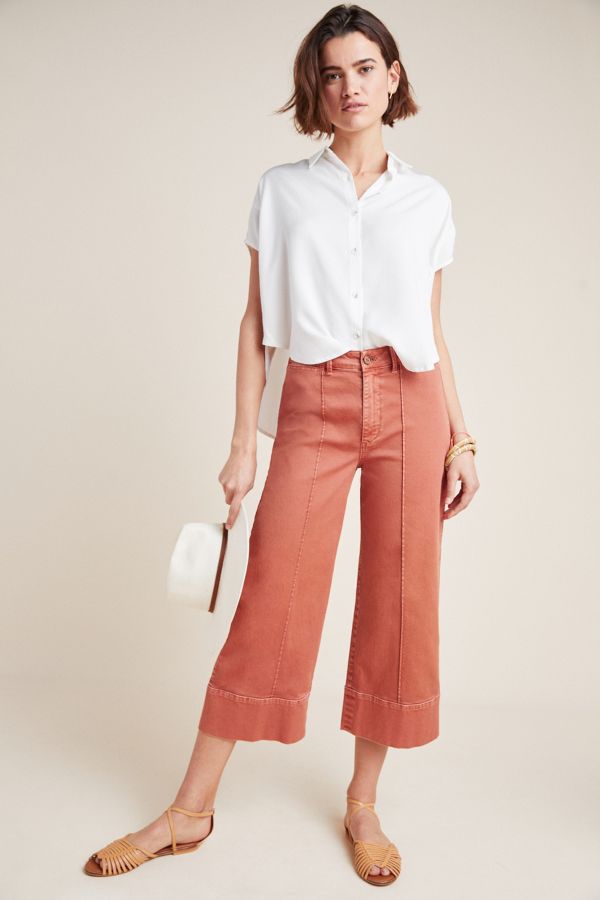 Anthro has you covered for wide leg Chinos, just pick a fairly soft washed out color with this trend and wear it with your flowy tops tucked in or shorter tops. Anthro also has a great selection of wide leg cropped jeans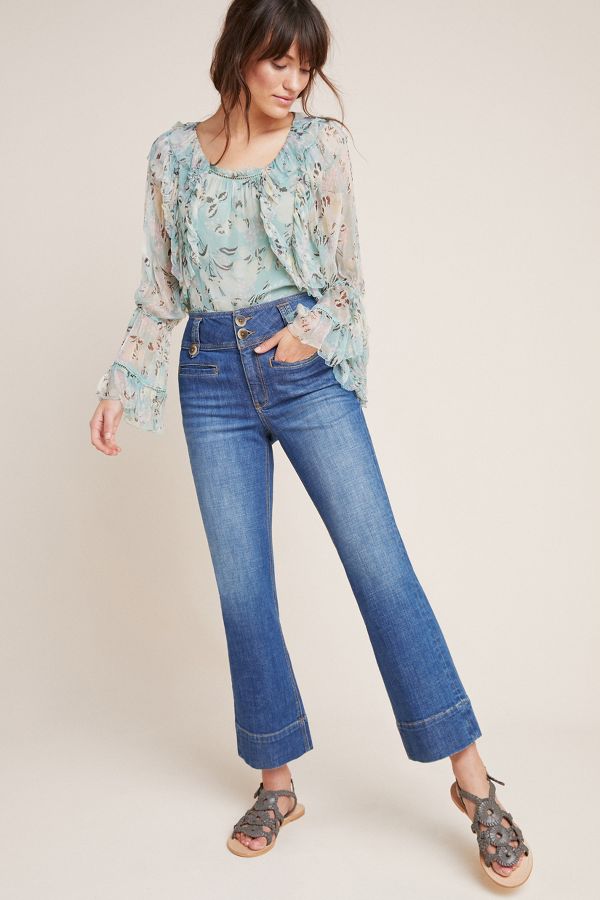 and here they have put their Pilcro high-rise cropped flares in a perfect Boho look for you.  Anthropologie is one of my favorite places to explore the new Modern Bohemian look for spring they have great tops, dresses and bottoms for this trend.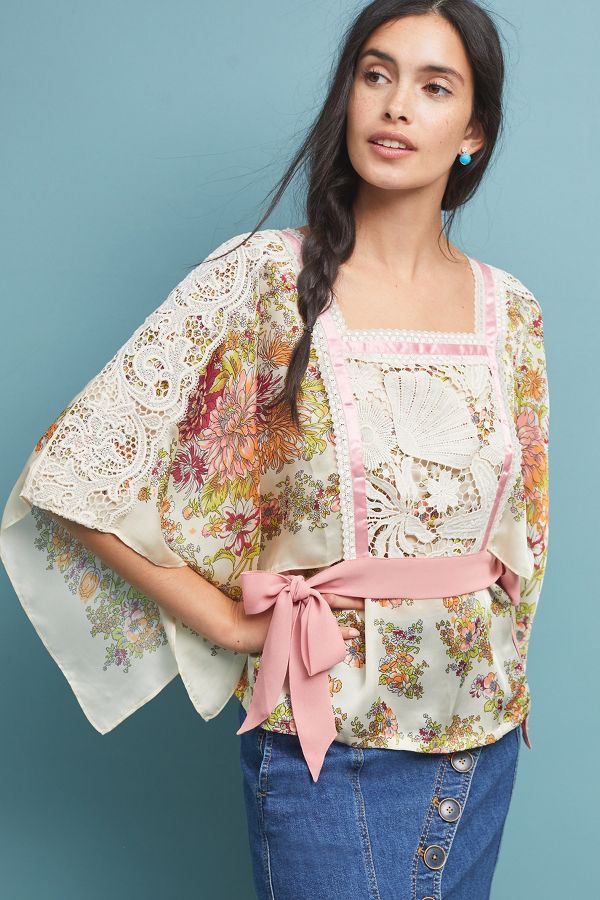 Grab a top like this Begonia Blouse and wear it with your wide leg jeans or pants and you are perfectly Boho. Boho looking shoes haven't changed much since last year, your espadrilles and gladiators still work or try
a t-strap woven sandal if you want something new.  Accessories are huge in this trend too, wooden jewellery and straw bags. We will cover everything when we do this trend in-depth in the coming weeks.
Bright Colors:
Spring 2019 is nothing if it's not colorful.  So don't be shy, try one of the newest colors or grab an old favorite.
Why not try a sweater you can wear now and later with some great colors for spring, this is BR's fitted cotton crew sweater. BR's basic washable merino wool sweater come in all the new spring colors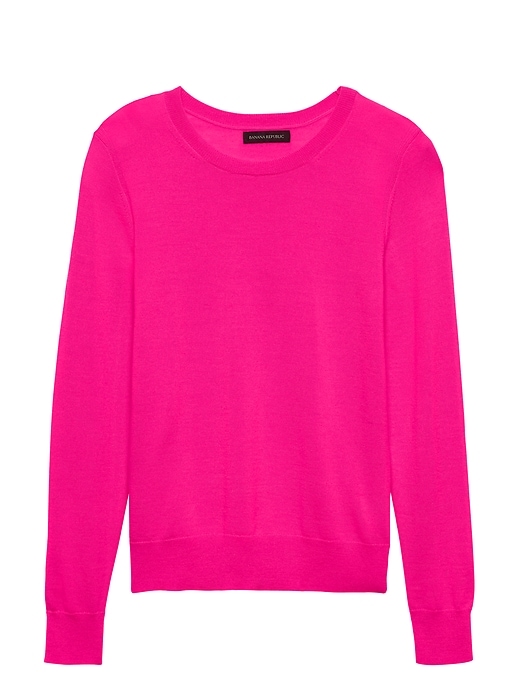 this is berry pink but it also comes in a reddish-orange, green flash and berry jam purple.  Try which color you like best, I love the reddish orange.
Try bright-colored bottoms too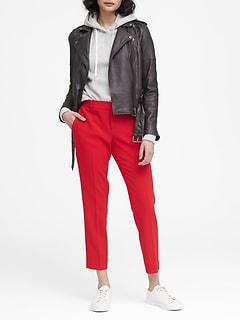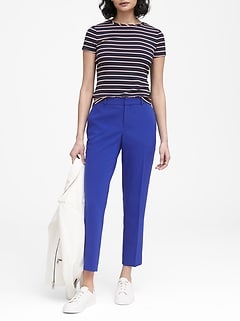 I just love this BR Avery pant in Red and Royal Blue.
Brights are huge for spring.  Even try a bright jumpsuit if that tickles your fancy.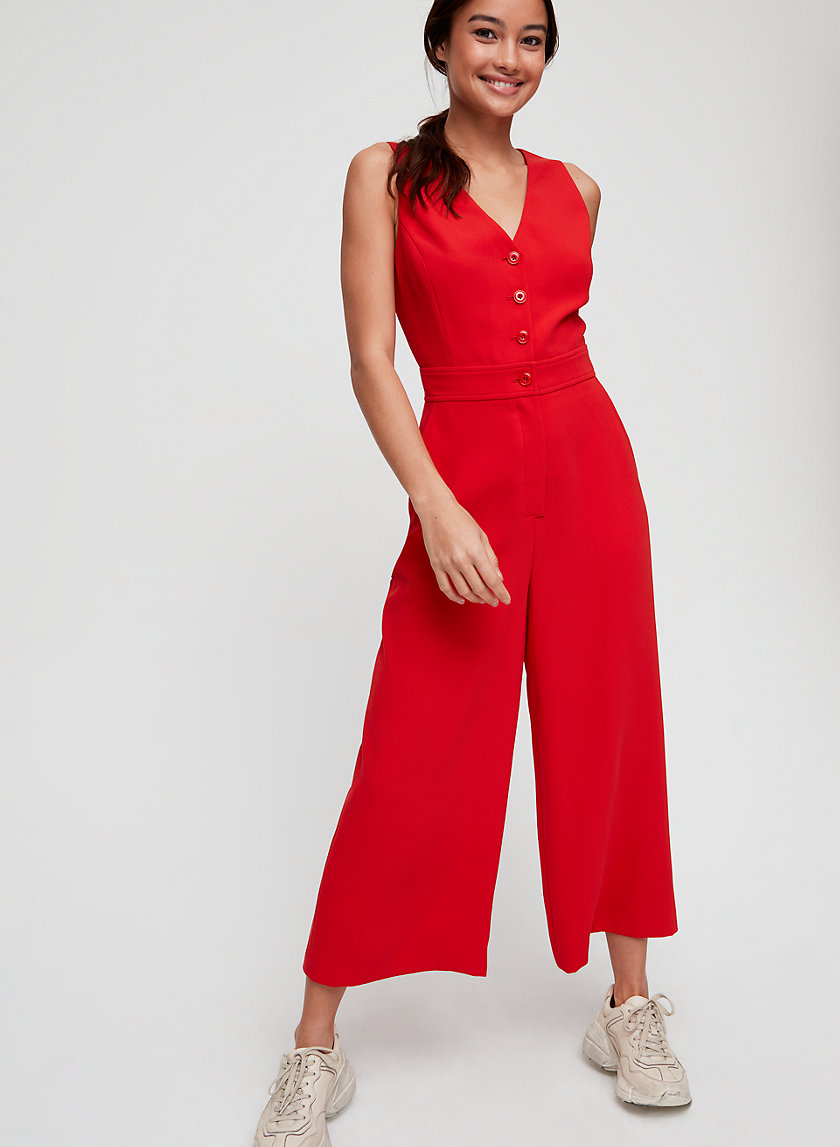 This is the Little Moon Lavender Jumpsuit from Aritzia, it covers a lot of the spring trends, bright-colored, wide leg and cropped.
If you prefer not to wear things that are too bright in your clothing than cover that off in either your shoes or accessories.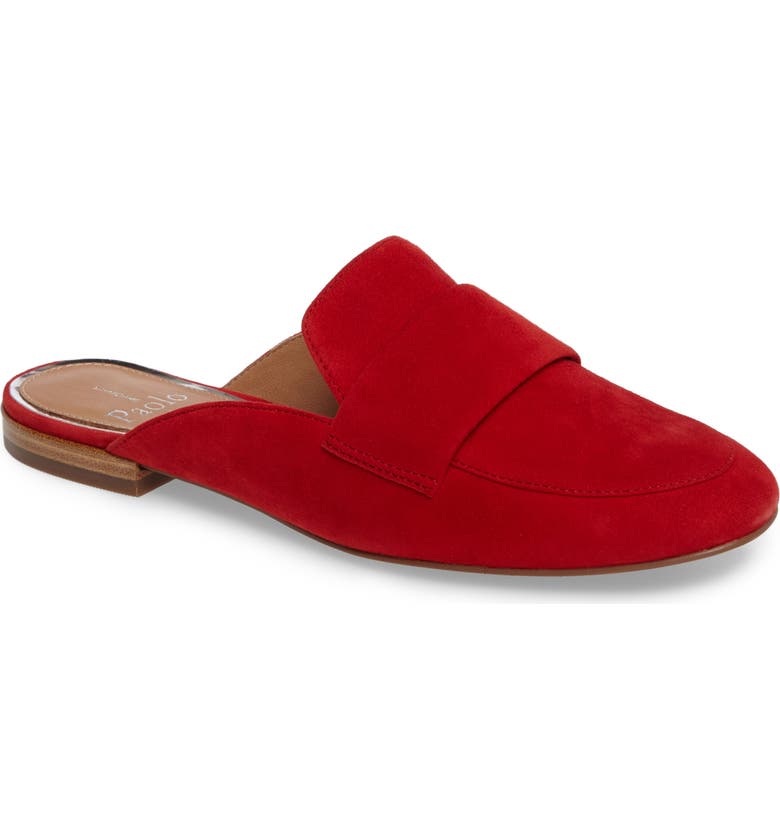 Colorful slides can work all the time, this one is Linea Paolo form Nordstrom. Or grab a brightly colored handbag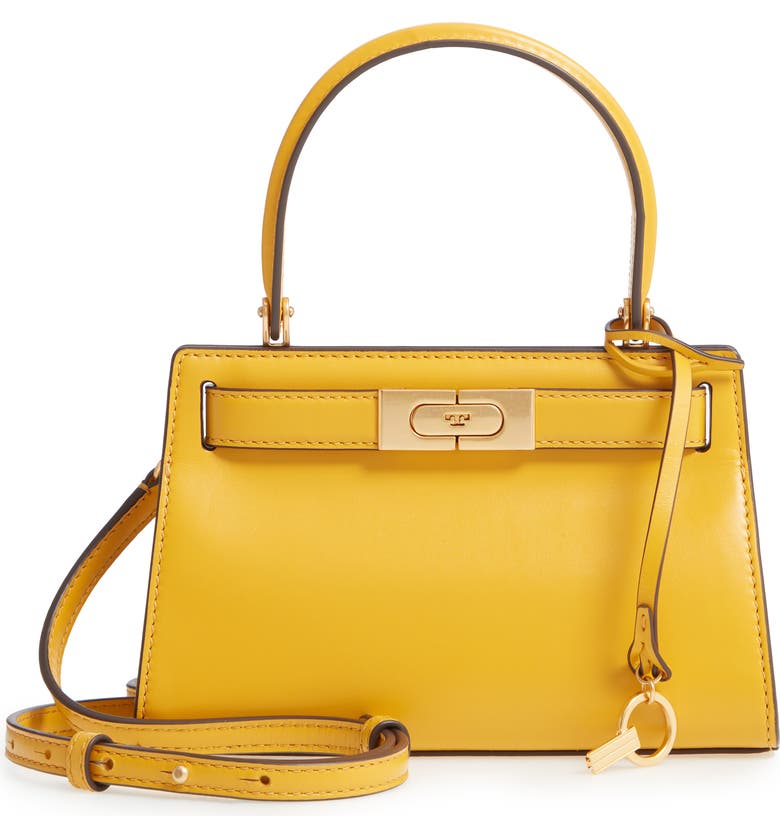 This Tory Burch mini leather bag will accent you perfectly colorwise for Spring 2019.
So there we have the 6 fairly major trends for Spring 2019.  For the rest of March and April I will go through each trend in-depth and do blogs about Spring Occasion dressing and Spring accessories.
We will start next week with taking an in-depth look at the Ruffles and Glitz trend.
Until next time…