Welcome to Spring 2019!  Yes, I know it still feels like winter in most places right now, but truly spring is just around the corner.  2 weeks ago I told you what to hang onto that you will probably wear again this spring.  In this blog, I am going to go through the first half of the spring trends and then next week I will follow-up with the final 3.  Then in the following months cover each trend in-depth.   Since we are all women who have experienced life a bit I will say a couple of things before we get started, there is a lot of throwback in Spring 2019 to the early 1990's and no one over the age of 40 should wear white boots or booties.  There are a couple of spring trends for women who don't remember the early 90's, like white boots and mini skirts, really and truly unless you have the body and confidence to pull it off, stay away from those two trends. Now that I have finished my preaching let's get started!
Ruffles and Glitz:
Remember we said the early 1990's so think of all the ruffles and glitz that were those days.  I think that's when the term Bling first started.  In this trend we are going to see things like Crazy Couture (pieces and prints put together like never before).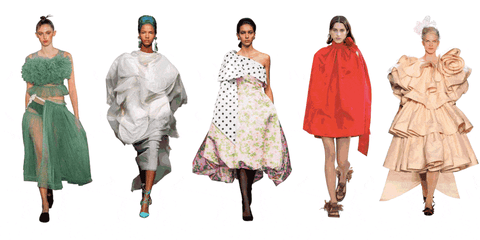 Think of things like polka dots with florals, light and heavy fabrics, etc.  This great image from Elle UK.
We are going to see a lot of oversized sleeves and puffy shoulders.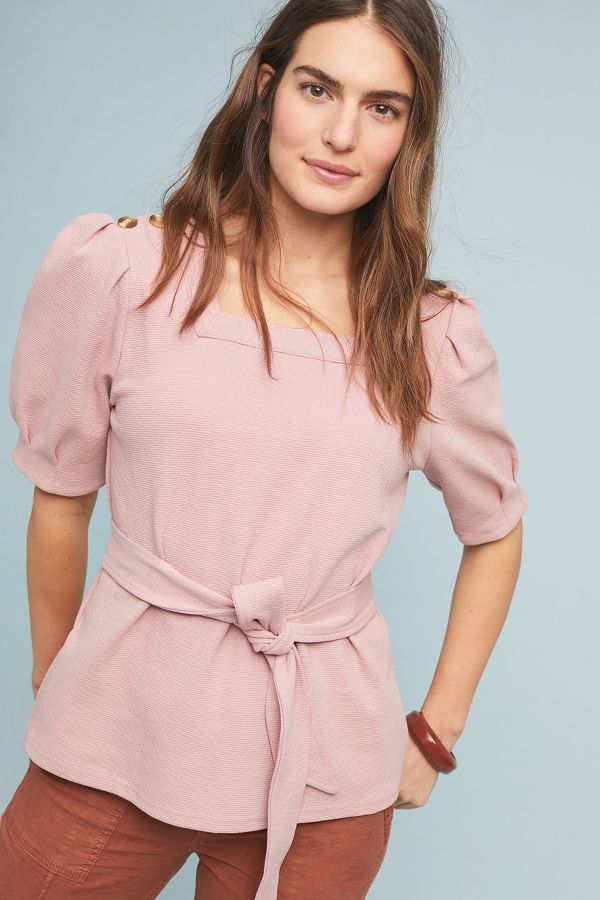 In Anthropologie's newest Spring collection you will see a lot of tops with sleeves like this Barnette Puff-Sleeved Top.  There are short and long ones.  Even fairly conservative stores like Banana Republic have puff sleeve tops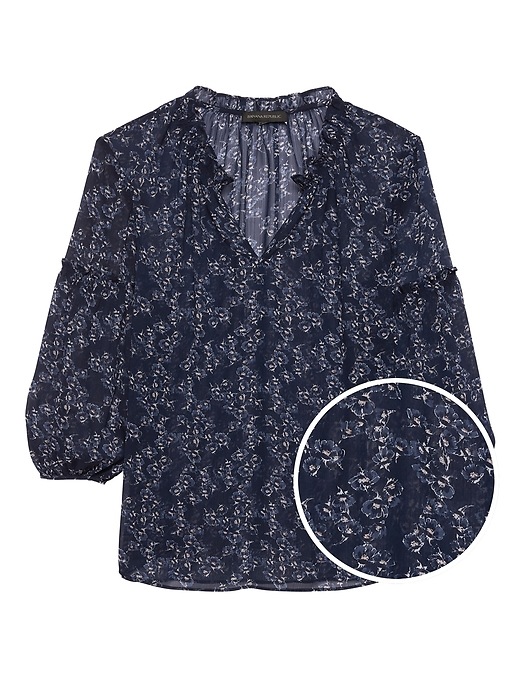 .  They will not be hard to find.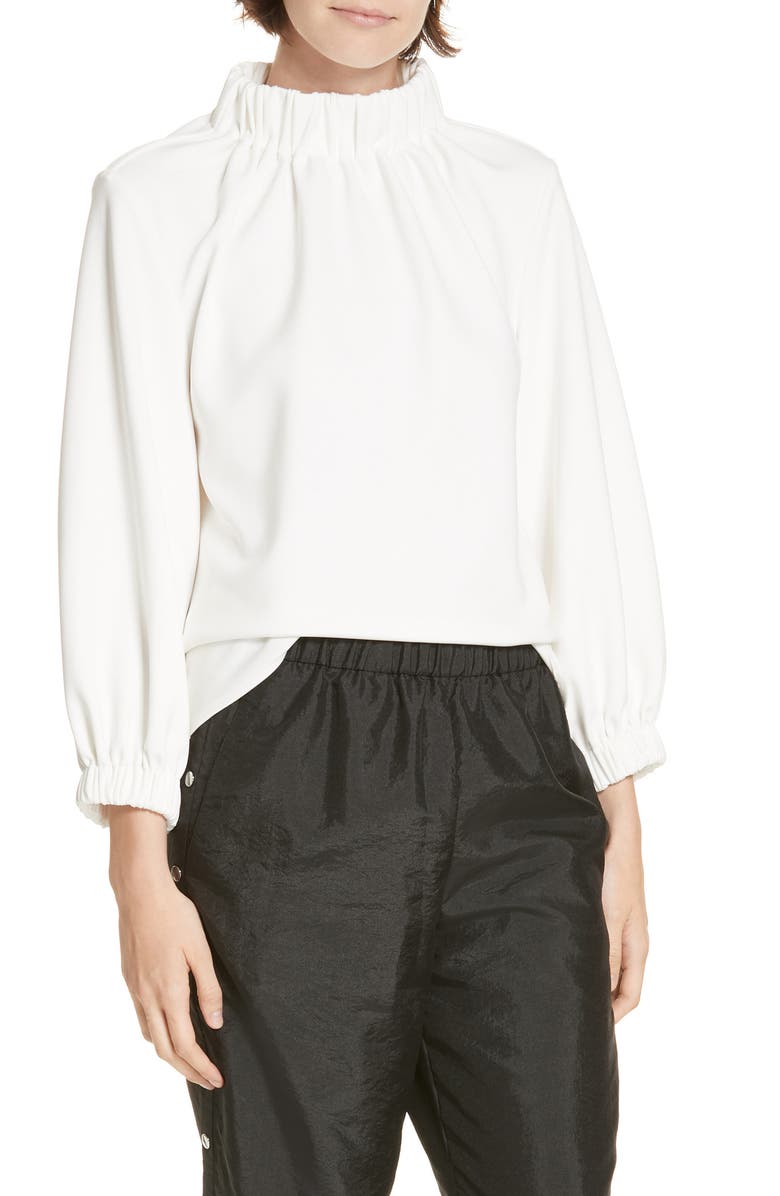 Check out this Tibi Shirred neck top I found at Nordstrom, it has a lot of what this trend is about, a little ruffling at the neck and super puffy sleeves.
Something else in this trend is oversized hats.  As we get further into spring we will start seeing more hats and the bigger the better is this Spring's trend.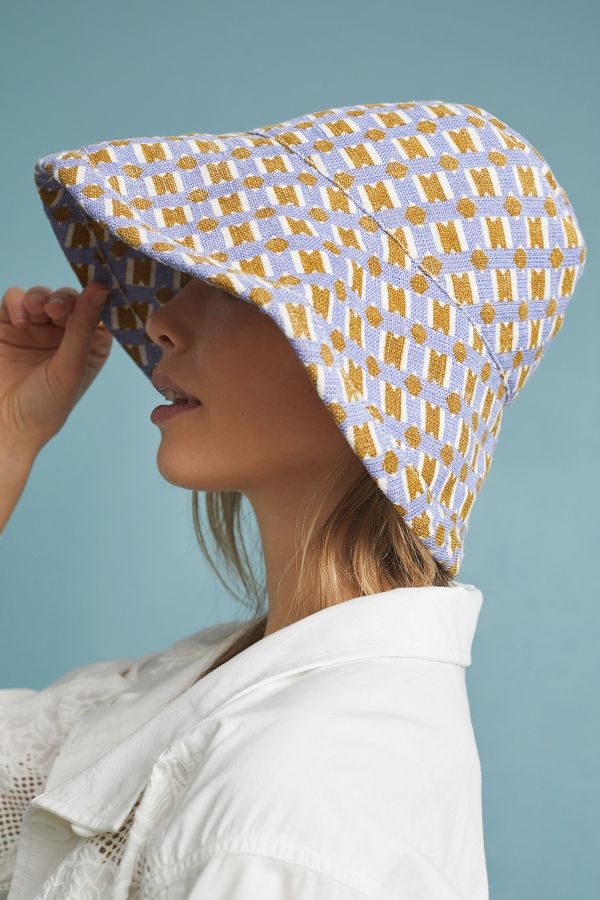 Even bucket hats are getting the oversize treatment, this hat is from Anthro.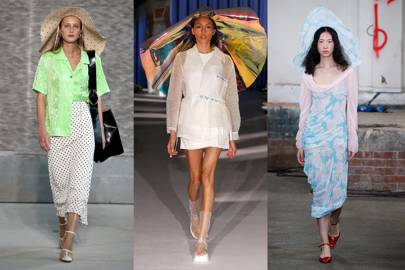 This image is from the Glamour UK web page, so you can see how oversize the designers are showing, for real way instead of runway, take it down a notch but still wear your spring hats big.
Pleating is big for spring.  Tight pleating was on runways.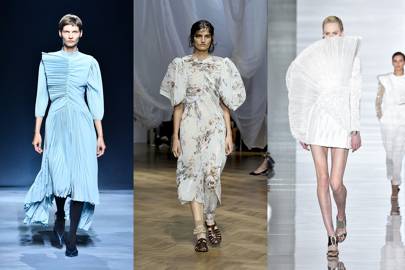 Again from Glamour UK you can see all the pleating and pleating and ruffling on runways.  For us we can take this down a notch as well,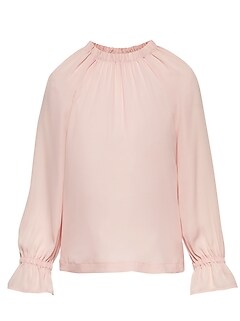 look for softer ruffling and pleating like this BR Poet Sleeve blouse.
And keep wearing your pleated skirts. A lot of us bought a pleated skirt last spring like this great style from Aritzia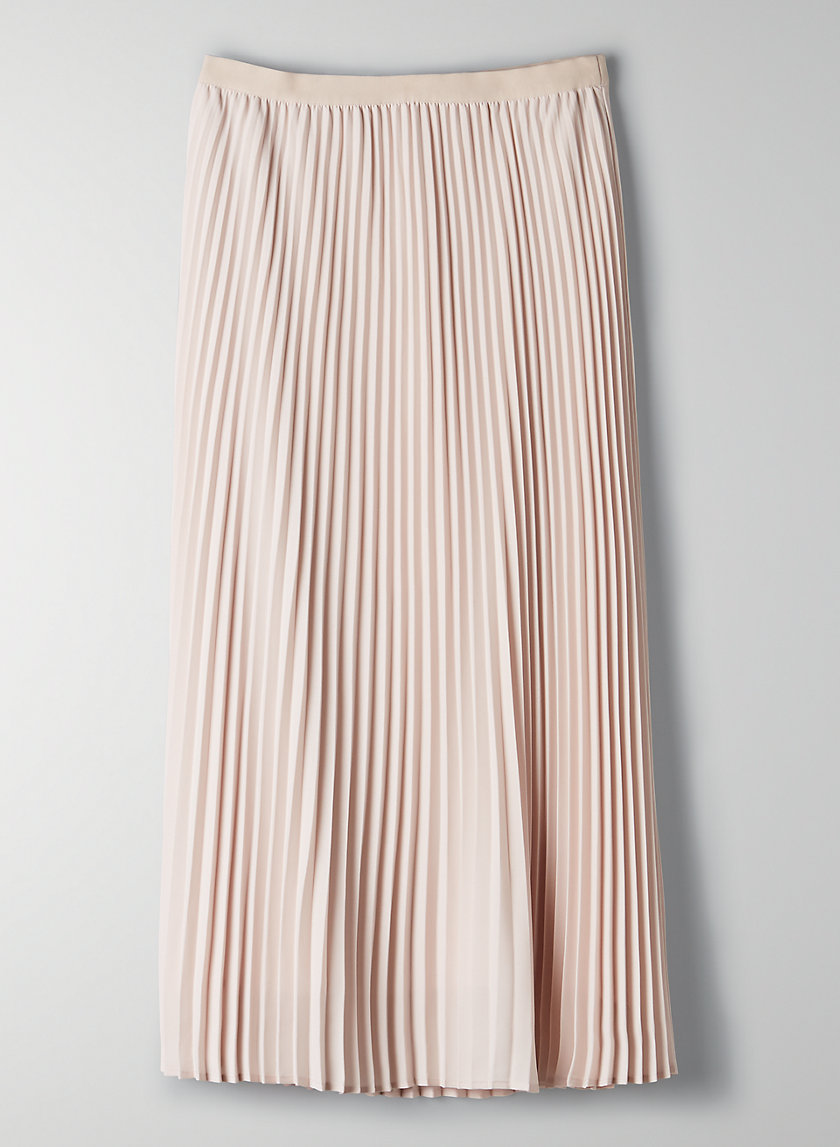 this is the Jude Skirt by Babaton.  I have this skirt in black, but maybe this is the season to try it in a new color like this soft pink or marigold, or even a floral.  You decide, this Babaton skirt looks good on everyone.
Another trend we saw on runways was the tuxedo trend,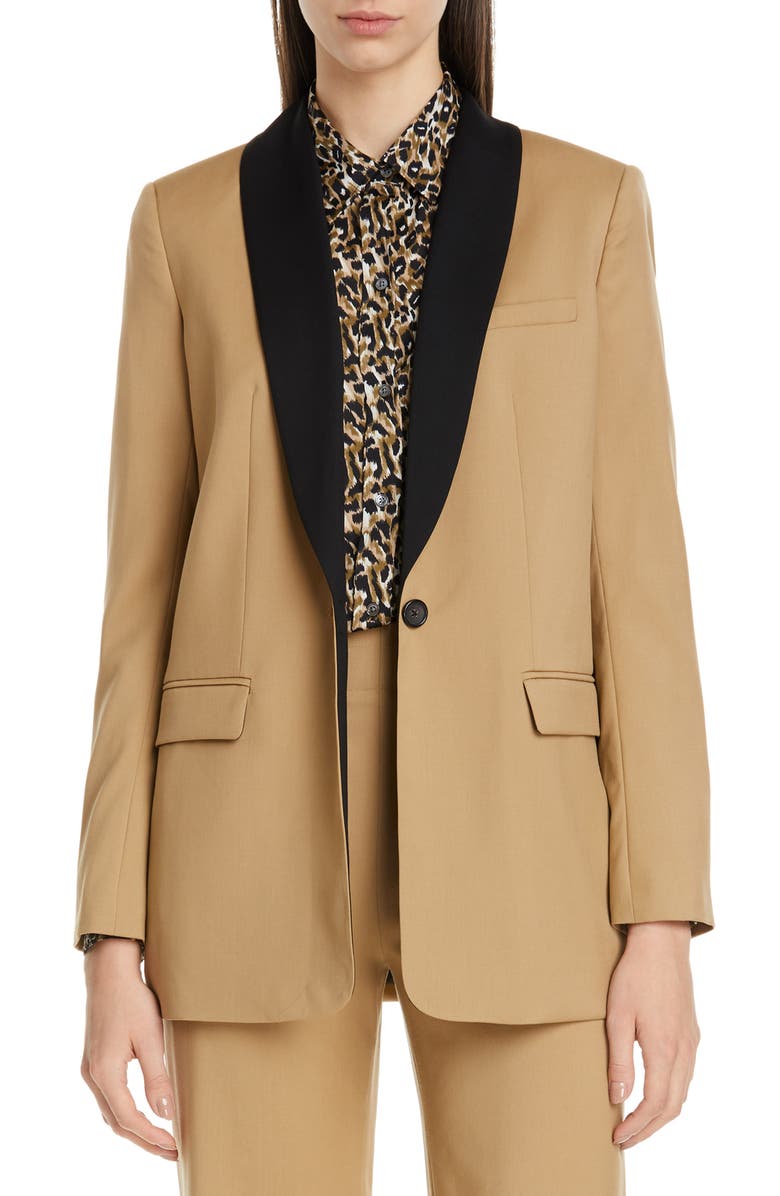 and for Spring 2019 we are seeing it take on a new direction.  This Quincy Shawl Blazer is from Equipment at Nordstrom, this is the type of tuxedo look we are seeing for Spring.
And lastly let's not forget about ruffles! They have been strong and will stay strong, so pull out all your ruffled tops and wear them again or get new ones.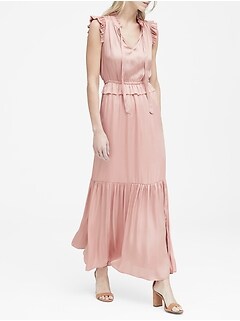 BR has some subtle ruffled pieces like this maxi dress. Or try a ruffled sleeve top by Anthro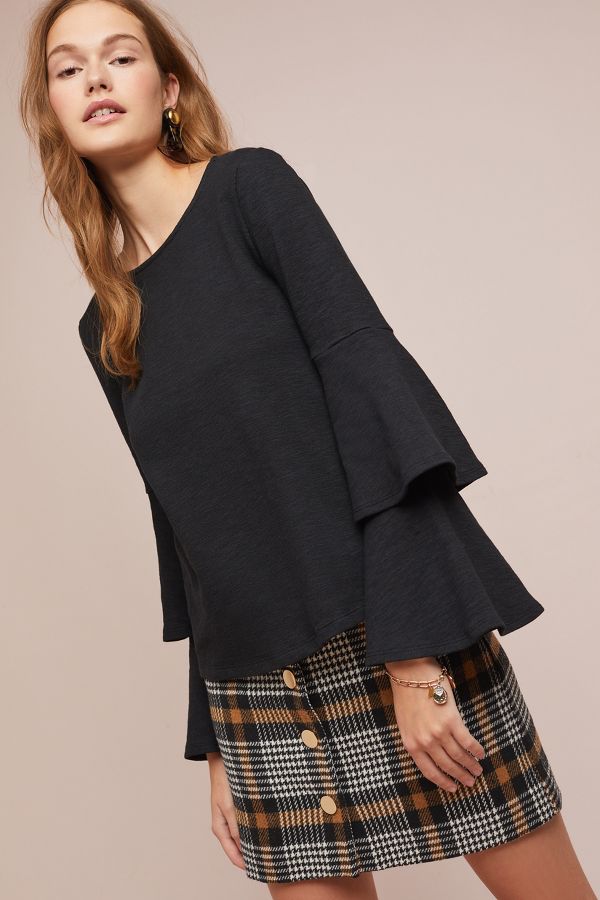 90's Mixture:
By far one of the biggest trends for Spring 2019 is the early 90's influence on fashion.  Starting with acid wash denim, not tailored like it was in 1990, but with today's influence.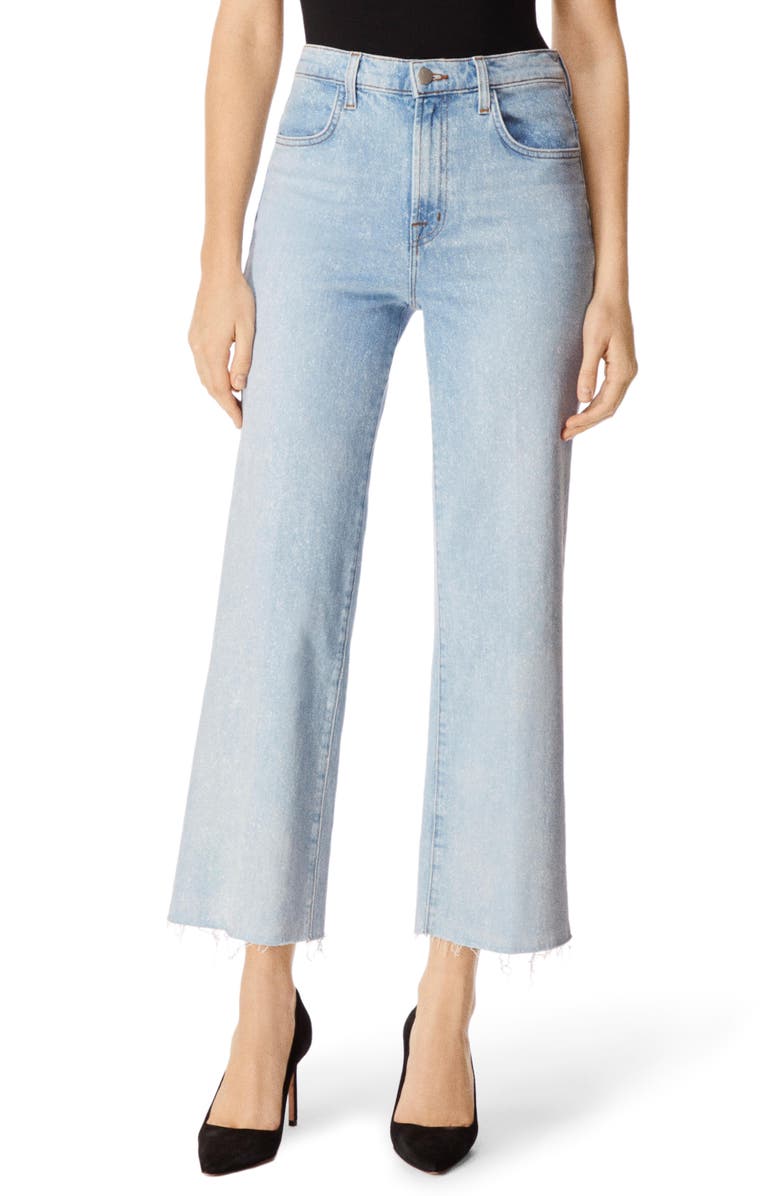 Waists are higher in pants and skirts for spring and wide leg crops are huge.  These are J Brand and they are from Nordstrom.
Graphic tops, in bold bright shades are going to be something you will want to wear.
A great example is this t-shirt from J. Crew and even though it doesn't fit into this trend, gingham is still strong too.
When you are buying dresses and tops look for things that are a bit of 90's mixtures, like paint strokes with pastels.
J. Crew has this brush stroke floral print in tops and jumpsuits that really hit on this trend.
Prints from the 90's are back as well, take a look at the snake-skin print pleated skirt you can find at BR for Spring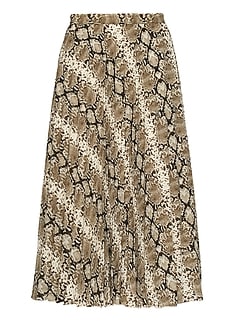 .  There is a lot of snake-skin coming in especially in accessories,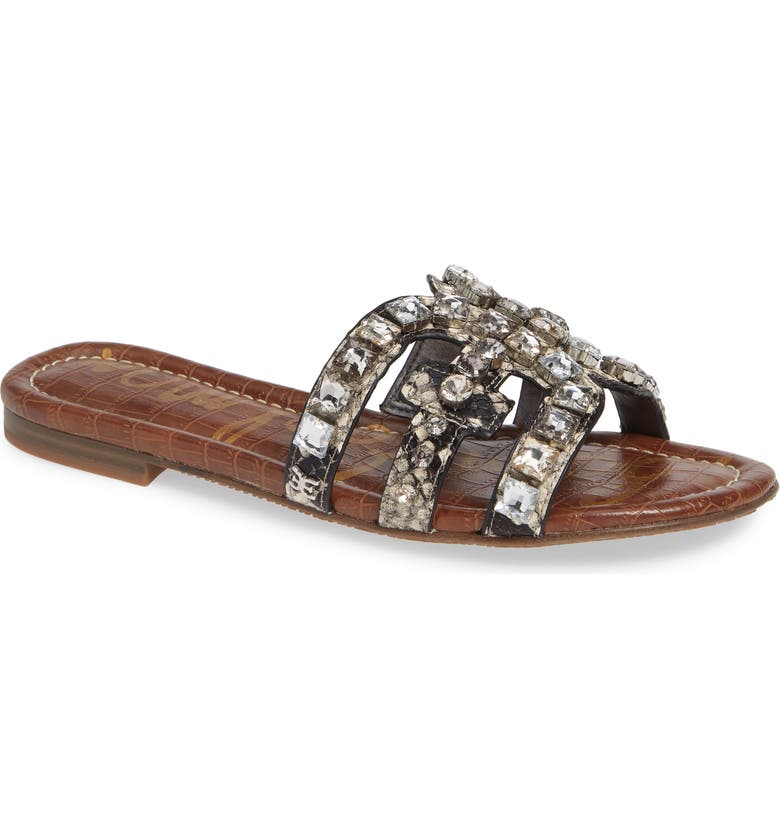 you can do a great little sandal with embellishment from Steve Madden if you prefer accessories to clothing for this trend (I do).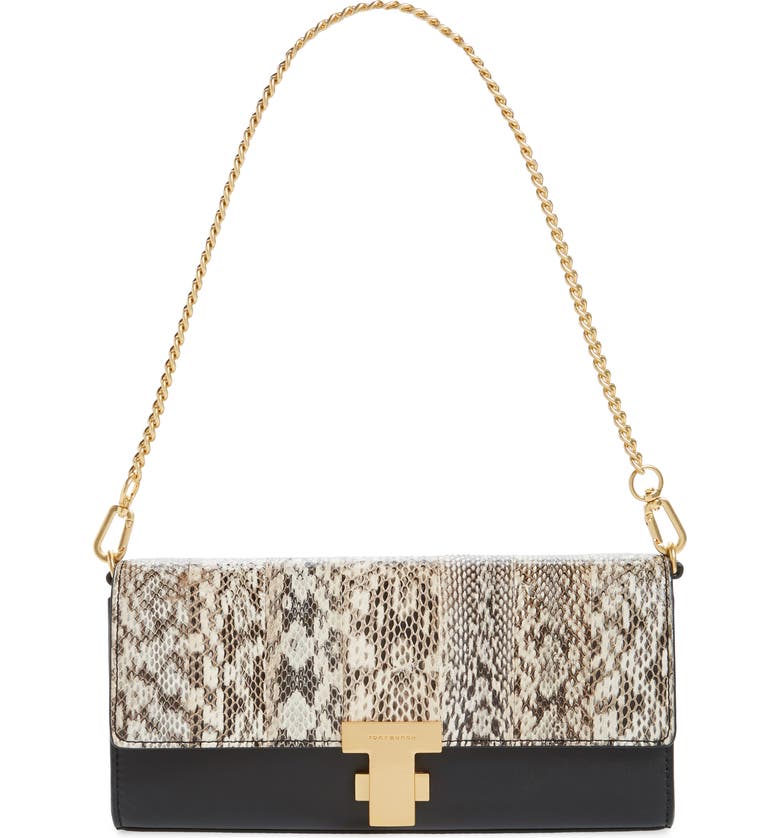 Or do something like this Tory Burch clutch which really hits the 90's trend.
The other big print is tie dye, remember how much tie dye we used to wear, well now it's gone designer.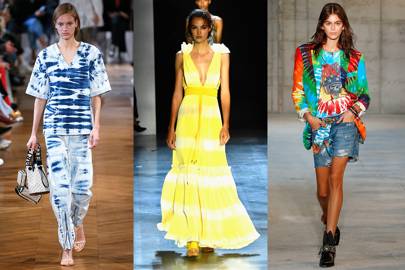 Glamour UK is showing it a la runway, for us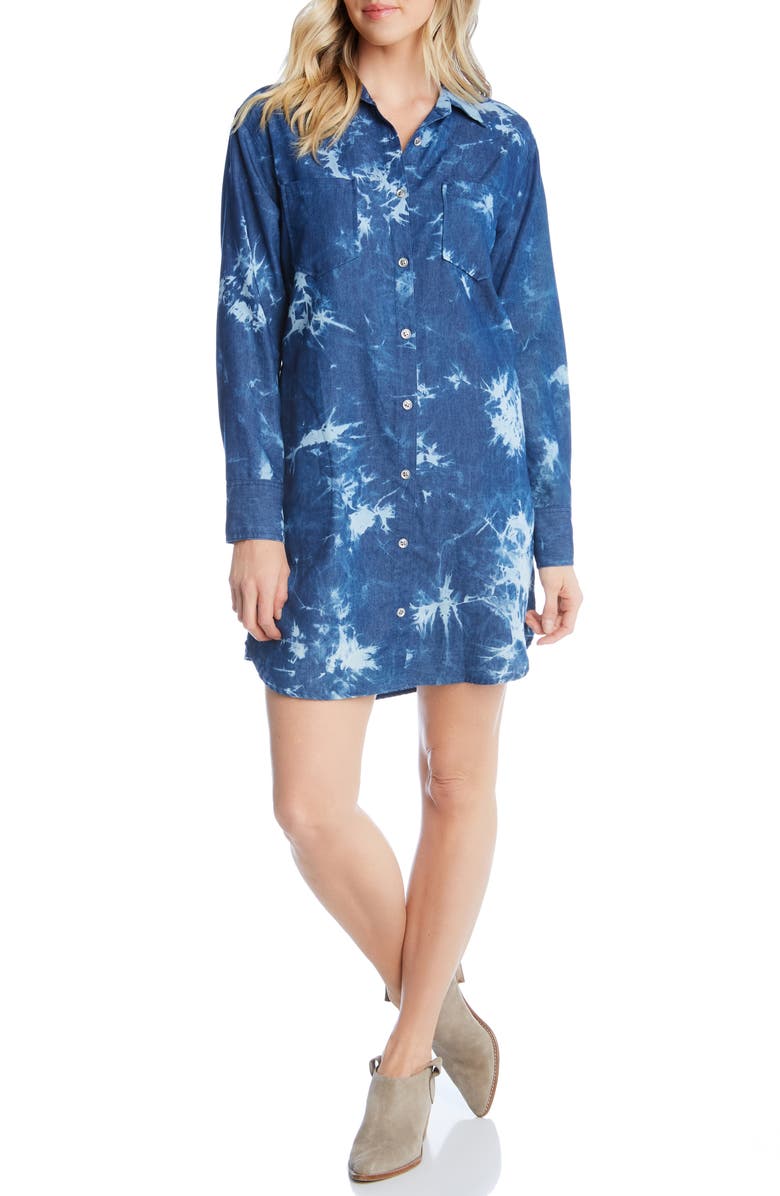 this Karen Kane tie dye shirt dress from Nordstrom is something we could wear to hit this trend.
The New Neutrals:
I am a sucker for Neutral colored clothing, living in Vancouver you can wear neutral colored clothing almost all year round.  What are the New Neutrals?  Well they are neutral colored clothing modernized for this Spring.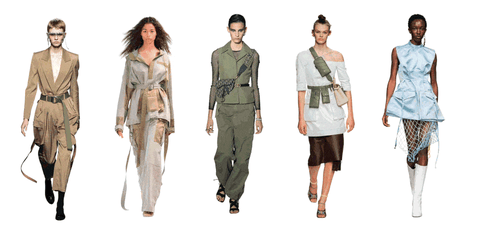 Elle UK shows us what this means.  For real way you could almost call this trend Cargo Chic.  Which means take your basic chinos up a notch.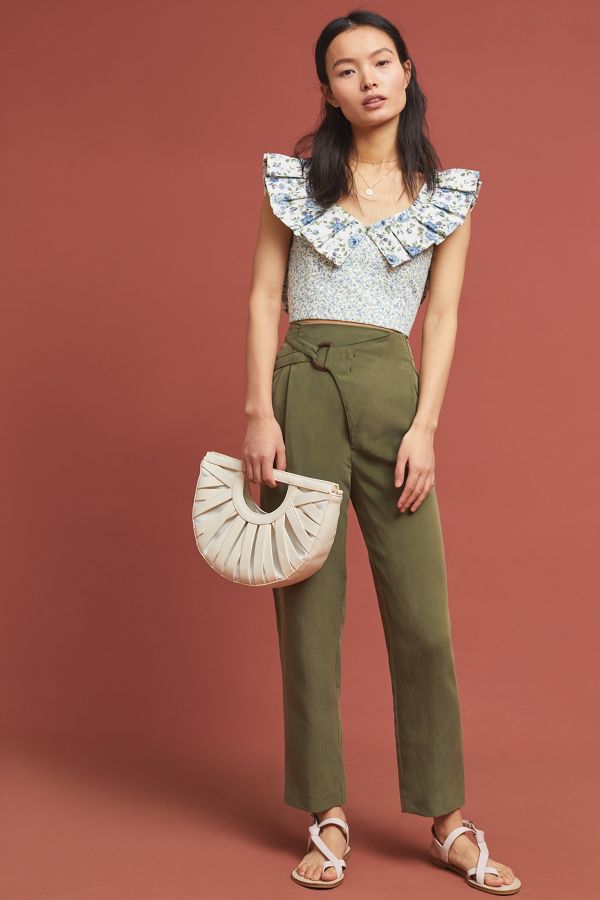 Wear your basic Chino colors but with a higher waist detail like these pants from Anthro and while you are at it, wear a top with a ruffle like in this picture. Joggers are very much still important and this is the trend where you will place them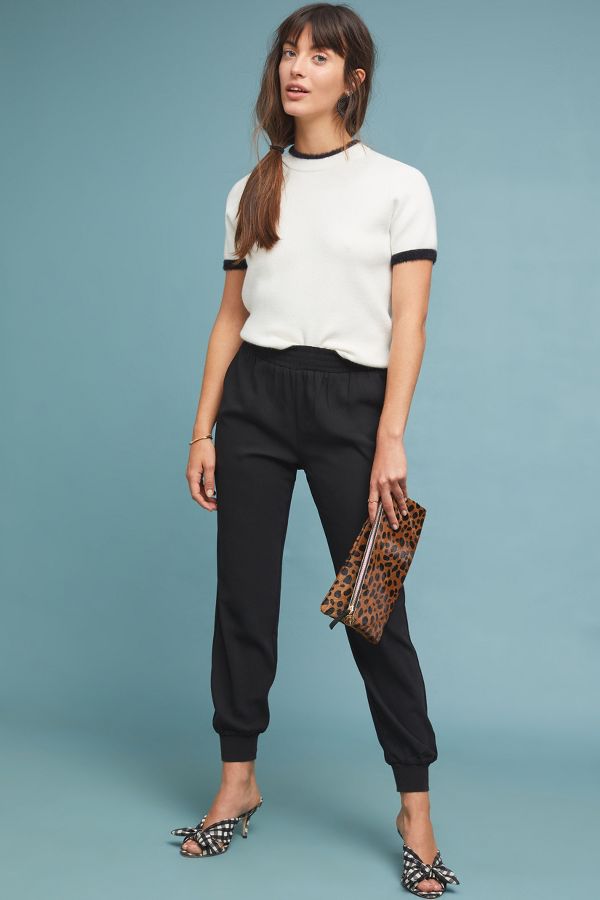 Anthro has 2 great pair, yes black is considered a neutral and so is denim. Another silhouette I really like for spring is the wide leg crop pant,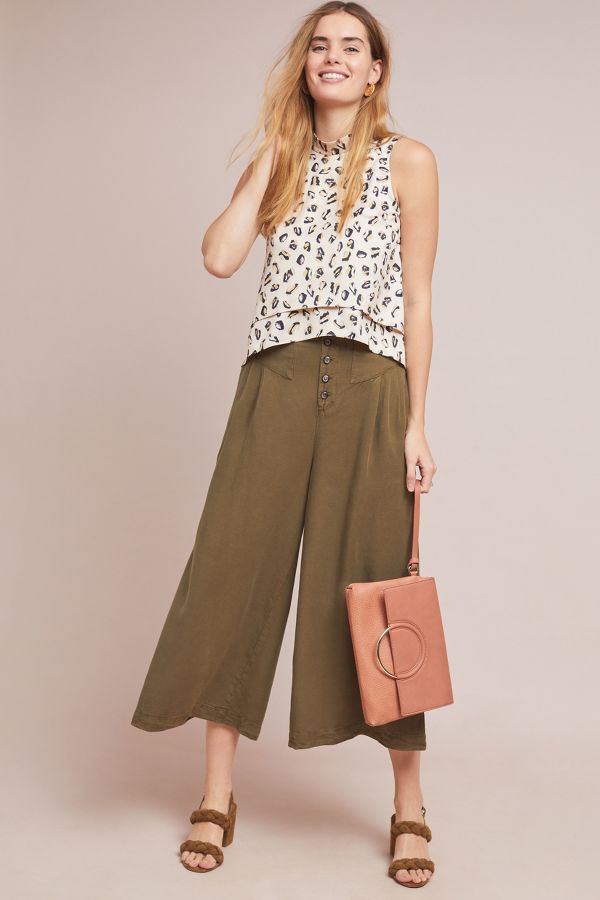 and the best way to experiment with this style is to wear it in a neutral shade.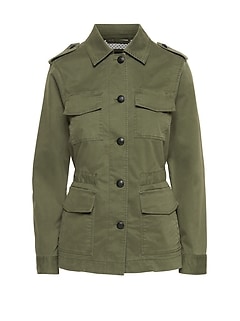 Utility jackets are huge for spring, this one is from BR, dress it up and wear it to work or casually on the weekends. And hang on to your neutral colored trench coat, you will wear it again this spring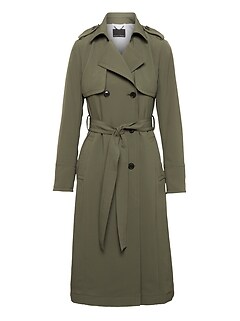 . You can do it basic like this one from BR, or try something to take neutral up a notch,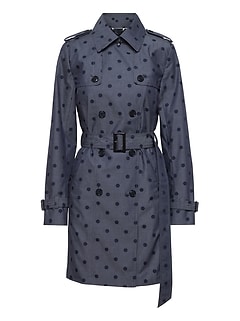 I love this polka dot chambray trench from BR, polka dots are huge for spring and denim is super neutral.  Think how great this will look over your solid pants, skirts and dresses.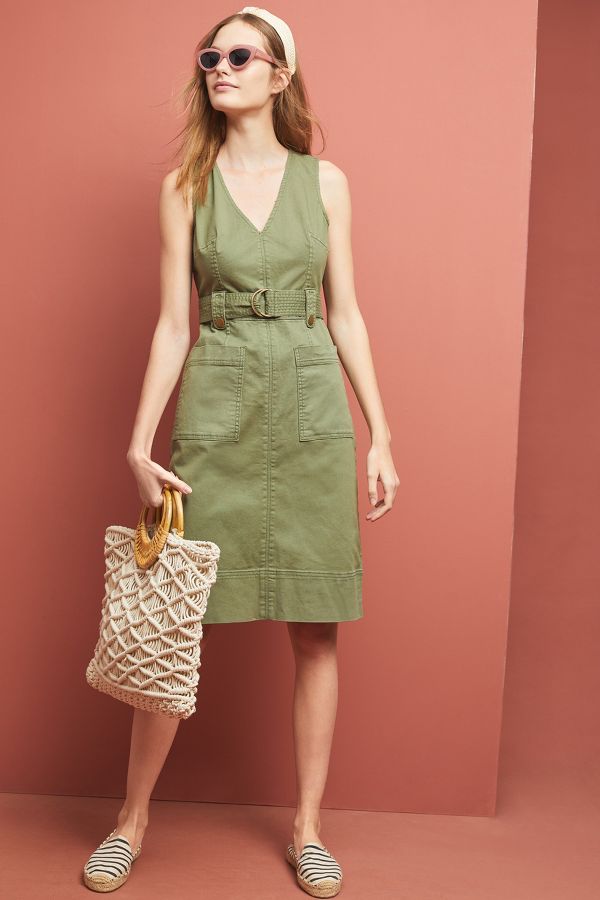 Even dresses are going Utility, this great little dress that you can layer a t-shirt under or wear as is from Anthro also comes in Black.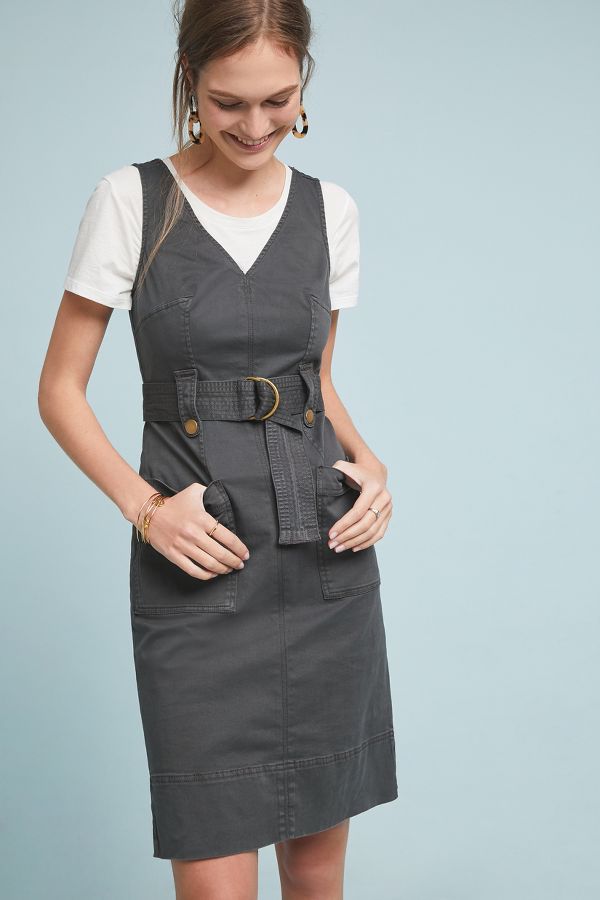 Both ways are fantastic to really hit this trend for spring.
You could add soft pink and red into this trend as well, as long as the style is cargo chic and the color is fairly neutral (meaning you can wear it head to toe or with other colors).  But we will go into more detail about this trend and all the other trends in the coming weeks.
So there you have it, the first 3 major trends of spring.  Next week we will look at 3 more trends, Sweet and Girlie, The Modern Bohemian and the Bright color trend.  And if there is room we can also talk about some spring trends that you can wear with all the clothing trends in shoes and accessories.  So please keep reading and stay tuned weekly.
If you are reading my blog weekly and enjoy it please let me know! Also if there are suggestions for blogs I would love to hear them.  I am writing blogs right up until the end of April and then taking a break for May, so I promise we will cover everything for spring before then. As always, I can be reached at Suethefashionista@gmail.com.
Until next time…