Every year about this time, even though there is snow still on the ground and the weather is cold, we are bombarded by images of early spring attire.  Now is definitely not the time to start wearing spring but it is the time to start getting your closet ready for next spring.  Unless you live in the Southern US you likely won't start wearing spring clothes until maybe April, but if you sell your clothes like I do, most used clothing stores want them before the beginning of March.  So here is a quick guide what to keep.
First of all, if you have changed sizes, hair colors or anything else about your appearance you are going to get rid of anything that doesn't fit or doesn't go with your hair color and complexion ( I am particularly speaking to you all you women who have embraced grey hair).
Most of the things we saw from last spring are going to be around for another season.
Jumpsuits are still in fashion in a big way.  Just look at the Banana Republic or Anthropologie website and you will see how many they are showing.  If you bought jumpsuits last year, and they still fit, keep them.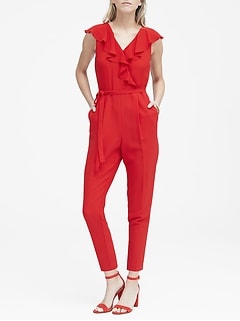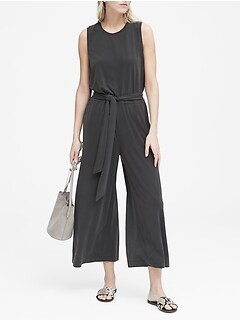 Here are a few examples from BR's early spring collection, jumpsuits of all styles and leg widths and lengths are going to be around again.  If you have them great, if not you can buy these for 40% off right now.  But a word of caution buying jumpsuits online, I feel they are something you have to try on (even thought one of mine I bought online and lucked out) not everyone's body is model perfect, so go into the store try on a couple and then you can order them online knowing how they fit.
Another thing you want to hang onto are all your pretty dresses.  Dresses are going to be huge for Spring again.  Bright colors, florals, stripes and dots, hang onto all of them for now.
This little polka dot Sweetheart swing dress by Cloth and Stone is featured on Anthropologie's website.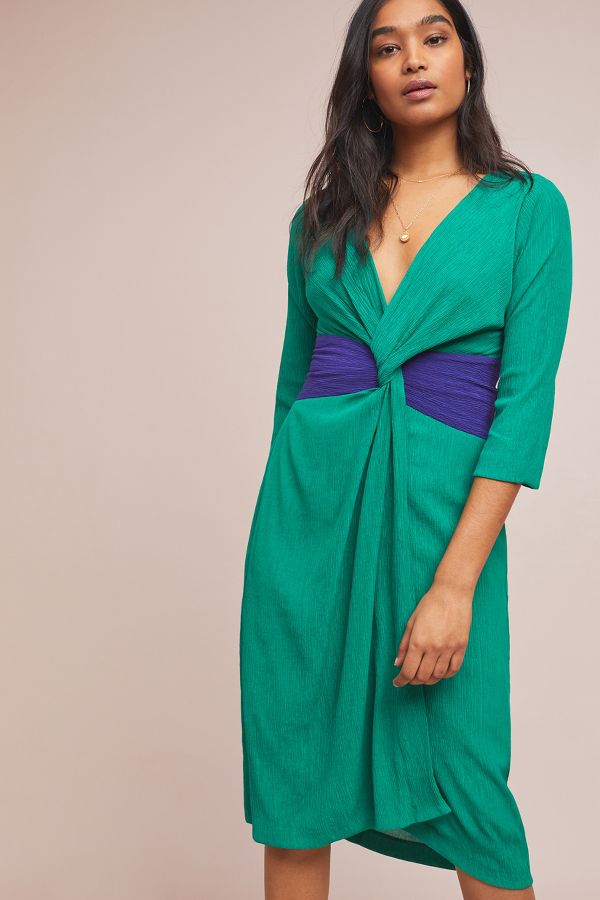 Or try one of Anthro's top rated dresses, this Esme knotted dress comes in this bold teal/royal colorway or if you are less adventurous it comes in black too.
Maxi and Midi dresses are super strong still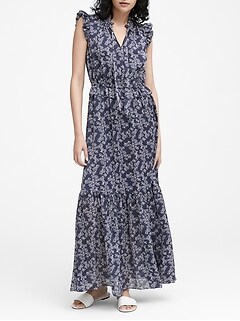 BR has this dress online now and in stores at the end of Feb.
Anthro also has lots of maxi and mid to choose from, this Tilly Tiered dress is only $120!
Keep all your flare and flowy dresses, you won't have to replace them!
Pants are also staying wide and slim.  Last year it was all in style, wide, slim, cropped, ankle and straight legs and it will all stay in style. Keep your classic colors and maybe try one of the new pastels we are going to be seeing
like this soft Avery cotton pant that will be in BR stores the end of Feb.  Printed pants and joggers are not going anywhere either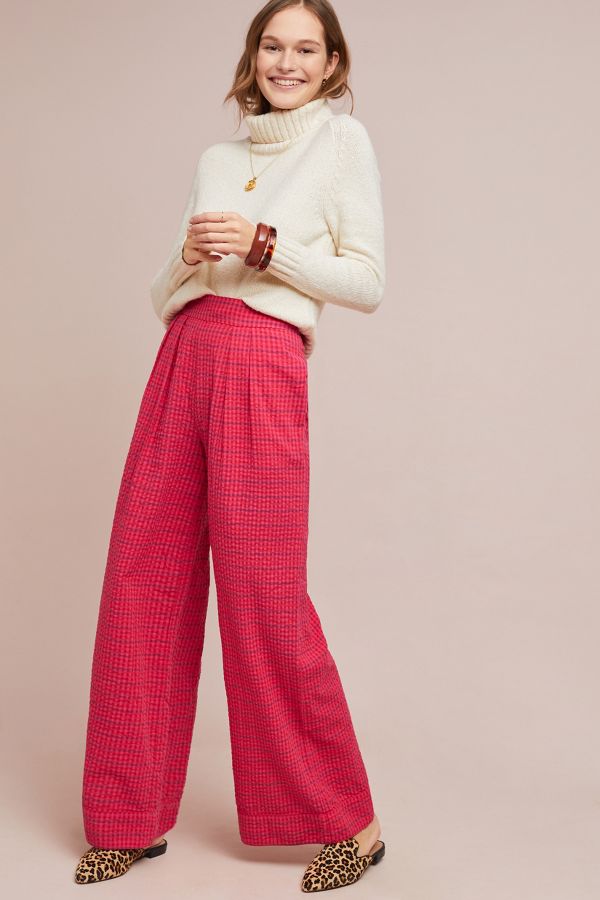 These 2 pair are both from Anthro's website.  As you can see both can be worn now with sweaters and then pair them with cami's when the weather heats up.
We are seeing the same type of styling as last year in tops too, lots of flowy and puffy sleeves,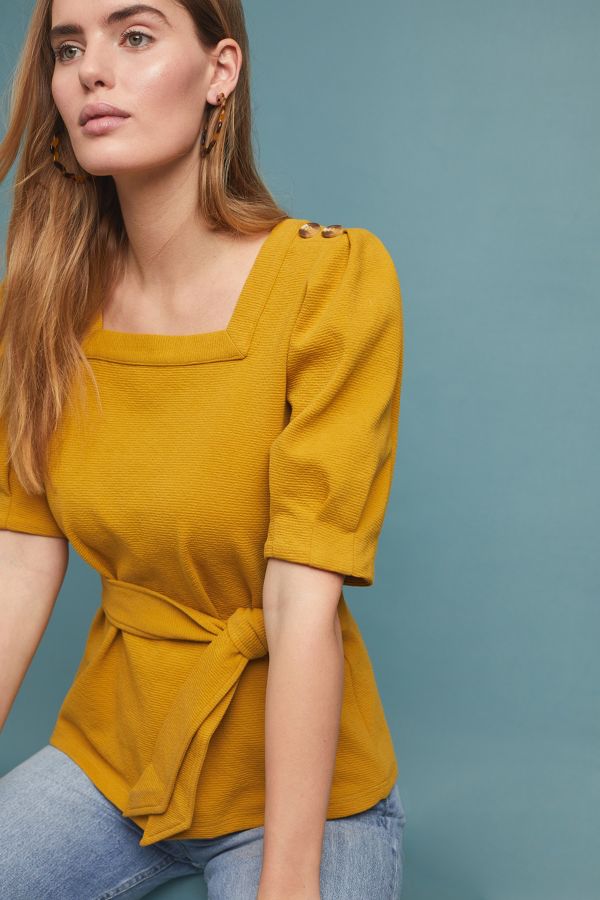 this Barnett Puff-Sleeve top from Anthro comes in 4 colors, basic, pastel and brights.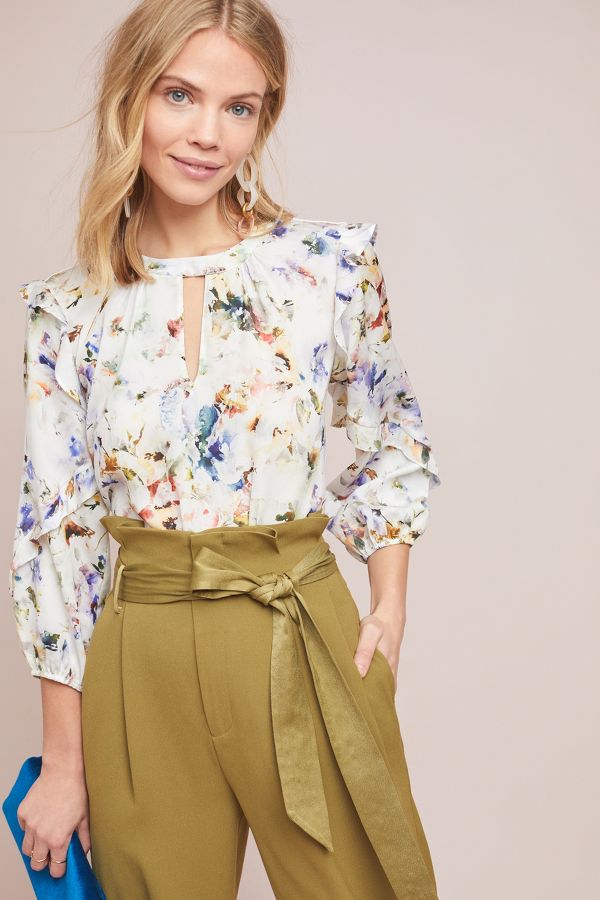 Florals and ruffles are still going strong as well, this is the Araminta Ruffled top from Anthro and it also comes in basic black.  Hang onto your off the shoulder tops too, they aren't showing a lot right now but I do have a strong feeling they will still be in style come spring.
One other important item that we talked about last spring and this fall was a great statement coat.  Trenches were huge last spring and they are still going strong.
Talk about a statement! This Leopard print Trench coat with removable hood (perfect for Vancouver!) from J. Crew is already one of it's best-selling styles.  Right now online it's 40% so if you want it grab it!  But if you have trenches from last spring, just wear them again.  No need to buy anything new.
It is interesting but we are seeing Leopard print for spring.  Of course we talked about how strong it was for fall.  But now going into spring it's going to stick around.  Banana Republic is showing a Leopard print jumpsuit for spring
. and J. Crew has the above coat.  Leopard printed flats and pumps will still be wearable for spring
this pair is from J. Crew's early spring collection.
Speaking of shoes, block heels, ankle straps and slides and wedges are all strong going into spring.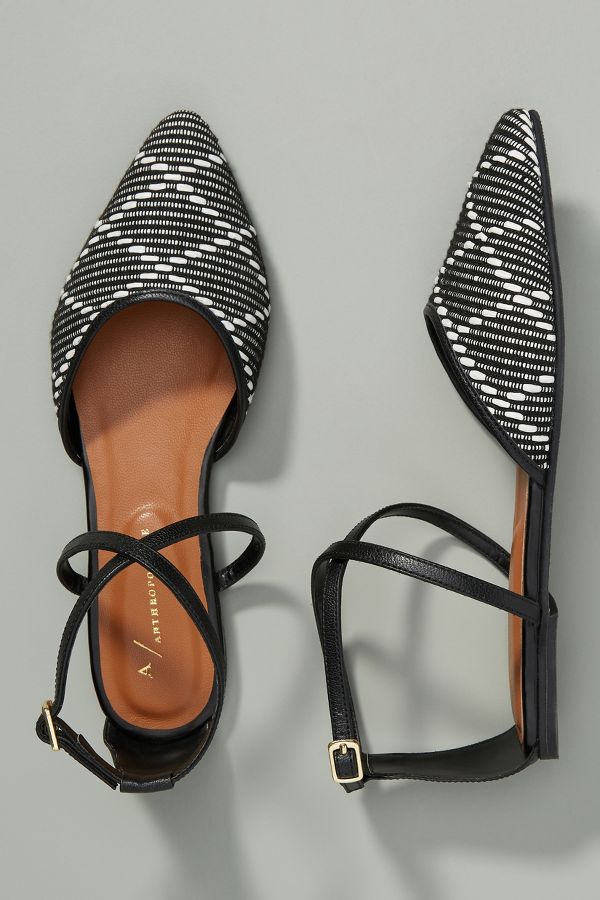 We started seeing strappy flats like these from Anthro last spring ( actually I think even the spring before) so if you have a pair like these keep them!
Keep your mules, they are going to be strong this year too, this pair is from J. Crew.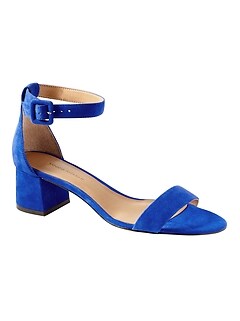 And never toss your block heel, ankle strap sandals.  If you have a pair like these from BR keep them.  They have been around for the last 3 springs and aren't going anywhere soon.
Accessories you want to hang onto are statement earrings and waist bags.
Tortoise shell accessories are all over right now, wear these J. Crew earrings now with your neutrals and then to tone down your brights later in the spring.
Chandlier and Crystal hoop earrings are going to be making a huge statement once again this spring.  If you bought statement earrings last spring, keep wearing them, if not maybe you want a pair? J. Crew has lots on its website to browse through.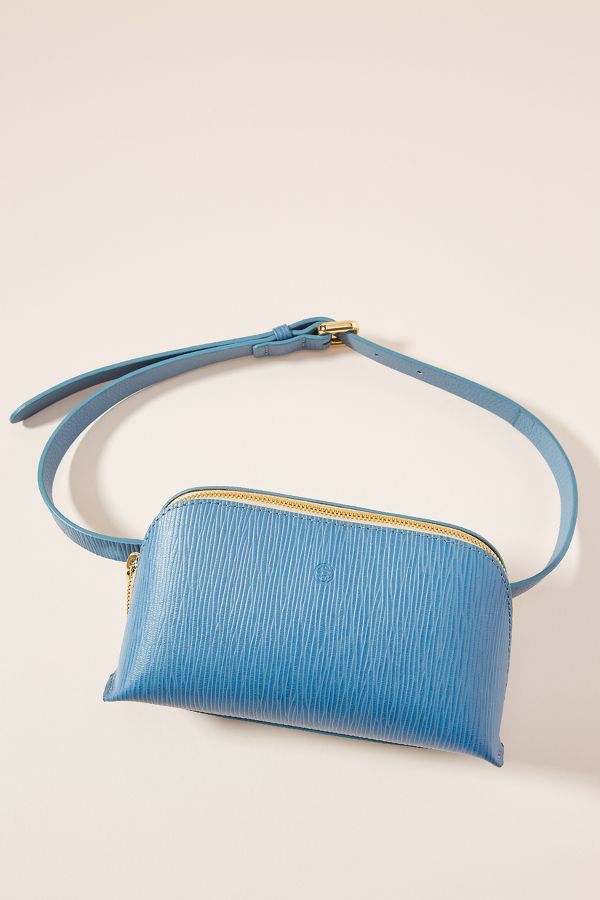 Belt bags are going to be strong again for Spring.  They really started to be a statement for fall 2018 so if you don't have a lighter one for spring, maybe now is the time to start looking.  This bag is from Anthro.
J. Crew has a really cute leopard print belt bag that you can wear in any season, so if you just want one, maybe this statement piece is for you.
All the straw and raffia bags we saw last year are still going strong.  So are totes.  Keep what you have or wait a month or two and there will be lots to choose from.
So that is a quick look at what we can keep from last spring's wardrobe going forward. If anything is broken or torn or in disrepair and you can't fix it, toss it away.  Anything that is in good condition that you don't want to keep you can take to a resale store, a lot of used clothing stores is a 60/40 split which isn't bad, you get 40% of what they sell your items for.  I sell my gently used clothing every season and have made anywhere from $500-$2500 depending on the season and what I take in.  It's a great way to give yourself some spending money to buy new clothes, especially if it doesn't fit or look good on you anymore.
Do you need help going through your own closet? Would another pair of eyes help you weed out what you aren't going to wear anymore?  I am now taking appointments for March and April.  I won't be working in May and June this year, so if you want either a styling appointment or a closet consultation book soon. Email me at Suethefashionista@gmail.com for an appointment.  I have a special promotion on for the next 2 weeks, book by March 1, 2018 and I will give 2 hours for the price of 1. And that promotion has to be used before May 1, 2018.  So if you are thinking about getting some styling help now is the time to book.
Next blog will be March 6.  We will start to go through Spring 2019.  I will be blogging up until the end of April and then no blogs in May.  I will let you know about the summer blogs before May. Now that my children are grown my travel schedule is ramping up, so less time for blogging, however I am still doing styling appointment and we can work around both our schedules when you book an appointment.
Until next time…