This is pretty much our last fall blog before we dive into Holiday.  So we have seen a lot of fall trends that we either love or we don't. Remember you only have to wear a trend if you feel it is right for you.  Not every trend can work for everyone.  So choose the ones that work and forget ones that don't.
Sometimes that is easier said than done.  And everyone has different moods to their wardrobe.  What you wear for lunch with the girls can say something very different from date night with your husband. How you dress for work is very different than how you dress on the weekends.  So how do you make it all work where you feel comfortable and true to your own style in every thing you do?  Accessories and how you layer your clothes can certainly help you stay true to your own style.
In talking about accessories I am not going into detail about jewellery because we have Shoshana Lewis who will be doing a guest blog within the next month and there is no way I can do it justice the way she can.
Let's look at 3 different ways to style and talk about how you add or subtract accessories to get the look just right:
The Casual Look
Casual attire is more than just weekend wear for a lot of women.  Depending on where you work or what you do, this could be how you dress all the time.
There is nothing that works better than jeans for your casual wardrobe.  I have blogged endlessly about how to find your best fitting jeans so please refer back to one of those blogs for finding denim.
A great pair of dark wash slim or straight jeans can be your best friend.  I recently bought these slim straight dark wash jeans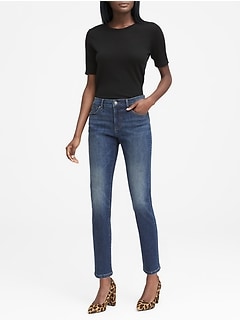 from Banana Republic online and I am just loving them.  They look good with everything and are dark enough that I can wear them with blazers and dressy tops. Every other week Banana Republic has 40% off so wait and get jeans at a great price.
Detail is the key for Fall 2018 when putting together a great casual look.  We talked at the beginning of the season about plaid, I like a polished plaid shirt to add a bit of moderness to an outfit so it looks current and not like it's recycled from last year (not a bad thing if it's a great outfit).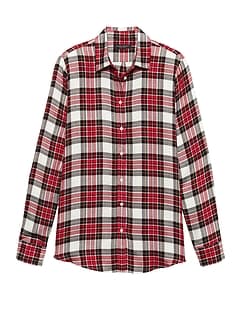 The Dillon shirt from Banana Republic comes in a few different plaids, but I like this red version because you can wear it into holiday. So if you pair the slim straight jeans above with your plaid shirt how do you take it from okay to wow?   There are a few different ways you can go.  For a casual weekend day or casual lunch with the girls try adding a slouchy poncho over top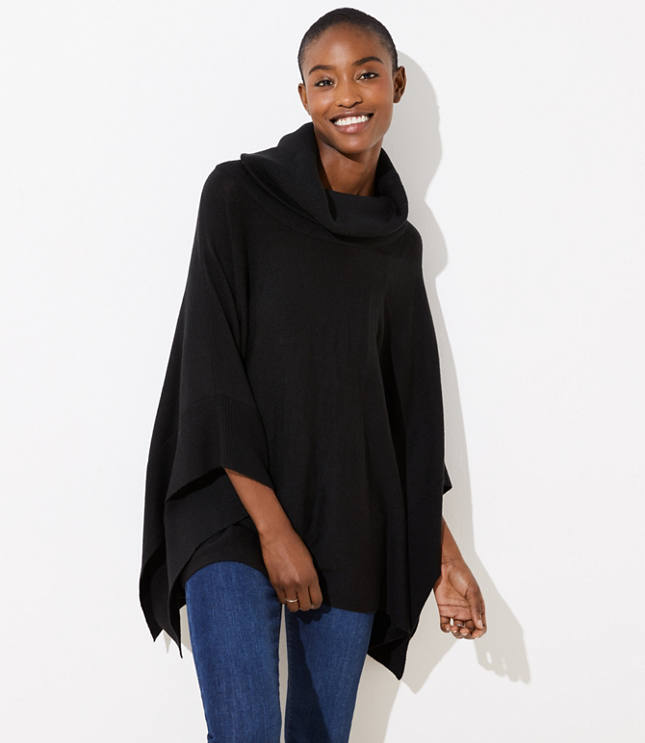 like this one from Loft with your collar and sleeves poking out and add a pair of flat boots that maybe have a slight western feel to them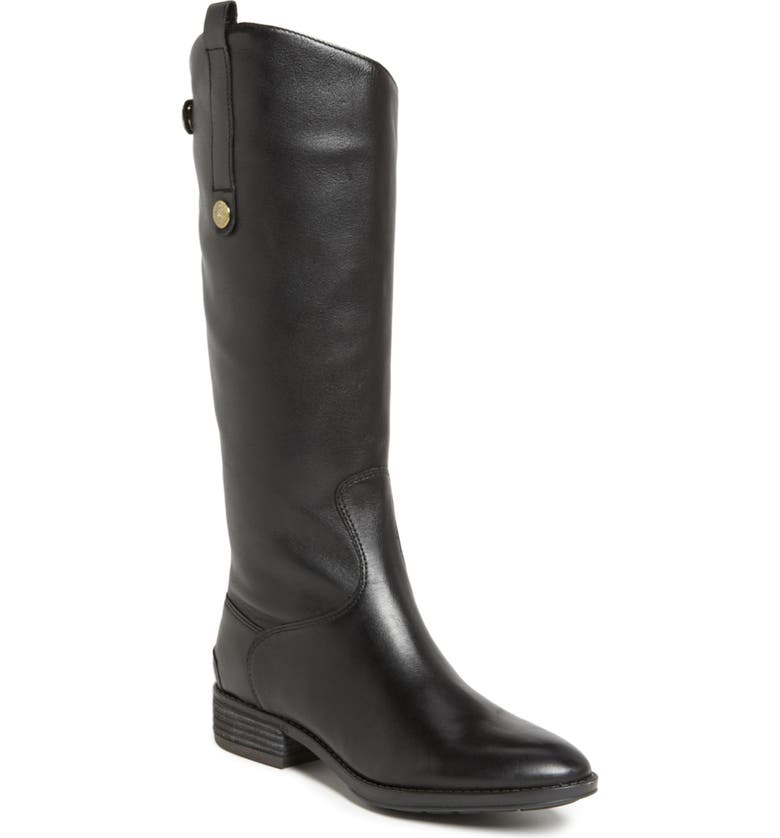 like these Penny Boots by Sam Edelman at Nordstrom.  Finish the outfit off with big earrings and a trendy cross body bag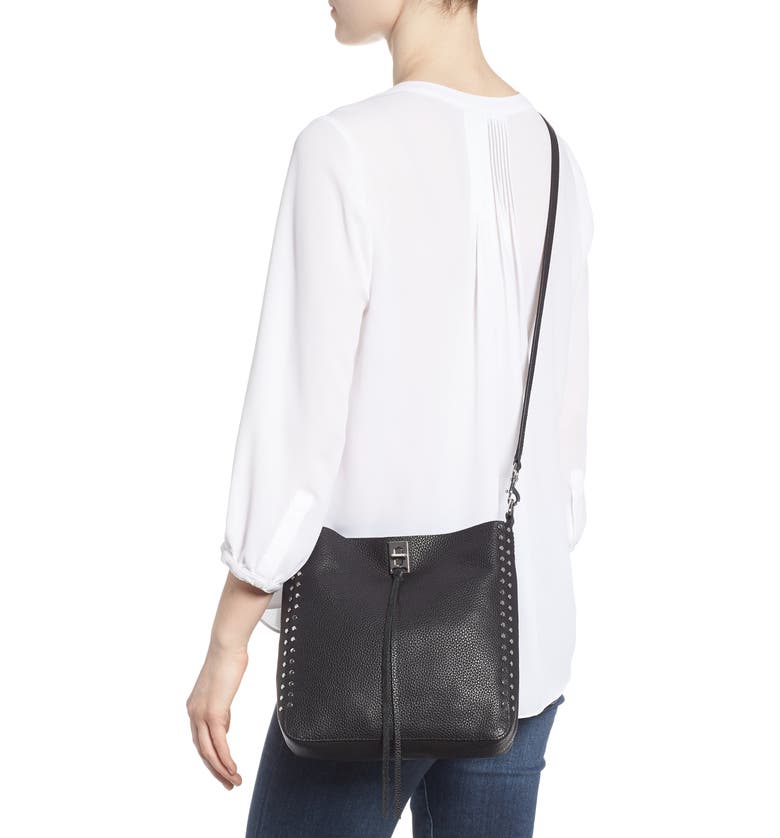 like this trendy Rebecca Minkoff Small Darren Feed Bag.  And there you have a casual look with a slight nod towards two of the fall's biggest trends, plaid and western.
If you want to wear the jeans and plaid shirt in your work environment make a few changes.  Grab and great blazer to wear over top of the shirt and jeans. J. Crew's Parker Blazer is a great fitting easy blazer to wear over everything
I chose it in Wool Flannel for this look.  And then add a bootie with a small heel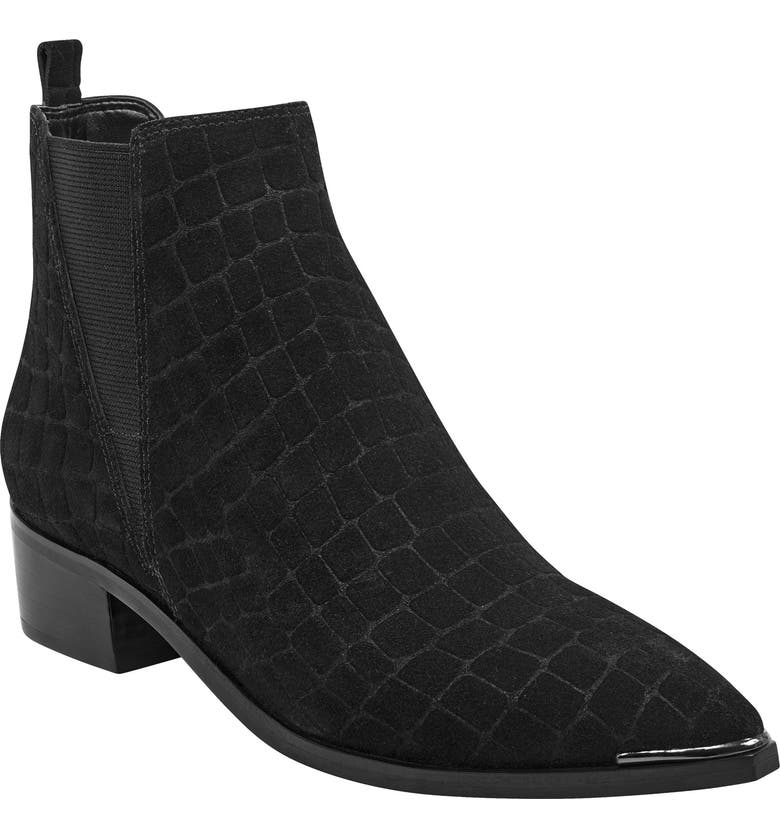 . This textured Chelsea boot is from Marc Fisher at Nordstrom and it would be a great piece to add a little detail with the blazer, plaid shirt and jeans.  Finish the look off with a great scarf, my tendancy would be to wear a solid color that accents the outfit like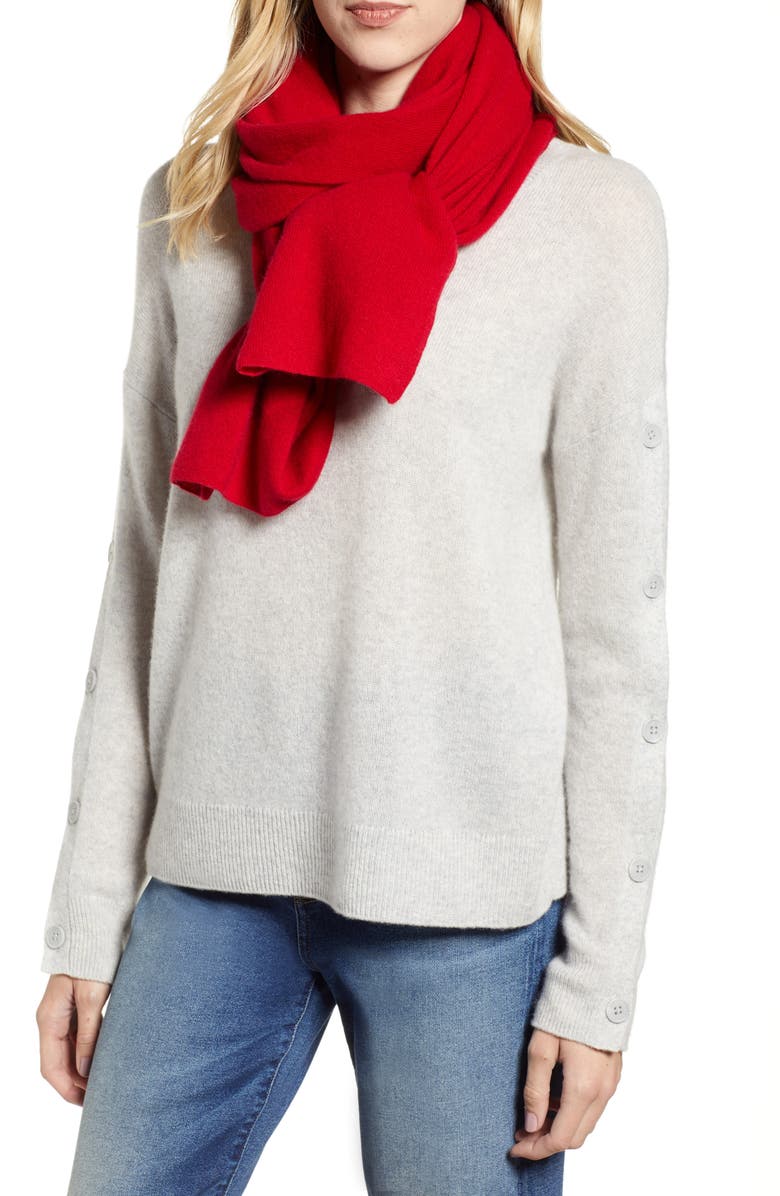 this solid cashmere scarf in Red from Halogen at Nordstrom, but you could go with a print as well,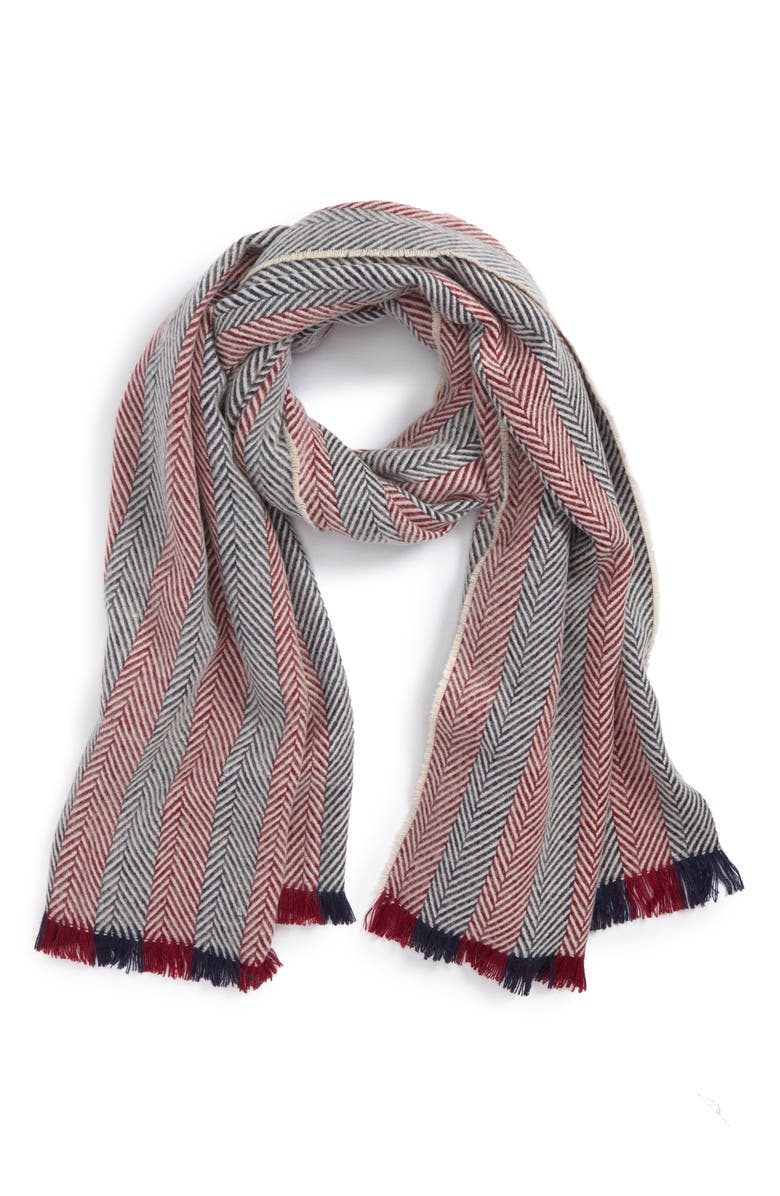 and if I was doing a print I would choose something with complimentary colors like this Two tone B.P. Herringbone scarf from Nordstrom.  But it's your choice.  Then the final piece is your bag. I would like either a satchel bag in red or black like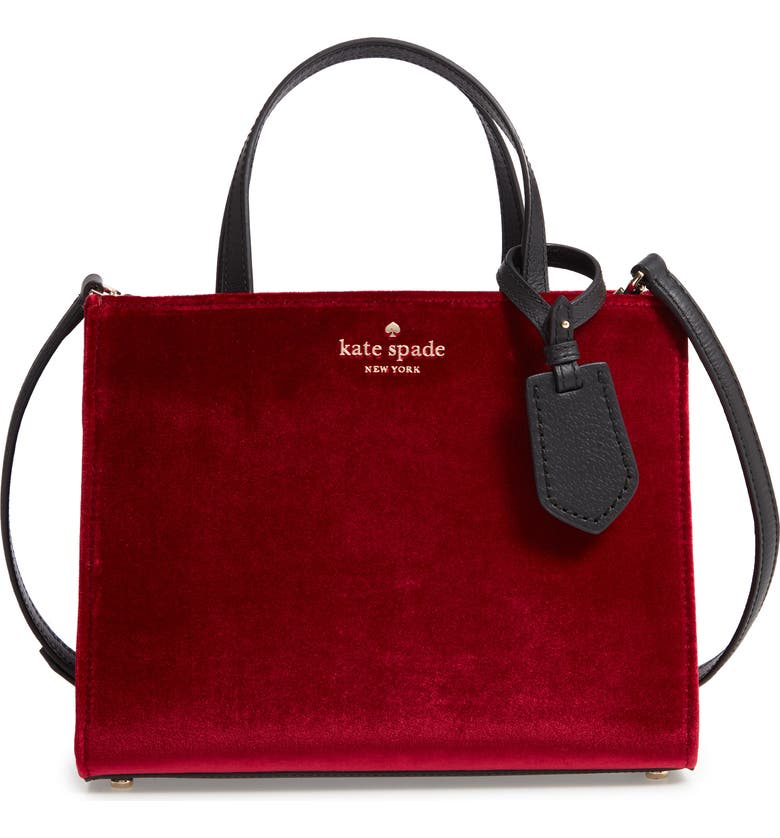 this Velvet Thompson Satchel from Kate Spade at Nordstrom (it also comes in black velvet too!) or you could do a cross body in black like the one above.
So there you have it, two casual looks that can take you anywhere starting with a pair of jeans and a plaid shirt.  You can also change the look by choosing a different color shirt or a solid shirt.  Then you can add more pattern and print in your scarf, and experiment with bag colors.  Or you switch the jeans for colored jeans or black and then the look changes again.  Lots of ways to play.
The Office Look
So as I mentioned above, some of us work in casual environments and the look above is great for that kind of office.  But a lot of women need to look well suited for work, and how can we achieve that look with a trendy influence?
Again let's start with something quite basic.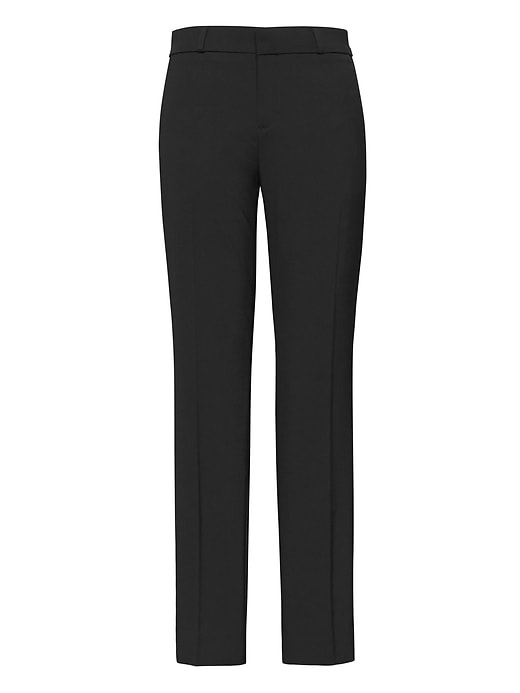 Banana Republic's Avery Straight-Fit Washable wool pant is the perfect basic and classic black pant. I think it fits great and who doesn't need a washable wool pant for work?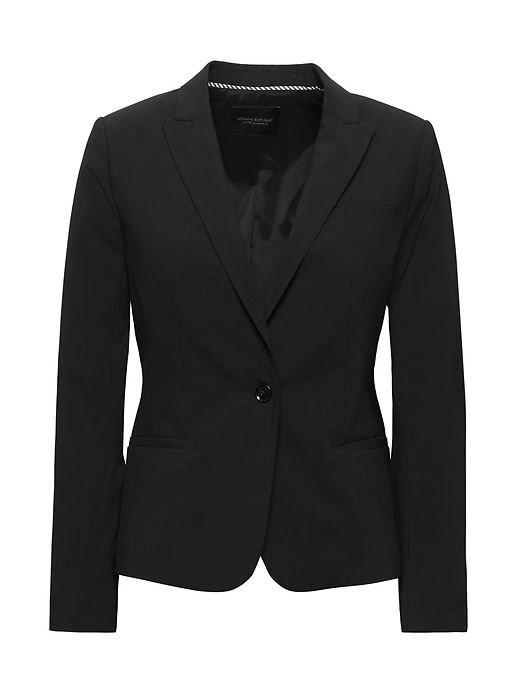 Pair it with the matching Classic-Fit Washable Italian Wool blazer.  Super classic worn together for the office.  Now how do we take this look and bring it forward into fashion? The first way you can do it is with a blouse.  Try one of the trend prints this season like animal print and do it in a blouse with a tie-neck
This is a drape polyester blouse from J. Crew in one of the season's hottest prints.  If you wear this under your suit it will make a statement.  Keep you shoes slightly less detailed with this blouse, perhaps a block heel suede loafer style pump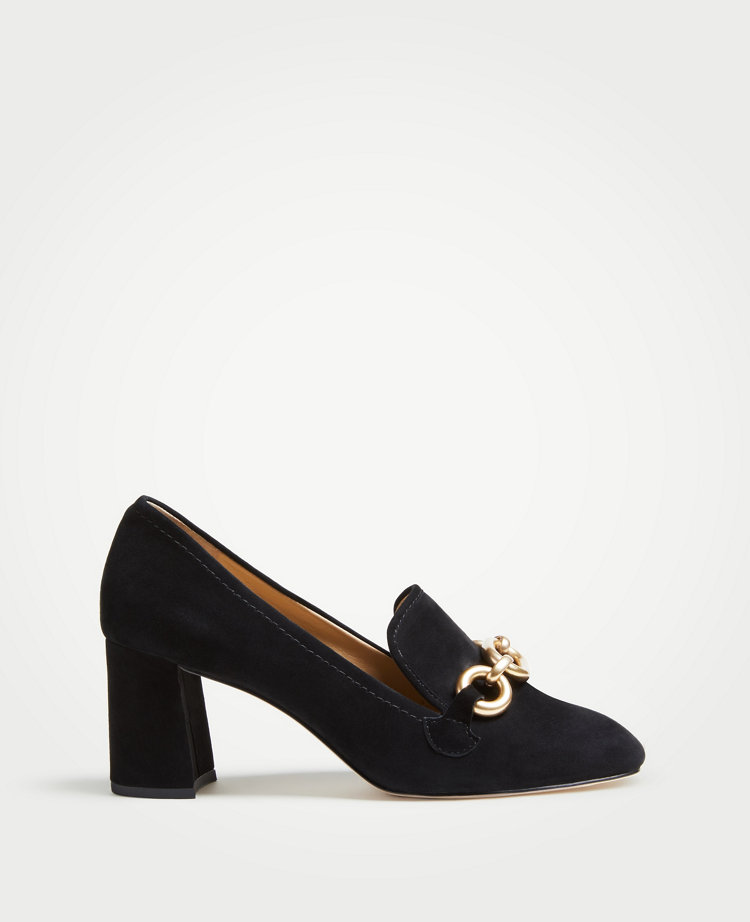 with a gold chain detail from Ann Taylor would work well.  You don't want to an animal print shoe with an animal print top, definitely not especially for work.  Bag shape is really key this season.  So for a work environment look for an interesting bag that would work with this outfit that isn't too big and doesn't match exactly.
I like this Lucite handled tote bag from Anthropologie. It comes in 6 colors and something like this Moss color is unexpected and yet quiet enough to work with the above outfit.
Another way you can bring the suit more fashion forward is by keeping the top you wear under the jacket simple
by using a solid color top with some small detail like piping, this top is from Banana Republic.  Then you can add  a detailed shoe like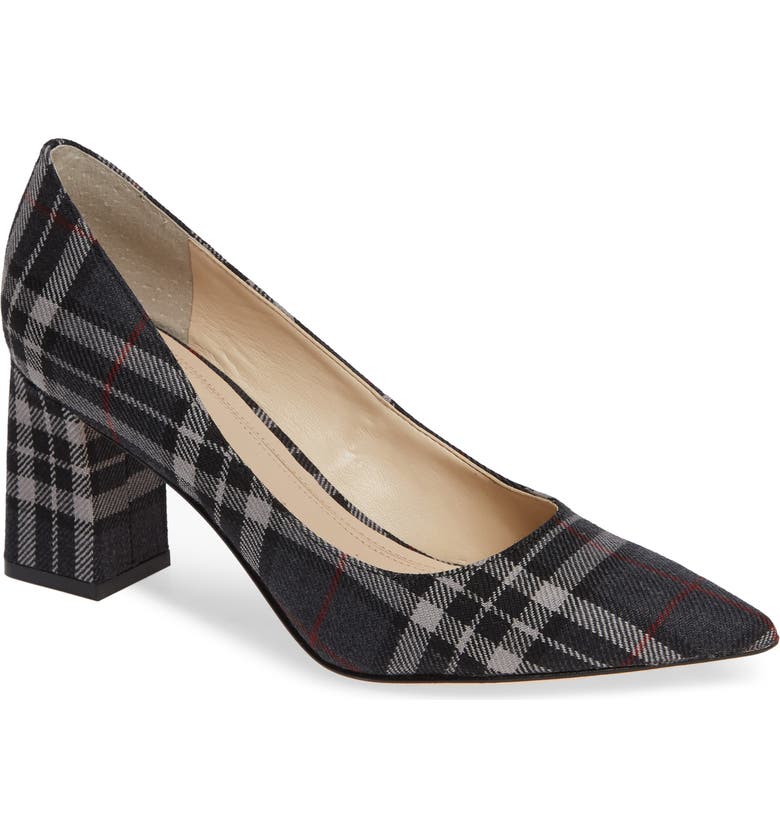 like these Marc Fisher Zala Plaid pumps from Nordstrom.  With a less detailed top you can add more detail everywhere else.  Try either a scarf or wrap over the jacket that has similar colors to the pump.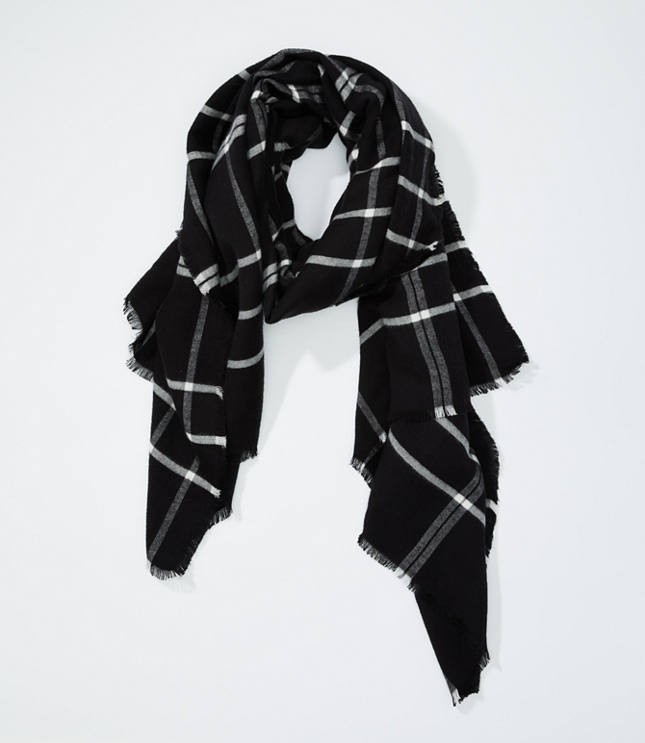 Something like this plaid blanket scarf from Loft could work or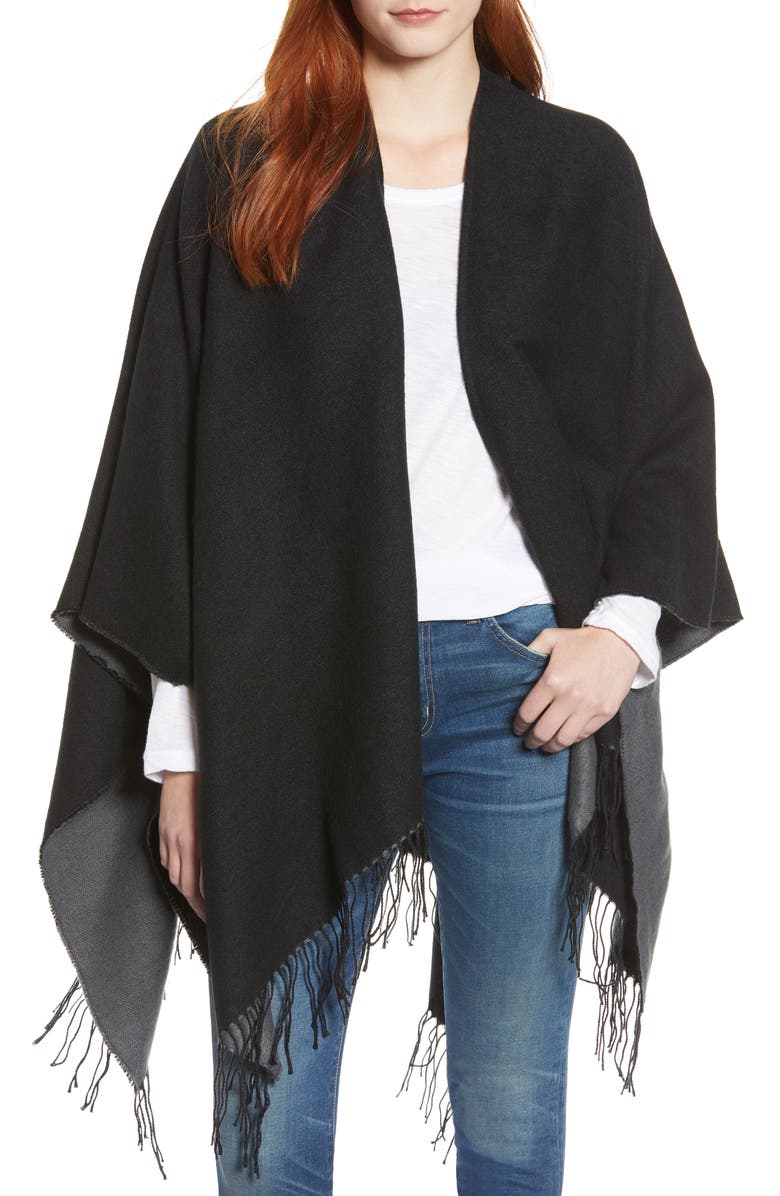 try the Reversible Ruana from Nordstrom which you can either wear like a shawl or belt over the jacket to add dimension to your look.  If you are belting this tie the color back into the shirt
. Choose a wider belt in red like this one from Halogen at Nordstrom.  Then the bag you want with either the scarf look or the belted shawl look is a top handle bag. Because we are really paying attention to bag shape either go for a circle bag or something with definite corners like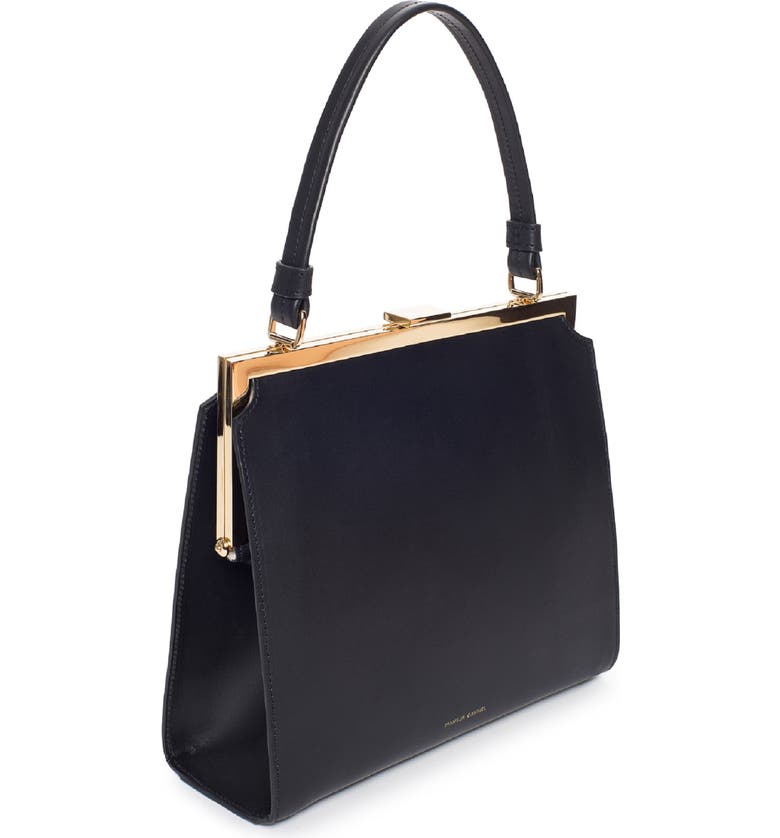 this Mansur Gavriel elegant bag.  This could also double as an evening bag if you wanted it too.
Going out Look
For your going out look there are a couple of ways to use the pieces from above and just tweak them into something you can wear for going out to dinner.  Take your black pants above and try a statement shirt.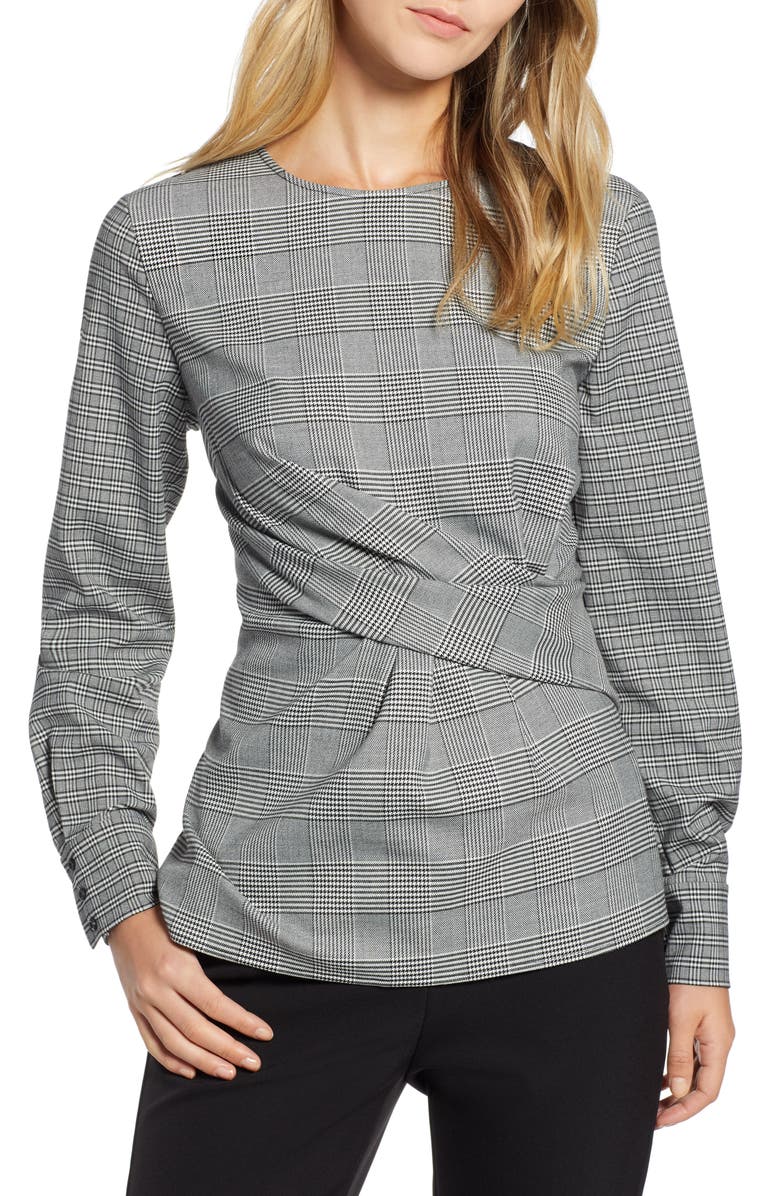 Here is basically the same shirt, the top one is from Ann Taylor and the plaid would look great with dark denim for en evening out. The bottom image is the same idea from Halogen at Nordstrom.  Wear this men's plaid print shirt with feminine details to create an interesting going out look.  If you wear the top with denim then either wear a bootie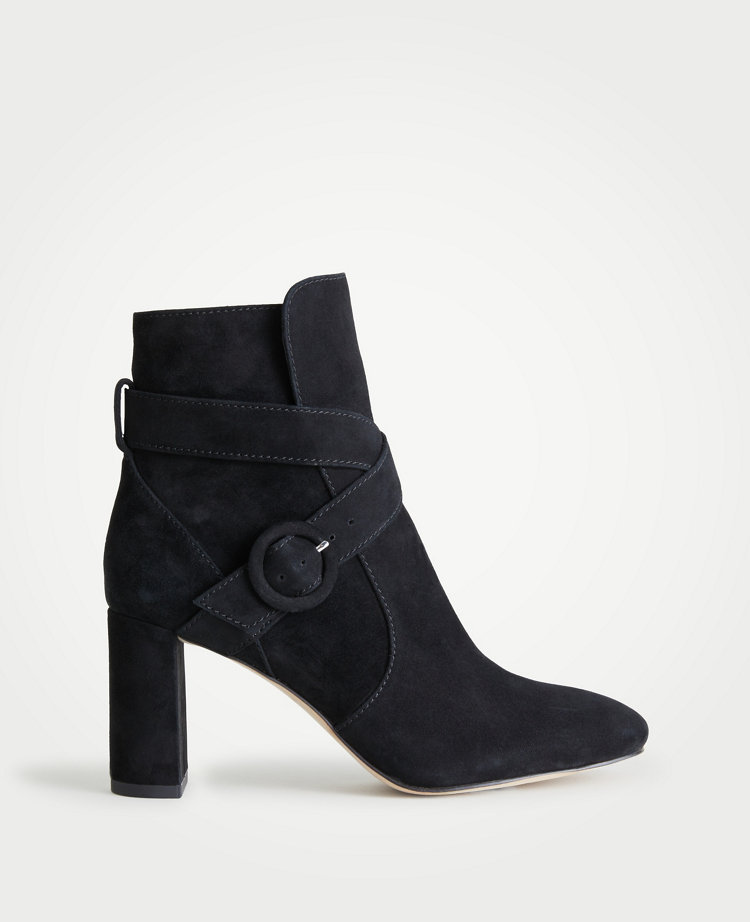 that has a lot of character, like this suede block heel bootie from Ann Taylor or try a pair of suede ballet flats
with 2 straps from J. Crew.  This top with denim is going to be a bit more casual so you can use the shoe you wear to either echo the casual look or dress it up. Finish the look off with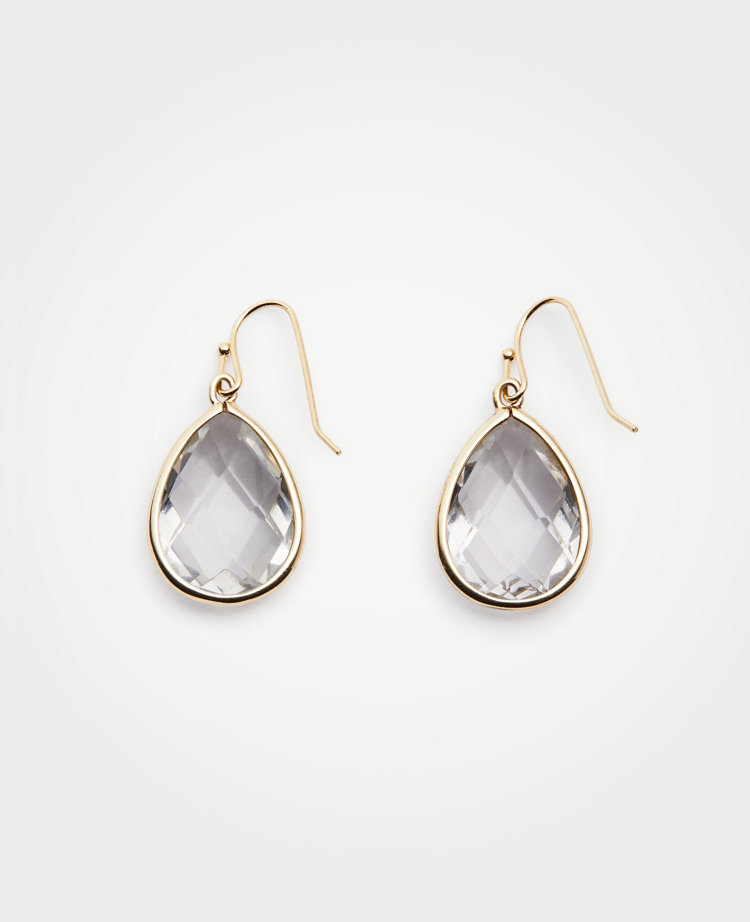 drop bezel earrings also from AT and
one of J. Crew's Iconic signet bags.
If you are wearing the top with black pants, go for a dressy shoe or sandal.
You could do a velvet mary jane from J. Crew or
J. Crew's Stella Blow heels in either Glen Plaid (to match the shirt) or in solid black velvet if you feel that's overkill.  Do a bolder earring like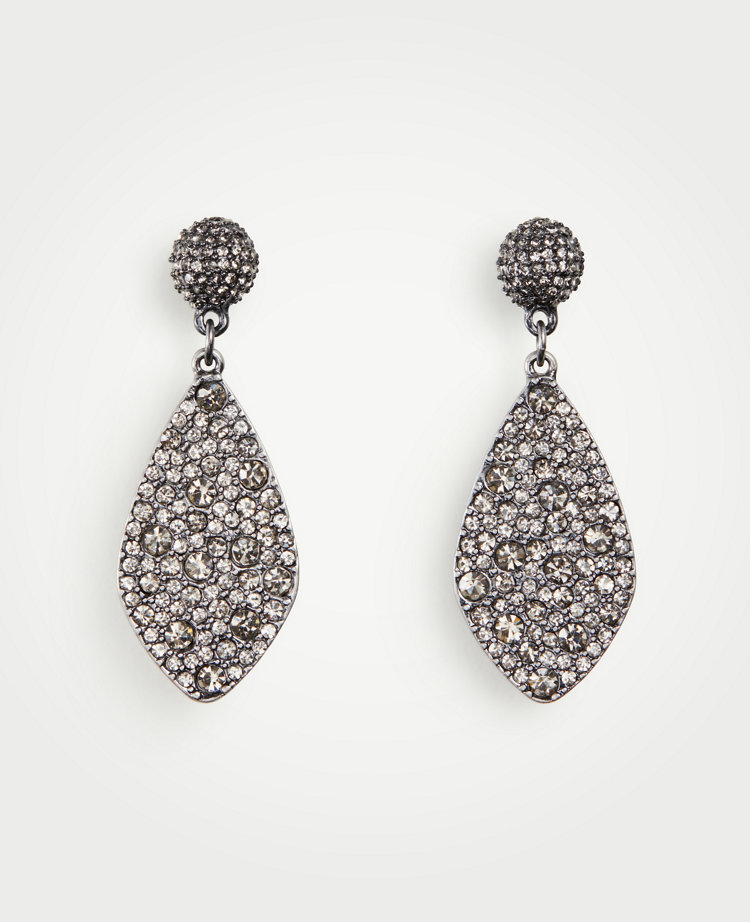 these Gunmetal Pave Earrings from AT.  Choose a dressier bag like the Mansur Gavriel bag above or something shiny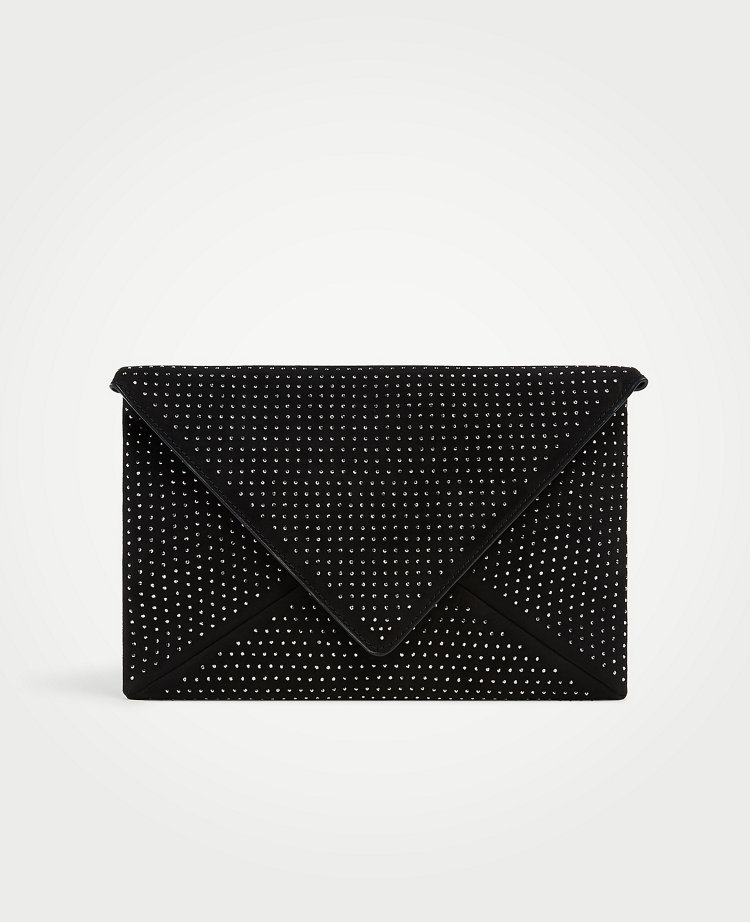 like the Studded envelope clutch from AT.  Finish the look off with an elegant wrap either in faux fur or cashmere.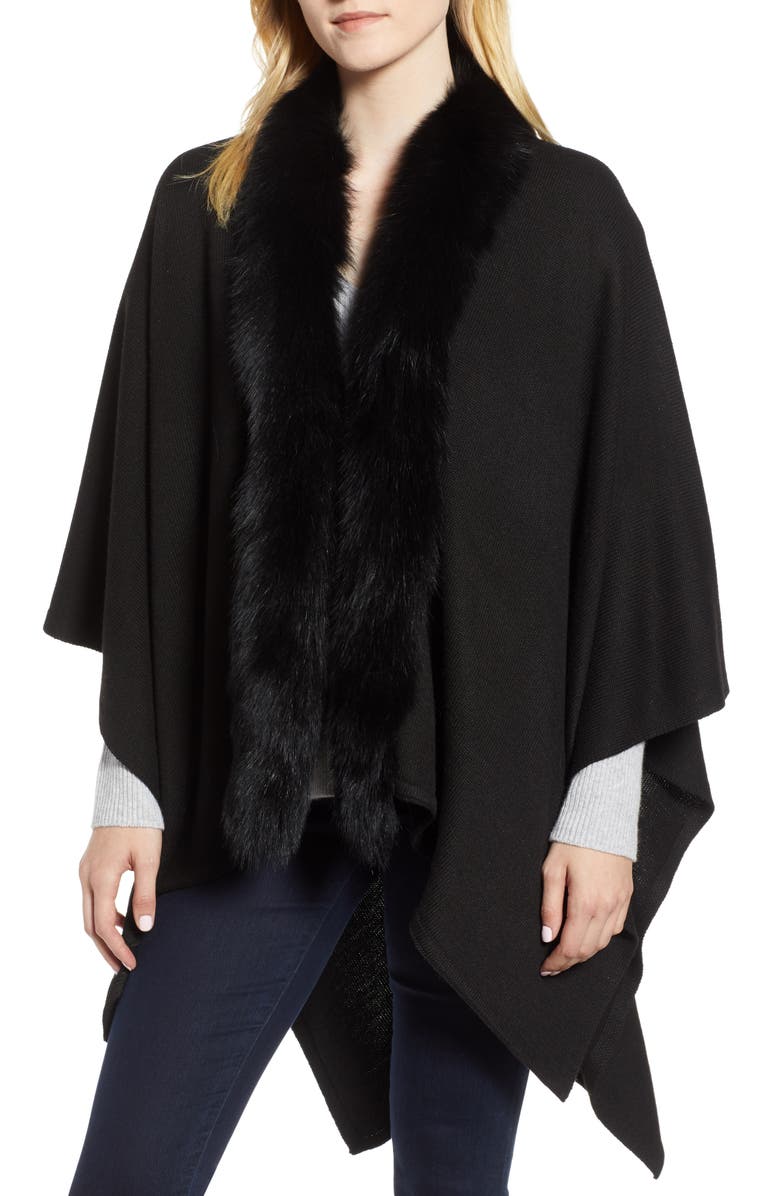 Do a shawl over top with faux fur like this one from La Fiorentina at Nordstrom or go very simple in a cashmere wrap from Rag and Bone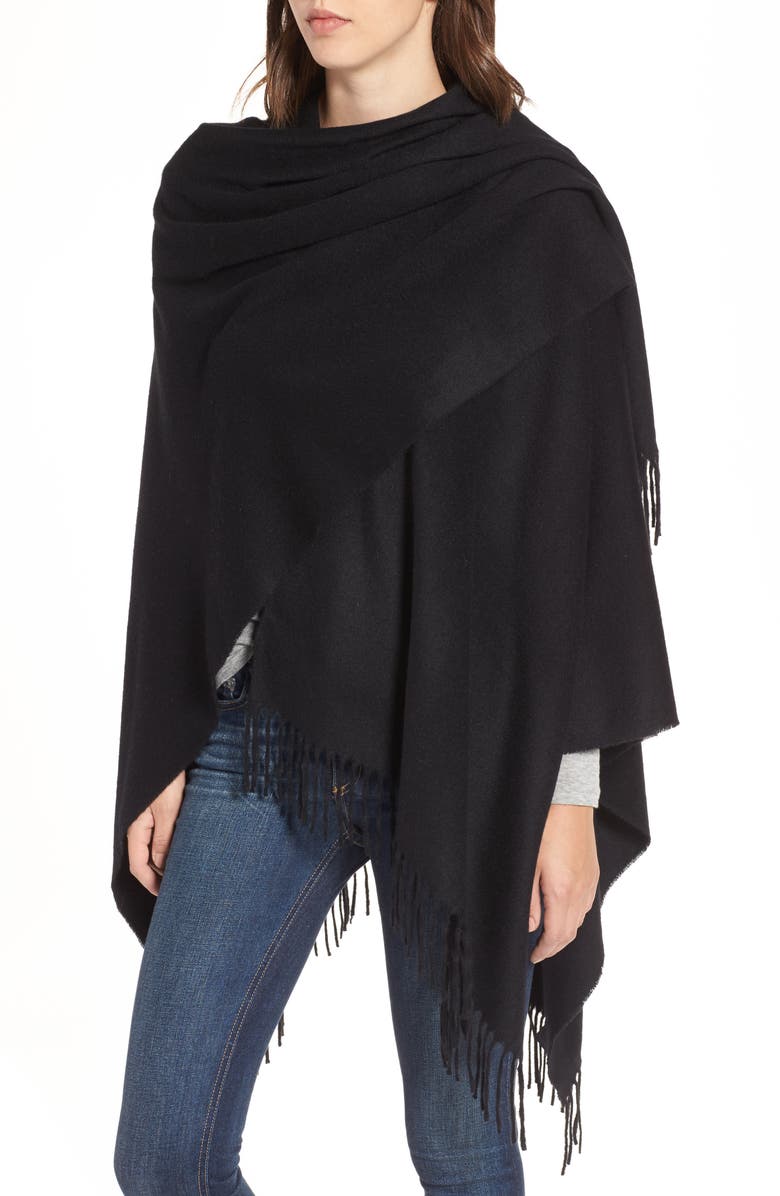 also at Nordstrom.
You can change your going out look by changing the top, changing the shoe or the accessories.  A different top can be layered the same way.  Changing to a dressier shoe or wearing a different top layer can dress up or down the outfit as well.
I know I haven't gone into a ton of detail with each category.  But I wanted you to see how you can use certain things and change them up to get a different look.  Play with colors and accessories to achieve the look you want.
Next week we will take a look at holiday attire. Then at the beginning of December we will have an accessories blog by the one and only Shoshana Lewis of Shok designs.  And I will try to get a make up blog up next. Then we will take a break until the new year.
If you need help putting together your best look or your new year's resolution is to change something about your appearance I can help you.  I am not booking appointments for the new year, I will be back at work the middle of January, so book me early so you can get the time you need.  To book an appointment just email Suethefashionista@gmail.com.
Until next time…