Every season we hope we don't have to don our warm outerwear until as late as possible and this year we made it almost until November in Vancouver before we really needed a coat.  The last week of October we all ran for our rain gear but that's what you get in Vancouver during the winter.
The biggest trend in outerwear this year is the classic trend.  Streamlined coats are everywhere and just begging us to buy them.  The other big trends are faux fur and of course the puffer coat.
In the Classic Trend of coats and jackets, you see a kind of continuation from last spring's trench coat trend.  Lines and colors are quite classic and long coats and pea coats are everywhere you look.  One of the best places to buy a new coat this fall is probably Aritzia.  Their selection of coats is second to none.  Their classic wool coats make me drool every time I am in the store! Their number one coat is the classic Babaton Steadman Coat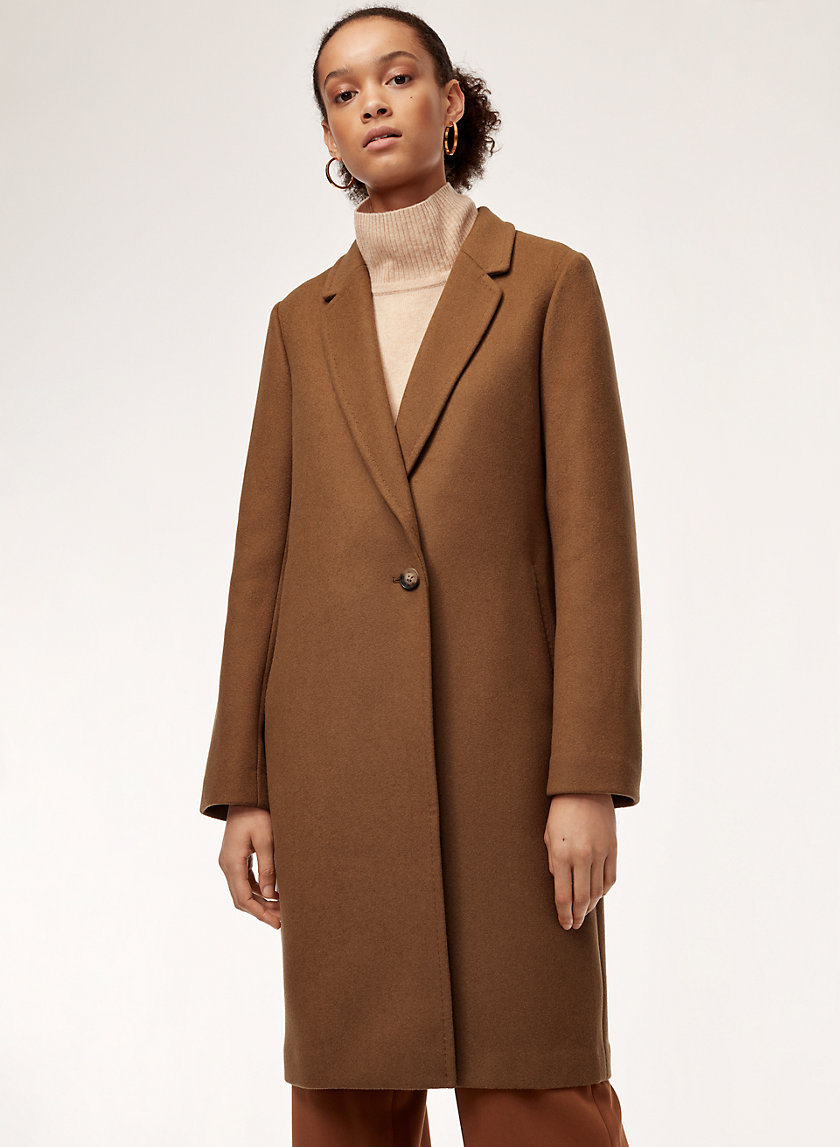 it's perfectly tailored for over skirts and dresses and looks fantastic with pants (or jeans) too! It comes in 11 colors online and their best sellers are likely Black, Dark Heather Grey, and one of the Camel colors, either Saville or Brindle (shown).  If you go with a camel color coat, stick to a darker shade and save the lighter color for your sweaters.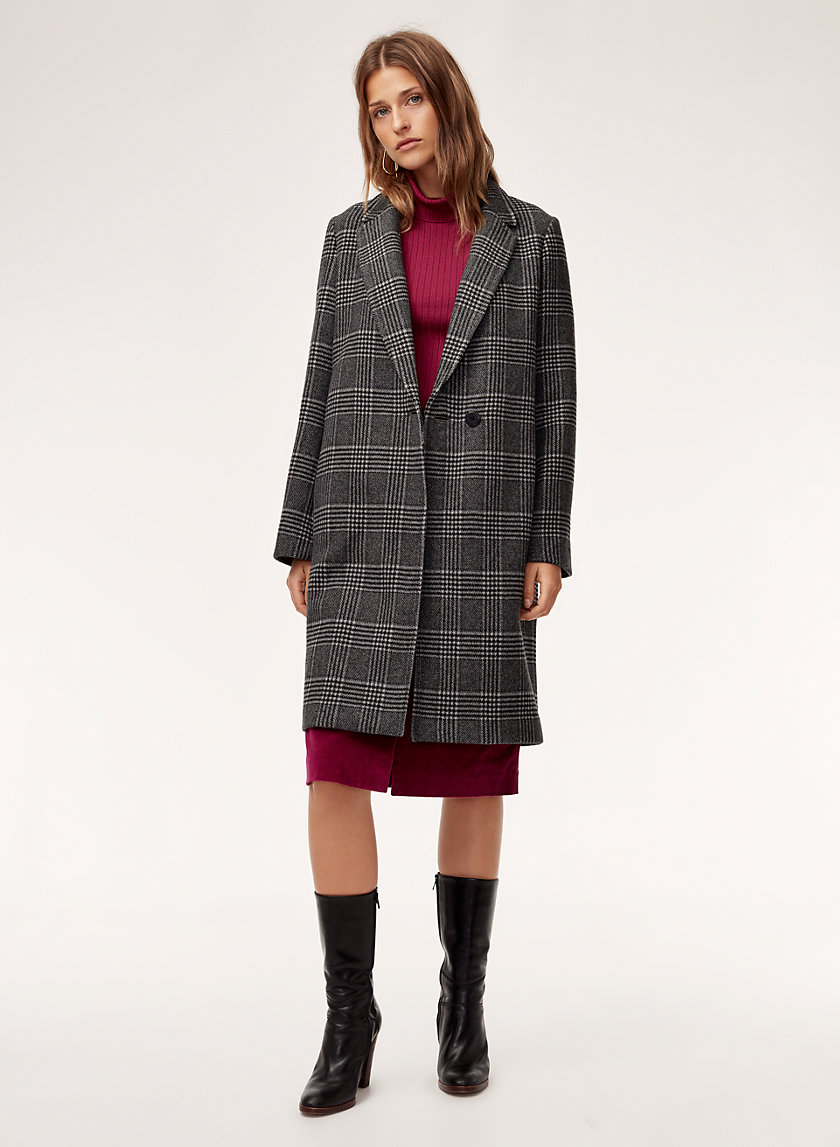 They make the same style of coat in a plaid, so if you have a ton of solid wool coats, maybe try something plaid for a new look or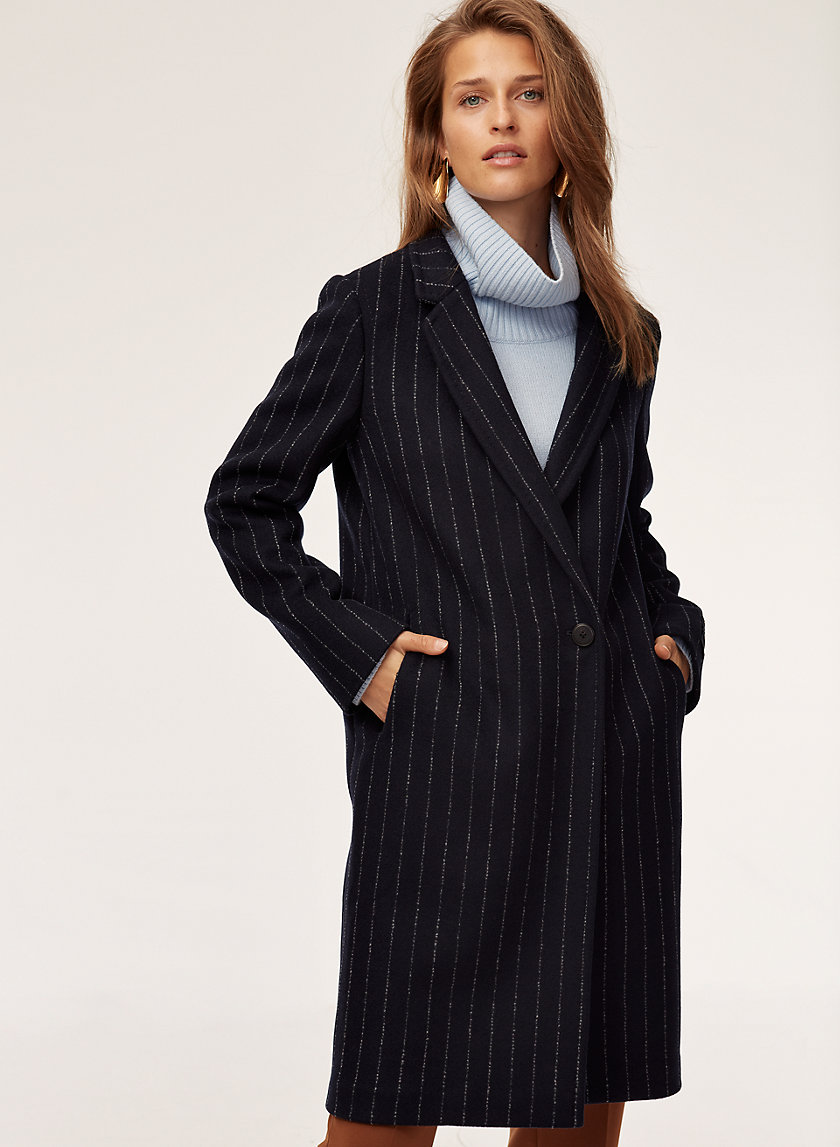 there is a pin stripe version for you navy lovers.
Not everyone wants a classic single button coat.  Some women prefer a double-breasted style. Double breasted coats are a bit more serious and tend to be quite a bit more tailored as well.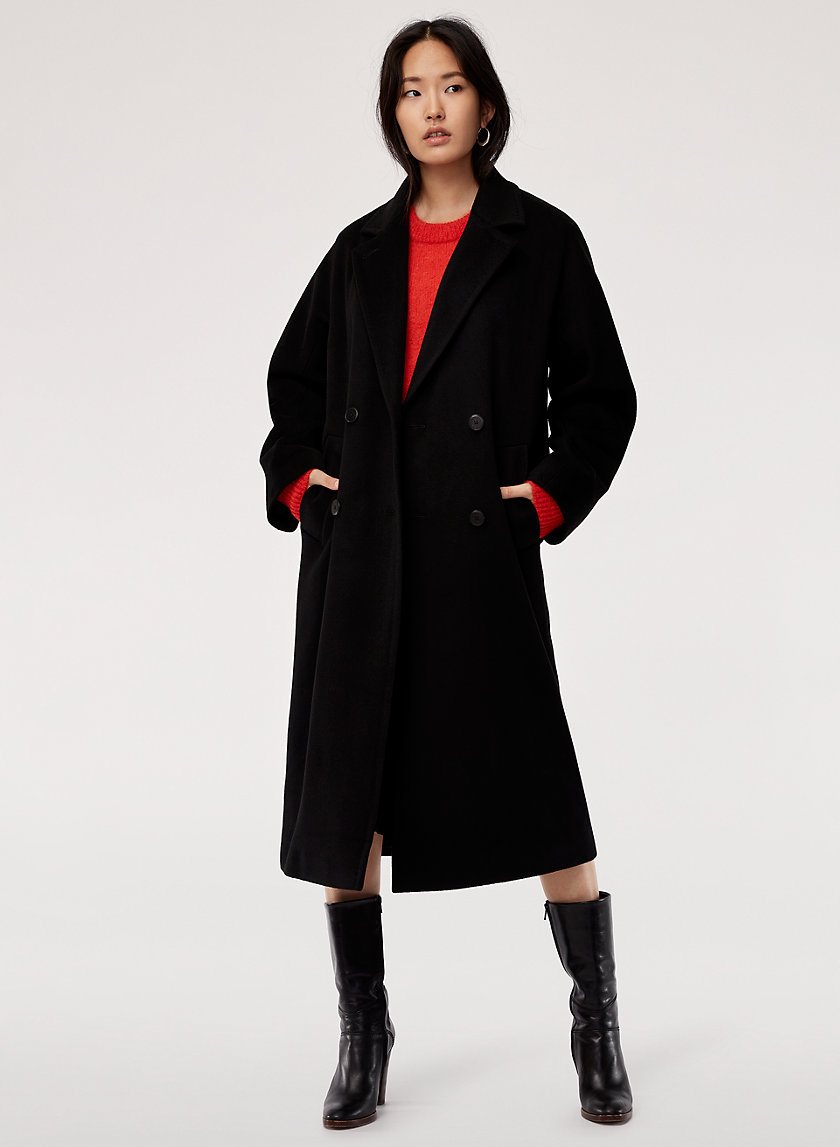 You can find a great version of the double-breasted classic coat at Aritzia as well.  This is the Babaton Jerome Wool Coat, it comes in Black (shown) and a soft Camel.  Serious colors for a serious coat!
A third style, which some women prefer is a Cocoon coat.  While both the classic and double-breasted styles feature lapels the Cocoon coat does all the way up to your neck and has a stand up collar.  Sometimes this style works better on particularly colder days. Aritzia has lots of styles of Cocoon coats.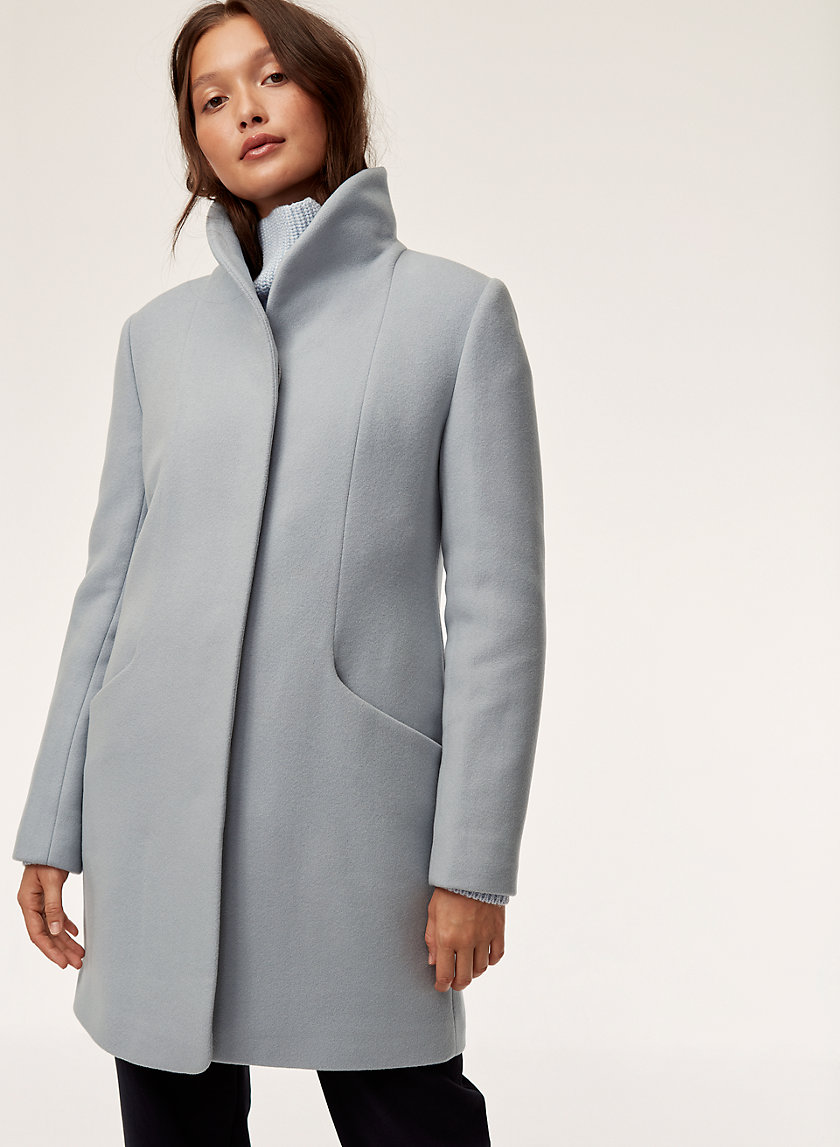 They have the basic Wilfred Cocoon coat which comes in 16 colors online.  It comes in all the classic colors and colors like red and adobo pink which are stronger colors this season.  This Cocoon style coat hits above the knee.  It looks best with pants but can be worn with skirts and dresses as well.  If you want a longer Cocoon style then Aritzia has that too. The Long version of this coat is available in 3 colors,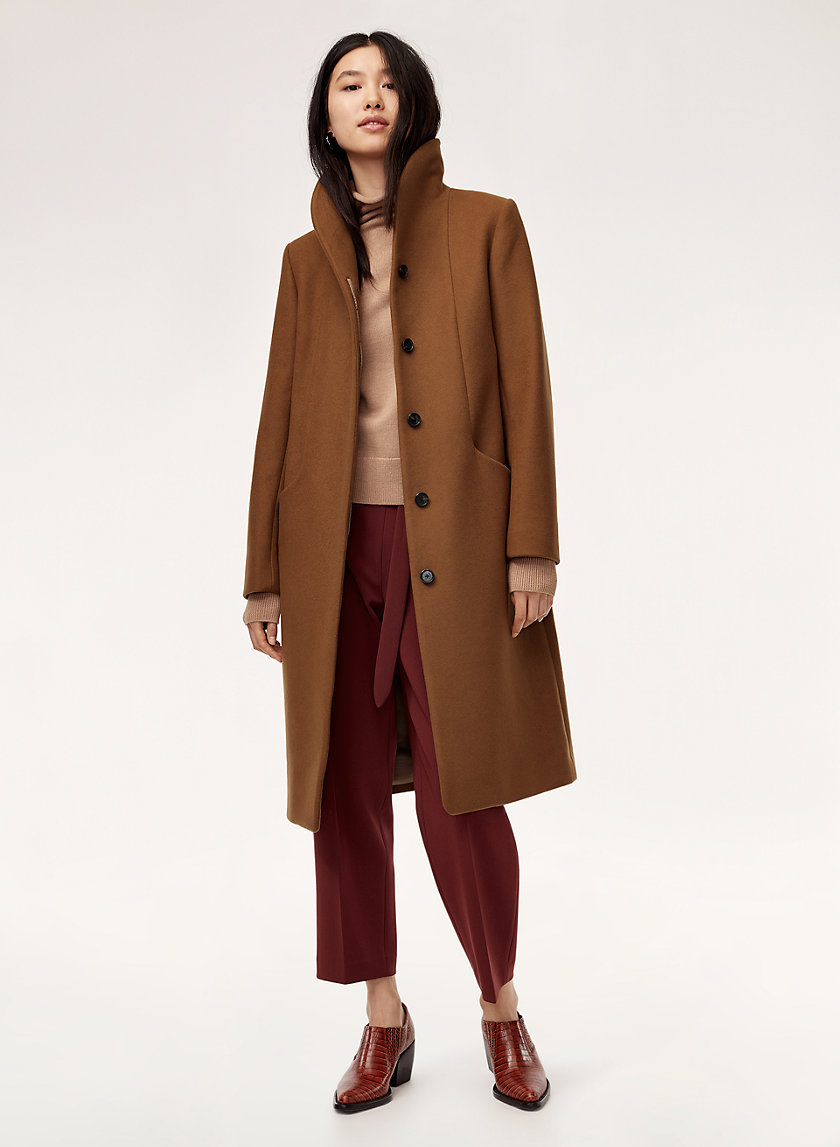 Dark Camel (shown), Heather White and Adobo Pink.  This version is as long as their Steadman and Jerome style coats.
We are also still seeing a lot of belted coats.  Belted Trench style coats are very classic and quite a few women prefer these to long straight coats.  I am not a belted coat fan, inevitable I lose the belt.  But a belted coat helps define your waist and can actually make you look curvier if you have no curves and leaner because it does accentuate your waist.
Aritzia has long and short belted wool coats.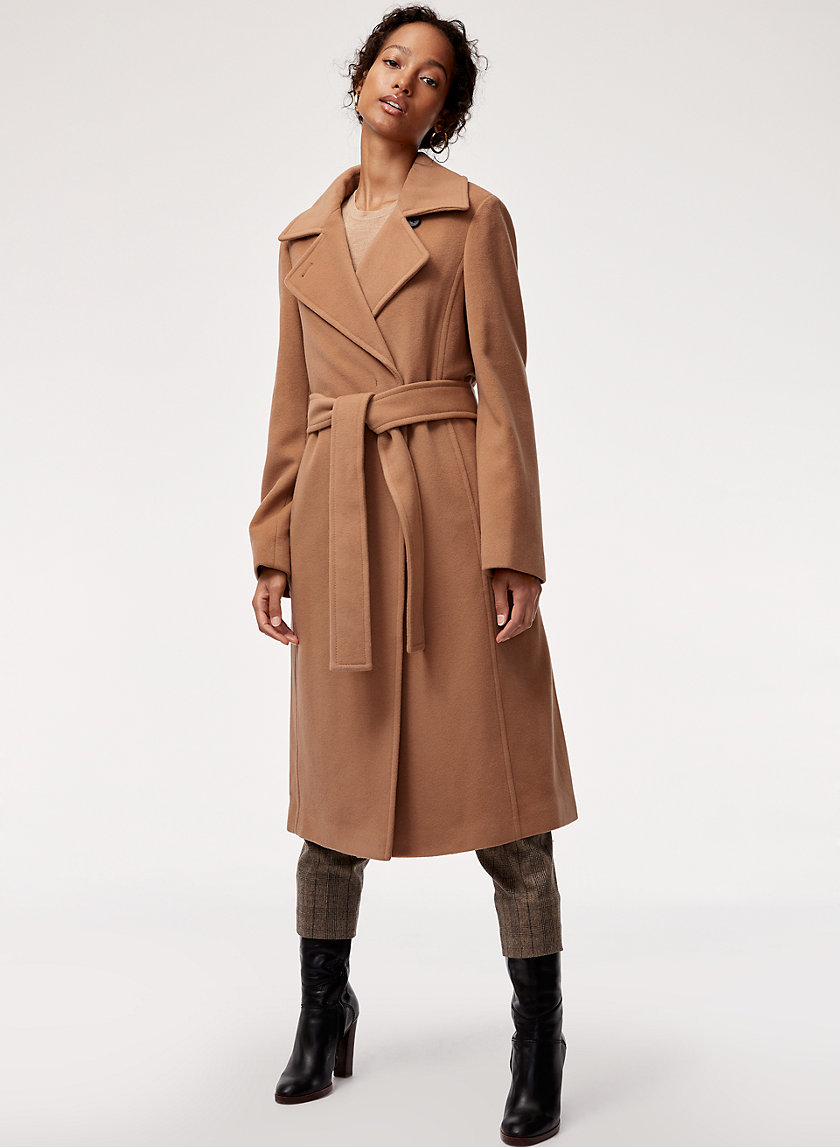 This is the Babaton Robbie long wool coat, available in Gold Camel (shown) or light Heathered Ash (pale grey).   That is the most classic version of the Trench or Robe coat.  What I think is infinitely more wearable is a shorter version like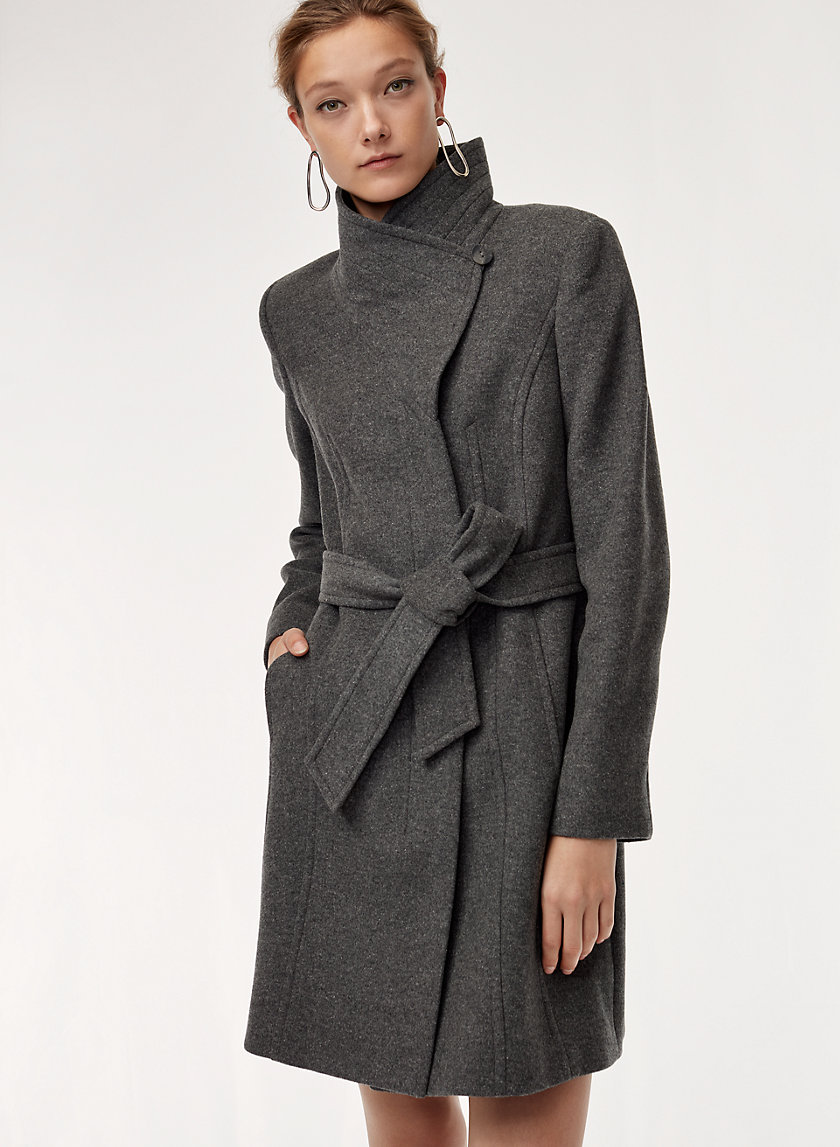 the Babaton Connor Wool Coat, it's more of a Cocoon trench style and comes in 7 colors.
Something I think is essential to have in your closet, especially if you live on the West Coast is a hooded wool coat.  You never know when you just might have to pull up that hood to keep you warm and dry.  Aritzia online has lots to choose from as well.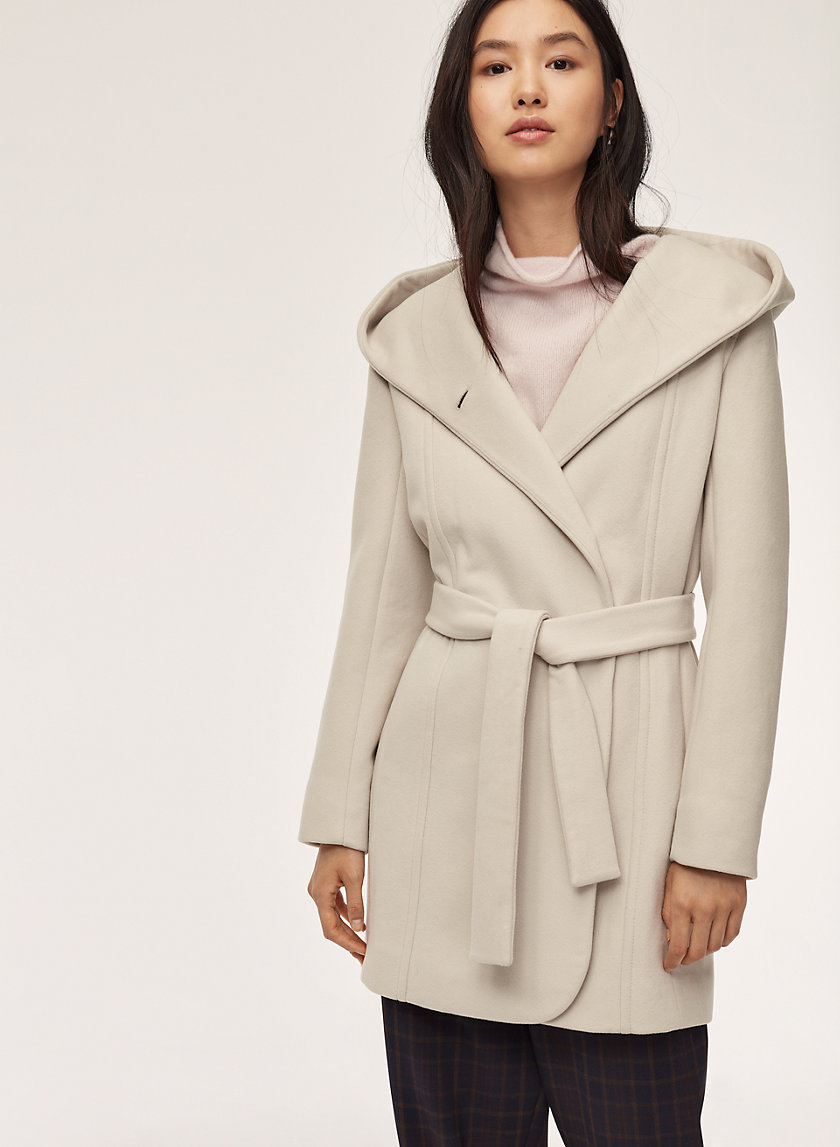 There is the shorter Wilfred Breanna Wool coat which has the belt if that is something you are looking for and it comes in 5 colors.  There is also the Babaton Pearce Wool Coat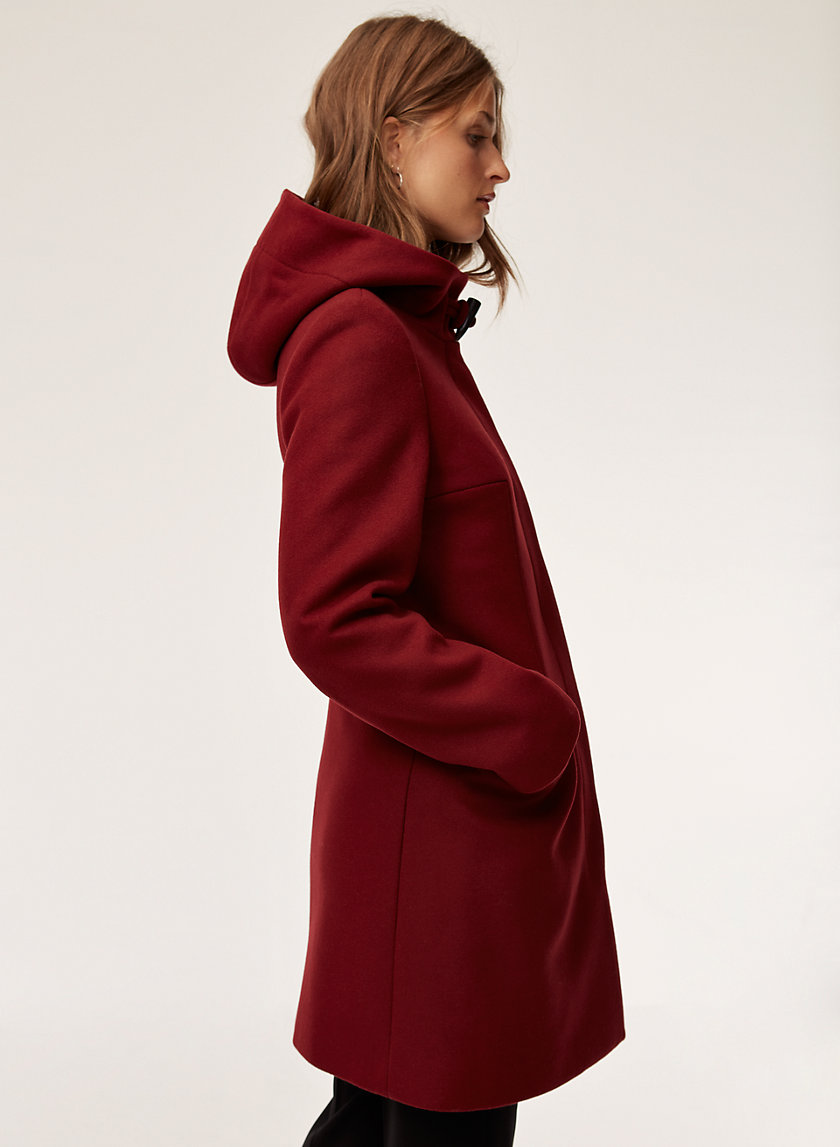 , I love a coat like this for Canadian winters, it's long enough to wear with dresses and skirts and has a slimmer fit, so you don't look huge in it and you have the all important hood. It also comes in 6 colors!
The Puffer coat is the most casual version of coat.  It works great for winter and can really take you through any winter climate you may face.  Most of us own puffer coats already but how about doing something new instead of wearing the same black puffer from last year.
The newest trend in Puffer coats is shine!  Remember the October blog when we talked about shine and bling being a huge fall factor? Here is when you can put it into action. Shine is for all ages in Puffers this season, just pick a color that compliments your skin tone and wardrobe.
Aritzia has the TNA Super Puff that is perfect if you want to rock this look, it comes in 6 shiny or iridescent shades so you can find the one that suits you.  Great with jeans and a more casual outfit.  They also have this fab puffer in non shiny shades if you are looking for that too. Maybe try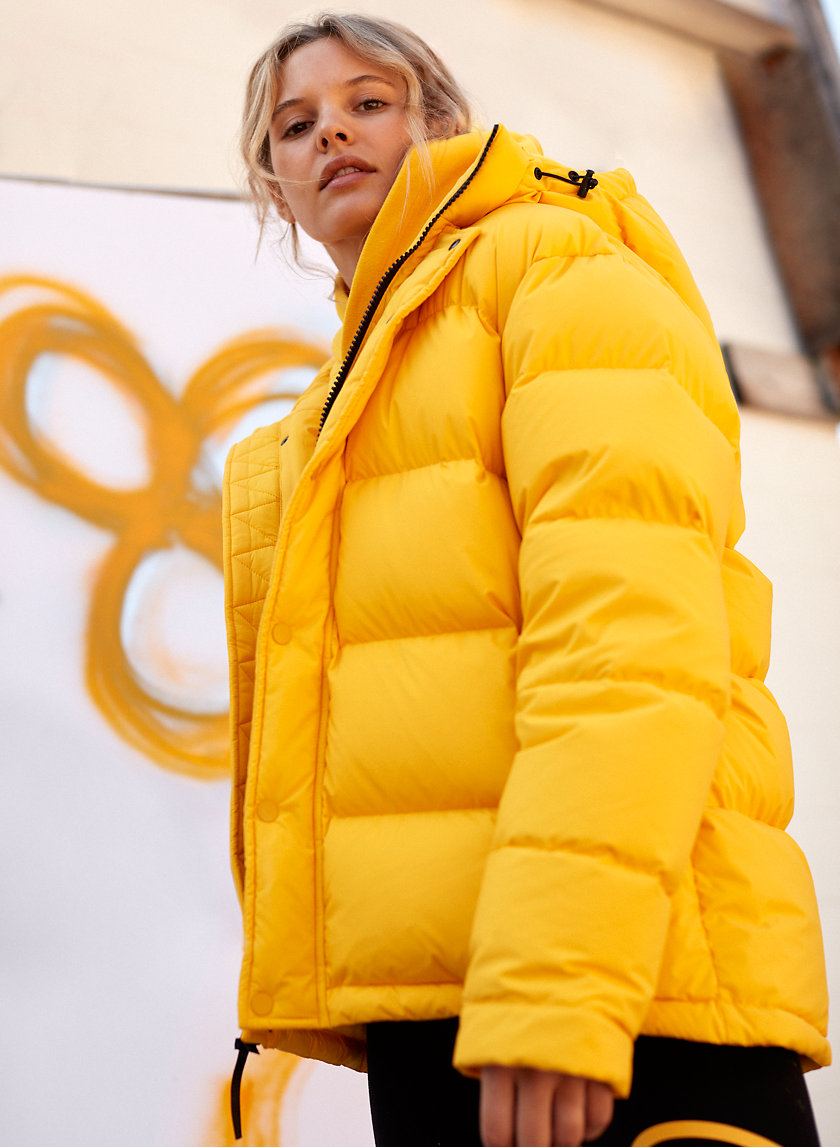 one of the new colors of the season. It comes in 16 colors online so I am sure you can find one you love.
The Super Puffer also come in different lengths, so if you want a long Puffer coat, they have you covered.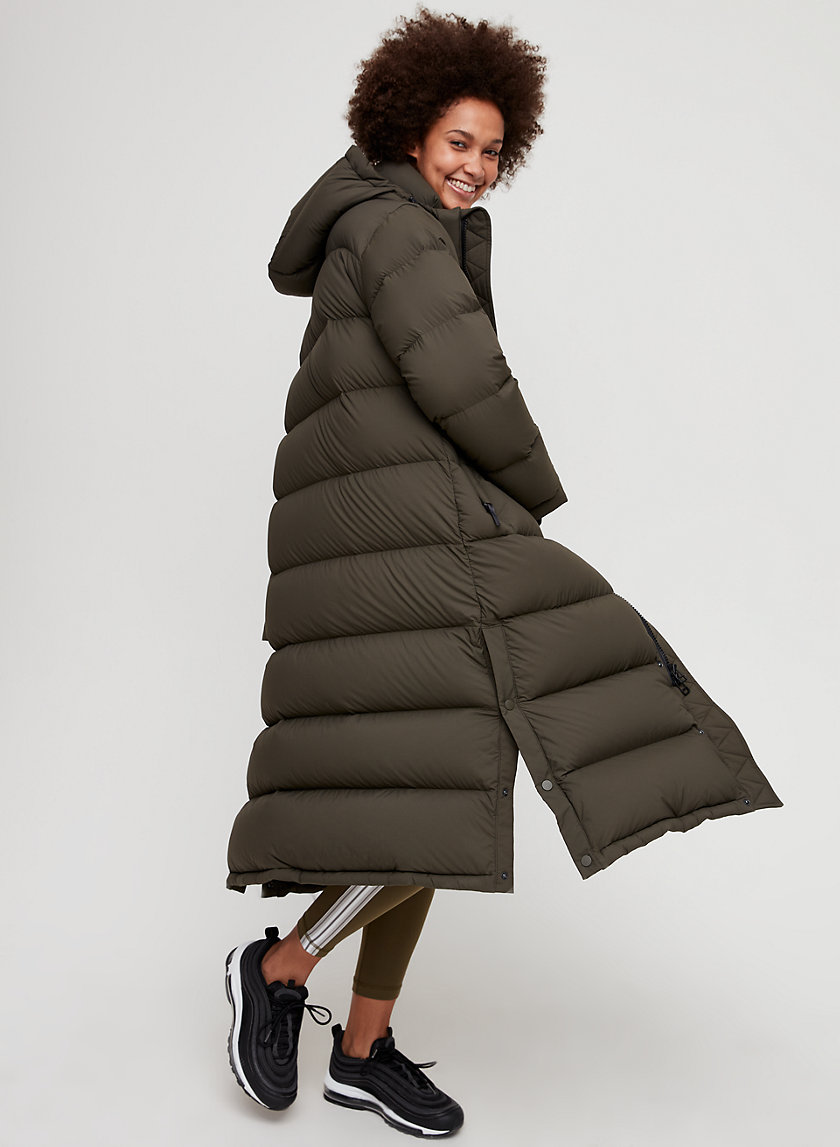 And it comes in 6 colors.  It also comes in a shorter version, but we all know a winter coat needs to cover your bum to keep you warm.  And it comes in a vest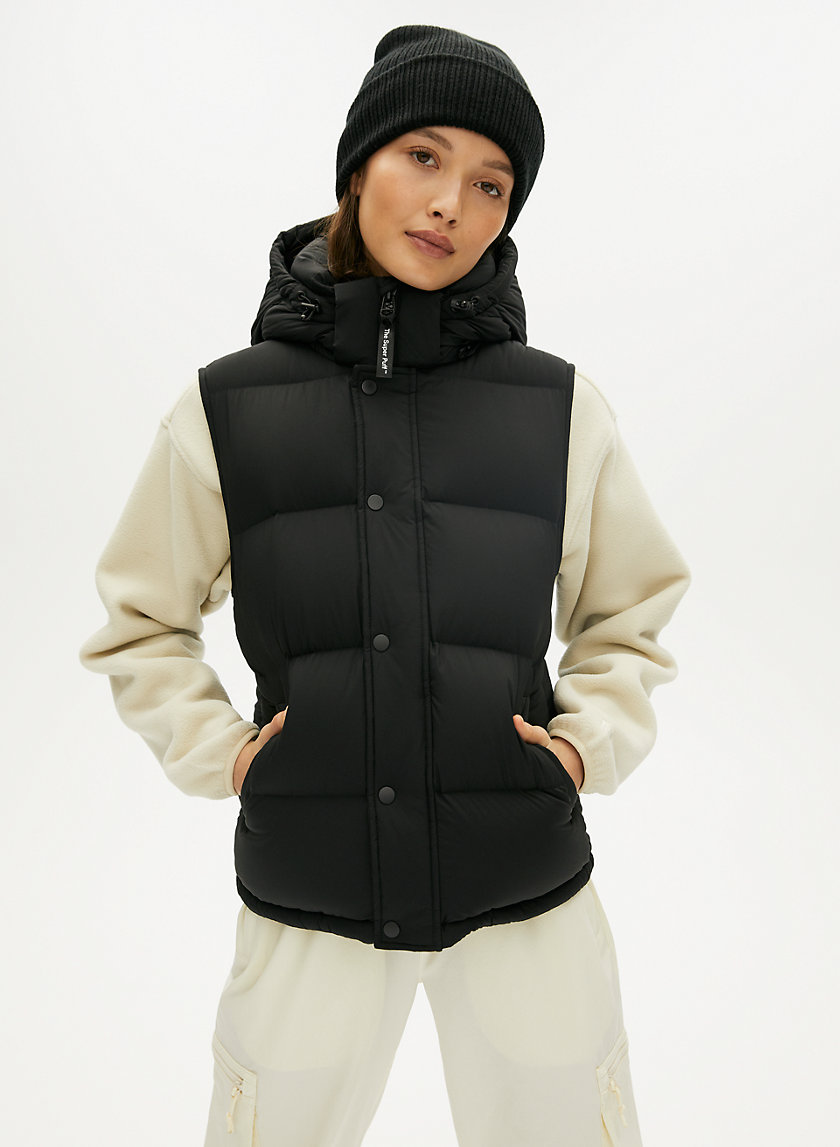 too if that's what you want.  Lots of colors online.
TNA also has the Botanie Puffer Long,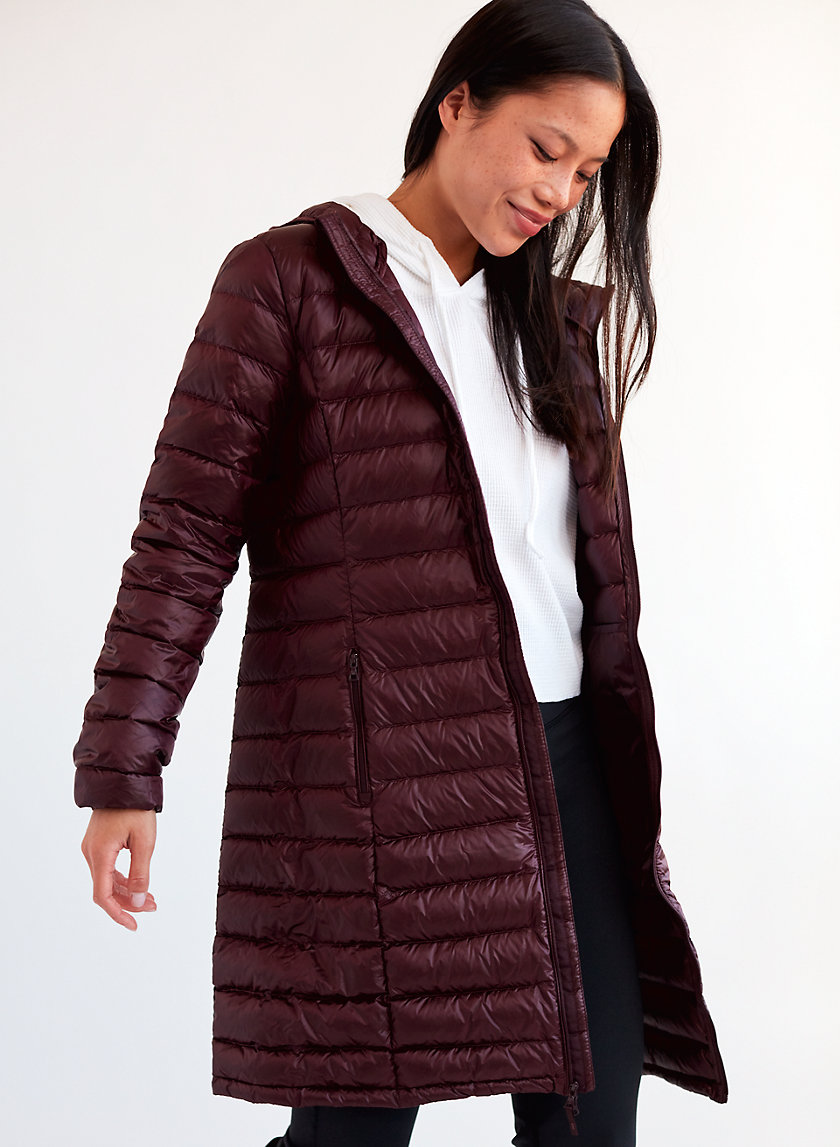 in 10 fabulous colors, now this is a Vancouver coat is there ever was one!  And only $110 Canadian online! And for those of you who are true winter warriors and walk to work even on the coldest days, this coat is for you: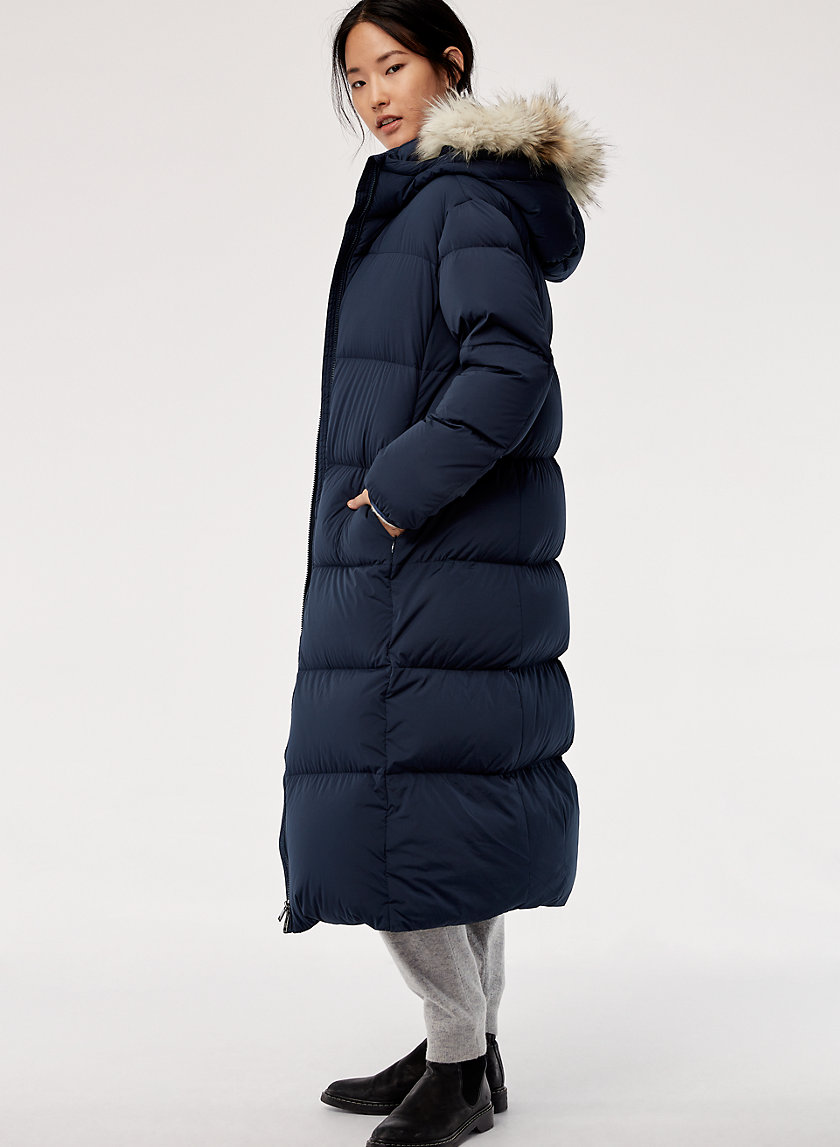 . This is the Group by Babaton Park City long Puffer. 3 colors and full of down to keep you super warm.
Faux fur coats come in all shapes and sizes too this season.  I have a black faux fur coat I bought years ago and when it's really cold out that's the coat I turn too.  You can have a lot of fun with faux fur this fall.  Last week we talked about leopard print faux fur.
J. Crew has a perfect version and honestly if I was buying one this is probably the one I would buy.  But there is so much more to faux fur than animal print. 
You could do a more classic faux fur coat from J. Crew but in an interesting color like Autumn River Blue (shown) or Ash Rose Pink or it also comes in Black.
But the faux fur trend also includes Sherpa and Teddy coats, which are super strong to make a fall statement.  The Willie Free line by Aritzia has a great Teddy Jacket, which is basically Sherpa fabric but in a relaxed plush jacket.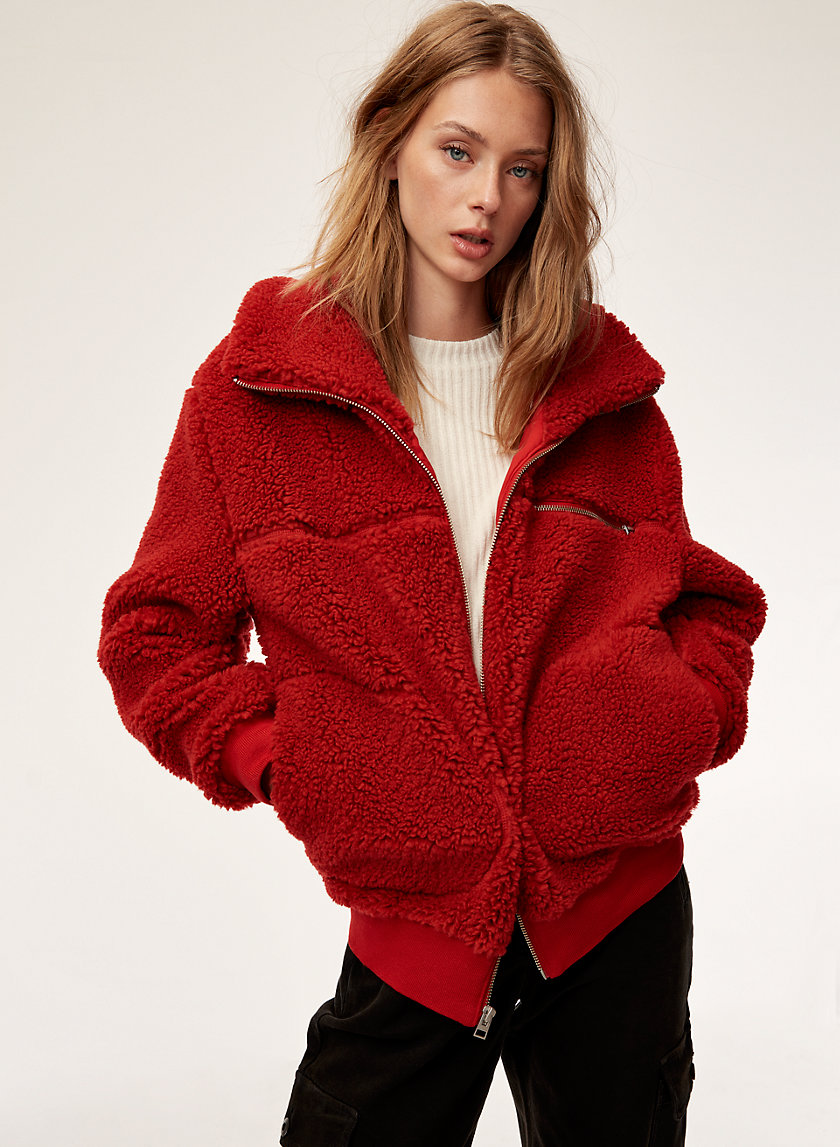 It's a cozy jacket that can take you to the gym and out for errands. It comes in 6 colors and I just love this Red that they call Lilooet.
Aritzia has a lot of their wool styles available in faux fur and Sherpa.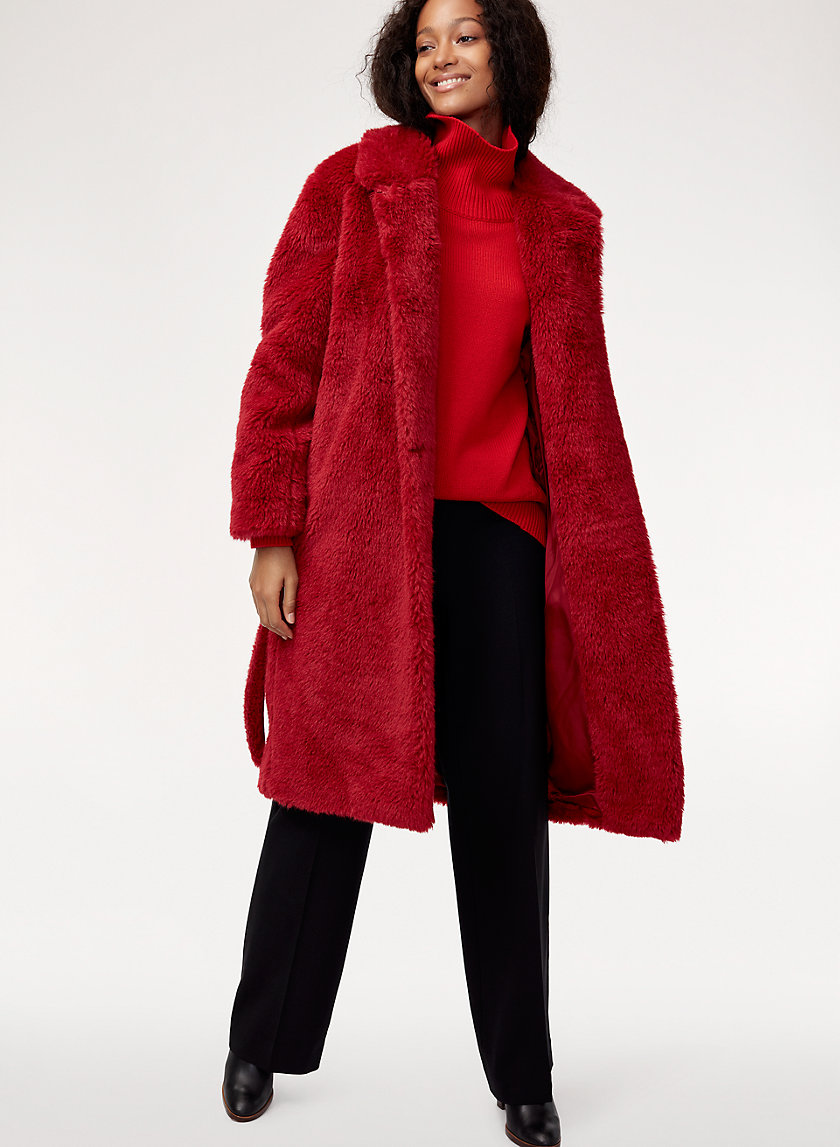 Plus this dramatic plush coat, Babaton's Oren Coat comes in Red, Black and Camel and it's belted. J. Crew also has a zip up Teddy coat in 5 colors
and I believe it's 40% off online right now.   Lots and lots of Sherpa at Aritzia as well.  Almost all their casual style coats come in either Sherpa or Faux Fur.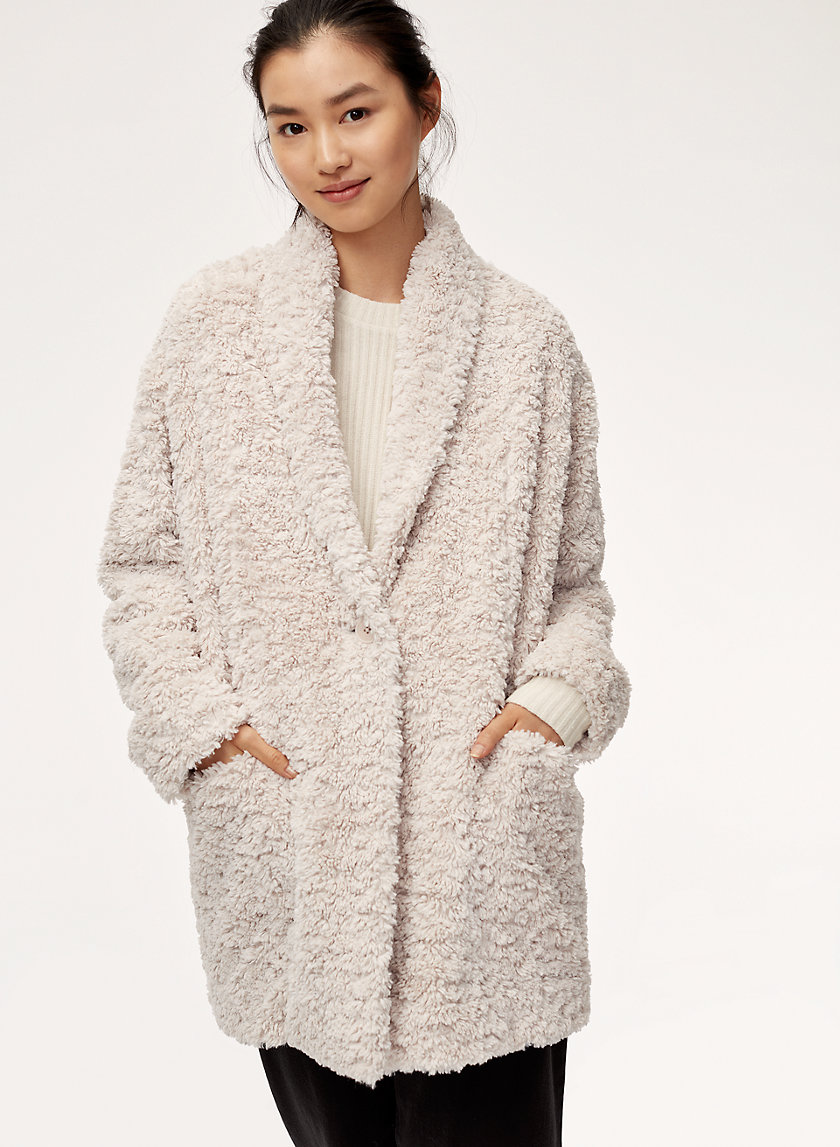 This is the Willie Free Greta Jacket from Aritzia and as you can see if you go for a sherpa version coat it's quite a bit more casual than some of the faux fur styles out there.  Last sherpa jacket I want to talk about is the sherpa lined denim jacket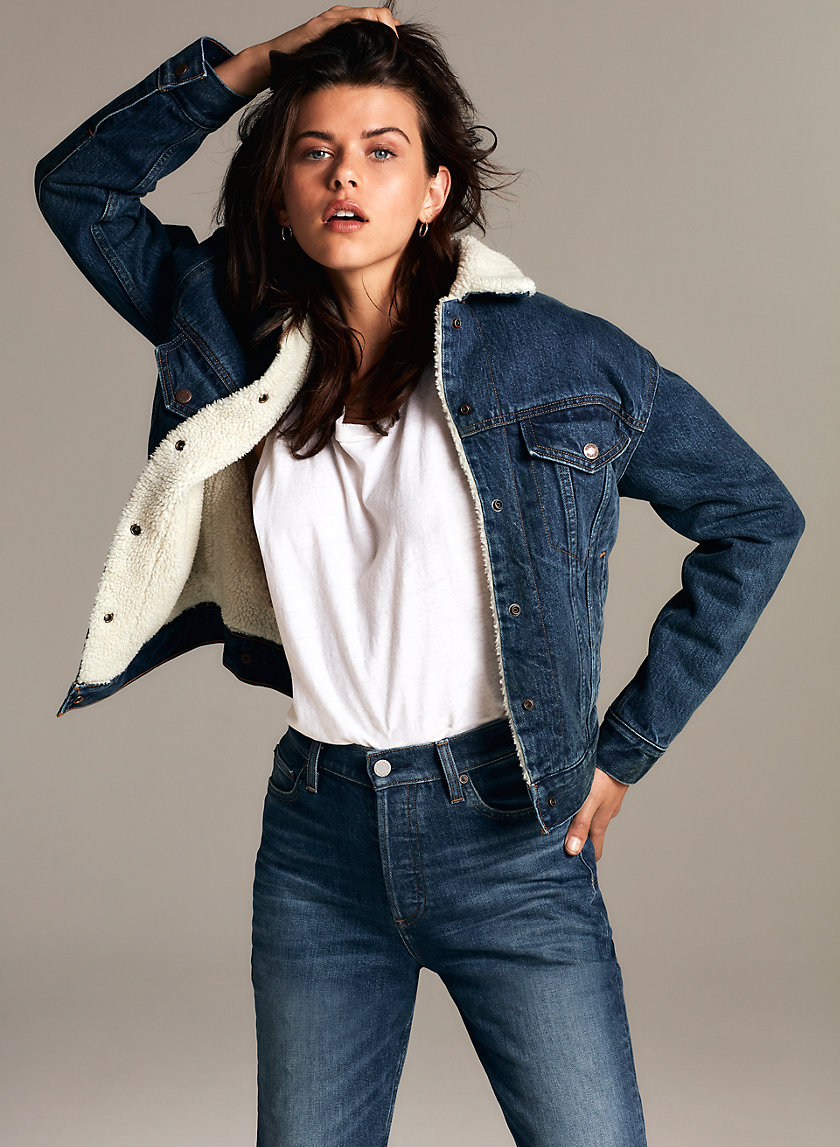 Both J. Crew and Aritzia have great versions.  J.Crew (top) is a swing jacket and has an easier fit.  Aritzia has the Denim Forum Ella Sherpa Jacket.  Both are great depending on which fits you better.
The last piece of outerwear I am going to talk about is the faux fur vest.  We have seen it strong for a few seasons now and it is not going away any time soon.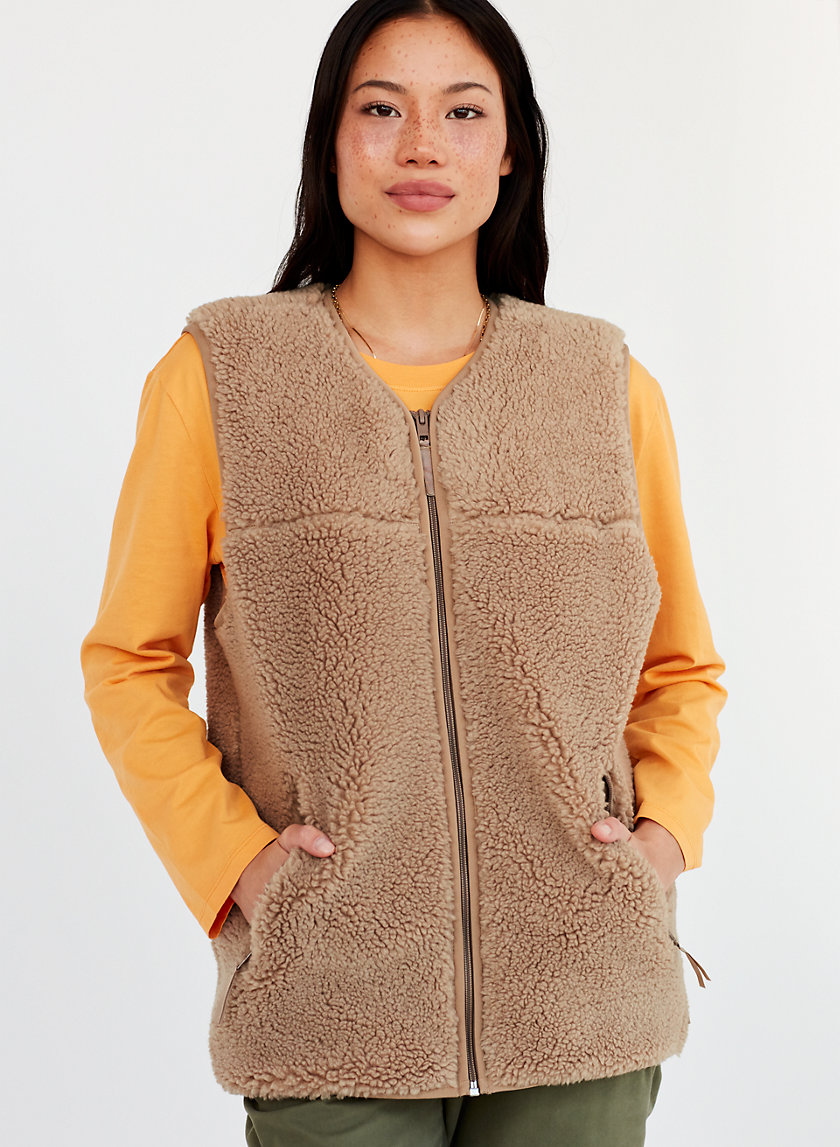 Aritzia has a Sherpa Fleece vest that is quite cute and casual. J. Crew has this plush fleece Excursion vest
in either Crimson or Black (40% off right now online).  But the ones I wear over and over are from Talbots believe it or not. But they don't have any this year.  My point is that if you buy one, it will last a long time and it won't go out of style any time soon.  Try Nordstrom to look for more variety.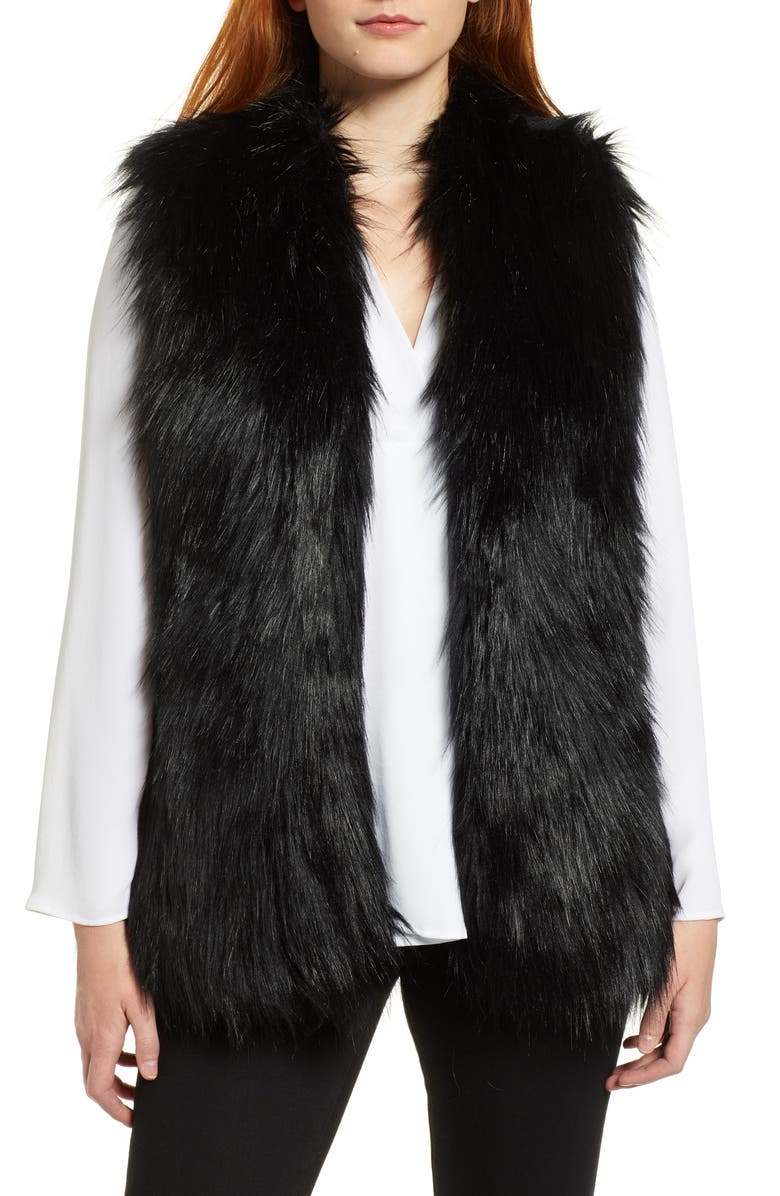 And do something trendy, yet in a classic color like this Chaus Fur vest from Nordstrom online.
I know I featured Aritzia a lot in this blog.  What I like about Aritzia is it's Canadian and local to Vancouver so I am promoting one of my own.  But they truly have the best selection of coats for winter and absolutely everything in this blog, no matter which store it's from is under $500.  You don't have to break the bank to have a great fall coat!
Next week we will talk about shoes and boots and what the big trends are for fall.  then my last fall blog will be fall accessories, scarves and wraps are making a huge impact and they factor so much in layering it's worth dedicating some time to talk about it. Then we will move into holiday dressing.
Until next time…