If Fall 2018 is anything it's colorful.  We already spoke about some of the colors in the other trends we have gone through.  So we have covered off all the interesting plaid colors and just how many shades of brown, coffee and camel there are this year.
But we haven't even began to scratch the surface of all the other colors.  We have the traditional colors that are strong: black (of course), red, burgundy, navy.  Then there are the colors that are a little more unexpected: marigold, mustard, olive, rust, fuchsia and bright blue.  And then there are the neons: Greens, Blues and Reds all taken to the next level.  And finally there are the pastels: dusty blue, soft pink, champagne and soft corn silk yellow.  So pretty much no color is off-limits for Fall 2018 and not only that this year we are layering them like never before.  Because there is so much to cover we will be splitting this blog into 2 parts.  Part 1 will over the basics and some of the colors that are a bit unexpected.  Neons and pastels and then putting colors together will all be next week.
Now I am not recommending you run out and buy colors just for the sake of owning them, there is no point in buying colors you will never wear.  However if you see something you love and it's a color you haven't worn in a while, why not try it on and see if maybe it's for you again.
Let's go through each color grouping and look at some pieces that might be interesting to add to your wardrobe.
The Traditional Colors:
Every season there is a new take on some of our favorite traditional colors.  I wear a lot of black, but that doesn't mean I don't love red or burgundy.  But I don't wear a lot of navy.  However I just bought these pants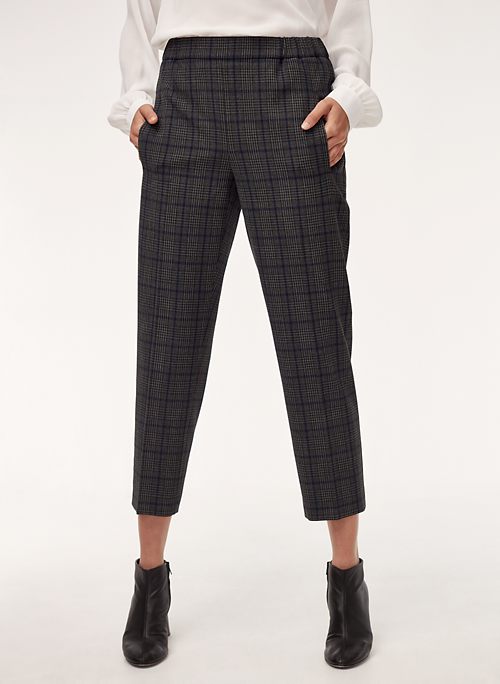 from Aritzia and will wear them more with greys and blacks than I will navy.  But that's just me, navy is a great basic and if you love it, wear it.
Black is one of those colors that you can almost get away with anything if it's black.  So perhaps if you want to do an unexpected piece then do it in black.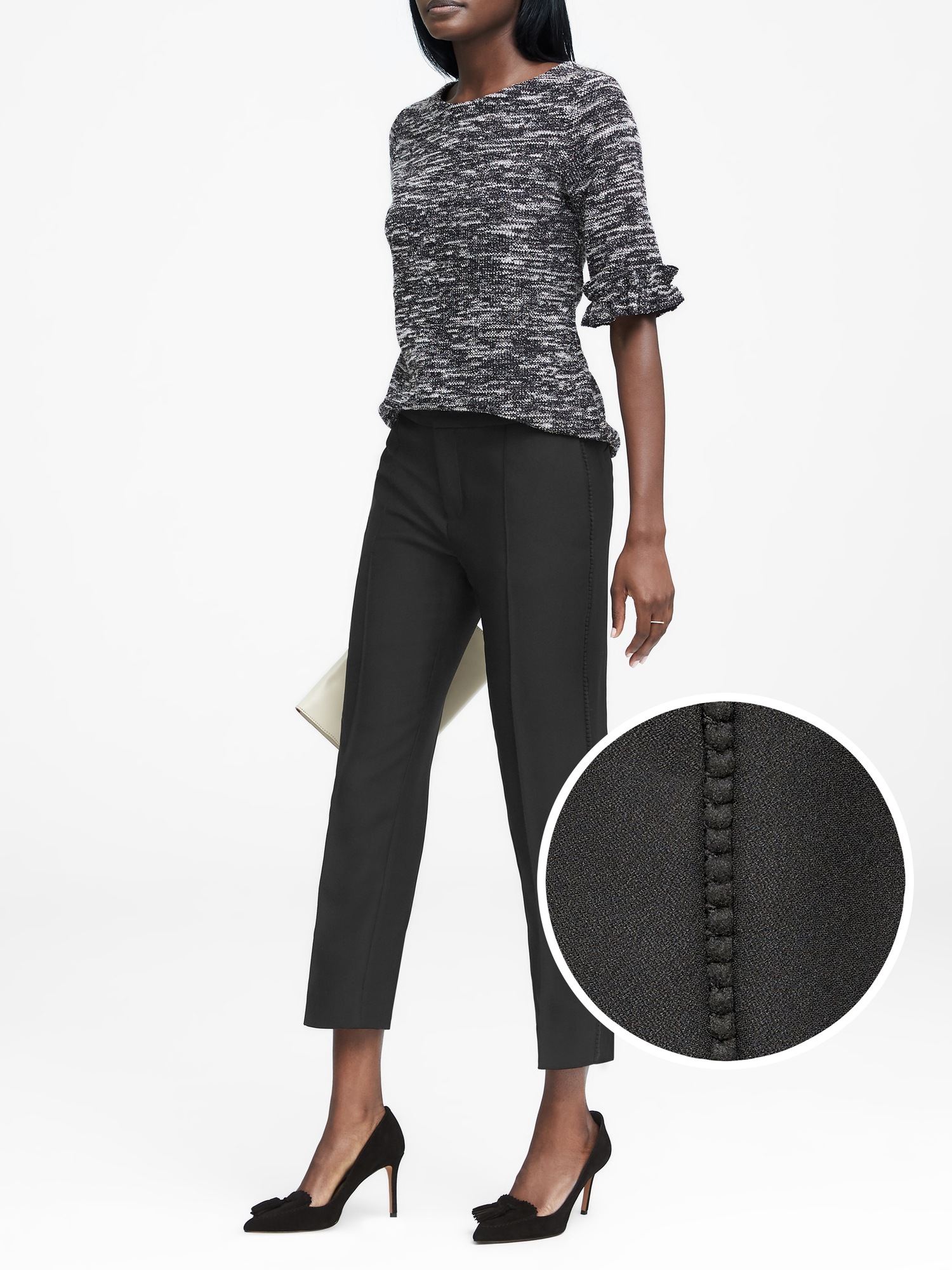 Banana Republic is one of the most classic and timeless stores around.  But if you don't like to stray too far, try their Avery pant with the pom-pom seam down the side.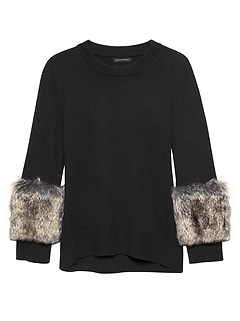 Or from their Tokyo collection (online only) they have this adorable crew neck sweater with fur cuffs.  You will see all kinds of faux fur for fall, so maybe this is how you want to wear that trend. But black is almost more than a color in some wardrobes (like mine), black can be worn with anything, head to toe and for every occasion.  Maybe you want to use black in your plaids, especially if plaid is not really your thing and you just want one piece
these block heel pumps from J. Crew would do the trick. Or You want one show stopping black piece to wear with everything, then maybe do a black velvet blazer with something special going on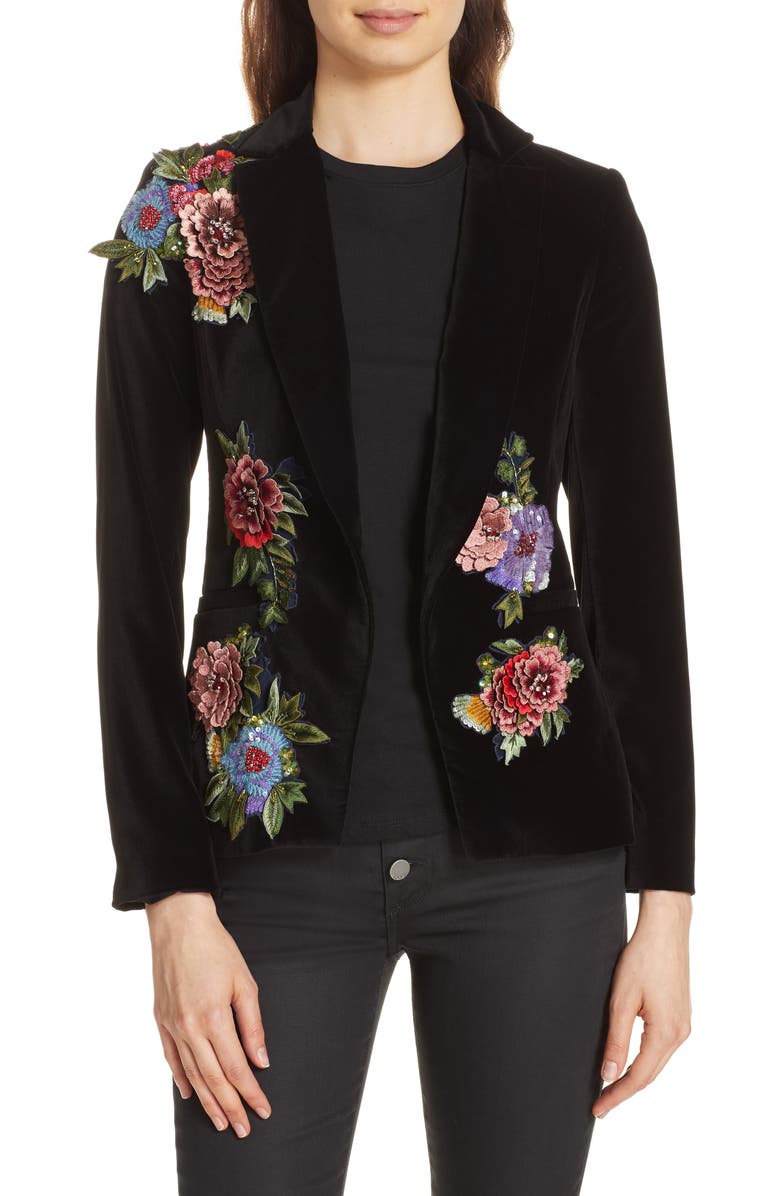 like this fabulous Alice+Olivia embellished blazer from Nordstrom. Or maybe just buy that one black dress that you can where everywhere and always looks great 
like Whitehouse Blackmarket's Tiered Sleeve knit dress.  Regardless of what you do with black it always works.
Navy can work a lot like black, it goes with all the other colors and this year it is especially present in plaids.
(J. Crew) Or instead of black for your dressy pieces switch to navy for a change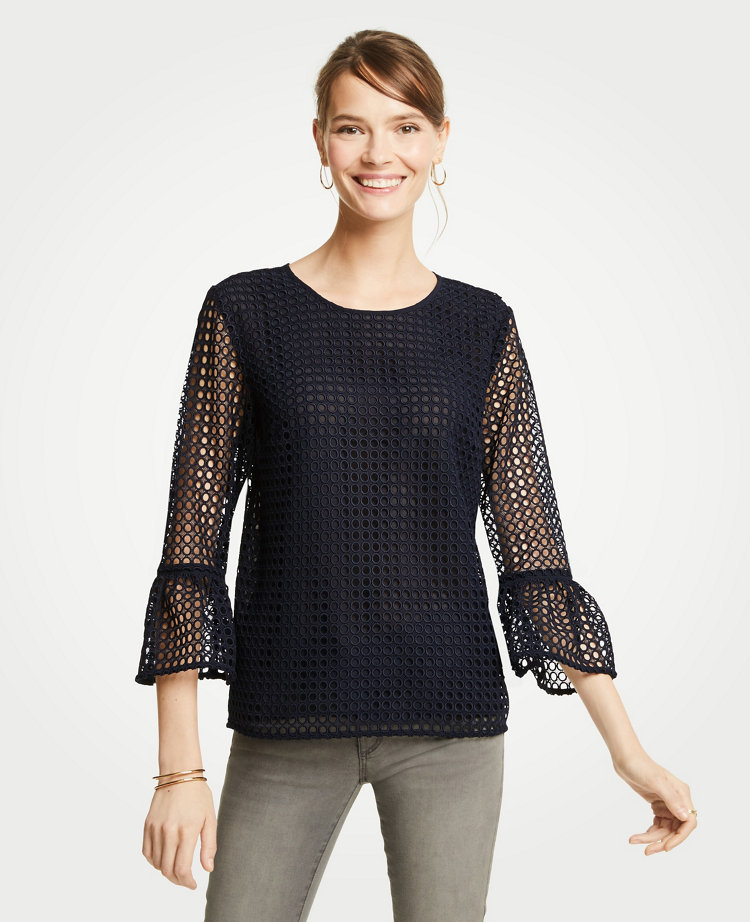 Ann Taylor's Circle Cuff Flare Lace Blouse can take you anywhere.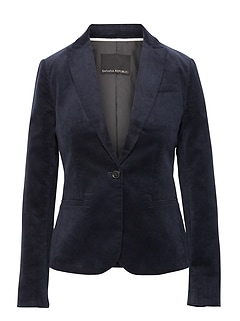 A brushed corduroy blazer in Navy will work just as well as black for a dressy look.  Quite a few women find that Navy is more complimentary for their skin tones than black, especially as they get older.  If you are one of those gals, then you can pretty much subsidize navy for black in everything.
Red and Burgundy for most of us are accent color and not base colors.  But all the same we are seeing both this fall and as base and accent colors.  There are some fabulous reds this fall!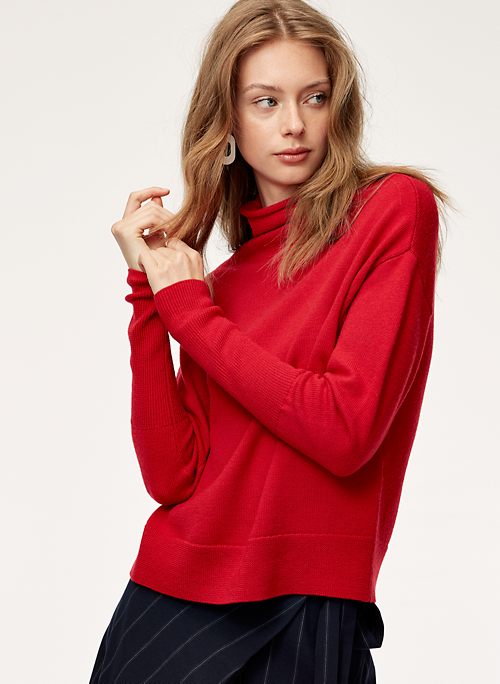 A beautiful true red is a great color for your perfect sweater! This is the Wilfred Cyprie Sweater from Aritzia, it has a great relaxed vibe in a luxury Italian merino wool.  It can go with everything from denim to skirts. Anthropologie has a whole page on their website dedicated to red and scarlet, maybe you want to try these
Moxy Slides by Cecilia NY on for size and to get your red fix.  A red accessory like this is fabulous with an all black or navy outfit.
Burgundy and maroons have been in for a couple of falls in a row.  They are a little more formal than some of the red pieces we are seeing.  Whitehouse Blackmarket has quite a bit of it in their fall collection, everything from Peplum sweaters
that are perfect for the office to a stunning coat
which is so much better than a basic black or navy coat.  Port or Burgundy can really soften complexion again, so if you feel you need that then perhaps it's for you.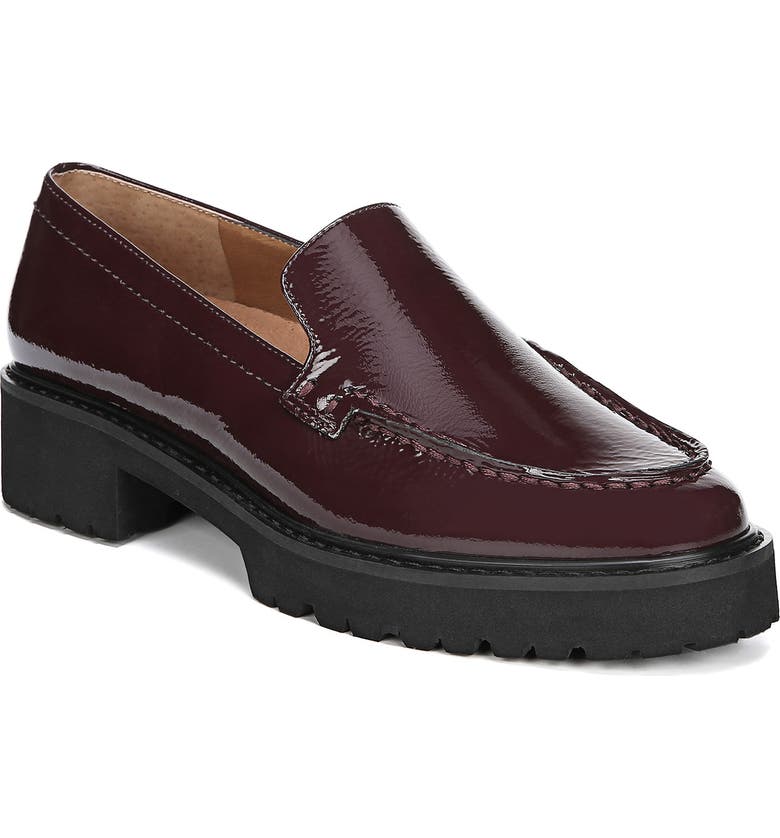 Or how about a great pair of Merlot colored patent loafers from Franco Sarto at Nordstrom.  I just got a pair from Ronsons here in Vancouver that are very similar.
Other colors that fall into the traditional category that we are seeing lots of are gray and camel.  Just this last week while looking for sweaters, I noticed just how much gray and camel are in stores.
BR has lots of gray and I am totally a huge fan of incorporating more grey into my wardrobe, it's a great compliment to both black and burgundy.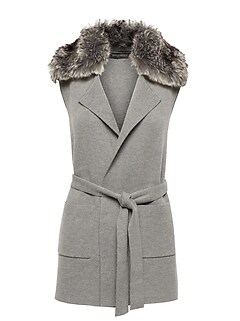 They have this fab Japanese online only merino wool vest with faux fur.
  I just picked up this Modern American Designer knit ruffle sleeve dress, that I think I will wear over and over all winter long.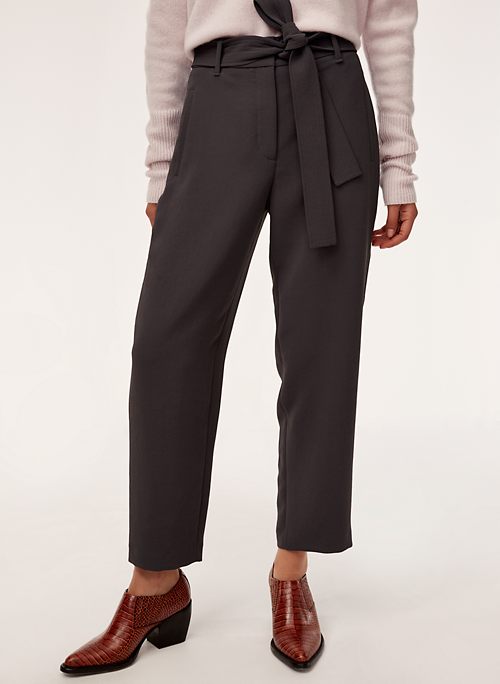 Or what about a great pair of graphite colored pants like the Jallade Crepe Pant from Wilfred at Aritzia, who doesn't want these in their closets??
Camel is one of those colors that your mother wore and she likely had an expensive coat in that color.  Today Camel can be traditional or fashion forward, instead of wearing the same coat your mother wore in camel, try
The Willy Free Teddy Cocoon coat from Aritzia. Or try a sweater that is more updated than a sweater your mom would have worn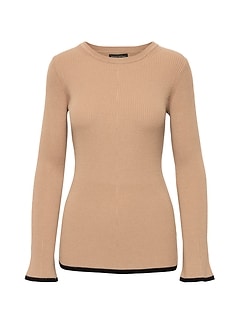 like BR's rib-knit Flare-Sleeve Sweater top.  Fantastic over pants and skirts.
Conservative colors are just that, conservative.  So try and take a little more chance with your style if you want to stick to these.
Unexpected Colors:
I am kind of going to lump these colors together simply because there is so much out in the stores and online, that 1 piece of that color is probably all you need to update your wardrobe.  But there is so much out there in Olive, Rust, Marigold, Fuchsia and Blue (not navy but different shades of blue) it would be no problem to find the right piece to accent or build upon.
One of my favorite pairs of pants that I wear a lot (when I am not wearing jeans which is almost 7 days a week!) are these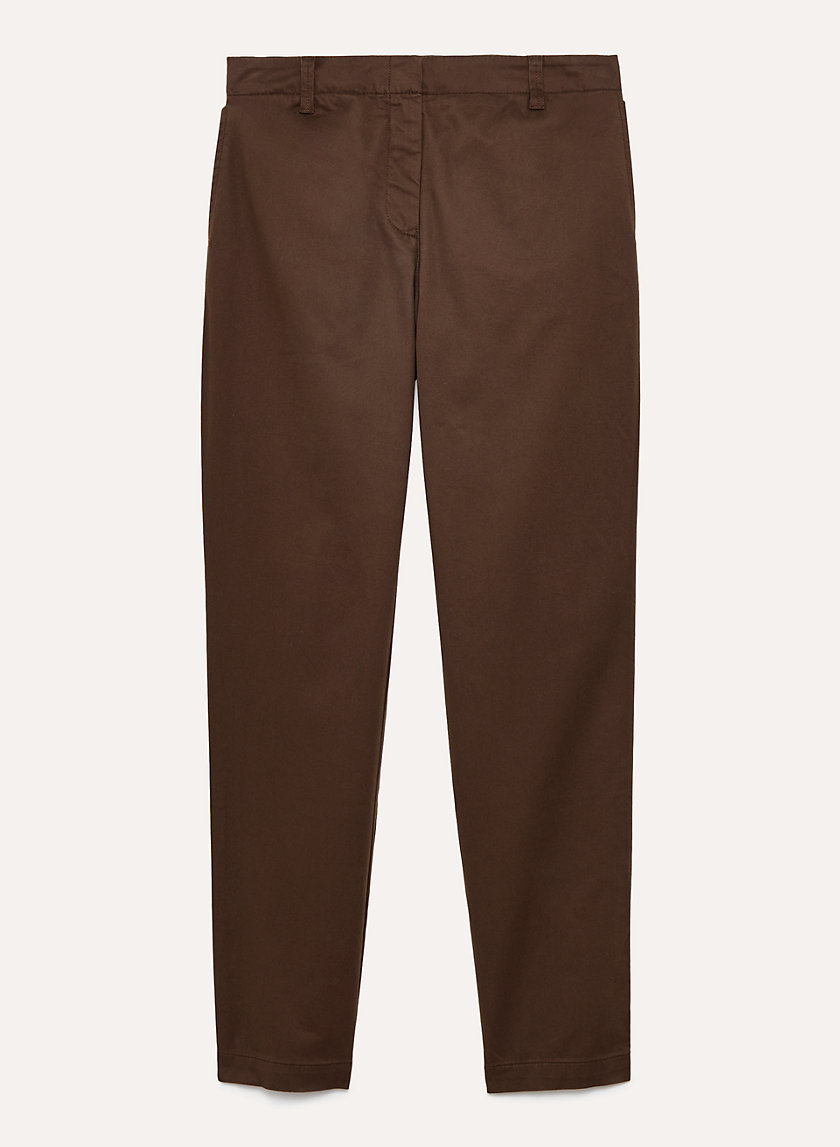 Talula fitted Chinos I bought at Aritzia.  They are an olive/brown color and I find that I can wear them with a lot of my neutrals.  They were great in the spring and now that we are into fall I am wearing them with black sweaters and booties.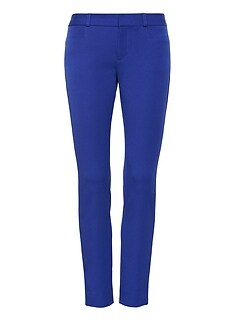 Maybe you would feel the same way about these Sloan skinny pants from BR.  They would work with so many tops and great with boots and sweaters.  Or maybe you want to explore one of these unexpected colors on top?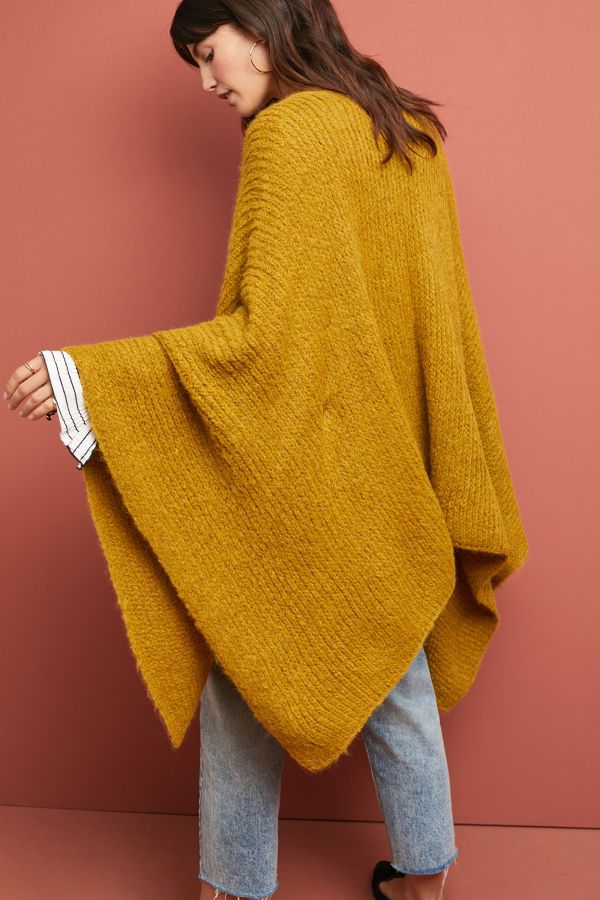 If Marigold or Mustard is your thing, then maybe this Emile Cozy Wrap from Anthro is just the piece you need to take you through fall. Or maybe this is the year you are going to embrace the faux fur trend.  It will be huge in outerwear and we will go though more of it then in our outerwear blog, but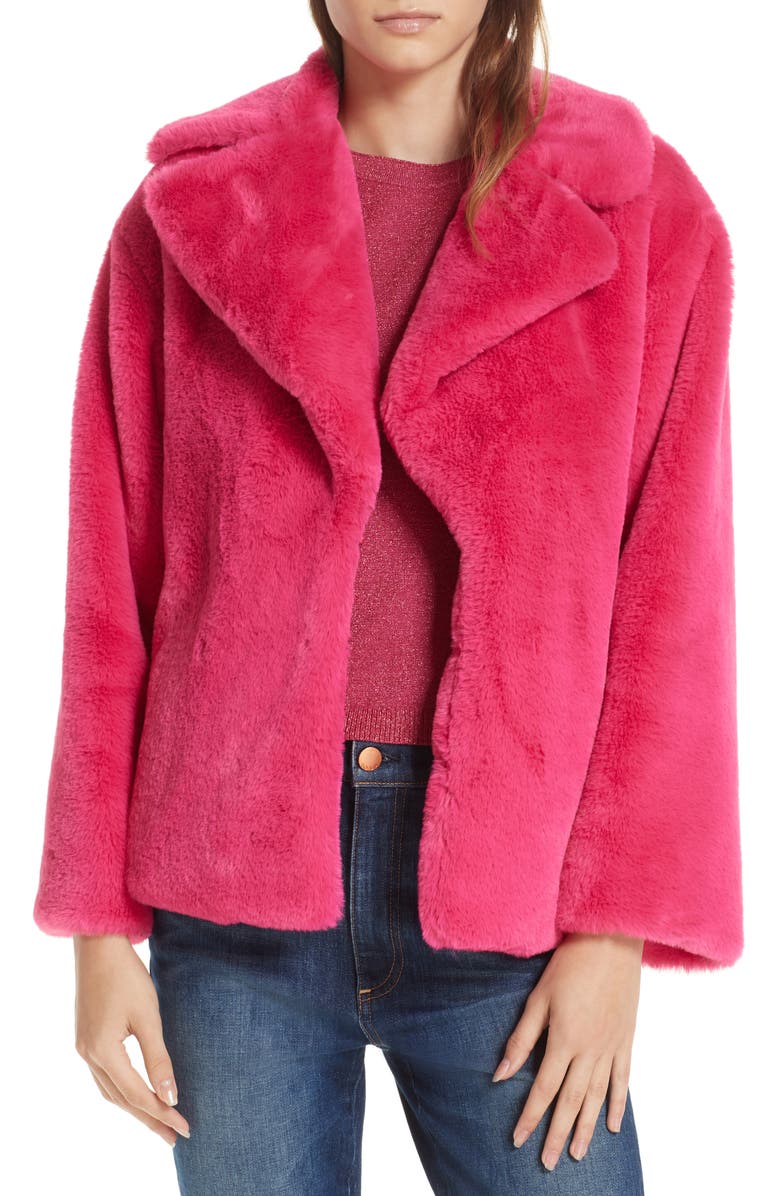 if you only want one piece of a great color like Fuchsia maybe this Alice+Olivia Thora faux fur jacket is for you.
There is so much color everywhere you look this fall, go into any store.  Aritzia is full of colorful bottoms and tops,
this Wilfred Serment Sweater would be a fabulous addition to any closet.  Banana Republic has more muted colors and great traditional ones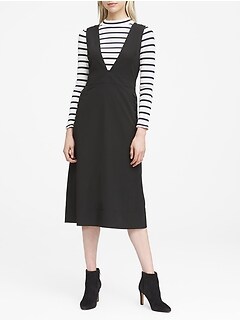 especially in their Japan online collection.  This is the new V-neck jumpsuits and dresses are all about this fall, everyone could rock this great look with a stripe top and booties. Or restrict your experimentation to your feet,
J. Crew has so many great shoes and booties, these Cap-Toed Ankle Patent booties in Brick Red can add the Wow Factor to any outfit.  Anthopologie is probably showing the most color options this fall, just go online or pop into a store and find something fab like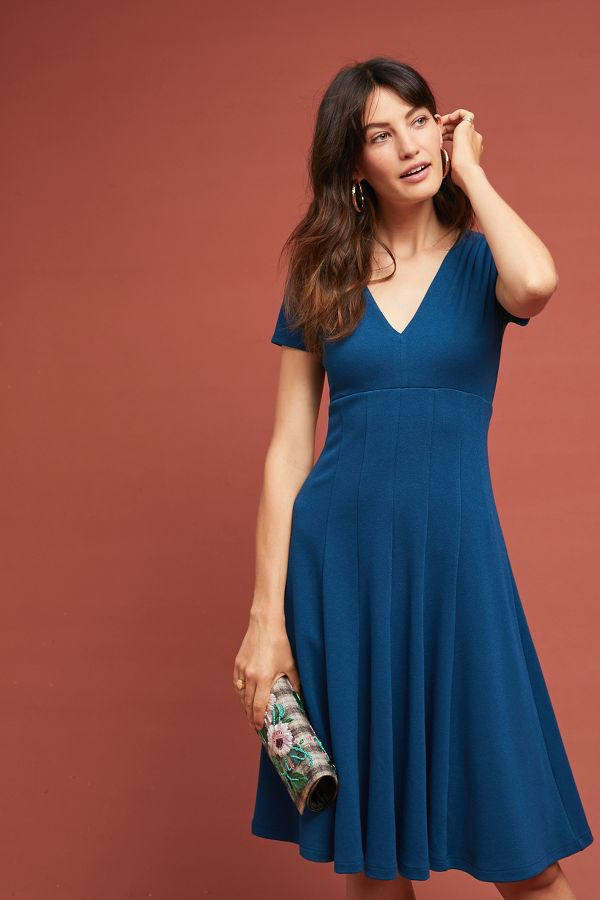 their Lincoln Center knit dress, that comes in Red, Blue(shown) and Black.  The Red and Blue are where you want to be this fall.  Even Ann Taylor has color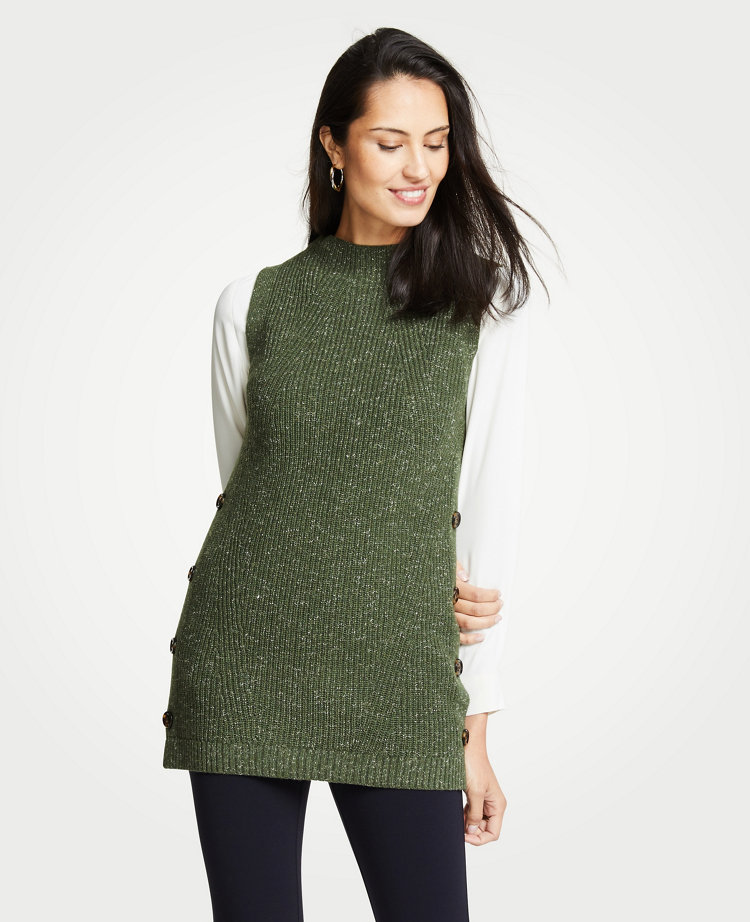 this Rib Neck Mock Sleeveless tunic sweater would be a fab and fashionable casual look for everyone.
Next week we will look at Neons and Pastels.  I want to make sure everyone knows just how many color options there are for fall.  Next week we will also talk about layering and putting these colors together.  After that we have one more trend to look at, Animal Print.  Then we will be in November!  We will still go through Fall outerwear and Dresses before we go into the holiday blogs.  Also in November/December we will have a guest blog from Shoshana Lewis our accessories expert.  And we will hear from Tasleem Suleman and Luc Lacroix our beauty experts on how to create some great holiday looks.
I hope you are loving fall colors and trends as much as I am this year,  try something different, even if it's just one piece and see what it is like to get away from your comfort zone.  I am still booking some appointments for November so hurry if you want to get in before the end of the year.  After than I am booking for January.  Email me at Suethefashionista@gmail.com for an appointment.  Especially if you want one of the few November appointments I have left.
Until next time…