This fall if you only indulge in 2 prints to go with all your solids make one of them plaid! I know we don't often think of plaid as a print but it works the same way.  Plaid is so strong for fall that we are even seeing plaids over other plaids and accessories in plaid as well.  So let's go through some of our choices and you can see what is out there for those of us over 40 and how to wear it.
I am sure not everyone loves plaid so if you really don't want to add any plaid to your wardrobe then just do a simple nod to the trend by either wearing a plaid scarf with your outerwear or tying a small plaid scarf around the handle of one your handbags. But you really can't sit on the sidelines with this one, this is probably the most major trend and it will permeate all the other trends for Fall 2018.
Plaid Clothing:
There is a ton of plaid clothing in every store for Fall.  You can wear it for almost every occasion.  Work is a no brainer, there have been plaids and checks in the work wardrobe for as long as I can remember.  For casual wear we have had plaid shirts for the past couple of years but now we are going way beyond the usual plaid shirt.  The newest feature about plaid clothing is where the designers have taken it, the colors and the styles ( yes, even some for evening) and how it trickles down to us.
Bottoms:
I am really ready for a pair of plaid pants.  When I was first dating my husband we went to Seattle for a weekend get away and he bought me a pair of plaid pants at the Limited.  I wore them a ton! One of my favorite looks was these plaid ( red, green and black) pants with a black blazer and ruffled shirt. What can I say it was the early 90's and that was what was super current. But I haven't owned a pair since and in doing my research for this blog I decided pants was what I wanted.
For those of you who think that is exactly what I want in a plaid pant, something to wear to the office, here you go.  NYDJ has a great pair of ponte knit subtle plaid pants.  You know they will fit great, the are NYDJ and ponte stretches in just the right places and not where it's not supposed to.  If you find those a bit on the boring side and work in a more creative space then try
these from Vince Camuto, they are a bit edgier and more modern.  These would work for work or casual and they have elastane in them so they will stretch just not as much as ponte.  Both pairs of pants can be found at Nordstrom.
If you feel those aren't right for you, don't worry, Ann Taylor to the rescue.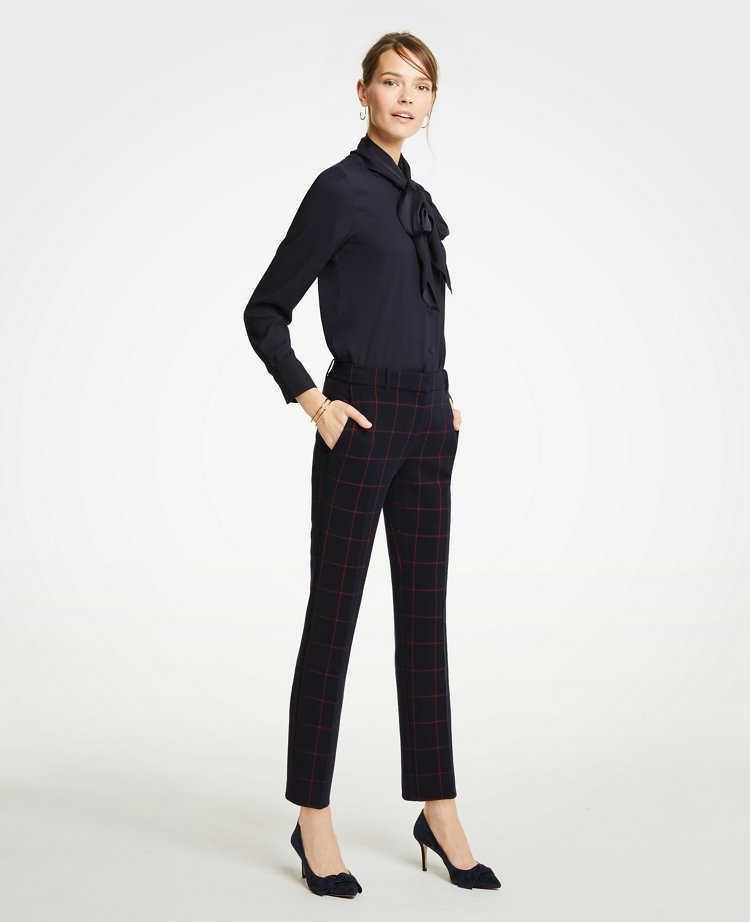 These navy plaid pants come with a red or light blue tinge and they come in curvy fit too!  If those aren't modern enough then try one of the Aritzia brands.
I absolutely love the way these Wilfred Darontal pants fit and look.  I love the shorter length (the Ann Taylor ones are a bit shorter as well) and both will be great for casual and work, because a jean jacket will dress both pairs right down.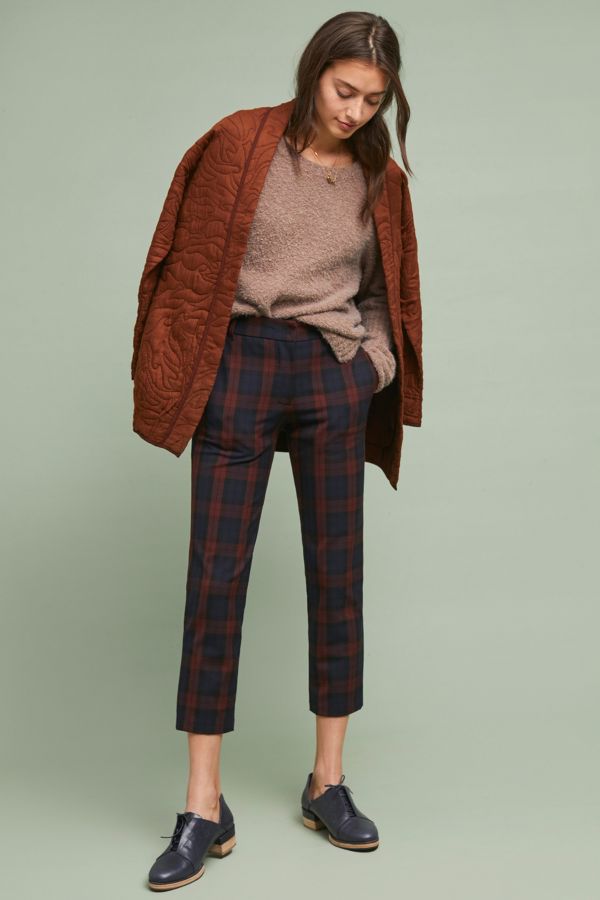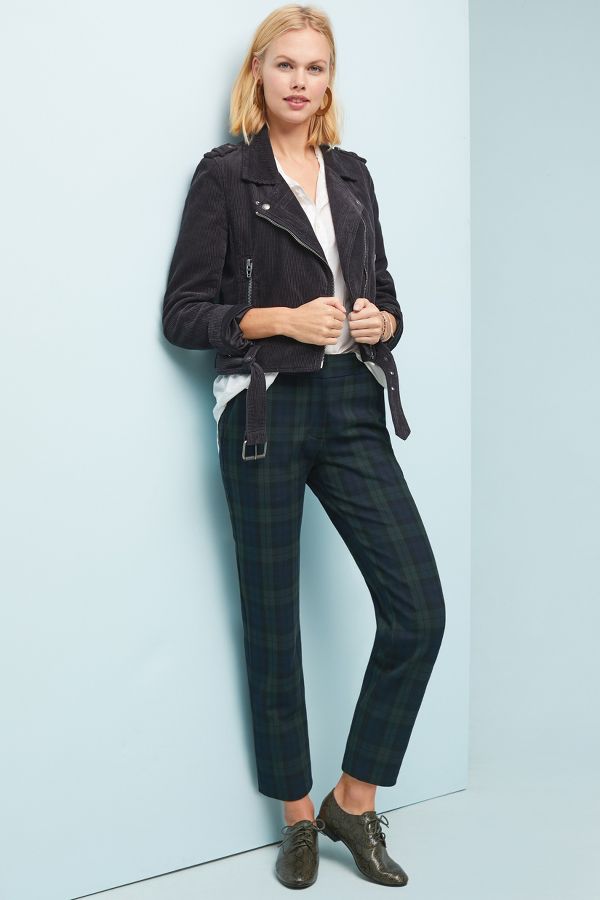 And of course Anthropologie has entire plaid department on their website.  I adore the Brenley Plaid pants from their site. Either in the red or green motif (both shown) they are fabulous for a casual pant that you can wear with anything. Online orders only but I think these may be my fall plaid pants.
There are also wide leg plaid pants and wide cropped plaid pants in stores and online, but just make sure you are tall enough ( and thin enough, sorry) to carry off a wide leg or cropped wide plaid pant.  It is very different from a solid and all the other pieces will need to be at exactly the right proportion.
For skirt there is also nothing but choices. Plaid skirts have been an office staple forever but now we are starting to see them all over.
Probably nothing is easier in the winter than a great plaid skirt and a solid top and boots or shoes. This skirt is from Halogen at Nordstrom I love the purple/red plaid and think this with a black turtleneck would be fabulous. Ann Taylor has 2 great plaid skirts.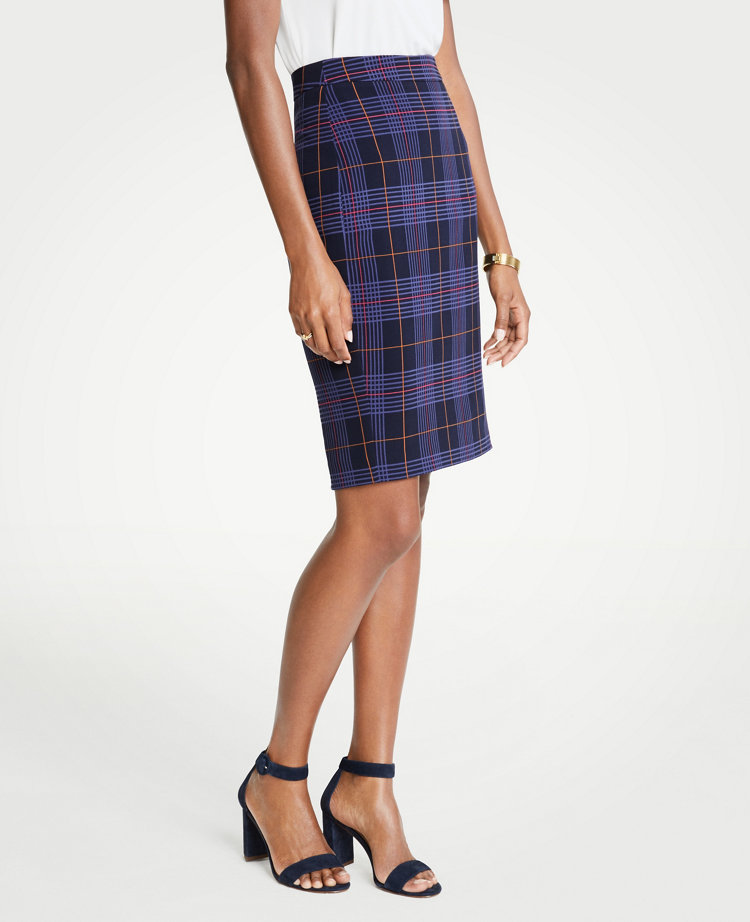 The first is an online exclusive purple/navy plaid combo (remember I told you lots of new color plaid stories for this fall), which is totally a modern shade and you can wear it casual with booties and a leather jacket or to the office with heels and a blouse or sweater.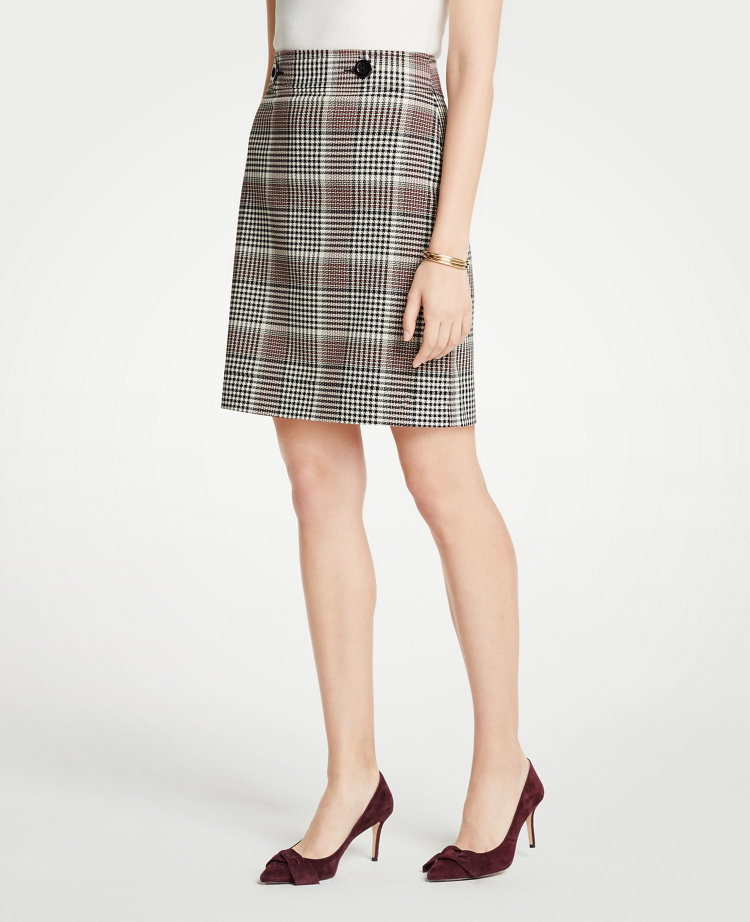 The other is their best-selling Button Tab A-line plaid skirt. This plaid has a pink hue to it and yes, this skirt is supposed to hit above the knee, but in the winter it will be fabulous with tights and booties or boots.
Aritzia also has a cute plaid skirt, it too hits above the knee.  And be careful at Aritzia most of their plaid skirts are mini.  But this Group by Babaton Jimmy skirt can work for both work and play and keep in mind most of the models are around 5'11" so these skirts are longer on average women.
Dresses:
I think plaid pants and skirts are kind of obvious.  Most of us will either own one or both a plaid pant or skirt this season.  But where a lot of the newest things we are seeing in plaids are in dresses ( and accessories but that's later).  Here you can go from the very casual to the very dressy and everywhere in between.
For everyday you can do an easy dress like this Eliza J Faux Wrap dress or
wear a simple shirt dress by 1901, just please ditch the white loafers ( what was the stylist thinking!!).  Both of these are easy and can take you to work or out for lunch or can be worn casually.  Both are from Nordstrom.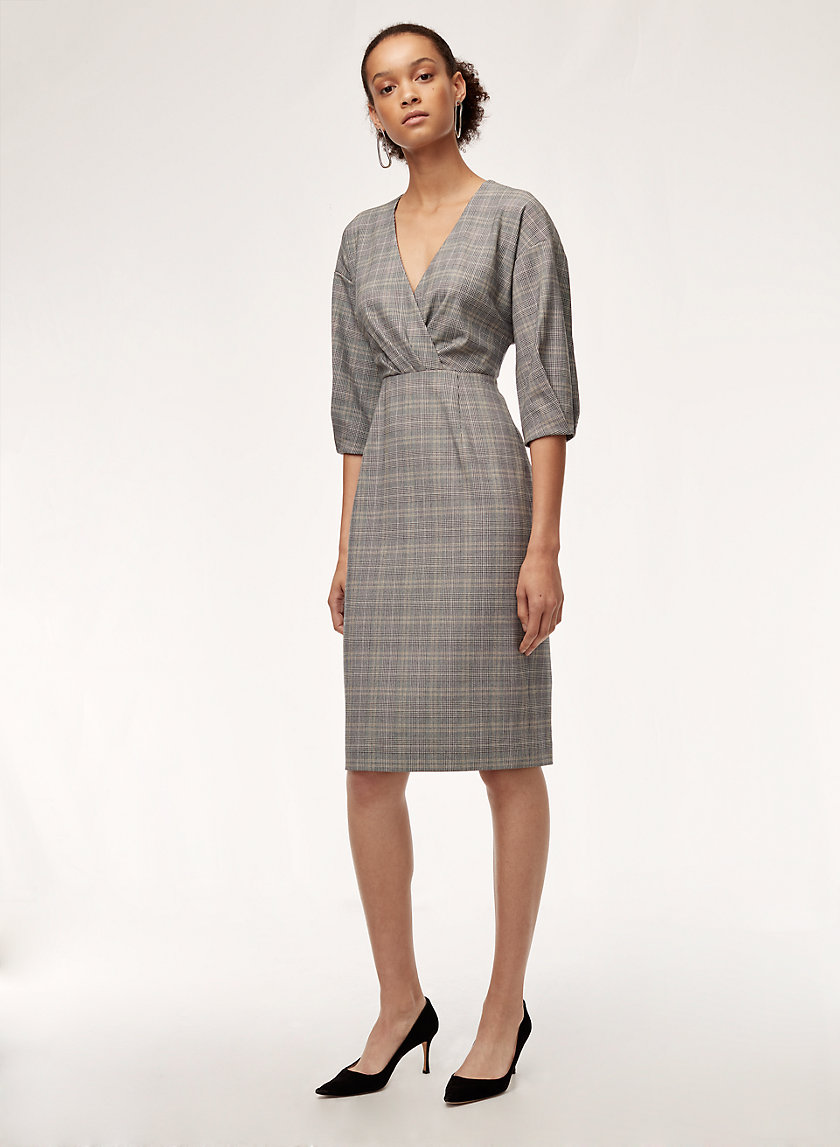 You can also grab this great Babaton Kurt dress from Aritzia, it too can be for work or play.
But where things get interesting is when we start to see plaid for evening in dresses and skirts.
At Nordstrom you can find this sequin Apiece Apart metallic jumpsuit. 
Or you can find this Lena Rose Glen Plaid top that will work perfect with your dressy skirts and pants. 
St. John is showing a plaid evening gown.
But if you want a more down to earth price try the  Eliza J. Sequin Plaid Pencil skirt.  All of these pieces can be found at Nordstrom.
Tops:
Another no brainer as most of us already have a plaid top or jacket.  I am not going to go into too much detail here just because there is so much out in stores and online for fall, I will just scratch the surface.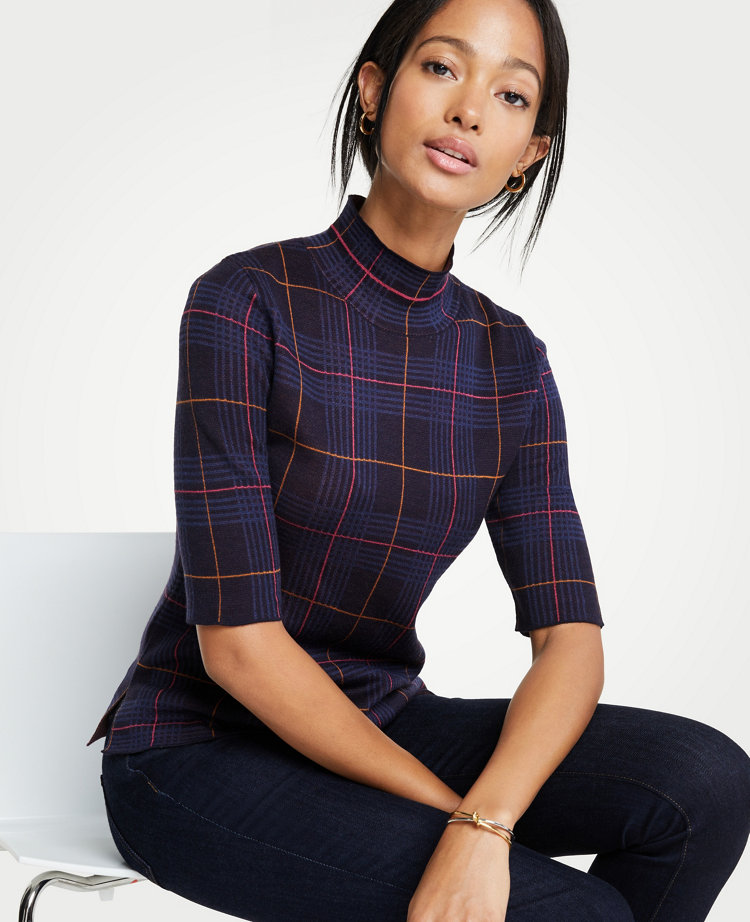 Ann Taylor has a fabulous elbow sleeve plaid sweater in the purple combination above or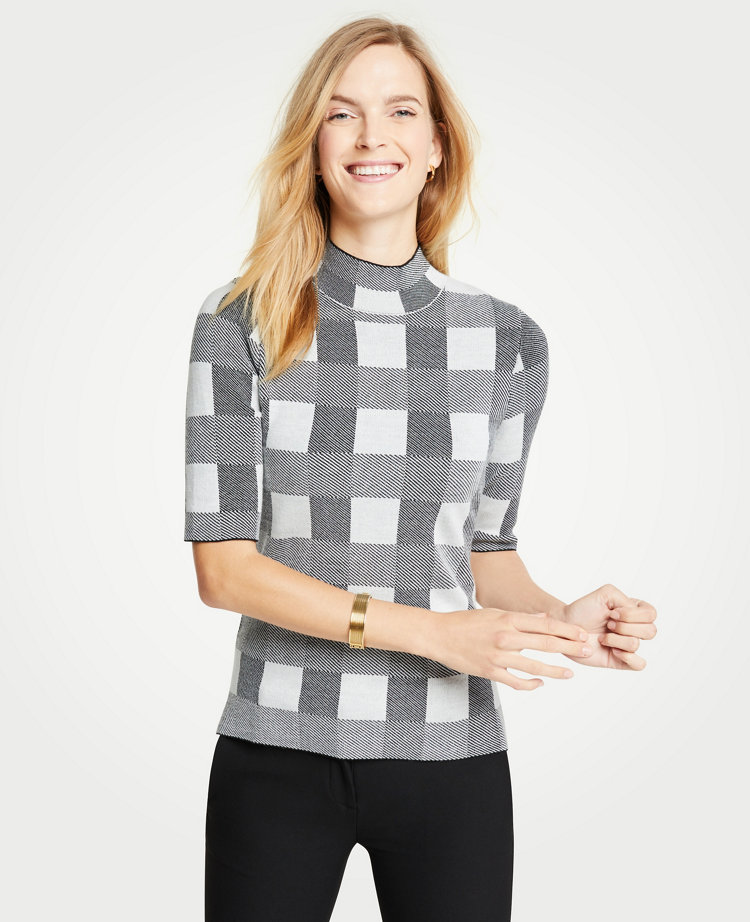 a winter white and grey combination.  Both of these are online only but could make enough of a statement in your wardrobe to satisfy any plaid craving.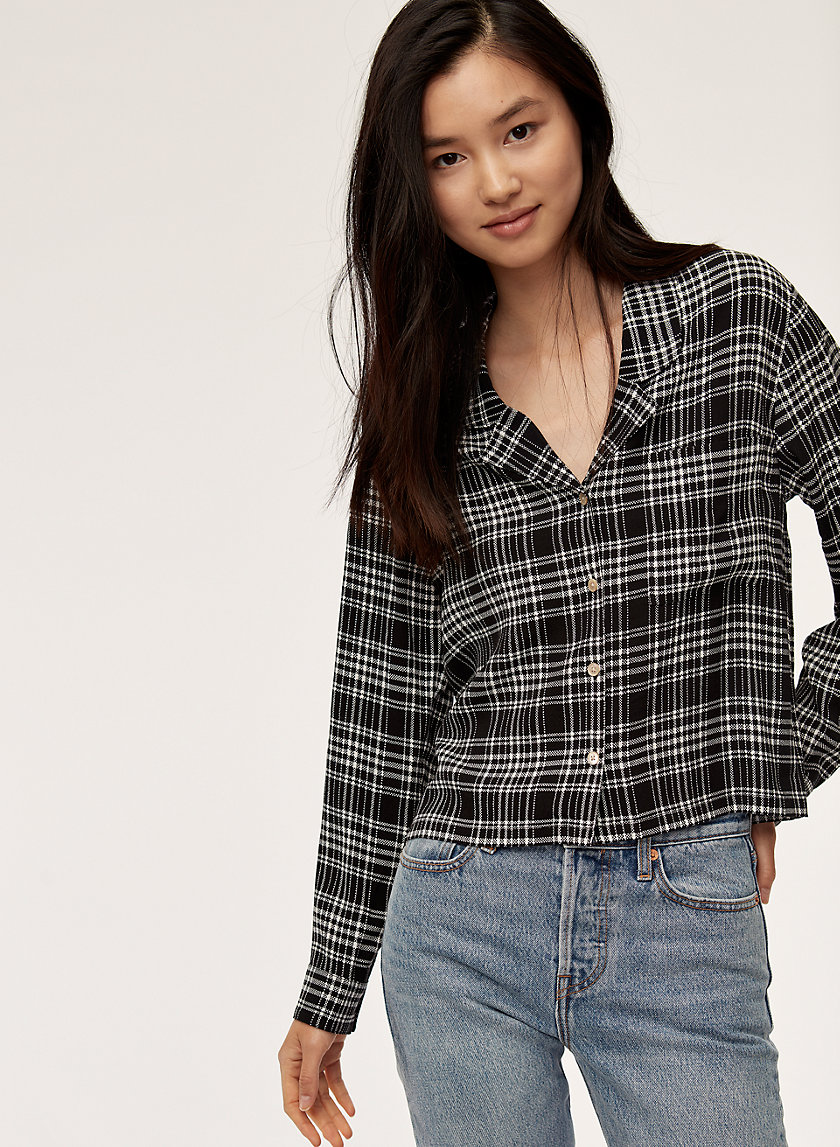 Wilfred Free from Aritzia has the Camille shirt that is a great new version of the casual plaid shirt.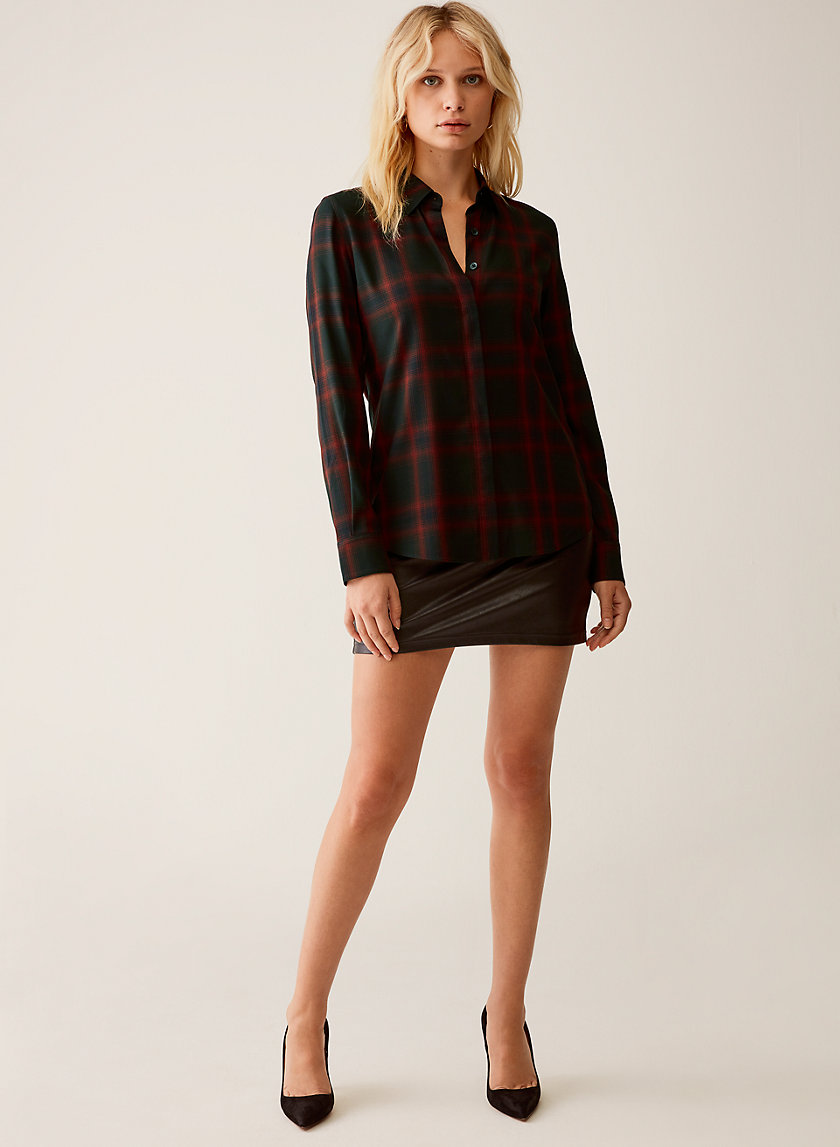 Aritzia has also upgraded the Classic Boyfriend Plaid shirt in this Talula Classic.  It is softer and more elegant so wear it to work and with your jeans.
There are tons and tons of plaid blouses and shirts everywhere.  If you want one then go to your favorite store or website, I am sure you will find the one you want.
Plaid jacket and coats are also abundant.
And Plaid coats over plaid dresses are really a thing this fall.  For a coat I would stay to a darker color like
this Leith Single Button Plaid coat from Nordstrom and then you can take a bit more liberty when it comes to a fall jacket.
Maybe try something brighter, while still being fairly classic, like this blazer from Smythe.
Or try a jacket that is unconventional like this calm plaid from Vince Camuto.
Or just search the web like I did and find everything and anything.  I know I just scratched the surface here but I will go into more detail about plaid outerwear later in the season and plaid jackets when I talk about fall work clothing.
Accessories and Shoes:
Here is where I get really excited! Plaid accessories are for everyone this season. Plaid shoes are great.  I love a great pair of plaid loafers to wear with denim or pants.
Like these velvet plaid loafers from Patricia Green at Nordstrom.  But if you are going to wear plaid on your feet try booties or dressed up sneakers for a more modern feel.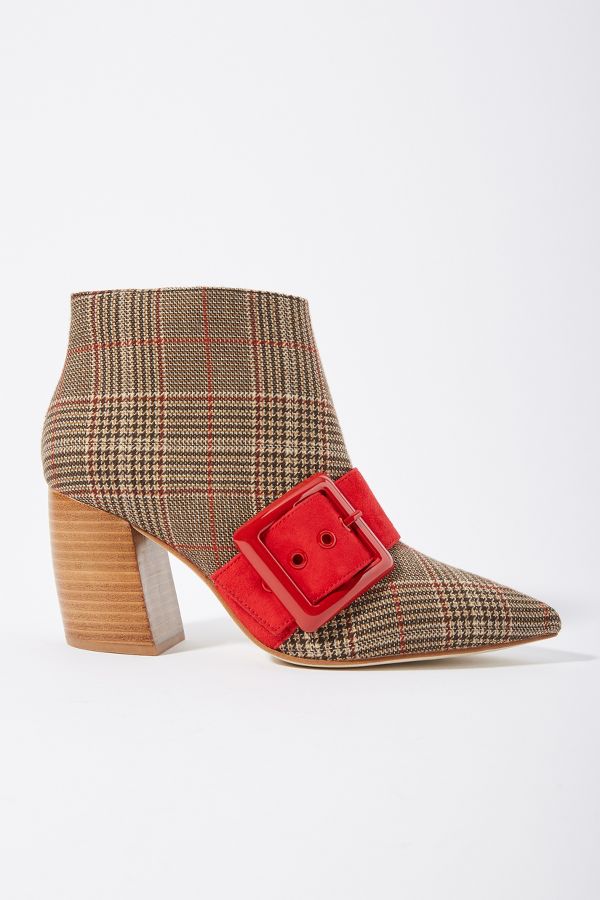 These booties from Jeffery Campbell at Anthropologie hit all the right notes with the wooden block heel.  They come in red or blue (basically the color of the buckle changes) but both would be great in any wardrobe.  Or wear your plaid to the office, there are lots of pumps and office style shoes to wear this fall.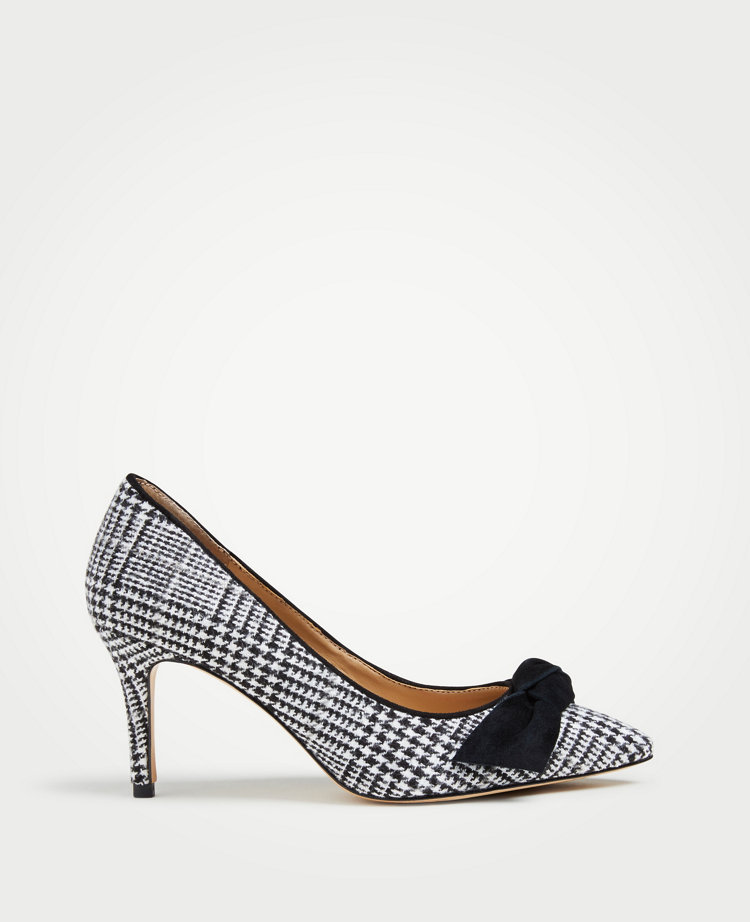 AT has the perfect office pump and it can even be worn more dressy!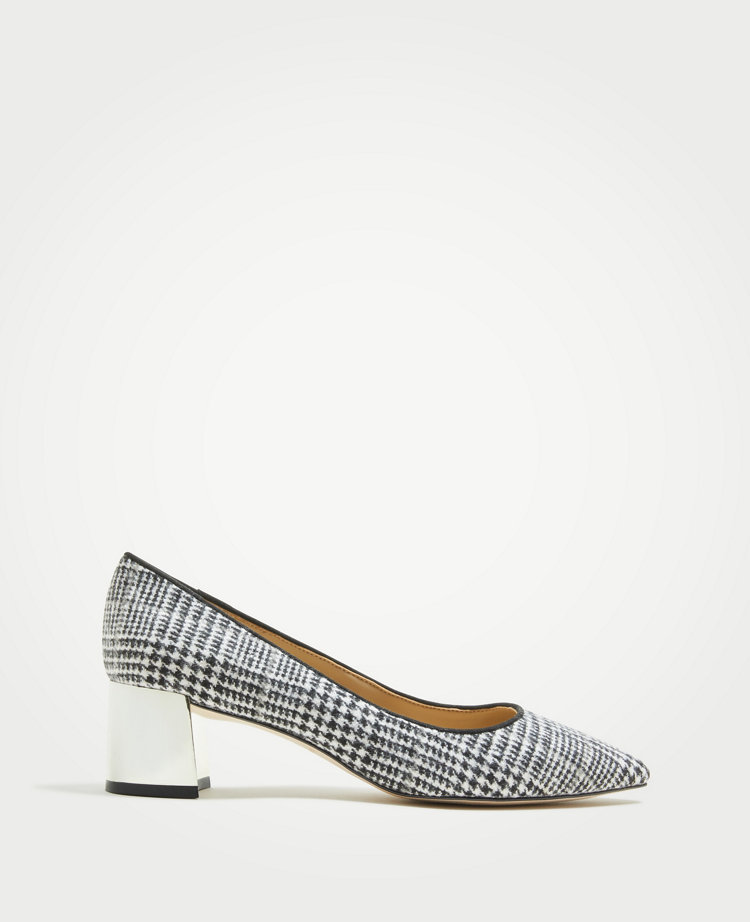 Or try something also from AT with the new block heel that modernizes the shoe.
Even slides are getting the plaid treatment, these are a bit pricier but absolutely adorable, No 21 Knotted Mule at Nordstrom. And for sneakers the best price is Caslon at Nordstrom, in either the red and navy combo
or a black and white, it is an easy and inexpensive way to nod to this trend.
There is an abundance of purses and bags in plaids for fall too.  At every price and designer to non designer there are lots to choose from.
For a really trendy and not expensive bag, try this B.P. Ring Handle Plaid tote from Nordstrom.  And of course if you want to spend some money no one does plaid like Burberry
.  But in the coming weeks and into October there will be a lot of plaid accessories hitting stores and websites so I will try to keep you updated as we go through the other fall trends.
Plaid is an interesting trend for Fall 2018 because it will mix with the other trends.  So we will keep mentioning it and show you how it works in the upcoming weeks.  Meanwhile take a look online and in your favorite stores and see all the different plaids there are, maybe just a new plaid jacket or an easy plaid shirt is all you really need this season.
If you find the fall trends too much to decifer on your own I am booking styling appointments and wardrobe consultations.  You can email me at Suethefashionista@gmail.com to book an appointment.
I also want to mention one event that I am curating the fashions for this fall.  Hadassah in Vancouver is having their opening luncheon fashion show on October 21 at Point Grey Golf Club.  The fashion show is Gowns for Gowns and the fashions will all be from After 5 Fashions in Vancouver ( the absolute best place to buy formal wear) and the proceeds will help support the New Pediatric Intensive Care unit at Assaf Harofeh Medical Center in Israel.
The show will be outstanding and I hope you will consider supporting this worthwhile cause.
Next week we will dive into the 80's trend that is huge for fall and all that brings with it like the leather trend and all the wonderful shades of brown and tweed.
Until next time…