It's just the beginning of September and on the west coast it is already starting to feel like fall is almost here.  The most exciting season for dressing is trying to turn us on our ears this year, with some new and interesting way you are wearing your clothes and keeping color, plaid and animal print at the forefront of our minds.
I have been researching fall 2018 fashions for about 4 weeks and the things I am drawn to, clean lines, solid colors (except for animal print) are hard to find.  There is so much going on in fashion, especially what the designers are showing, it really kind of makes my head spin.  But I am going to go through all of the wearable trends for you, just touching on them today and going into depth over the next month and a half.  Fall 2018 is full, there really is something for everyone in it.  So here goes:
PLAID
Plaid is back and in a huge way.  All colors and all plaids and checks are here.
Bright plaids like in this Jeffery Campbell bootie from Nordstrom are everywhere.  No color is off-limits in fall 2018 plaid. But you are free to stick with basics, just take it up a notch like in this Veronica Beard Plaid shirt, also at Nordstrom.
THE 1980'S
Yes, everyone who reads this blog remembers the 1980's, and all the bling, big hair and neon colors that went with it.  The 1980's trend is huge for fall 2018, it has been hinted at the last couple of seasons but now it's here and embracing the oversized apparel especially in coats and jackets.  Brown is one of the it colors, no it is not the new black, if any color is the new black this season it will be red.  But brown plays nicely into the 80's trend and so does all the leather apparel this season.  There is also a big trend on blinged out, crystal encrusted accessories and shoes, sound familiar? Yup I wore it too in the late 1980's.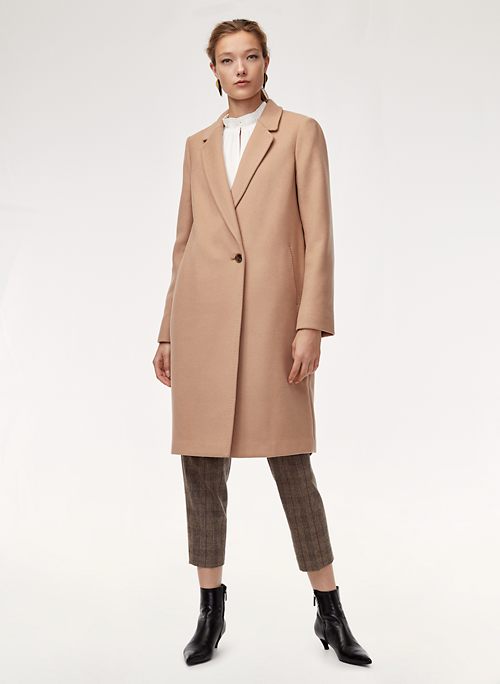 This great Steadman coat from Babaton is a piece that has enough of the brown family in it and perfect for the new layering styles and really reminds me of a coat I had in 1980 something.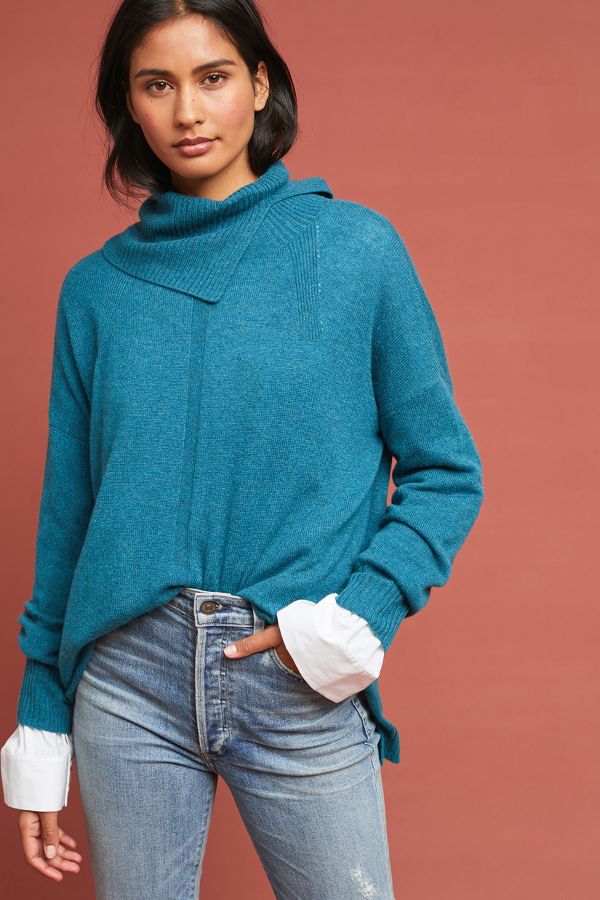 Even Anthropologie is getting into the oversize layering, this cashmere turtleneck pullover is perfect with a blouse or long sleeve t-shirt underneath.
DISCO AND SHINE
This trend is really reminiscent of yester year with a bit of moderness added in. Clothes and accessories are iridescent with the shine of a disco ball or almost like and oil spill. There are even 3D shiny prints in some designer shows. High gloss covers a lot like outerwear and evening wear.  So if you like to shine, this could be your season!
This Mac Duggal Plus Size gown from Nordstrom will illuminate your evening.  This is the type of sheen you will see in evening wear.
Or feel free to combine trends like adding a sheen to plaid, Badgley Mischka did just that and added sequins too! Coat available from Nordstrom.
WESTERN
Call it Prairie or western, it is in for fall 2018.  Pull out your jeans, cowboy boots and floral and chambray tops and of course your denim jacket. 
This of course includes sherpa lined or covered jackets, like this reversible sherpa moto jacket from Anthro.  Tie your small scarves around your neck like a bandana or wear a bandana with your denim this season.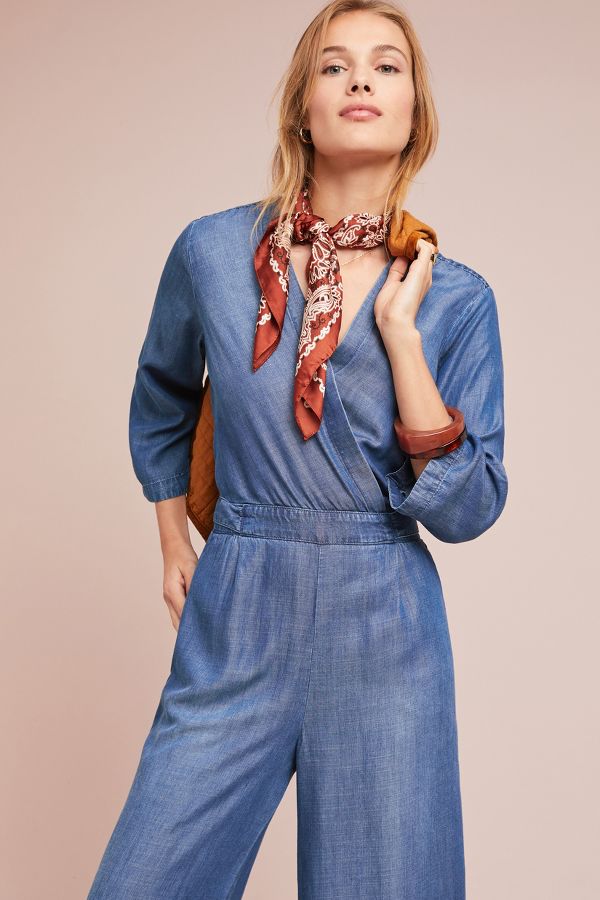 And jumpsuits are far from out.  They are still totally wearable and you will see lots and lots of them in all the trends.  But maybe try something different and wear a western inspired one with your cowboy boots and bandana this year. This is the Cloth+Stone Flutter-Sleeve jumpsuit from Anthro.
COLOUR
Where would we be without colors? Even though my favorite color is black, there are so many great colors in fall 2018 I may have to branch out! Red is playing a huge roll, we mentioned the resurgence of brown above, Fuchsia pink and pastel but true Blue is also strong.  You will see lots of yellows, mustards and rusts, and shades of green from olive to spruce.  So let yourself go this season and embrace a little color.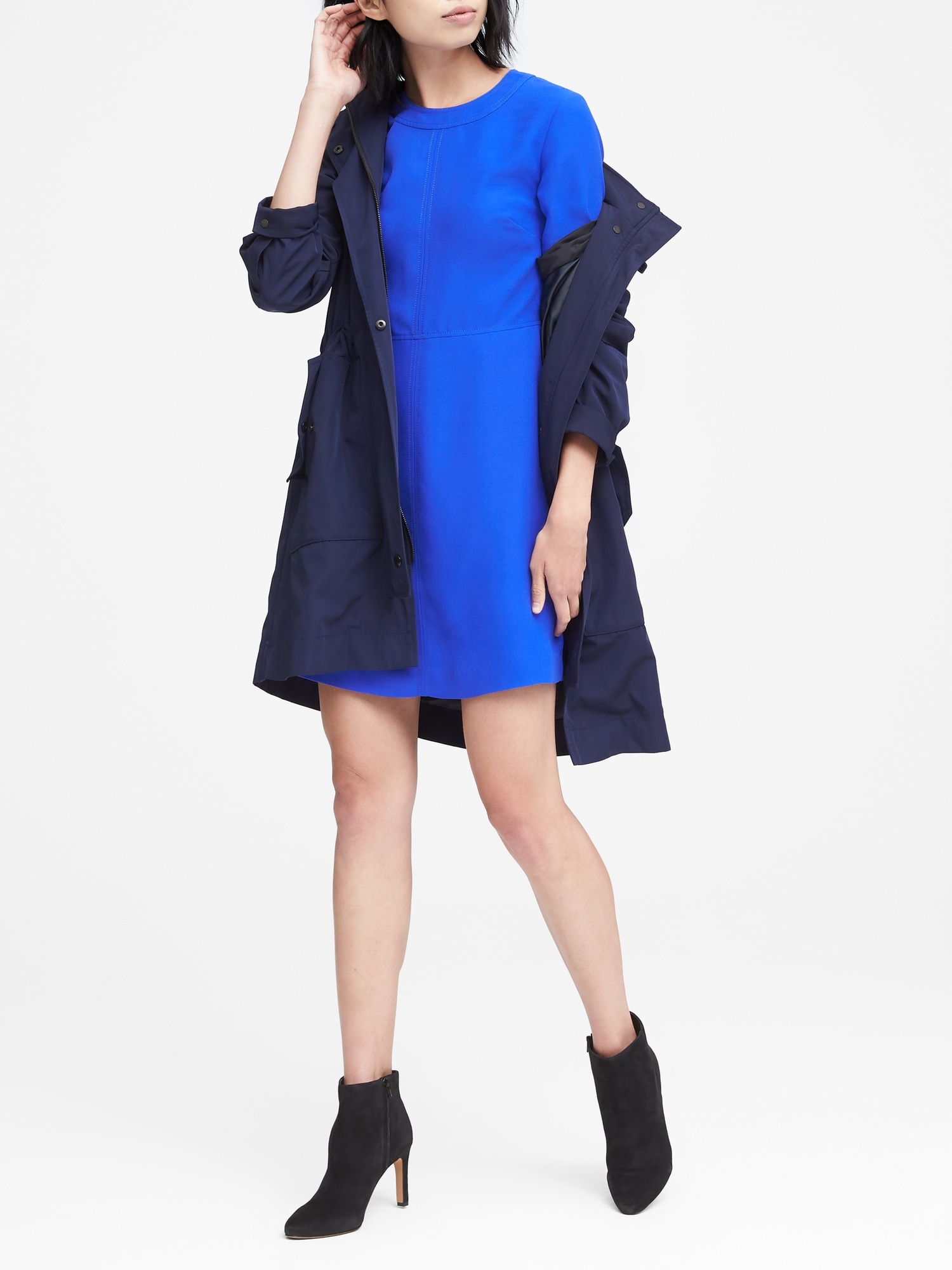 Even super subdued Banana Republic is showing hints of colour.  Check out this blue paneled fit and flare dress that is in the stores right now.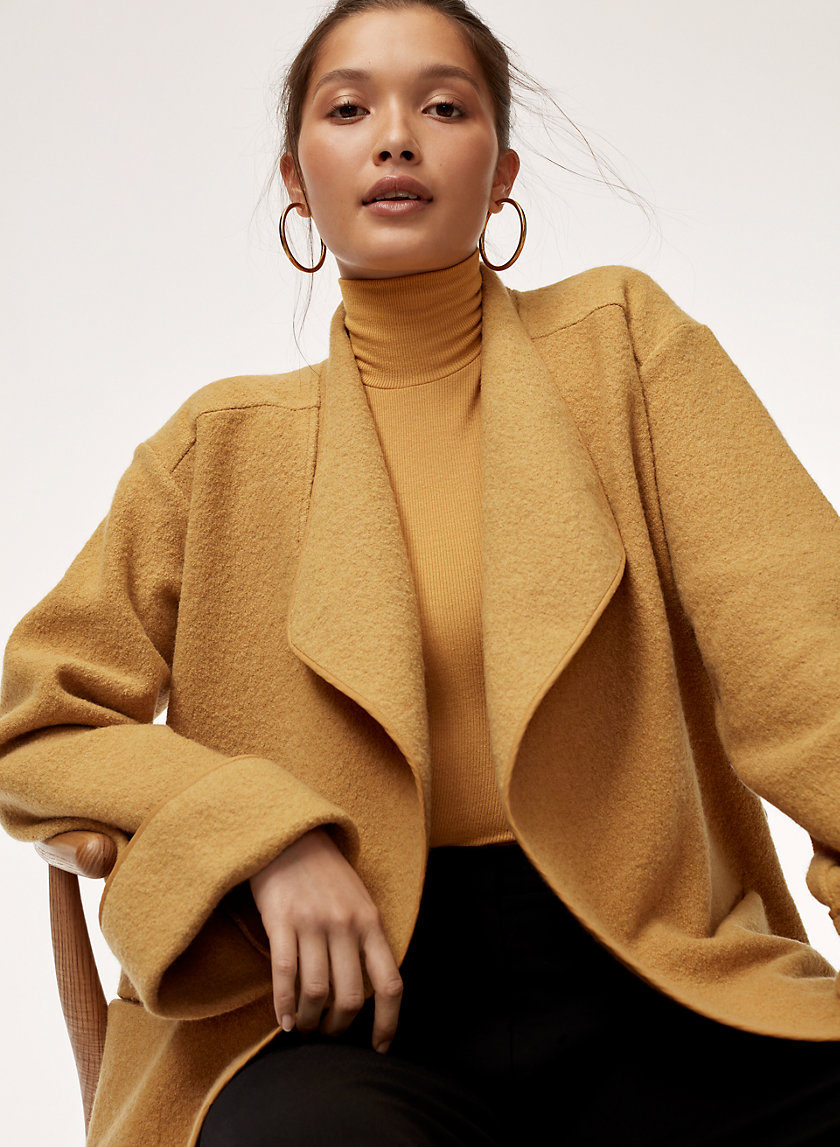 And Aritzia is never one to shy away from any trend.  This fabulous Wilfred Chandelle jacket looks stunning over the same coloured Wilfred Huet T-shirt.
The other part of the colour trend that is important too is the team spirit color trend. That is where your see rah-rah reds and yellows and blues.  But more about that when we delve into that trend in-depth.
ANIMAL PRINTS
Ok I know, I preach about these every season.  But they are super strong for fall 2018. Animal print is in everything, clothes, shoes, bags, accessories and even outerwear.  Keep wearing what you have and maybe add something new for fall 2018.
This Kate Spade leopard print wool coat would be something I would love to have, find it at Nordstrom.
Try adding colour to your animal print, you will find lots of ways to do that, like in this Pam &Gela Leopard print cut out t-shirt from Nordstrom, just pick blue or red, both are fabulous!
FALL SHOES AND ACCESSORIES
There are lots of new things for fall 2018 when you venture out of clothing.  Here are the biggest trends in shoes and accessories for fall:
Slouchy boots: you will see this everywhere in tall boots and booties and they fit into every trend too.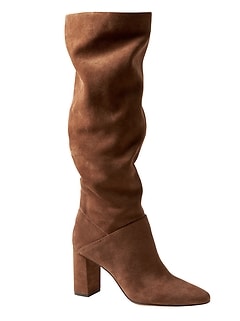 In black or nutmeg (shown) this tall slouchy boot from Banana Republic is for everyone!
Statement hats: All sorts of head covering will be offered this season.  Choose hats that make a statement.
It could even be as subtle as a multi colored pompom on your toque.
Or try something from Maison Michel and have your beret with a veil this season.
Big Bags: Big bags are everywhere and you can see them in every store. 
Pick a big bag in a bright color like this tote from Tory Burch at Nordstrom and you will have lots of space for everything.
Ladylike and Structured Handbags: The other big trend in purses is to do the opposite of the big bag and go for a structures smaller, ladylike bag.  To really make an impact do this with plaid or animal print as a nod to those trends.
This little purse from Rebecca Minkoff can double as cross body bag too!
Bling on everything: Yes, bling is back.  But not just bling, crystal encrusted shoes and accessories are making a huge comeback.
These Ashley Williams set of 2 100% crystal hairpins are exactly what the trend is this season. 
Both your bags and shoes will also get the crystalized treatment.  This trend will be even stronger as we get closer to the holiday season.
Big Scarves: Not only are scarves big, they are a big part of the new layering which we will talk about in an upcoming blog.
Scarves and wraps will play right into your outfit and even make it in some cases. You will start to see scarf prints to as fall goes along in shirting and dresses.
The last thing I want to mention is the trends in outerwear.  There is outerwear that fits into every trend above, but other important pieces are blanket coats and puffers.
All super oversized.  Hoods are also important this season.  For everyone that doesn't live in Vancouver (we wear hoods up all winter long in Vancity) wearing your hood up is a fashion trend this season.  So when it rains and snows and you have your hood up, flaunt it baby, because you are hitting the trend right on.
That's a brief synopsis of Fall 2018.  We will start diving into each trend starting next week until we are done.
I hope you all had a great end to the summer, I spent the last 3 weeks in New Orleans and Denver getting my boys both settled one into a new house and the other into his freshman dorm.  But now I am back at it, so if you need styling help our just someone to help you navigate what looks good and doesn't, email me as I am taking appointments right up until the end of November. Email me at Suethefashionista@gmail.com for an appointment or style advice.  And thanks for reading my blog, I love all the positive comments I am getting!
Until next time…