Here is the reality of today's weather.  Summer is hot and it doesn't end just because the calendar says it's September.  How many Septembers and even October can you remember wanting to wear lighter clothing because it is still hot in the middle of the day.  For that matter in certain places it can turn to winter on a moment's notice.  When I used to travel for work there was an early October one year when the morning I was leaving for Edmonton there was a snow storm and it was 23 degrees (74 farenheit) in Vancouver.  But with global warming it seems like the summers are warmer and longer and the winters are colder.  But we will have many months to talk about winter dressing, so this blog is dedicated to the type of clothes you wear in between the seasons.
I have done Transition dressing blogs before and usually suggest lightweight dark clothing.  But this late summer/early fall you may want to switch it up and start introducing some of the wonderful colors that are coming our way for fall, just in light weight clothing you can always layer as the weather changes.
Color, dark florals, plaids are all coming into trend for Fall 2018.  So why not take some light weight versions you maybe have already in your closet and wear them until you need to dress a bit warmer.  Of course black will never go out of style so we will talk about wearing light weight black clothes as well.
Color always really intrigues me.  I am basically a black and denim girl and if I could have a uniform in the fall it would be a black long sleeve top or sweater, black jeans and ankle boots.  But this year I am going to try and have a bit of color as well.  So yellow and orange has been really strong for summer – push that forward and you have mustard and rust for fall.
I couldn't find this dress on the Eileen Fisher website but I went in the other day to buy a new pair of jeans and they have a beautiful new dark wash denim that every woman should own in a skinny jean, but more about that later.  They had bits and pieces of this color in the store.  I fell in love.  This is the perfect rust for early fall, it's not orange and it's not super red rust.  I bought it immediately and it happened to be on sale.  How will I wear this for transition? Probably as a dress with brown crocodile kitten heel pumps and a tortoise-shell belt.  It is a shirt dress and they are going to be strong for a long time.  How will I wear it later? Well I think I will make it a duster and wear a cream or off white long sleeve t-shirt or turtleneck underneath and button it only have way and wear it with dark skinny jeans and high heel brown booties.  I love the idea of a transition piece you can wear now one way and then as the weather gets colder another.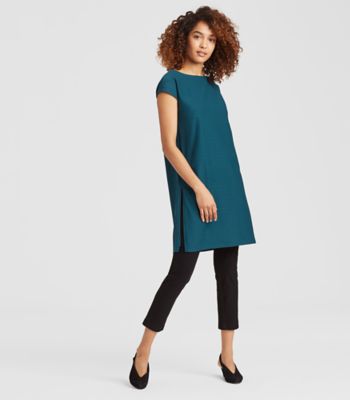 Another fabulous colorful piece from Eileen Fisher that is in their fall edit is this Washable Stretch Crepe Side Zip dress. Now you could wear it as a stand alone dress, yes it's just long enough.  On the average woman it will hit the top of your knee, perfect for a warm day.  And later in September put the black skinny pants with it and even a black wrap!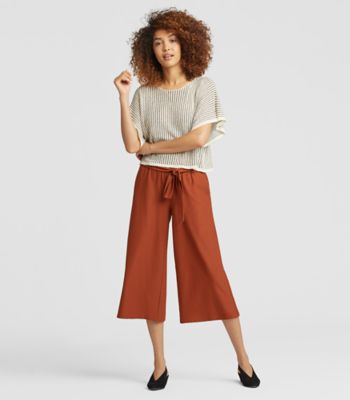 This wide leg pant isn't going anywhere for a while.  So why not let it be a great transition piece for your closet.  It is again Eileen Fisher washable stretch crepe and I love this color they call deep pekoe.  Wear it now as you see it and later with a black turtleneck and flat black suede boots.
Going away from our favorite basics and adding a print to transition.  Aside from florals, animal prints are still super strong going forward into fall.  Why not update your black pants or skirts with a top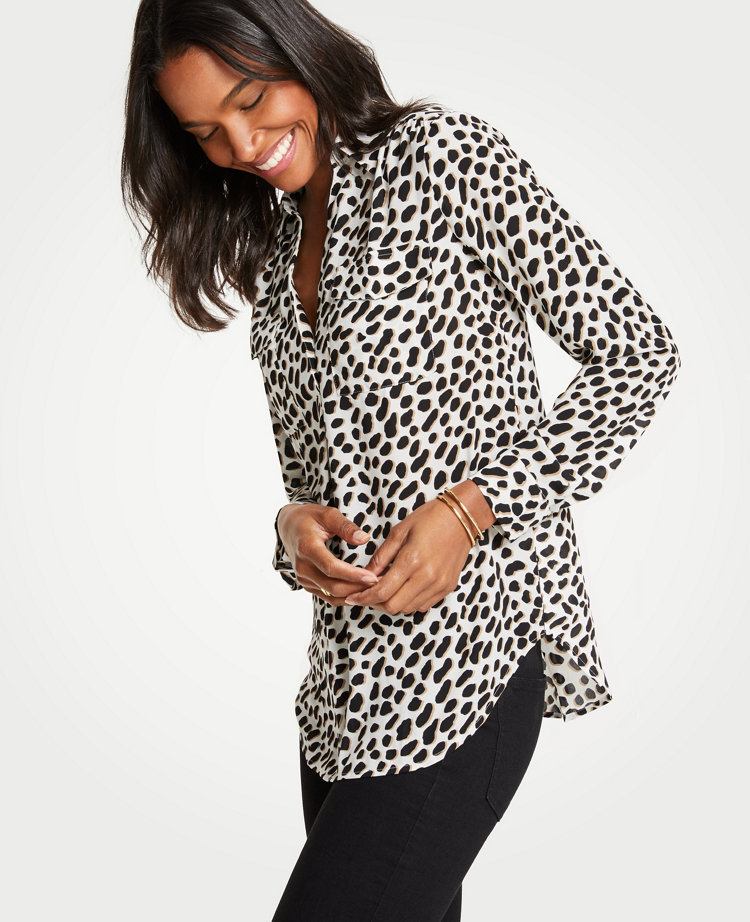 from Ann Taylor.  This is brand new on their website and it is their Cheetah print camp shirt. You can wear it now with light linen or easy black pants open as a jacket with a white or black tank underneath.  You could wear it to work with a black suit as an interesting underneath layer and you can wear it later as a basic shirt of again layered with a long sleeve black t-shirt underneath. This shirt would be great with black jeans on the weekend too!
In another few weeks you may want to reach for light sweater, or if you work in an air-conditioned office you are already.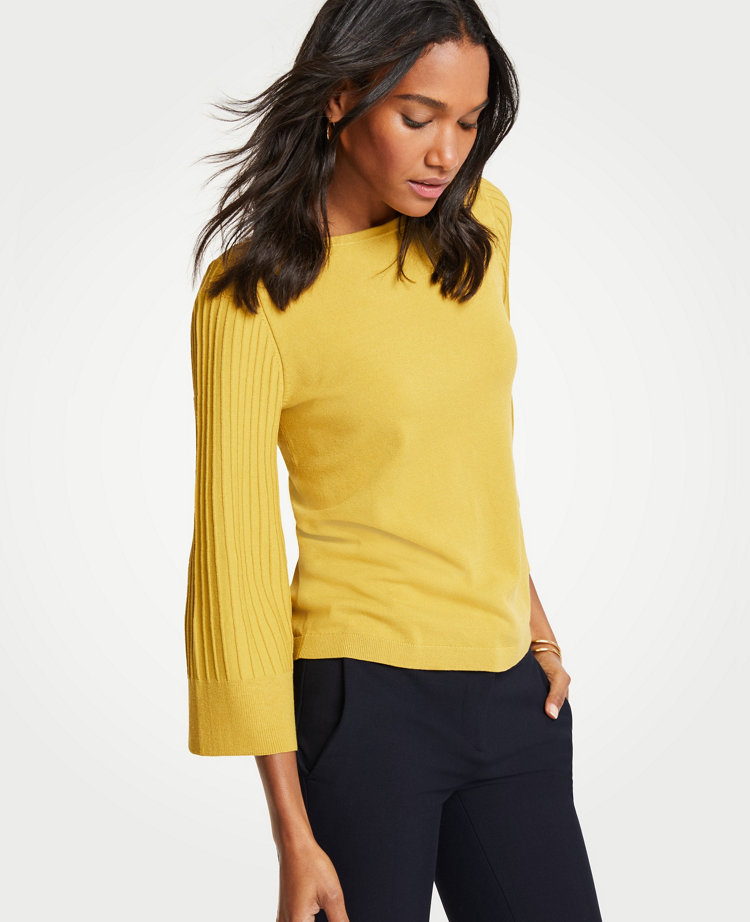 How about adding a soft mustard colored sweater to your wardrobe.  This Cornsilk colored sweater from Ann Taylor is fabulous with dark denim, and will complement all your navy pants and skirts for the office as well.  It's light a fabulous wear it now and later.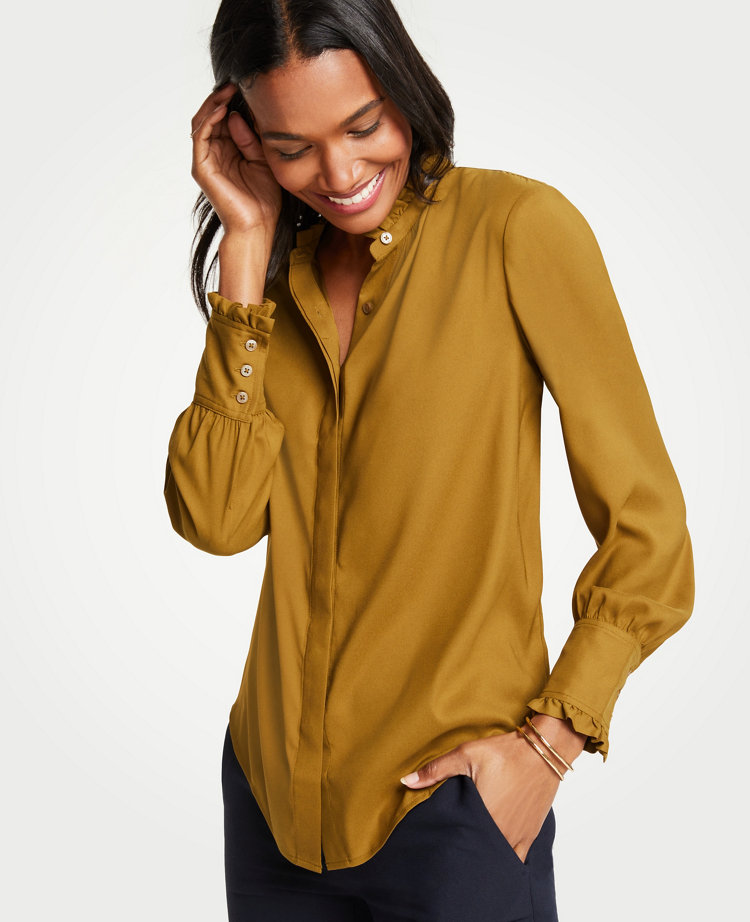 Sticking with Mustard tones, I am in love with blouses.  Starting in about a month from now I will start wearing all my blouses with jeans.  This Ruffle neck button down blouse is something I would wear all fall and winter.  I love the strong color (it also comes in a soft petal pink) and I love the ruffles around the sleeve and collar.
Plaids are coming back in a big way for fall.  I am not super into them but I do love them on other women. But if I wear going to invest in one plaid piece that I could wear early fall and all winter it would be a plaid blazer that I could wear with jeans, skirts, pants and everything. 
Here are two from Nordstrom online.  The one on the left is from Veronica Beard and it her Beacon check jacket the one on the right is from Treasure and Bond and it is their Glen Plaid Blazer. The Veronica Beard Blazer is $800 the Treasure and Bond one is $120.  I don't buy blazers that often so I tend to invest when I do, but if you want this as a trend item don't break the bank on it, you have options.  Try on lots until you find the one that is right for your frame and coloring.
Dark florals are something most of us own already.  If you have been following my blog for a few seasons I have told you over and over how important they are every fall. So you probably have enough to carry your through.  But if you don't now may be one of those times you want to pick up either a dark floral dress or top. Nordstrom online has tons of dark floral tops.
If you love the rust and earthy tones, go for a blouse like this one from Joie. It's their peasant sleeve silk top and you can wear it now with neutral pieces and later with blacks and navys, and dark denim would look great too!  Personally I like my dark florals to have a black background so I would pick something like
this Carmona Blouse from Paige.  
But I am likely going to pull out this blouse I blogged about 2 years ago from Anthropologie.  The beauty of a dark floral, or in this case a feather print is that I can pull it out every year and it still works, so I don't mind paying a little more.
Get the most out of the last little bit of summer that you can.  When September and things like school and the Jewish high holidays hit, you can always wear light-colored darker clothing with a pop of color to make you look like you have it all going on.  Light weight black crepe is fabulous for that and so are the dark florals and plaids.
A dark dress like this one from Halogen at Nordstrom (minus the red booties) would be great for the office.  Wear it now with open toe mules and later with tights and booties.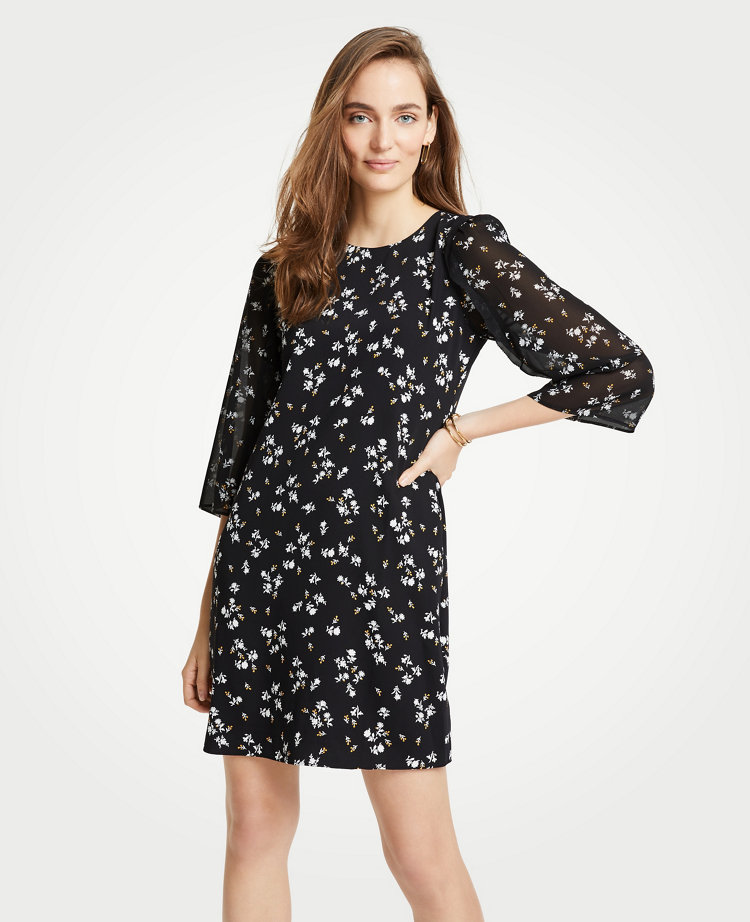 Or if you love the dark florals pick up AT's floral chiffon sleeve dress, and wear it now with open toe mules or sandals and later again with pumps or boots.
When I get back from my break we will dive straight into fall 2018. My next blog will be up September 12 and we will talk about all the fall trends, then for a few following weeks we will go into each one in detail and how you can wear it.
Enjoy the rest of your summer and please if you have questions email me at Suethefashionista@gmail.com.  I am also setting up appointments now for October, so if you want a styling or wardrobe appointment for them use the same email please.
Until next time…