I know that the last thing you want to think about the beginning of August is cleaning out your closet to welcome the new fall clothes that are going to be hitting stores and websites in the next couple of weeks.  And you look at me bewildered because we all know that the weather will probably stay warm until at least the 3rd week of September.  But if you wait until then, which you could, none of the consignment stores will take your gently worn gems.  In consignment stores the early bird gets the worm.  And I am not telling you to put away your summer clothes, au contraire, wear them as much as you can between now and fall.  Enjoy every drop of sunshine and sundresses that you can.
If you are like me, you feel it is very cathartic to clean your closets twice a year.  It's kind of like shedding pounds you don't want, getting rid of clothes you won't wear that only take up space drags on you and your closet.
So, how do you start? Well, my suggestion is to be prepared to try a lot of things on.  How can you truly tell if you want to keep something if you haven't put it on in 6 months?  If you hired me to help you go through your closet I would tell you to be prepared to try everything on.   Let's go through a step by step of what you would get rid of first of all and then I will tell you what trends you need to hang onto and what you need to toss in order to welcome the new styles fall will have that you will crave.
1. Look for any clothing that has gone into disrepair.  Things like holes, split seams, hems that have come down and shoes that need new soles or polishing or are falling apart.  These items you need to decide if you love them and then get them repaired.  Most cobblers can make well-worn boots look new again and a good tailor can help your clothing.  For example, I recently bought a dress online from Nordstrom anniversary sale,
I plan to wear it now and hopefully next spring and summer as well.  But when I got it I realized that it's a bit too long for me, so to my friendly neighbourhood tailor I went and she took off the last tier so it sits perfectly above my ankles.  Did I ruin the look of the dress? No, because on my body it now is no longer overwhelming.
2. Try everything on! I can't stress this enough.  Something you love may need to be taken in, or let out.  What was your favorite go to blouse last fall could just look a bit to worn this fall.  Trust me, you can't really tell without trying everything on.
3. If you didn't wear it last fall, chances are you aren't going to wear it this fall. This really holds true for almost everyone.  There is a reason you didn't wear that dress, top, pair of shoes.  Maybe it's not comfortable?  Maybe you ordered it online and didn't really like it when you got it but never returned it.  Or maybe it was just an impulse buy on sale at the end of the season and it was such a good price you didn't think you could pass it up. Relax, it happens to the best of us.  I happen to be one of those women who love the new shoe and boot trends.  Two years ago I went out and bought a pair of print booties (not talking leopard print, those I love and wear),
very similar to these Sam Edelman booties that Anthropology had last season.  I loved them when I bought them and thought I would wear them all the time.  Did I ever wear them out of the house? Not once! They were a little uncomfortable and I could never match the pattern ( they were printed all over) with anything else.  So off to consignment they went and because they were never worn, I actually got a pretty good price for them. And if I didn't have this rule they would still be in my closet and I never would have bought the Aquaitalia black boots
very similar to this pair from Nordstrom for this fall, that I wear almost every day in the winter.  So I guess I over estimated my style, happens to the best of us.  Be brave enough to let go of things you won't wear.
4. Be your own best critic.  Does this dress look good on me? Do I look fat in this?  Well, do you?  You are your own best critic.  If you put on the same pair of pants, skirt, dress and say anything critical to yourself about your appearance chances are you will not wear that item of clothing.  I don't care if the sales person in the shop you bought it told you it was perfect, if you don't feel perfect when you wear it, chances are you will never wear it.  Get rid of it!
Following those simple rules will help you make short work of your closet clean up.  Once I have figured out what I am getting rid of I make 2 piles.  The first pile is what I can sell.  Good items that have been bought in the last two years that are gently worn you can take to a consignment store.  I use a local one here in Vancouver called Dragon and Phoenix.  They give me a fair 60/40 split.  Which means they keep 60% of that they sell it for and I get 40% back.  I used to have a store, years and years ago that was a 50/50 split.  But those days are over.  And quite a lot of stores do a 70/30 split so make sure you ask when looking for a consignment store.  The other pile is things that a consignment store won't take.  Most consignment stores won't take less expensive items like Joe Fresh T-shirts and sweaters or workout wear or even underwear ( of course it all has to be clean and fresh before you get rid of it).  Those items I put aside and after I clean out my kids closets I call a local charity and donate them.  Places like the Downtown Eastside women's shelter will take your gently worn items and Canadian Diabetes and Big Brothers have a service where they will take your used items and give them away or sell them to make money to fund your programs.
What I have found that doesn't work is having a garage sale and trying to sell your clothes.  If you are lucky you will get $10 for a piece of clothing you could have gotten $20 for at consignment.  Or if it's something you need to donate, no one will buy it.
I did all this last week and took my clothing already to the consignment store.  Before the end of the month I will go though my shoes and coats and do the same.  I got rid of a lot of shoes and boots I didn't wear last year, same with the coats, so I don't have that much to go through.
Now here is what you keep that will go with new fall styles:
Keep all your animal print items.
Yup they are still going to be strong for Fall 2018.
Keep any interesting pumps.  Revamped pumps are going to trend for all so keep anything that is unique and unexpected.
A new shape of heel or a cool print all will go into Fall 2018.
Keep all your shiny outerwear you bought last year or this year.  Shine is huge for fall.
If you have a jacket the same look as this S13 Kylie Quilted Metallic Jacket, keep it in your closet and wear it next winter.
Keep all your classy metallics.  Purses, shoes, etc will all be important going forward.
Did you buy something metallic last year? A bootie like this Black Suede Studio Bonnie Bootie from Nordstrom in either silver or gold will be welcome back this fall, if you have it already, keep it.
Keep all your dark denim.  Dark skinny jeans will never go out of style.  We have been talking about how important they are for the last 4 years! Keep it all, skinny, straight, bootcut, ankle, cropped.  It will be here for a while.
A pair of dark straight leg jeans like these Marilyn Stretch Straight leg jeans from NYDJ will be a staple in your wardrobe.  The dark denim and straight trouser leg can be worn with blazers for a suiting look too!
Keep all your Fringe and Feather items.  Fringe isn't going anywhere and the trend of Feathers on hems and accessories isn't either.
When designers are showing fringe in their bags and boots you know it will be in style for a while.
Keep all your Belt Bags.  If you don't know what they are, it's time to find out. It's kind of like a really nice fanny pack that you wear to compliment your outfit.
This Belt Bag is from Rebecca Minkoff and here is one of the looks she is showing for fall.  A lot of designers are showing these bags and if you need to be hands free while shopping or whatever they happen to be super convenient too!
Keep all your Pencil skirt.  Pencil skirts are so flattering and so basic they will always be in style. Every woman I know looks great in a black pencil skirt and heels.  Keep all your pencil skirts.
A great pencil skirt in ponte knit with a bit of detail will look good on you no matter what size you wear! This is the Sejour Zipper Detail Ponte Pencil skirt in Plus sizes.
Keep all your Lavender and Purple.  Both are going to be big colors going forward into fall, so if you bought a pair of lavender pants or a lavender blazer, keep them!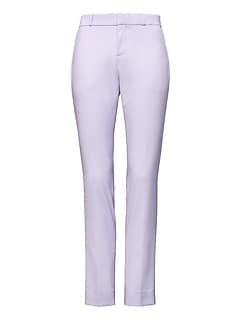 Banana Republic showed lots of Lavender in early spring. Keep it you will wear it again.
Keep all your Kitten Heels! Not only are they comfortable they are super stylish!
These Via Spiga Madilyn Pointy Toe Kitten Heels booties can be your jeans, skirts and dresses best friend going forward into fall.  If you bought a pair last season of kitten heel booties or shoes, keep them!
What are you tossing that is no longer stylish? Here is quick summary:
Get rid of all your big striped clothing.  Small french girl inspired striped tops will be in forever but the big ones like this top
get ready to say good-bye!
Get rid of your flat form shoes and boots.  This will be hard for me, I personally love them but
they really are not in style going forward.
Get rid of all your Robe coats. 
They have been in style the past couple of years but now we are going more tailored in outerwear going forward. These you will be able to sell if they are gently worn.
Get rid of your street wear.  First of all, a lot of the streetwear styles really don't look good on someone who is over 40 and sophisticated.  Now that I have said that, ripped jeans, sweatshirts and jackets are not in style for Fall 2018 for the sophisticated woman.
Get rid of your Plastic clothing and accessories.  They were trendy for this spring but they really are not going forward.  All your see through totes, plastic rain wear, it's time to say good-bye!
It's daunting to be thinking about getting rid of fall clothes while it's still summer outside but trust me, doing it early will ensure you can sell or donate what you want too and you will have room for anything new that catches your fancy.
Is it too overwhelming to think about culling your closet by yourself? I am available for a closet makeover appointment.  Just email me at Suethefashionista@gmail.com to book an appointment.  I can also help you figure out your style going forward.  For most women they need to let go of somethings before they more forward.  If that includes your wardrobe I am just an email away.
Next week I am going to do one more summer event blog about what to wear to a late summer wedding, it seems like everyone is going to an August wedding this year!  Then I am off until September 5 and my next blog will be September 12 when we start to go through all the Fall 2018 trends one by one.  If I have time I will put up an August 22 blog about transition wear, things that will take you from late summer into early fall without looking to summery or fallish.  I am hoping to get that up before I take off.
Feel free to email me with style questions or to set up a September appointment.
Until next time…