Last week I spoke about a personal weight loss and fitness journey I have been on since January and thank you all for all the positive feedback I have received, it's much appreciated.  And let's face it no one is perfect.  You either have weight you want to lose, or something else you want to change on your body.  It doesn't go away as you get older and even though the things may be different that you want to change it seems to me no one is ever satisfied.  So we all struggle with the mental image we have of ourselves.  Clothing is a great way to overcome that.  If you wear clothes that make you feel good about how you look you project confidence and frankly that is your best accessory.
So some of the things I have noticed now that my body is different is that I can't wear some of the styles I did before.  I used to love swing dresses.
This one is by Shargano and I have one very similar in Red.  I absolutely cannot wear it, it completely overwhelms me and makes me look like I am 2 feet tall.  But what I loved about these kind of dresses is that they hide a ton of imperfections and create a chic line. So if you are taller and have things you really want to hide, this type of dress is perfect for you.  What am I wearing instead?  Anything that is fitted or comes in at the waist and I am loving midi column dresses.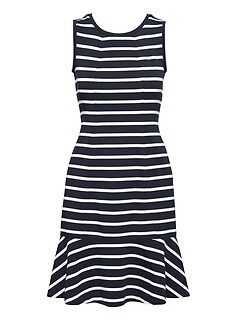 Fit and flare works great on me, this dress is from Banana Republic.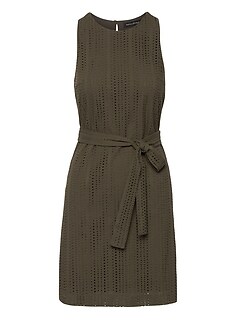 Also from BR this kind of shift dress with a tie waist will work for me now.  And one I actually own is this one from BR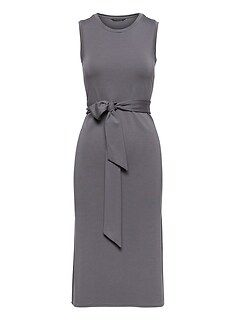 it's form-fitting and I can wear it casually during the day and dress it up at night.  You will notice that all these dresses fit closer to your body and accentuate the waist.  But what am I hiding in these? all of them hit my knee or are longer because no matter how much weight I lose I still carry most of it in my thighs, so I keep those covered always.
I still love skinny jeans and pants.  I think they are universal for everyone.  One Canadian retailer I have been loving lately is Aritzia.  They are local here in Vancouver and all over North America. Or you can buy it online at Aritzia.com  They have their own brands, Babaton, Wifred and Talula and I am finding that not only am I proud to be buying from a local store and manufacturer, their pants and tops are fitting me much better.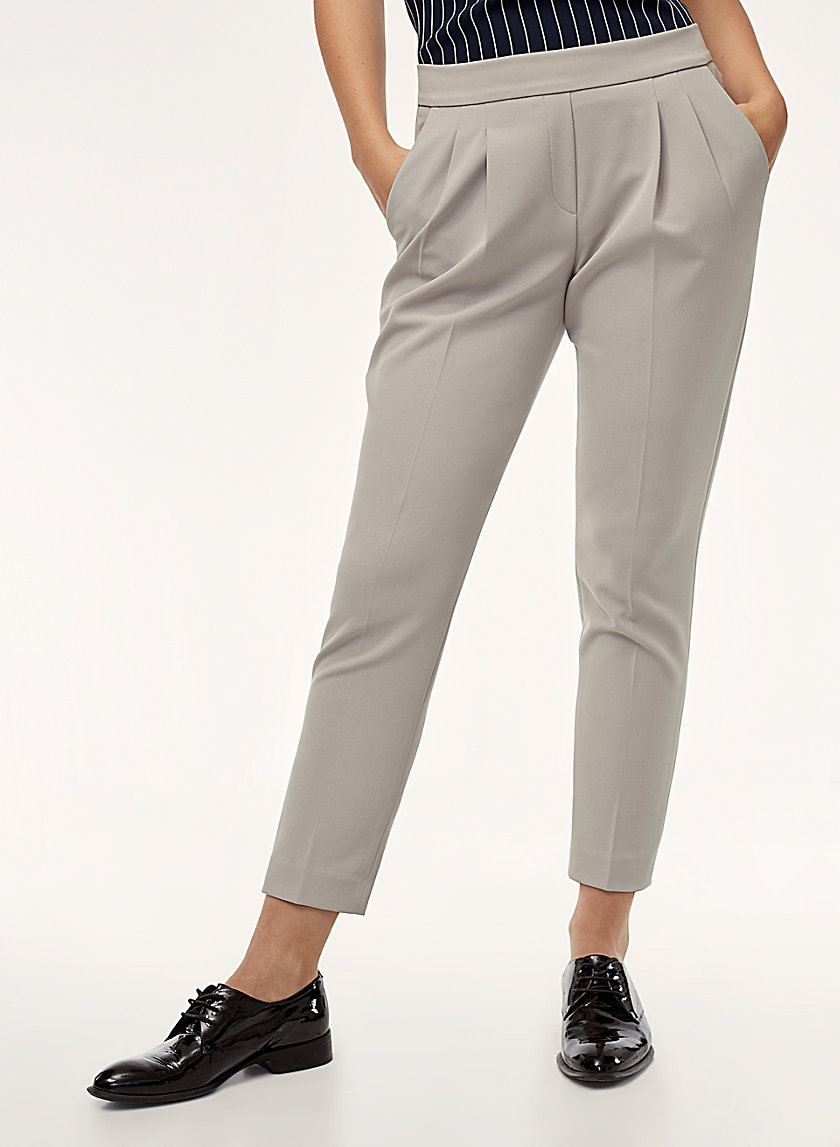 This pant is Babaton's Cohen Twill pant and it comes in 3 colors Ashen as shown, Pamona (soft pink) and Black.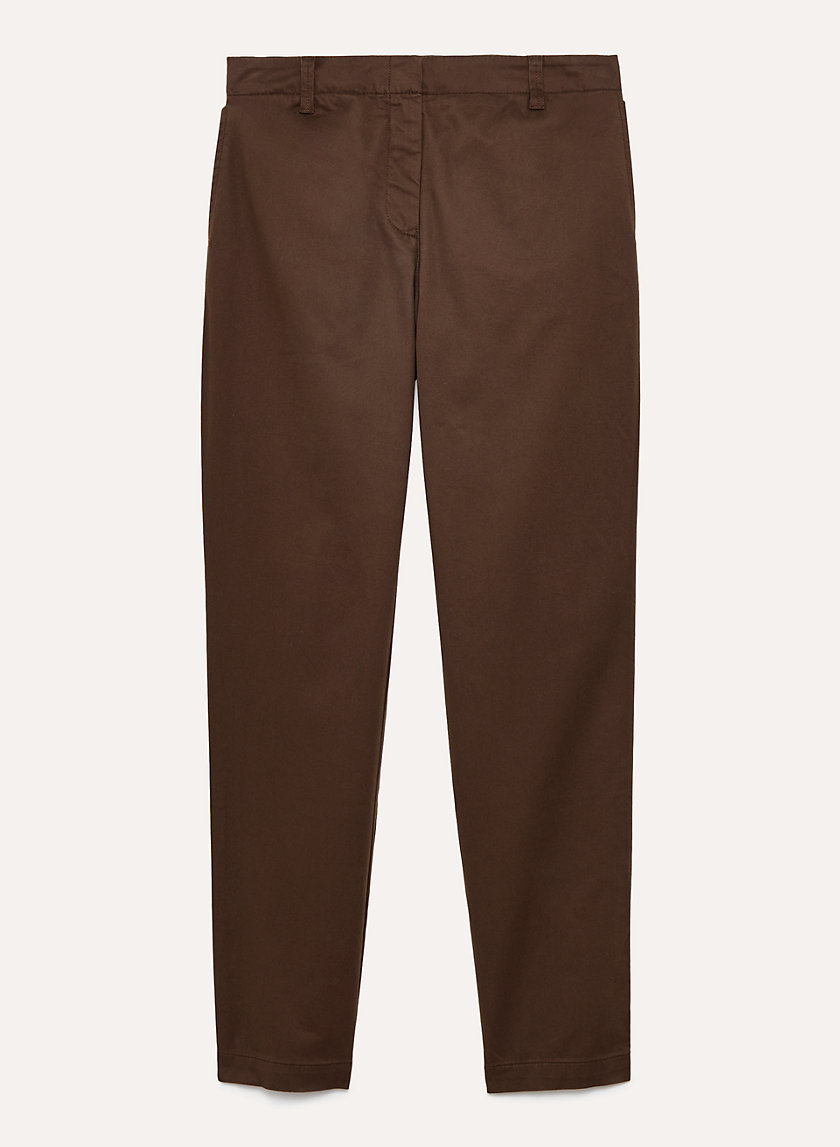 I also grabbed this Talula fitted chino.  The fabric is a brushed cotton with a bit of spandex so I can wear them all year round.  I love the higher waist and fitted ankle.  I think this pant makes me look inches taller than I am and makes my legs look slimmer.
My favorite skinny jeans do that too.  My favorite pair I bought in New Orleans 3 years ago and they finally fit and look good again, but the store that I bought them from is now gone.  Find a skinny or skinny straight jean that you like, BR has a great one.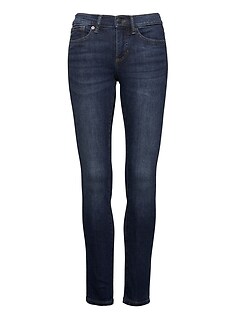 Their Slim-Straight Dark Wash jean will work for you in every season and every occasion.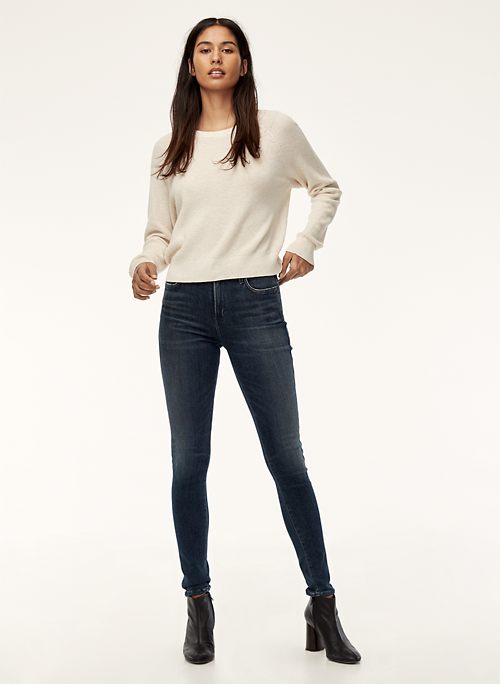 Or check out Aritzia, they carry tons of different brands of denim. This is the Citizens of Humanity Rocket Tainted Love high-rise jean.  I chose to show this one over a lighter denim just because dark denim is an all year round color unlike the lighter washes.  The biggest difference for me now in my denim is that I can tuck my tops in or wear them a bit shorter.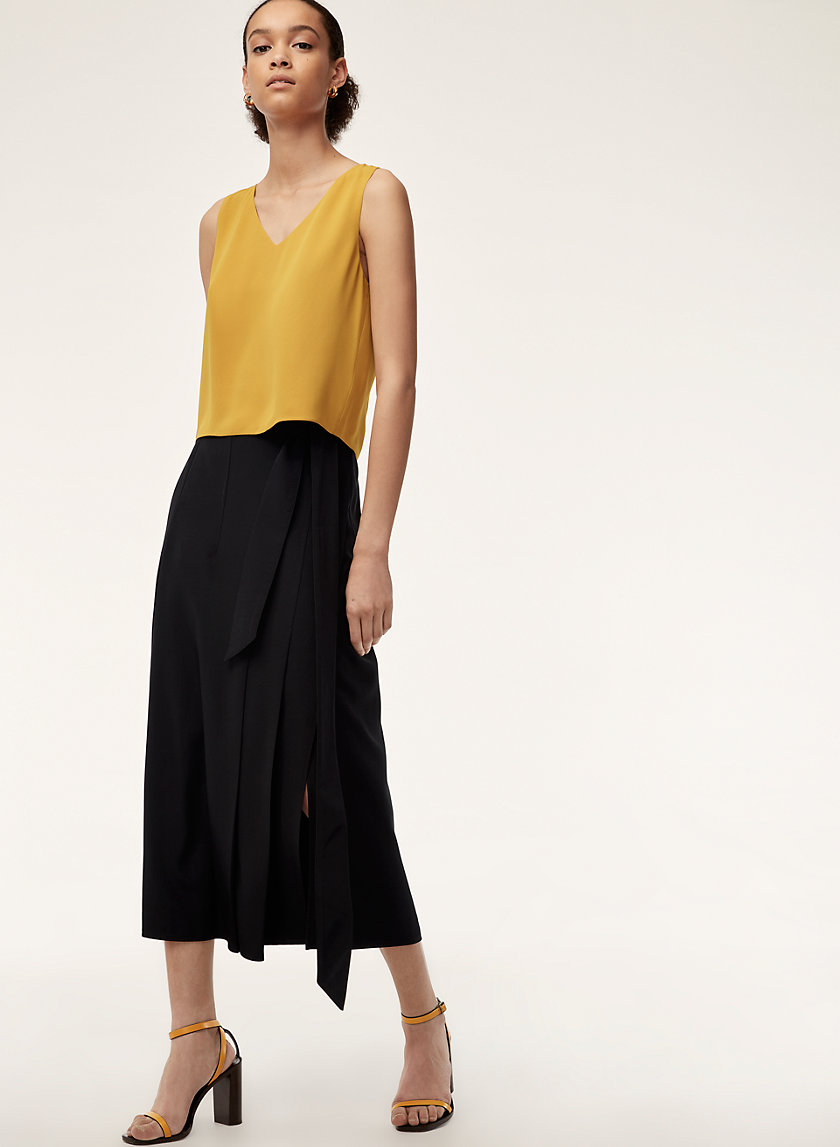 This top is the Babaton Murphy blouse, I love it! I have it in 4 of the 6 colors they produced for spring.  I wear them with everything and everywhere.  They look great with my dark skinny jeans and they work with my wider leg pants too.
I had a real problem trying to wear a wider cropped silhouette when I was heavier, I could not get a proportion of top and pant that could work, so I ended up wearing a longer top over a wider bottom.  But now that I found this fab top, it totally works with my wide leg cropped pants and jeans.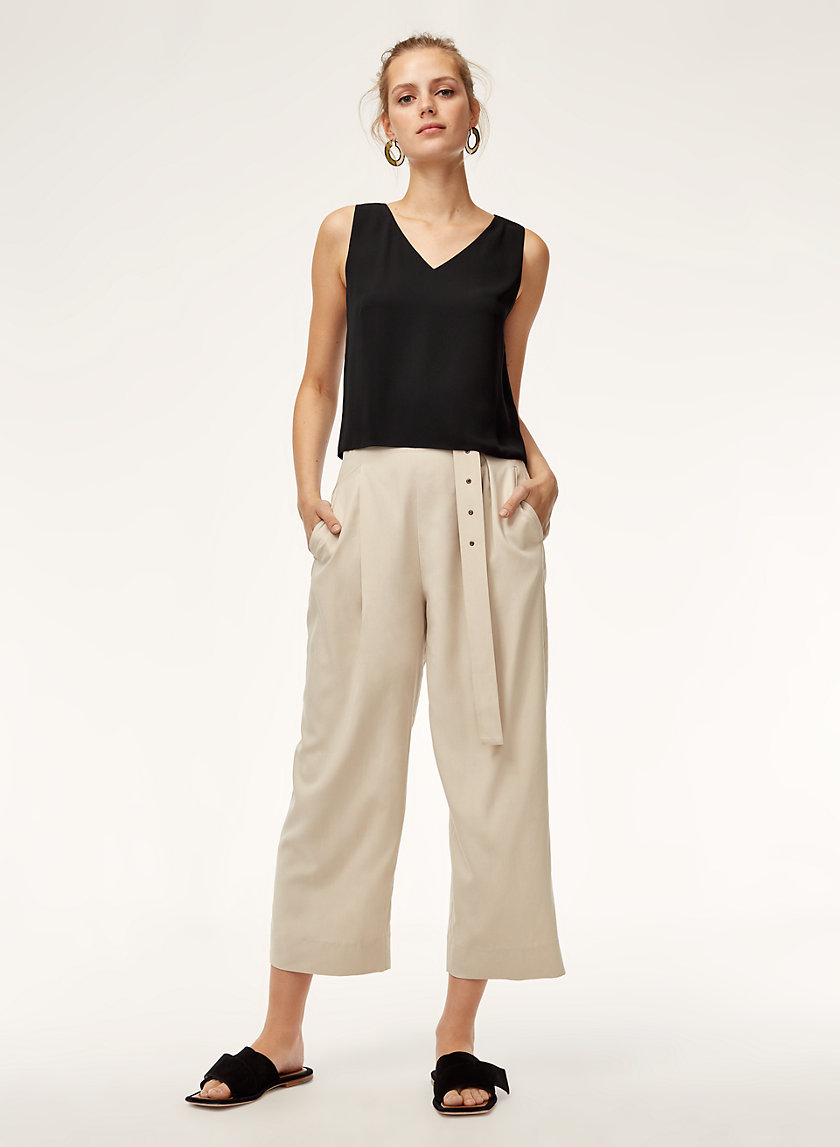 Here is a picture from the Aritzia website that shows the top with a wider leg cropped pant.  It just works.
I have been working on my arms since the beginning of May with my trainers so I can wear sleeveless tops this summer.  But if the part of your body that you want to hide is your upper arm, Aritzia has short sleeve version of the same blouse called the Randy blouse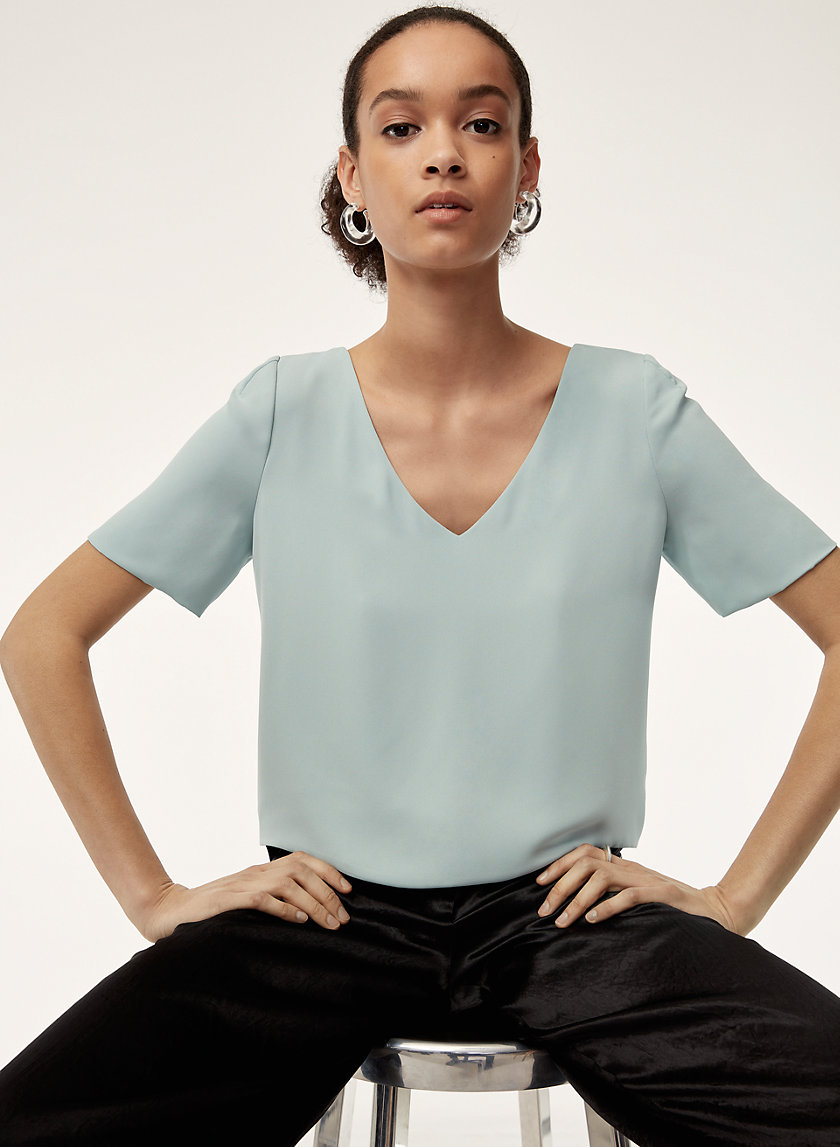 it comes in 5 colors and fits the same as the Murphy blouse but I prefer the sleeveless version for me.  Perhaps the short sleeve version would work better for you? It all depends what you need to cover and the v neck works on everyone, it elongates your neck and we all need that.
The other piece of clothing that has found new life in my closet is my white jeans. White jeans are the summer version of black ponte knit pants in the winter.  They are a go to because you can dress them up a bit or dress them down.  I am still wearing a pair that I bought at Eileen Fisher a few years ago.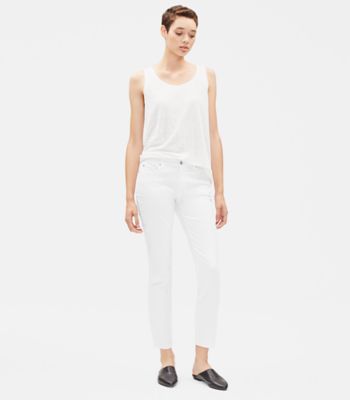 Here is this year's version, the System Garment-Dyed Organic Cotton Slim Jean. I tried on a lot of white jeans in my day and these are my favorite.  With white jeans it's really important that they are not see through and these aren't. (and I have washed them a lot!)
Notice one thing about all the denim I am showing you – there is no distressing or holes in them. Really and truly once you are over 40 get rid of your jeans with holes and distressing, those are for the 20 year olds.  If you want a fun feature that can take the place try
a pair with a frayed hem at the ankle like these KUT from the KLOTH skinny jeans.
Or try a pair with a released hem and a small flare at the ankle, these are the Sherri Slim Raw Hem Cropped Jeans from NYDJ.  What do both these have in common? They sit a bit higher on the waist and let's face it, once you are over 45 and have had a couple of kids, your waist is always an issue.  So do yourself a favour and wear a higher rise, you will look slimmer and taller!
I am still loving my maxi dresses and skirts.  I just find I need to find petite versions of the maxi dresses because all my old ones are a bit overwhelming.  Stores like BR and Eileen Fisher have lots of petite styles.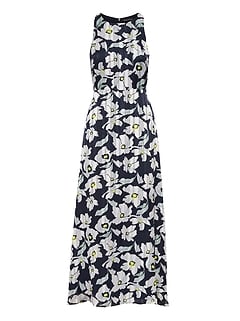 This dress from BR will fit a bit shorter and usually petite sizes fit one size smaller than regular ones just because the waist, shoulder and hips are but for a smaller body height. Online BR has tons and tons of petite styles.  But with the dresses and skirts from Aritzia, because they are cut a bit closer to the body I can wear a regular size.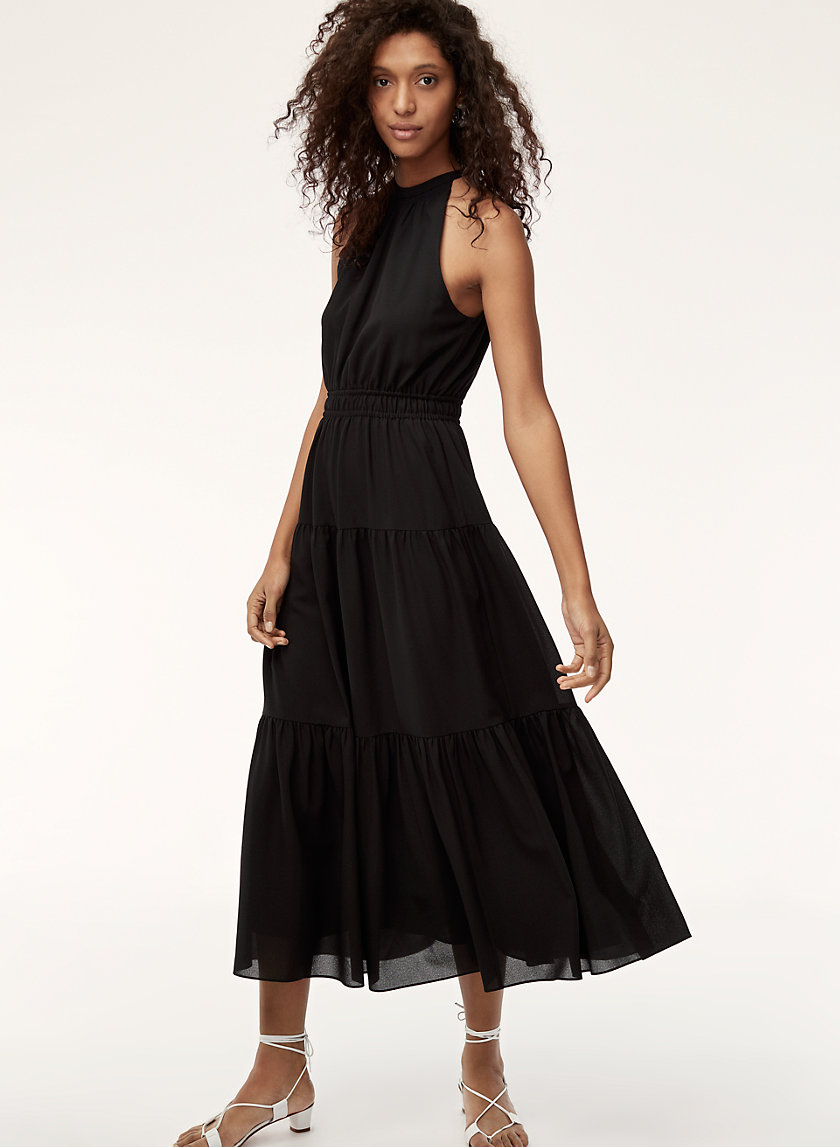 So in this Effet Dress from Wilfred or in any of their jumpsuits I am usually fine.  But I am wearing a lot of maxi skirts this summer, for one thing they hide the part of my body I want to hide, my thighs and secondly they work with a shorter top like the Murphy blouse above.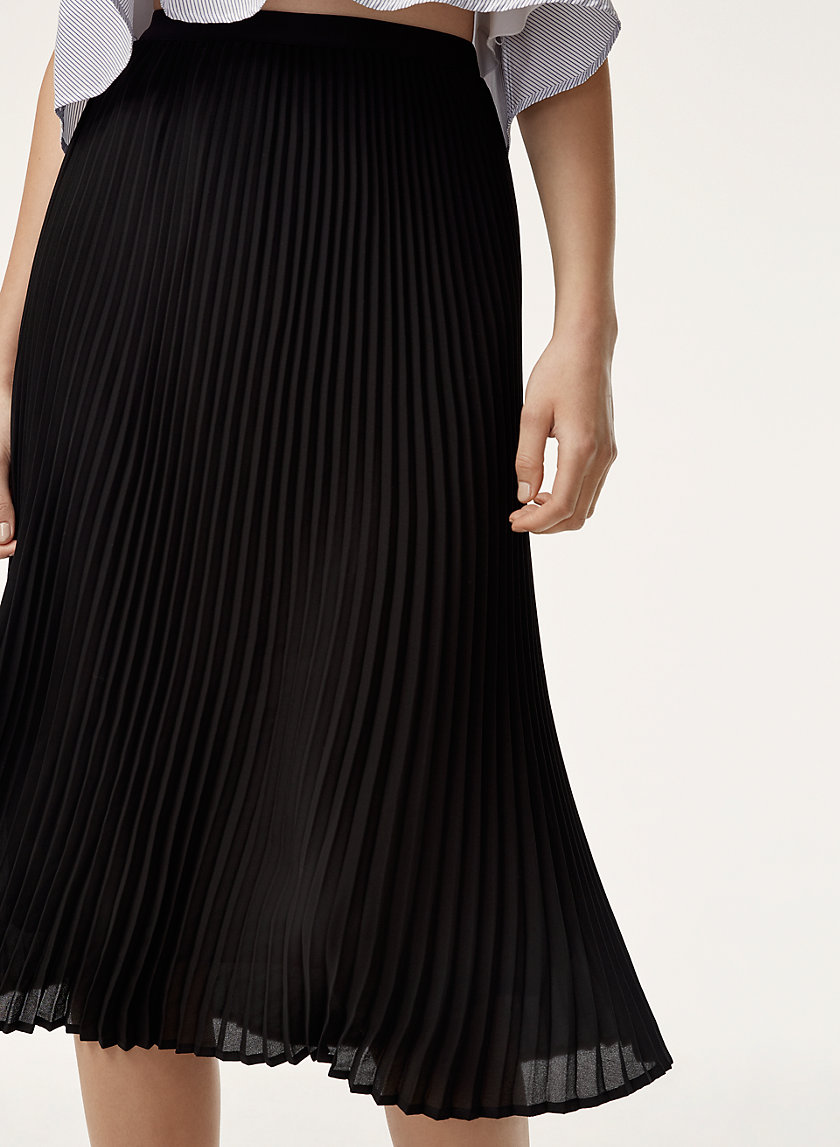 So my newest midi-maxi skirt the Babaton Jude skirt I am wearing with everything, shorter tops and t-shirts and even this fab top The Wilfred Free tie-front top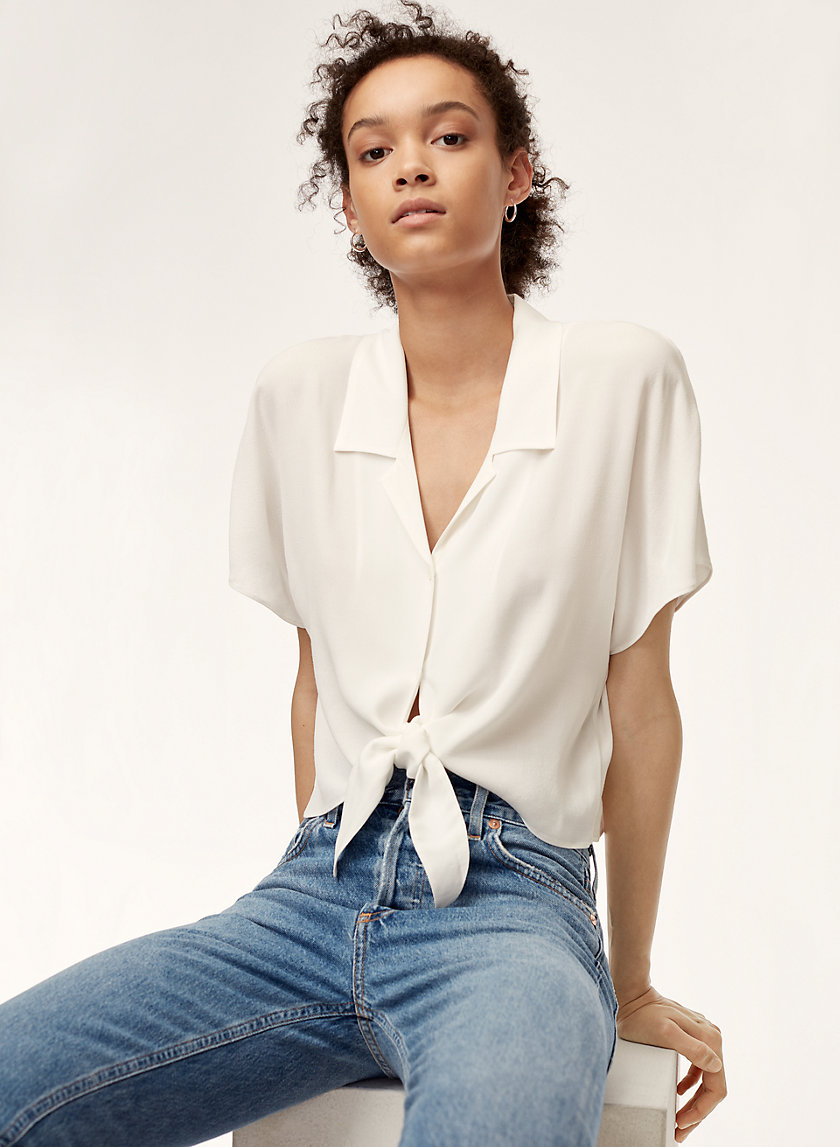 which I have in a chambray works great with all my longer skirts.
Finding what fits your body is almost all about proportion.  Everything needs to be balanced on you from your top to your shoes to make sure the outfit works and makes you look your best.  Right now is a great time to shop at Banana Republic, Aritzia and even Eileen Fisher because all their summer things are on sale to make way for all the fall clothing that will start arriving in August.  I have a few things I have kept for years because they are timeless, like skinny jeans and one bias cut maxi skirt, if you can find a treasure like this on sale now is the time to get it.
Do you need help figuring out how to make clothes look great on you? Or are you looking to revamp your look because your body has changed? If you want a styling appointment I am available for booking for July and September.  Book quickly if you want a July appointment. You can email me at Suethefashionista@gmail.com to book an appointment.  You can also use that same email for style questions or blog suggestions.
I will not be blogging between August 22 – Sept 5.  But I will cover everything you need to know about getting your closet ready for fall before August 22 and then we will start covering fall in September.  I always welcome your questions and comments.
Until next time…