This blog is going to be in two parts.  Part 1 will be how I managed to change my shape and Part 2 will be how different my style has to be now that my body is different.  So I hope you are prepared for something a bit different.
In 2018 I have been on a physical journey.  Last June while trying to train for my first ever half marathon I pulled my left hamstring so badly that I could barely walk for about 2 weeks.  After that it was no exercise for about 8 weeks.  I basically spent my summer doing rehab sessions with my trainers.  But it affected me in so many more ways.  I gained weight.  And when I say I gained weight I mean that 30 pounds went on my body in a flash.  Then fall came and I started to be able to work out again a bit harder but I kept eating with abandon and by the time New Years eve rolled around I was huge.  I was the biggest I have ever been since I was pregnant 18 years ago.  I was at a true cross roads, not being young and having a fast metabolism, I seriously considered just staying like that.  Round and happy.  But was I really happy? Nothing in my closet fit and I was looking at size 14 and 16 clothes in stores. Not only that carrying that much extra weight around made me tired all the time.  I have a couple of pictures from NYE 2018 and my face and body were huge!  I was wearing a dress that hid so much of me.
Sorry the picture is so small, it is an old dress.
In January with the help of my trainer at Session Athletics in Vancouver (they really are the best trainers around) I went on a nutritional and physical journey.  Basically I had bought a dress on sale after Xmas to wear to my son's graduation and I couldn't even get it on.
I am sorry the pic is a bit blurry, I am not much of a photographer but the dress is by DKNY and it is a black sheath dress with a chiffon overlay layered asymmetrically. I don't have a full length picture of myself in the dress so this is the best way for you to see it.  Any way back to my story.  So my trainer put me on a no carb, no sugar, NO WINE! diet and gave me some workout homework to do.  I workout with my trainer at Session Athletics twice a week and I also have 2 trainers at Innovative Fitness (the best gym in the world) that I work out with twice a week.  So I really threw myself into my workouts and stuck to the strict eating plan.  No food after 7 pm and the only drink I could have on weekends that wasn't water was vodka and club soda if we went out.  I used my Fitness Pal, the app is on my phone, to track my calories and workouts and so my trainer could check and keep me accountable.  I was really lucky the weight came off pretty quickly.  12 pounds in the first 2 weeks and that kept me motivated.  By the end of February I was down almost 25 pounds and some of my bigger clothes started to fit again.  My birthday is the end of March and if I wanted to have birthday cake I had to be under 150 pounds.  I had just spent a week on vacation so I wasn't sure if I would make it, but since I was in a bathing suit every day I stayed motivated.  I ordered kids sized portions for breakfast and lunch and then just kept my dinners to protein and vegetables.  It wasn't too hard.  So with a bit of dedication I was able to
have my cake and eat it too.  I was 149 pounds on my birthday.  But the best part was I had on a size medium shirt and size 10 pant.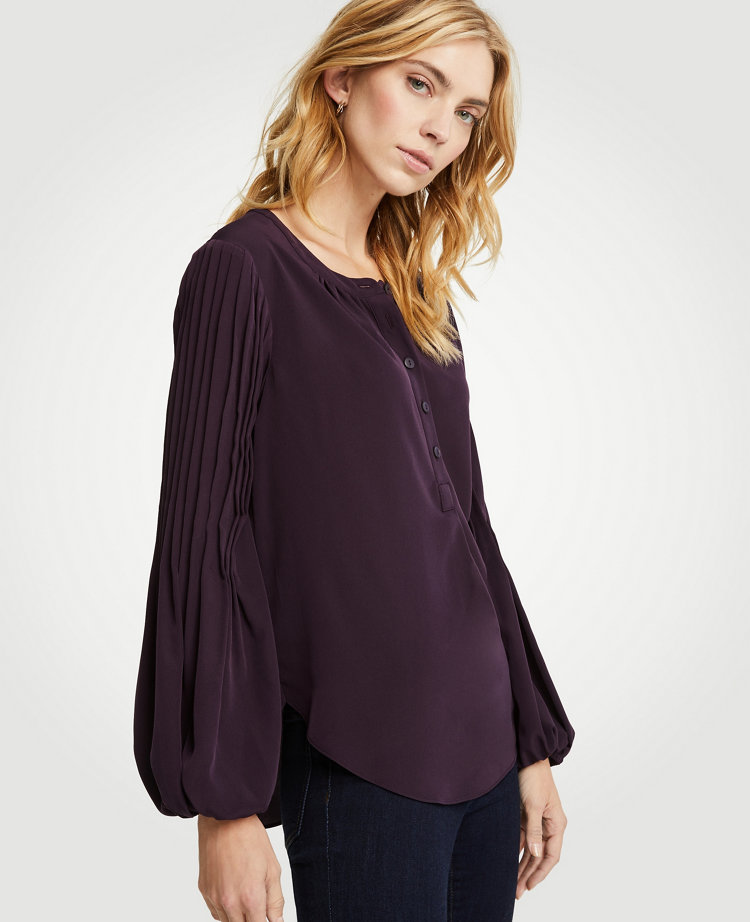 My shirt was from Ann Taylor and it was the print version of this very forgiving style. This Pintucked Sleeve Popover is on final sale at AnnTaylor.com right now.  My pant was from Banana Republic and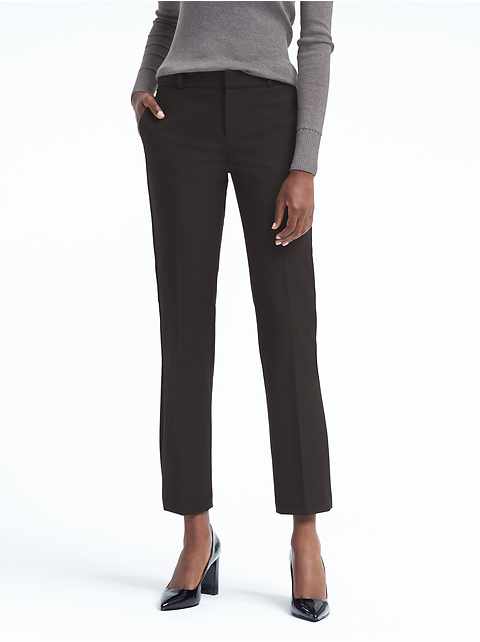 they are the Avery lightweight wool pant.  I was over the moon that I could fit into a size 10 and medium shirt.  Now both of these brands in certain styles tend to fit to the big side, but I didn't care.  But the DKNY dress above still was too tight to wear in public and I was down almost 40 pounds by the end of March.  So I kept going and something very interesting happened, the weight loss slowed right down but my body started to really change shape. I thought that if I lost 30 pounds that dress would fit and it still didn't so I thought another 10 pounds should do it.  But the dress still didn't work.
So from the beginning of April to mid June I really have only lost about 10 pounds, but my body has finally caught up.  First to look hollow was my face, but thanks to the professionals at Project Skin in Vancouver that was taken care of and it still looks a bit hollow because I like that. My face was a big square at my heaviest   Next my middle section started to slim out a bit, don't get me wrong I still have a tummy (and always will after 2 c-sections) but I got the curve of my waistline back.  Then finally my arms and legs started to slim a bit.  My legs have always been big, that is where I carry my weight, but they did start to slim a bit.  I even moved down a size in bras! And more importantly than the cup size was the back size.
My journey started January 2, 2018 and was supposed to end June 15, 2018 but I still have about 5 more pounds to go. Until I hit my new goal.  My total weight loss will be between 53-55 pounds at the end.  And don't get me wrong I will never be stick thin, I am not built that way.  I have a large bust and heavy legs, the only small part of me is my hips and bum.  But I have learned how to accentuate the best parts and hide the rest.
One of my best friends, when I was down about 45 pounds said to me I didn't realize you had that much to lose.  She told me that because of the way I wore my clothes no one could tell.  But now everyone comments because yes you can tell.
I feel very vulnerable writing this blog.  I am going to show you 3 face shots and date them for you.  I didn't take any full body shots for a long time so I don't have any but you will be able to see in my face the transformation.
This picture was taken New Years eve December 31st 2017.
This picture is from the end of March 2018.
And this is a professional head shot I had done the end of May by Dennis Gocer from the Collective You.  He is simply the best photographer I have ever seen.  We had family pictures done and they are fabulous.  I needed a headshot for a few boards I sit on and because I haven't had one done in about 10 years.
Changing your body is a scary thing.  Weight loss is hard and it takes a lot of courage and dedication.  Don't ever judge anyone elses progress or lack of progress, it is a very personal journey and everyone does things in their own time.  One of the most interesting things about my weight loss is that what used to fit me doesn't any more and I am not talking about size, I am talking about style.  I have to look for completely different things that are shorter, more fitted and it's tough to find pants and jeans because I really think I have become a petite size.  But more about that next week.
I hope this isn't too out of the norm for you to read.  Because I want to talk about where I am finding my clothes and how different shapes are fitting me I had to give you a bit of back story.   I, like a lot of women, have my weight fluctuate,  up sometimes and down others.  But at this point I would like to try and stabilize where I am and that would be down. I think it means things like nachos and pizza will never be a regular part of my diet again but I have been living by the mantra 'thin feels better than that (sweets, pizza, nachos, cake) tastes' it is an old Weight Watchers mantra and I find it works for me.
If you want to be put in touch with the trainers at either Session Athletics or Innovative Fitness email me.   Both places have nutritional coaching as well and Innovative Fitness has locations all over the lower mainland and in the Okanagan in BC and some in Toronto as well.  I met my coaches from Session Athletics at IF in Vancouver.  Any weight loss journey you take should be a balanced eating plan, starvation doesn't work and please make sure you check with your doctor before you do anything.  The last thing you want to do is make yourself sick.  If you are really struggling and lost try going to Weight Watchers, that is where I lost my pregnancy weight both times, you can even do it online.  Everyone is different I need someone to be accountable to and who is going to check on me every week.  If you do too ask your trainer for help or try WW.  If you can go it alone more power to you!  Or if you feel you are at a good weight but don't like the way your body looks for whatever reason, try going for a couple of training sessions, they really work. I could never push myself the way my trainers do or would I ever try half the things alone that I try with them.  So if you want phone numbers and info about either Session Athletics or Innovative Fitness email me at Suethefashionista@gmail.com.
Next week it will be all about fashion again and where I am finding the best things to fit my new shape.
Until next time…