In the last chapter of our quest for ageless dressing, remember we don't want people to know how old you are by what you wear, let's talk about the little things that make a big difference.
Little tweaks to your current wardrobe can go a long way when projecting ageless dressing.  In this blog we are going to talk about shoes and accessories but we are also going to talk about ways to look ageless and all put together.  Let's start there.
Putting yourself together as you get older takes more work than it did when you were 20. But it is definitely worth it.  Here are some guidelines that work for anyone over 40:
1) Look for outfits that you can wear a bra with.  We see a lot of off the shoulder and strapless looks this summer.  But once a woman has had a few kids and advances a bit in age, it's really important to support yourself.  Go get fitted by a professional for a bra that works for your figure.  I got fitted properly last time I was in Arizona at Dillards.  In Canada you can get fitted at Nordstrom or any really good lingerie store, like Diane's in Vancouver.  Get a couple of bras, one for everyday, one for dress up and a strapless bra or convertible bra that can be strapless or 1 shoulder.  This way you are always covered. I recently bought new strapless bras.  I found a great Bali minimizer strapless bra at the Bay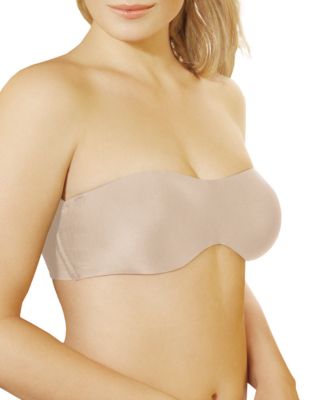 this is the 939 Strapless underwire convertible bra.  I liked it so much I bought it in natural and black.  It fits great and doesn't slip down.  And it converts to halter, one shoulder and even two straps if I need it to.
Once you have been fitted and you know what size and what kind of bra works for you, chances are you can always find them on sale online.  You won't have to go into a store and try it on unless it's something you have never bought before.  My favorite way to buy bras and panties is online.
2) Wear color! Never shy away from wearing color in spring and summer.  Yes, black always looks good.  But every once in a while it's nice to shake things up and wear color.  this will make you look younger and hipper.
Even to the office a great little colored sheath dress like this fabulous cobalt blue one from Donna Morgan at Nordstrom Rack will have heads turning your way!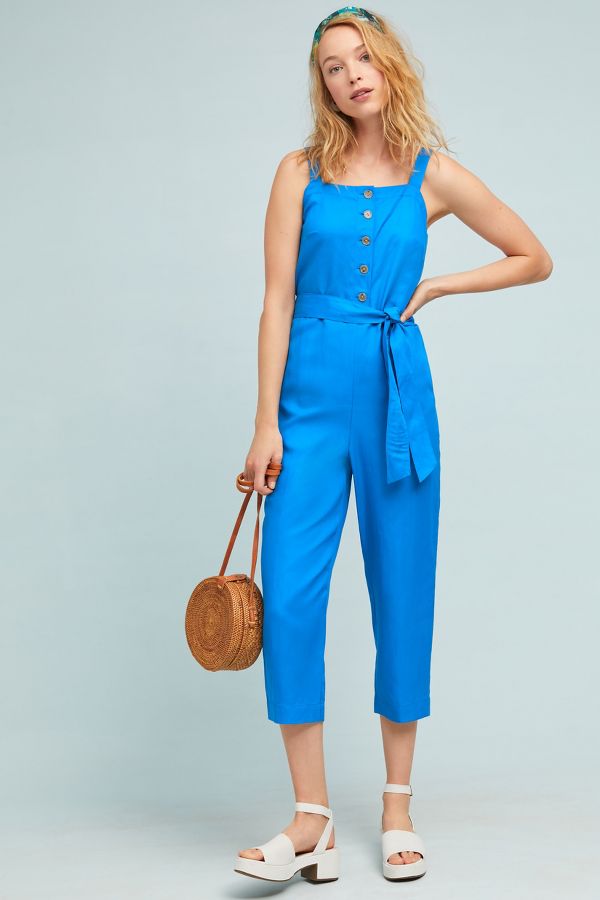 I am loving the jumpsuit trend for spring and summer.  Try one in a color! This Pellion Apron Jumpsuit from Maeve at Anthropologie is perfect.  It's in a great turquoise color and you can wear a bra with it. And it won't be overwhelming even if you have a smaller frame.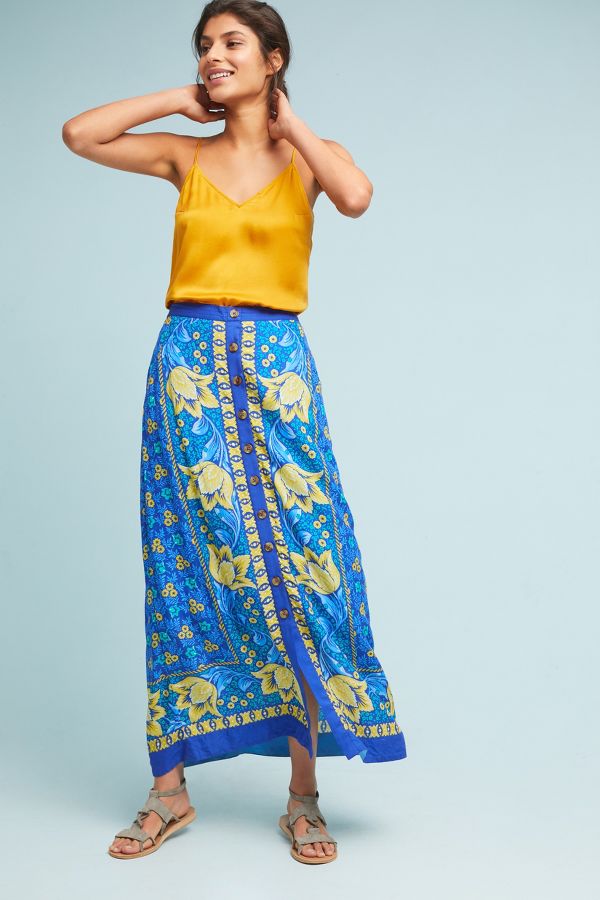 You can even try a brightly colored maxi skirt with a great colored top! Yellows are huge for spring and there are so many shades of them.  If you put an outfit like this together you are certain to shine.
I think you get the drift, wear color this summer.  Don't toss your blacks and whites, there is room for them too.  But dip your toe into the color pool and you will be pleasantly surprised.
3) Wear the same color head to toe.  Nothing makes you look taller, slimmer and more put together than an all one color ensemble.
Wear a breezy palm print head to toe.  Simplify your accessories with this outfit.  This is the Paradised Palm Print Island shirt and pant from Nordstrom.
Take an interesting jean jacket like this one from 3.1 Phillip Lim at Nordstrom and pair it with
the same color jeans. Like these Madewell Perfect Summer  high-rise ankle jeans, also from Nordstrom. Stay way from rips in the denim and project a more sophisticated look.  Wearing denim head to toe is really in this season and it will make you look perfectly put together.
I love the Nordstrom website for style ideas.  Check out their What's now section and their How to's and Style advice to perfect your outfits.
Those are the Golden Rules of ageless dressing for Spring and Summer.  You want your outfits to look current, fit well and suit your personal style. Everyone needs a little tweaking now and then.  You don't keep the same haircut your entire adult like and your style should evolve as well.  If you are in your 50's and still wearing things from your 30's and early 40's you have a problem.  Email me I can help you.
Accessories
I am not going to repeat what Shoshana Lewis told us a few weeks ago.  She is my go to on jewellery advice.  But remember how much she talked about hoops.  Round hoops of every shape and size are in for spring and nothing can work better in an earring for all your outfits. Go back and read the mother's day blog by Shoshana to refresh your memory if necessary.
Let's talk about bags, belts and all the other accessories that can change and enhance your outfits.
One of the things can can really change your outfit and create something fabulous is the right purse or bag.  This season woven and straw bags are the newest trend.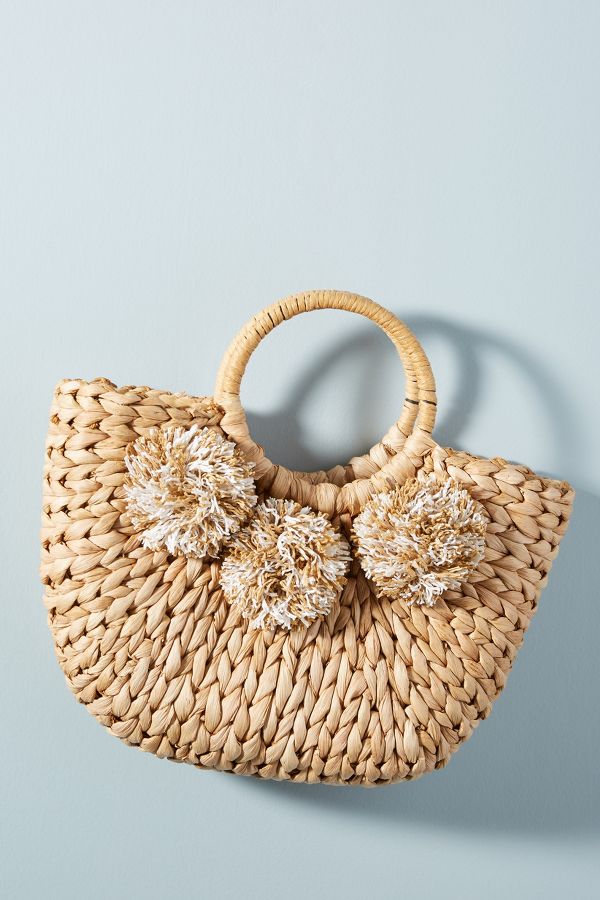 It doesn't have to cost a fortune, this Perfectly Pommed Mini Straw Tote Bag from Anthro will work to update your summer look.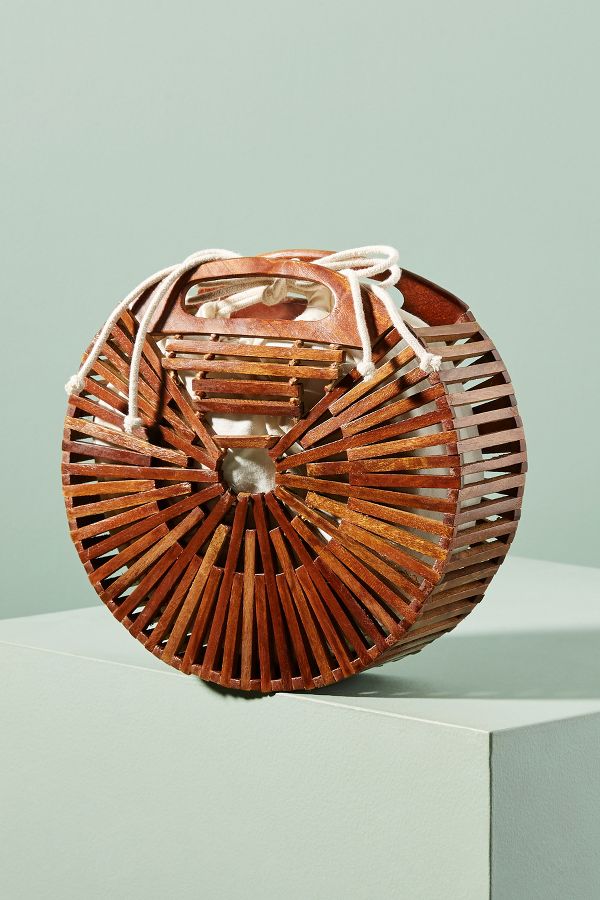 Or spend a little more and get Valeria Wood Paneled Tote Bag from Anthro.  This would look great with head to toe looks above!
Crossbody and Belt bags are also making a huge impact.
Marc Jacob's Hip Shot Convertible Crossbody bag will work around your waist as a belt bag or convert to be carried like a shoulder bag
. You  get 2 bags in 1!
At the beginning of Spring we talked about purses with round handles.  This is a great bag for a more formal office look, it's the Lucite Handled Tote bag at Anthro and it comes in 4 colors.
Circle bags are also really strong this season.  Do something in a circle in straw or a bright color or be more classic with Michael Kors Medium Leather Canteen bag.
It can work for any occasion you have!
Last note on Handbags, don't forget you can add color here too!
Even if you like bags that look like bags try adding a great color or color combination.  This Pom Pom crossbody bag from Anthro will add flash to your outfit and not humble your wallet.
Sunglasses also play a big role in your Spring and Summer wardrobe.  I am the type of person who would rather change my sunglasses with the trend than spend a lot of money on them.  This way I can pick up a new pair every season.
Brow Bar sunglasses are hip right now.  This pair is by Finch and from Anthro.
Aviators are also really big for summer. This pair is the Sonix Ara Aviator Sunglasses from Anthro.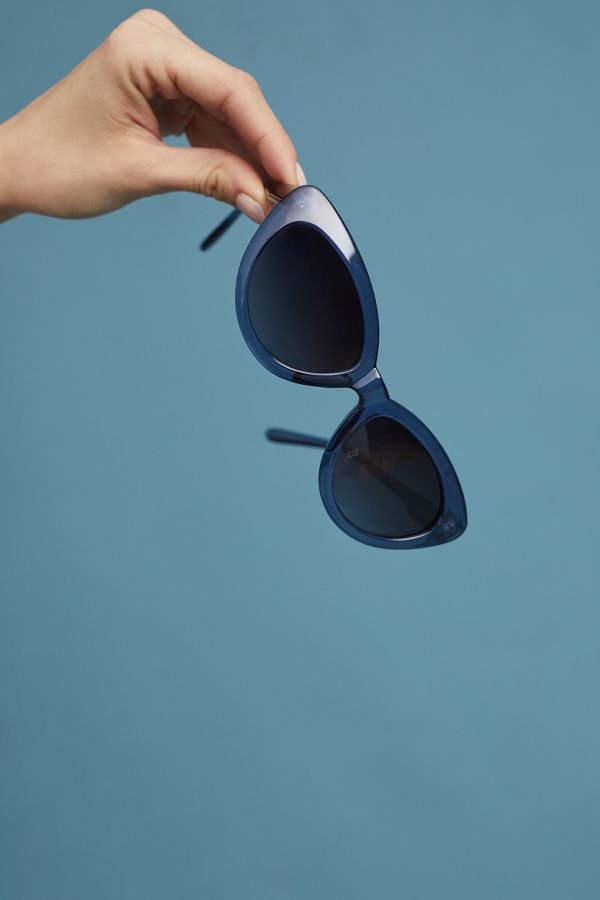 Try different colors and shapes and find the shape that suits you.  I really like the smaller version of a modified cat's eye this spring.  These are the Marcella Sunglasses from Anthro. Available online only, they will only set you back $38 and they come in blue and green.  You can try a color or stick with black or tortoise-shell.  Whatever works.  But stay away from heart-shaped and things like that.  Leave those for the 20 year olds.
Shoes
I sometimes build outfits around the shoes I want to wear. If you asked me what is the number one shoe for spring and summer that will enhance your wardrobe I would say mules. Either closed or open toe.
A great pair of heeled neutral colored mules, like this Rhetta Mule from Sam Edelman at Nordstrom will make your head to toe denim shine, especially if your pant is ankle length.
Or go for a brightly colored mule slide, like this Meg Slide Sandal from Paul Green at Nordstrom.  I love the color! It will make all your monotone white and black outfits spectacular and it comes in 6 colors.
Flat mules are also important.  They would be great with any maxi skirt or dress. This pair is Liliana Slide Sandal from Sam Edelman at Nordstrom.  It comes in colors and prints.  Wear solid colors with your print outfits and print slides with your monotone ones. How great would ba bright printed slide work with that jumpsuit above!
The other important shoe to have this season is something with a kitten heel.
The J. Crew Sophia Mule from Nordstrom is great! It comes in this Vintage Champagne, blue with white stars and black suede.  You can dress it up or have fun with it.
A dressy shoe in a kitten heel is great if you are going to be on your feet all night, brides and mother's of the bride these are for you! This Nina Bianca Pointy Toe pump will take you to your dressiest events this summer!
And a kitten heel can take you to any important meeting and will look great with your suits and summer office dresses. This is Anthropologie's Ruffled Kitten heels, they come in pink (shown), mint and black.
Block heels are still important and we stressed those last spring.  So pull out any great ones you still have or grab a new pair.  They will go with everything!
To me, nothing looks better with my ankle pants and summer dresses than a mid height block heeled sandal.  I like neutral colors because I can wear them with everything.  This season try a new neutral like Lilac, it is one of the newest neutrals and so very chic.  These colored blocked heel Paolo Mattei sandals can be found at Anthro.
So there are 3 basic rules and some suggestions for ageless accessories and shoes that can carry you through summer!  I didn't go into hair and make up because hopefully I can cover that soon.  That is a whole blog on its own.
June 13 will be our annual Father's Day blog for all the men in your life who need a style boost.  I was at an event the other night and one of my friends was complimented on his shirt and jacket combination.  His answer was "Thanks, I have a girl who helps me with this".  More and more men are seeing stylists to help them find a wardrobe that works for them both professionally and casually.  Hopefully my blog next week will help all those men in your lives who don't have someone to style them.
Do you need some style advice or want help with your wardrobe? Does color overwhelm you? If you need help you can book a personal session with me. I can shop with you, go through your closet and find outfits and help you with your bi annual closet clean out.  Just email me at Suethefashionista@gmail.com to set up an appointment.
There will be no blog on Wednesday June 20.  My May and June have been exceptionally busy and I have to take a week off while I watch my youngest son graduate from high school.  But I will be back at it for Wednesday June 27.  So stay tuned!
Until next time…