Last week we explored bottoms that anyone from any age can wear that are fashionable.  This week let's look at tops.  No two women are built the same, especially as they age.  Women in their 40's and 50's can still have strong bodies that don't make them feel any older than they did in their 30's.  Once women hit menopause they notice little changes in their physical bodies ( not to mention everywhere else!).  I will use myself as an example.  I find it's easy to put weight on if I don't watch myself and it goes on differently and comes off differently.  I recently lost quite a bit of weight but the thing that I noticed, is now that I am in my late 50's, the weight didn't come off the same way it did after my boys were born.  I have to go lower in weight to look the same and feel the same as my body did in my late 30's and early 40's.  My weight came flying off my face.  But even after almost 50 lbs of weight loss, I still don't have the arms or legs that I thought I would. But I am lucky in that I have small hips and a small behind and what I did notice is that I have my hourglass back if I wear fitted things.  So I take wins where I can.  Also I really like the bone structure in my face, even if I do have a few more wrinkles.   Anyway let's get to those tops.  The reason I told you this is because not everyone loves their arms, and sometimes as a woman ages she may not look good with the same sleeve length she did before.  Ageless dressing is about finding what looks best on your frame and creating a situation where no one can guess your age by what you are wearing.  Ok back to the tops now.
Some of my favorite silhouettes for this spring are the shorter tops that women are wearing with high waist pants and jeans.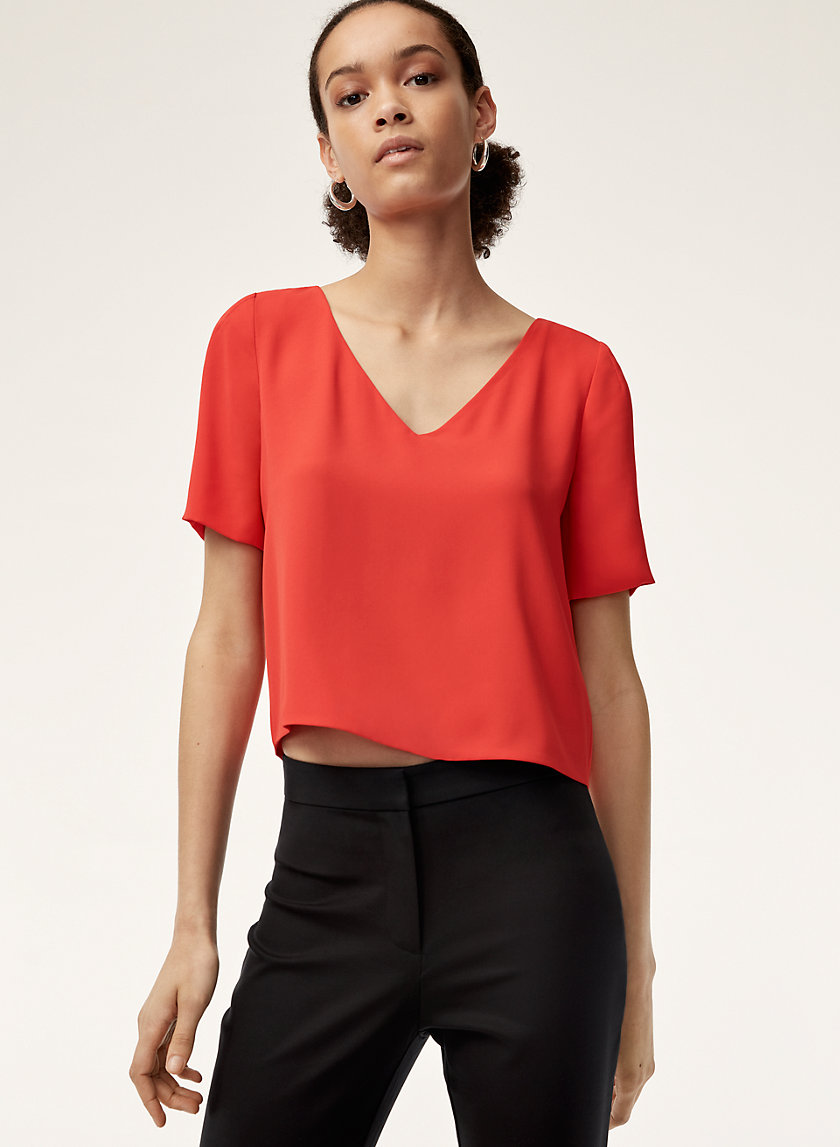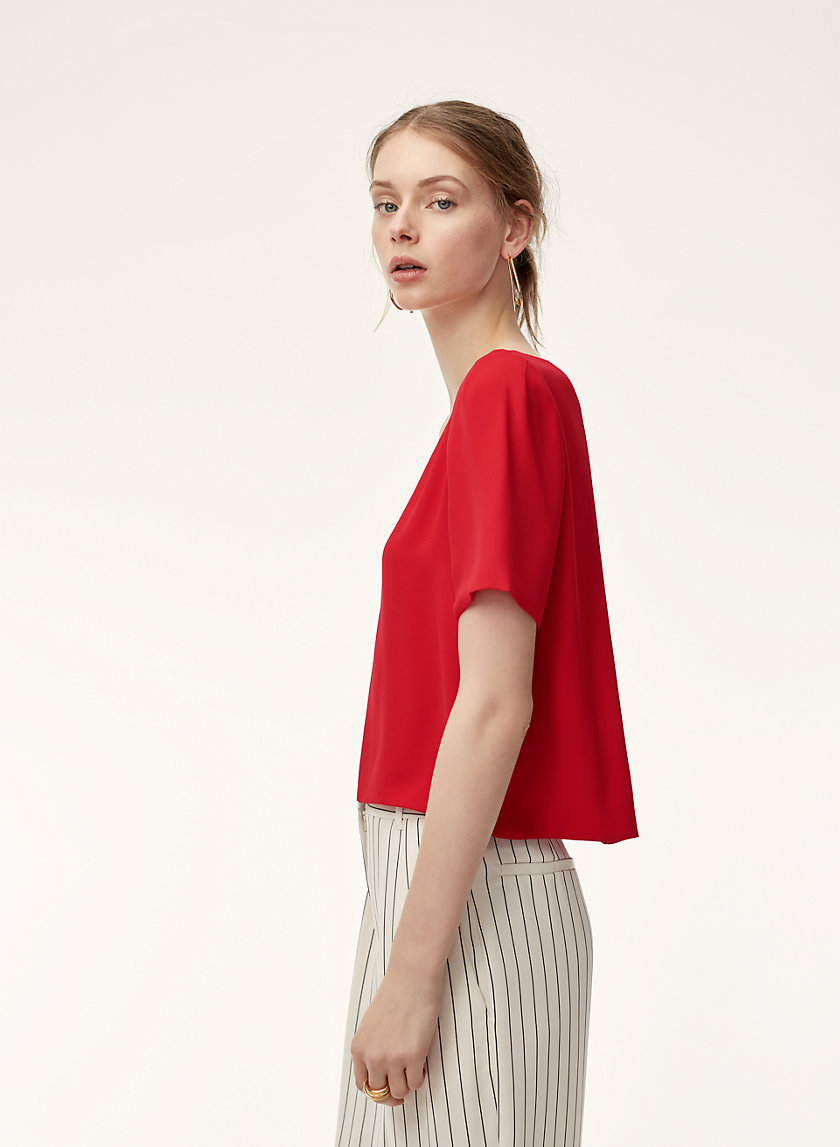 I was in Aritzia the other day and saw this great top! This is the Randy blouse.  It comes in 10 colors and I even tried it on.  I am 5'4″, the models in the pictures are about 5'9″, so on my the top hits right below the waistline of my pants. It's such a great fitting top I actually bought the sleeveless version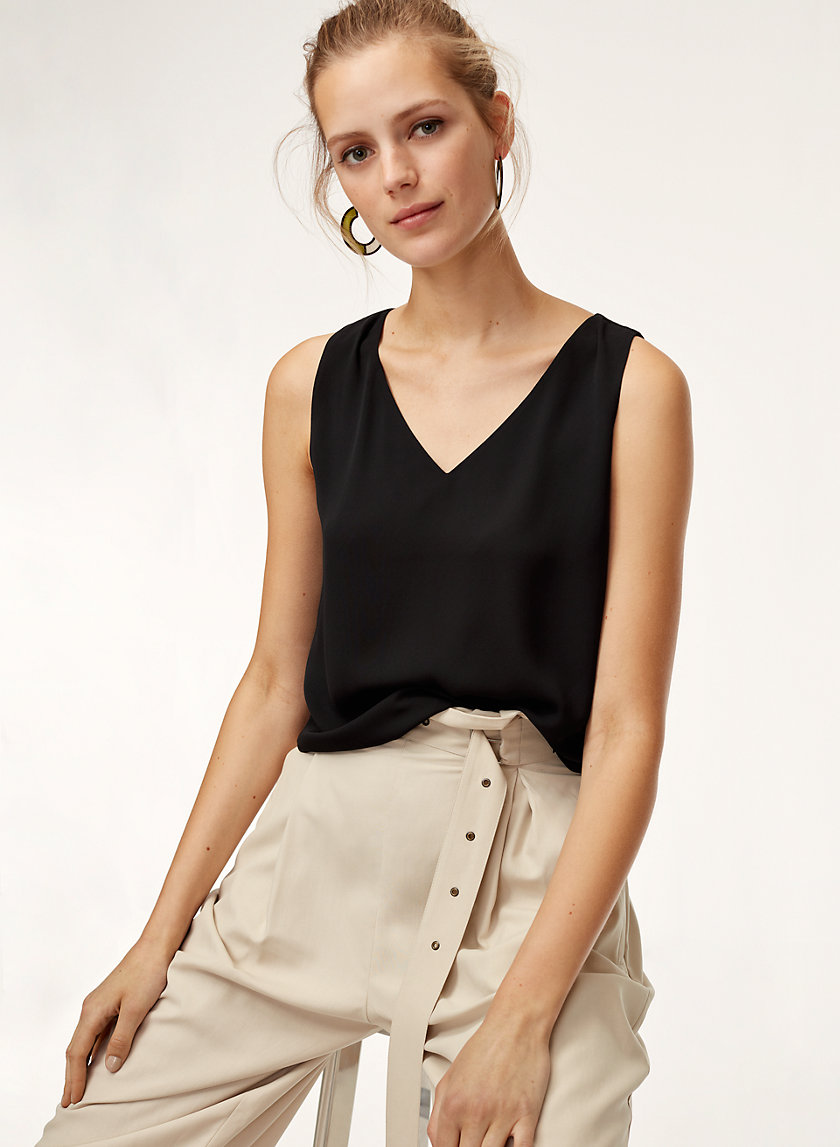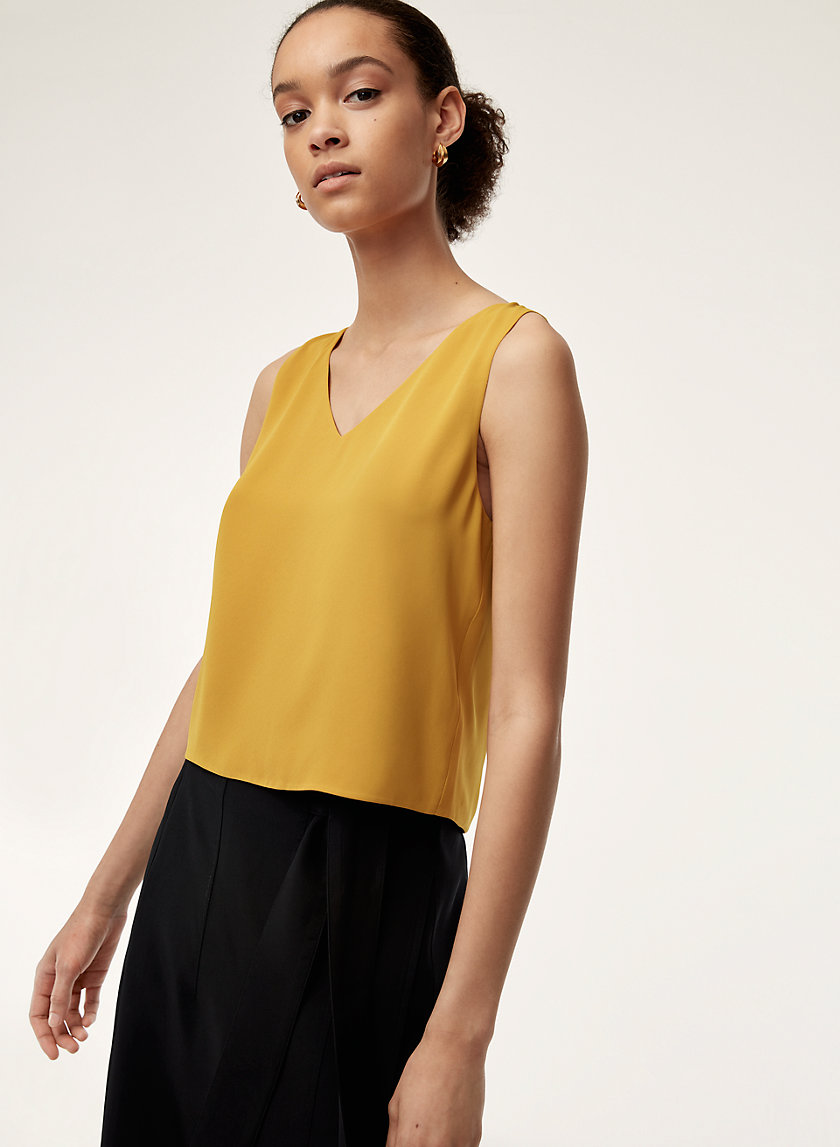 the Murphy blouse, which also comes in 7 colors!  A shorter silhouette looks great with high-waisted pants, skirts and fantastic with maxi skirts.  I bought the top to wear with one of my maxi skirts.  But it also looks great with cropped pants.  We talked a lot about wide ankle length and wide cropped pants, the best balance on top if you are not as tall as the models is a shorter fitted top.  These two tops from Babaton by Aritzia are perfect for that.
Another top shape that can work well are fitted or belted blouses and tops.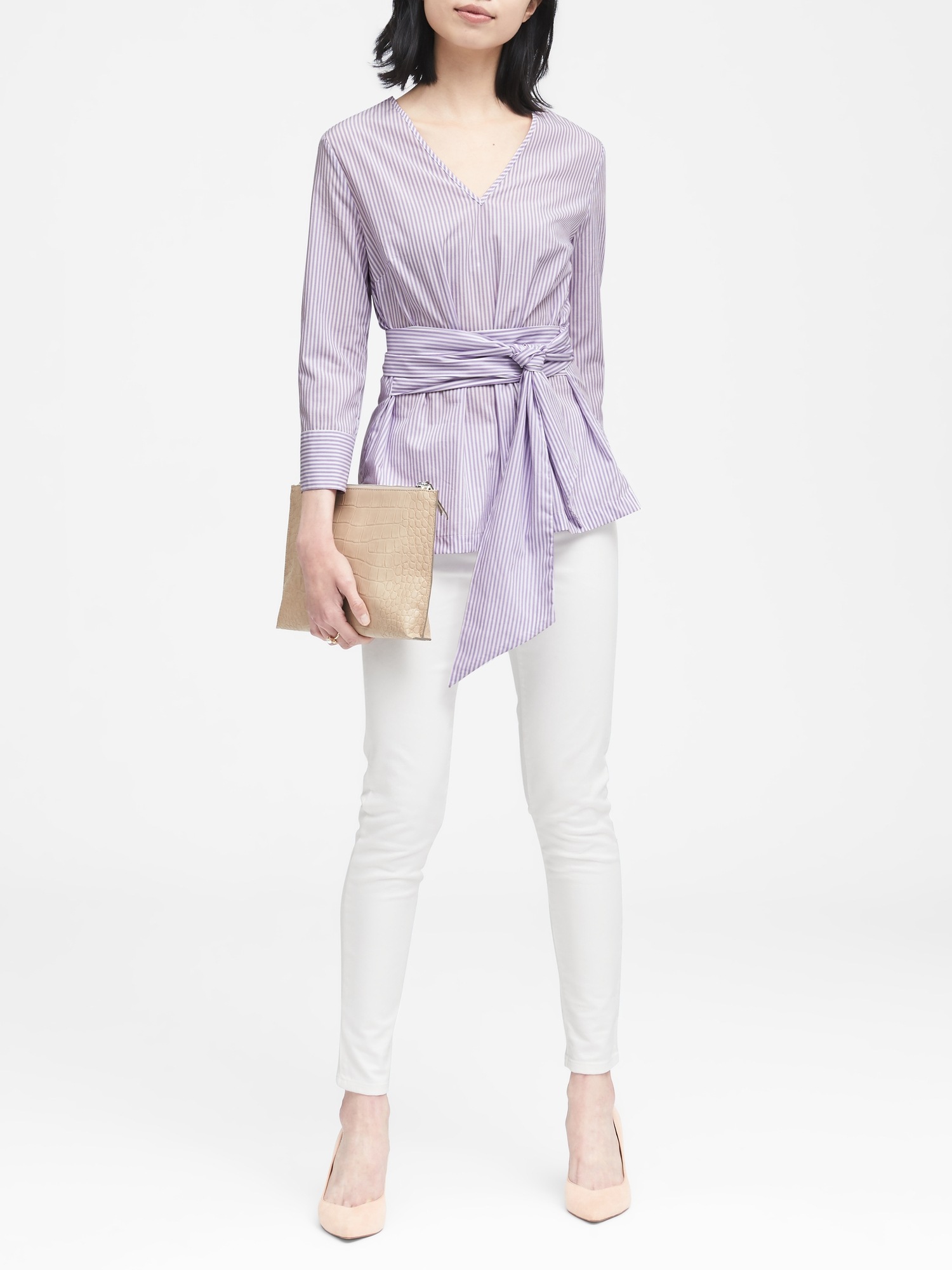 Banana Republic is full of them!  This is the Stripe Tie-Waist Cotton Poplin top in Lavender stripe.  Lavender is one of the new hot colors for spring 2018 and stripes are so right now, but if you prefer they have this same silhouette in solid blue and black.  What I like about this style of top is that all the attention is drawn to your waist creating the illusion that it is the smallest part of your body.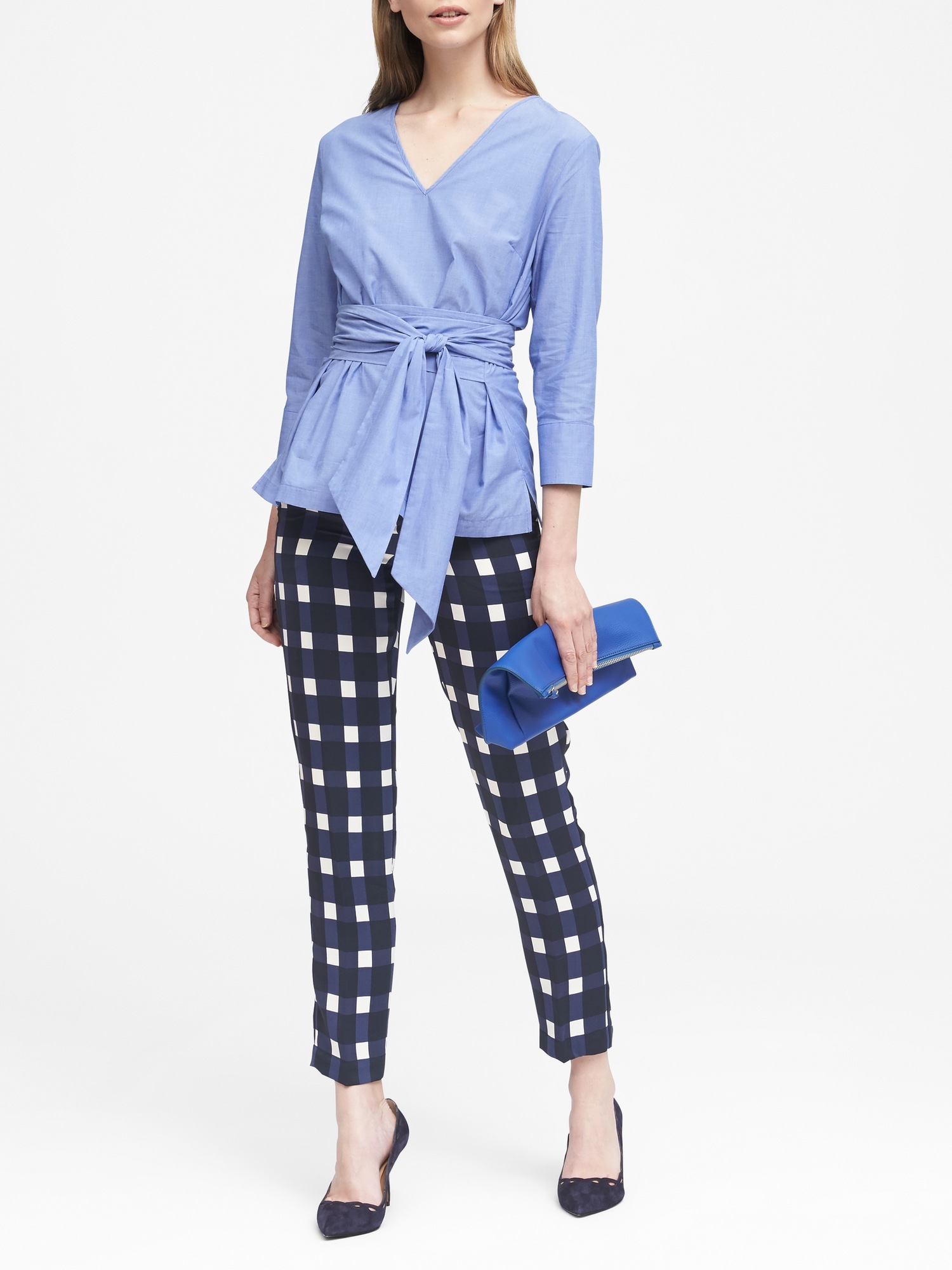 It works with wide and slim pants, cropped and ankle wide and slim pants too.  Things that nip in at your waist work with skirts that are pencil or A line and even with a slim maxi.  BR also has round neck versions and blouses that are nipped in at the waist without a tie.  So check out their website, they always seem to have a sale on.
The other shape of top that I see older women wearing successfully is an off the shoulder and cold shoulder tops.  For an off the shoulder top, stay away from the young really fitted tops that kind of drop off.  You need a top that you can wear a strapless bra with, there is no such thing as going bra less once you are over 40. One of my favorite off the shoulder tops is at Banana Republic.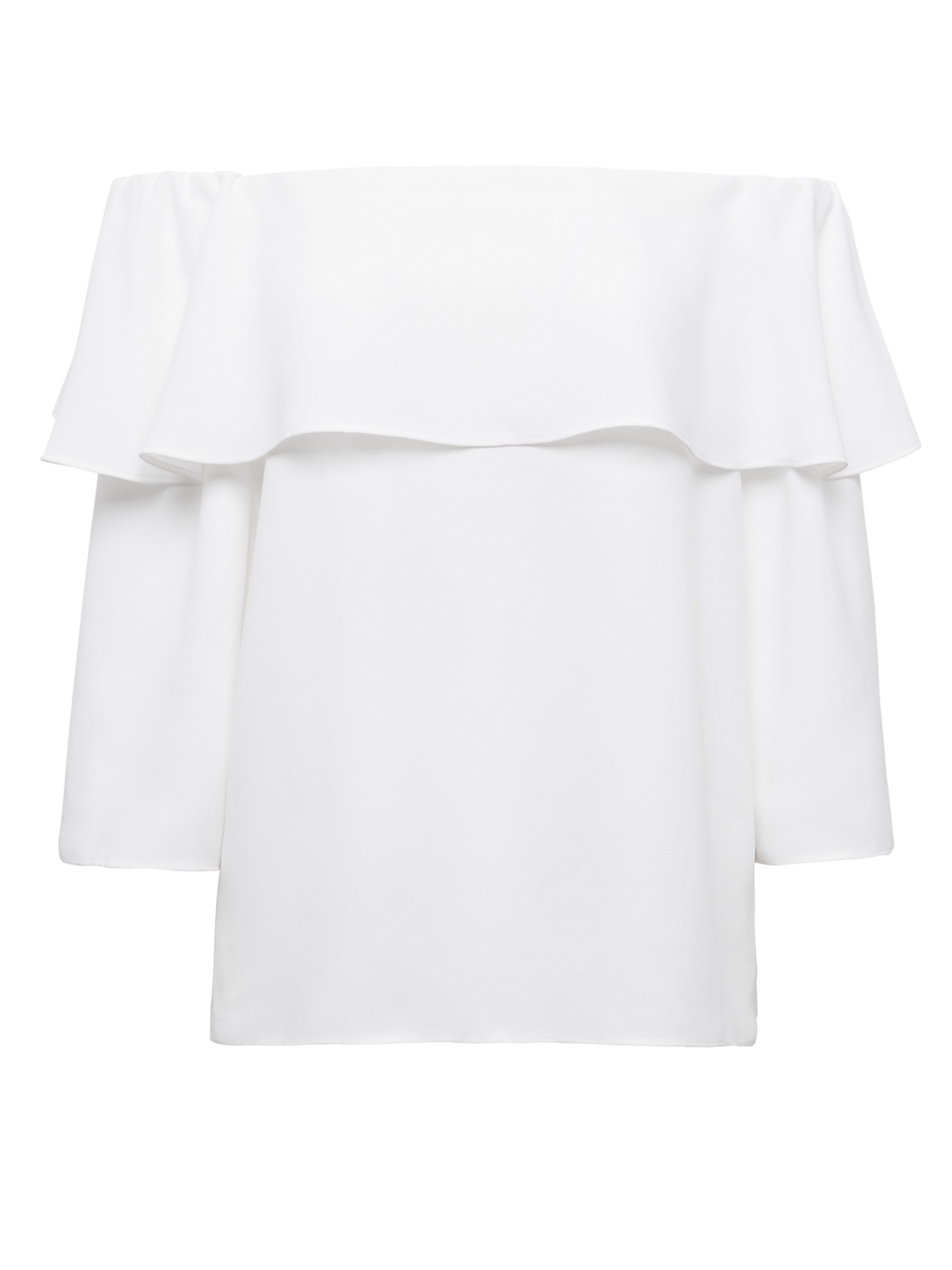 The Flounce off the shoulder top comes in white and black and the way it sits in the right place with a delicate ruffle over the bust line and a great 3/4 sleeve looks great from a XS-XL.  Just make sure you aren't round-shouldered, if you want to wear the off the shoulder look you will need to stand up straight or you will look like you are too old to wear it.  Cold shoulder tops are almost out of style, so if you have them and they look good on you, wear them now because you won't be wearing them next year.
You can still find a few around like this Vince Camuto Cold Shoulder Flare cuff top at Nordstrom, but most of what we are seeing is one shoulder exposed.  I am not a huge fan of this, but on some women it looks great, I prefer a soft off the shoulder top like the one from BR.
For spring and summer there are lots and lots of sleeveless tops.  You have to be confident in your arms.  I have been working on mine, all my trainers know it's arms month in May and June.  I love sleeveless tops and am going to do what ever I can to wear them!  But you really do have to be conscious of your arms.  If sleeveless isn't for you and you don't want to dedicate yourself to doing weights for 2 months then stick to an elbow length sleeve or 3/4 sleeve.
There are so many elbow length sleeve and 3/4 sleeve pretty tops and tees with ruffle sleeves like this sunny top from Halogen at Nordstrom.  Or go a little Boho with a peasant style top
. Caslon at Nordstrom has this 3/4 sleeve top in 3 shades and they look great with long bottoms.
Or go for a t-shirt length sleeve top.  This perfectly polka dot top is from Eileen Fisher at Nordstrom.
Sleeveless tops are everywhere.
Sleeveless pointelle sweater tops are so great for the summer for the office.  We all know that the warmer it is outside the colder it gets inside.  Whitehouse Blackmarket has you covered.  They have this same silhouette in stripe as shown and off white and black.  I am loving the great fitted shape of these tops, they work to make your waist look smaller too.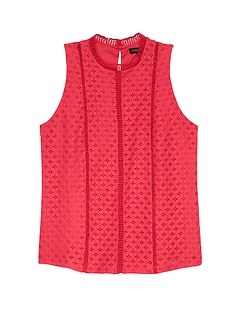 This Paneled lace shell from BR would work great for casual with denim, or wear it to the office.  I am all about sleeveless this summer.
I have decided that while I am working on my arms, sleeveless or 3/4 sleeve look best on me.  I find any length of sleeve in between cuts my arms and makes them look heavier.  When you try on tops and tees, look at how they look on your arms.  Find the right fit and length of sleeve that make your arms look great!
Spring jackets really depend on where you need to go.  The Kimono is still so strong. Aritzia has a ton of long Kimonos that look great over long pants and dresses,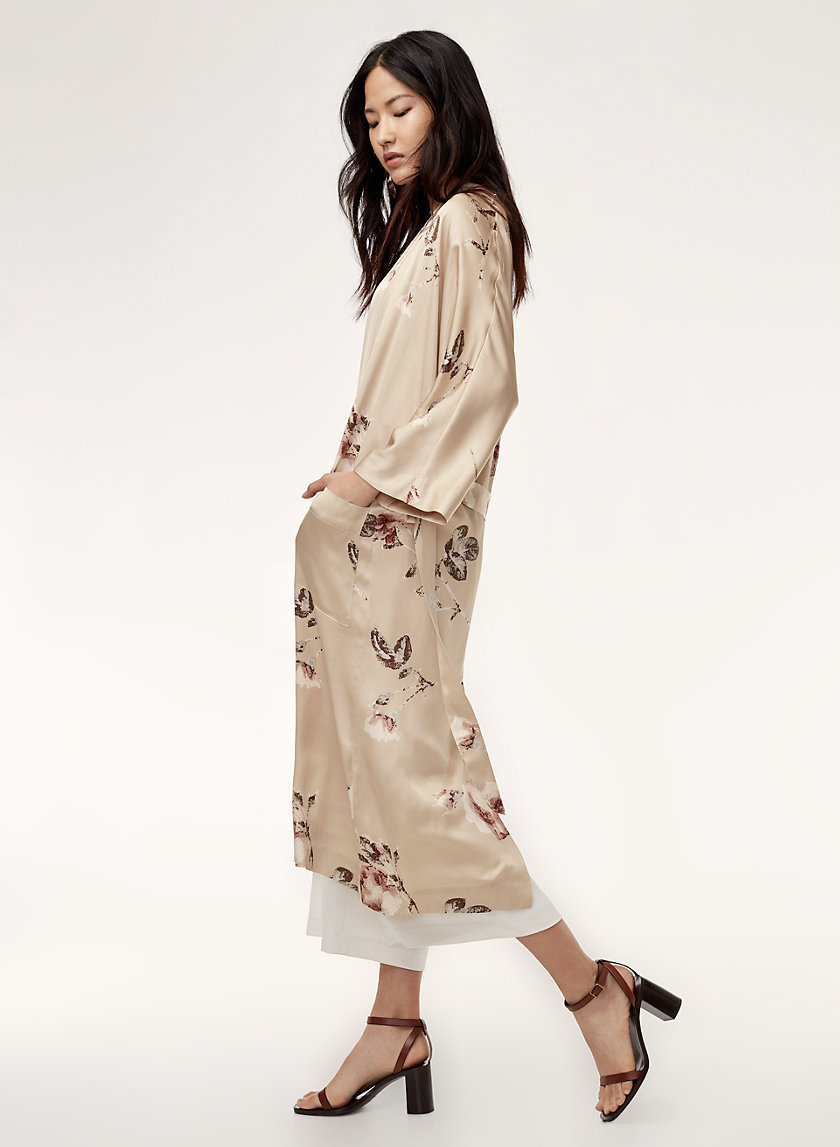 the Wilfred Durante Jacket can go as dressy or as casual as you need.  But my favorite place to buy Kimono jackets is still Anthropologie, they have all lengths and a great selection.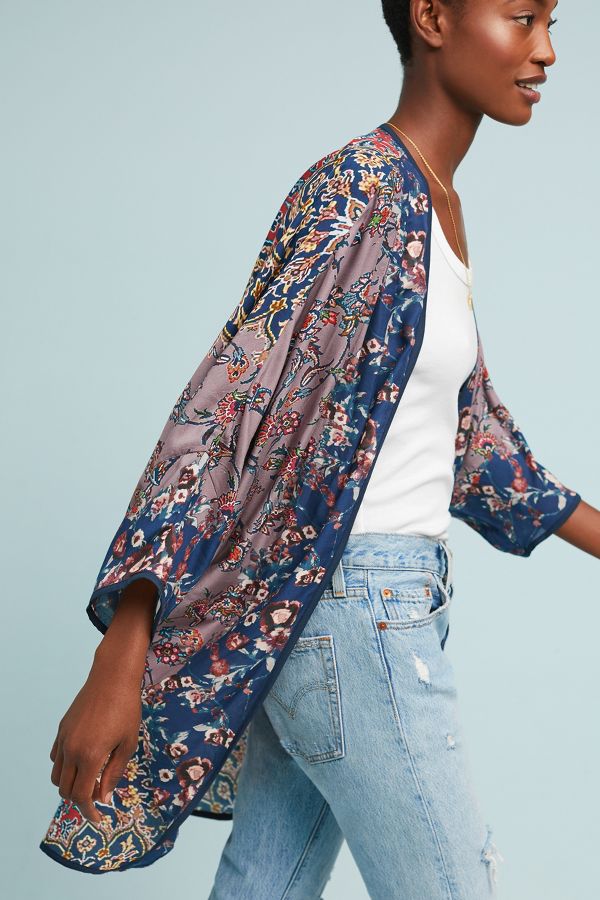 One of my favorites is their Pauline falling Leaves Kimono which comes in 3 colors.  Go to Anthro and try them on, you will find the length and print that works best for your wardrobe.
If you need an office jacket try to go a bit softer than you did for fall.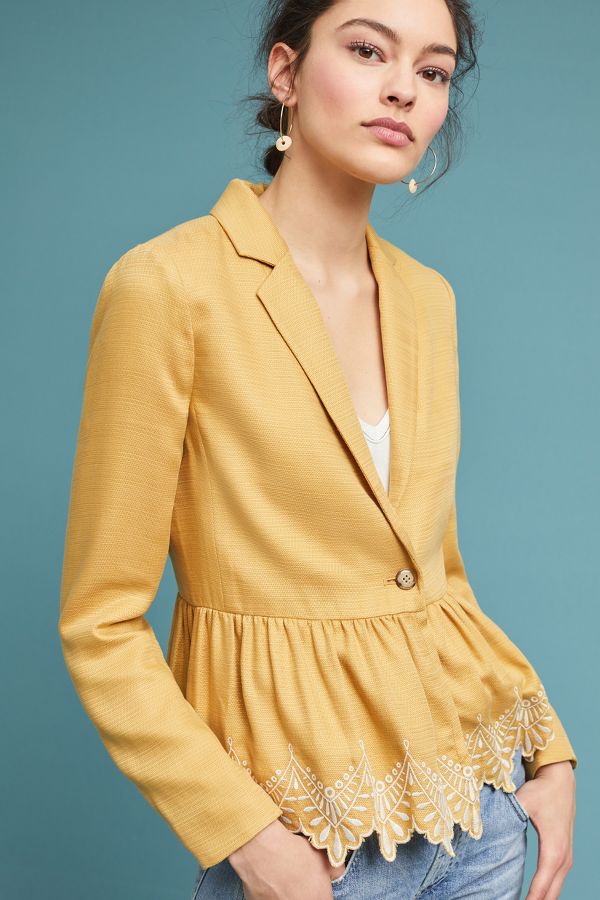 Try the pretty Jolie Peplum Blazer by Cartonniere at Anthro.  You will steal the show walking into your next meeting.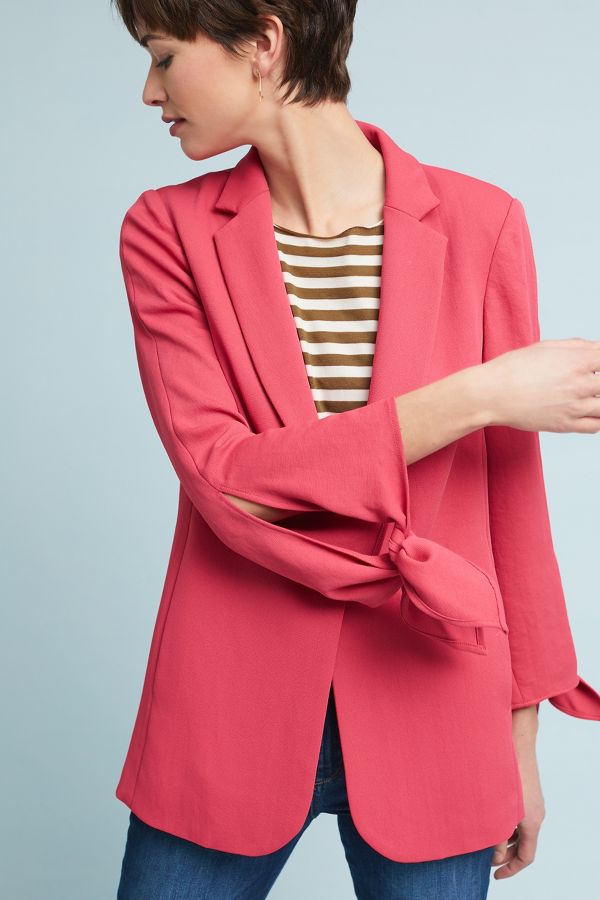 Or try a great Tied sleeve blazer.  This one is also by Cartonniere at Anthro but they are showing them everywhere.
If your office is a little more straight-laced and you still want to kick your fashion up a notch try a blazer with a fun detail.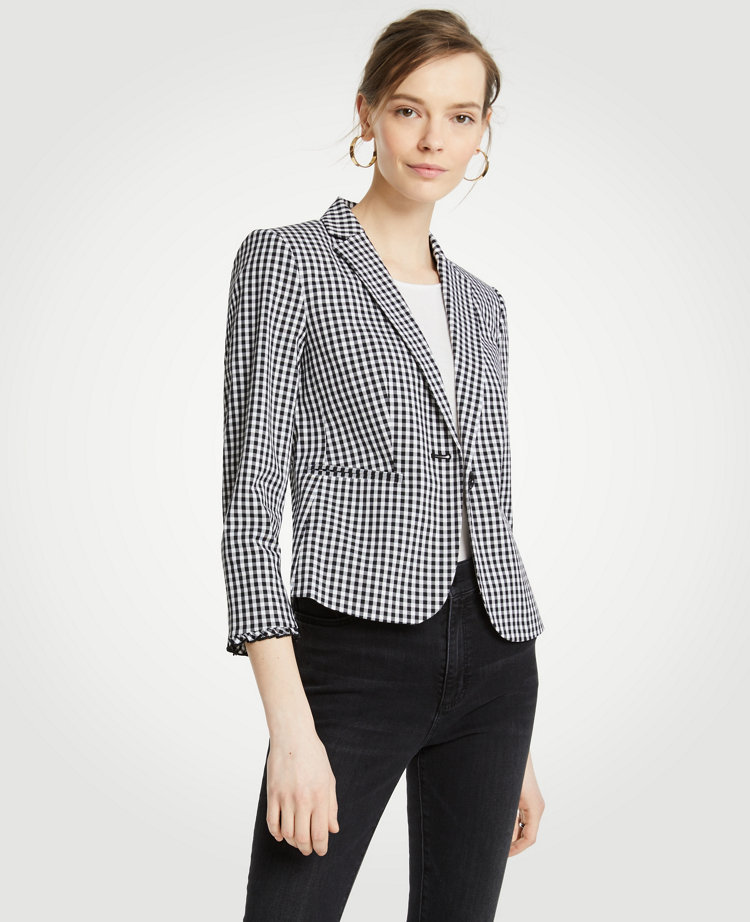 Ann Taylor has great blazers, like this Gingham Newbury cuff blazer that will wake up your work place.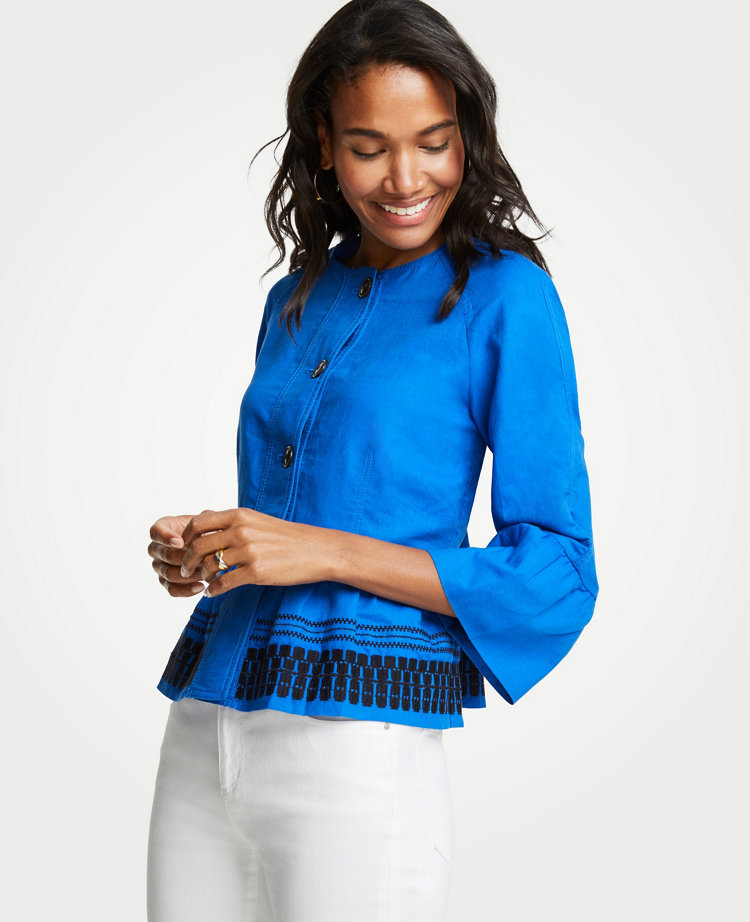 Or pick a blazer in a fun summer color, like the yellow one above or this Seashore Blue embroidered flounce Blazer also from AT.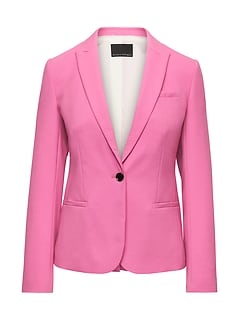 BR also has their classic light weight wool blazer in 8 colors including this Pink, Ice Blue and a great Lilac.
I personally don't wear blazers often in the spring.  But I do love them.  I seem to live in my denim jackets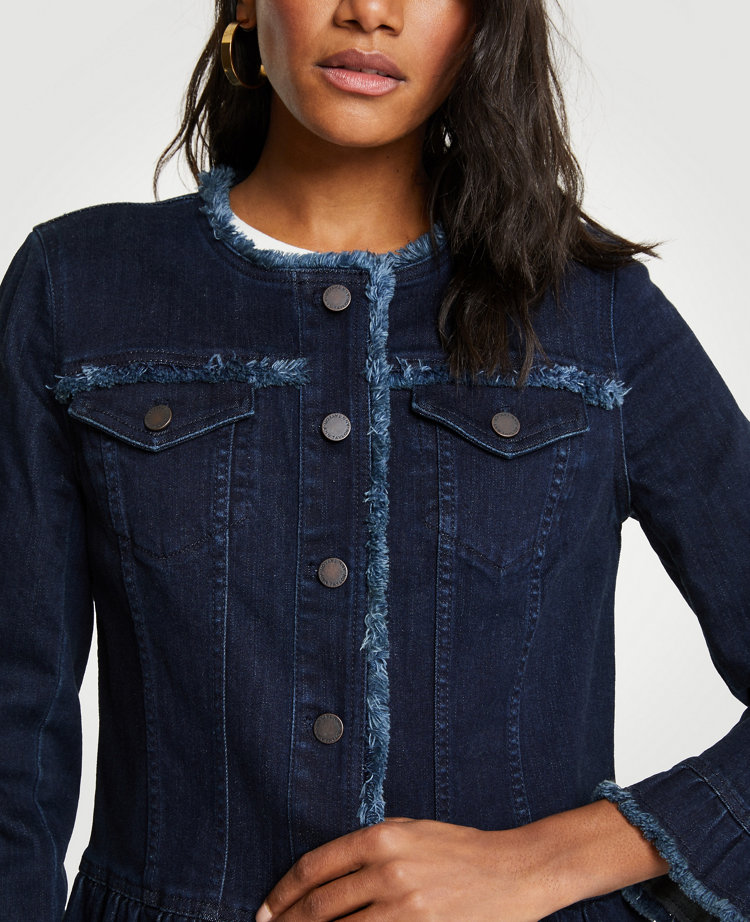 my new favorite being this dark wash Ruffle denim jacket I picked up at Ann Taylor in Scottsdale. Or I wear my kimono jackets, I have accumulated a few over the years and I still love them.
So basically ageless tops work a lot like ageless bottoms, you need to wear what looks good on your own body.  Decide where your figure flaws lie and wear tops that hide the flaws and accentuate what you like about your body.  Do you need help figuring that out? Email me at Suethefashionista@gmail.com and I can help you figure out what works for you.  I am booking appointments now for July and the beginning of August, so book soon if you want to see me over the summer so you are not disappointed.
Next week we will finish the 3rd part and talk about accessories, shoes and little things that go a long way.  Then right before Father's day weekend I will post my annual men's fashion blog.  I think it will be occasion dressing for men this year. So tell your husbands and partners to tune in.
I also will welcome any blog suggestions you all have. I am likely not taking a blog break until the end of August, other than maybe the week after Father's day.  So I would love to hear from you,  please use the same email as above.
Until next time…