I know you may have heard this from me before but one of my favorite subjects when it comes to fashionable dressing is to talk to clients about dressing for their age.  Now if you think that means I am going to tell you than once you turn 50 you need to dress like an old lady you couldn't be more wrong.   Dressing your age also goes hand in hand with ageless dressing.  How can you dress once you are over 50 so that your best self always shines through? For that matter a lot of women who are just over 40 have the same questions.  In our mother's generation you could pretty much tell how old a woman was based on her hair color, skin and what she wore.  Today most people can't tell the difference between a woman who is 45 and one who is 58.  Botox, filler and fashion have changed everything!
I am sure that I have told you all this before, my father was in the fashion business.  He was the President of Koret Canada.  Koret was a line of clothing that all women wore once they could no longer "fit" into fashionable clothing.  Most of the pants and skirts were elastic waist, there was no such thing as anything fitted and it was very, very conservative and matronly.  My father's motto was that all women eventually become his customers.  Well, Koret is not really on the market anymore or if it is, it is not carried in as many stores.  Koret never changed, but women did.  There really isn't a time in your life to switch to matronly dressing anymore, no matter what size you are.  Women today are hipper and more fashionable for their entire lives!  So how does this relate to us? I am going to do this topic in 3 blogs: this week we will look at bottoms, next week we will look at tops, and in the 3rd blog we will look at accessory and shoe trends as well as little touches for your hair, body and skin that work so people can't guess your true age!
One of my favorite websites is Shoptiques.  And every once in a while their website will feature their favorite looks for women in their 30's, 40's, 50's, 60's and 70's.  I use what they show as guidelines for ageless and appropriate dressing.  It is not written in stone by any means, you need to follow you own style and adapt it as you age.
The most ageless piece of clothing a woman can own is a great pair of jeans.  I truly believe a really great fitting pair of jeans can help you do anything.  Find your true fit.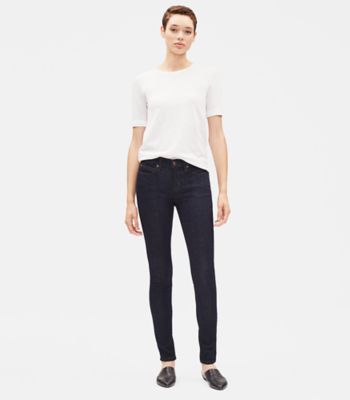 I talk a lot about the fit of Eileen Fisher jeans.  Most of my clients who have trouble finding a good fit in denim find it here. Their System Organic Cotton Skinny Jean is one of the best fitting jeans for women.  It's a bit of a higher rise and generous enough through the hip and thigh that it will hug curves or not bag if you don't have any.  It comes in petites as well which is a big plus because any women under 5'4″ is probably a petite even if she doesn't wear a lot of petite clothing (yes, that's me too).  The other pair of Eileen Fisher Jeans that work, especially if you don't want a skinny leg, are their straight leg jeans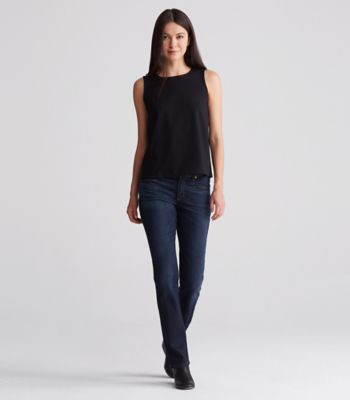 .  They are not so wide and not super narrow.  They look fantastic with boots! And are also one of the most flattering fits you will find.   Other great fitting denim can be found at a store like Nordstrom, where you can try on any brand they carry (including Eileen Fisher) until you find your best fit.
But besides basic denim there is so much more you can do with jeans.  I must own at least 10 pair of jeans.   I have skinny, wide, cropped and colored.  Here are two other must haves to complete a denim wardrobe (don't worry I won't tell you that you need as many pairs as I do).  I would invest in a great pair of ankle length jeans as well.  Decide how you want the width of that leg to be depending on your body type and style.  I have two pairs that I love.  The first pair is cropped ankle pair with a raw hem.
Here are a pair of NYDJ Janna Straight Leg Raw Hem Ankle Jeans that you can find at Nordstrom.  Mine are a couple of years old and they are Sevens.  I wear them a lot, they look great with flats and block heels and I find that as the weather gets warmer they look great with all my sleeveless tops.  The other pair is a great pair of boyfriend jeans.
Mine are Eileen Fisher and I wear them a lot!
If you don't want Eileen Fisher than perhaps this pair of Paige High Waist Bridgette Cropped Boyfriend Jeans at Nordstrom is more your style.  Stick to a bit of a darker wash and wear them all year round.  I do with mine, booties and loafers in the winter months and sandals and heels in the spring/summer.
These 4 pairs of jeans can work on everyone from 40 years old to 80 years old, just make sure you find the right pair of jeans to fit your body, no muffin top or camel toe please!
I have gone on long enough about jeans!  What other bottoms work for ageless dressing? Well one of the best skirts for ageless dressing is a pencil skirt. Why the pencil skirt? Firstly it is always almost always in style and secondly it fits almost every figure type. Don't get me wrong, I love all types of skirts but a great pencil skirt can take you almost everywhere. And if a pencil skirt fits your body just write it is perfect.
This Ted Baker London Pencil Skirt from Nordstrom is a wardrobe workhorse!  Wear it anywhere, to the office, our for dinner or even casually (just change up your shoes for the occasion). It's polyester and elastin so it will always fit and a great black pencil skirt looks as good with heels and booties as it does with flats and sandals.  Another style of pencil skirt that just works everywhere is one with a ruffle treatment.  Ruffles are really trendy right now and they just work for everyone.
This Sejour Ruffle Pencil Skirt will not quit on you.  I am showing you the plus size version because a lot of my plus size clients shy away from pencil skirts but if they are made for your body they will be flattering.  This one with the ruching and the ruffle down the side will draw eyes away from your tummy.
Other skirts that you could have in your closet that work across all ages are things like A-line or fuller skirts (of course depending on body type) and Maxi and Midi skirts.
I don't often wear A-line or fuller skirts.  I am smaller on the bottom than on the top and a more fitted or stream lined skirt fits me better.  But there are styles I can wear.  If you are bigger on the bottom than the top this is a very flattering type of skirt for you. Find something that either hides or just skims over your curves.
This Eliza J. Banded Lace skirt (Nordstrom) shows you what I mean.  It softly falls over the hips and just goes in a straight A line so it flatters you.
Why not try an A line skirt with a ruffle hem.  I used to have one and wish I still did.  It goes anywhere you like. This one is from Akris punto and it is at Nordstrom.
For a great full skirt that will work this season, take a page out of last season and try a full pleated skirt.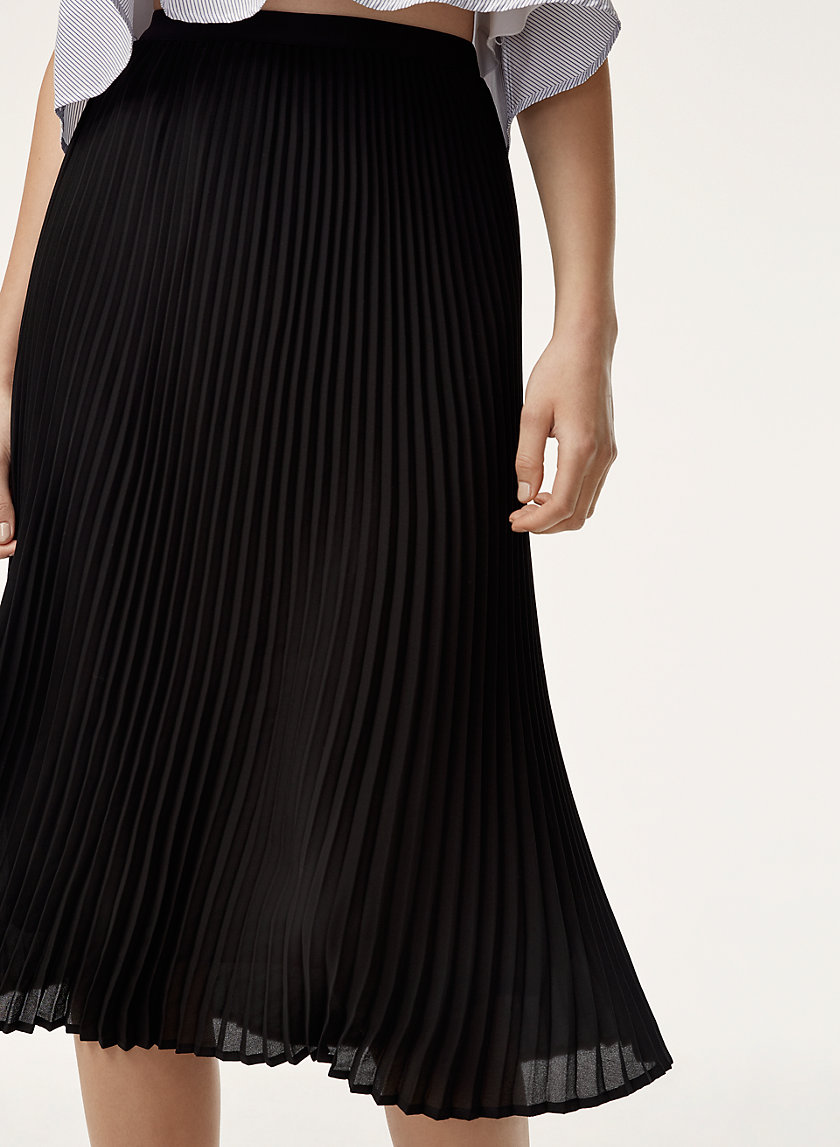 My new favorite is this Babaton Jude skirt that I picked up at Aritzia in Vancouver (they have Aritzia everywhere). It's a bit narrower than some pleated skirts so it flatters you without making your hips look big.  I have 2 others one from Anthropologie and one from a Vancouver store called the Latest Scoop. 
Mine from Anthro is last season's but here is one from this season that would be fabulous for almost all figure types. It's the Moe Pleated skirt and I love the floral dot detail.   I wear my midi length pleated skirts with everything.  Winter with boots and booties and in the summer with runners and sandals, I dress them up and down and I find I wear them almost more than any other skirt I own.
I feel the same way about maxi skirts.  A great maxi skirt can take you anywhere.  Find one that flatters your figure.  Many can be cut on the bias so they hug your curves and create a flattering line (especially if you're short like me).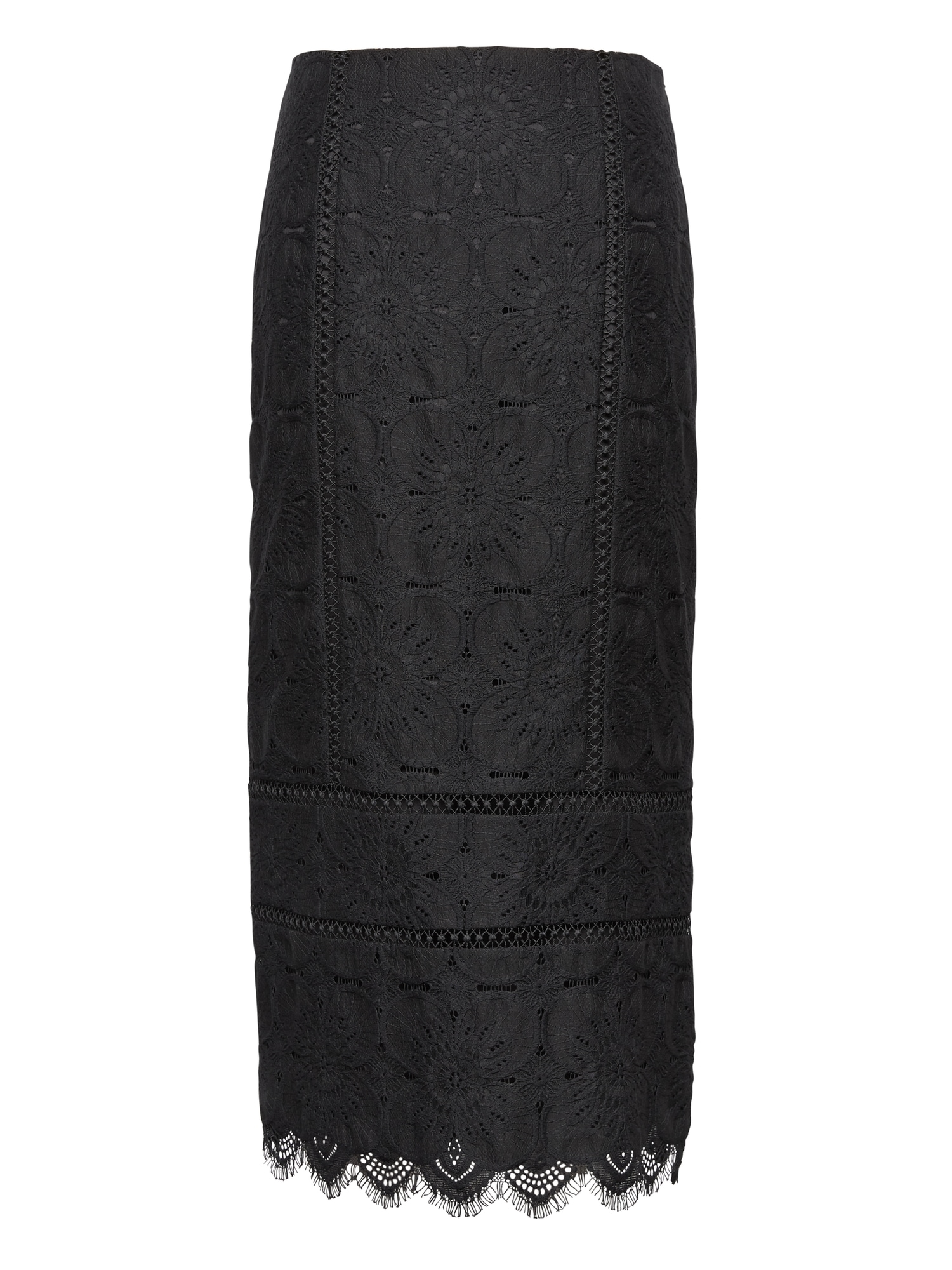 I always sing the praises of a lace skirt.  This is Banana Republic's lace Midi pencil skirt.  If you are under 5'8″ it will be more of a maxi than a midi but it just works.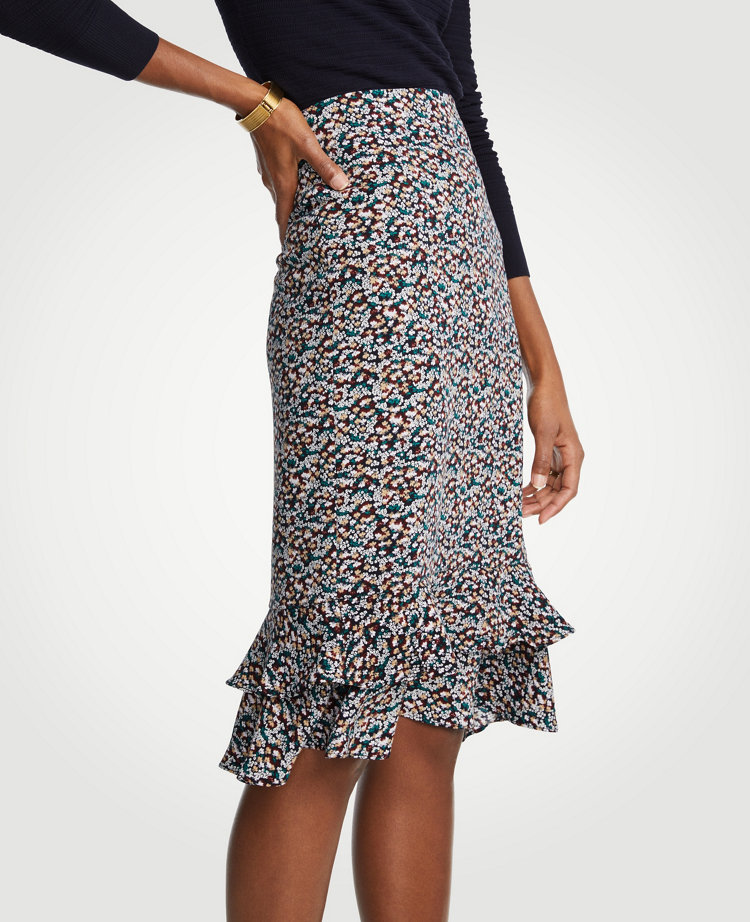 This midi skirt from Ann Taylor illustrates how a skirt cut just a bit on the bias works. It's midi not maxi but I bought it in March and it is longer than it is on the model who is 6′ tall. Super flattering with the ruffle at the hem too.
Ageless dressing with skirts really boils down to what looks good on you.  If you are still wearing super short mini skirts, you probably should take a good look in the mirror and even ask a trusted friend if you still can.  Most women once they are in their mid 50's need to switch to something a bit longer that grazes your knee or hits the middle or just below.  I gave up minis, when my son's girlfriends are wearing them I just figured they weren't for me anymore.
The last ageless piece I am going to talk about this week is the Jumpsuit.  I believe that any woman of any age can wear one.  I am not talking about Rompers, forget about those.  But there are so many great jumpsuits and cropped jumpsuits that you are sure to find one that works.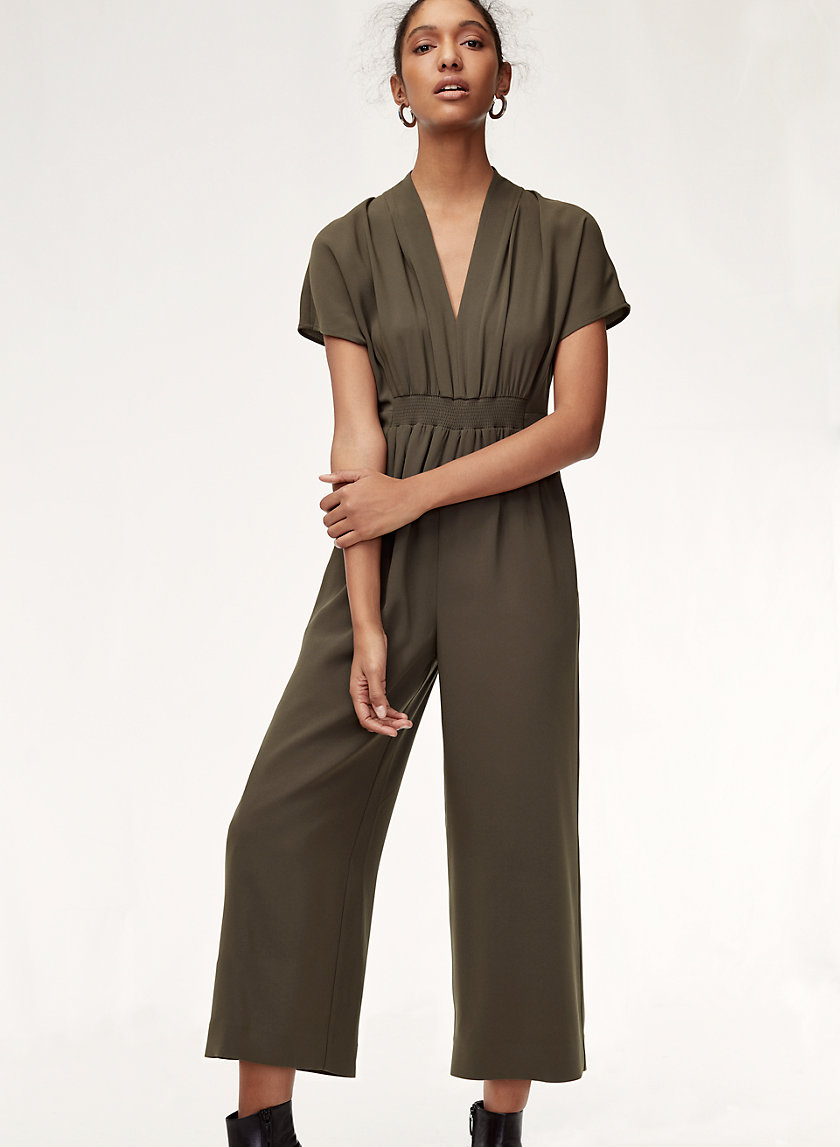 I love this Babaton Montand Jumpsuit.  It comes in Monterey (shown) and Black.  I saw 3 different women try it on and it looked good on all of them.
Another great jumpsuit is Banana Republic's cropped tie waist jumpsuit.  It comes in 3 colors and looks great on! If you want to do a print jumpsuit, try on a bunch and find a print that works with your body type.  A place like Anthropologie is great, they have lots of print jumpsuits.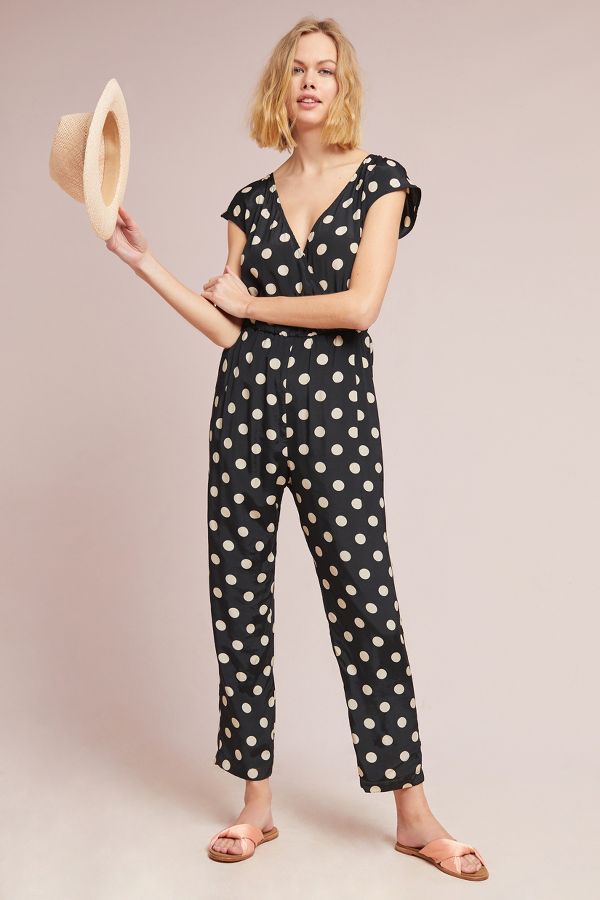 Try one like Anthro's Corey Lynn Calter Wrapped Jumpsuit in an au courant black and white polka dot.  Or go to Nordstrom, they carry tons of different brands too and you can find something wonderful like this J. Crew Stretch Poplin Jumpsuit 
in bright coral that would be fabulous for summer.
Ageless dressing, especially on the bottom, doesn't mean limiting yourself.  It means finding the right trend and style that works for you and compliments your figure.  I didn't even go into cropped and slouchy pants, which are another hit for summer that can work on a lot of figure types.  I will save that for another blog.
Stay tuned for next weeks blog continuing with this theme and looking at ageless or age appropriate tops.  Do you have a problem figuring out your evolving style as you get older? Email me at Suethefashionista@gmail.com to set up an appointment and we can bring out your best self.  Right now I am booking for July and early August.  Book soon so you can get the dates you want.  Remember clothes are supposed to be fun and not a chore so if you need help just ask!
Until next time…