What is it about Spring that brings out events from every angle at you.  There are always graduations, gala dinners, parties and even weddings start late spring.  How do you dress if you're invited to something and you know you are going to see everyone you know and then a couple of weeks later at another party/event?
Well there is a pretty simple formula if you stick to a few key colors and pieces. A key piece in my wardrobe are dressy black pants with a ruffle down the side.
They are very similar to this pair from Bailey 44 At Nordstrom.  I have worn them with off the shoulder tops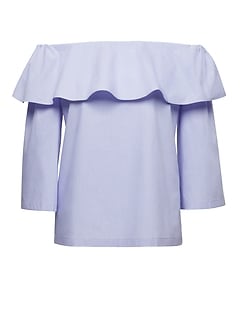 like this one from Banana Republic. Or with sleeveless cropped tops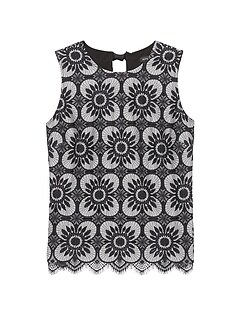 like this lace tie back shell also from BR.
You could wear any dressy black pant, just make sure it has a modern edge to it. So it's either cropped and wider leg
like these Bailey 44 pants from Nordstrom or they could be flare legged if that looks better on your frame
like these bootcut cropped flares from Eileen Fisher at Nordstrom or if you prefer do a simple wide leg black pant either wide all the way down or slim with a flare at the hem
. These high-rise linen blend pants from Vince Camuto at Nordstrom can be work almost all year round.
You also need a black skirt of some kind.  If you still have your slim lace pencil skirt you can wear that for summer but if you're like me and got rid of it and now can't find another one that's as good, try to find one skirt that makes you look fabulous. I am loving skirts with a little flare at the knee this season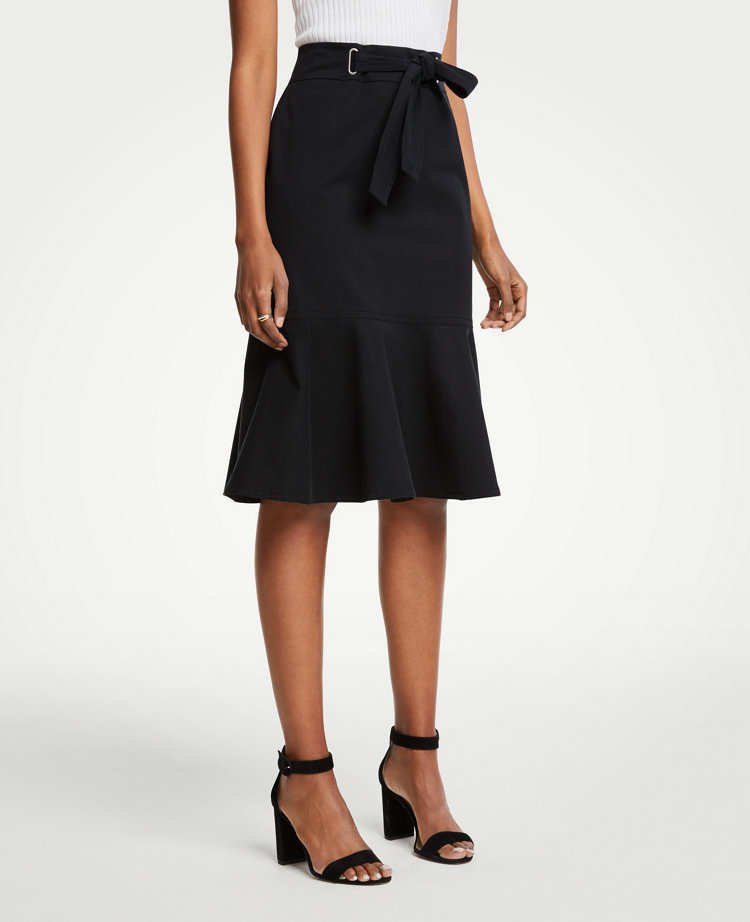 like this tie waist flounce skirt from Ann Taylor. You can dress it up or down.  Or if you need a new pencil lace pencil skirt like me try something fresh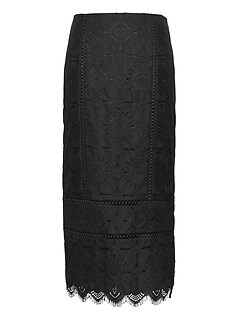 like BR's lace midi pencil skirt.
All of these bottoms are great because you can pair the right top with them for the occasion.  If you need to be dressier try a top that catches attention. Try a ruffle front shell in a bright color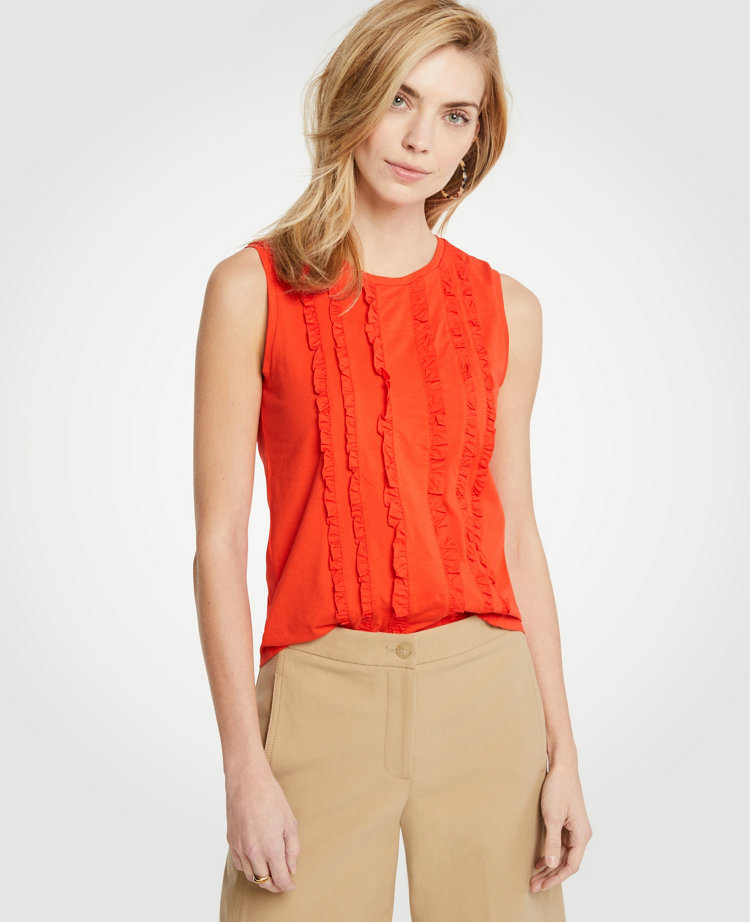 to pair with your black dressy pants.  This top is from Ann Taylor and comes in 4 colors including black and white.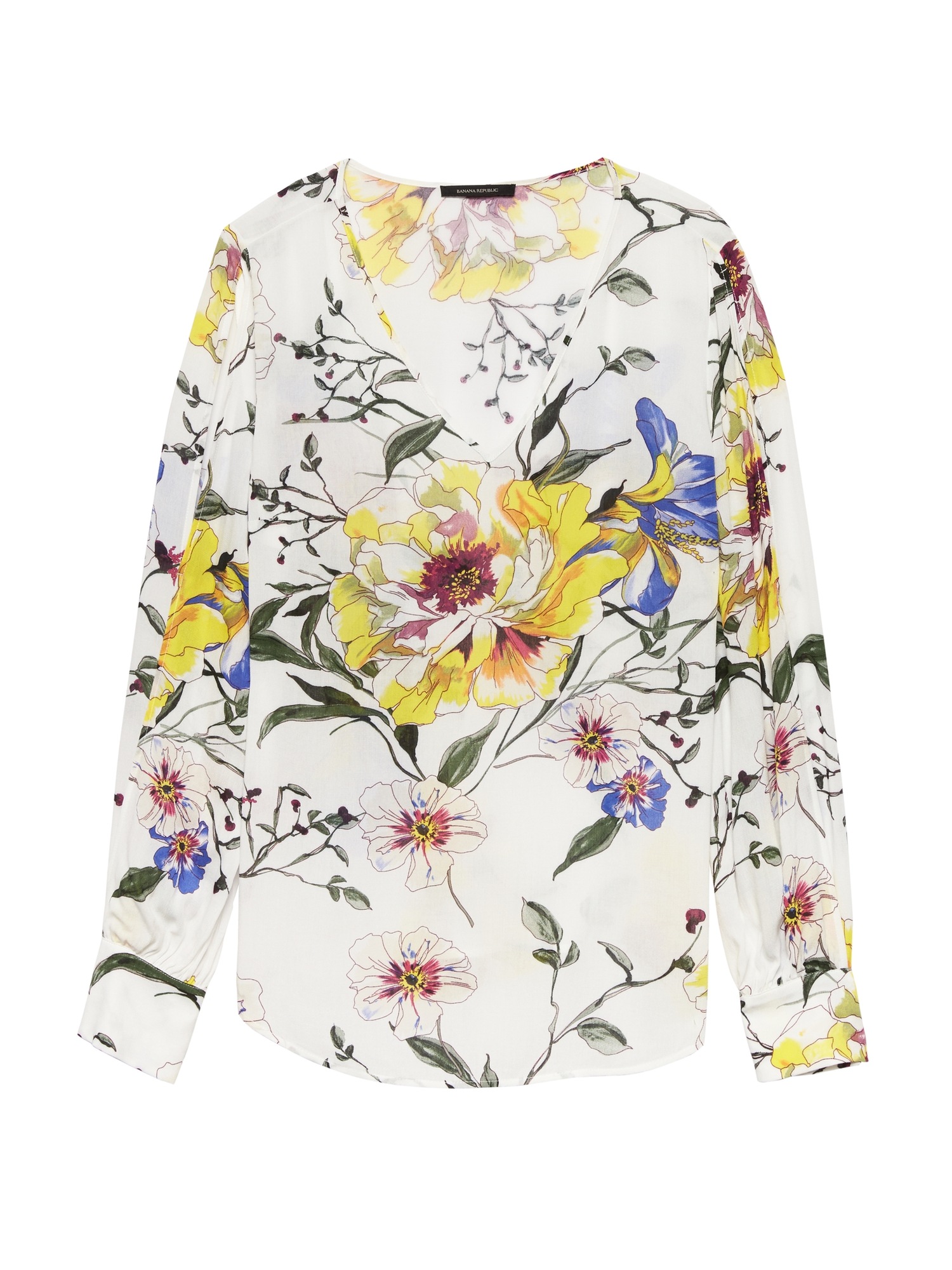 This peek a boo sleeve floral blouse from BR will work for your dressy evening with pants or skirts and with your jeans too.
You can never go wrong with a beautiful ruffled blouse, like this one from Rebecca Taylor at Nordstrom.  You can wear it with any dressy pant or skirt and immediately elevate it.  Everyone needs tops like these!
So now that we have gone through a couple of basics we can move on. The above wear works for parties and get togethers with friends and one of my favorite summer uniforms is a dressy top like one of the ones above, skinny dark jeans and heeled sandals.  That always works for casual!
Specific Occasion dressing like graduations and weddings all call for something a little different.
Graduations:
Whether your son/daughter is graduating from high school or university this spring you need something appropriate to wear to the ceremony.  And there are options.
You can do a classic dress.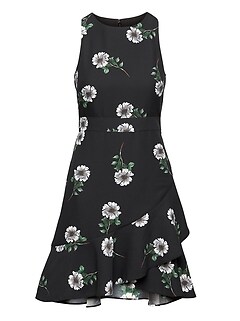 One of my dear friends just bought this dress from BR, she is going to wear it to her son's graduation ceremony and to a couple of other occasions.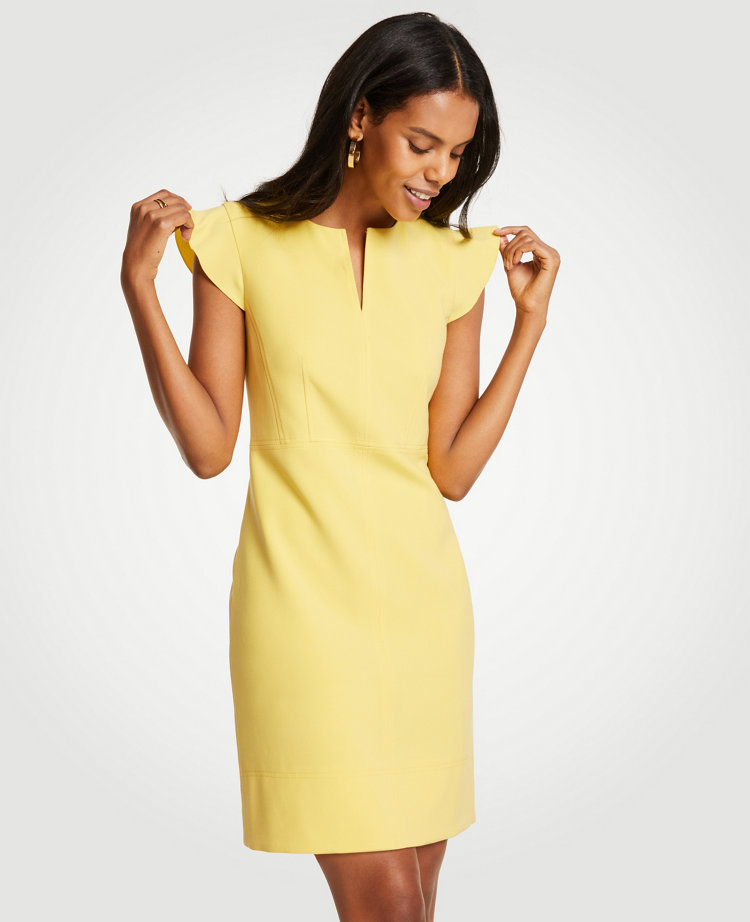 A flutter sleeve sheath would work too.  Especially if your child's graduation is in a hot climate like New Orleans, a light sheath from Ann Taylor in a light color will keep you cool and composed.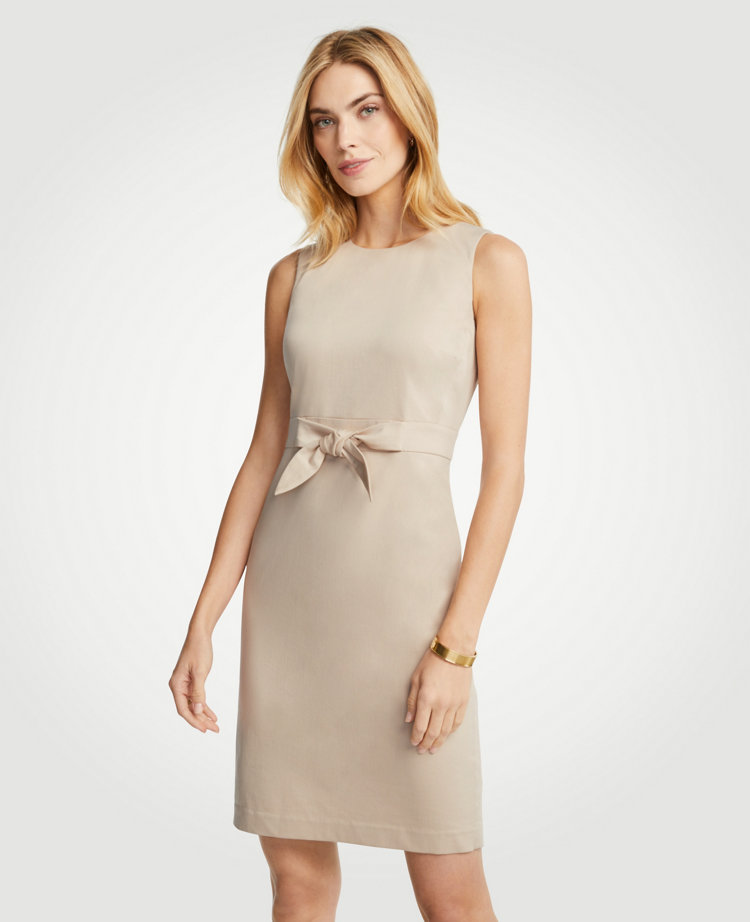 Or do something slightly more conservative from AT.  Either in Pearl Blush ( above) or Tuscan olive it will look very appropriate for whatever you need to go to.
For university graduations you can be a little easier if you want.  Try a great cotton sundress if it's a warm climate.
This ruched cotton shirtdress from Chelsea28 at Nordstrom is light and cool yet perfect.  Wear it with sandals or wedges because you will likely be on your feet for a bit. And the stripes are so chic right now.
Sometimes the fabric can be casual but the style works a bit dressier.  Try this Gal meets Glam collection cotton poplin shirtdress.  The fit and flare style works on your body to accentuate your waist and hide your hips.  It would be great for a grad ceremony.
Or go in a different direction and try a jumpsuit.
This one is from Vince Camuto at Nordstrom and will be great for a daytime grad ceremony.  For the daytime stay away from black, try a navy or another color.
The high school my kids go to has a formal dinner dance for the parents, students, dates and staff.  The attire is formal but almost all the mom's wear cocktail attire and the dates wear long.  And because it's formal women get dressed!
So a lace midi dress from JS Collection at Nordstrom would be perfect if you wanted it.
So would this Ted Baker London fit and flare also from Nordstrom.
And just about any tea length lace dress would work, this one is from Tadashi Shoji at Nordstrom. I am going to wear a dress I bought last year that is black and tea length but it is a short dress with a chiffon over layer.  I believe in letting the girls shine and the moms should be elegant and understated.  This isn't your graduation, let your son or daughter have the limelight.
Weddings:
Weddings come in all shapes and sizes these days.  Unless the wedding invitation says black tie or formal, the door is pretty much open for you to wear whatever looks best on you.
If you are the mother of the bride/groom and you don't know what to wear email me and we can chat about it.  I have lots of suggestions depending on your body type.  But for wedding guests, which most of us are, we have lots of options.
If It's a casual wedding, these include outdoor weddings, beach weddings etc.  You don't want to outshine the bride or her mom, so choose something that won't.
A stripe maxi dress from Adrianne Papell at Nordstrom can be worn with high or low heeled sandals and still be fab!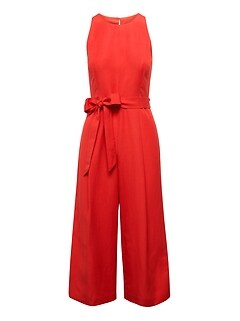 Here is where you may want to pull out a fab colored cropped jumpsuit like this one from BR.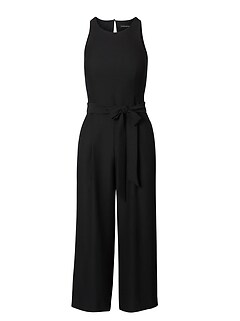 Or try a classic wide leg style from BR as well.  This one you can dress up a bit more for something more formal by wearing a higher heel and more bling!
You could also try a Ted Baker London Harmony pleat off the shoulder dress that would work for a casual wedding or a lovely evening out.
If the wedding is more formal and at a hotel or ballroom, you need to echo that in your dress.
I love a classic lace dress no matter what your age, this Eliza J. midi dress would be perfect.
I also love a great a line dress in a fabulous color with neutral accessories. Or do something with a ruffle, like this
asymmetrical ruffle shift dress from Chelsea28, it comes in 4 colors.  If you do it in black or cobalt (shown) you can wear it in the winter too.  You could also pull out the lace dresses from above under grad and wear them to this kind of wedding.  All of these dresses are from Nordstrom
If the wedding is black tie or formal then you can go all out.
Try a modern edge maxi from Leith with block heels and modern accessories. This look can be found at Nordstrom. 
Visit Whitehouse Blackmarket either in person or online and RSVP yes with this fabulous dress from Nanette Lepore.
Or try a daisy a line dress from ML Monique Lhuiller at WHBM.
I also love a great two piece look from WHBM.  The lattice bodice and skirt can be worn together and look formal or pull the pieces apart and wear with other things.  This bodice and your dressy black pants can also work!
Keep your shoes and accessories occasion appropriate.  So for example my son's graduation ceremony was on the grass, so no high heels.  Wedges or block heels work.  If you are going to be sitting a lot wear your heels sky-high if you want.  For weddings and bar mitzvahs I wear either heels I can dance in or I bring a jewelled pair of flats with me, even jewelled flip-flops can work for something like that.
If you have real gorgeous jewellery now is the time to wear it.  If not, fake it until you make it.  Go back and read last week's blog from Shoshana Lewis of Shok designs, she told us what is fabulous for spring.
I hope this helps you navigate whatever you have going on this spring. If you need more help just email me at Suethefashionista@gmail.com, I don't have a lot of time left in May or June but July is wide open and sometimes your hidden gems are in your own closet and you don't even know.
I would love to hear some blog suggestions for the summer months. My blog will be on hiatus from May 30-June 20 and then again the last week of August and first week of September.  But we will cover off what you need to get rid of to get ready for fall before the end of August.
Until next time…