Now that we have gone through all the trends of spring 2018 we see things that pop up in more than one trend.  And as I have been shopping in the stores and looking online they pop up over and over.  There are 5 themes of clothing that can be worn with any spring trend or on their own for Spring 2018 and they are: Transparent Fabrics, Ruffles, Fringe, Florals and Checks, Dots and Stripes.  Let's go through them one by one and you will see how prevalent each of these themes are.
Transparent Clothing:
There was a big push in designer wear to wear chiffon and even plastic.  We saw it in all kinds of colors and even in beachy and sporty styles.
There were transparencies in prints like in this Self Portrait Lace One shoulder Midi dress from Nordstrom.
There were countless tops with chiffon sleeves and other chiffon details like Alice +Olivia Puff Prim Sleeve Blouse also from Nordstrom.
  Or you could just do a hint of transparency like in this Ted Baker London Noura Midi Dress (Nordstrom). And we saw it full on in Sportswear
like in this Nike Gem Running Jacket (Nordstrom).
But where it was the most prevalent was in handbags.
From a designer bag like this one from Valentino, to a fun Michael Kors tote bag
see through purses are definitely how I would wear this trend.  Both purses from Nordstrom.  But not to be forgotten shoes also are showing up with transparencies for every trend.
Jeffrey Campbell designed a shoe that Cinderella would covet.
Steve Madden is showing a barely there sandal.
Even Nine West got into the act with a great pointy toe flat you can wear everywhere!  All the above shoes are from Nordstrom.
So Transparency as a trend is great.  Do it in either an accessory or an anorak for rainy days.  But at our age maybe stay away from transparent tops and bottoms unless you can disguise or cover what will show underneath with a cami.
Ruffles:
We have seen ruffles over and over.  It is probably one of the most flattering looks for tops as you age.  A soft ruffled neckline will soften your entire look. One of the best stores to find ruffle tops for a reasonable price is WhiteHouse Blackmarket or WHBM.  They understand soft, feminine dressing.
How great is this pastel pink Ruffle Trim shell, you can wear it with anything and anywhere.
Or try a long sleeve blouse with ruffles in another it color of the season: Lavender. Or combine your ruffles with one other trend 
like this floral pintucked blouse, where the ruffle is in the sleeve instead of the neckline. And talk about living in Crayola color, WHBM has a tiered ruffle dress
that will satisfy all your pink cravings.
Or choose a dress with ruffle sleeves and hem in a color that looks good on everyone.
Or choose a work skirt with a little oomph! This J. Crew 365 Crepe ruffle pencil skirt will go to the office and out on the town, J.Crew is available at Nordstrom.
And who wouldn't love a pair of pants with a ruffle side? I even bought a pair this year and will wear them to dressy occasions. This pair is 1.STATE Ruffled wide pants from Nordstrom.  You can even do ruffle pants casually as there are many pairs of jeans with ruffle hems this season.
Here are the MOTHER The Cha Cha Fray Flare Crop Jeans that you can get at Nordstrom.  But I have seen them at Anthropologie too.
Fringe:
Fringe is something you need to be a bit careful with.  You don't want to recreate the 1970's love child with a fringe suede jacket.  That look is for your daughter.  You need to take your fringe to a more sophisticated level.  Ann Taylor has fringe for women.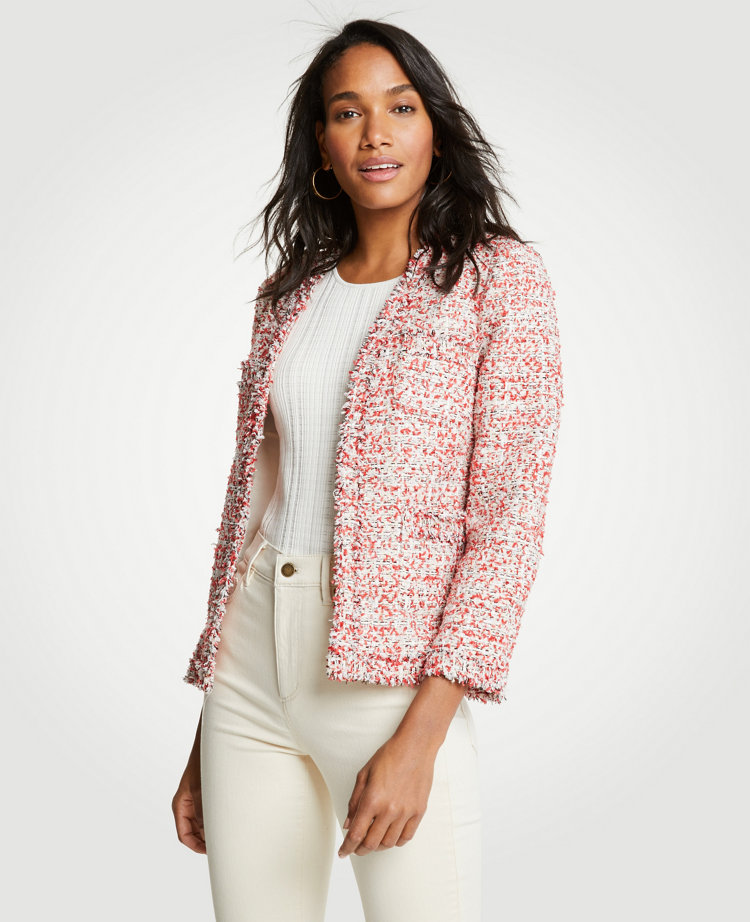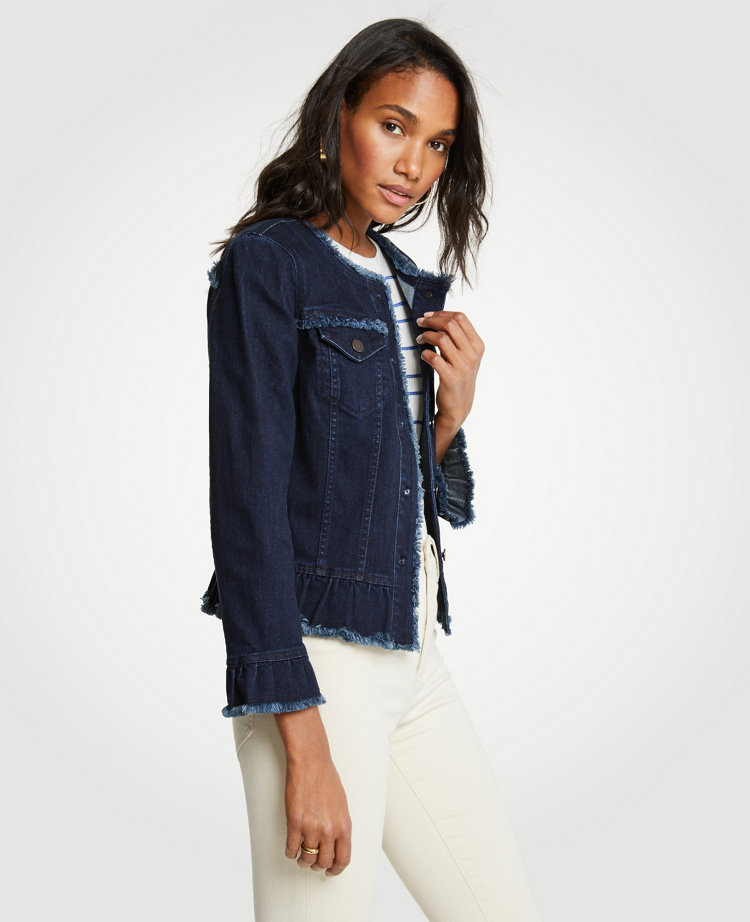 They have subtle fringe detail on sleeves and plackets of jackets.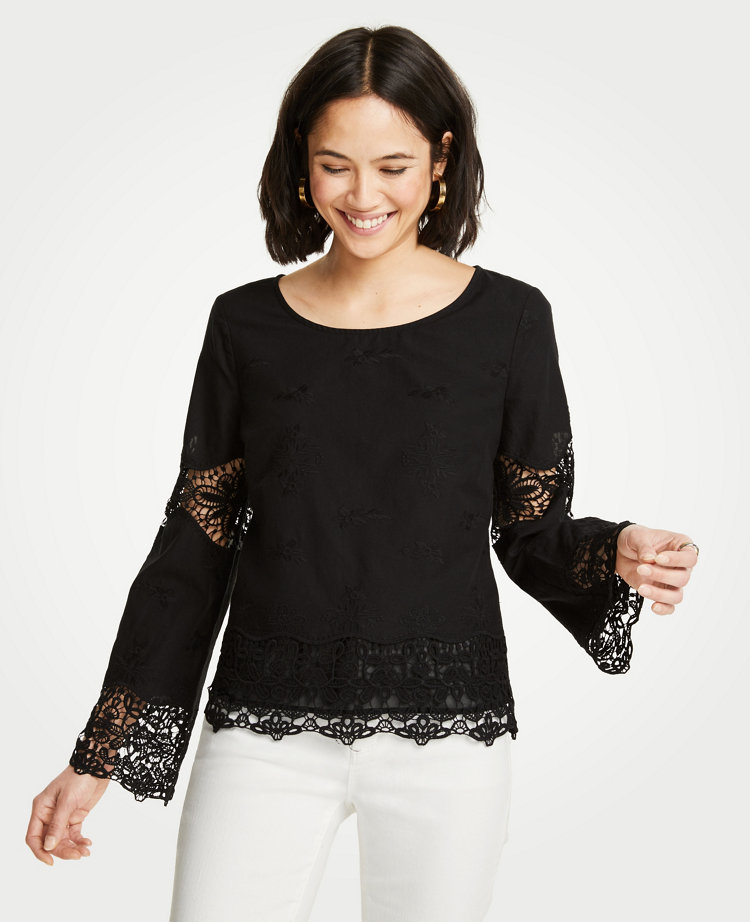 They fringe their tops with things like lace, which is so sophisticated.   But you can have fun with fringe too
Nordstrom has this great Tracey Reese Midi dress that I would love to wear. Or fringe your jeans! 
These Tory Burch Fringe Trim crop jeans are so fun and cute!
And if you were the girl who wore the fringed suede jacket then maybe move to a great fringed sweater like this one from BLANKNYC at Nordstrom.
Fringe is great for accessories and shoes too.
Everybody needs an Eyelash fringe scarf that could double as a wrap! This one is from Echo at Nordstrom.
You can wear the fringe trend in necklaces and earrings
both are from Nordstrom.  Even shoes are shown with lots of fringe this season. Especially in sandals
you see a lot of fringe detail like this pair from Bella Vita at Nordstrom.
Look for fringe details on things that you want to wear.  There are lots and lots to choose from.
Florals:
We have seen florals for lots of seasons now.  They pop up everywhere and are great at mixing with all other trends. A floral top and jeans is one of my favorite outfits. There are so many florals around you are sure to find one that speaks to you.
I particularly love dark florals for summer. This floral tank from Meadow Rue at Anthropologie is the type of dark floral that is perfect for summer.
Or try a pastel cherry blossom top from Anthro with your light and white denim for spring.
Or do a top from WHBM that mixes florals and ruffles, two trends that are perfect together. 
And you can find the best choice of floral dresses at WHBM too. 
Anthro has great casual and colorful floral dresses for spring. They even have a tab on their website you can click on that shows all the floral dresses they have available!
Floral print skirts are everywhere and this one from WHBM is perfect for the office.
There are even tons of floral pants for spring, like this pair from Rebecca Taylor at Nordstrom.
Rebecca Taylor even has floral jeans that are perfect for sunny day at Nordstrom.
And of course there are florals a plenty in shoes and accessories too.
Why not try a fab pair of floral sandals that will look great with your blacks from MIA at Nordstrom.
Or do florals in your runners from JSldies also at Nordstrom. There are also floral bags everywhere, Nordstrom has
this one from Rebecca Minkoff.  To me this prints just says spring. Nordstrom has floral bags, wallets and backpacks at every price.
Checks, Dots and Stripes:
This is the season of these three things.  Every store I walk into has something gingham.  Stripes are everywhere and anywhere and who doesn't love polka dots, I sure do. My favorite gingham top of the season is this Pleonie top from Nordstrom Rack.
It has a gingham bodice under a lace top.  I bought it when I was in Arizona and just love it.  It is a very subtle way to wear gingham.  But there are lots of gingham tops and dresses if you want one.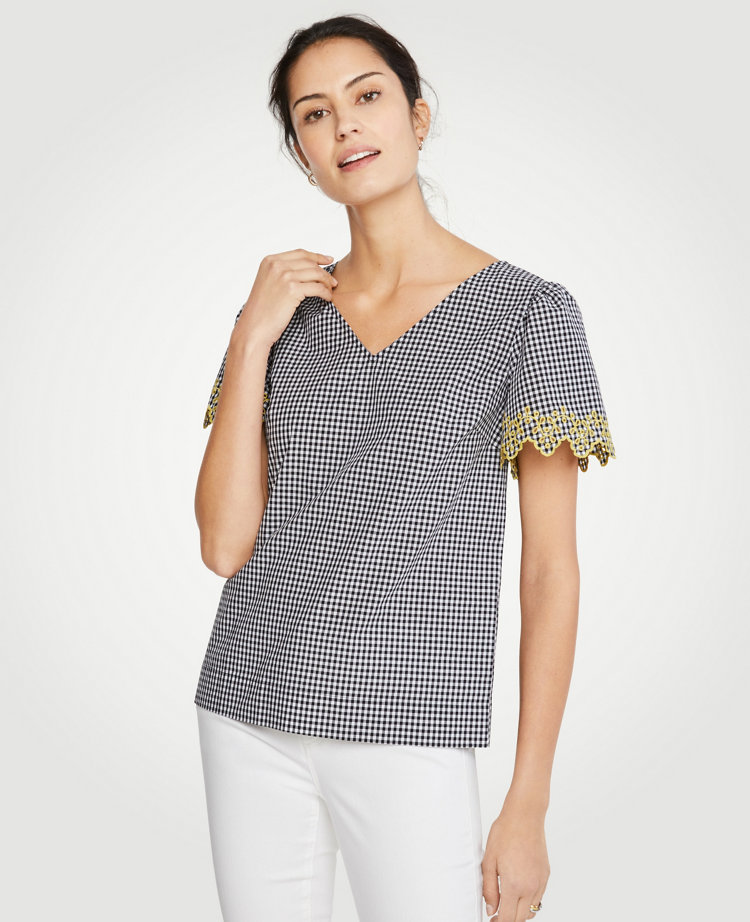 Ann Taylor has a gingham embroidered sleeve t-shirt.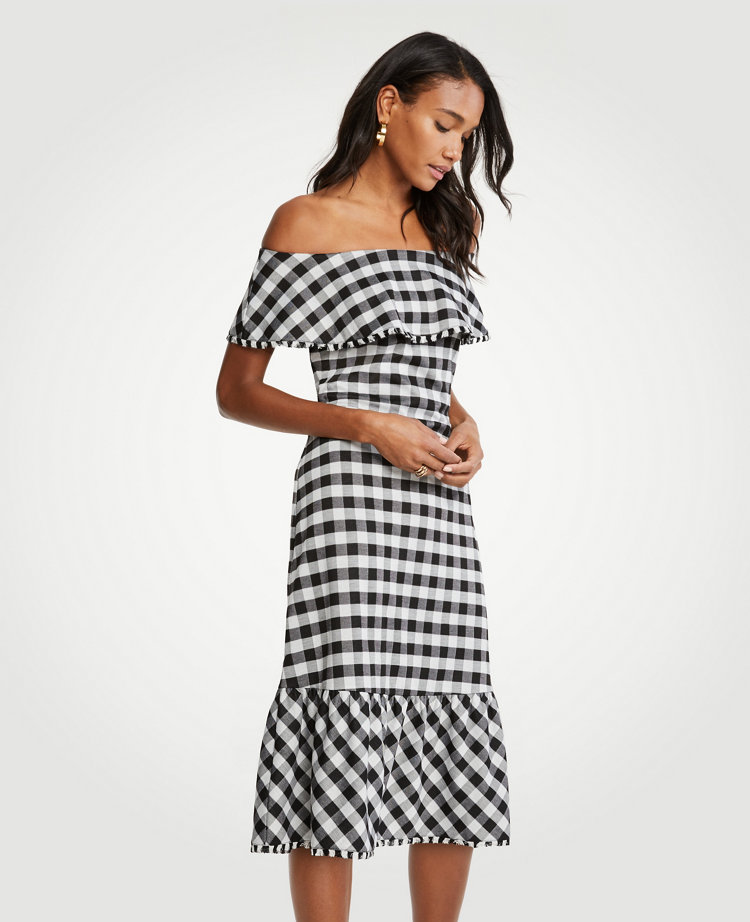 They also have a fabulous off the shoulder gingham dress that can take you out in the evening.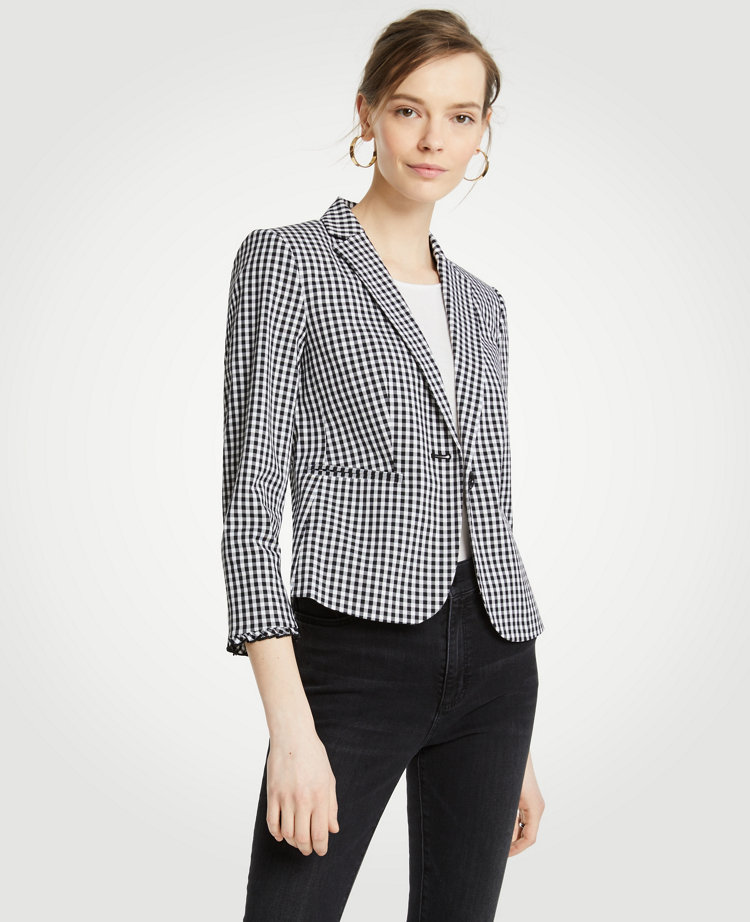 AT even has a great gingham blazer you can wear to the office or on the weekend.
  If gingham is your style and you like Anthropologie look no further, they have lots. They have pants,
Tops and even shoes!
  Ann Taylor has gingham shoes too.  There are tons to choose from.  The stores have gingham in colors too. If you want to wear it just choose the right color and style for you.
Stripes really work at every level for Spring.
From a great Madewell for Nordstrom Jumpsuit ( I love this one!) to 
great Sejour draped blazer to take you to work or play, you will find tons of stripes at Nordstrom. 
You can be as classic as this Leith striped shirt. 
As trendy as these Trouve striped joggers. Or as fashion forward as this 
lace back top from Bishop and Young all at Nordstrom.
Accessories and shoes are striped as well.
Halogen has these nautical slingbacks.
And Sam Edelman has these black and white stripe mules.
Or you can just nod to the trend with these Dolce Vita lace up sandals.  Again all from Nordstrom.
Stripes are everywhere just pick a stripe piece you like.  I personally love stripe tops, so that is where I will buy my stripes.
One of my favorite things comes back into style every once in a while, I simply love Polka Dots.  One of the first dates with my husband was when I was wearing polka dot black and white shorts and a white blouse.  So great in 1990.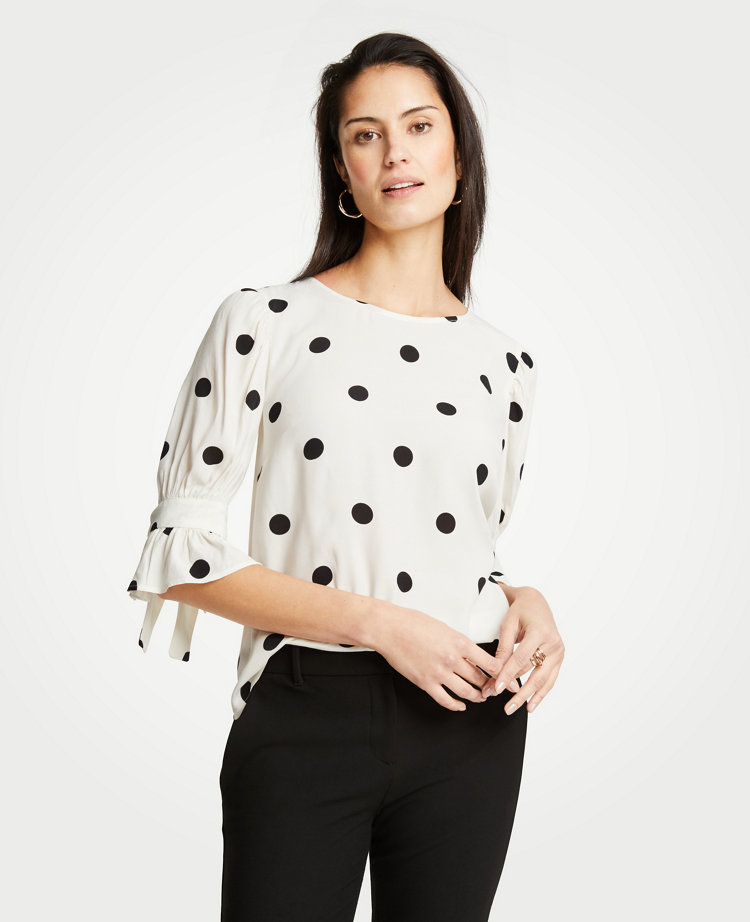 I am a huge fan of AT's Polka Dot bow sleeve top. I love the white with black.  But I also want
AT's Polka Dot smocked shell!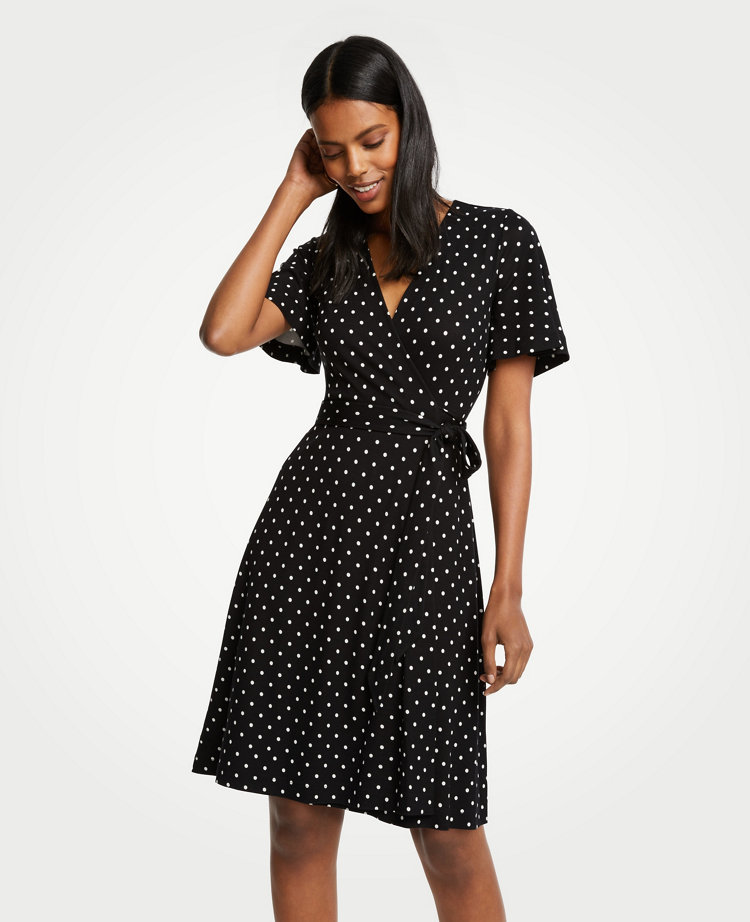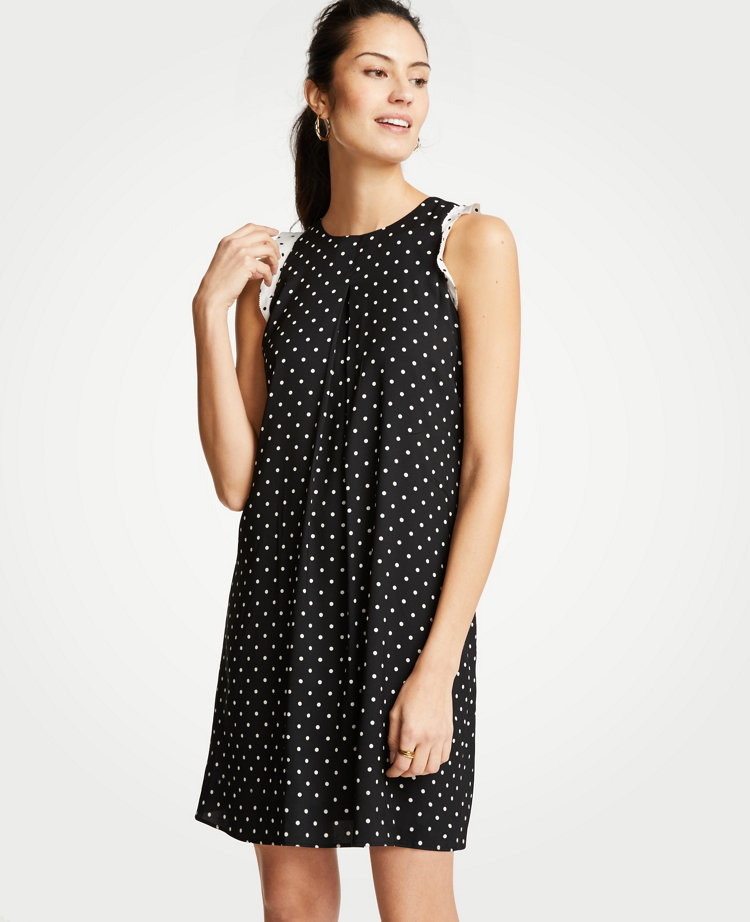 AT also has two fab dresses, a great wrap dot dress and a very summery shell.
Anthro has some great polka dot pants.
And a fab black on black polka dot jumpsuit.
And I love this dot peplum top so much I might even get it!I didn't really find any polka dot shoes or bags that I would recommend so keep your dots in your clothing.
So there you have it. 5 different trends that will work into everything we have talked about for spring so far.  Pick something that works for you and go with it.
Next week we are in for a treat.  Shoshana Lewis will be with us to talk about spring jewellery trends. She has a few trunk shows coming up around Vancouver so I know she will let you all know when those are, then you can go and buy all the wonderful things she will be talking about.  That will be our Mother's Day homage.  Because we all know the best gift for moms is jewellery (don't let anyone tell you different!).
I will be back May 16 with a Spring Occasions blog.  So for those of you with graduations and weddings on the horizon you can look for that one.
I am booking summer appointments for styling and closets.  So email me soon if you want an appointment in July. Email me at Suethefashionista@gmail.com Sometimes a quick refresh of your wardrobe is just what the doctor ordered.
Until next time…