Probably the broadest trend of spring is the Beach Sport trend.  For the past couple of years we have seen sports wear become regular street wear.  This Spring we are still seeing that trend move forward but it has picked up a feeling of the beach.  Airy fabrics and brighter colors.  And of course some of the trends that are permeating all our spring trends show up here as well.
So what exactly is beach sport?  Well let's go through some of the key pieces everyone will be craving and that will explain it.  I am going to start with what I usually end with and that is shoes.
The shoes in this trend really encompass a lot of the casual shoes we are seeing for Spring.  Runners are playing a huge role in everyday dressing.  Even bigger than they were a year ago. More than ever before there is almost a sneaker for every occasion.
At a store like Anthropologie they have almost every kind you could want. Embroidered sneakers are huge for spring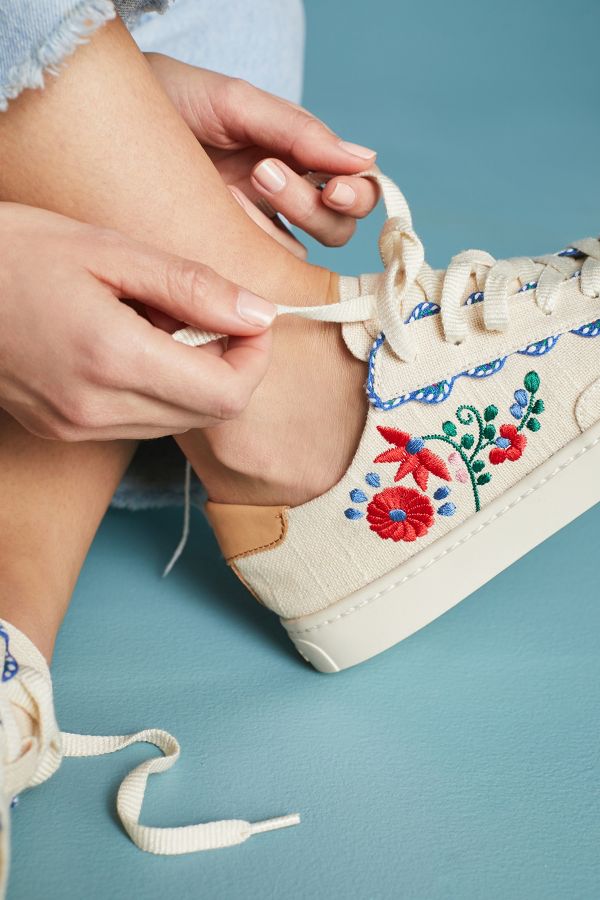 and Anthro online has Soludos Ibiza Embroidered Sneakers.  You can get a great pair for under $100. Or how about a pair of gingham sneakers?  Gingham is a huge trend for spring and maybe you don't want to buy a shirt or dress in gingham but hit the trend in your footwear instead.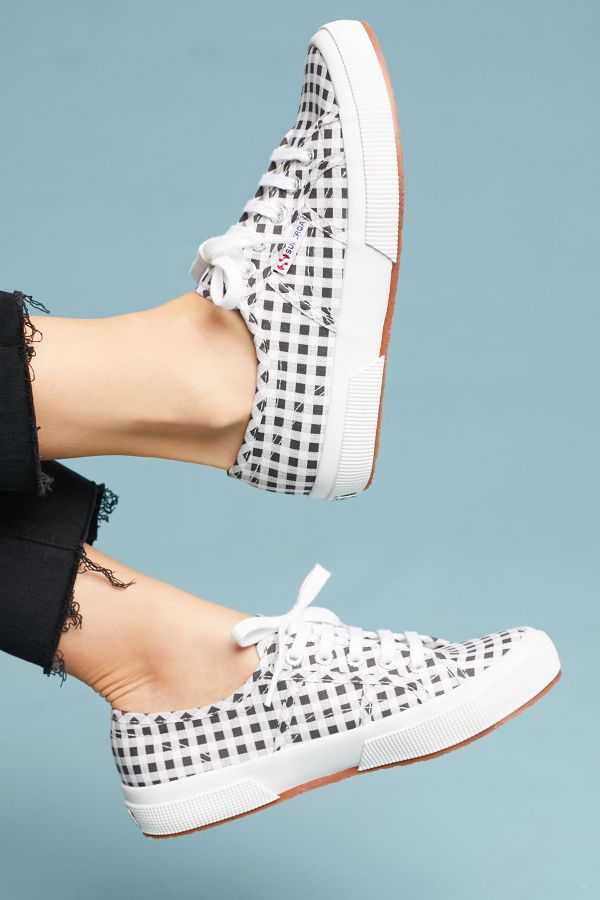 Superga Gingham sneakers will be cute with your denim and great with your denim shirt dress too! Sneakers come every which way in this trend, crochet sneakers, pompoms, tassels.  There are so many stores everywhere carrying all kinds of sneakers, Nordstrom is a great place to search or if you are in Vancouver try going to Gravity Pope on 4th Ave, they really have lots and lots.
The other spring shoe that makes a bit hit in this trend is the Espadrille. Espadrille bottoms come in all types of shoes in this trend, mules, slip ons, loafer style and sandal. Again a store like Nordstrom has everything from a basic Sam Edelman loafer slip on style
in 5 colors to 
Michael Kors wedge style that you can wear out for dinner. These look great with a beachy maxi dress.  So check out Nordstrom or Anthro online because there is no shortage of sneakers and espadrilles to choose from.
Dresses in this trend tend to sit on the beachy side of the fence.  Maxi dresses are always popular on a hot summer day.  Grab a print that speaks to you.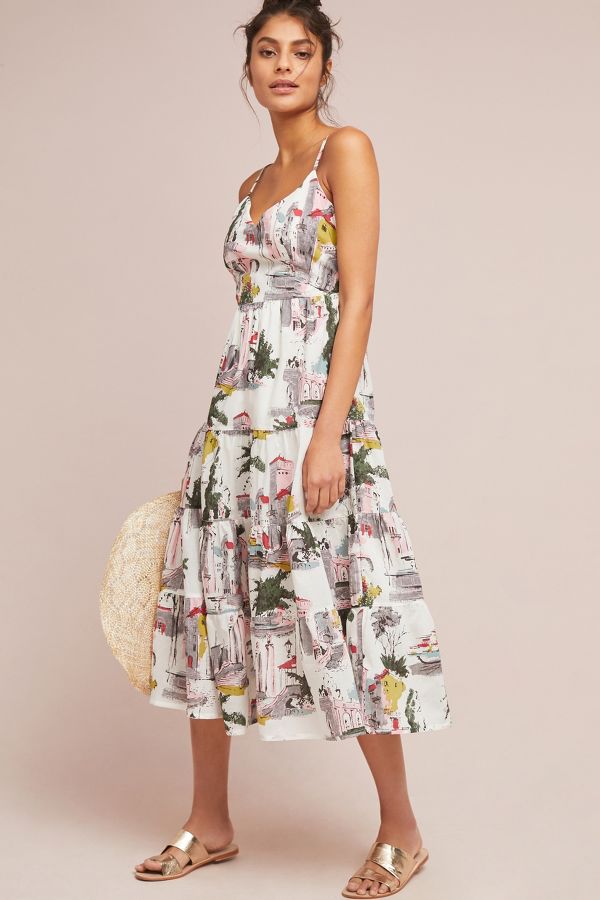 Like this Cityscape dress by Lazybones at Anthro.  Pair it with sandals, and a raffia hat and you are set.  Any knit maxi dress that leans to the casual side works with this trend.  Pick one you can wear a bra under or even a strapless bra
Maeve has a cross back maxi dress at Anthro that comes in 3 colors, Raspberry and Moss are more beachy than black, but I love a great casual black maxi dress. The great thing about this one is that even though it crosses over in the back, it's high enough that you can still wear a bra, and at our age that is important.
And if you prefer pants to a dress why not try a jumpsuit.  I am dying to get one for spring.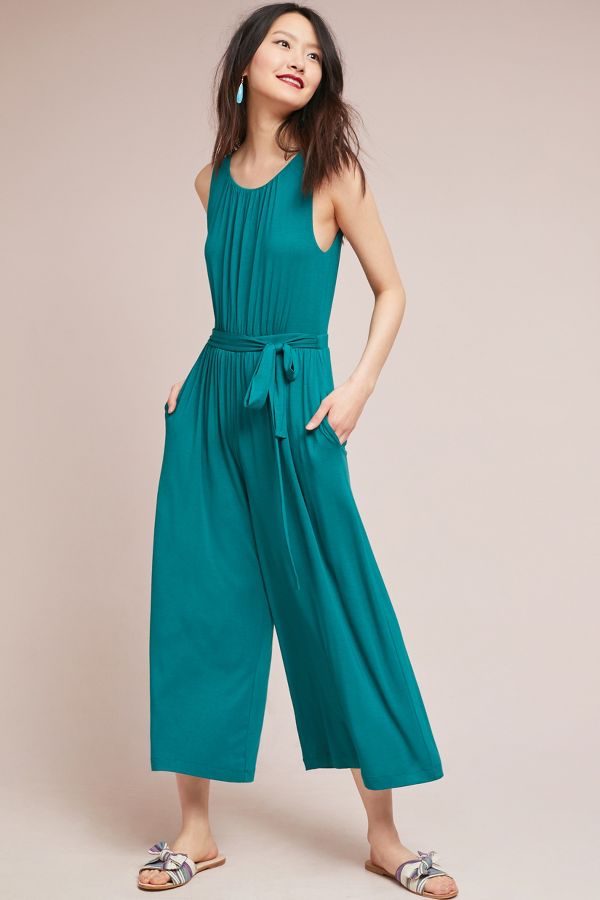 The Alchemist jumpsuit at Anthro is practically perfect for this trend, it's knit and works everywhere.  It comes in blue, grey and black.  The black one you may even be able to wear out for dinner with the right shoes and accessories!
I think one of the stars of the Beach Sport trend are the pants.  There are so many new pant styles that are fabulous and they all fit in here.
Bright colored chinos are a no brainer. These are Anthro's relaxed chino and they come in 8 colors so you are sure to find one that works for you.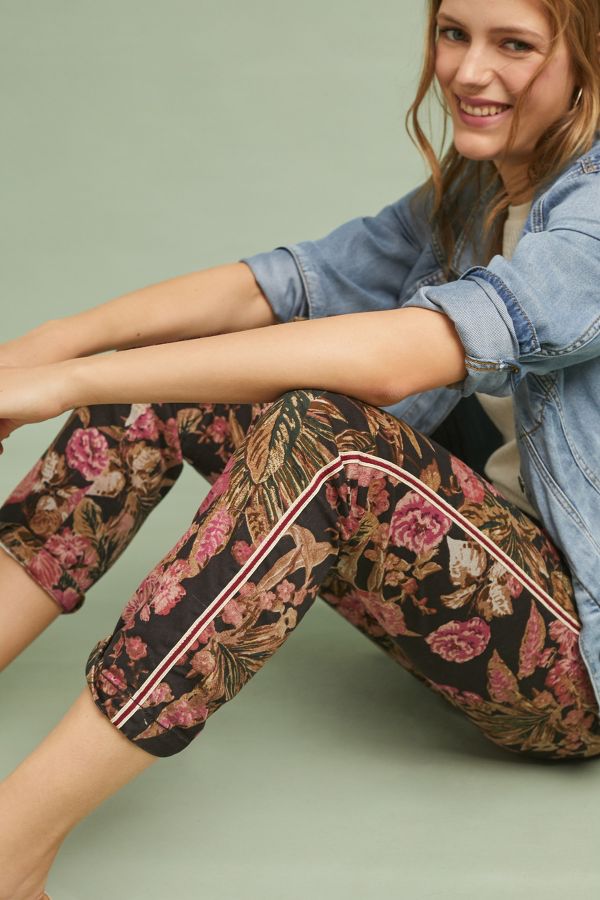 Or pick the same fit pant in a great beachy print. You can also find these at Anthro.
Lots and lots of wider leg pants everywhere for spring.  Love the Beach sport trend then how about these Gauze wide leg pull on pants at Anthro.  They come in 3 colors and will be cool even on the hottest of days.
To the Sport side of pants there are lots to choose from as well. Joggers are big again this season and are not just made of fleece.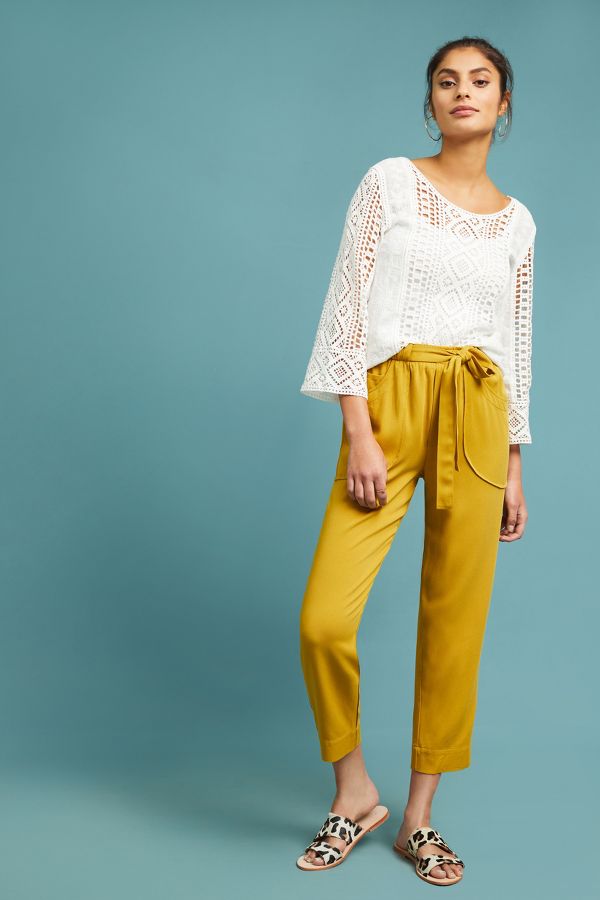 Anthro's Northwest joggers are soft and feminine yet sporty and easy to wear, they come in 4 colors and you could even wear these to the office.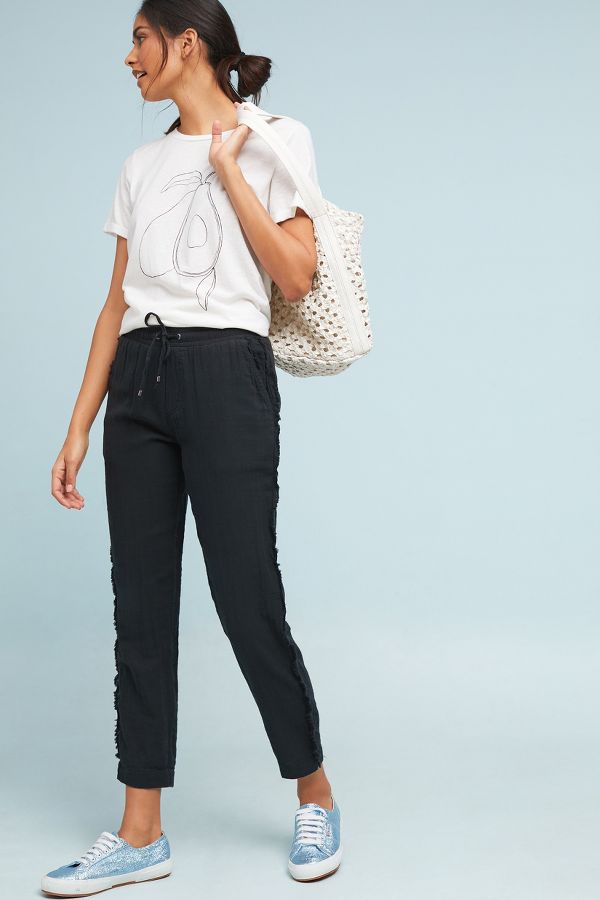 Splendid has these Coastal Joggers at Anthro, they have a ruffle detail down the side seam and are cotton.  Those would be great for a casual and fun summer pant.
The other big new trend in pants is to have a side stripe.  Think of the old Adidas track pants and that type of side stripe is showing up everywhere.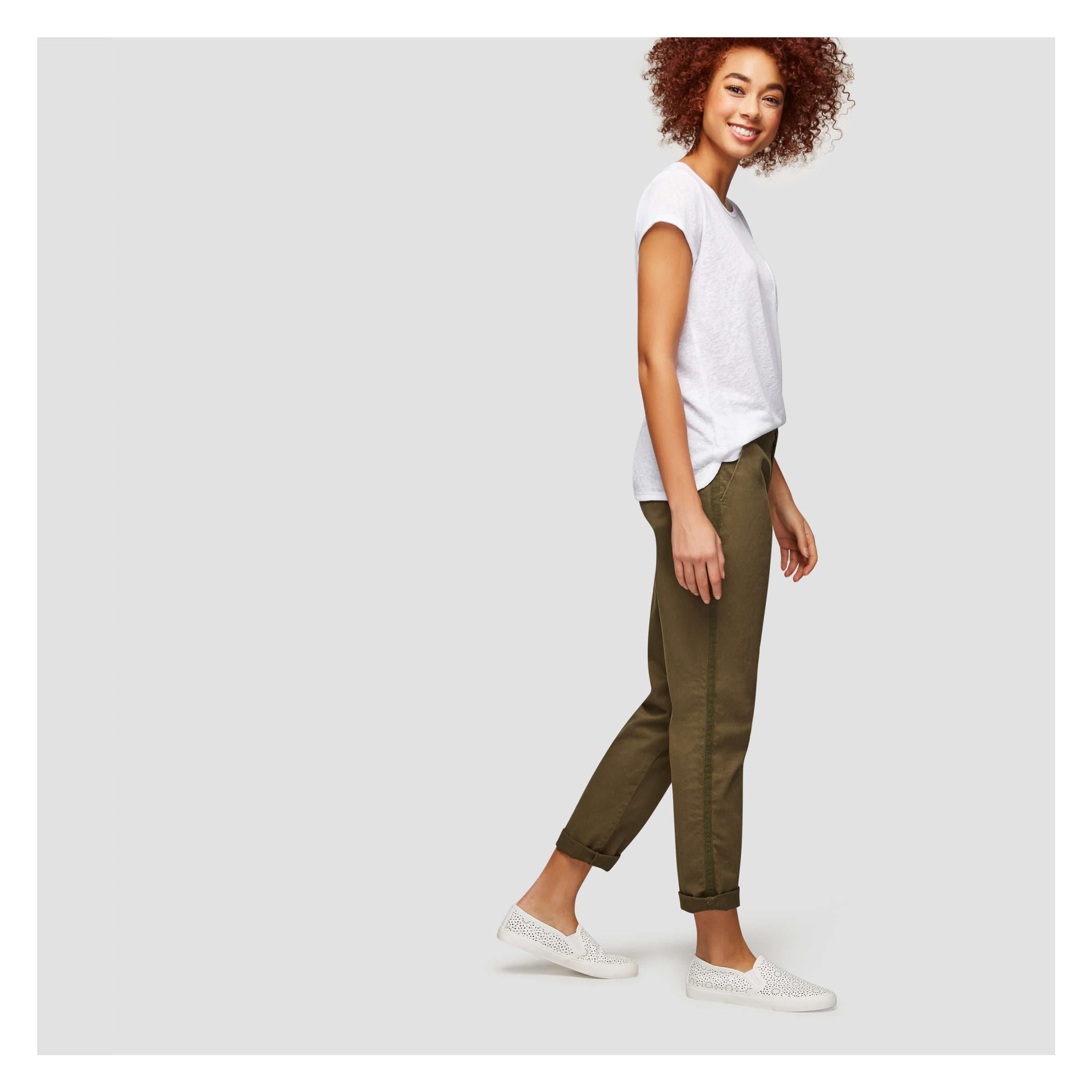 Even Joe Fresh is getting into the act.  These casual chino pants come in 5 colors, fit great and are only $29 Canadian.  Joe Fresh is available in the US at Nordstrom Rack and in Canada, at Superstore and Loblaws.
Once you are at Nordstrom Rack, check out these side stripe Soft leg pants by DR2 by Daniel Rainn. Soft and crepe you can wear them everywhere. Even denim is getting into the sporty act.
If you live in your jeans and want to try the Beach Sport trend try a pair of jeans like these Wide Leg cropped jeans from Dark Denim at Anthro.
Tops in this trend are pretty much exactly what you think they are.  T-shirts, sweatshirts, sleeveless tops all come into play here.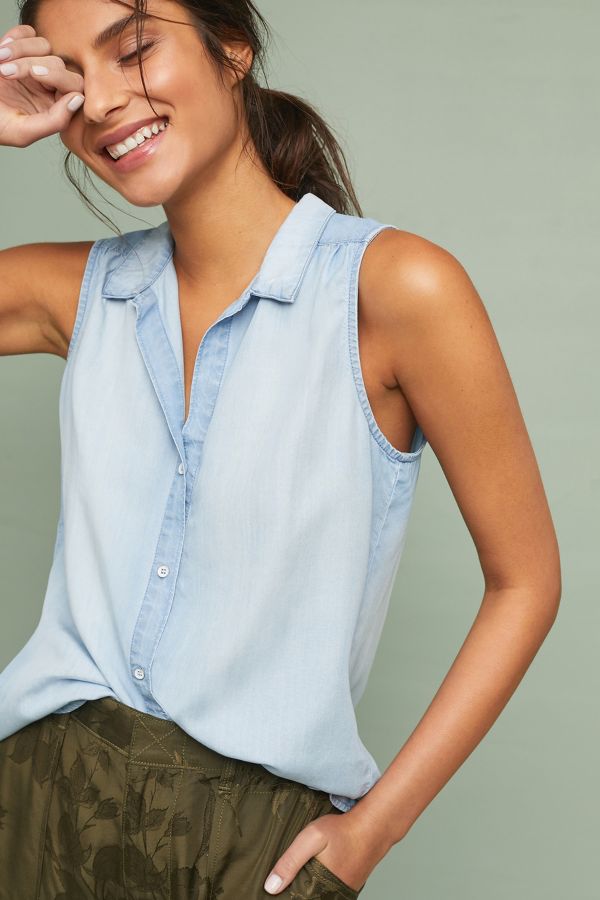 who wouldn't love this sleeveless chambray button down shirt by Cloth and Stone at Anthro. It would look great with any kind of pant you put it with.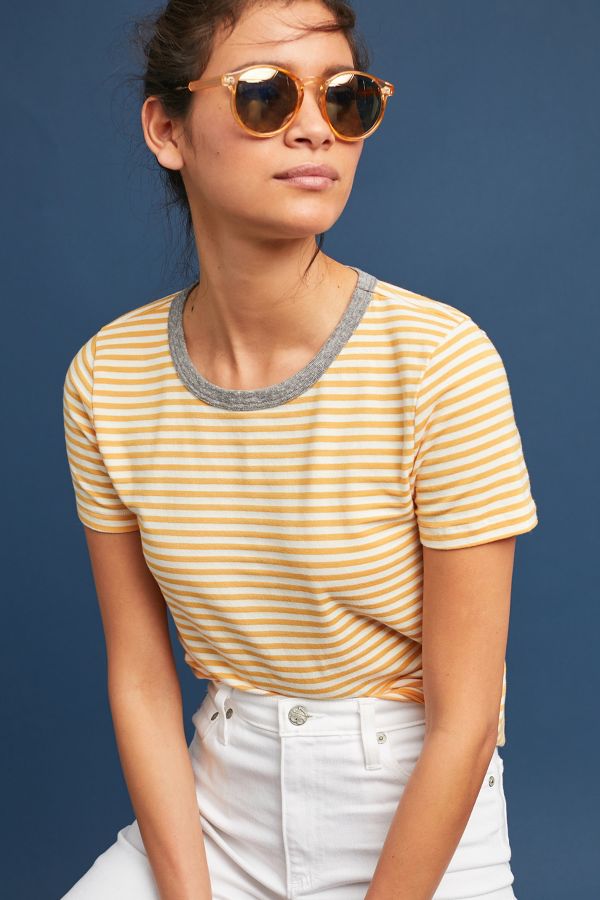 Or what about a stripe t-shirt? This Striped Ringer Tee from Anthro is sporty and fun.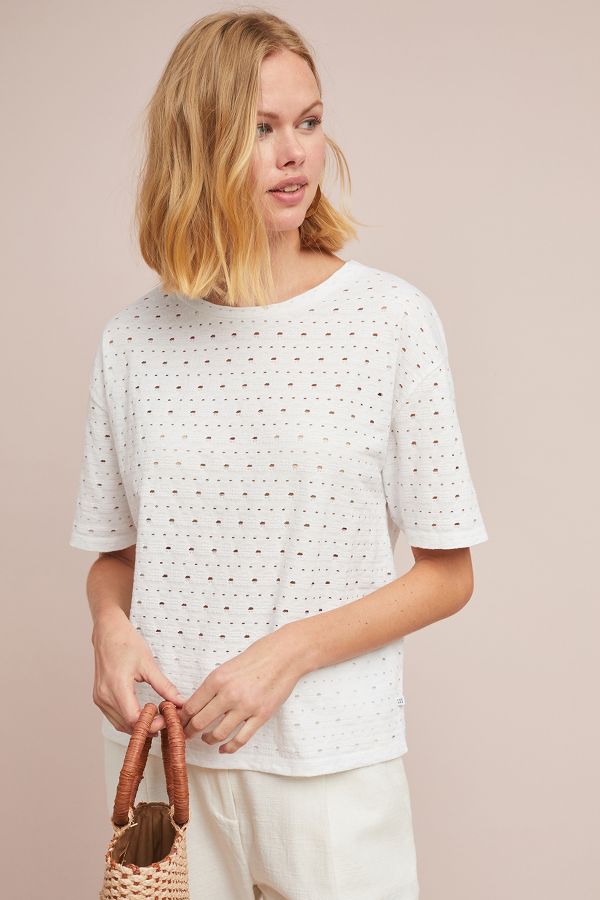 Or how about a regular crew t-shirt but do it in eyelet and hit a couple of important trends all at once. This t-shirt is by Lei 1984 and is available at Anthro online only.
Any beachy colored top or print works great here.  Mix a beachy t-shirt like this one, Stateside knotted tank at Anthro, with your sporty pants and you have the look complete.  Add a sneaker or espadrille and poof! You have mastered this trend.
The last thing I want to talk about in this trend is jackets.  There are 2 that really work here.  One is the Anorak, which is a huge style for spring and the other is your denim jacket.
If you are buying an Anorak pick one in a soft spring color or a bright color.
Nordstrom has this Michael Kors Missy Utility Jacket in this unexpected soft pink and a lavender.  Both would be great over every outfit in this trend.
Most of us already have a denim jacket.  And most of us already have a basic denim jacket which works so well with everything in this trend.  But if you want something newer then try one that picks up this seasons trends
Anthro has this eyelet denim jacket by Pilcro that will look great not only in the Beach Sport trend but with all the others too.
So this brings us to the end of discussing each trend separately for Spring 2018.  Next week we will go through some of spring's things, like eyelet that are permeating all the trends.  Then the week of Mother's day we have a special treat! Our jewellery and accessories specialist Shoshana Lewis is going to do a guest blog for us.  And stay tuned for an Occasions blog in May too, I don't know about you, but I have a ton of occasions this spring I need outfits for.  So we can talk about that and you can be prepared so you don't stand in your closet and look around and say "I have nothing to wear" when you have a closet full of clothes.
Do you have a closet full of clothes and still feel like you have nothing to wear? I can help you with that.  We can figure out together how all your clothes make great outfits.  I am all full for May and June already but book early for July appointments and we can create a great wardrobe with what you already have!  Email me at Suethefashionista@gmail.com to set up an appointment.  Also I would love to hear your suggestions for blogs over the summer months.  So please use the same email for questions or blog suggestions.
I wanted to take a moment and give a shout out to Dr. William McGillivary and his team at Project Skin in Vancouver.  I came home from my vacation with a very bad reaction to something that affected the skin around my eyes and my neck.  It went away and then came back again only worse.  Between Dr. McGillivary and the estheticians at Project Skin not only have they got my skin back under control, it is actually starting to look like me again!  They have gone above and beyond to make sure I get the treatments I need and have worried about it as much as I have.  I can't tell you how important it is to have a great skin specialist like Dr. M and his team who have your back, or your face in my case.  If you have a skin issue and need help just email me and I will set you up there too. Or if you just need to talk to someone because you aren't happy with your skin, they do that too!
Until next time…