Every 20 years or so what comes back into style are things we wouldn't have considered wearing in the past 10 years. So for example,  once something went out of style, like shoulder pads and big hair and a new sleeker style came forward, we really didn't even consider wearing that again.  But now that over 20 years have passed, what's old is new again.  That is definitely a theme that runs through fashion over and over again.
So were you in the 1980's.  For me I was graduating from University and starting my career in Fashion.  I had giant hair and huge shoulder pads. I was listening to Michael Jackson and Lionel Richie and wearing head bands.  I crushed on Princess Diana and thought she was the epitome of style.  The 80's were about being loud, proud and colorful. Hair was sculpted big and lips were all kinds of shades of pink.
So how can we take what we remember and wear it in Spring 2018 to echo the 1980's revisited trend.  Well let's not forget that you are 30 years older! So you can forget about the runners, ankle socks and crop tops.  That is not going to work on you anymore.  What can you take and work with? My best advice is to follow what the perfect style icon of the day wore. Bring out your inner Princess Diana and pay homage to one of the greatest fashion influencers of the 20th century.
Bottoms:
When we think 1980's bottoms and want to echo Princess Di or the clothes from the movie 'Working Girl', we must thing high-waisted pants and slim midi length and knee-length pencil skirt.  The 80's was the start of the power suit for women.  But right now let's just look at the bottom.
When we think pants and jeans they were high-waisted and not super skinny, more straight legged than anything else. These high waisted straight leg jeans from Wit and Wisdom at Nordstrom would work well in an 80's style.
Paige Denim has a high-waisted boyfriend crop that marries the high waist of 1980 with a more modern crop. Cigarette pants were big in the 80's, I actually had a pair.  But if you want to do a modernized version like
these ones from Lewitt, the slit detail freshens it and makes it current.  The other big silhouette in pants was the pleated front pant with a tapered leg
Tibi has a pair that echos the 80's but in one of the springs hottest new shades.
These high-waisted cropped pleated pants from Wayf, echo the perfect mix of old and new.  That is the look you should be going for.  Take the style from 1980 something and do it in todays colors, prints and fabrics.
The wrap skirt is a 1980's style that is very popular this spring. J. Crew for Nordstrom has done their wrap skirt in a ruffle finished and gingham fabric.  Old and new mixed. Perfect. I could have seen Princess Di wearing something like this!
Or do something more casual, we used to call this a dirndele skirt because the pleating at the waist band, boy did I sew a lot of those in my high school sewing classes!  Here Madewell for Nordstrom has done it in a soft chambray.  Wear it with todays sandals and prints on top and you are perfectly put together.  Princess Di usually wore pencil skirts, either right at the knee or below.
Why not try something like that.  This is Halogen's lace and pinstripe skirt.  Looks great dressed up or with your denim jacket and flats on the weekend.
This is the last skirt I want to talk about before we move on.  Remember I talked about a few themes that would run through every trend? Fringe, florals, ruffles and transparencies.  Well why not take the 80's to 2018 and wear a slim pencil skirt with a ruffle. This skirt from Halogen would look great with almost every top and to every occasion!
Tops:
What is the most prevalent thing about 1980's tops? Big shoulders and big sleeves. Nothing says 1980's more than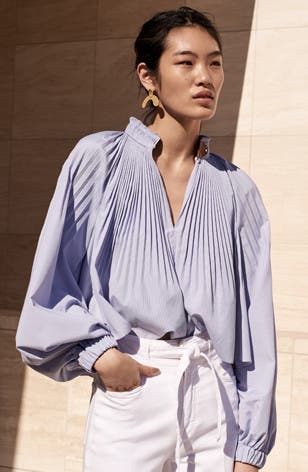 some of the big sleeved and one shoulder blouses. This is the Tibi Edwardian Crop Top.  The perfect piece to wear with your high-waisted pants. 
Or try a peasant style top, like this one from Caslon ( a Nordstrom Brand) wearing it tucked in brings it forward or wear it over top of leggings and skinny pants like you were in 1988. 
This Leith ruched top brings 2 80's styles together, polka dots and big sleeves.  Both were huge way back when and are brand new again.
A great way to modernize the classic 1980's peasant style top is to do this pleated version. It's by Treasure and Bond ( a Nordstrom Brand) and would work day and night with everything. Princess Di used the one shoulder look for her dressiest outfits. You can do that or wear it just for fun.
Pick a summery style in a current color or print like this top from Sezane Adalie and you can't go wrong.   Off the shoulder works too, even though this may be the end of that style, you can still wear it with relish.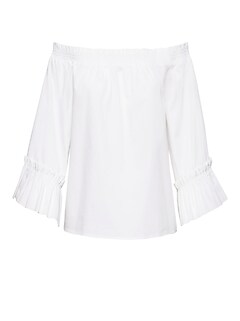 I love the off the shoulder tops at Banana Republic this season.  They are modern, fresh and not so low that it looks like the top is falling off. Totally echoing the 1980's but in a fresh way.
Diana also did sleeveless a lot.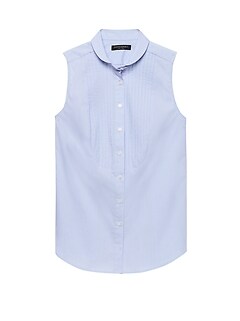 Her pick would have been this Riley fit sleeveless tuxedo shirt from Banana Republic.  She would have worn them with cropped pants.  You can wear it with a slim ankle pant and flats and echo her style but in a modern way.
Dresses:
Princess Di was the queen of style when it came to dresses.  Daytime or evening she had it all together. We talked about wrap skirts, but the wrap dress is a direct descendant from the 1980's.
We all would have loved to have a dress like this Eliza J. Floral high low dress.
Or try an off the shoulder dress in a pretty pastel from Bardot Solange.  The midi length works for every occasion.
A floral shirtdress is the perfect way to wear this trend to the office. This dress is from ECI.
More than dresses, Jumpsuits are really in fashion now just like they were in the 80's. It's easy to find them and there are so many to choose from.
I love this Vince Camuto jumpsuit, it's classic and timeless. Perfect for every occasion. 
A great daytime jumpsuit that is perfect for your work environment is this one by CAARA.  You will love it!
Jumpsuits are everywhere and you can look at Nordstrom or Anthropologie and find lots that are fabulous!
Shoes:
What are the most important shoes of the season.  Well the newest ones are the kitten heels ones.  They are directly echoing the 80's, so are mules, ballet flats and runners.  All in style right now for spring.
Kitten heels can be worn with everything and anything.  Classic ones like this pair from Vionic are great for the office.
Butter has a mule style kitten heel that will dress up your outfit.
Mules are huge right now, they are perfect for casual dressing
how about a great pair from Sam Edelman that will go with everything. Princess Di could always be found in a pair of ballet flats if she was wearing flats.
I love this J. Crew for Nordstrom Evie ballet flat because it echos 1980 but is so great for 2018.
Runners and sneakers have been in for a few springs.  We will talk a lot about them next week when we talk about the Beach/Sport trend.  But if you want to echo 1980 something wear white runners.
Superga has the perfect pair to take you right back 30 years.
Big belts and bows also are very reminiscent of the 80's.  You can google 1980's style and see the images and then tweak your outfit to echo it.
What do I love the best about 1980's style.  Well, I had a fabulous pair of Willie Wear elastic waist cropped pants that I lived in.  For 2018 I am doing ankle length but I am echoing the feel of those pants.  So I guess my take away is the ankle length straight leg pant.
Almost all the styles I showed in this blog are from Nordstrom.com there are a couple from Banana Republic but they are marked.  So if you are looking for anything that you like try Nordstrom.
Do you need help figuring out your signature style? Princess Diana had a signature style. If you do I am booking summer appointments for styling now. Email me at Suethefashionista@gmail.com to set up an appointment.  Book early so you get the time you want.
Next week is the last trend we are going to talk about: Beach/ Sport.  Then we will have a blog about the 4 things that are running through all the spring trends: ruffles, florals, fringe and transparent fabrics.  I may talk about dots and stripes too, as they keep popping up again and again.  After that we have a special treat! Our accessories expert Shoshana Lewis is going to do a special Mother's day blog for us! So I know you all will want to read that one.  That blog will post on May 9. Also in May I will do an Spring Occasions blog for all the grads, weddings and parties you will be invited to.
If you have suggestions or things you want me to blog about ( fashion only!) just pop me an email with your suggestion and then over the next couple of months I will try to do them all.
Until next time…