Why did I title the blog like I did above.  Well, Japonica is more than just an asian influence in clothing, shoes and accessories.  It also opens the door to some other interesting trends that you may want to dip your big toe into, but not go crazy for.
When we talked about Spring 2018 in general, we spoke about common themes through all the trends, like fringe, florals, stripes, dots, gingham and now we are seeing one more, wearable plastics.  This trend is not for everyone and leave the plastic clothing, beyond a cute anorak to your daughter but there are ways in which someone in their 40's and old can wear it.
Let's start with the Asian influence we see over and over.  What is one of the number one layering pieces this spring: The Kimono.  I could write a whole blog about kimonos they are so strong.  But let's look at a few and how to put them together with the clothes you already have.
I love kimonos, I wear kimonos.  They are one of the best ways to add dimension and color to your outfit. Anthropologie is one of my favorite places to get Kimonos.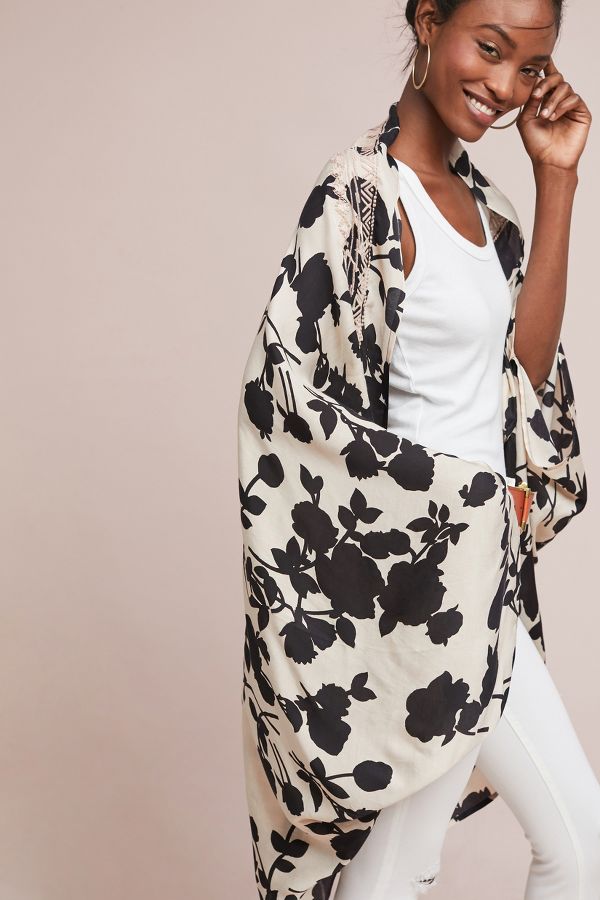 So many of Anthros Kimonos are pieces you will pull out over and over again. This Lia Cocoon Kimono by Elizabeth Gillett is one of those pieces.  It looks fabulous with the all white outfit and would look dramatic and perfect with all black as well, not to mention how it will elevate a pair of jeans, white t-shirt and black heels to go out for dinner. Do you want to pick up the colors of the season, then try something  like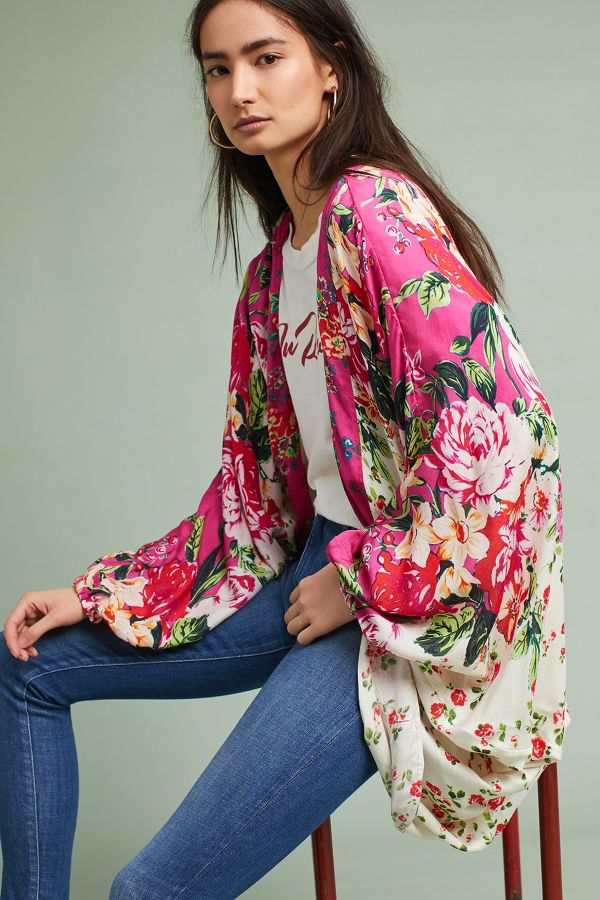 this Field of Flowers Kimono.  It will look great over everything.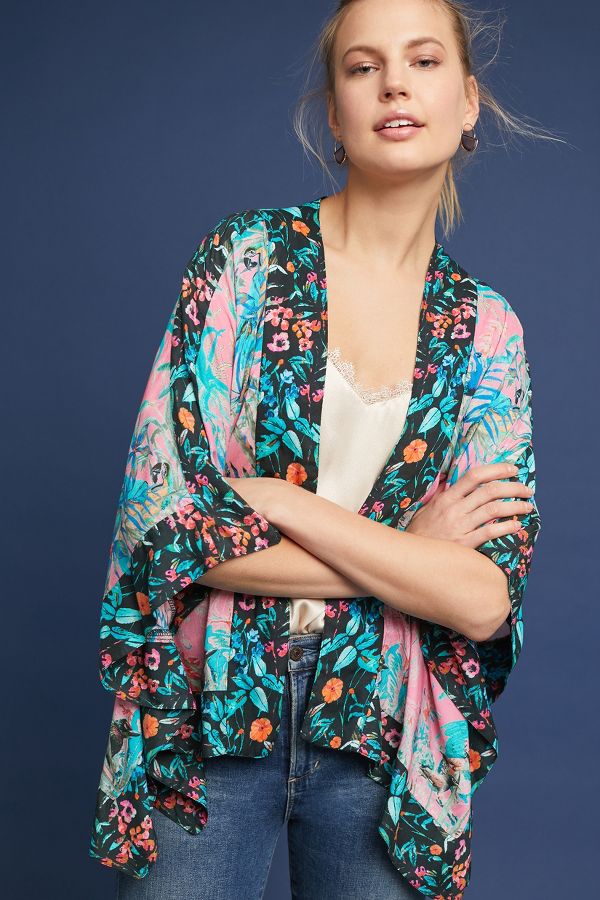 You could crop your Kimono so it nips at your waist, this is a great length with wide ankle pants or do the complete opposite and go long.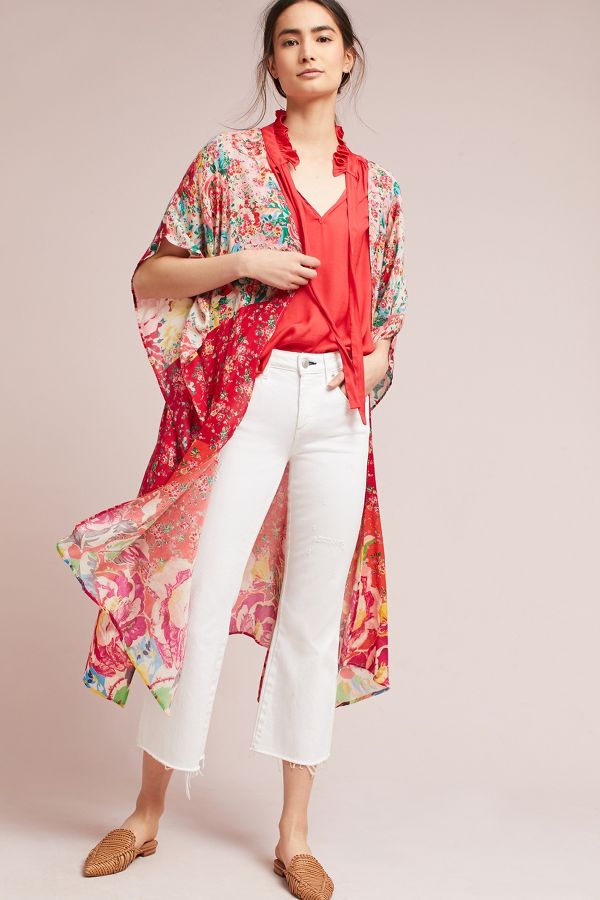 A long, flowy Kimono can make you look longer and leaner with a cropped wider pant let, just have your kimono hit about where your pant leg ends.  The Alani Kimono comes in 3 colors and does just that.  Last year I bought two kimonos that skim the length of my midi dresses and I find I am wearing them all the time with those dresses now.  A long kimono also works great with skinny jeans.  One more Kimono that I think works great in a wardrobe is a crochet one in either off white or black.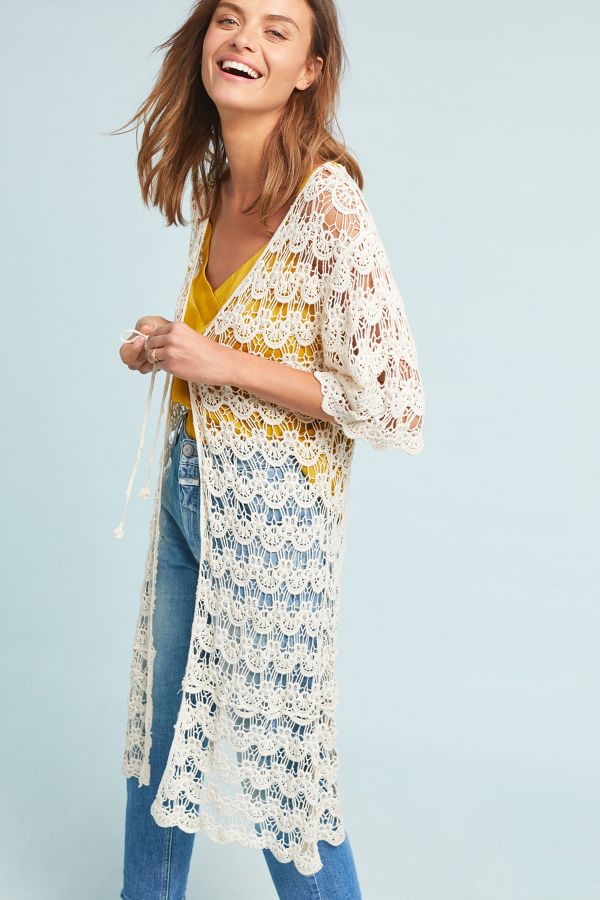 Anthro has this Josephine Crochet Kimono in off white and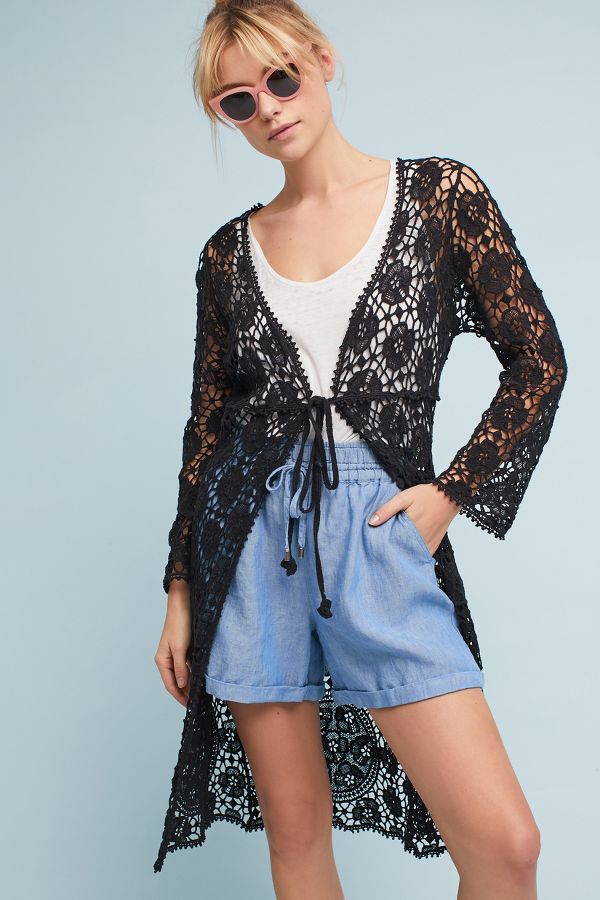 this Cassandra Kimono in black.  They are the ultimate summer party accessory to throw over everything, dresses, jeans, skirts, etc.  As I said I could do an entire blog just about Kimonos I love them so much!
Where else do we see an asian influence this spring.  Well in our florals patterns that are popping up everywhere.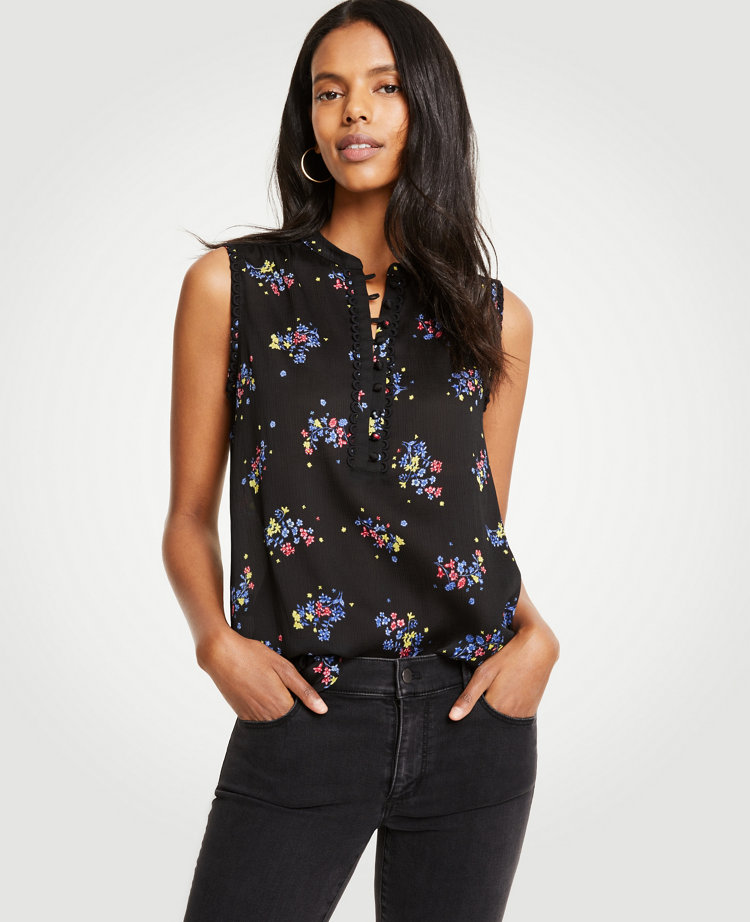 Ann Taylor is showing a variety of styles in a floral eyelet.  They have a sheath dress, boxy top and this shell. Not only is the small clustered floral an asian influence but the collar on the shell is called a mandarin collar.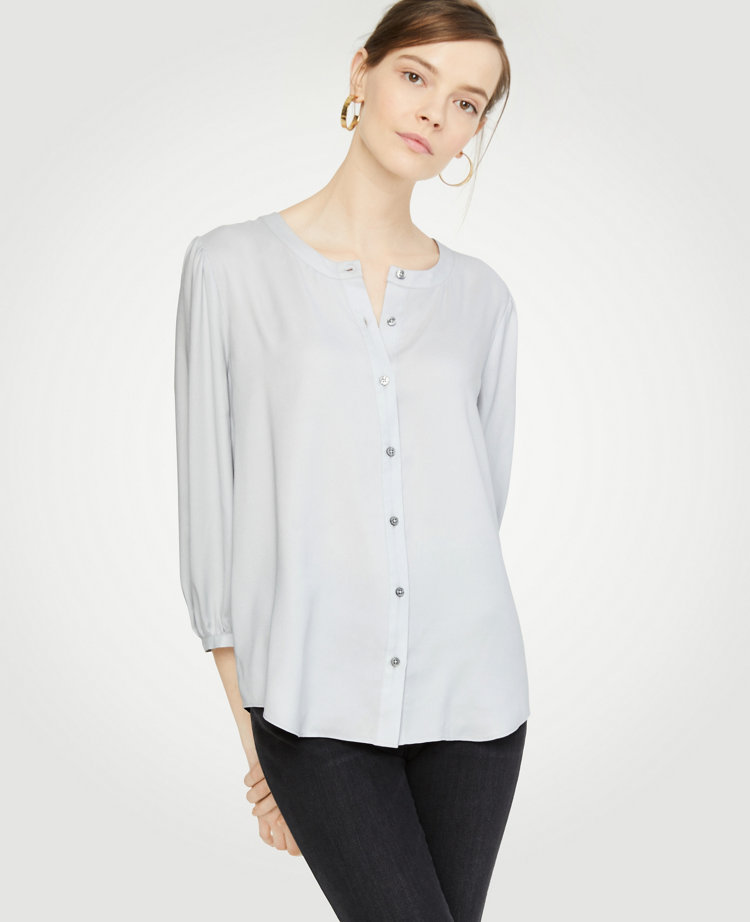 And we are seeing the mandarin collar in a lot of top styles for spring. AT also has this collarless button down blouse which is perfect with an ankle pant for the office.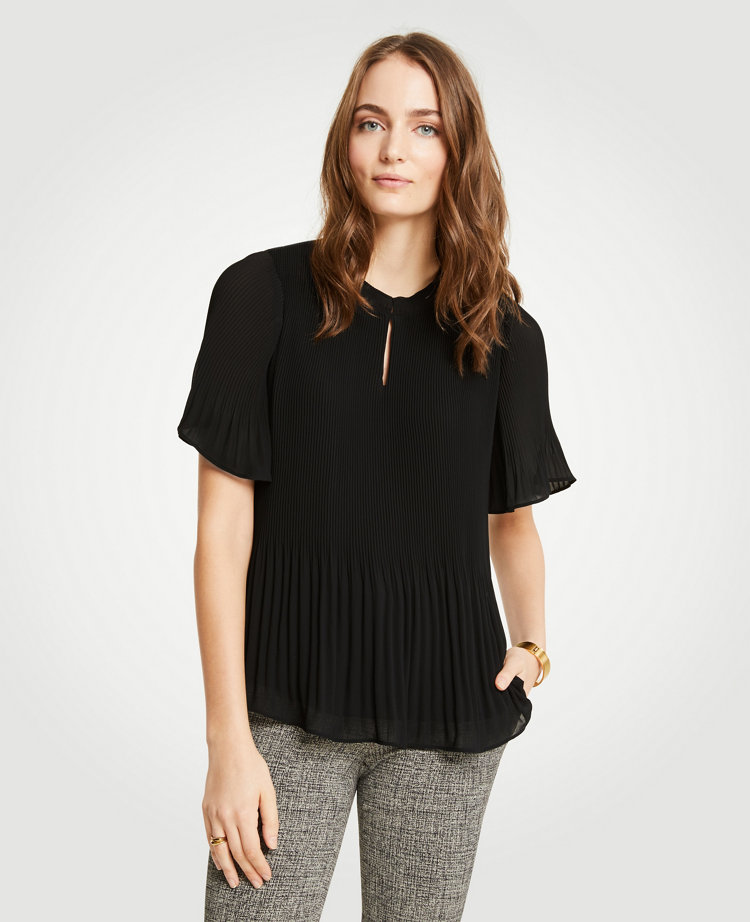 They also have this fabulous micro pleated top, that you can wear anywhere!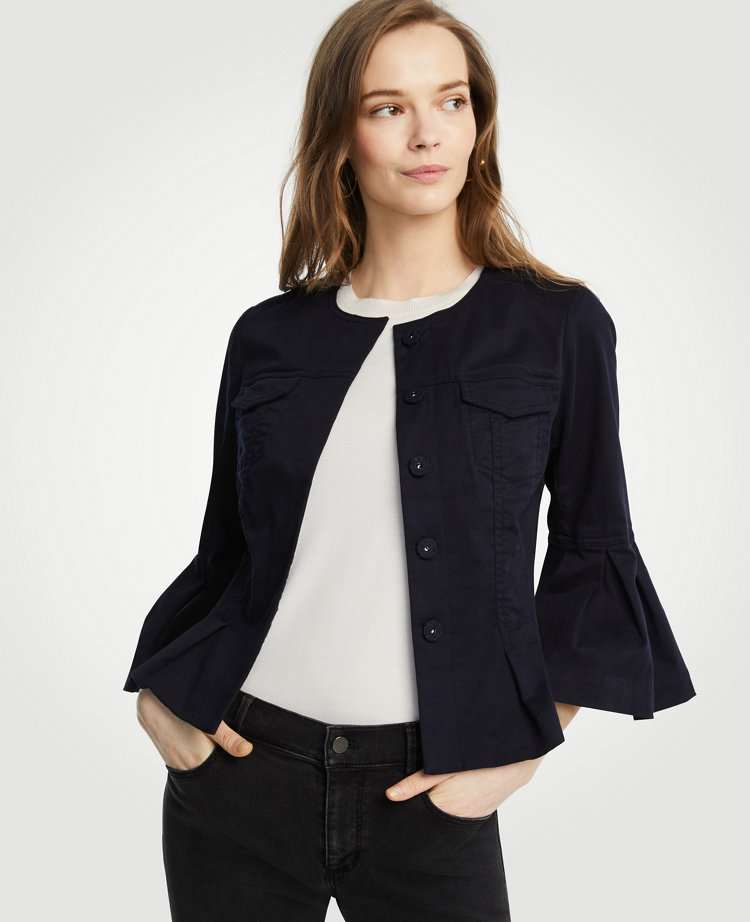 Collarless jackets also have an asian influence to them, AT has this one in navy and buckwheat.
There is an anti color trend this spring as well, the new Minimalist.  There are some women who really do shy away from bright colors and prints.  Minimalist is a very put together look where you where monochromatic tones head to toe.  It is a very asian influence as well.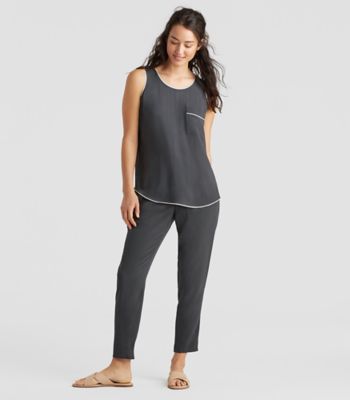 No one does sophisticated minimalist better that Eileen Fisher.  Here a silk georgette piped tank matched with silk slouchy pants is put together perfectly.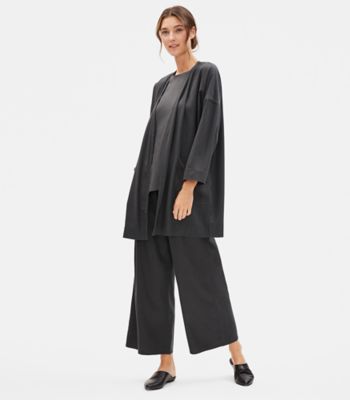 Or wear their organic silk head to toe with a matching Kimono.
One of my favorite Eileen Fisher pieces is the Viscose cropped jumpsuit, it comes in black and navy and it is so perfectly minimalist that you can just change the height of your heel and wear it anywhere!  It will be one of my must haves for spring.
We have talked a lot about the asian influence in clothes, but the influence is even stronger in spring accessories.
Wide tied belts are the new way to cinch your waist for spring.  Reminiscent of the Japanese Obi, they come in colors, widths and all levels of prices.
Lafayette 148 New York has the perfect tied Obi belt for all your spring styles.  The leather one above is from Ada and they are both at Nordstrom.
Or do the opposite and tie a ribbon around your waist that matches your outfit.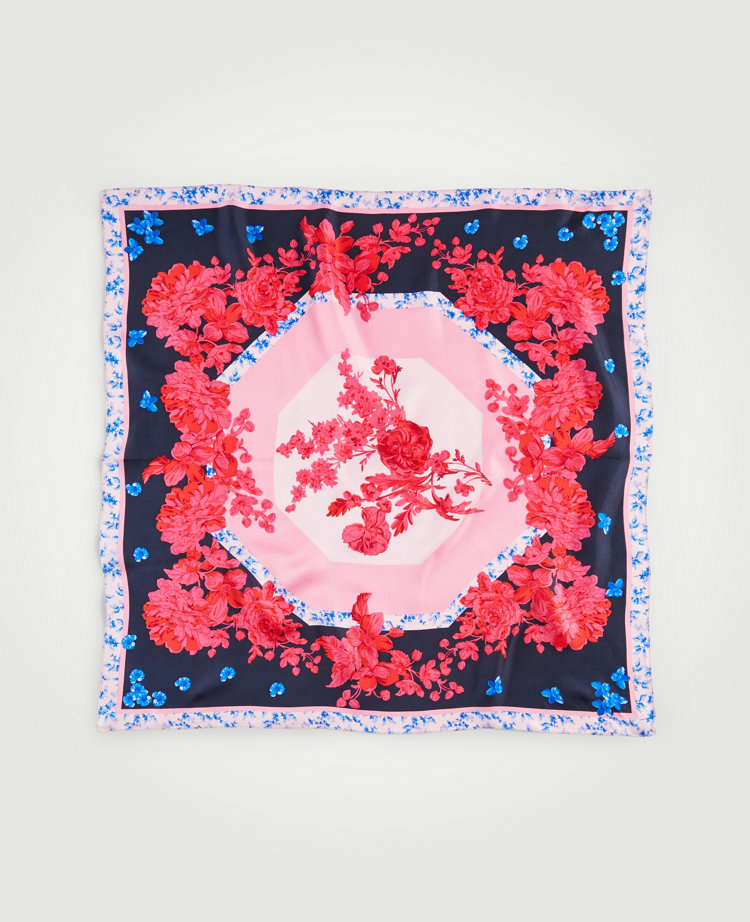 Scarves big and small have Japanese color influence in their florals. This scarf is available at Ann Taylor.
Hats as well have nodded to asian influence, you may think the baseball cap is inherently American, but it shows up in all the Japanese shows
the cap from Treasure and Bond at Nordstrom is a great cover for a bad hair day.
Handbags for spring have a huge Asian influence.
The new shape of your straw bags is very Asian, this is the Alice straw bag at Nordstrom.
Even Fendi nods to asian influence with its wrapped handle.
The Cult Gia bamboo bag is a nod to Japan at Nordstrom.
And you will see many bags with metal handles or circles and those are all asian influenced.  This one is M2Malletier but you can find something like it elsewhere for less.
You can even put an outfit together to totally embrace the asian minimalist look.
I found this on Google and it perfectly sums up the look.
Last thing I want to talk about is the trend toward transparent clothing or wearable plastics.
I am all good if you want your raincoat to be plastic like this one from Proenza at Nordstrom but leave the rest of the transparents to your daughter. How you can dip into this trend if you want to is by using it to accent your accessories.
You could do a great pair of plastic shades, that are modern and chic.
You can do it in a chic tote that you can wear over and over.
Or you can do it in a fabulous shoe that will have everybody green with envy.  But please stay away from it in clothing. It really and truly is not something a grown woman looks good in.  Leave the H & M styles like this to your kids.
Asian influence is great in small doses.  A mandarin collar, a kimono or one of the new bags we are seeing everywhere.  The same with transparent clothing, stick to accessories.
We have two more trends to explore.  Next week we will look at the 80's revisited trend and the week after Beach sport.  Beach sport is important because of the whole trend of haute performance clothing.  That will take us to the end of April, and hopefully by then the weather will cooperate and we can wear some spring clothing.
Until next time…