One of the things that is overwhelming for Spring 2018 is how much a role denim will play.  It is not only its own trend for spring but it will show up in almost every other trend as well.
This season we are seeing denim in colors, worn head to toe and worn to the office and in the evening.  It really is everywhere.
We all own a great pair of jeans already.  I have several so a new pair of jeans isn't necessarily on my list right now.  But denim for Spring 2018 goes far beyond your jeans, it's dresses, skirts, tops, jackets and even accessories.  Pants are colored, wide, slim, ankle length and skimming the floor. Dresses are easy and dressed up and colored too.  So there is lots of choice.  Let's go through spring denim as if we were putting together a denim outfit and look at options.
First, I would get a great pair of bottoms.  This could be pants or skirt depending on your preference.  If you were going to buy a new pair of jeans for spring why not try something you don't have already, like a colored pair or a cropped pair or a wide pair.
Citrus shades and soft pastels are both in for spring so why not try a sunny citrus pastel pair by NYDJ from Nordstrom.  These will be great for spring and you can wear them with anything and everywhere. 
If you want an ankle length pair, there are lots in stores like Nordstrom.  This is Madewell's high waist slim straight leg ankle jean.  You can find Madewell at Nordstrom and at Madewell stores in the US.  If you do a straight leg ankle jean you will find yourself grabbing them over and over out of your closet.  They can dress up or down, especially in a darker wash.  Wear them with heels and a fab black top for evening, block heels and a jacket or blazer for the office and with a white t-shirt and runners on the weekend.
Lots of wide leg denim everywhere too this spring.
You can do a wide crop like these jeans from Halogen at Nordstrom or
do something floor skimming like these 7 for all Mankind Tailorless Dojo Wide Leg Jeans also from Nordstrom.  They would be fabulous with heels and if you are doing wide legs long to the floor keep your tops tight to the body.  I will give you a warning with wide legs, I am 5'4″ and have been looking for wide leg crops and long pants for a while and am having trouble finding a pair that doesn't shorten me.  So right now I am settling for more of a bootcut leg but my search will continue.
There are also lots and lots of denim skirts for spring.  For women over 40 you should really stay away from the mini skirts, especially if you have a daughter who is wearing them.  Keep your skirts knee-length or just above the knee at the shortest for a much more sophisticated look.  If you were only going to buy one denim skirt for your wardrobe make it a classic, like the knee length button front denim skirt.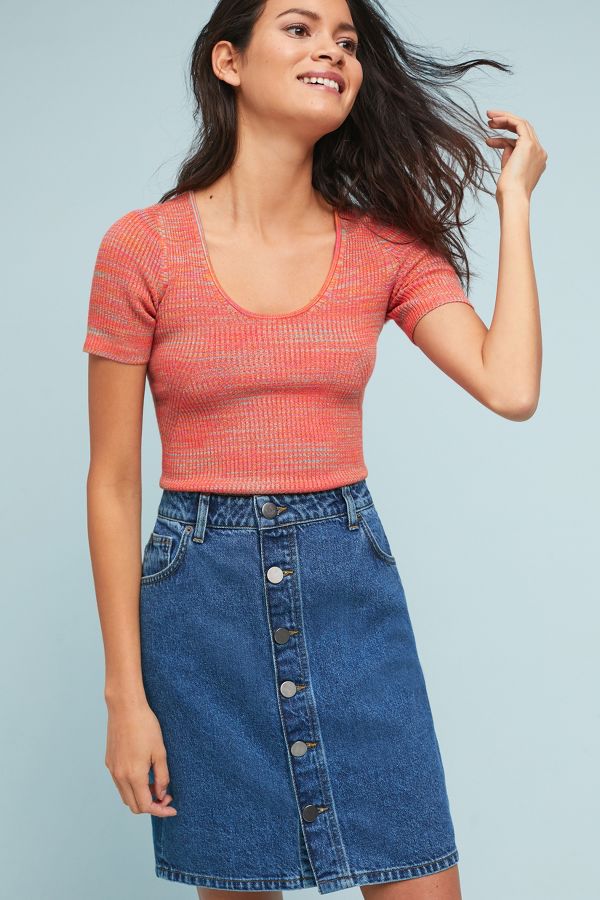 This one is from Anthropologie and is just above the knee.
Nordstrom has lots to choose from and if you are a bit larger try this fab skirt from City Chic in sizes from 14W to 24W, it's a great fit and will hug your curves in all the right places.  I spoke in the earlier spring blogs about the importance of midi and maxi skirts as well.  For your denim the midi length is probably more wearable than the maxi, save the maxi for lighter fabrics.
I love this Bayview tiered denim skirt from Madewell at Nordstrom.  This would be fabulous with all your new summer sandals and block heels.  It is great with the new tighter waist shirts and fab with a white t-shirt on a hot day.
I also really like Tibi's Snap front Raw denim skirt.  This is something you could totally wear to the office or out for dinner.
What would you wear on top? This season has some fabulous denim jacket and tops.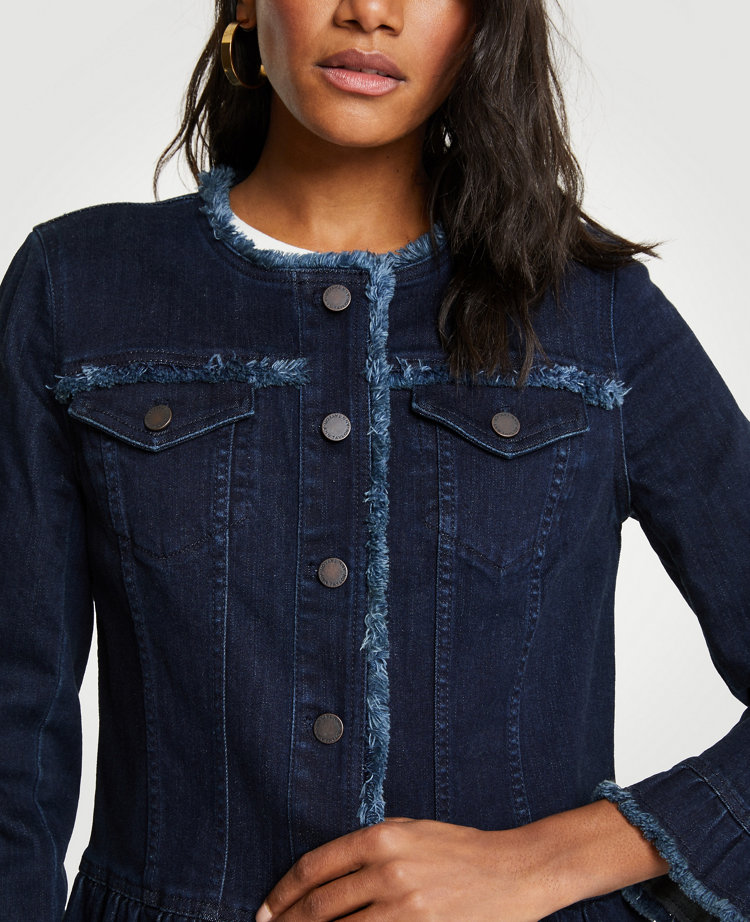 I picked up this fabulous ruffle sleeve denim jacket at Ann Taylor.  I will wear it over everything.  It's dressy and trendy enough (with the fringe) to wear to all my meetings and looks great out for dinner over skinny bottoms and loose tops.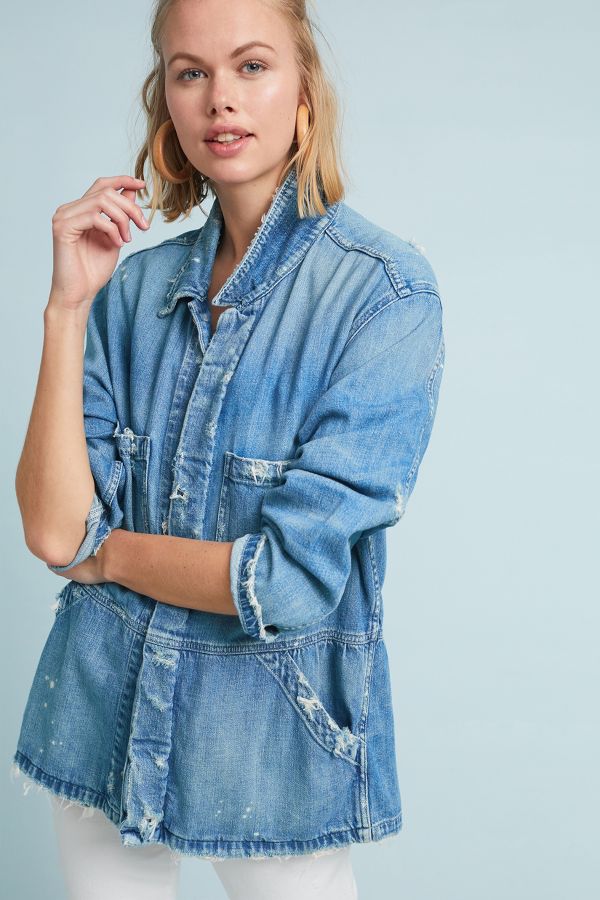 If you are feeling artsy and eclectic why not try something like this AMO Drapey denim jacket from Anthro.  This is great over all your whites and brights.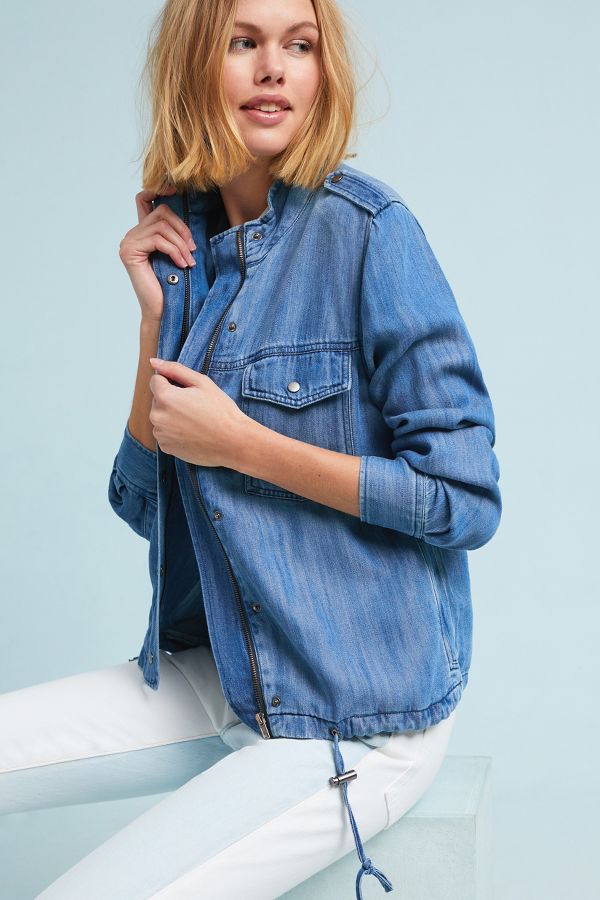 You could even choose one of Spring's must haves, the anorak and do it in denim. This is the Rails Collins Draped Anorak from Anthro. And if you want to stick with a classic denim style jacket try one with a print or some embroidery on it.  Pilcro at Anthro has a great one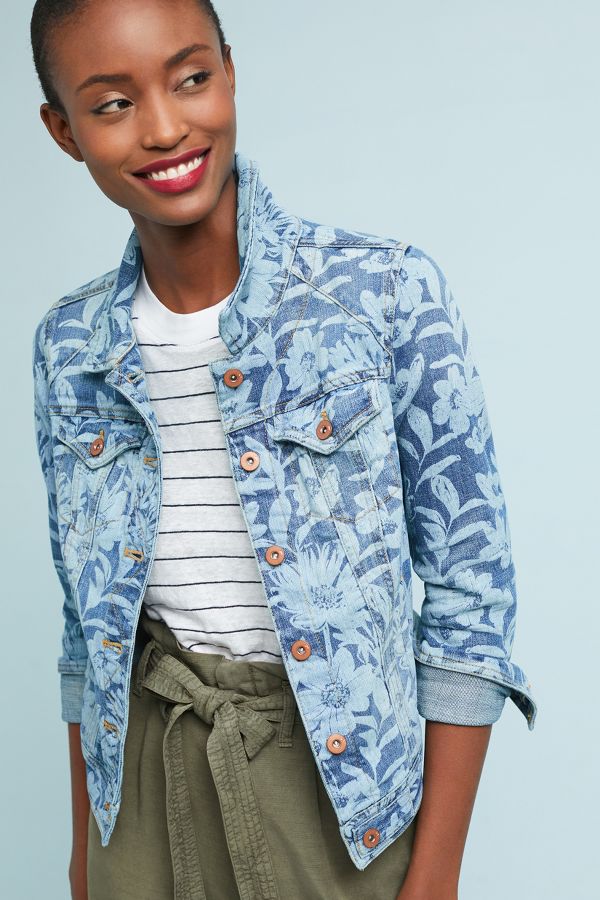 and I love the way they put it together so you could wear this look to an office or out for a casual dinner.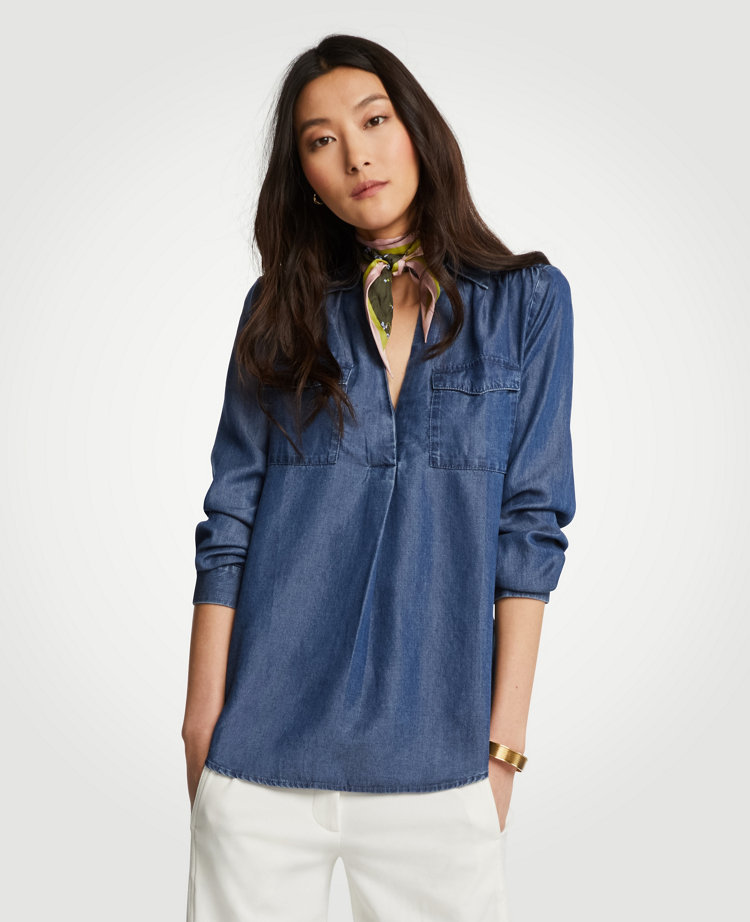 This drapey Camp shirt from Ann Taylor would be a go to in my closet.  It's soft and you can layer it over or under anything.
Want to dress up your denim? Try this bow halter top from CeCe at Nordstrom.
A bow front shirt will take you anywhere.  I love this black bow on the chambray color of Rails Jansen tie shirt at Nordstrom.  It looks great head to toe with jeans too.
Or try something with contrast if you are thinking of head to toe denim.  This Karen Kane denim lace top will look good on everyone!
Denim dresses are strong season in and season out for the last couple of years.  I have a wonderful Eileen Fisher denim sleeveless denim shirt dress that I will wear again this spring.  Shirt dresses are still strong but there are lots of other styles to choose from as well.  I love a good shift dress, it's great as the weather gets warmer and warmer. Why not try something denim but different?
This ECI Embroidered denim shift dress is perfect for Spring 2018.  The embroidery hits on all the strong colors of the season and it is long enough (the model is tall on most of us the dress would hit our knee or just below).  It can be worn with any color shoe or sandal and can be worn anywhere.
If you want a great denim dress to wow them at the office then try Diane Von Furstenberg's Front Zip denim dress. It's serious enough for the board room and easy enough for dinner with your collegues after. Or how about a denim dress that isn't a dress at all, jumpsuits are super strong for Spring 2018.  It might take a bit to find the one that flatters you but something like this
would be great if you are tall enough. This CAARA Hampton Denim Sleeveless Jumpsuit is trendy enough without showing too much skin to elevate your style to the right place.
And if you want to wear denim in the evening, try this Mermaid gown from La Femme, it's embroidered and flowy.  Nordstrom is a great place to try on denim jumpsuits and dresses, they carry lots of brands and you will find the one that works for you.
It almost easier to find denim shoes that will work in your closet than anything else.  Take a look at Anthro online. 
I love these denim slides.
Or wear these knotted slides to the office.
  Even block heels can work with denim fringe for an evening out.
Who doesn't need a great pair of denim sling backs with metallic over tones? I think I need a pair of these!
Designers are even showing denim bags
like this darling Rebecca Minkoff clutch from Nordstrom.  But if you live in a rain forest like me, maybe a denim purse isn't something you want to invest in.
So as you can see denim is everywhere.  We didn't go too much into color because when we do our Crayola Color blog I assure you we will talk about denim again.  I personally love denim, I wear it in some way almost every day all year round.  i hope this blog has made you aware of just how important it is for Spring 2018 and how much of it is everywhere you look.
Need help negotiating your new spring style? Book a styling appointment with me and we can discover it together. I am booking right now into the summer if you are interested.  You can contact me at Suethefashionista@gmail.com to book an appointment.  I can even come to your house and help you discover gems in your closet you never new you had!
Next week we will look at all the fabulous colors there are for spring, it will be a long blog because both pastels and brights are strong.
Until next time…