Well spring is nearly here and we all are chomping at the bit to get out of winter clothes, at least I am.  The trends for spring 2018 are not like the last couple of springs because as I told you last week there are things that run through all of them.  So keeping that in mind we are going to look at the Americana trend this week.
Last week we said this trend is strong in color and prints.  But what I didn't tell you is that there is a strong cowgirl influence here with a bit of Boho thrown in for good measure.  Boho will show up again in the next trend we look at Haute Denim too.
So how we will welcome spring wearing this trend. First we should start with things that remind you of America.  Red, white and navy colors, prints with stars and stripes.  Both J. Crew and Madewell do Americana very well.  J. Crew has a great kitten heel shoe in multiple fabrics and colors but
you don't get more Americana than this, the Sophia mule in starry stripe!
Or add a bit of cowgirl influence with a western style chambray shirt.  Head to toe denim is in style and faded is great in the Americana trend.
Stripes are huge for spring and what speaks americano better than navy on white stripes in a soft sweater also by J. Crew.
Dresses are totally getting into the spirit as well
this Self Portrait handkerchief hem dress at Nordstrom is one of their featured spring dresses.  This is probably the last season you will see off the shoulder styles.  Trends are going to go away from that, so if you love it, wear it all now.
If you just want to touch on this trend maybe pick up a fun piece like this Caslon knot t-shirt at Nordstrom
. It comes in tons of colors but if you want the Americana trend stick to the blue/white or black/white or solid white.
You will see more red this spring as well.  We saw red make a huge comeback with Fall 2017 and it isn't going away anytime soon.
You could do a red Stuart Weitzman mule that will go with everything.  Or how about a wide leg cropped pant in a bright cherry red
that you can wear with white and tone on tone.
Or change-up your work week wardrobe with a great red dress from Tahari that is totally work appropriate.  Dressing for work is so easy in this trend.  Navy is super strong in dresses and suits.
How great is J.Crew's belted shirt dress for a fabulous office look.  Worn with the same mules above only in the solid color.
I could go on and on about red, white and navy and how easy it is to wear but let's move on to the other parts of this trend.  Boho is back for spring in a big way,  and all with a southwestern feel that will make you think of Arizona when you see the looks.
Take the same feel as above just mute the colors to be browns, khaki's and other soft Boho shades and tie them all into your white and your navy.  This Sea Azalea front button skirt would look great with a striped t-shirt or with a great white poplin shirt. Or be inventive, one of the huge prints for spring is gingham.  You will see it a lot when we go through our Crayola colors blog.  But here you can tie this skirt into
a great gingham twist back top by Moon River at Nordstrom and you have Boho 2018.  You will see a lot of soft pants in this trend as well, you saw the soft red pants above and if Boho is more your thing than stick with a more muted tone.  These Sanctuary drawstring trooper pants 
are the perfect spring boho pant.  Tie waist pants are very 2018 and spring will be full of them.  Want ones you can wear for work and play, then try 
these wide leg belted crop pants by Halogen. They are the perfect color to compliment your Boho and Red and Navy looks.  If you want to buy one new pant, then look for a style like this.  Cropped wide legs are everywhere and in denim too.
Think of prairie dresses and long skirts that flow with this trend.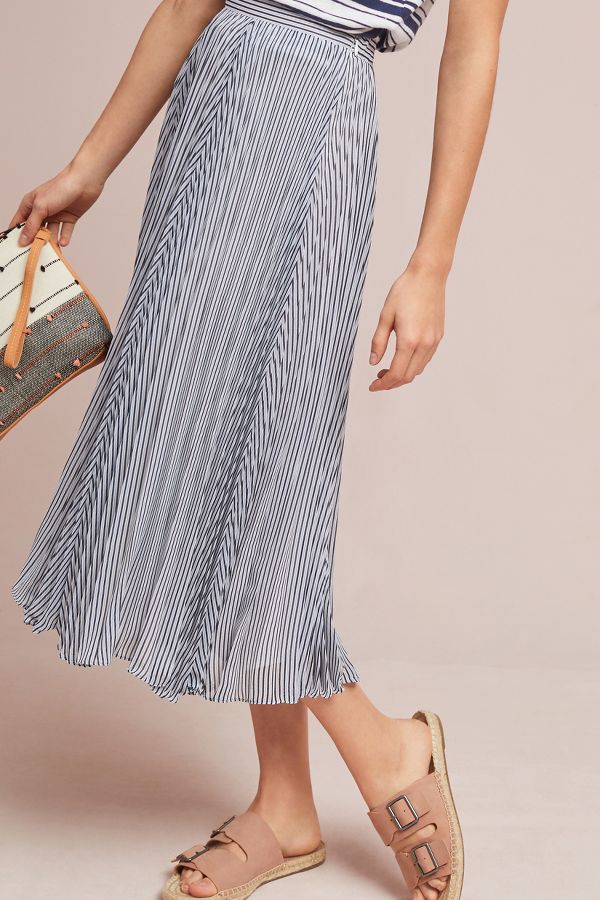 A long striped skirt with boho accessories ties all the trends together really well here. The skirt is by Maeve and you can find it at Anthropologie.
White maxi and midi dresses are fabulous for Spring 2018.  You can tie them in here to your Boho looks with neutral accessories or wear them with the bright Americana colors above.  They work on lots of levels and everyone looks good in a flowy white dress for a summer party. This is the Leslie Maxi dress from Anthro.
Another great print that works so well with the Americana trend is polka dots.  This adorable maxi dress is by Leonora and is also at Anthro, great with red and white accessories.
You can play a lot with polka dots if you prefer them to stars and stripes.
J. Crew has a great pair of polka dot chinos in their boyfriend fit.  This can Khaki polka dot can pull it all together.  It will look great with a white/navy striped t-shirt, fab with a white shirt and you can even mix in a little gingham if you want.
Of do it with a complimentary polka dot sweater also from J. Crew.  Wear this light cashmere right through March and April until the weather changes.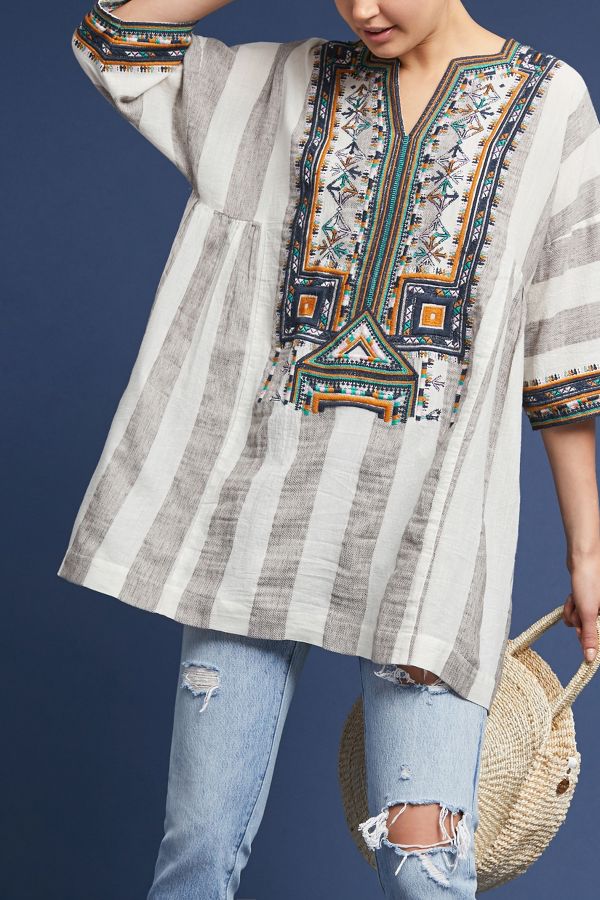 And don't forget the Boho tunic look, one of the most essential of the boho looks.  Here modernized with stripes and a softer palette, it's by Corey Lynn Calter at Anthro.  Wear tunics with all your long and lean skirts, soft pants and denim.
Hats will be important for spring.  They not only keep your look current as  great accessory, they can protect your skin from the sun.
A great straw fedora is the perfect hat for this trend.  It will go with all your looks in a neutral color.
Wear your flat sandals either in reds and blues or in neutral shades.  And don't forget about the block heel bootie look
keep wearing your neutral ones.
Tie in a red mule, this is the B.P. Maddy mule at Nordstrom.  Mules come in every price and every color this season, so buy ones that you love and will wear over and over.
Flat sandals are going to be huge with everything.  This pair is by Tory Burch in 2 colors.  I love the navy with white trim but if you lean more Boho do the neutral color.  Ankle straps are not going anywhere soon.
And of course comfort sandals are super for spring.  This pair is by Vince Camuto at Nordstrom.  What I really like about this pair is in red it can go with everything Boho and Americana above.
I did talk a little bit about the cowgirl look.  So think about how it ties into a southwestern feel.
Not just a western style bootie with a soft color by Sole Society.  But go a bit further,
and try something like this soft ruffle shirt from Paige.
Or add some Boho fringe with this Nic and Zoe sweater.   Be as cowgirl as you like and mix and match your cowgirl into your Boho looks or your Americana styles.  It all goes together this season.  It will also go with the next trend we will look at Haute Denim.
As I said this spring the trends really all intermingle like never before.  We are just starting to scratch the surface this week.  Next week there will be no blog, March 21st (unless by some miracle I can get more stuff accomplished) but for sure I will be back on March 28 to talk about the next spring trend.
If you haven't cleaned out your closet yet, get on it.  Now that we are mid March all the stores will be full of spring clothes and you need room to put them.  Need help either cleaning your closet or setting up your spring look? Email me for either a styling or wardrobing appointment at Suethefashionista@gmail.com, we can work over Skype too if you like.
Until next time…