Even though it doesn't feel like spring outside yet, the stores and websites are busy showing us flowy dresses and shorts.  Spring 2018 fashion is everywhere you look.  Here is a breakdown of the big trends for Spring 2018 and for the next bunch of blogs we will go though each trend in detail and how to wear it (because the runway is always unrealistic).
This season I am going to go through a few of the items that are going to be throughout almost all of the trends for spring:
Transparent fabrics.  Chiffon, Tulle, sheer panels, even plastic is going to pop its head up in almost every trend.  Flowy sheer fabrics are definitely in for Spring. The shirt is Rag and Bone and the skirt is Elvi, both are from Nordstrom and you will see these sheer fabrics in every size and at every price.
2. Ruffles.  Yup, ruffles are still going to be big for Spring 2018.  You will see them in lots of trend stories and in every color and fabric.  If you have your ruffled tops from last spring just pull them out again.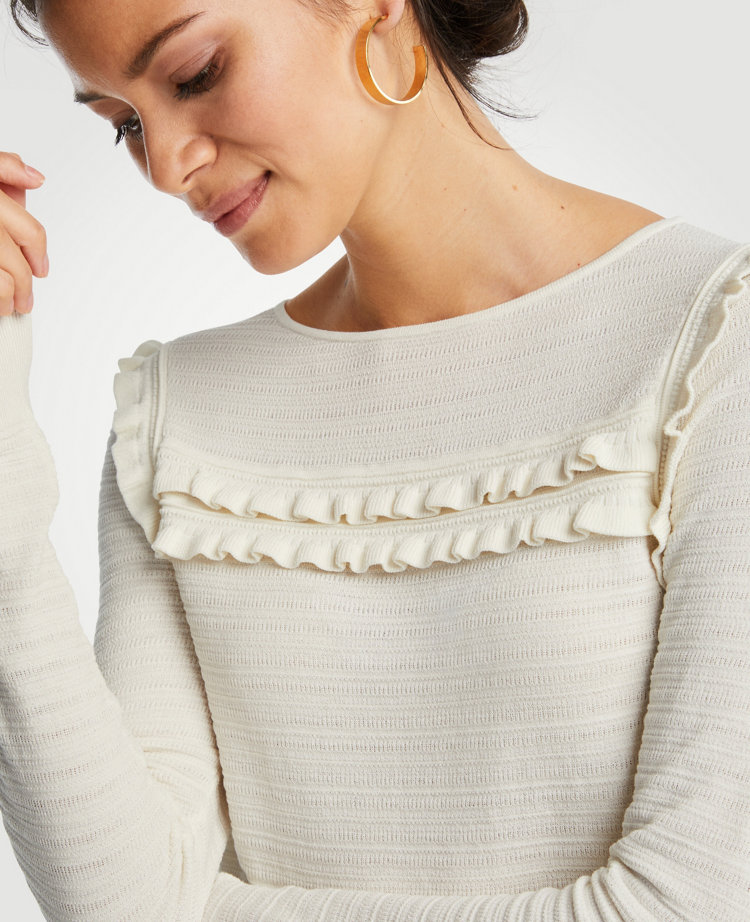 On your sleeves, neckline and hem, ruffles are still very strong.  The sweater is from Ann Taylor.
3. Fringe. Yes it's back and in a few of the trends.  It's paired with feathers this season but for women over 40 leave the feathers to the 20 year olds and look for some sophisticated fringe pieces.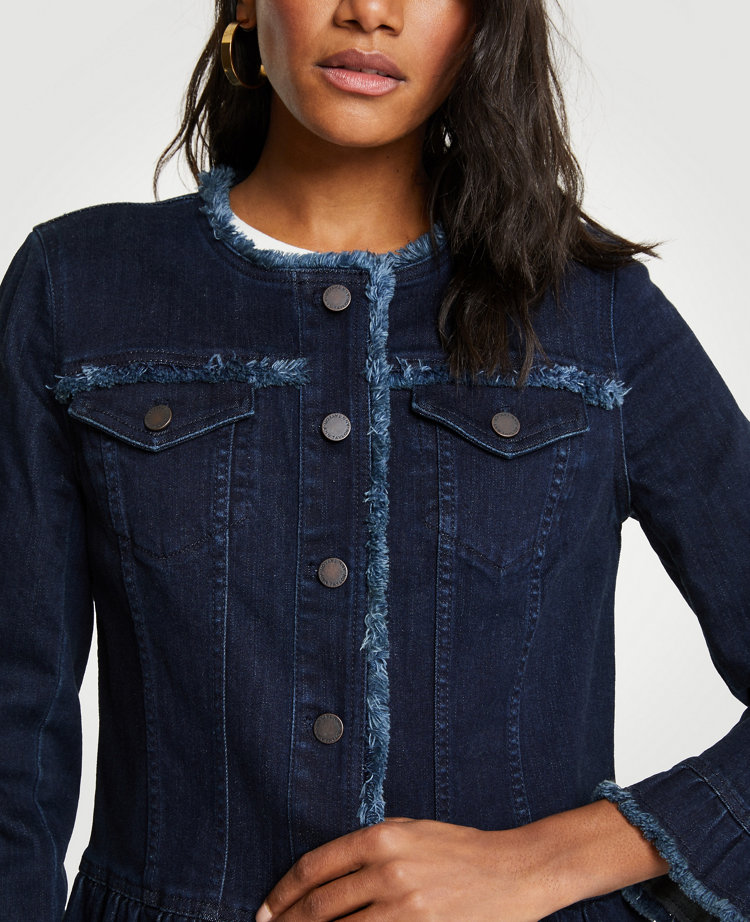 This fringe dressed up denim jacket is something that you will reach for over and over and it's from Ann Taylor.
4. Florals.  Florals have been in for a few years and are not going anywhere.  Pull out your florals and pair them with new items.  Mix and match them with other prints.
The new florals you see will be strong colors mixed with pastel colors and they go into every trend just about.  Dress is from Whitehouse Blackmarket.
So keeping those 4 things in mind, let's go through the Spring 2018 trends.
Americana
The Americana trend for spring really is all about Red, Navy and White.  Which are key colors going into spring.  Prints are huge for spring so it owns stars and stripe prints and here is where you see fringe popping up too. The denim jacket above fits right in here. This trend embodies everything that is American.
Pick your stripe, you will see lots and lots of them ( jumpsuit is Vince Camuto Plus).
Dots are going to be back in style for those who love dots(guilty!). This jumpsuit is Rebecca Taylor, can you tell jumpsuits are big for Spring?
We also talked about how strong maxi and mid skirts are for spring. Well a great red maxi with a dark denim jacket and white top is very Americana!
Haute Denim
Denim is huge for spring and not just your jeans. Denim dresses, tops, jackets.  Wear denim everywhere even for evening! You will be wearing denim with every trend and it is a trend on its own too! We saw the jacket above from Ann Taylor and they are also doing a skirt with a ruffle hem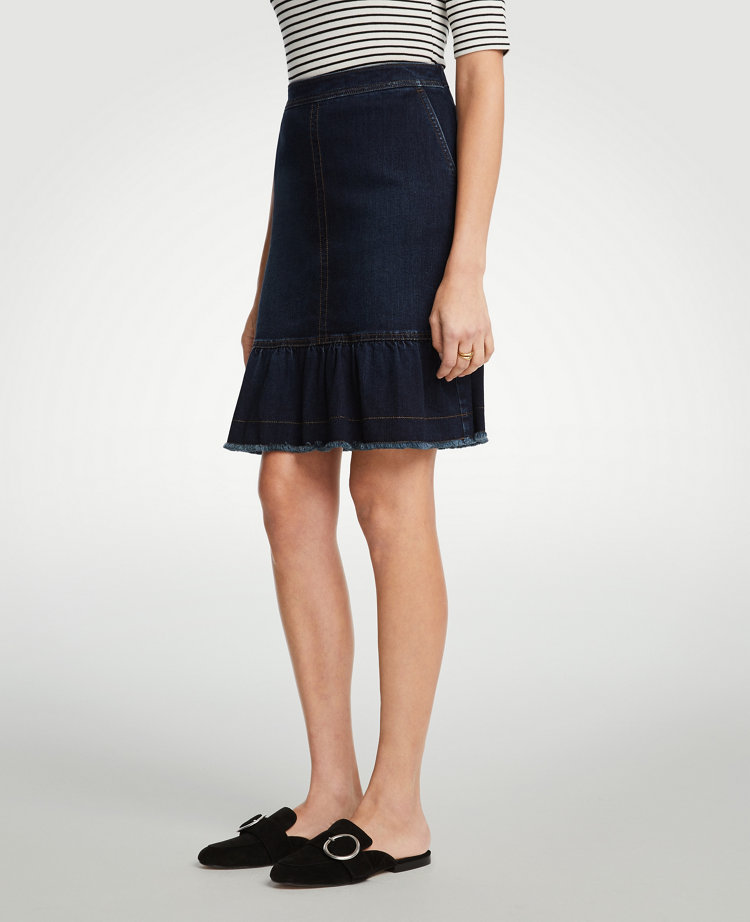 so you could pair the jacket and skirt as a suit.  Very chic this spring to wear your denim head to toe!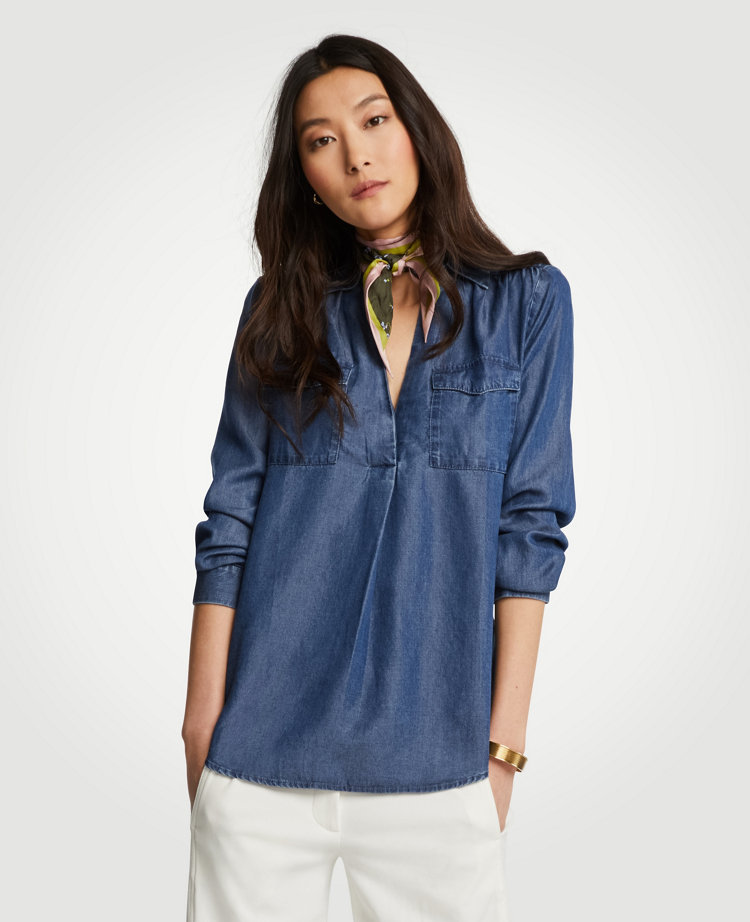 Wear your denim to the office, pair Ann Taylors camp shirt with your black suit. Denim is everything.  It is colored, embroidered and decorated.  Don't be shy to explore this hot trend. 
(L'AGENCE studded skinny ankle jean).
Crayola Colours
If someone asks you if brights or pastels are in for spring you can just say yes.  Color is going to be everywhere and in every fabric. The strong citrus shades are huge!
Don't be afraid of yellow! It's everywhere. (shirt is from Anthropologie).
Mix your strong colors in a ditzy floral print to wear to the office (skirt is Ann Taylor) .
This dress from Anthro should show you how great color can be! Greens, oranges, bright pinks etc.  Think of your old crayon box and those are the colors.
Pastels are strong too.
Lavender is the newest pastel on the block (Banana republic dress) but you will see it in suits and separates too.  It mixes well with the soft blues, rosy pinks and soft yellows.
The go to jacket this season is the anorak.  It will cross other trends as well but it works so great here because it's best when done in color
also from Banana Republic. Anorak are even being worn for evening this season, so pick a color and pair it with your LBD and you will be right in style!
Japonica
Everything oriental is in style this spring.  Kimonos are everywhere!
Kimono jackets long and short are super stylish! This one is Alice and Olivia.
You will see a lot of mandarin collars, like this belted tunic shirt from AT.  And you will see it in accessories. Handbags are boxier this season
and have details.  This bag is from M2malletier and you can find it at Nordstrom.  Asian prints and designers are strong too.  The Japanese designers are all promoting sleek and simple styles with tons of color.
1980's revisited
Yes the style of the 80's is back.  But don't despair we aren't talking Working girl here we are talking more like Princess Diana.  She wore satins, she wore glitter, she wore sequins and no one ever has done it better. Although her daughter in law and soon to be daughter in law are doing very well at it too.  But when you think this trend think of Diana.
Big puffy sleeve detail on tops and jackets, this blouse is Tibi at Nordstrom.
Satin wide leg pants for evening, these are from Nili Lotan and at Nordstrom.
Tie neck blouses and dresses in new colors and prints, can't you just picture Princess Di in this dress by Co?
And don't forget about lace.  Lace is also big this spring, colorful lace mixed and matched head to toe.
Banana Republic has a great lace shift dress for spring.
Or pick a really colorful lace skirt like this one from Halogen.
High waisted jeans, big shoulder tops, glitz fabrics they are all back in style!
Beach Sport
The sporty trend from the last couple of springs is still going strong but this year it has almost a Palm Beach feel to it. All your bright pinks and yellows show up here again but mixed with strong navys and khakis. Good American at Nordstrom has a great fitting jean with a stripe on the side
this is your base piece for the new beach sport and you can mix and match tops. Or don't forget about the jogger pant
in ankle length and full length in colors and prints, you will see lots of them. These are Love, Fire, camo pants from Nordstrom.
Wide leg ankle pants in base colors and skinny leg ankle pants are both huge for spring.  They work not only in this trend but with almost all the others too. Go for anorak jacket and interesting ponchos too.
This is Ivy Park shiny poncho.  But shiny fabrics are also in lots of color. Just look at the pink anorak from above.  Track suits, interesting fabrics are all in play in this trend.
Shoes
The biggest shoe trend for spring is the kitten heel pump.
You will see it in sandals and pumps.  Color and prints are both strong here and just think you can walk and wear them all day comfortably! These sandals are by Tibi.
Mules are taking a back seat to no one.  They are colorful and lots of different style!
These are new for spring by Sam Edelman. Espadrille bottoms especially with colorful tops
are what is the new sandal. These are from Marc Fisher and come in 5 or 6 colors.
The other thing you will see in shoes is shine, glitter and pattern. Think almost Cinderella shoes.  In every style and color.
Shine is on in a loafer from Banana Republic.
From last year, sneakers are still big and lace up shoes and sandals are too.  But maybe if you have to buy one new pair try a kitten heel or espadrille this year.
Handbags
Gone are bucket bags.  Think smaller and sleeker. Even see though.
Like this smaller bowler bag from Ted Baker.
Or this see through bag from Cult Gia.  Back packs are full size, no more teeny ones any more. And one other big trend with all bags is to carry more than one! Layer your bags like accessories.
I grabbed this image from Fashion week to show you the trend.  But what I recommend is a small cross body and then carrying a tote or bowler bag.  Make sure they are different textures and colors.  Fun for a change!
The newest change in earrings is that they are long. So long that you don't even need a necklace!  But later in the spring we will hear from Shoshana Lewis our accessories and jewellery expert to elaborate.  We will also do spring make up with another visit to Tasleem Suleman of the Beauty Bar in Vancouver.  But those will be after we have gone through all the fashion trends.
Next week we will dive right in going into depth in the Americana and possibly the Denim trends, if it's not too long.  March 21 there will be no blog and then we will pick it up again on March 28 with the rest of the trends carrying us through until the end of April.
If you have questions or comments or want to set up a spring styling appointment now is the time. Email me at Suethefashionista@gmail.com and ask a fashion question or book an appointment.   Spring is going to be bright and cheery!  So start looking at what is in the stores and online and pick your faves.
Until next time…