I know most of us are still looking at snow outside our windows but February won't last forever and when March hits so do all the spring colors and fashions.  Now is the best time to go through everything from last spring and summer and decide what to keep and what to get rid of.
Spring fashion means color, color, color.  So keep all your bright, especially in the bright pinks and greens.  And keep all your pastels! The soft colors are also going to be huge!
Designers are going to be saturating us with color, head to toe.  So make sure you won't be trashing anything you can still be wearing.
So what do you get rid of?  Well start with anything that doesn't fit anymore.  Yes, that does mean you will have to try it on. Anything that is more than 1 year old and you haven't worn it, time to say goodbye!
Denim is something that is going to be huge for spring as well.  So keep all your denim but maybe now is the time to re-evaluate whether you should still be wearing distressed denim.
Once you are over 40 you may be able to get away with distressed denim for a few more years, but 45 should be your cut off.  Holes in jeans is a young girls game.  So toss your distressed denim and take it up a notch. Instead of distressed, try denim with an interesting detail like these ones from Treasure and Bond at Nordstrom
.  Or go for a colored pair of jeans
skinny or ankle jeans in any of the bright or soft hues will be a big hit in Spring 2018. Keep all your ankle length jeans and your wide ones too, width will be showing in all pants.
And if you own a wide ankle length pair of jeans, like these ones from Joe's, then you are already ahead of the game.
Keep any anorak or slicker style of coats, the brighter the color the better.  Those and statement trench coats will be the go to outerwear.
And if you already have a trench that has the slicker style to it, then you are set.  This trench is Isa Arfen and it's at Nordstrom.  Outerwear you don't need for spring is anything that is more than 2 years old and is not a trench coat.  Go through your coats and see what still fits. See if it flatters the new hem lengths you will be wearing ( hint: they will midi and maxi) and if it's old or there is anything wrong with it or it doesn't fit, time for it to go!
The newest pant style is the ankle length pant.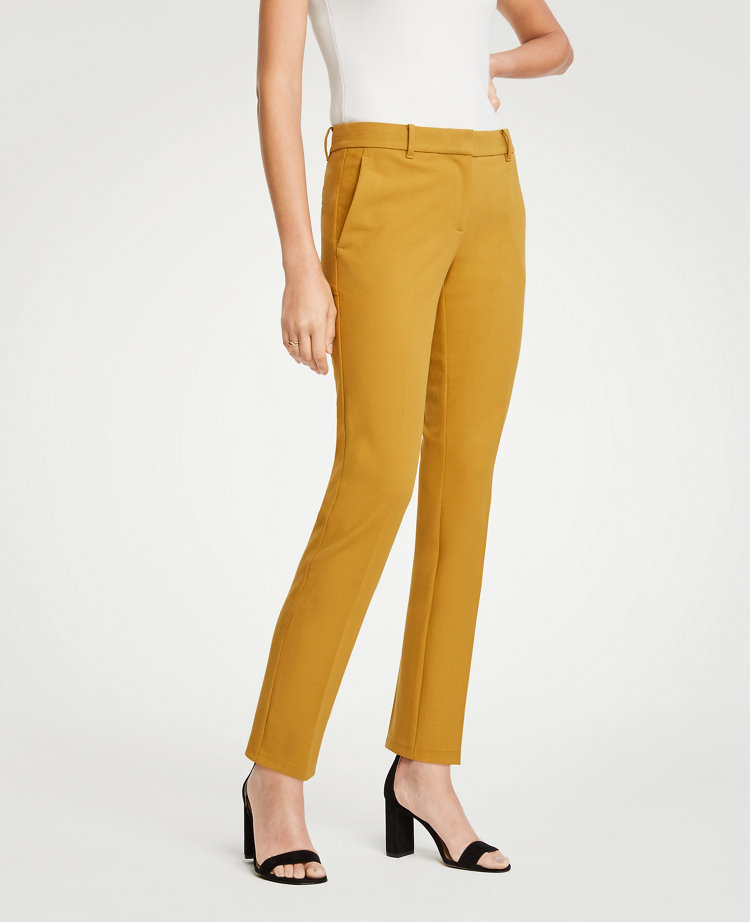 Ann Taylor is showing the ankle pant in almost every fabric and color. Yellow is going to be huge for spring, just go online and look at spring previews, everyone is showing yellow.  If you have clothes in yellow already, great! If not, maybe this will be a purchase for you.  I will talk more about wearing yellow in my spring blogs.
Pants are one thing you really need to try on.  When I go through my closet bi-annually I try every single pair of pants on and see if they still fit and if they are something I want to wear next season.  Sometimes the leg isn't exactly right, sometimes the waist is lower than you should be wearing.  Sometimes pants are just a couple of years old and look out of date.  If you think something is just ok, maybe it's time to change it up to clothes you think are fantastic, just ok is not a good way to feel your best everyday!
Sheer fabrics are going to be a big spring trend.  So keep all your sheer kimonos and chiffon sleeve tops. But be careful, a lot of times chiffon or sheer fabrics pull apart at the seams.  Check your items, if this is happening, toss it.  It's hard to repair because you will see the repair. And make sure you have the right tops or pieces for underneath sheer things.  No one and I mean no one over 40 looks good when people can see your bra or underwear under your clothes.  And I mean it!
If you want to wear a blouse like this fabulous print blouse from Veronica Beard, make sure you have the right color cami for underneath.  Check through your cami stock, get rid of stained ones and ones that have lost their shape.  Go to Joe Fresh or J. Crew and restock, besides black and white this might be the year you buy a pink one as well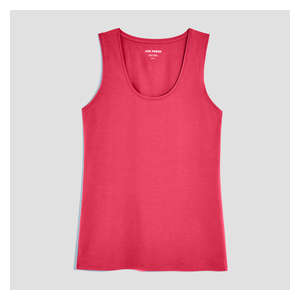 Joe Fresh tank tops come in tons of colors every season.  This spring they are showing in 8 colors including 2 shades of pink and the right teal green color to go under the Veronica Beard shirt above.  Sheer is great, just make sure what you wear doesn't give away all your secrets.
Prints are huge for spring 2018.  Take a look at all the prints you bought last season, are they strong enough to be your trend pieces this year.  Look at the picture above, dots and stripes are things to keep.  But if the print washes you out or you aren't sure you like it, time to go! And for women over 40 the mixing print trend needs to be done carefully, keep you same color tones together.  Like a black and white stripe with a black and white dot.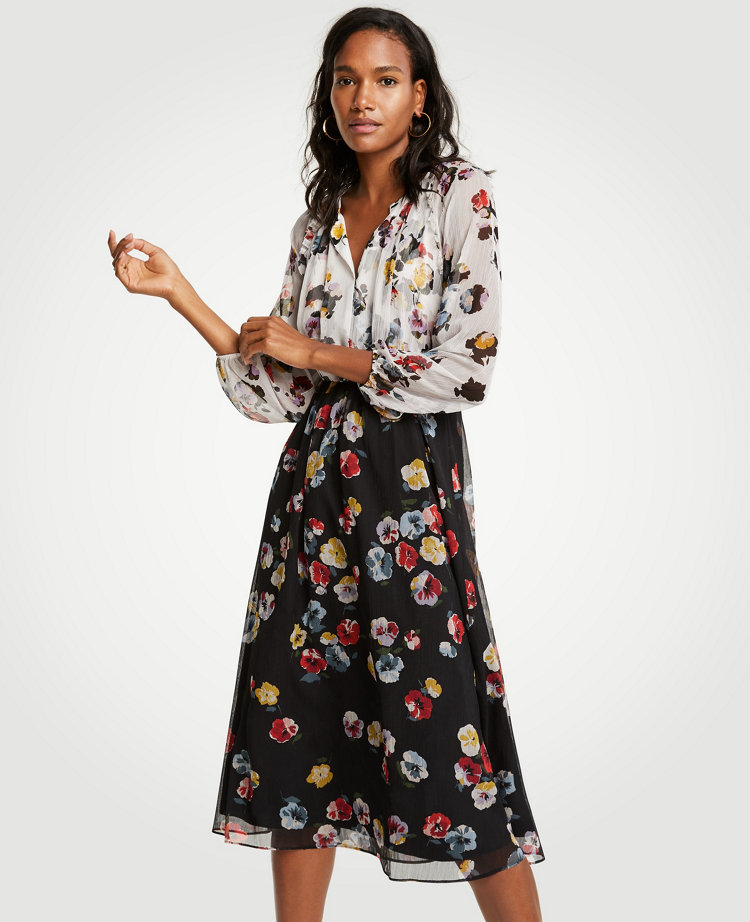 Or don't try yourself and buy something that mixes for you, like this Floral Midi dress from Ann Taylor. The perfect mixture that isn't over or under whelming!
For dresses, toss anything that is too short.  Nothing should be mid-thigh length on women over 45 for sure, unless you are playing tennis or running in it, get rid of it.  The lengths this spring are all a little longer, especially in pencil and full skirts.  Nothing above your knee. 
Embrace the new length for every occasion.  For work, dressy and even casual.
A great print and style, like this dress from Vince, in maxi or midi can take your anywhere.  So keep all your longer dresses and skirts and toss the minis.  They aren't for you anymore. I have been showing prints but solid color dresses are super strong as well.  Brights, pastels, black and white and don't forget navy
it's a great spring color and this James Perse pleated A line dress could be your best friend.
Speaking of navy, keep all your navy pieces unless they are faded.  Red and white too.  Reds were strong for fall and are staying strong for spring.  Mix navy and red with whites and you really have something.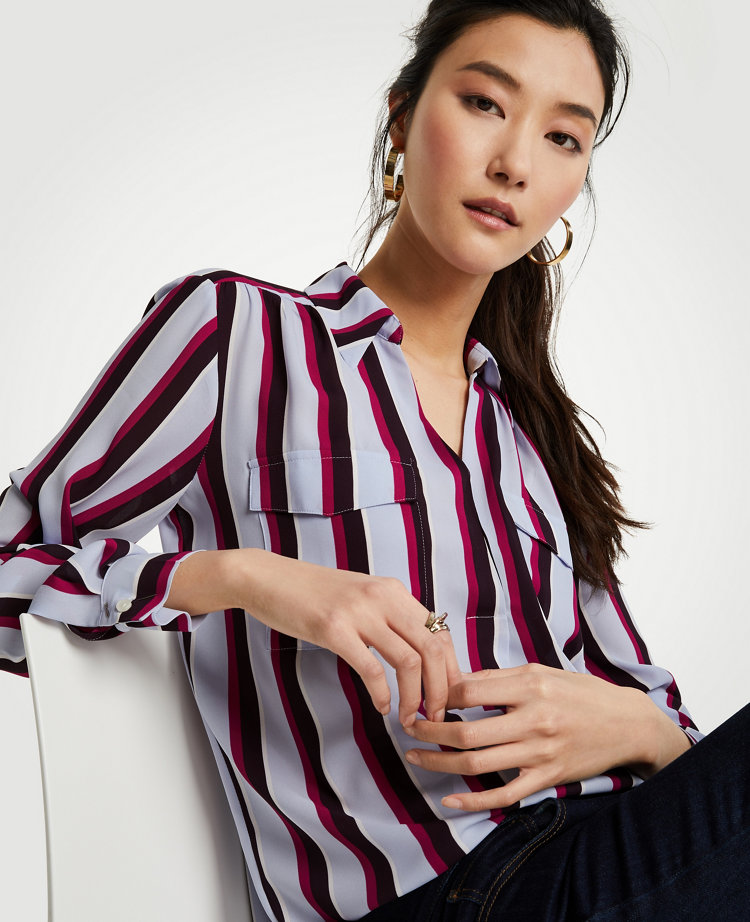 This striped camp shirt from AT, mixing all 3 colors, red, white and navy could be a great piece for the office for spring.
Go through your shoes as well.  I just got rid of all my spring shoes that were either not comfortable or the heel didn't work for me anymore.  If you look at fashion previews you will see that the only platforms still showing are in casual sandals with espadrille bottoms.  If you look at J. Crew's website you won't see one pair of platforms.  you don't have to toss them all, just make sure the ones you keep are the ones you love and are either black or neutral enough you can get a lot of wear out of them.  What you should keep for sure is any shoe that is a ballet flat, loafer or loafer slide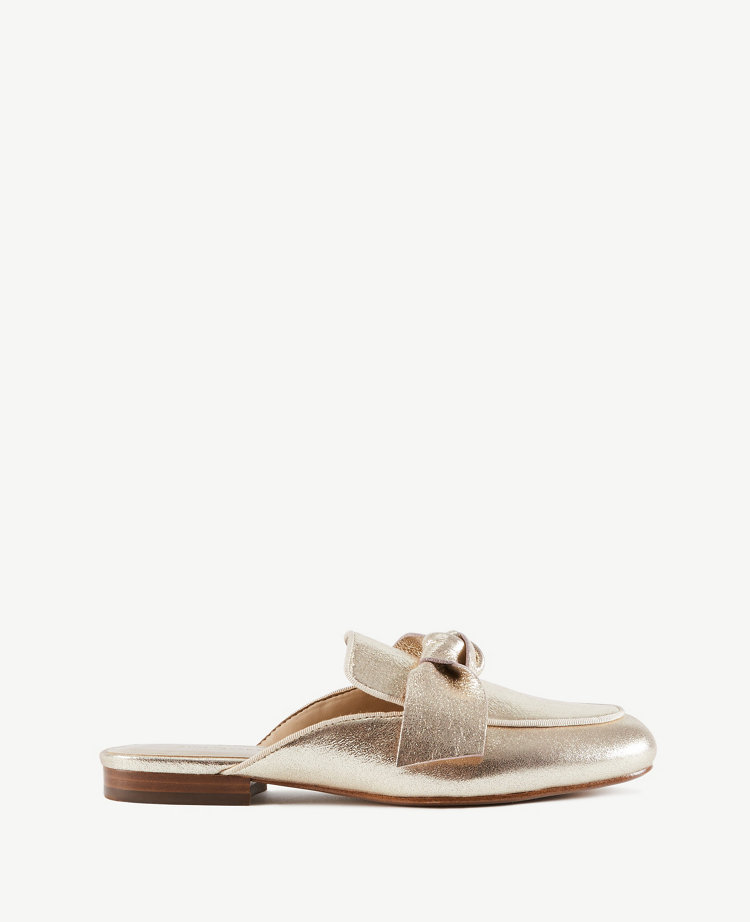 like these from AT.  Loafer slides with embroidery and detailing are still super strong too.  Flat sandals are big for spring too, especially if you have ones with detail on them. 
These See by Chloe sandals are at Anthropologie online.  Anthro is a great place to go and look at styling for the upcoming season.  They always have a bit of everything. Sneakers are still huge!  I kept all my sneakers except for one pair which I never wore because they were uncomfortable, sneakers aren't that expensive so if they don't fit get a new pair! Keep your block heels and high heels, no platform fronts please.  So if those are starting to be hard to wear, then switch to spring's newest heel, the kitten heel! 
Anthro has lots and they look great casual and for the office too!
Cleaning out your closet for spring is not easy.  I spent a total of 6 hours doing mine.  I literally tried on everything and decided if I needed to keep or lose it.  I don't know about you but the real estate in my closet is way too valuable to have things I don't like, don't wear or don't fit in there.
If you need help cleaning out your closet just email me. Email me at Suethefashionista@gmail.com.  Helping you clean out your closet and refreshing wardrobes is what I am good at.  I still have a few appointments left before mid March, so hurry if you want them.
Next week we are going to talk about dressing your age at each milestone age you are at over 40.  It will be a guideline of how to approach wearing trends as your body and you mature. If you look great and dress appropriately it doesn't matter what age you are, everyone will admire you and covet what you are wearing.  So stay tuned!
Until next time…