Valentine's day is one of those holidays where my inbox is flooded with outfit ideas for a big night out, a cozy dinner at home or a get together with friends.  Since I have been married for a long time we have established our own V-day traditions that really don't require me running out and buying a red dress.  But if you are in a relationship or hoping to start or rekindle one, maybe it is time to take things up a notch and surprise your partner with how great you look on what is supposedly the most romantic night of the year.
The good news is that the color red was big for fall and it will stay strong going into spring.  As a matter of fact spring is going to be full of bright, strong colors but we will get to that in a week or two.
Let's break this blog down into categories just like my inbox and talk about what to wear for a Cozy Dinner at Home, A Get together with Friends and A Romantic dinner Out.
A Cozy Dinner At Home:
For anyone who is a good cook, this is almost a win-win situation.  You can make a meal you know your partner loves and then put on an outfit he/she won't know whether to look at the food or you!  And you don't have to be overly sexy either.  A flirty look that leaves them guessing can go a long way.  And since you are at home, chances are you are a bit more casual.  So grab your best fitting jeans and let's work on tops and casual dresses that will bring out your natural beauty.
My favorite type of top to wear is something with either ruffles or lace. One of my favorite places to buy romantic looking tops is Whitehouse BlackMarket.  They have lots to choose from and their fit is perfect for women no matter what size you wear.  As a matter of fact if you go online they have petites and plus sizes as well.
This gorgeous all over lace top comes in all the sizes, plus and petite.  The soft ecru color will work on any skin tone. Pair this top over
your best skinny jeans (these are Good American High waist skinny jeans from Nordstrom) or go for a wider softer leg
like these bootcuts from Wit and Wisdom also from Nordstrom.  Add a heel or bootie with a heel and you are looking good.
You can also go for a soft floral ( still going strong for spring too!)
This would look fab with your jeans and it carries the same soft femininity as the lace top above.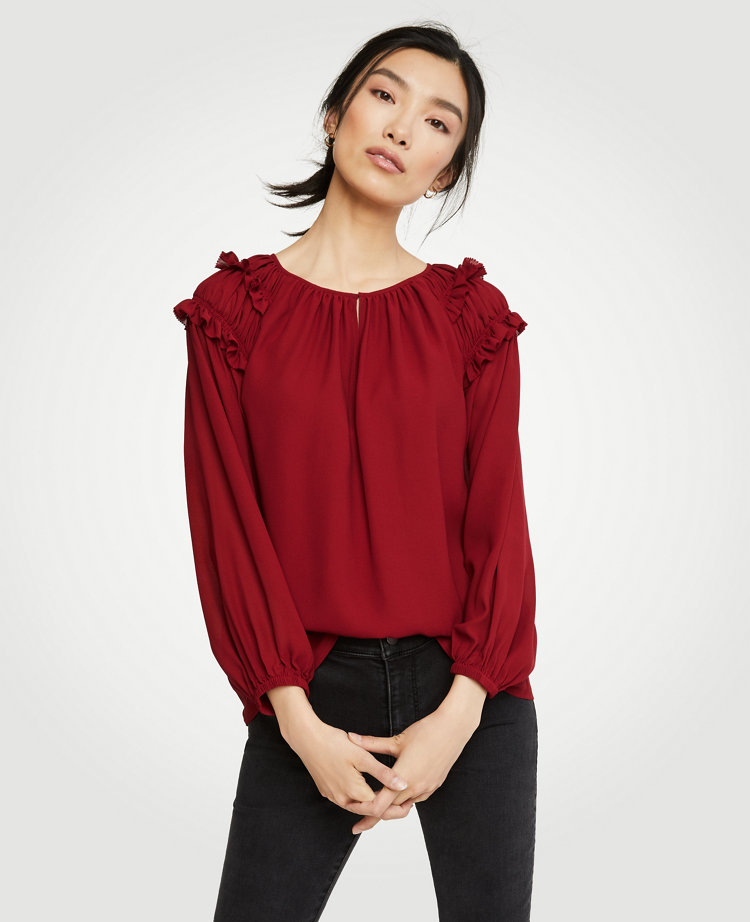 And by all means if you have your heart set on a red top, Ann Taylor has the perfect mix of ruffles and softness in their smocked ruffle top, exclusively online.
What a cozy dinner at home calls for really is a pretty top with a bottom that makes you look great and give your self a boost with a bit of a heel.
A Get Together With Friends:
Sometimes V-day calls for a group get together.  And it is a mix of couples and singles.  This is likely something that you will go out all together to a casual restaurant or at someones home.  You could be as casual as above or you could just take it up one more notch.  Instead of wearing jeans with a romantic top, go for an interesting bottom.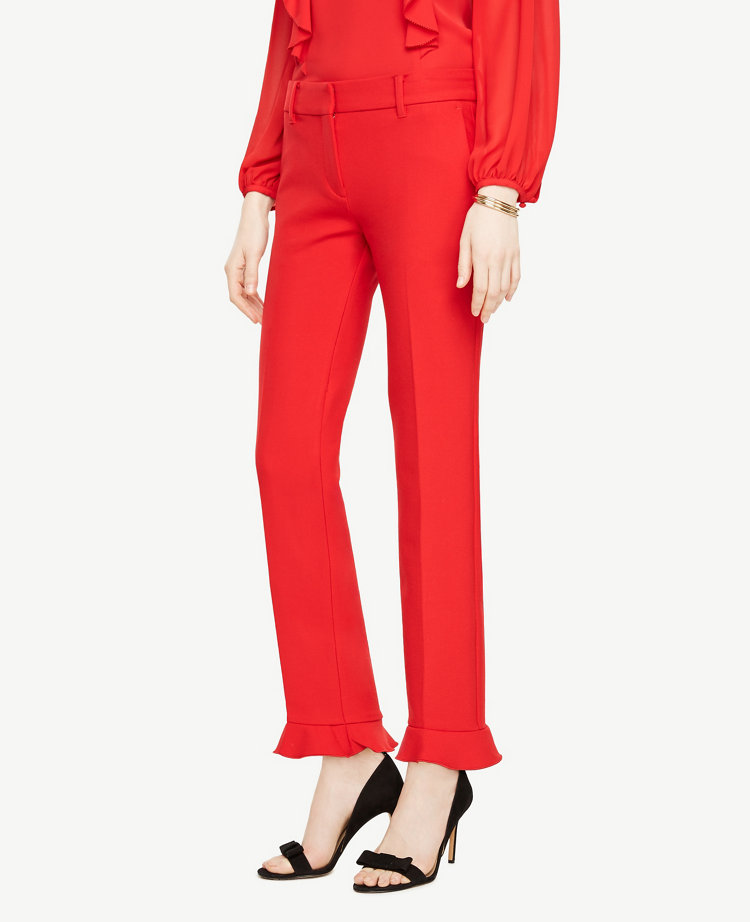 One of my favorite bottoms of the fall season are skinny pants with a ruffle hem.  These are from Ann Taylor and I actually bought them in black. Right now they are half price online and only Red is left, but they are a fab pant and look great on. And a red pant with a black top
with a ruffle front with black shoes or boots will look fabulous!!  You can find ruffle hem pants in black or denim at Nordstrom too.  These Chelsea28 Ruffle Crop pants
would look fabulous with any of the above tops.  Head to toe color combinations in pants and tops tend to get attention.  Of course you could do the red pant above with a red top.  But that may be for the most confident ( and thin) people we know. Black can work just as well and is just as romantic.  As long as the shades of black is complimentary a black dressy top with a black romantic pant would work great for making a statement.
Since spring is not quite in the air at Valentines day for most of us. The type of dress you would wear to a get together with friends would still be almost winterish.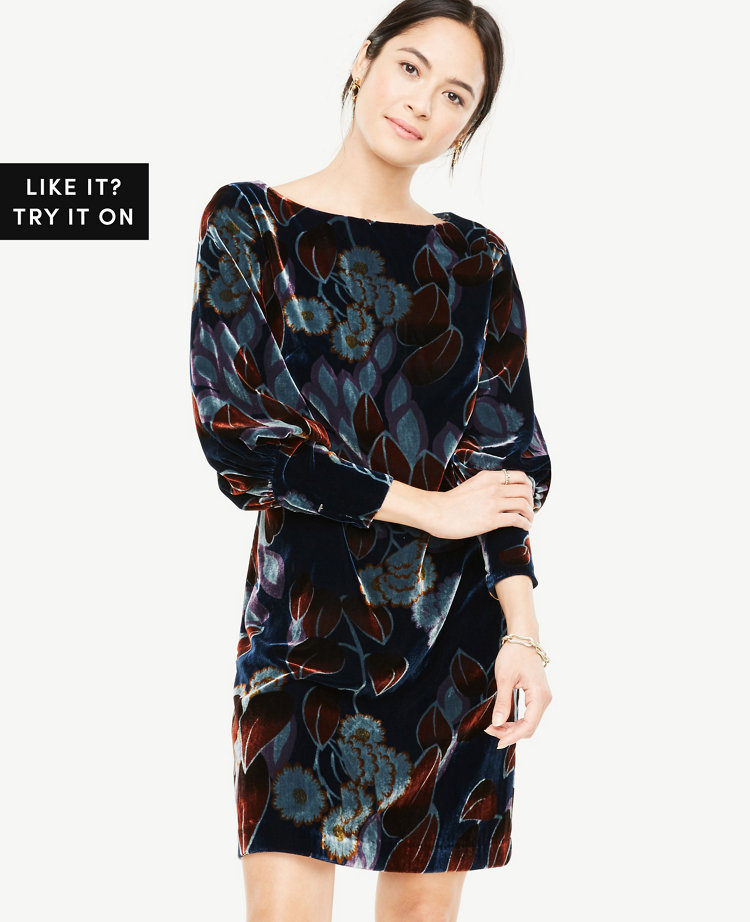 This is probably your last chance to wear anything dark and velvet that you bought for fall. This Velvet Puff Sleeve dress is less than half price at AT right now but we all have a casual dress, that can go dressy or not depending on the accessories. For a get together with friends, a dress like this with tights and booties would be great.
This Ruffle detail knit dress (yes almost like wearing sweats) is by Halogen and is on sale on-line at Nordstrom.  This can be dressed up or down and for going out with friends tights and knee-high boots would make this dress perfect.
And you know what a big fan I am of Eileen Fisher.  They make the perfect type of simple dress or outfit that you can dress up or down.  I love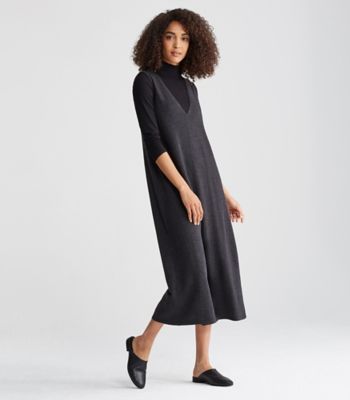 this Merino wool Cropped Jumpsuit.  I think it would keep you warm and be an unexpected great piece to dress up or down depending on your social calendar. Check out Eileen Fisher's online sale.  You may find something that is well priced and that will last you for years.
A Romantic Dinner Out:
Everyone loves a romantic dinner out with their significant other.  Whether you go to a fancy restaurant or a cozy bistro, on V-day you want to dress to impress.  In my opinion this is when you pull out the big guns.  Your favorite dress or skirt or even pants, something that fits really well and you can dress up.
Chances are we all have a ruffle shift dress in black or color that we love.  This one is the ECI Ruffle Bell Sleeve Shift dress from Nordstrom.  I love it with black sheer hose and black heels.  Silver or gold jewelery and you are good to go.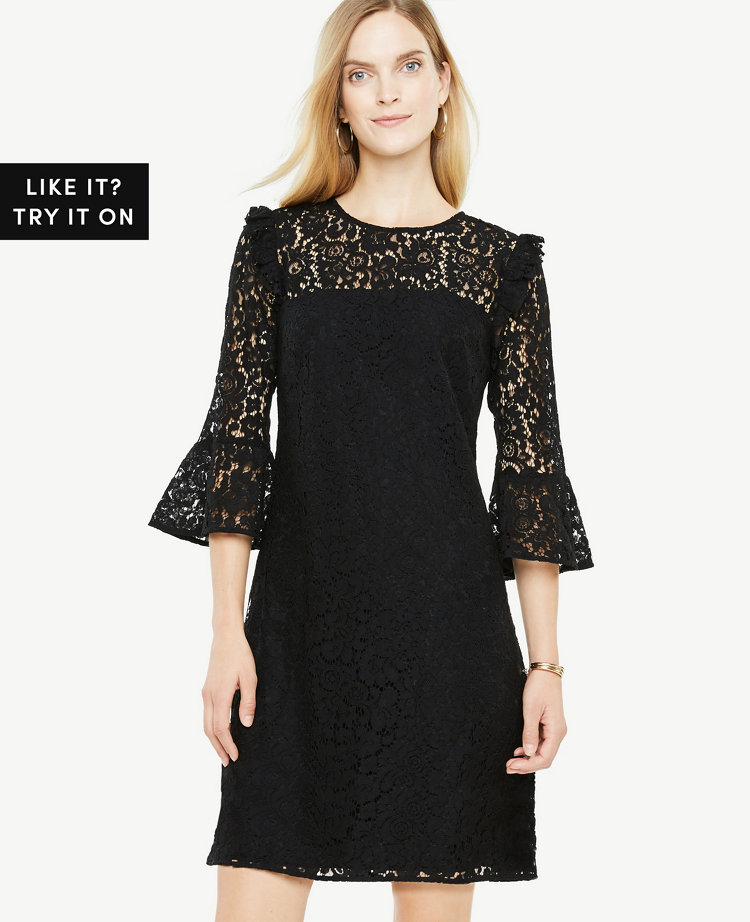 Or pull out a black lace dress, they will always work for a dressy occasion. This lace dress is one I have shown before, it's from AT.  If you bought a velvet dress for a holiday party, feel free to pull it out for V-day as well.
This velvet shift dress from WHBM would be perfect for even the dressiest V-day restaurant.
And remember our lace pencil skirt that we have had in our closet for years.  Yes, pull it out again for V-day!
If the weather is freezing wear it with a cashmere sweater and high heel boots or booties and if its mild take a solid color top with ruffles and you are set!
Pants also can go super dressy if you want them to.  Lace pants or lace hem pants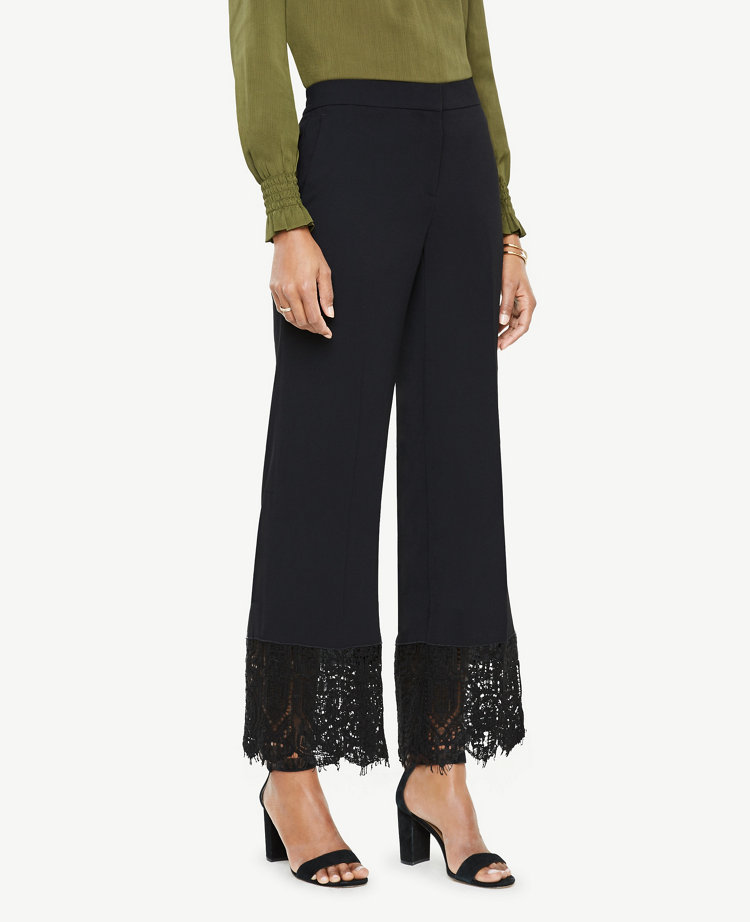 like these from AT (yes, I have shown these before)work with all dressy tops and delicate shoes.
Valentines day usually calls for something special.  So feel free to take your casual at home look up a notch with a special top, go out with friends with a little unexpected ruffle or sparkle and for that romantic dinner out wear something that makes you feel fabulous and your partner won't be able to take his/her eyes off of you!
I hope you all have a fantastic Valentine's day however you spend it.  Almost all of the items I have shown you above are on sale online, so if you love them they are all well priced.
Next week we will talk about cleaning out your closet and what to keep and what to get rid of for the upcoming influx of spring styles.  If you have any blog suggestions I would love to hear them. Email me at Suethefashionista@gmail.com, I always love to hear from all of you.
In March we will be getting into spring clothes, with no blog on Wednesday March 21st.   Now would be a great time to start thinking about what you didn't wear last spring and what you want to get rid of.  More on that next week!
Until next time…