Most women who aren't in high power careers don't dress up just to go out to the grocery store or pick up and chauffeur kids everywhere.  Casual wear is the new normal, designers are catering to it, sneakers have become accepted footwear to almost everywhere.   And from what we see going into spring it isn't going to change anytime soon. Not only that casual is invading the work place, so it's important to know what works.
So how to do wear this new casual look of jeans and sweatshirts or joggers and tops and still look put together enough that you feel great when you walk out the door?  My mother always told me never leave the house without lipstick, you never know who you may run into.  I bide by those words but not with lipstick, but I make sure whatever I am wearing is pressed and fresh looking and I have a bit of make up on (see my make up blog and Tasleem Suleman from Beauty Bar's advice on how to look fresh with very little makeup on, I live by her advice!).
So if the new normal is sweatshirts where do we start.  Forget your older brother or husband's sweats because in order to look feminine you need to wear fleece that fits closer to your body.
Nordstrom and Nordstrom Rack have a line called Bobeau.  It's not expensive and it caters to the more casual side of dressing.  I have a ton of tops from this line.  This Printed Cowl neck pullover would look fantastic with black joggers and sneakers, or with a pair of jeans and boots.
If you love the new velvet trend then do something like this, velvet is a great way to dress up a casual pullover top and with the weather the way it is we will be wearing velvet right into March! This top is also by Bobeau, one of the great things about Bobeau is that they make almost everything in regular, plus and petite, so no one is left out.
You can also do a sweatshirt or fleece top with a bell sleeve, this modern looking silhouette has lace so you can wear it right into spring.
One of the things most women should have in their closet, because it is more than a basic long sleeve t-shirt, is a striped t-shirt.  This one by Bobeau, is also perfect to take any casual look up a notch.  The stripe gives your outfit a Parisian feel.
Casual tops are so mainstream that designers are doing them,
Tommy Hilfiger is doing a double sleeve sweatshirt and it cost a bit more than the ones I have been showing you.  The others are under $100, but this one is around $1300.  So they come in all prices and from every label.
I could go on about tops all day, but the one thing you want to do with your new casual look is make sure your top has some detail, a great print, lace up, grommets or even just
a bow like this one from J. Crew or
pick a simple t-shirt but with a twist detail. Stick with anything other than just a plain basic.
Bottoms can be jeans for sure.  Your dark or light skinny jeans will look great with a casual top.  Your leggings all work. Or you could do a new version of the jogger or sweatpants.
This brand new pant from Rag and Bone is a cotton and rayon blend with a side stripe.  You will see that a lot in pants, edging them to a more casual genre. 
Joggers have gone designer as well, check out these from A.L.C. at Nordstrom.  But they look just like the pair you can get from Joe Fresh.  So you decide how much you want to spend.
You could also just do a skinny twill pant, it will go with all your casual feel tops. This pair is from Wit and Wisdom, at Nordstrom and it comes in 6 colors. One of Nordstrom's other lines, Halogen has great ponte knit pants in all shapes.  If you have a pair like
these, then you could also wear them like this
Is it a sweatpant or a work pant? That is the beauty of great pair of ponte knit pants is that you can wear them every way.
A really interesting way to wear the new casual pant is how Romeo and Juliet Couture are showing them.
A wide let side stripe pant. They are 100% polyester and wear them as you see it in the picture or with sneakers and a pullover.  A pair of pants like this is the essence of the new casual.
Shoes are of course based around the sneaker look.  But you don't have to pull out our basic white Adidas.  Look for sneakers that have a different feel to them.
One of my favorite sneaker looks is a metallic finish. They add a little bit more to your look.  These are by Vans and they come in tons of colors. 
Steve Madden has a pair that are encrusted with crystals, now that is really taking sneakers up a notch!
Even brands like Frye have gotten into the sneaker business, so you know you can find them everywhere and at every price.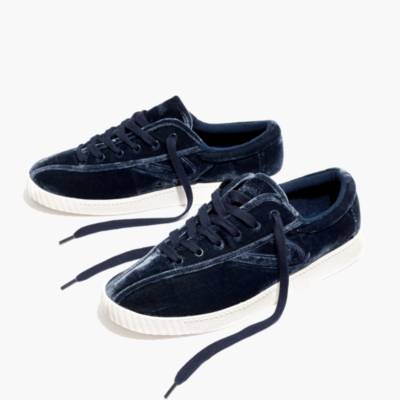 You can also find velvet sneakers, these are from Madewell and they are by Tretorn.
Sneakers are a great, comfortable option for a casual look.  Look for colored, detailed sneakers that will bring your jeans and tops or casual jogger and tops to life.  Think as the sneaker as one of the accessories to go with your outfit.
The last thing I want to talk about is how to take this look to the office and still be as polished as you always are.  Well I didn't have to look very far because WhiteHouse Blackmarket send me an email today saying that very thing. They have a new collection in stores and online that is called polished casual.
They start with their Convertible Stripe sweater that they show with jeans for the weekend and a great black pencil skirt for work. 
Their stretch slim ankle pant can look dressy or casual just like the Halogen one above.  Wear them with a heel or bootie with a heel to elevate the look. 
One of the other things I love on their site is this fabulous Woven Dot Ruffle Sleeve Sweater! It is perfect for dressing up your black ponte pants or wear it with their 
Polka Dot Comfort Stretch Slim Ankle Pant.  You can see how great they look together!  These pants would also work with a black blazer and white t-shirt, and make a basic look more edgy and fashionable. 
More comfortable in a blazer at work? Then try something like this Bell-Sleeve Peplum Jacket. It's polyester and spandex so it is as comfortable as your ponte knit pants and will polish up any casual office look. Also it adds a feminine flair to your look, and you will see the feminine and casual trends a lot going forward for spring.
WHBM has even put it all together for you.  Here is a picture of the jacket, dot pant and white shirt together! Looks great doesn't it!
Another jacket from WHBM's Polished Casual collection that caught my eye was this Tweed Sweater Jacket. It's knit but looks perfectly polished for any meeting with a knit pencil skirt
like this Body Perfecting Pencil skirt that is tailored just enough for the board room but stretchy enough for comfort. 
And then pop this Evelyn Dot Blouse underneath but not tucked in for a casual look.  This blouse would be great under the black peplum jacket too. 
If you wear work wear more than weekend wear then make sure you have a stretch poplin blouse in your closet. This is WHBM's Abigail Poplin Shirt and it comes in to fit your waist and has a ruffle at the cuff, so basic but not too basic.  This shirt is great under any jacket or sweater. 
Have a big presentation or need to go from the office to evening? Then try a dress like this Bell-Sleeve Shift Dress, it's knit and super comfortable.  I have last year's version from Ann Taylor and it is still one of my favorites.
You can see that changing to a heel makes a huge difference in how a casual pant or outfit can look.  A great black bootie can do that too.
Black and white is a great way to transition your wardrobe into the next season.  90% of my casual pants are black and all my joggers are too, its way easier to pair with any top.
So there you have the casual look a bit deciphered for you.  I encourage you to go online and look at the websites I took some of the pictures from or visit the stores and try on things, you never know what you may like.
Now is a great time to clean your closet up from everything you haven't been wearing. Spring fashions are just around the corner and if you didn't wear it last spring it's time to go.  For your fall and winter things, if you didn't wear them put them in a box and get rid of them in August.  Do you need help with figuring out what to get rid of and what should stay? I am booking styling appointments for the month of February right now. My spring is looking super busy so if you want an appointment don't wait, please email me right away so you are not disappointed! You can reach me at Suethefashionista@gmail.com for all your styling needs.
Until next time…